I received a KitchenAid spiralizer attachment as a Christmas gift and couldn't wait to start using it. I wanted to use it for a while (2 months now) before officially ruling in with a review.
In short: I love it. I previously used this handheld model, and while it got me interested in spiralizing for a very cheap price, it just didn't have a lot of versatility.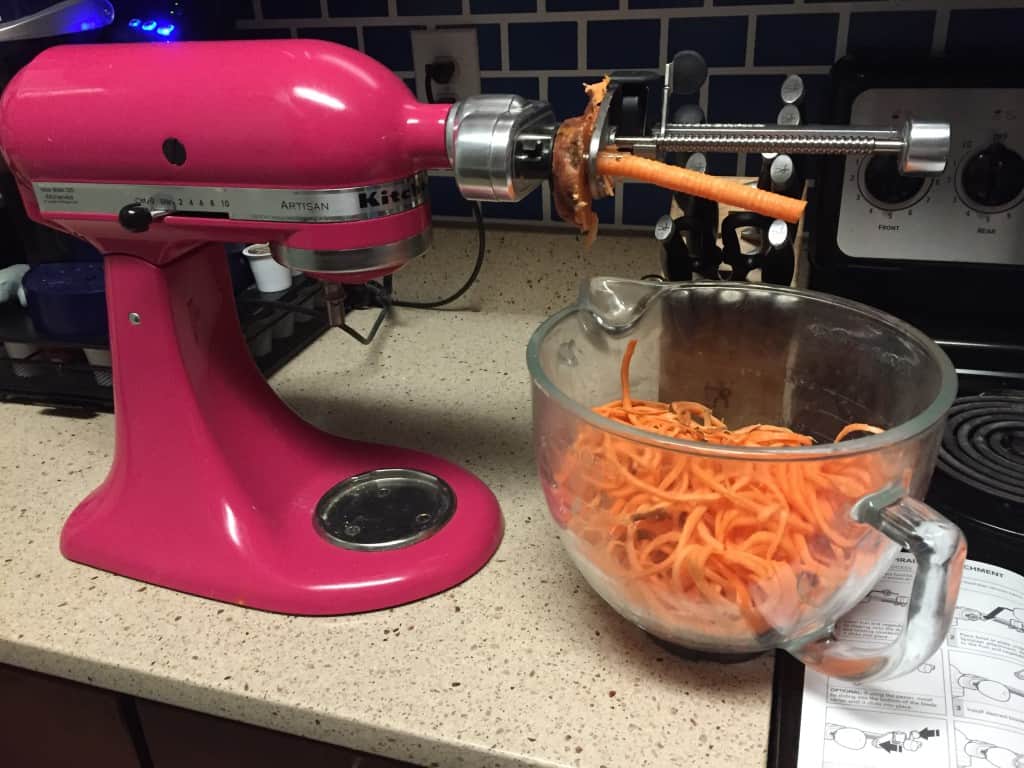 However, the KitchenAid spiralizer attachment is amazing. Because it is powered by the motor of your mixer, you don't have to do any cranking or turning. All you do is lock in the produce, choose a blade, line it up, and go.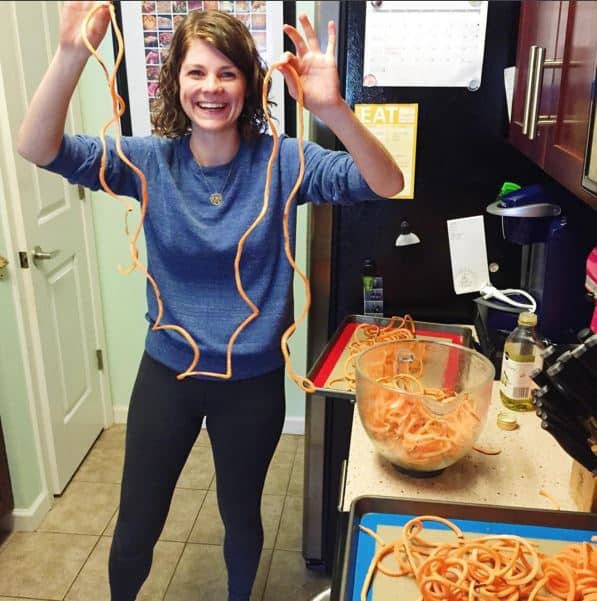 One of the big things that I love about the spiralizer is that it makes it easy to try new vegetables. One of my new years resolutions was to try one new food a week and spiralizing has become a default method for cooking unknown veggies.
Ii use the spiralizer and spiralized veggies any time a recipe calls for shredded vegetables. It is easy to sprialize them and then chop into manageable pieces.
We are excited to use this spiralizer with our CSA when it starts back in April. In the meantime, here is what we have spiralized so far:
Zucchini
Apple
Sweet potato
White potato
Jicama
Rutabaga
Beets
Cucumber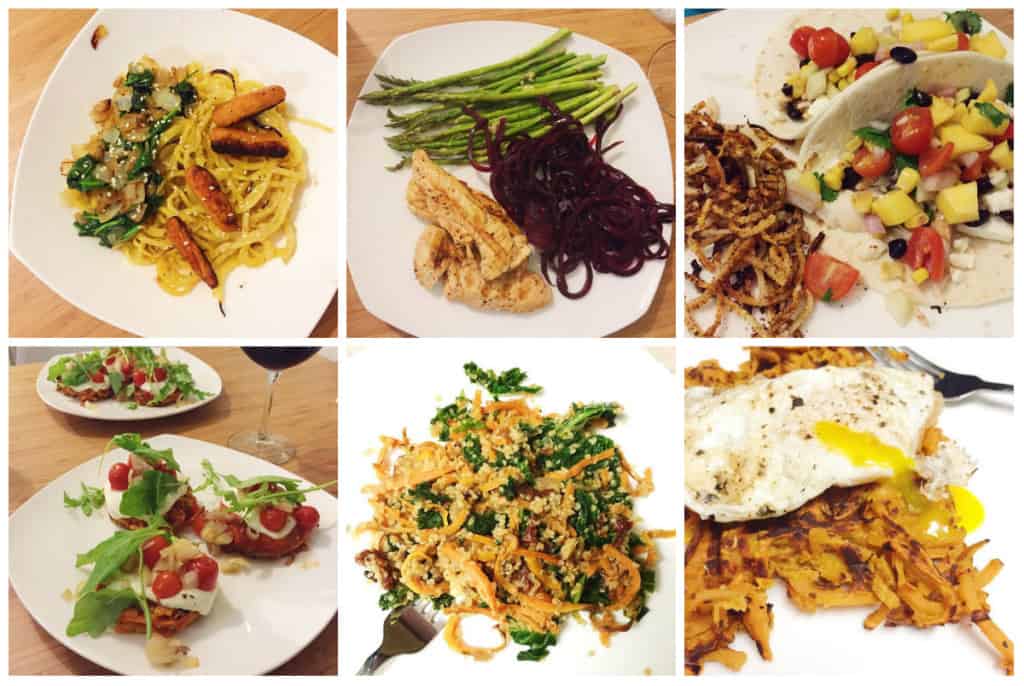 Clockwise from top left – rutabage, beets, jicama, sweet potato, sweet potato, sweet potato
Can you tell I love sweet potatoes?
Our top tips for using the KitchenAid spiralizer attachment:
Make sure that you cut both ends of the produce flat.
Try to pick straighter shaped items and nothing too short or wide.
I have a lot more success when I cut the speed up to 2 or 4 compared to just stir.
Don't be afraid to experiment!
Overall, I definitely recommend this product. I would especially recommend it if you are vegetarian or enjoy eating a lot of vegetables. It introduces an opportunity to serve and eat veggies in a whole new way!
Pros:
Simple to set up, use, and clean
Low man power, runs by motor
Has a peeling attachment for thick peels (though we eat many things unpeeled)
Cons:
You have to have a KitchenAid mixer as well
The cost fluctuates on Amazon but hovers around $100
Can't use with wide or very long vegetables
UPDATE:
I have now had my spiralizer for almost 3 years! While we honestly use it less now than we did initially, I still use my spiralizer 3-4 times a month. I really suggest that you pick up a spiralizer cookbook (here is my favorite) to keep yourself inspired.
One thing that we have been doing is subbing in spiralized sweet potatoes for shredded chicken in a lot of recipes, especially Mexican food. It is super easy, plus potatoes are cheap and nutritious!
I love our spiralizer and love using it to cook for guests. They are always really impressed and I don't tell them how easy it is!
Interested? Here's what you can check out:


This was not a sponsored post. I was given the spiralizer as a gift by my mom who totally paid for it. Kitchenaid did not send us anything free! All opinions are true and mine. This post does contain product affiliate links, meaning that if you click through them and make a purchase,w e receive a very small percentage of the sale. Thanks for supporting the brands that make Charleston Crafted possible!