As part of my kitchen organization sweep, I wanted to make a central location for all of my baking supplies. I already had a cabinet designated as "the baking zone" but it was basically just a hoard pile. See below: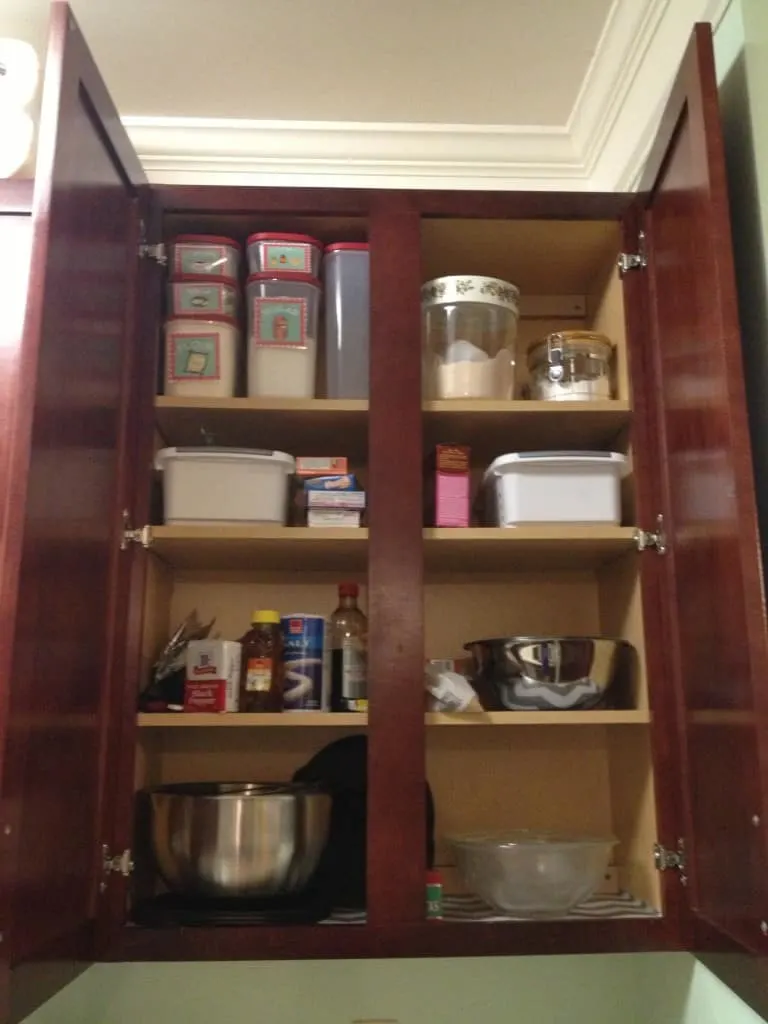 I had some attempts at order with the baskets and a few canisters on top, but it was not an efficient use of the space. Some of my goals were:
Add spice storage (I had spices in the pantry before, taking up way too much valuable space)
Get matching, stacking canisters for infrequently used baking supplies
Store awkward ingredients like big salt containers, baking powder, vanilla extract
Have space for mixing bowls and room for a future mixer.
Let's start with the doors. They were hanging out empty before, but I knew that they were the perfect opportunity for bonus storage.
On the left door, I hung clear command hooks. These served as the perfect place to hang measuring spoons. I hung them in size order. I contemplated adding labels, but decided that since I'm basically the only one to use it, it wouldn't be necessary for now.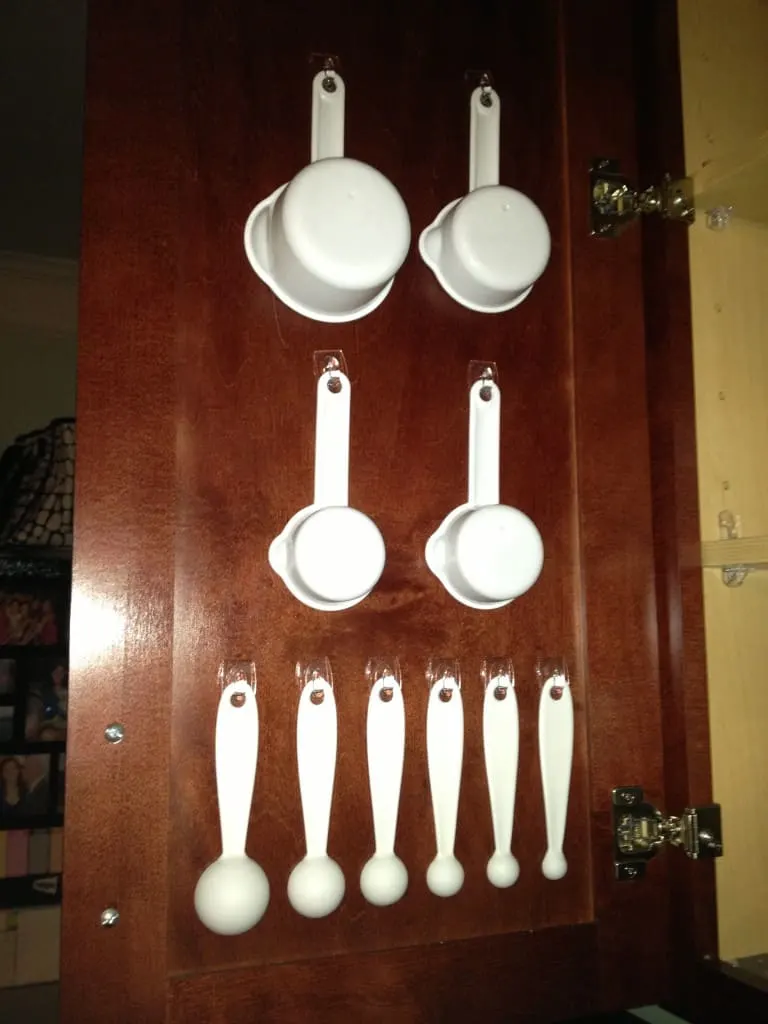 On the right door, I used jumbo command hooks to hang a spice rack (it's old- but I think from Walmart.) On this rack I stuck all of the small jars of spices that we rarely use. I was tempted to throw some out, but when a recipe asks for 1/2 t of nutmeg, you don't want to have to run to the store to buy a whole giant container.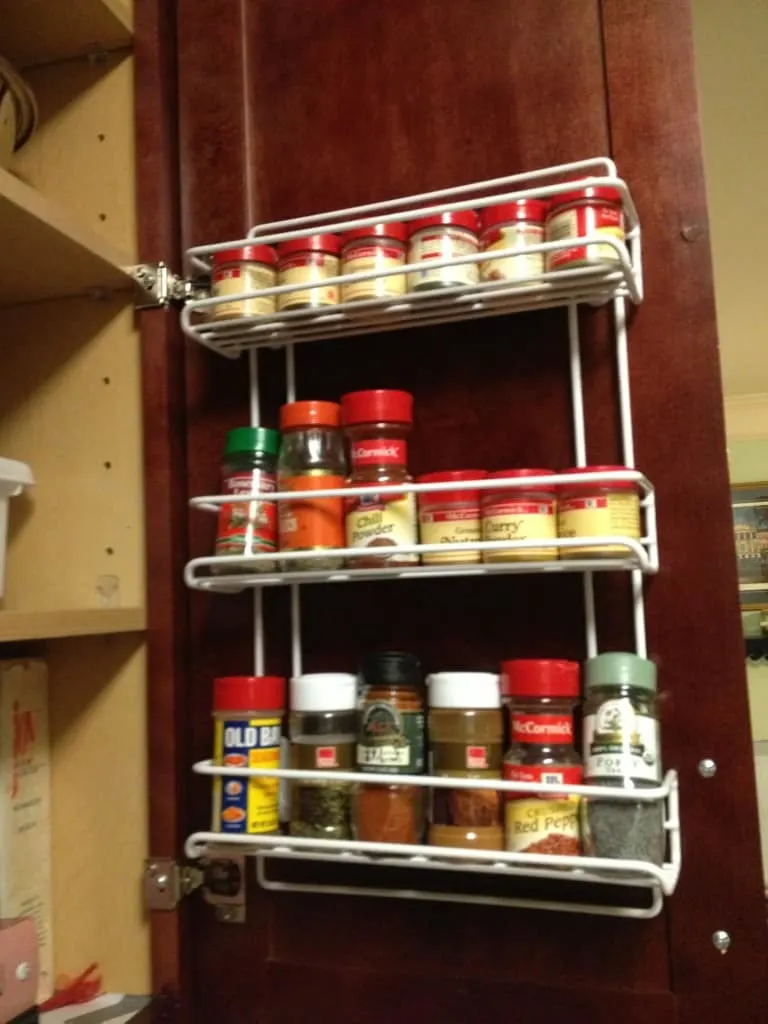 In addition to the spice rack, there are some spices that we use very regularly. Nothing fancy- think garlic powder, salt, and pepper. But, we wanted to keep these spices close at hand.
I've been mesmerized by magnetic spice racks since our first trip to Ikea. So, I hopped on cooking.com (5% back on Ebates, woo hoo!) and grabbed this magnetic rack.
Sean used regular screws to attach it to the wall above the stove. In it we have (from left to right) garlic powder, onion powder, paprika, taco seasoning, salt, pepper. I know, sophisticated palettes.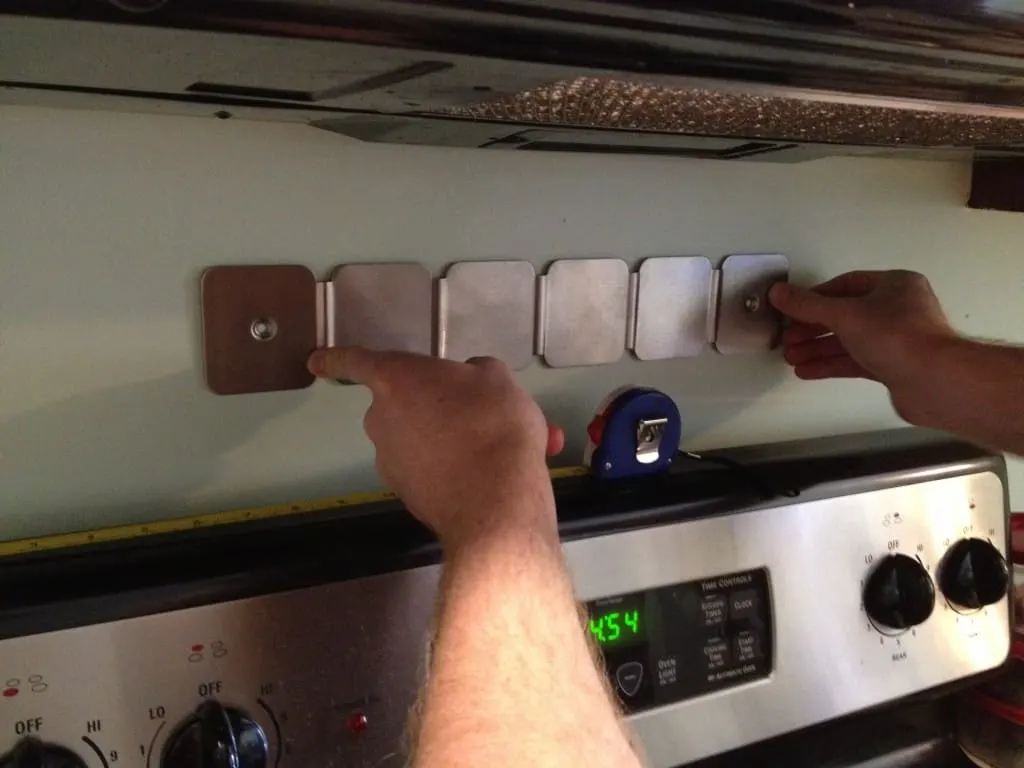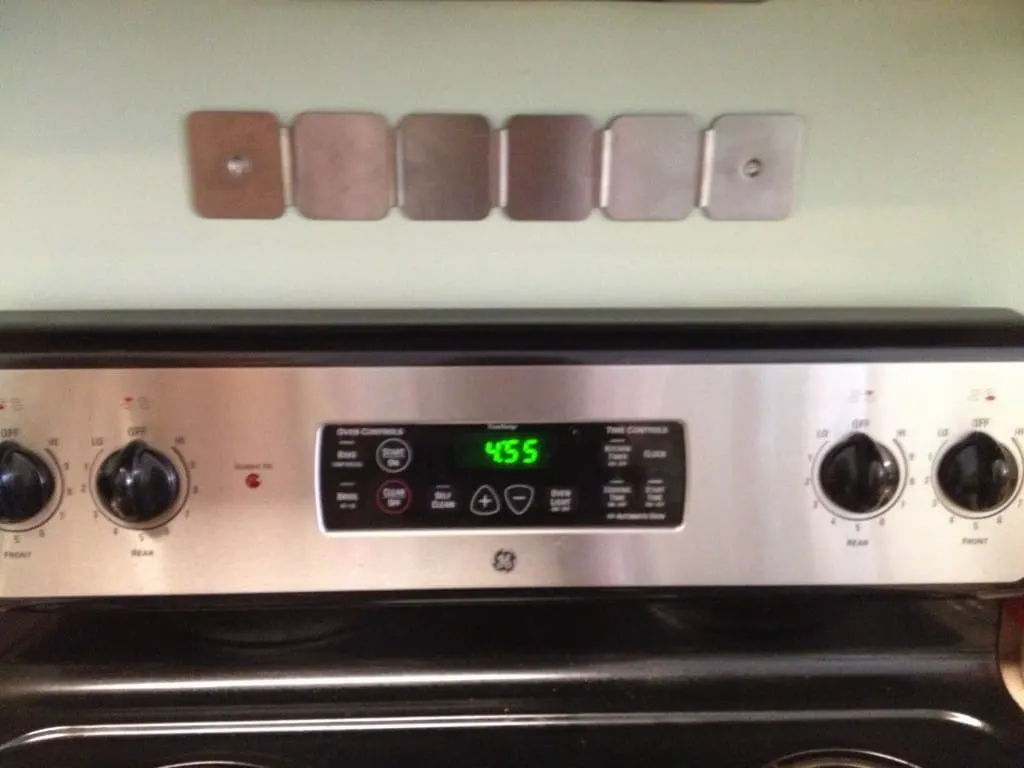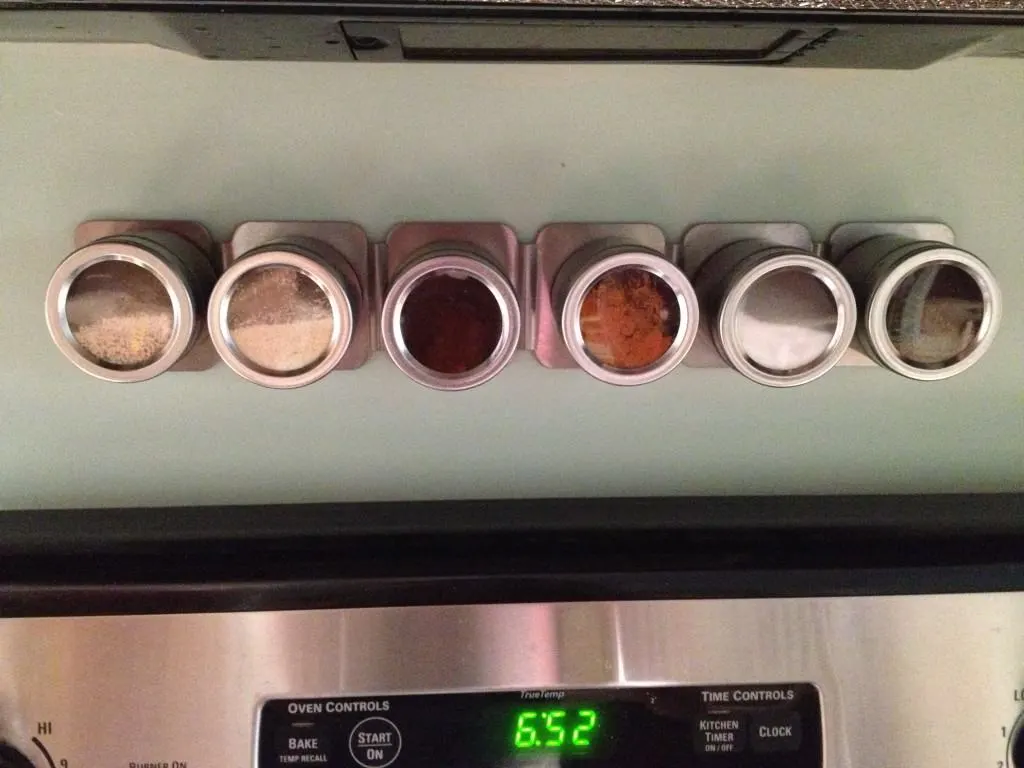 Next, I turned to the cabinet itself.
I planned to store mass ingredients on the top shelf. Think flour, sugar, and protein powder (we use it for smoothies.) I already had some of these Rubbermaid Modular Canisters that my sweet mother had given me for a housewarming gift. I grabbed a couple more & Sean designed cute laminated labels for them. It's worth noting that I'm usually not into labels- I know that it's the Pinterest craze, but no children ever come around & I know where I want my things to go. However, For similar looking items that are stored on a high shelf, the labels really make a huge difference.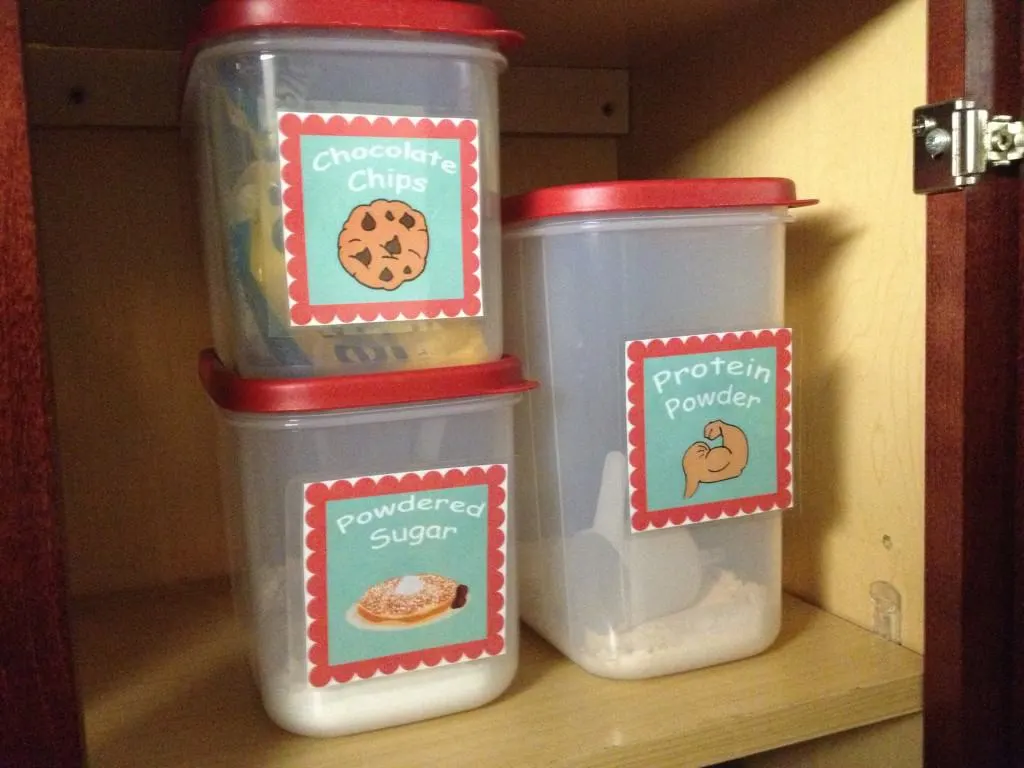 The 2nd shelf from the top holds mixing bowls. I know, it looks like a lot- but this is the cleared out version. I love using metal bowls, but I like having glass bowls, too, since they can go in the microwave.
The 3rd shelf from the top stores loose baking items. They are kept in 2 baskets. The baskets are from the Dollar Tree, about a year ago. One holds sprinkles and cake decorating items. An old candle jar holds cupcake wrappers. The other basket holds jello, protein powder individual serving packets, spice packets, and various other cooking items.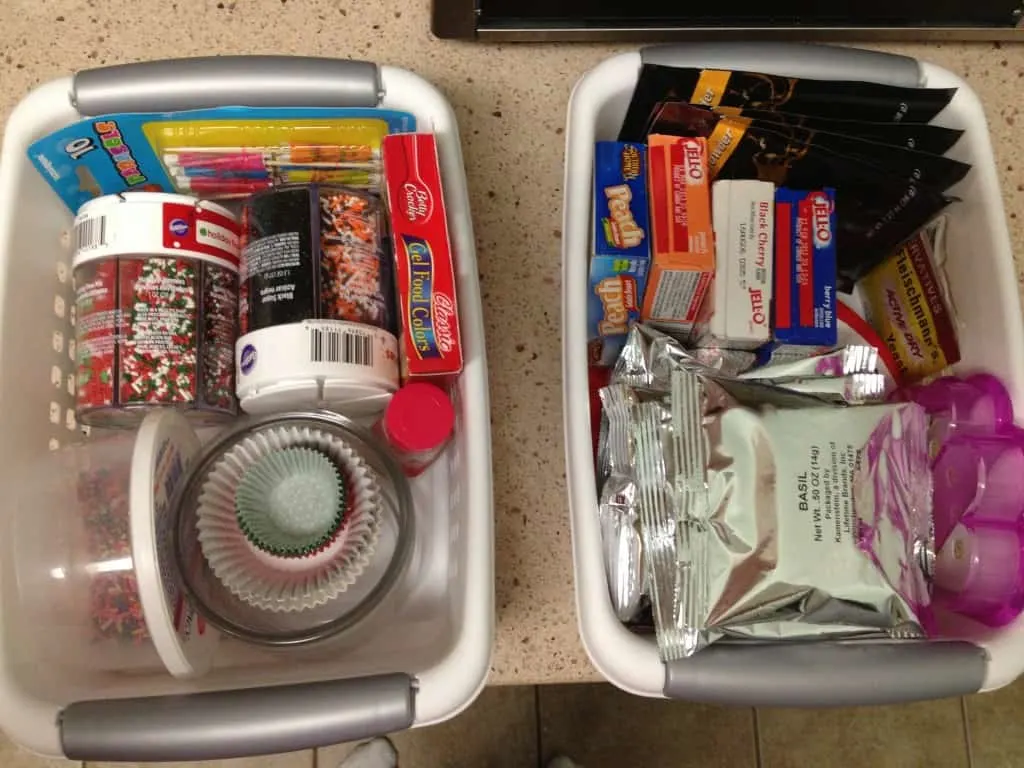 The bottom shelf holds (more) bowls on the left side and cook books on the right side. Some of them were a little too tall, so I laid them horizontally. This also book ends them so they don't fall over.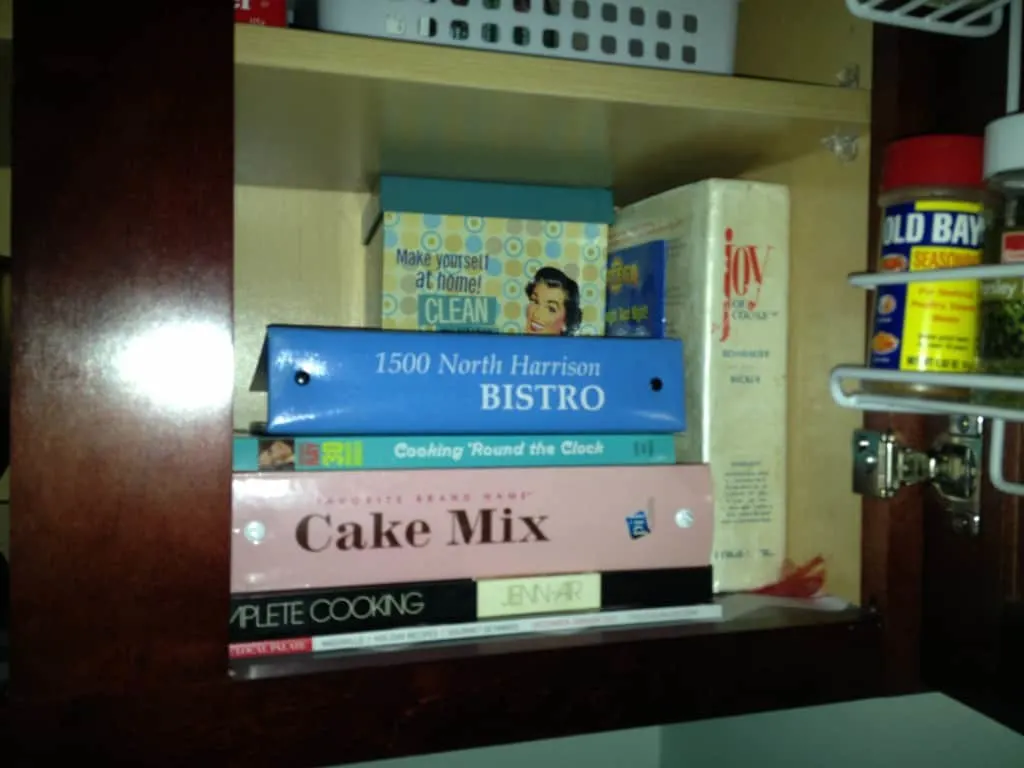 I am so happy every time I open this cabinet! Just looking at it makes me want to bake!!!
How do you store your baking supplies?