On Tuesday, we woke up in Venice! Our apartment provided a great breakfast spread – we had fresh fruit, juice, coffee, yogurt, and pastries. It was great to not have to go out and hunt for breakfast. We packed our day bag and headed to St. Marco's Square. This is the big tourist-y area in Venice.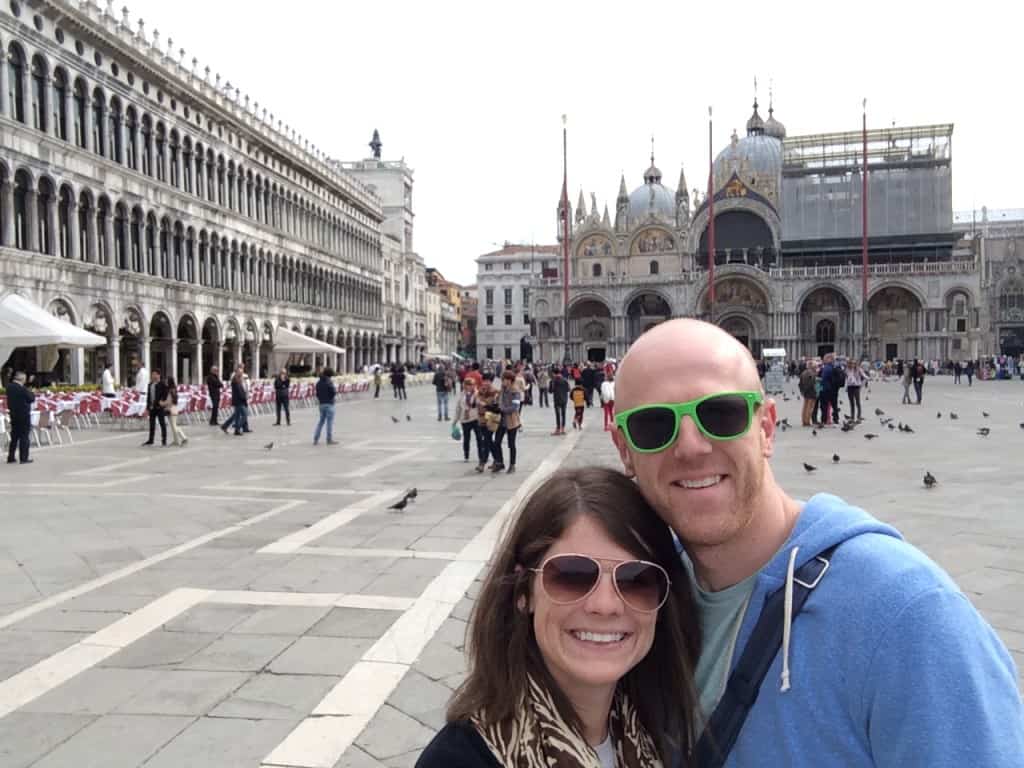 We started by going into St. Marco's Basilica. It was free to get into this amazing church. We were blown away by the details in the architecture. It's crazy to think that they made this hundreds of years ago without modern technology!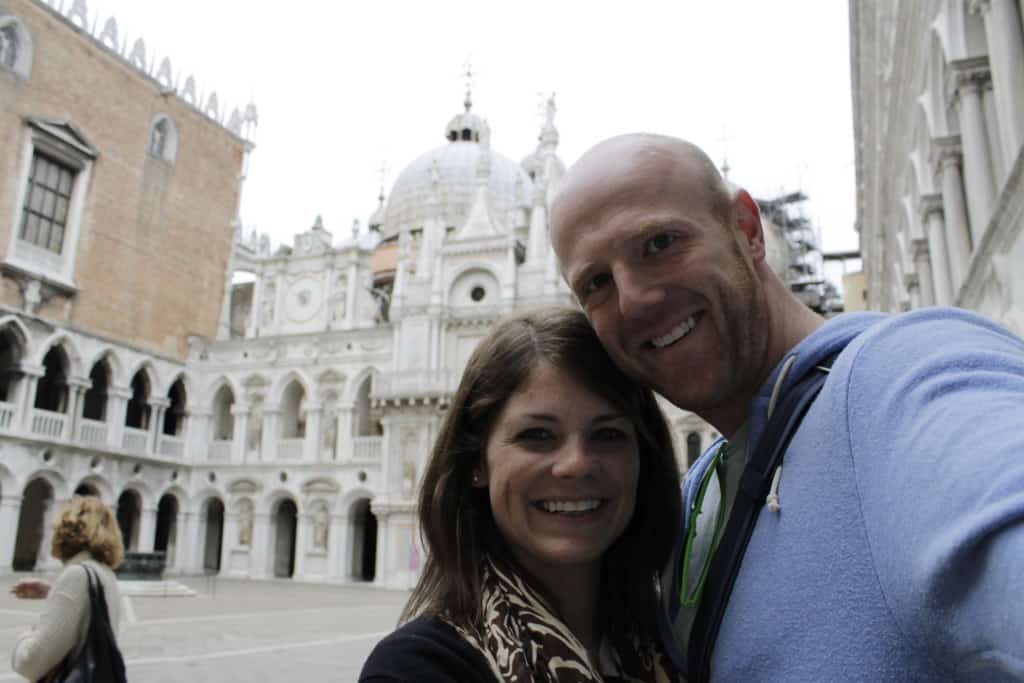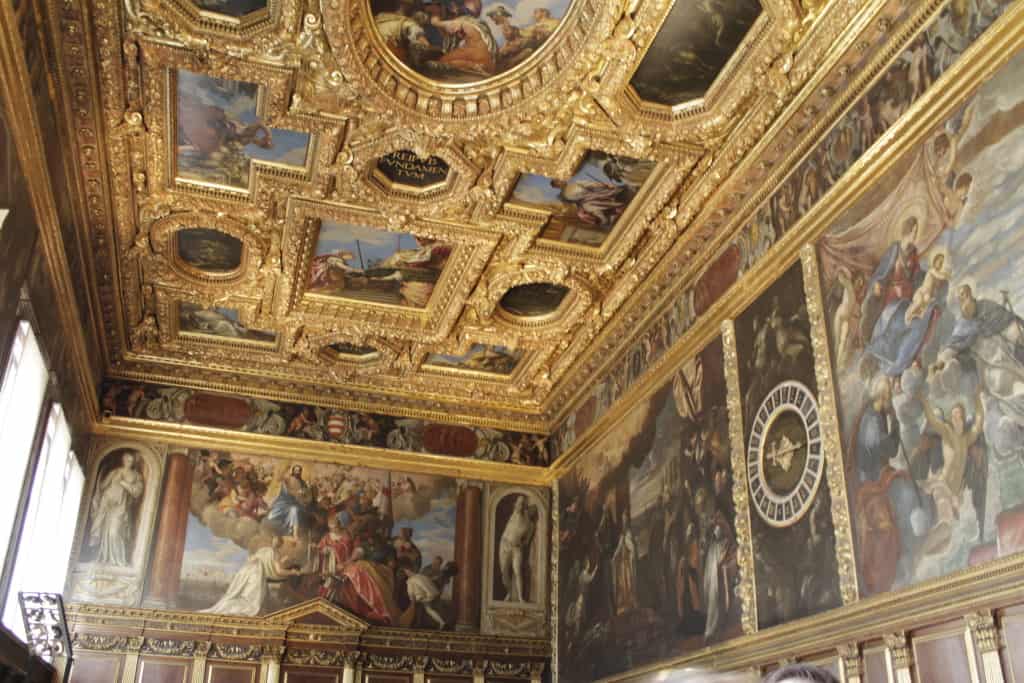 Next, we crossed the square to Correr's Museum. This appears (to us) to be one of the less-popular attractions on the square. However, the ticket that you buy here is a combination ticket that also includes Doge's Palace, which is a really popular attraction. Having the ticket allowed us to skip the really long line at Doge's, so we are really glad that we did it! Correr's Museaum was preserved palace that used to house Italian royalty. I loved seeing the decor.
There was also a museum with art, statues, coins, and other artifacts. It was interesting to see it all.
Next, we headed across the square towards Doge's Palace. Of course, we stopped for a nutella crepe for a snack.
Doge's Palace was where the government was housed. There were huge chambers for council meetings and courts. We also saw the armory, where there were tons of swords, armor, guns, arrows, and more.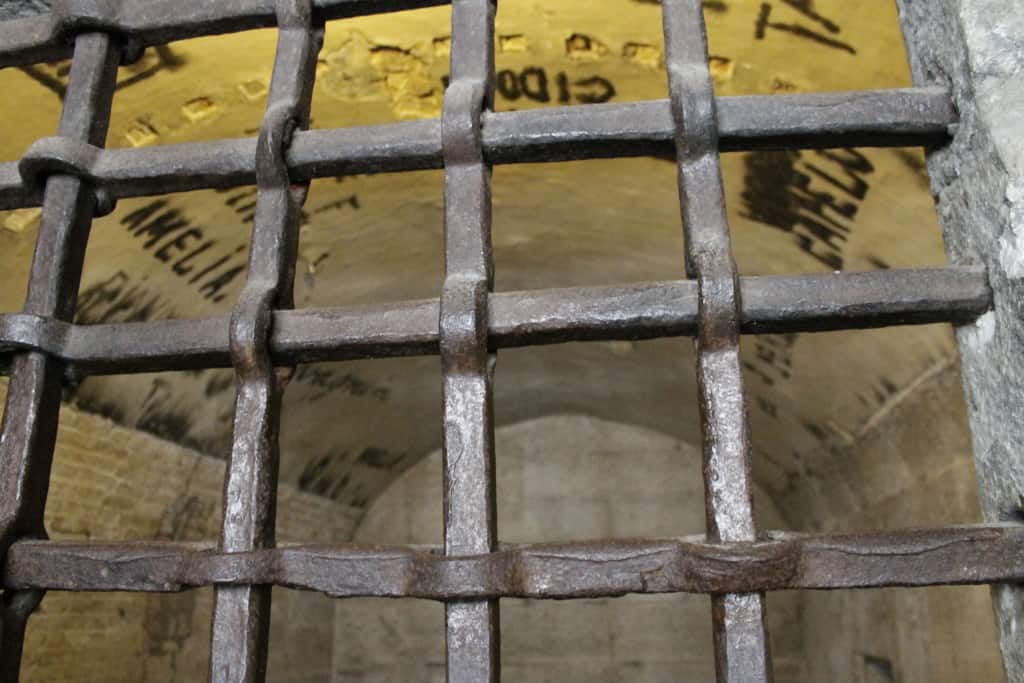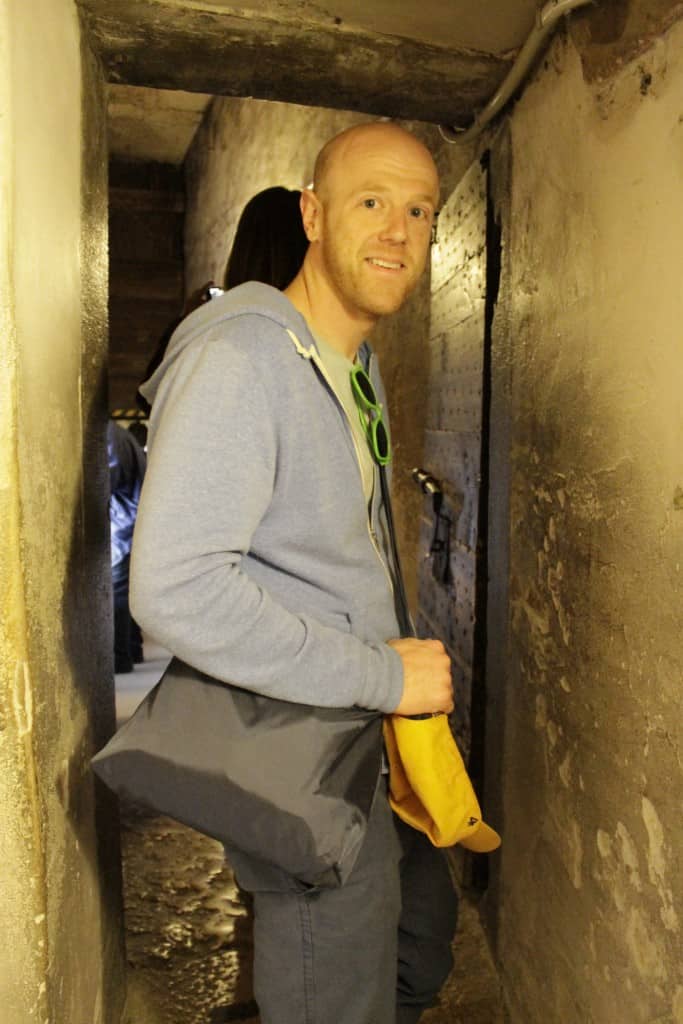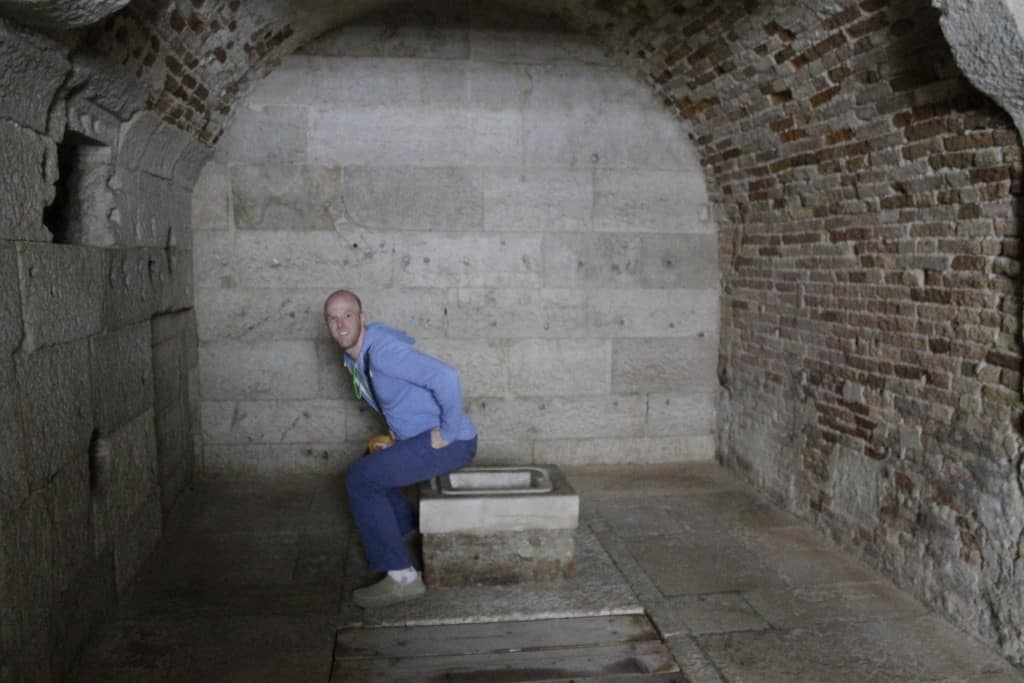 We also went down into the basement, which was the old prison. It was very spooky and eerie down there. We walked across the Bridge of Sighs, which is where the prisoners were able to look out at Venice for the last time before being locked away.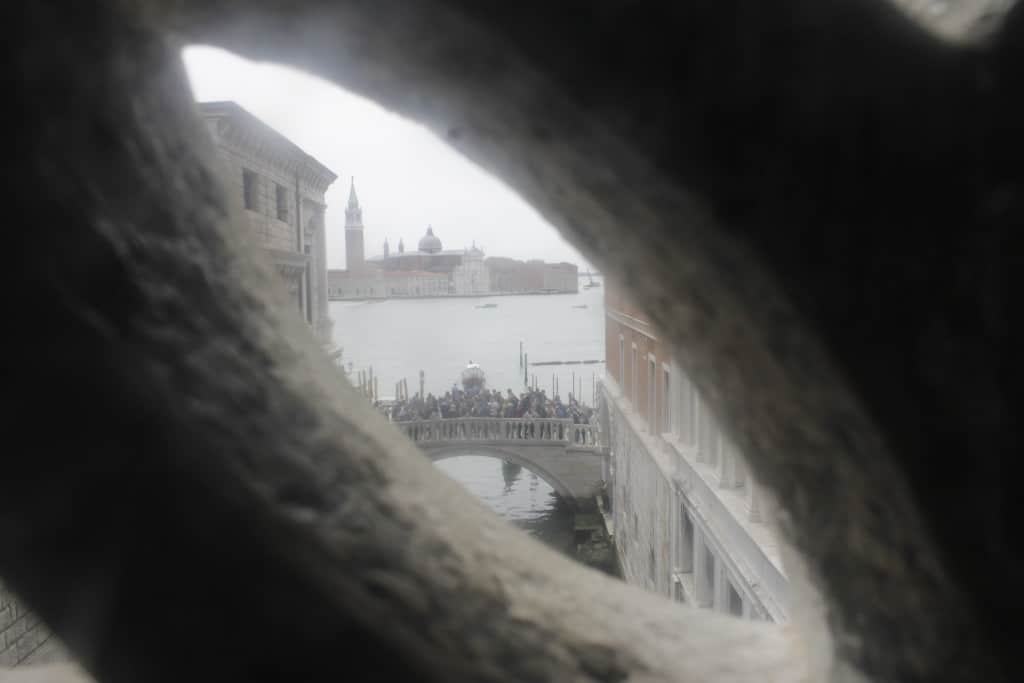 After leaving Doge's Palace, we were starving. We decided to grab a quick slice of pizza. Most of the pizza by the slice restaurants had no seating, so we just ate them while we walked. You also can't get tap water for free in Italy (at least, not in our experience), so we were thankful that we had packed re-fillable water bottles.
We walked across the Rialto Bridge and walked through a shopping market. There were lots of booths of goods for sale, including leather good and murano glass. We had to carry everything that we bought, so we didn't want to buy much. I purchased a small glass figurine as my souvenir.
After the market, we just wandered and explored Venice. There were so many alley ways and small bridges. It was very romantic and fun just to wander! We sat on the edge of a pier on the Grand Canal and just looked over the water and relaxed.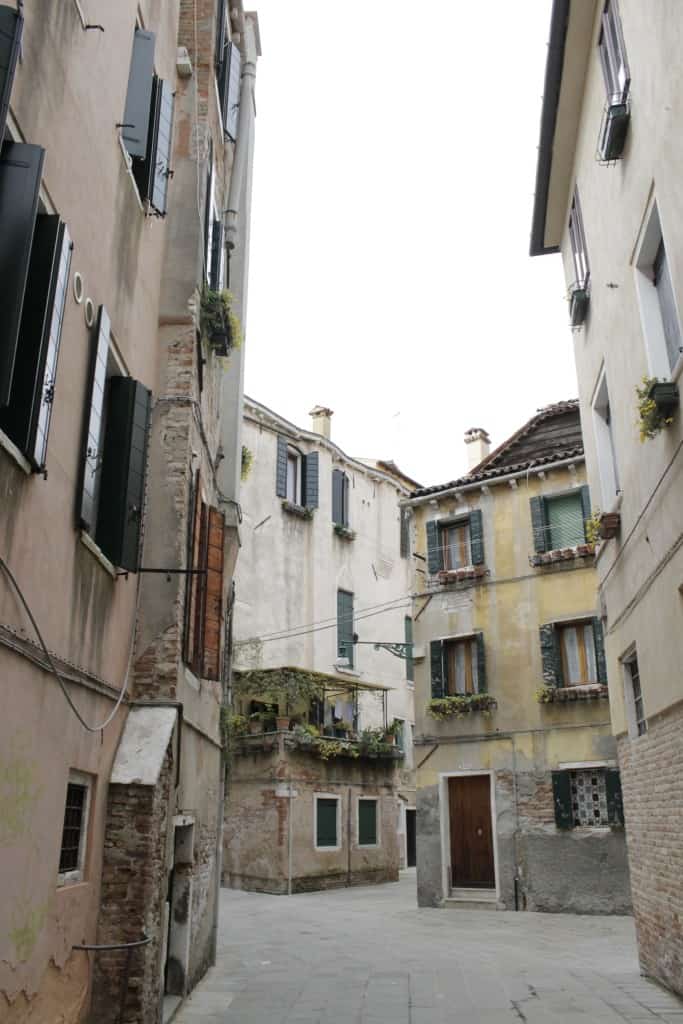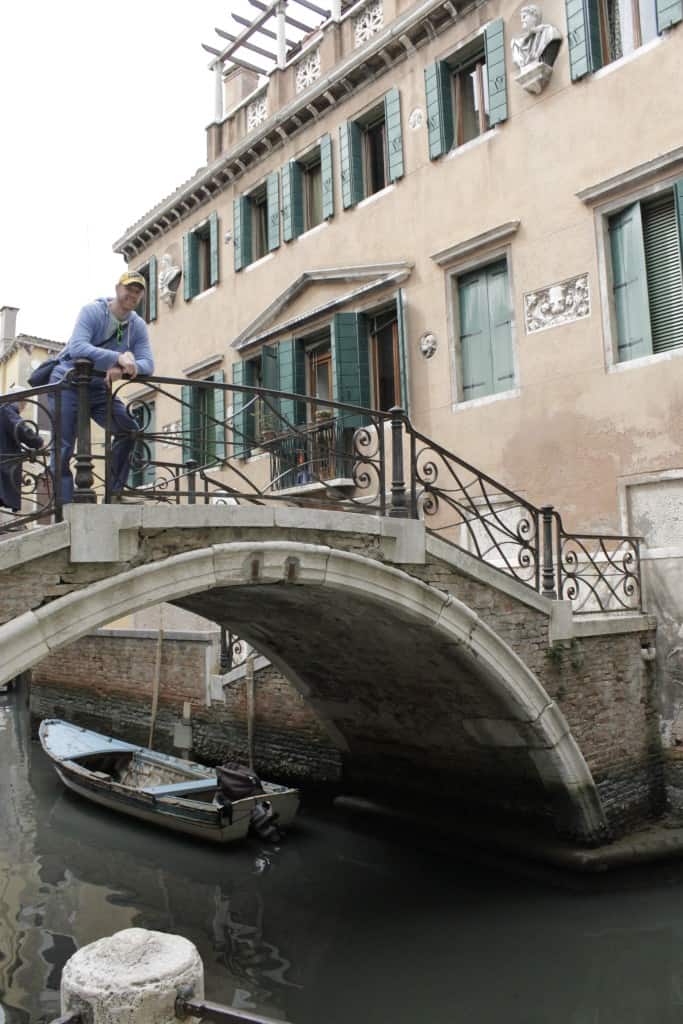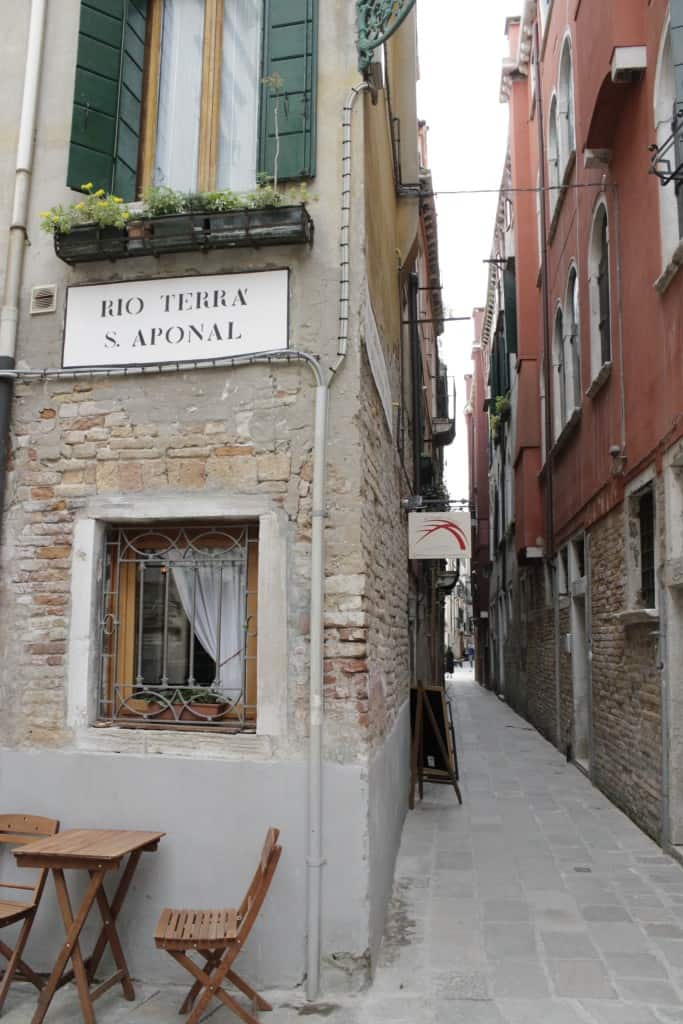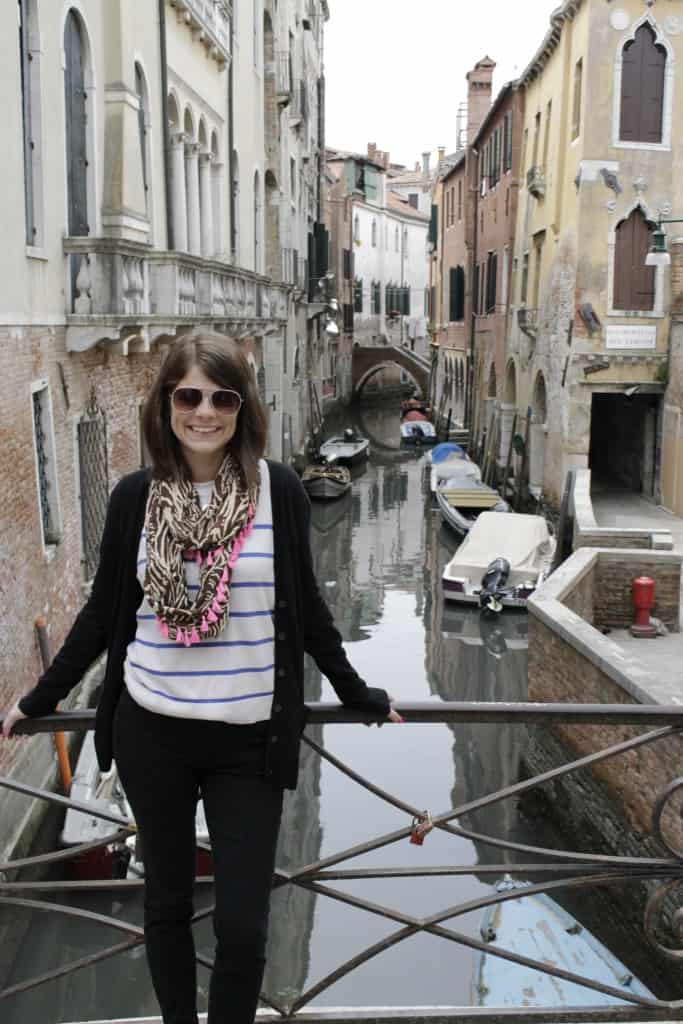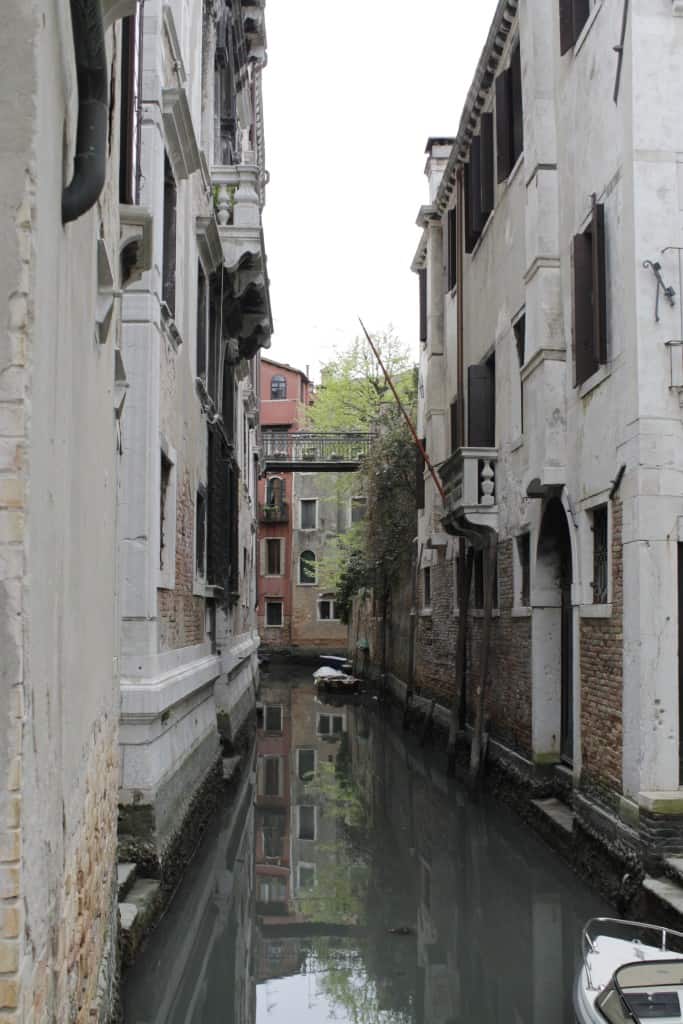 By this time, it was about 2 o'clock and I was hungry again! We popped into Cantina du Mori – a really small restaurant that served tiny bites of food. We got a sampler of parmesan, salami, tuna crusting, artichoke paste, and fried carne. Oh, and vino bianca della casa (white house wine), of course! It was great to relax and have some authentic eats.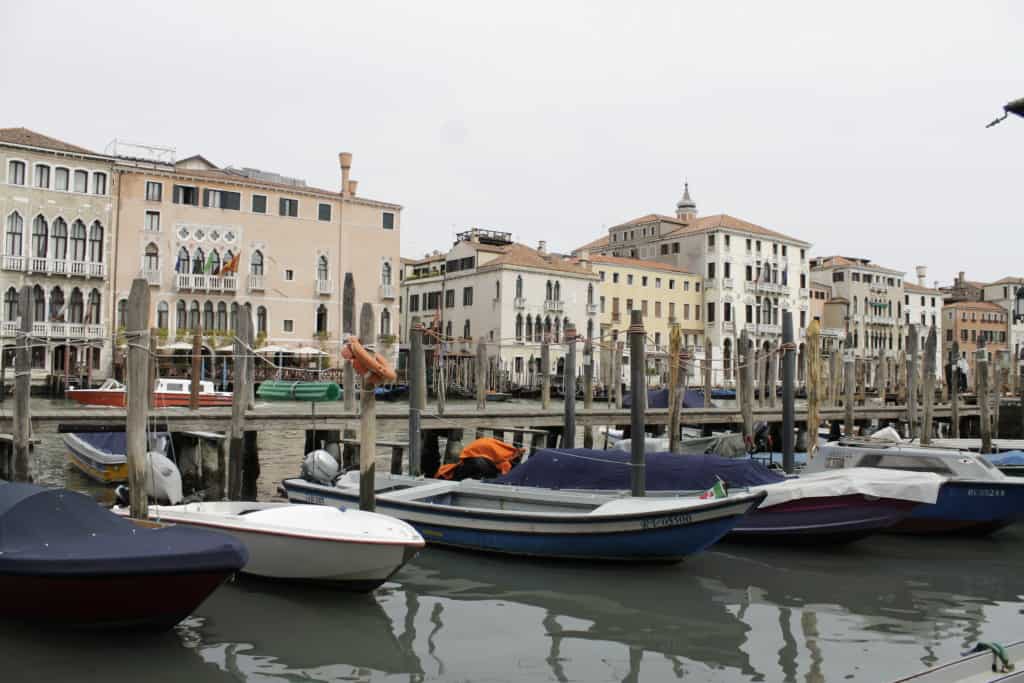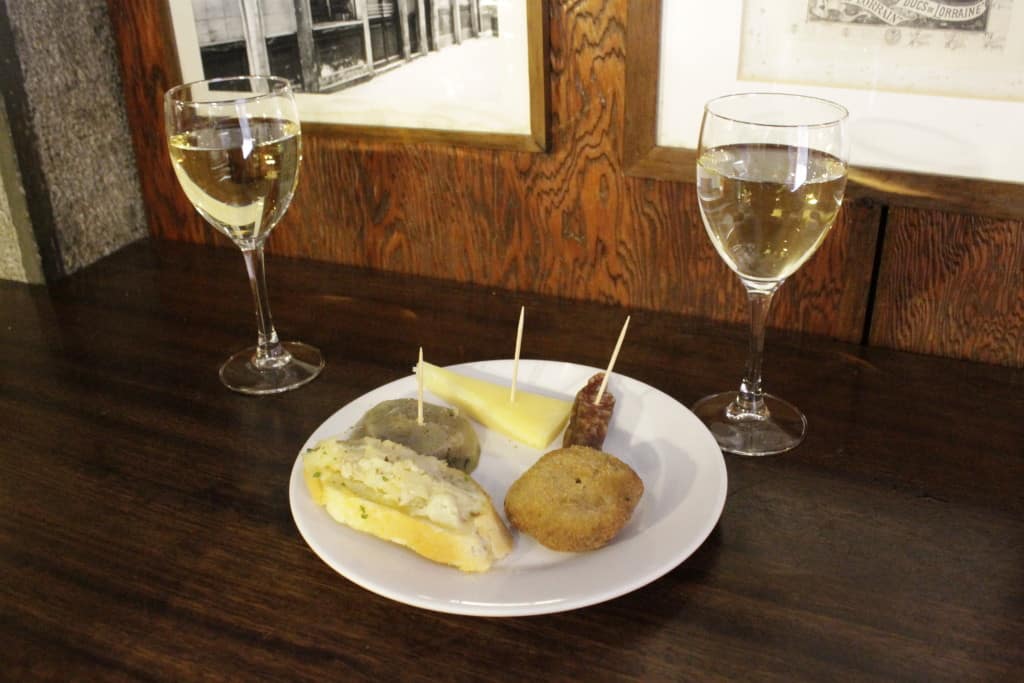 Next, we walked more. We were near the market so we went to see the fish and produce, but it had closed up for the day. We ended up on the Grand Canal. We debated it and decided to splurge on an (80 Euro, 30 minute) Gondola ride! I am so glad that we did – it was one of the highlights of Venice for me. We started on the Grand Canal but were mostly on smaller canals. It was beautiful, relaxing, and romantic.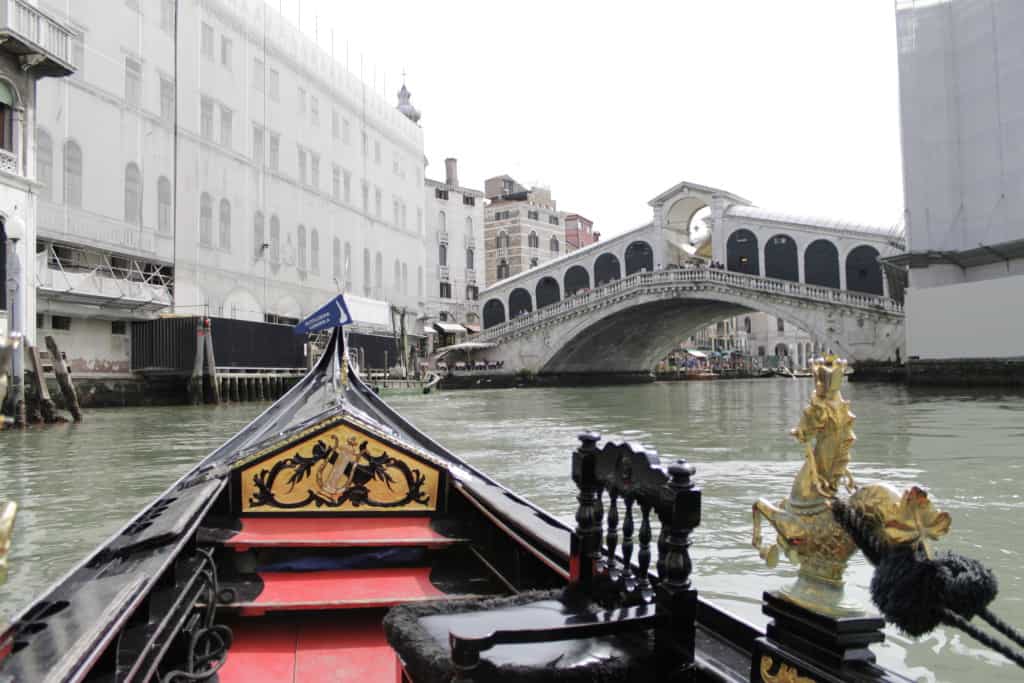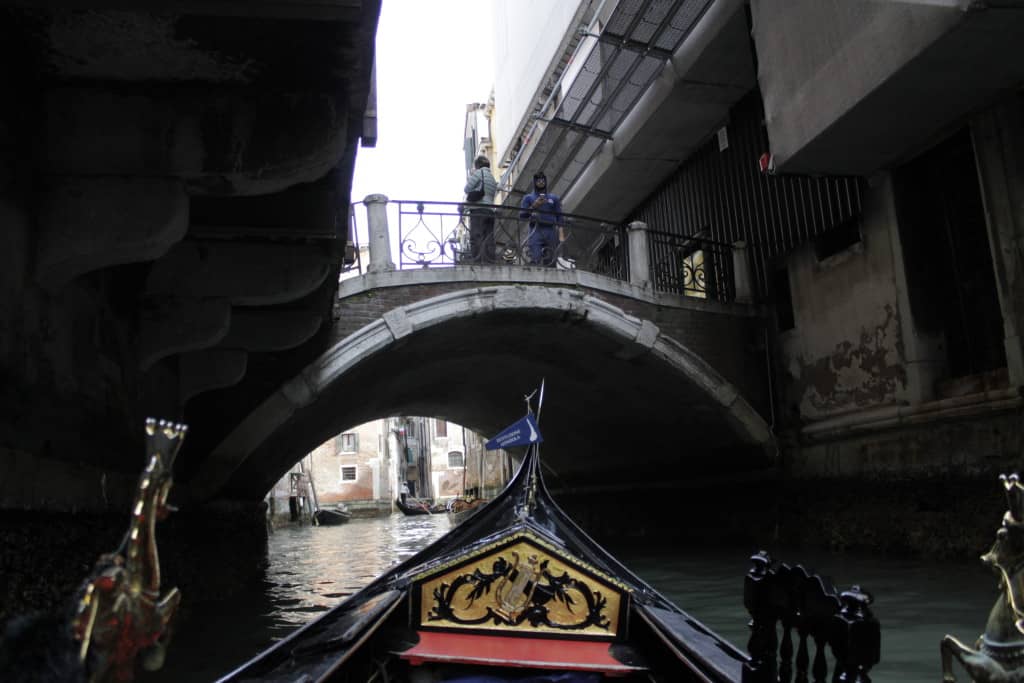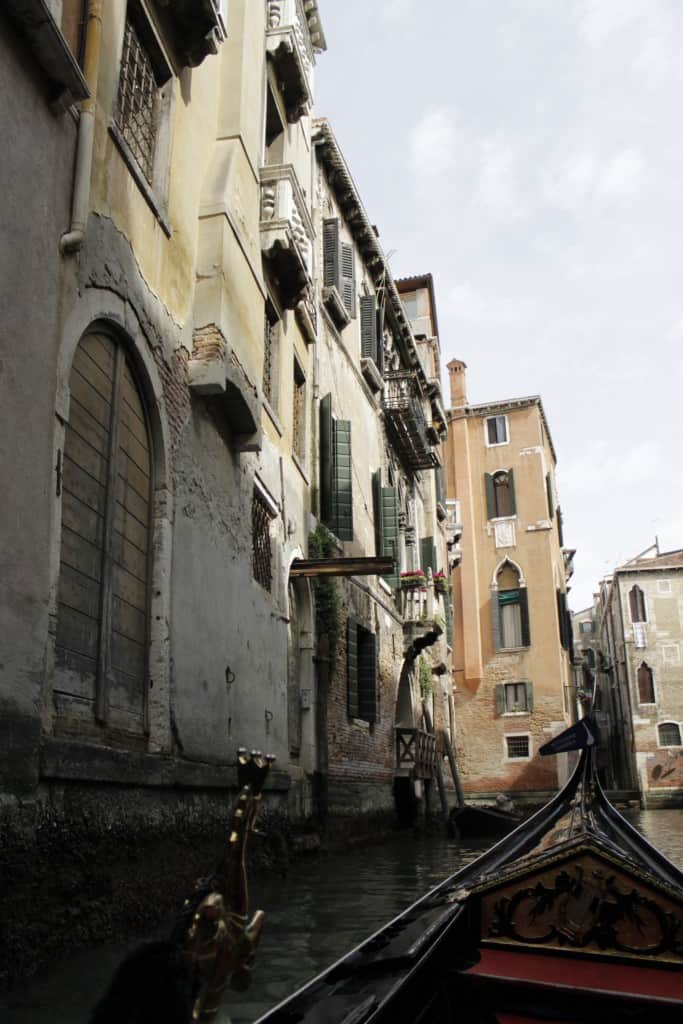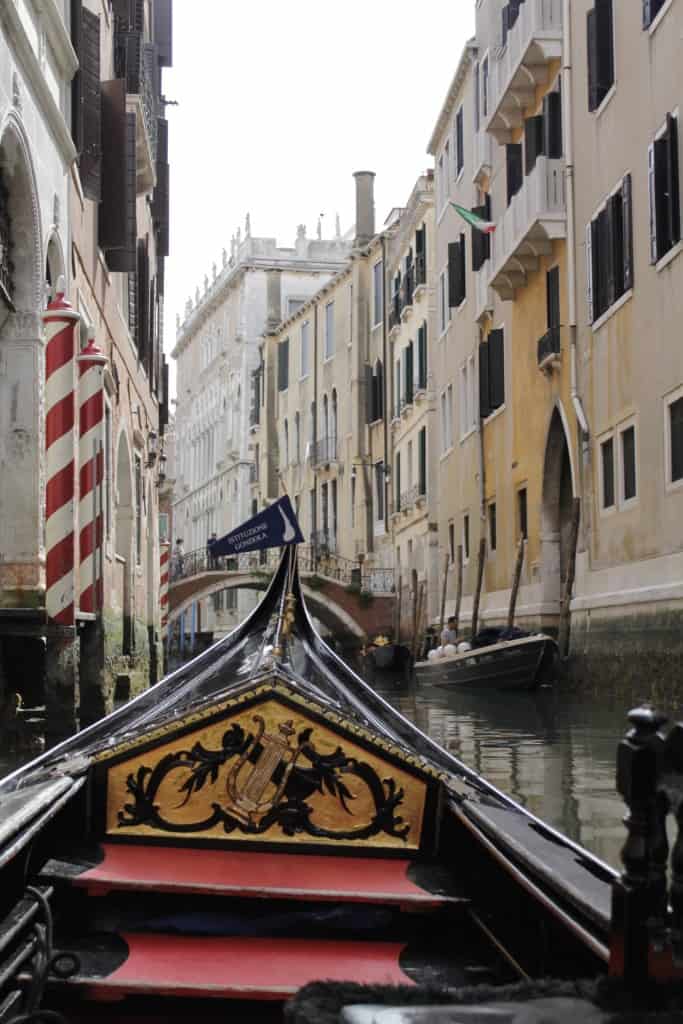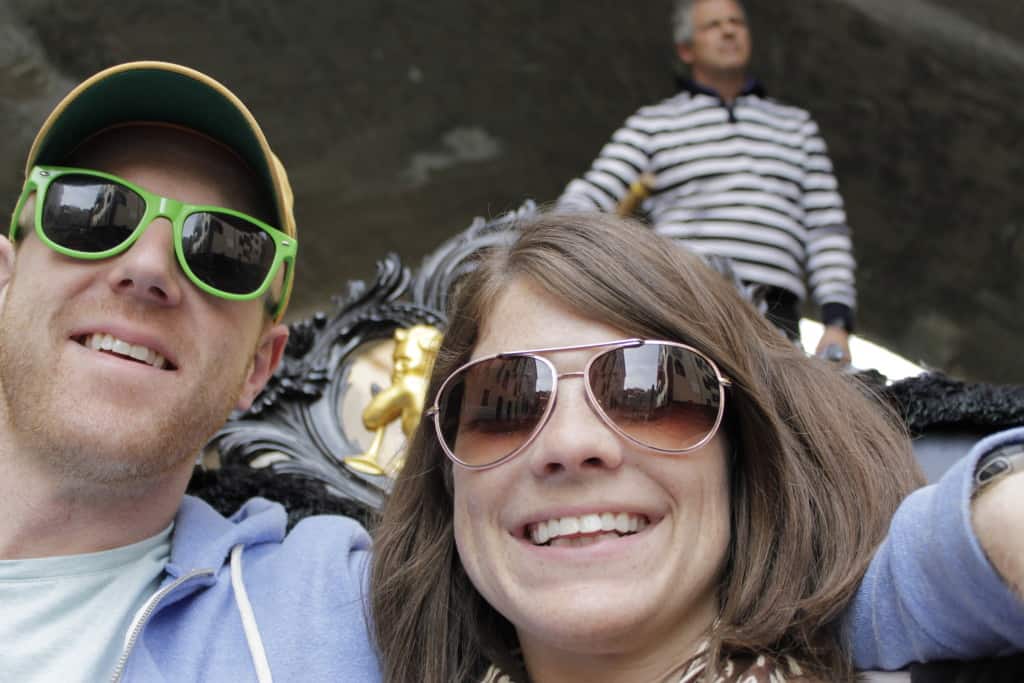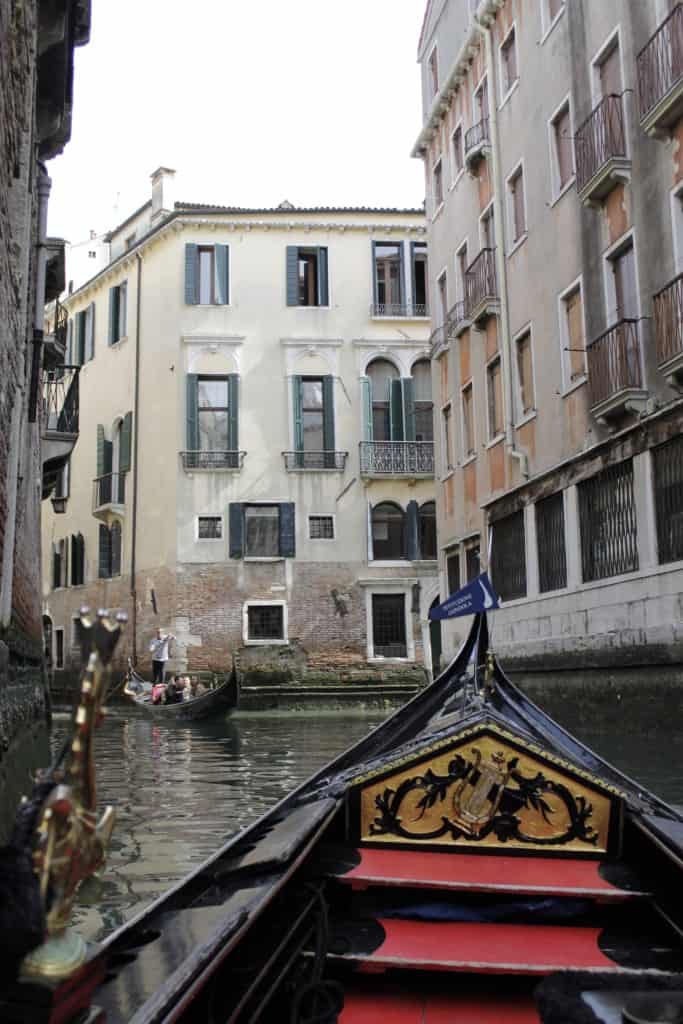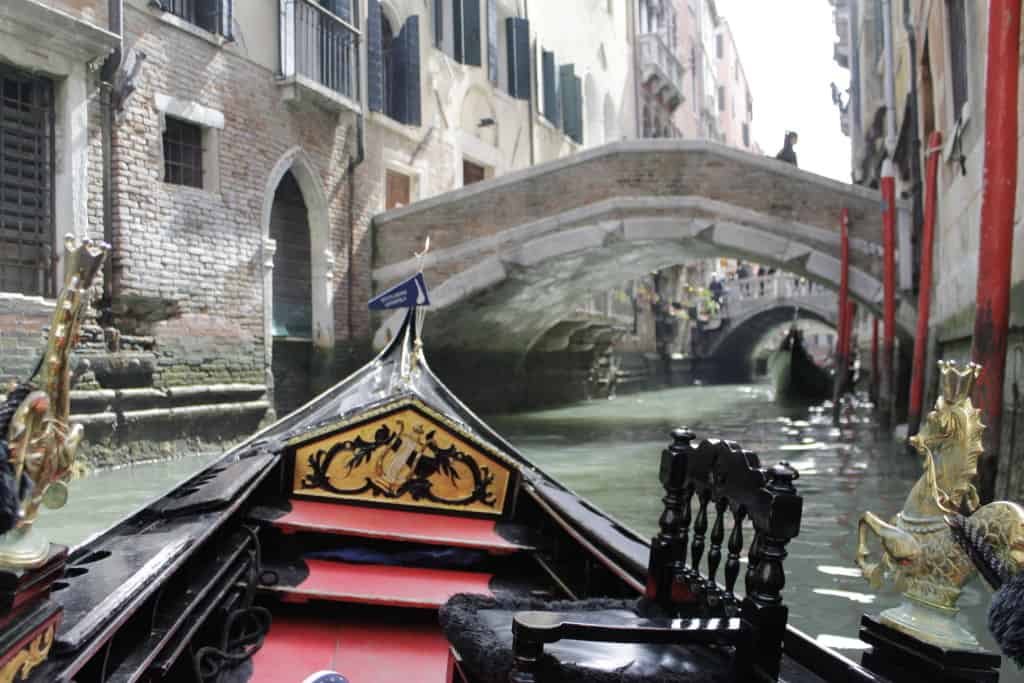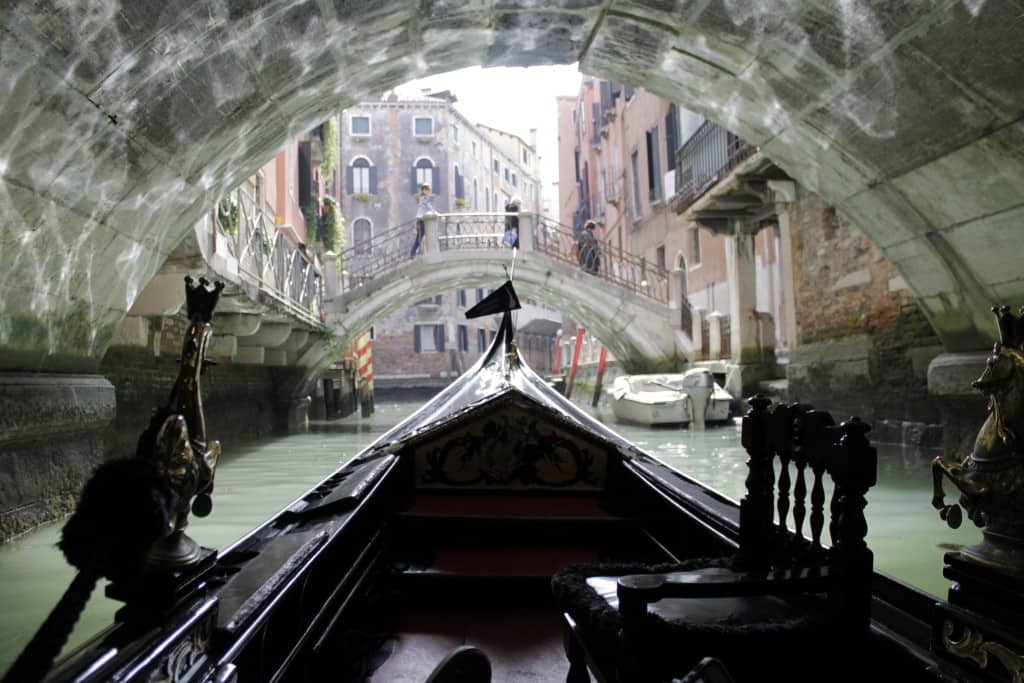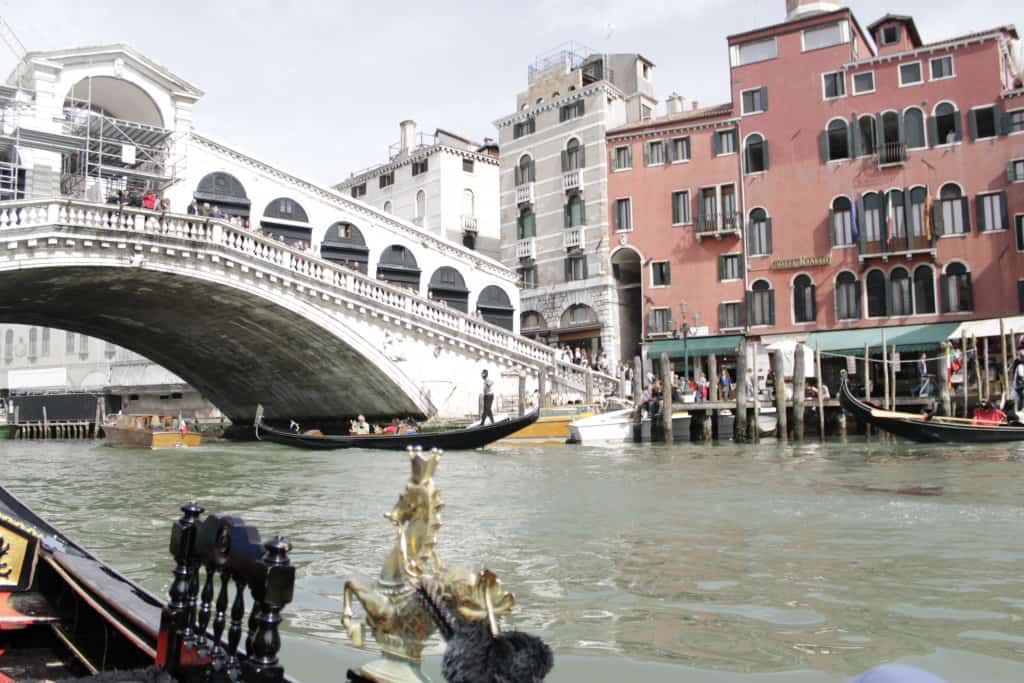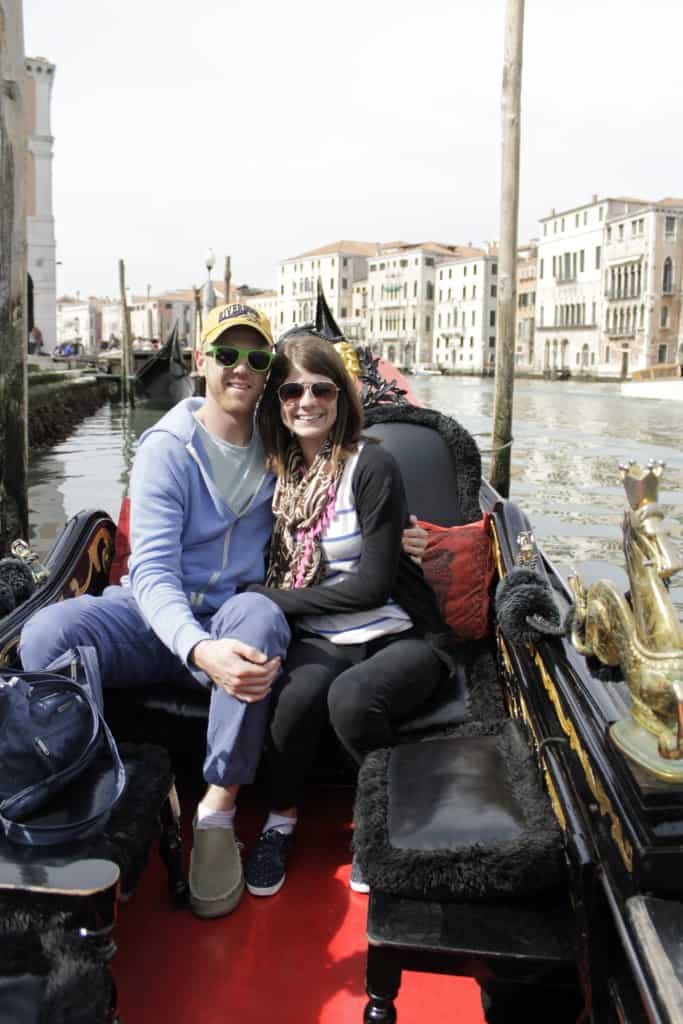 After that, we were pretty much out of cash, so we headed back to the apartment. We sat on our rooftop piazza and read and napped until about 6pm.
Then, we decided to go ahead and go on a walk. We wanted to walk to the train station and time it to see if we could do that in the morning instead of taking a taxi boat. It only took us 20 minutes and we pre-bought our tickets for the next morning. We finally got the hang of the Venice streets and started to recognize landmarks.
We headed back to our apartment, dropped off our stuff, and headed out to dinner. We ate at Osteria al Mascaron for dinner, which was very close to our apartment. One thing that was new for us was that they seat you at a table with strangers. So, if most of the tables were tables for 4 and there were lots of reservations for 2, they would pair you up with strangers. It was different, but not a problem. Most of the people that we sat with at restaurants weren't speaking English, so we just kind of politely ignored each other.
We had bianca della casa, a caprese appetizer, and a seafood medley pasta. It was so fresh and delicious. We really stuffed our faces!
After dinner, we walked for about 30 minutes. We saw a group of students wearing Clemson gear and spoke to them – they were studying abroad and one girl was from about ten minutes from us! It's a very small world. We grabbed our nightly gelato and headed back to the apartment to go to sleep.
Tomorrow, we head to Lake Como!