After a really long day doing Tasty Tuscany and the Fiorentina soccer game, we slept in until about 9 a.m. We ate breakfast at the Strange Uncle. We finally met the owner and talked to him for a few minutes. Interesting fellow named Breditz. We packed up all our stuff and walked to the train station, grabbing paninis to take on the train with us. We had learned a few times already to always have food in case we get in a situation where we can't get food and we're hungry. The train ride from Florence to Naples took about three hours.
When we got to Naples, we had three hours to kill before my friend Meghan picked us up. She's a friend from back when I was taking classes in Maryland for three months. Her and her husband, Josh, moved out to Naples a couple years ago when she found a job transfer that would let them live in Italy for 3-5 years. They were gracious enough to offer us a place to stay for a couple nights and help us explore southern Italy.
So like I said, we had three hours to kill before Meghan got off work and could pick us up. We checked our bags at the train station and decided to explore downtown Naples. BIG MISTAKE! If I could give someone advice that was going to Italy, I would tell them not to go anywhere near downtown Naples. It was probably the sketchiest place we have ever been (and this is coming from someone who thought they were getting abducted on a boat in Belize – multiply that by five). It was extremely ghetto in every direction. We tried walking in several directions to get to something old, historic and nice, but that never happened in any direction we went. There were so many people trying to sell stolen goods on blankets on the street, garbage was absolutely everywhere, and it was very nerve-wracking. We walked for about 45 minutes and after stumbling upon a man in a dress outside a sex shop, we turned around and went back to the train station.
Because of the situation we were in, we literally did not take a single picture in downtown Naples. We didn't feel comfortable taking out our camera. So we sat in the train station cafe for a couple hours and had pizza and a bottle of wine and uploaded pictures onto our computer. Then we caught a harrowing cab ride 20 minutes to the airport where Meghan was going to pick us up. Seriously, people driving in Italy are crazy. They just cram their cars into every space possible. I can't believe there aren't more wrecks, but the police sure don't seem to care how people drive.
Meghan met us at the airport and drove us about 45 minutes to their house in the suburbs. Turns out, the suburbs of Naples are actually peaceful and cute. Their house was incredible, but the view from their rooftop terrace was breathtaking. From up there, you can see the Mediterranean Sea, Mt. Vesuvius, Capri and much more. It was incredible.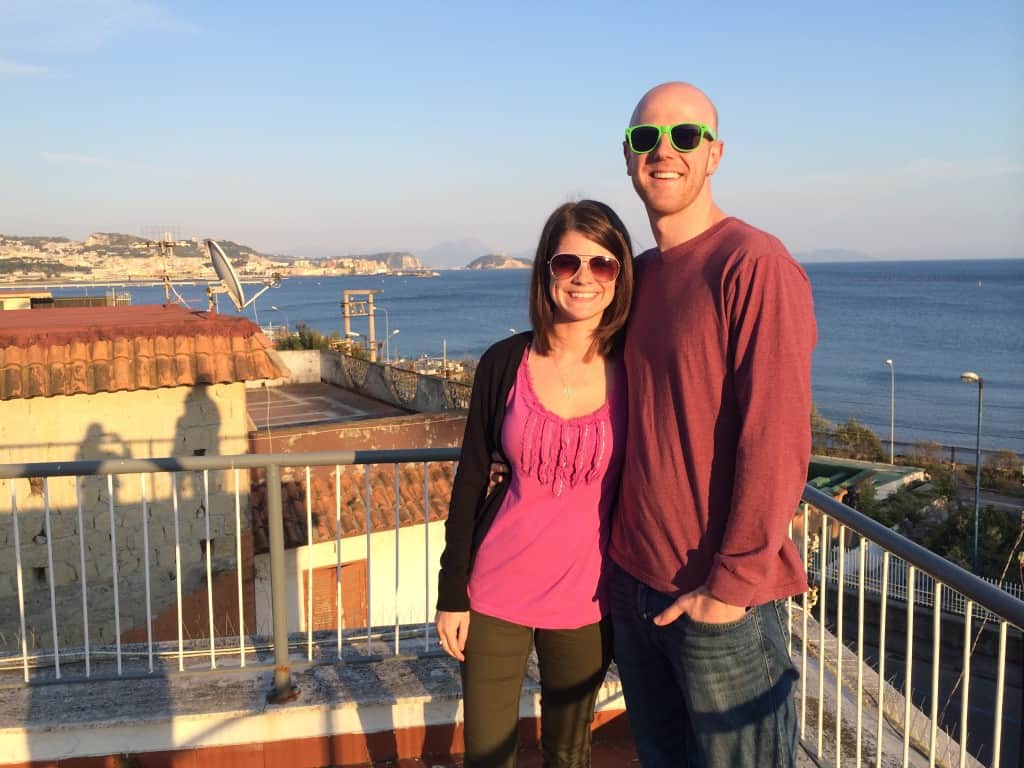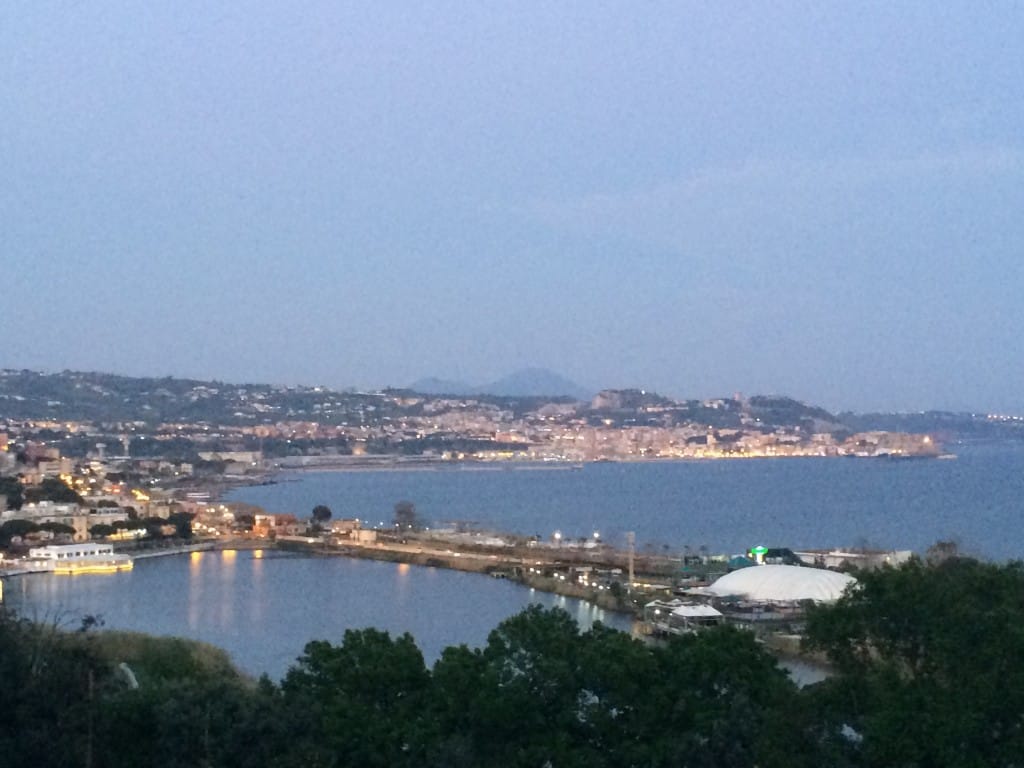 We had a couple bottles of wine and talked and caught up. They greeted us with a cool bottle of champagne that was local and very yummy… once we finally got it open.
Afterwards, Meghan and Josh took us to dinner at a secret, hole-in-the-wall place call Lo Sfizio. It looks very small from the front, with only a few tables. But if you know about it, you know that you have to walk through the kitchen to more tables. There is no menu at this place, but luckily Josh has become pretty good at speaking Italian in the time that they were there. He took charge and ordered some appetizers of mozzarella, breadsticks wrapped in prosciutto, and stromboli. It was all super fresh and delicious.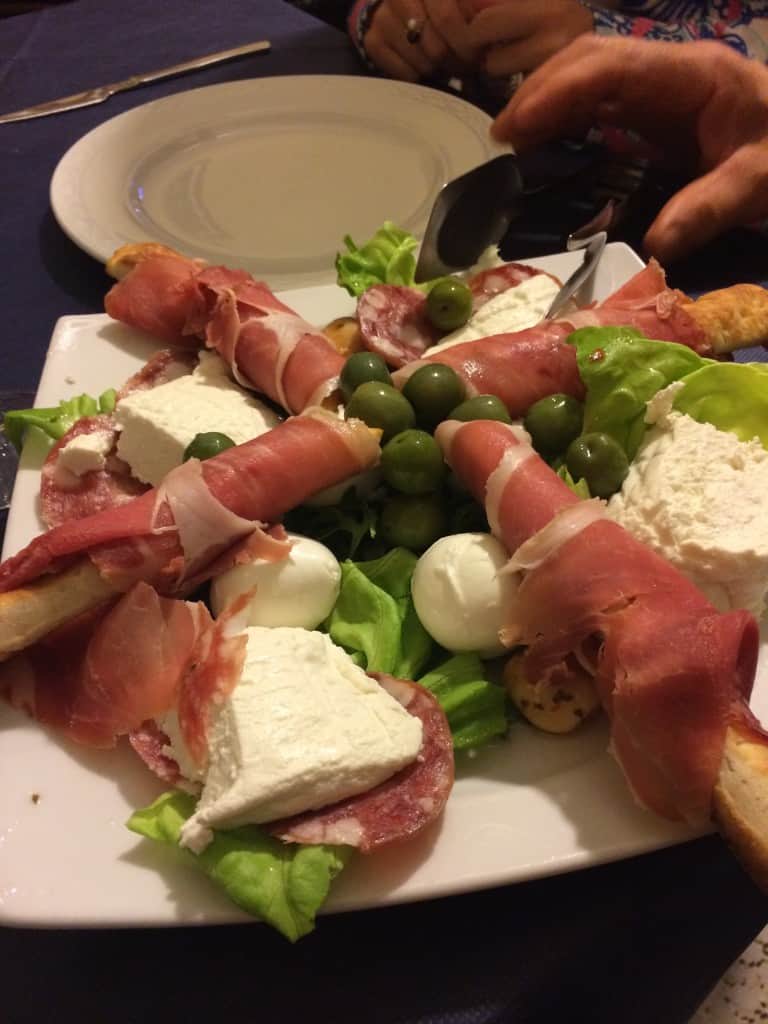 Then we had penne bolognese for diner. The sauce was very flavorful and warm. It was really cool to have someone show us a hidden gem, because those places always have the best food.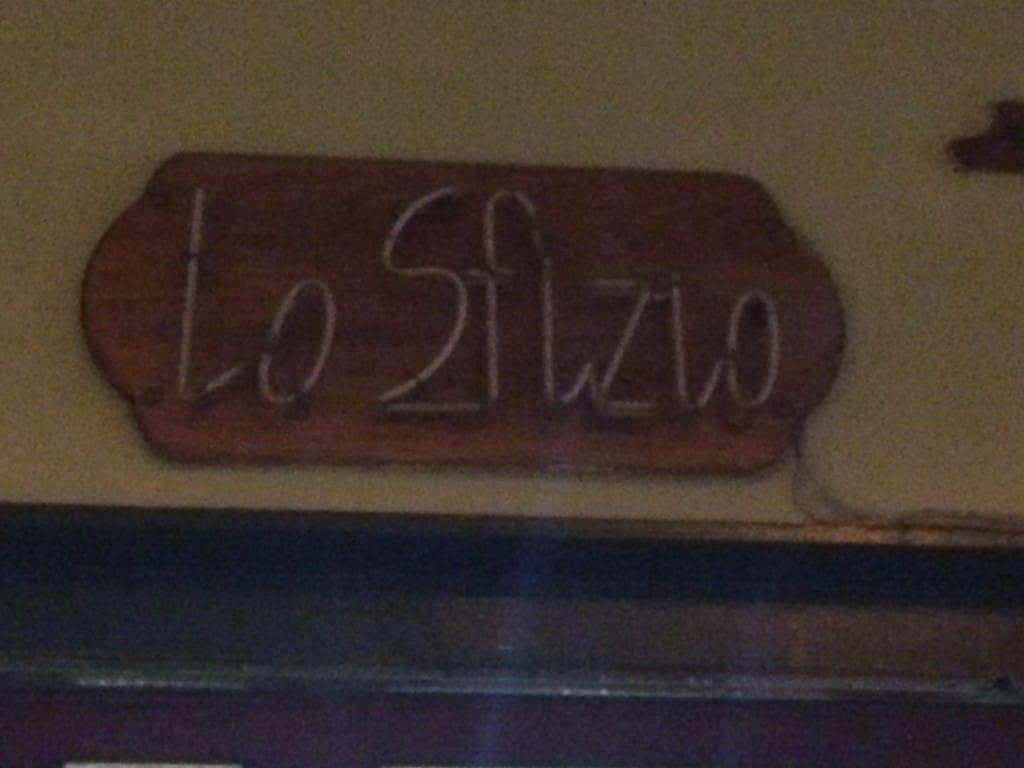 We drove back to their house, talked for a bit, and went to bed, planning and extremely long day tomorrow to Pompeii and the Amalfi Coast!