Rust stains on your concrete? This is the cheap and easy, tried and true method that I used to get rust stains off of our concrete patio!
Our DIY molded concrete patio is a fantastic part of our backyard. We love how it looks and loved decorating it with patio furniture and a gas fire pit.
However, I guess we should have purchased a cover for the gas fire pit because it did not weather well.
It had peeling paint and tons of rust. When I tried to make it over, the whole thing crumbled (literally!)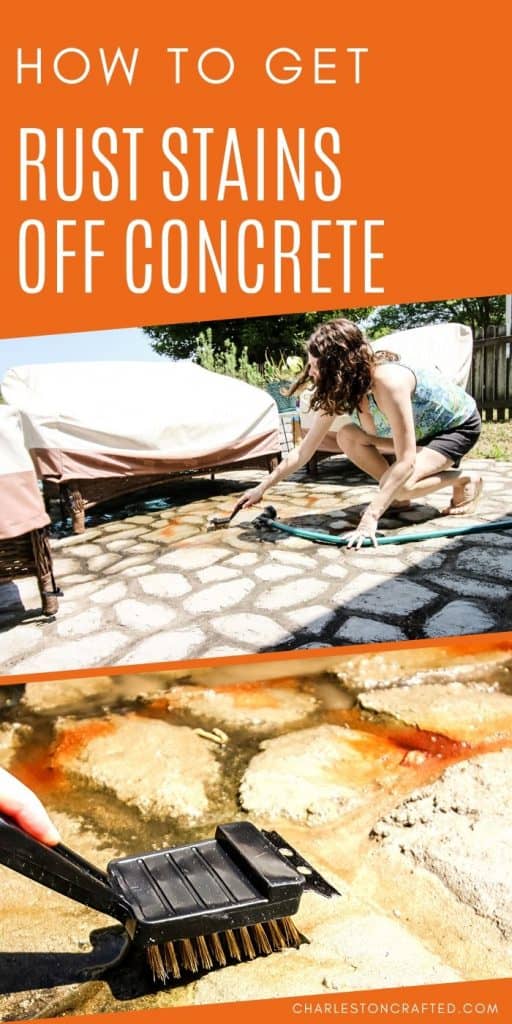 So, we got rid of the fire pit. I actually sold it on Facebook Marketplace – of course, I disclosed all the rust! But we still got $40 for it!
Even though the fire pit is gone, it left its mark on our cement patio.
There was a distinct circle of rust on the patio underneath the rim of the fire pit.
Lesson learned – you can't leave metal furniture outdoors on top of concrete without risking rust stains.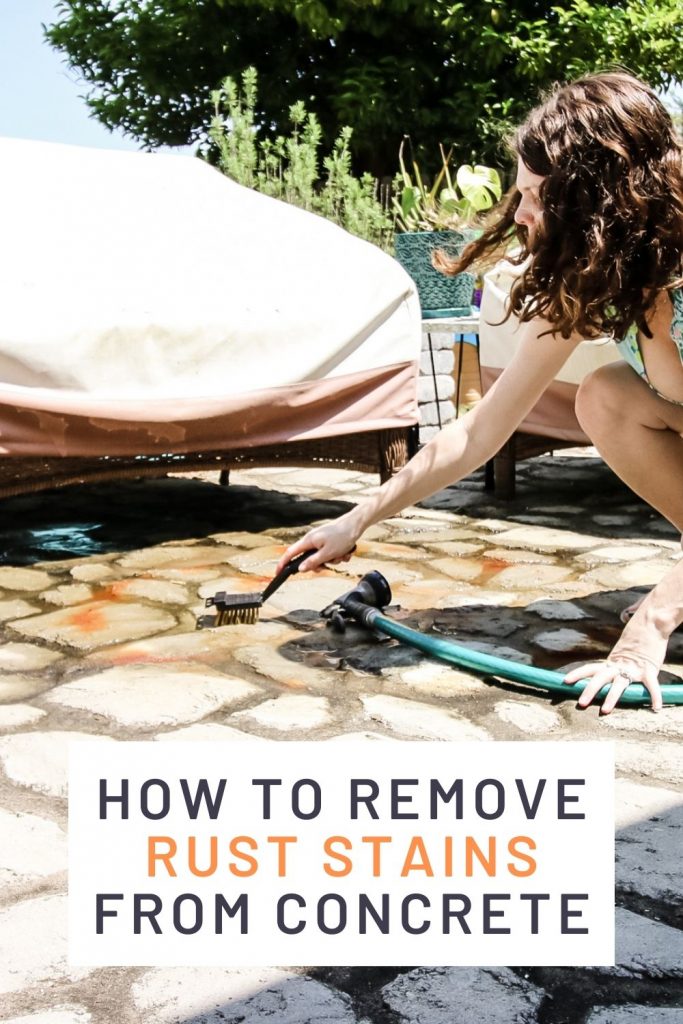 When it's left out in the rain, it can make a mess on your concrete surfaces.
We were about to list our house for sale and I did not want potential buyers to see a giant rust stain circle on the patio.
So, I decided to try to get the rust stain out of our concrete patio before we got a new coffee table. I tried a few methods to find the best concrete rust remover!
Sources of rust stains on concrete
The best way to not have rust stains on your concrete is to not have them to begin with. Rust comes from metal getting wet, so it's usually from:
Metal patio furniture
Metal fire pits (hello!)
Metal garden and yard tools
Metal fencing
Rebar or steel mesh inside the concrete itself (exposed to water)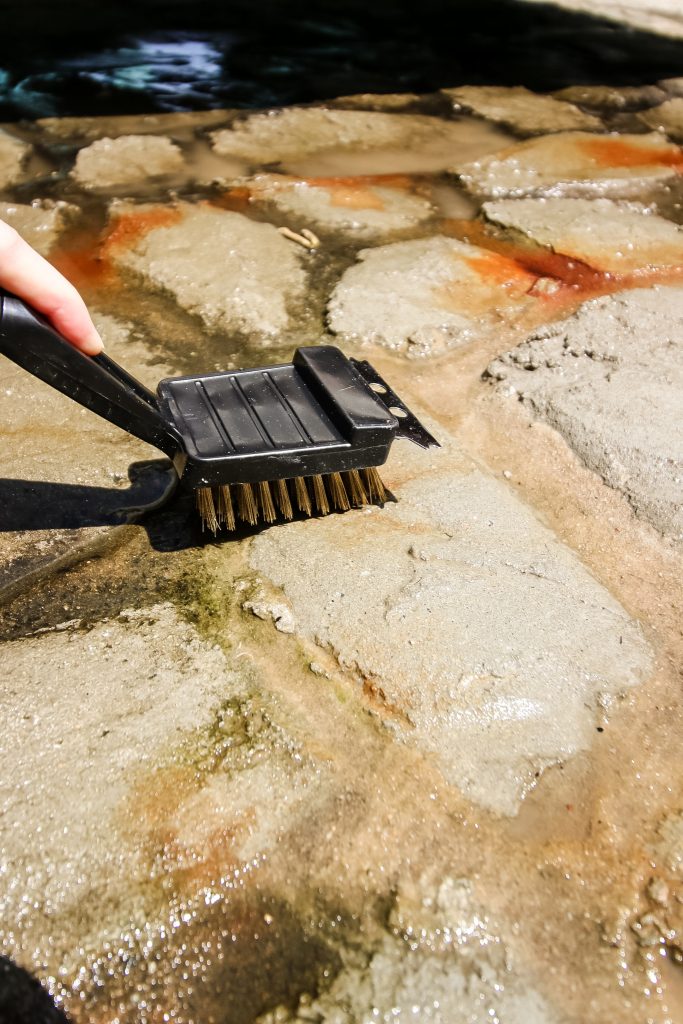 How can I remove rust stains from concrete?
It wasn't particularly easy but it wasn't difficult either – it just took a little elbow grease to do this DIY concrete patio cleaner.
I did this while 5 months pregnant on a hot sunny day – so you can definitely do it too!
Like any stain removal, the biggest determinate of how hard it is to get rust off of your concrete is going to depend on how long the stain has been there.
So, as soon as you notice a stain appear, try to treat it! The longer it sits, the harder the stubborn rust stain is to remove.
What we are going to do is scrub the rust off as much as possible, and then use lemon juice or vinegar – which are both acidic – to help remove any remaining stains from your concrete floor.
You can use a pressure washer as a concrete cleaner, too. But I didn't need one for this tutorial!
This would also work to remove rust from driveway. Anywhere you have a rust stain on concrete, here's how to remove it!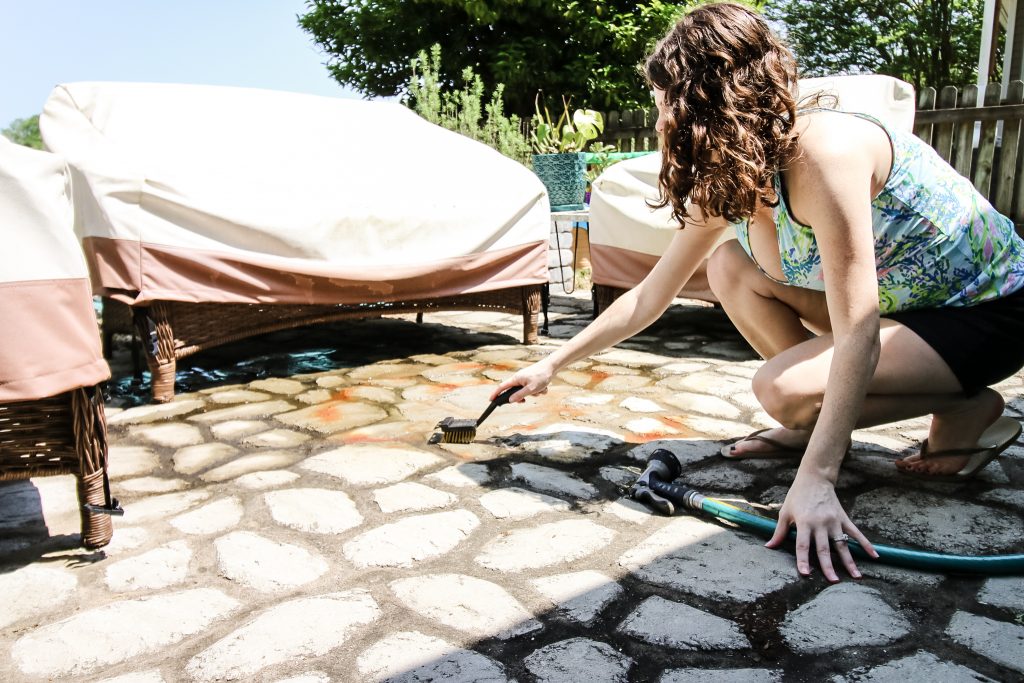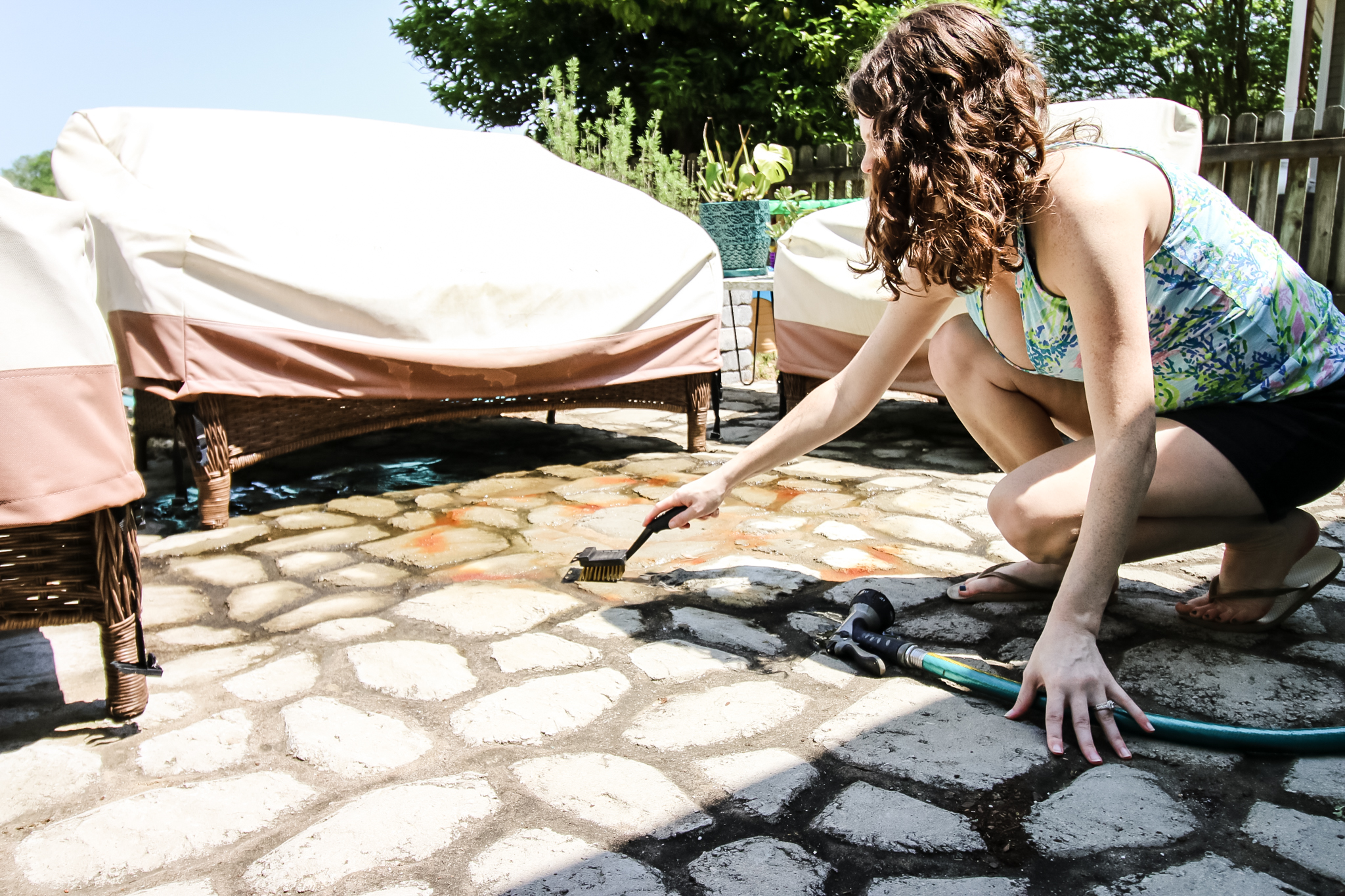 What you need to remove rust stains from concrete
Hose with sprayer attachment
Metal scrub brush – stainless steel or nylon brush will work
Lemon juice
White vinegar
If your stains are very light, you can use a dish brush, toothbrush, or sponge in lieu of a metal scrub brush! You can get all of these at the hardware store.
How to remove rust stains from concrete
How to remove light rust stains from concrete
First, let's try the easiest thing.
This won't get rid of all rust, but will get rid of anything surface level so you don't waste your time deep cleaning it.
Cut your hose on JET or a similar strong setting. Spray the stains directly to see what you can get up.
This will loosen up any debris or surface stains on your concrete.
Now, to start scrubbing. Use your stiff brush to scrub the area with the rust stains and then rinse with the hose.
Allow to dry completely and assess what came up.
I repeated this a couple of times when I felt like I was getting the stain but it wasn't completely coming off. It's very easy and quick to do.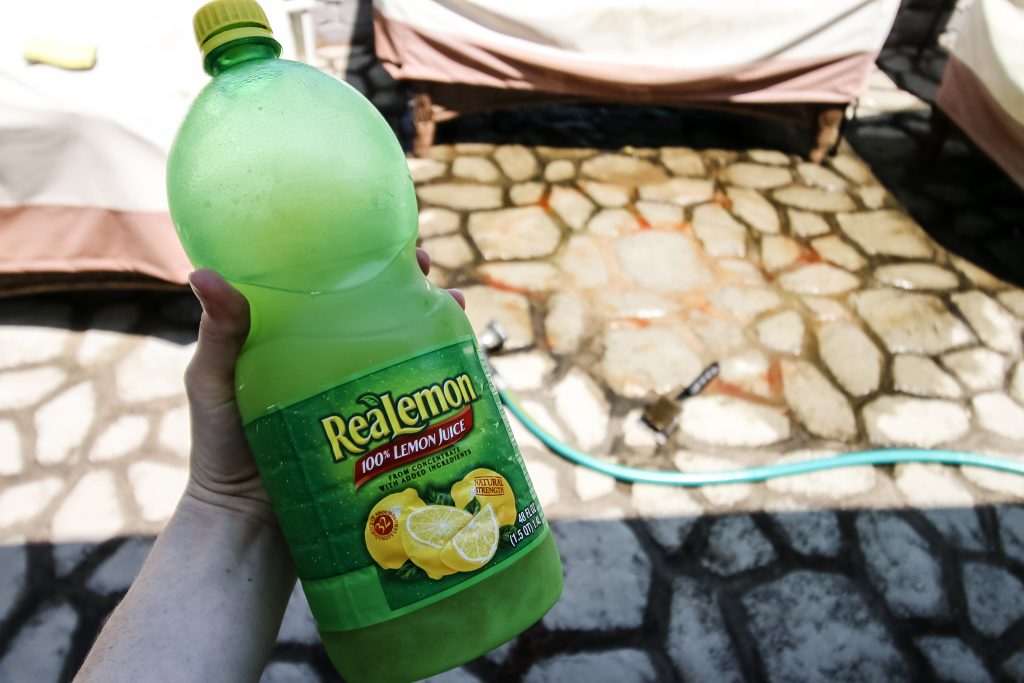 How to remove more stubborn rust stains from concrete
Apply lemon juice to remaining stubborn stains. Lemon juice is very acidic, which helps to remove rust.
Let the lemon juice sit for at least 10 minutes.
Scrub with your metal brush. Rinse the area with the hose.
You can also repeat this a few times if need be. It depends on how smooth or bumpy your concrete is. If you have a lot of crevices, you will get more rust stuck in there and need to scrub them.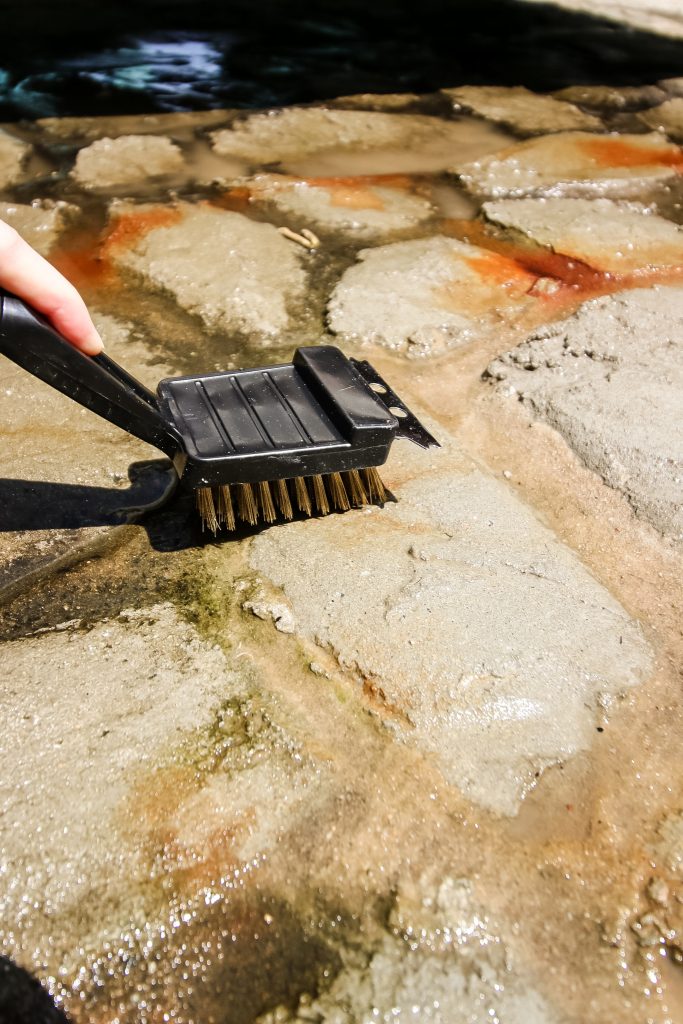 How to remove very stubborn rust stains from concrete
If a stain is very bad, repeat with white vinegar in lieu of lemon juice. Let sit 15 minutes, and then scrub.
You will likely have the hardest time in any grooves or cracks. Scrub as much as you can, but if it's too deep, there's not much you can do.
Finally, you can purchase a rust remover product. Follow the instructions on the package exactly.
Be very careful as it tends to lighten the concrete, leaving a rust-free but noticeably lighter spot where you used it. Hence use it as a last resort.
I personally do not prefer to use the rust remover, but it is an option for you if you are okay with it. I personally prefer more natural options.
What is the best rust remover for concrete?
The best rust remover is a little elbow grease! You can usually scrub it off using a wire brush, and something natural like lemon juice or white vinegar!
How do you remove rust stains from painted concrete?
I'd honestly be careful with any heavy scrubbing on painted concrete. You could spot test in a less-noticeable spot. I'd stick to soft brushes, hot water, and lemon juice and hope that your hose on jet can get it off!
Will Bleach Remove Rust From Concrete?
Bleach seems like the ultimate cleaner, but it's not the best for getting rust. Lemon juice, white vinegar, or a commercial rust remover are your best options.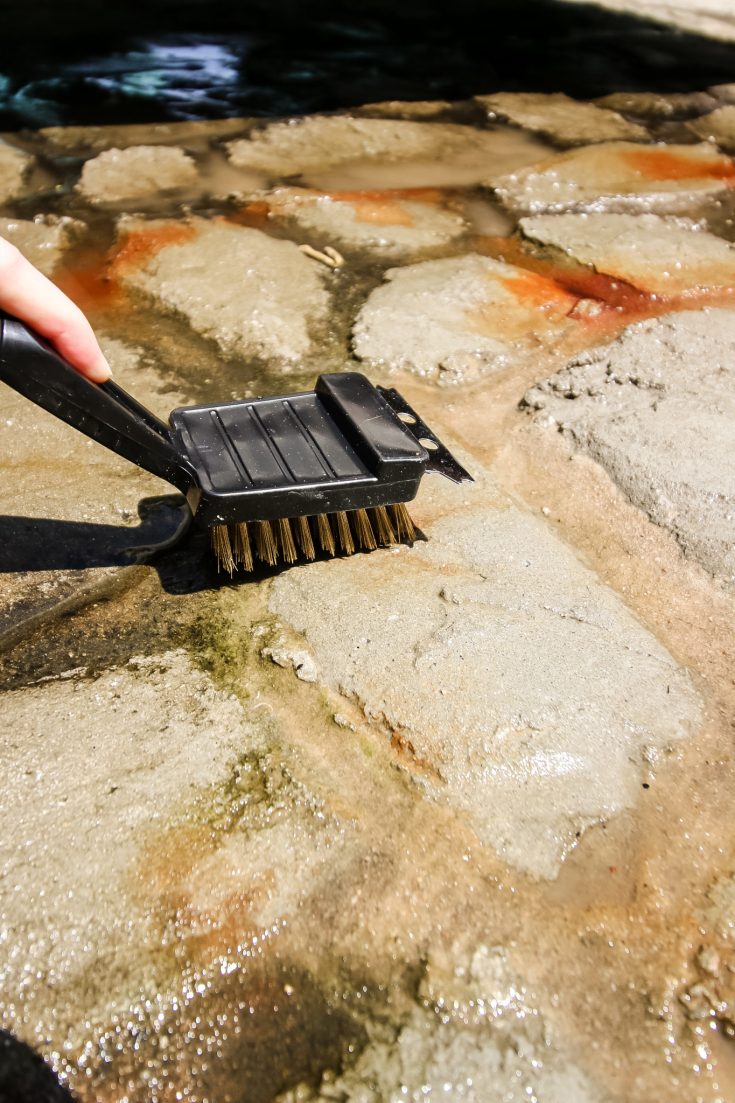 Yield:

1 rust free section of concrete
How to remove rust stains from concrete
Rust stains on your concrete? Here are easy and cheap ways to get the stains out!
Materials
Water
Lemon Juice
White vinegar
Rust remover (last resort!)
Tools
Metal brush
Hose with sprayer
Instructions
Spray rust stain with hose and scrub with brush to remove any dirt or easy to remove rust. Rinse on JET or similar setting.
Apply lemon juice. Let sit at least 10 minutes. Scrub with brush. Rinse with hose.
If stains persist, repeat lemon juice process with white vinegar. Let sit 10 minutes, scrub, and rinse.
As a last resort, you can use a rust remover, but it might change the color of your concrete.
Recommended Products
As an Amazon Associate and member of other affiliate programs, I earn from qualifying purchases.
I hope that this simple home improvement DIY project helps you out!
The easiest way to not have rust stains on your concrete is to prevent them in the first place.
And be sure to learn from my mistakes – Don't leave metal garden tools or furniture out any more!
What caused the rust stains on your concrete? Good luck cleaning rust stains!
Facebook | Instagram | Pinterest | Twitter | YouTube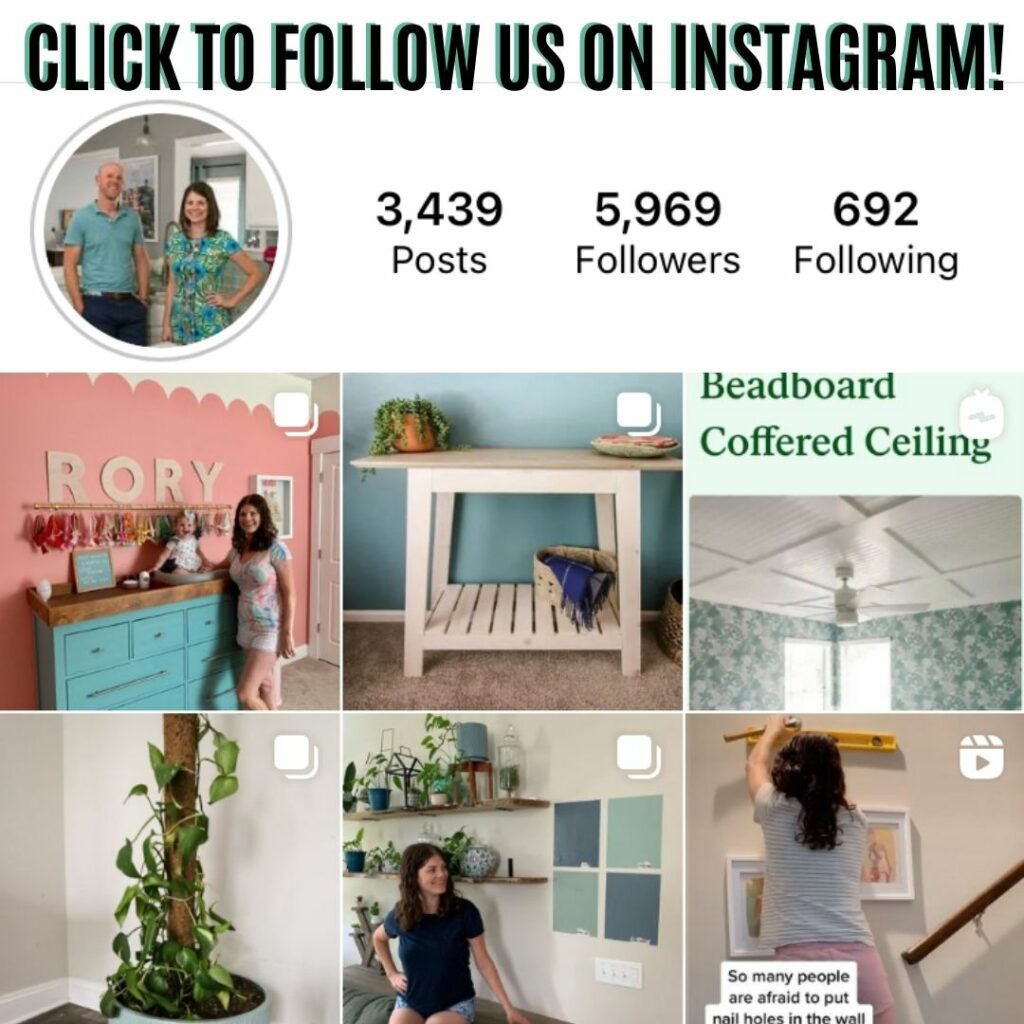 ---
Can we send you our newsletter?
Another great way to keep up with out latest projects is by joining our weekly newsletter! Get alerts of our latest projects and special peeks behind the scenes!
Follow along on Instagram
Join our online community where we share real time behind the scenes looks at our DIY projects and peeks inside our home + family!
---