Wondering how to paint a dresser? Here is a step by step tutorial and tons of tips from me, someone who has painted a LOT of wood furniture!
Dressers are an important part of any bedroom's decor. They are super functional – but that doesn't mean that they can't be pretty! When re-decorating a space, a lot of times all that a dresser needs is a new coat of paint.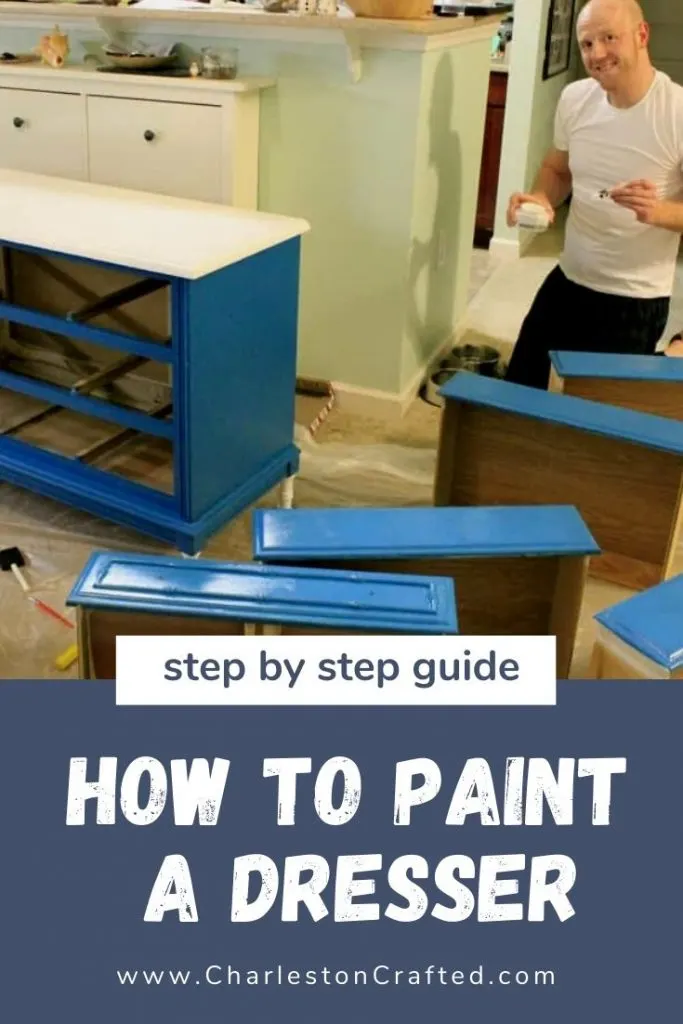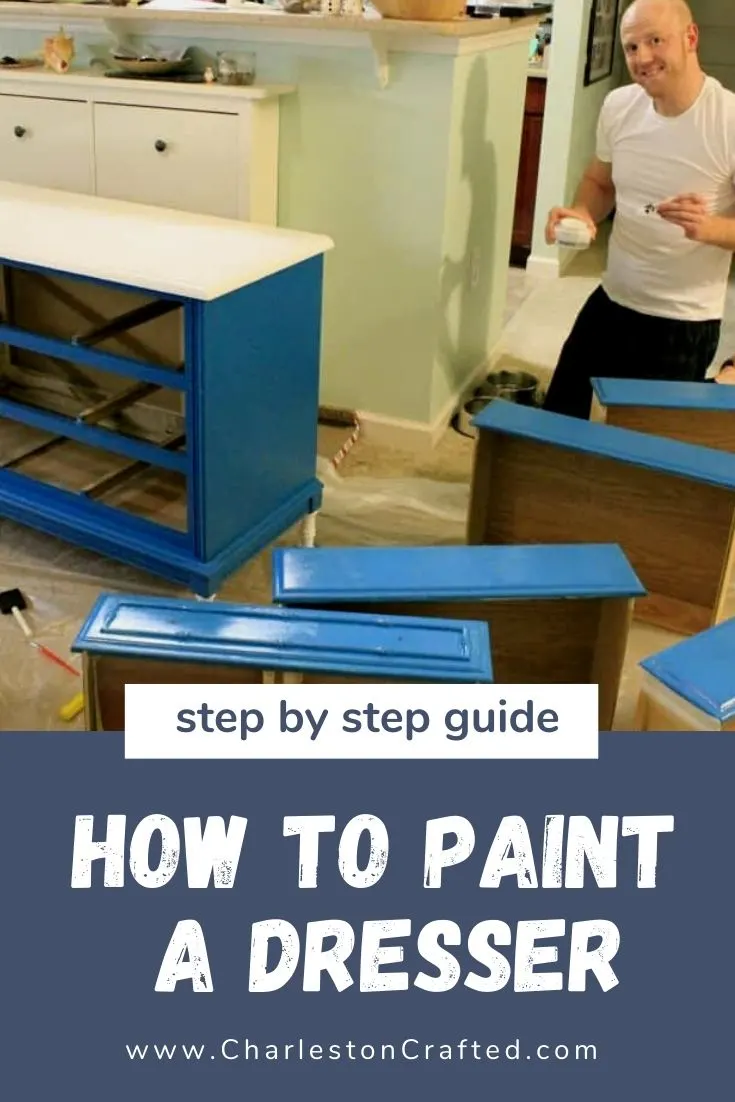 How to paint a dresser
Painting a dresser is really easy to do. Here's how to do it in the least number of steps.
Materials
The materials that you need will vary slightly based on the type of and condition of dresser that you are starting with. Here are some basics:
A dresser
Sand paper – medium and fine grit – an orbital sander makes this faster!
Primer – spray paint or in a can with a brush
Paint – latex paint is my go to
High quality paint brush OR foam brush
High density foam mini roller
Polyeurathane or sealant of choice
Drop cloths to protect your flooring
Steps
STEP 1: Prep!
Prepping is as important as painting itself. If you don't prep well, you are likely to get uneven or dissatisfying results.
To prep, I like to use a damp cloth to wipe down my entire dresser. Remove drawers and wipe them inside and out.
Remove any stickers or tape. Pull any staples or weird things sticking off the back.
If your dresser is damaged, apply wood filler, allow to dry, and sand smooth. This is your chance to fix any imperfections!
Unscrew any hardware – like knobs or pulls – and set aside. Pull the drawers out so you can easily paint the drawer fronts and sides.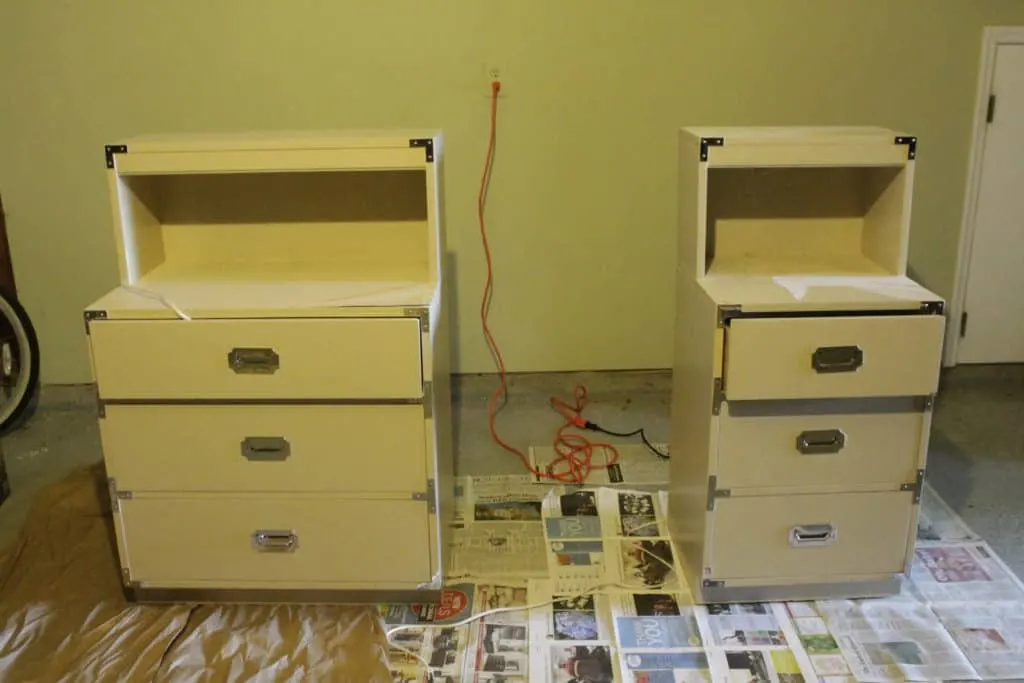 STEP 2: Sand
I'm sorry – everyone wants to skip this step – but it is so important. I will advise that you invest in an electric sander – they are super cheap – to make the process easier and quicker.
Start with medium grit sand paper and then move to finer grit (higher numbers) for a smooth finish.
If your dresser has detailed spots such as molding or intricate woodwork, you might need to hand sand those parts.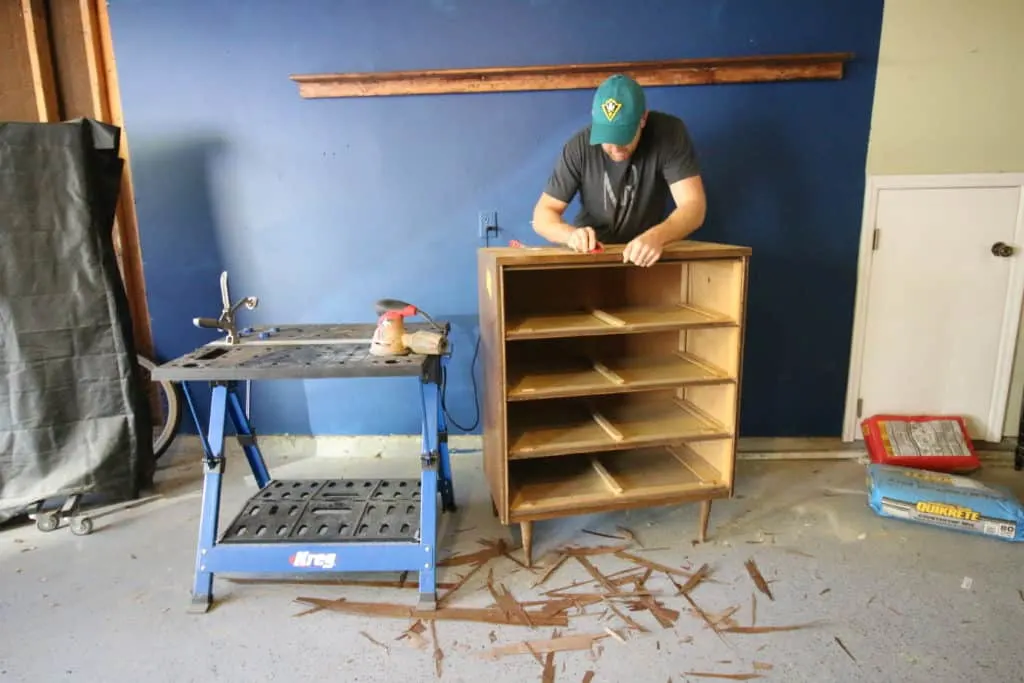 STEP 3: Prime
Primer is an optional step, but it helps to ensure that paint adheres evenly to your dresser or chest of drawers.
Pick a primer that works well with the type of paint that you are using for best results.
Apply one to two coats off primer, depending on how dark your piece is. Painting over a dark piece with light paint means more primer might be necessary!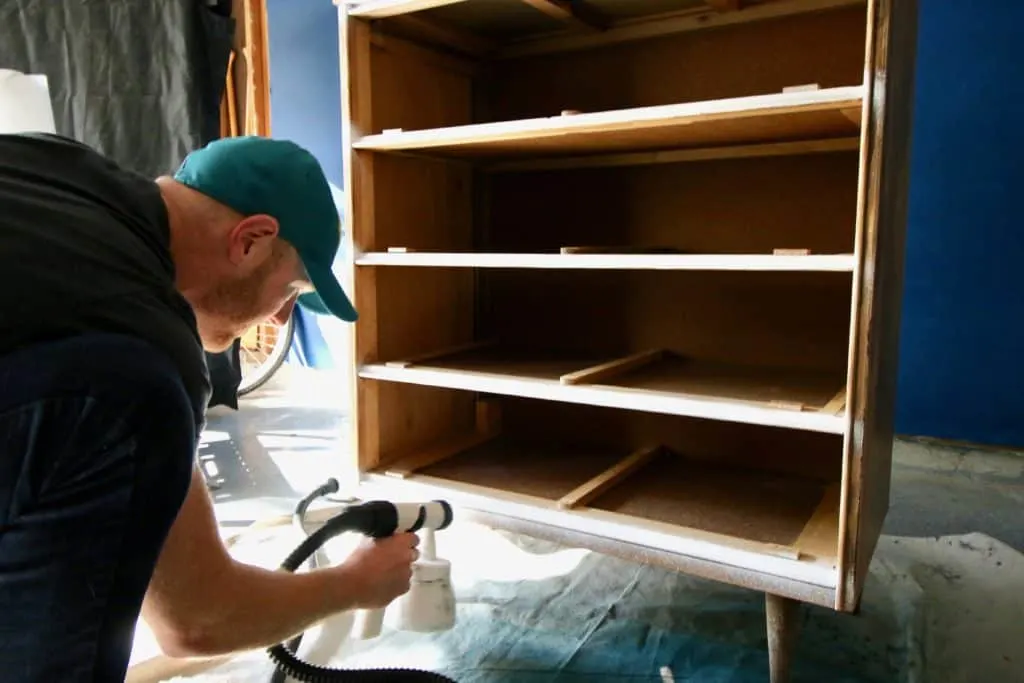 STEP 4: Sand again!
Most primers suggest sanding with fine grit sand paper after the primer is dry before painting.
This will help with any lumps or drips. Always follow the directions on your primer can.
I usually use 220 grit sandpaper to just lightly sand and remove any tiny bumps.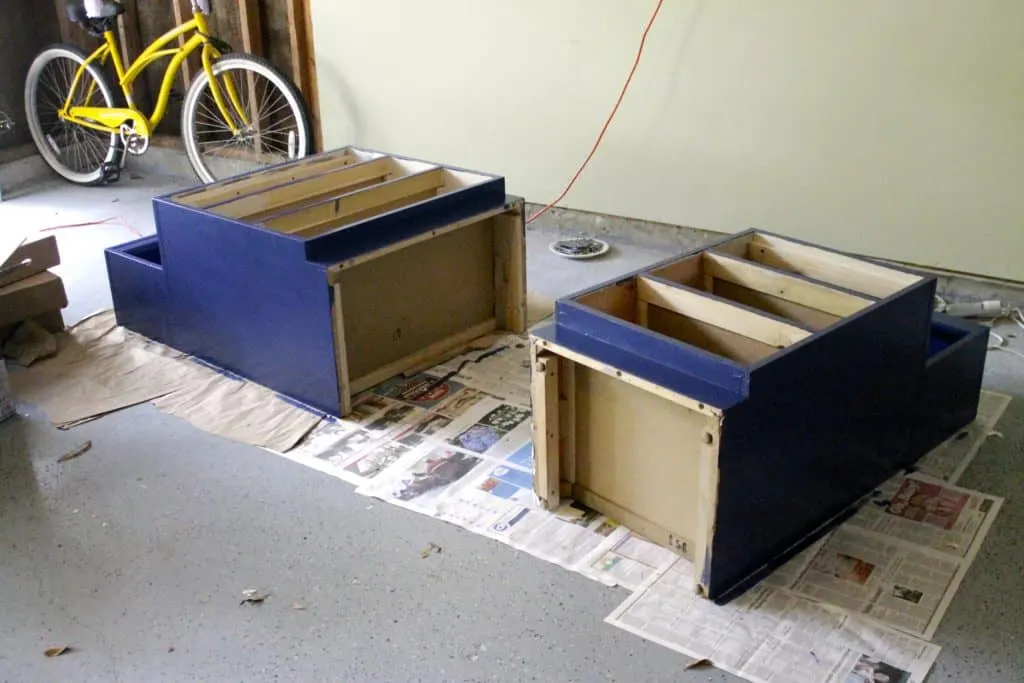 STEP 5: Paint
Now you finally get to paint your dresser! I like to use a mini foam roller on any piece of furniture to avoid brush marks. I definitely use a roller on drawer fronts and large, flat sides of the dresser. You might need a brush for smaller or more intricate spots.
I usually do 2 – 3 coats of paint when repainting a dresser. If you think that your paint job looks good after 1 – 2 coats, you can call it a day. It will all depend on the paint color and the color of the dresser underneath.
Make sure that you allow your paint to dry completely before handling it or applying the sealant.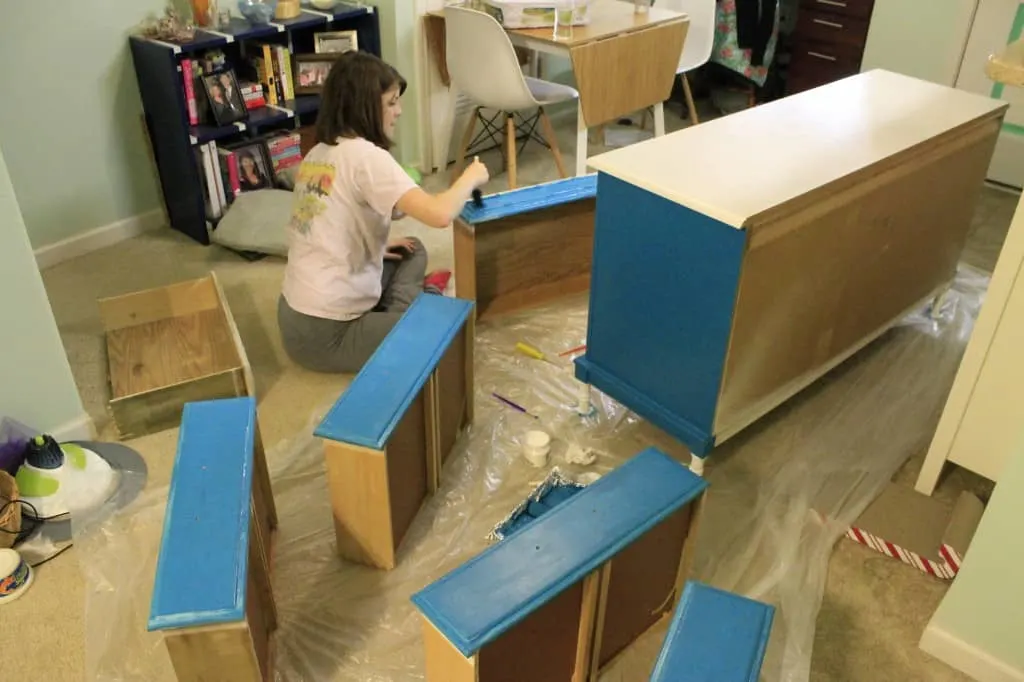 STEP 6: Seal
Once your paint job has fully cured, you probably want to apply a sealant to your dresser. A clear sealant will act as a top coat protectant and keep your dresser's new paint from getting damaged.
Follow the directions on your sealant, but in general you want to apply a few thin coats and sand gently with a sanding block in between coats.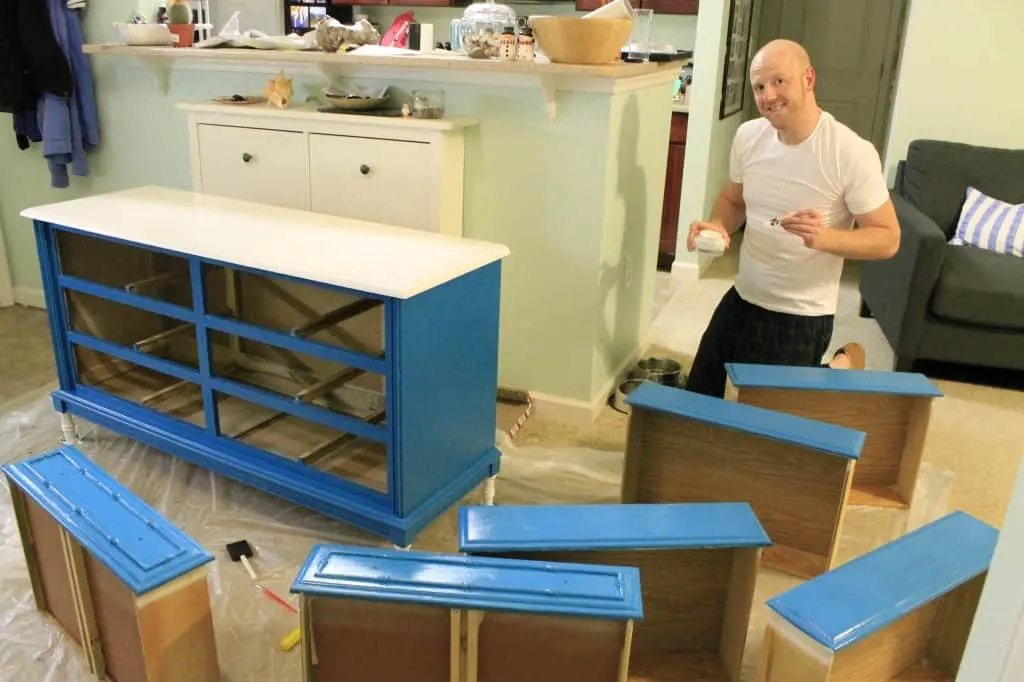 STEP 7: Replace hardware and enjoy
Once your sealant has fully cured, you can re-attach your old (or new) hardware such as drawer pulls. Replace the drawers into the dresser and enjoy it!
Frequently Asked Questions
Can I see some of the dressers that you have painted?
You betcha!
Any other questions about painting a dresser?