Trying to get into your Behr paint can? Their lids are a little different than other brands. Here's the easiest way to open it and use the simple pour lid.
Opening a can of paint can be intimidating if you are new to DIY.
And then, companies have to go and change things up on you!
I love using Behr paint because it is a quality product and it is easily available at my local Home Depot.
However, their new paint can lid design can throw you off your game if you aren't expecting it.
Behr paint cans now include the Simple Pour Lid
What is the Simple Pour lid?
The Simple Pour Lid is designed to be an easy to pour paint lid. Basically it allows you to add a spout so you can pour the paint without making a huge mess.
What material is the lid made out of?
Most paint can lids are metal. The Behr Simple Pour Lid is made of plastic. It is labeled as 100% recycled plastic.
The main benefit of a plastic lid is that it won't rust.
I also find that it is a bit more flexible and, to me, easier to get off than a metal lid. Slightly.
Behr claims that this will help keep paint fresher longer, but I've got no way of knowing if that's provable.
Parts of the Simple Pour Lid
This lid has basically 2 parts – which makes it different from a typical paint lid that is just one big metal circle.
One part is the twist off cap for the pour spout. This is the smaller raised circle.
The second part is just the rest of the lid.
These two pieces basically allow the can to be opened two ways – take off the whole lid or just unscrew the spot to put the spout.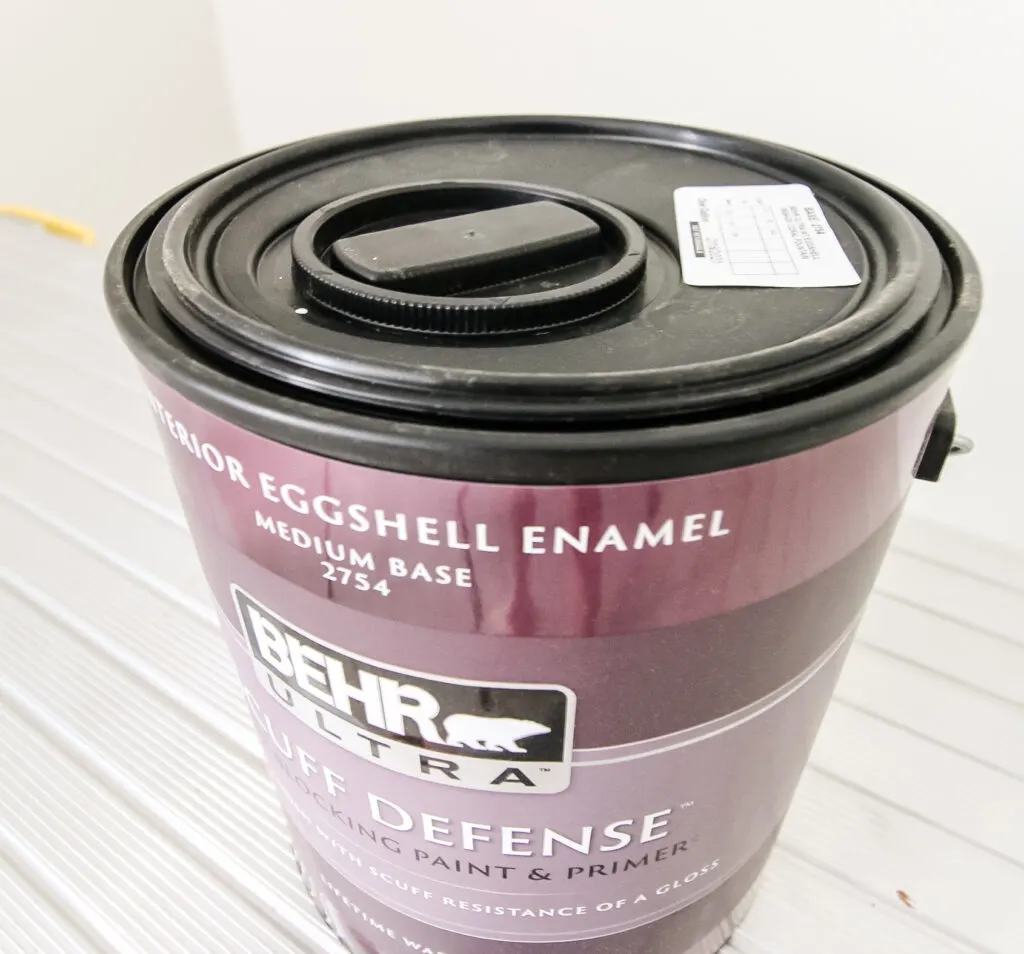 How do I open a Behr Simple Pour paint can lid?
It's actually easier to open the Simple Pour lid than a regular lid.
STEP 1: Unscrew the cap
Just use your fingers to grip and twist the spout cover. It has a raised ridge that makes it easy to grip.
You want to turn it counter-clockwise and it should only need a quarter turn to open fully.
I am not particularly strong 😉 and I can do this easily.
Alternatively, the spout can be turned upside down and used to unscrew the lid. I found this more difficult than just using my hand.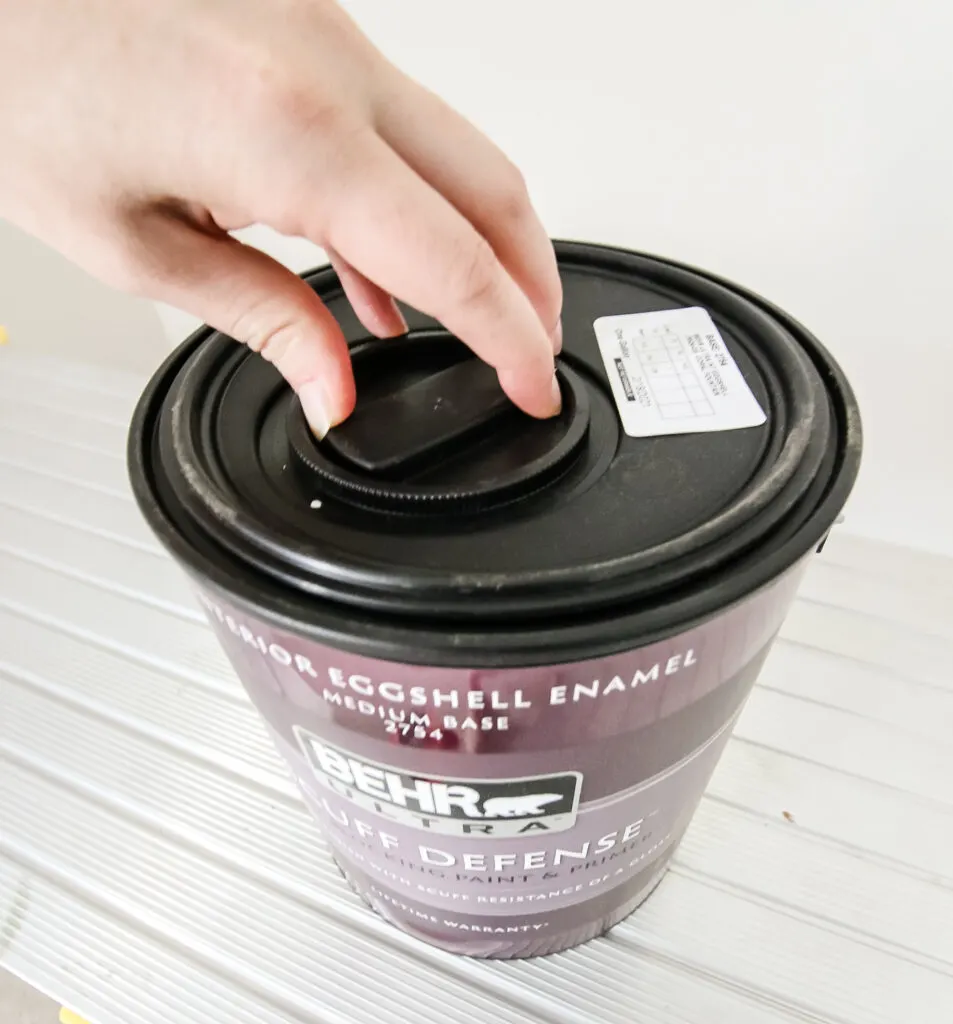 STEP 2: Attach the Simple Pour Spout
So, the first time that I got one of these new paint cans I didn't get the spout. It didn't even cross my mind.
Pouring the paint out of the little hole made a huge mess all over the can.
When you buy your paint, you really need to get the spout too.
Once the cap is off, place the spout over the whole and twist clockwise to attach.
It turns bout 1/4 turn, too. Keep this in mind when placing it.
The pour spout has two sort of cut out spots. That's where you want the paint to go thru. So position it accordingly.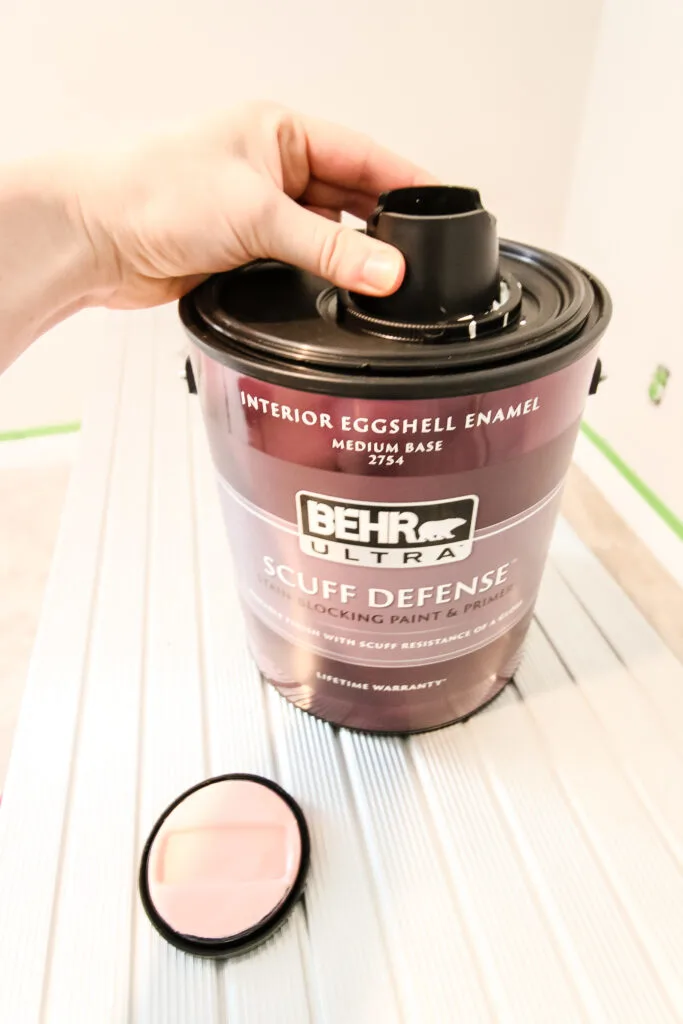 STEP 3: Pour your paint
Pour your paint through the spout into your tray or cup. Use a brush to stop any drips but the spout should keep paint from gathering on the lid.
That's it! Super easy to use.
Here's my guide to opening a can of wood stain.
How do I close a Behr Simple Pour paint can lid?
To close the paint can, remove your spout by twisting counter clockwise, wipe off any drips using a paper towel, and screw the cap back in place. Super easy and no tools required!
How to I get the cap off if it is stuck with paint?
After pouring without the spout, I "glued" my cap on with dried paint – it was stuck and wouldn't open.
Simply use a flathead screwdriver to scrape the dried paint off. You can also put the tip of the flathead under the lip of the cap and pop it off like a normal paint can.
But, at that point, you can just also remove the whole lid, it might be easiest and less messy.
How do I clean a Behr Simple Pour Spout?
You can wash a pour spout in the sink while the paint is dry.
BUT this is easier – set it aside – off the paint can – and let the paint fully dry.
Slightly pick at it with your fingernail and it should all peel off in one clean piece very easily!
This is easier and faster than washing it and it looks as good as new.
Does the Behr Simple Pour Spout work?
I really love the pour spout. It makes it easy to pour paint out of the can without getting it on the lid or can itself.
It's a great solution so you can easily open a can of paint without any tools.
However, if you don't have the spout attachment, don't bother. Just remove the whole lid like normal.
Pouring from the small hole without the spout makes a big mess!
Can you open a can of Behr paint with a screwdriver?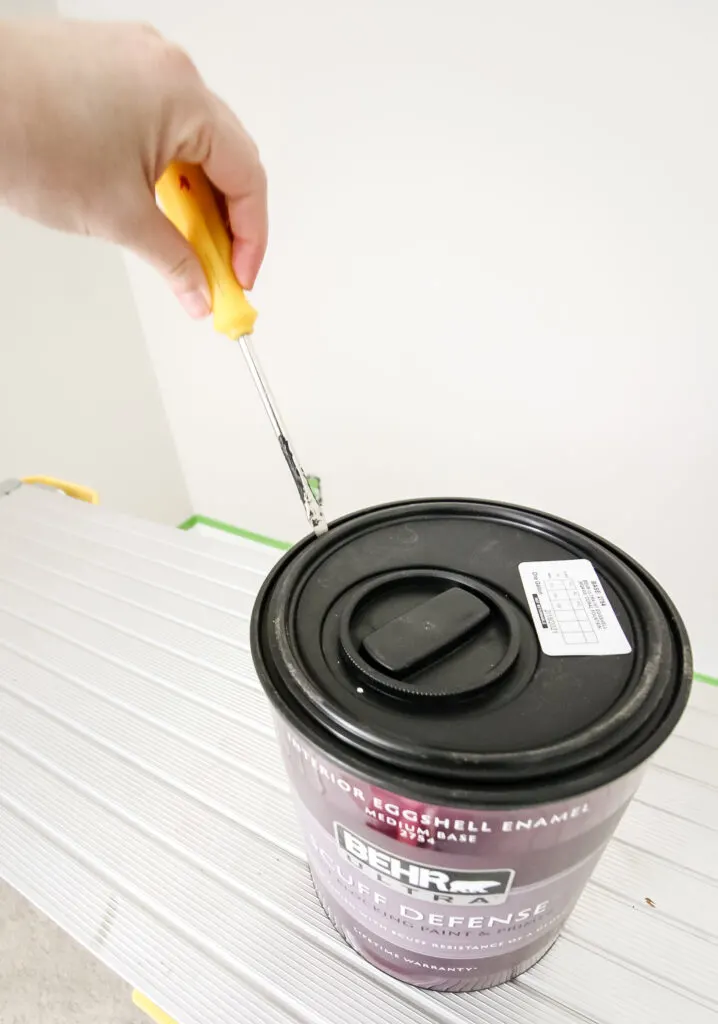 Yes! If you don't care about the pour spout, then you can open it using a flat head screwdriver or paint can key just like a regular paint can.
Video demonstration
I hope that this video shows you how easy it is to open a Behr paint can!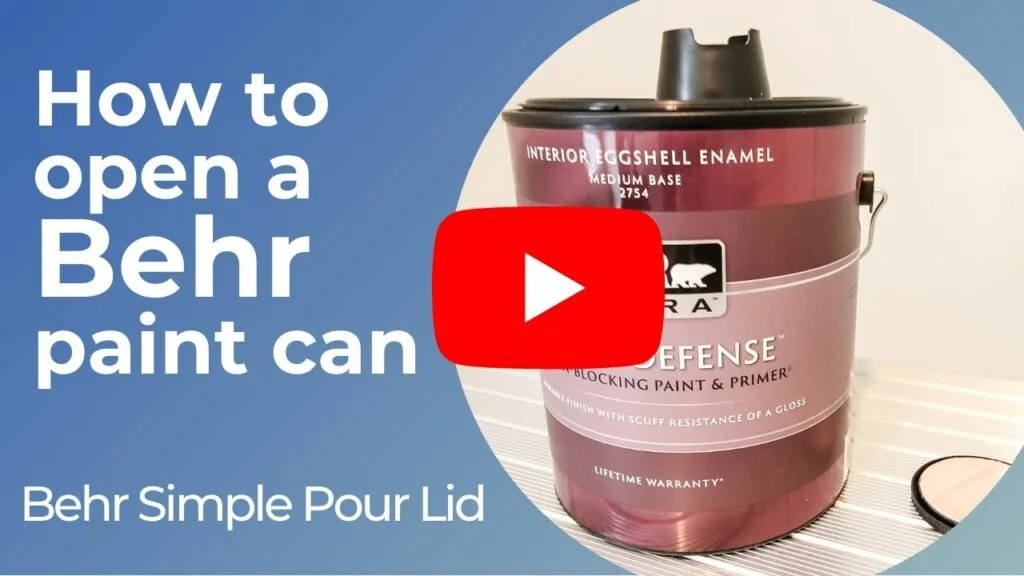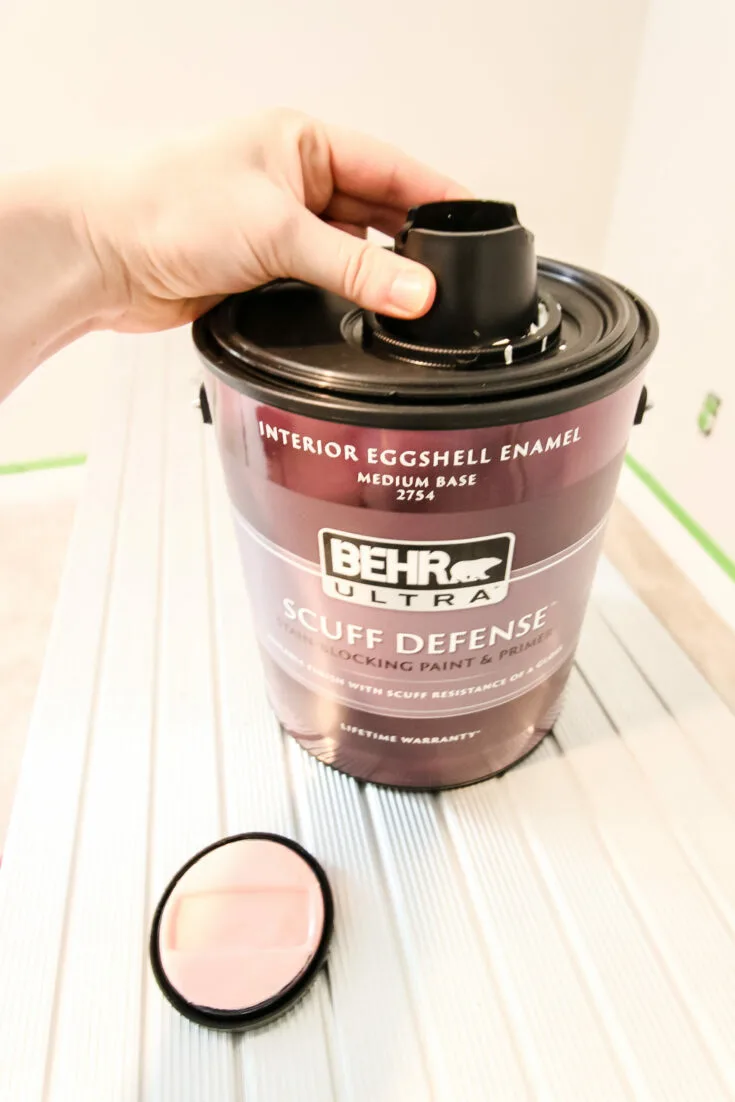 Yield:

One open can of paint
How to open a can of Behr paint
Behr has a new Simple Pour lid design for their paint cans. Here's how to use it!
Instructions
Unscrew the smaller circle cap counter clockwise a 1/4 turn.
Attach the spout to this whole and screw in clockwise 1/4 turn.
Pour your paint.
Remove the spout.
Wipe off any drips.
Screw the cap back on clockwise.
Any more questions?