Want to build a wood garden arch? You'll love this tutorial and DIY garden arch plans!
We recently built a garden arbor arch to go around the gate to our backyard from our side yard. The space is pretty empty so we wanted to try to fill it with something eye catching and beautiful.
We constructed the garden arbor arch over a few weeks in three different sections and then installed it.
It's definitely a statement and is huge but is going to look amazing with climbing roses all over it.
Building a garden arch is a great way to add impact to your garden or fence gate. It's not a small project, but it's very doable with our plans!
Click here to get the printable PDF woodworking plans for this garden arch DIY!
How to Build a Garden Arbor Arch
This garden arched arbor is easy to build – it just has a lot of parts and a lot of steps. Break it down and take it step by step to make it a very doable DIY project!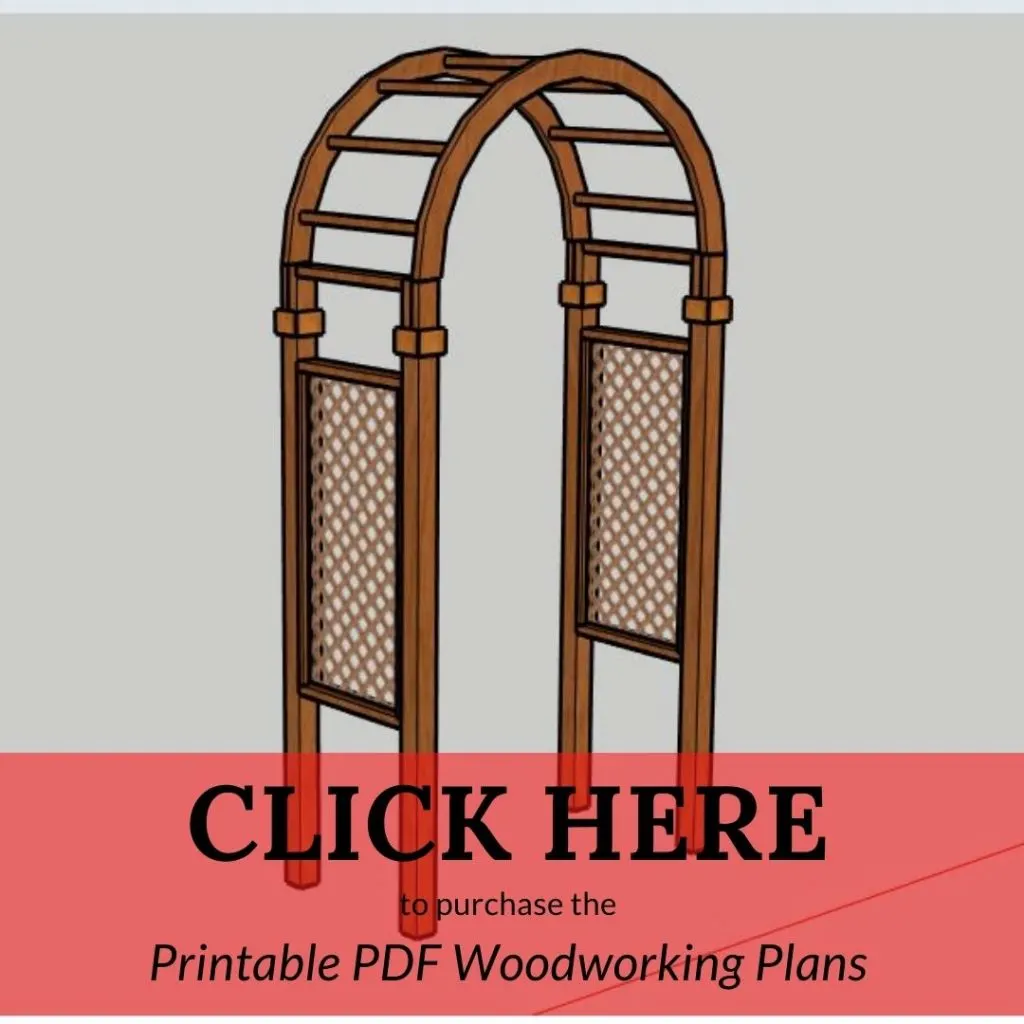 How to make a wooden archway
Here are the steps we took to make a garden arch out of wood.
Arch Sides
The first thing we built was the two sides of the arbor. The sides were definitely the easiest part of building an arbor.
Cut List per Side:
2 eight foot long 4″x4″ posts
2'x4′ lattice
3 two foot long 2″x4″s
4 four foot long 1″x1″s
Note: you will want to use either pressure treated lumber or rot-resistant wood such as cypress, cedar, or redwood to make this garden arch trellis last as long as possible outdoors!
We started by making 8″ notches at 90 degrees in the top of all four posts. We notched halfway through the post 8″down and then cut out that section.
Next, we added the 2″x4″s. We added all of these using pocket screws.
Start by adding the first one at the top of the posts with the newly cut notches facing away from each other.
Then add the next one 14 inches down and the last one four feet down from that. The lattice goes in this section.
Now for the lattice. Add a 1″x1″ near the middle of each post and nail them in place with a nail gun.
Then lay the piece of lattice on top of those pieces. Finish it off by nailing the other two 1″x1″s into the post on top of the lattice so that it holds in place.
Repeat for the other arch side.
Arch Top
The arch top is much more difficult, only because it involves turning square wood into round wood. For a more simple arbor, you could use boards to create a straight top.
Cut List:
10 two foot long 2″x6″s
Seven 28 inch long 2″x2″s
Start by mitering the 2x6s at at 22.5 degree angle. Miter both ends on six of the boards and just one end of four of the boards.
Each side of the arch will get two of the straight edge boards on either end of the arch and three double-mitered boards in the middle to form an arch.
Connect these boards together with pocket screws.
Now, we have to turn these 2x6s into 2x4s with a round shape.
We traced a curve around the entire arch using a 3 1/2 inch piece of wood, then used a jigsaw to cut out the arch shape. Do that for both pieces.
Next, we screwed the seven 2x2s in between the arches evenly spaced.
Assembly
Assembling the garden arbor arch can be done in one of two ways. You can attach the curved top to the two sides and then concrete it into the ground, or you can concrete the sides into the ground and then attach the arch.
The big thing to consider is just whether or not you can carry the entire thing assembled or not.
I would recommend digging your four holes for the posts in roughly the space you want them, then add in the two sides, attach the top to the sides with outdoor screws, then concrete in your posts.
This will make sure that the sides are properly spaced out.
As I mentioned, drive long decking screws through the posts and the arch to attach them.
Then what I did was cut pieces of 1″x4″s out to wrap around the four connection points to cover the cuts and the screws.
Finally, we painted the entire thing with Thompson's Water Seal in the same color that we painted our hammock stand and benches.
Once it was all one color the cohesion looked great.
Check out our tutorial on how to build a raised bed garden!
Conclusion
We finished the garden arbor arch by planting climbing roses on either side that will grow up the lattice and over the top of the arch. You could add any climbing plants for a dramatic look and a beautiful garden entrance.
They don't look like much, but once they climb, this garden arbor arch will be covered in green leaves and beautifully colored roses.
This was certainly a big build, but it adds a ton of character to our side yard that previously didn't have much going for it.
Be sure to click below to get the PDF arbor plans to see exactly how to build a wooden arch with a cut list and step by step instructions with diagrams for each step!