Wondering how to decorate an awkward corner in your home? Here's how to hang a corner gallery wall!
This post was sponsored by National Hardware. All opinions are our own. Thanks for supporting the brands that make CharlestonCrafted possible!
We are finishing up our bedroom makeover and one of the last spaces is the corner immediately to your left when you walk in.
This spot is the home to our Peloton exercise bike and that isn't going anywhere, so I wanted to add a little home decor to the wall space around it to make it a bit less of an eyesore.
Side note: I love our black bike on the dark green walls. It feels more camouflaged than when the walls were a light Agreeable Gray!
This is a small corner that just needed a little something extra. We discussed floating shelves or a corner shelf, or maybe a large piece of art on the smaller wall.
So, I decided to hang a corner gallery wall!
I've actually hung a TON of gallery walls but never one in a corner. So, this was a fun challenge with fabulous results!
See our primary bedroom makeover reveal here!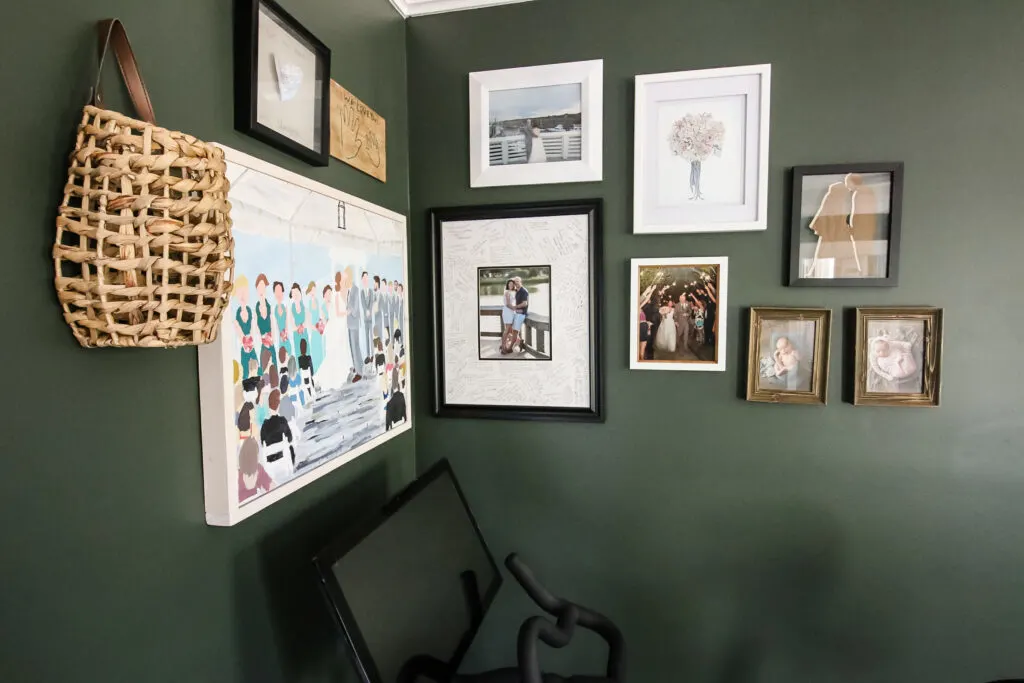 Check out all of our favorite gallery wall tips & tricks
We love gallery walls! Here are some of our favorites.
How to decorate an awkward corner
Other ideas for corner wall decor:
Large plant/tree
Hang larger wall decor like a textured wall hanging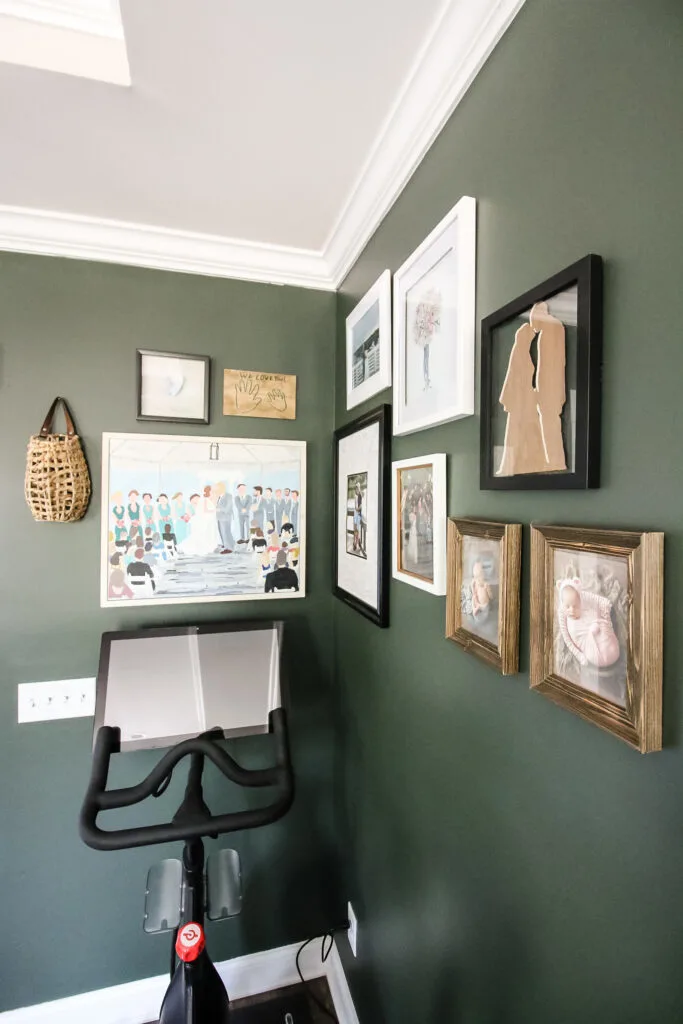 How to choose art for corner wall picture frames
Choosing the art for your gallery wall is almost as important as choosing the layout. I find that gallery walls flow best if they have some sort of theme. This could be:
Art all in one color scheme IE black and white photos, art with pink as an accent color, etc
Frames with similar style or material IE all wood modern simple frames or all gold intricate frames
Add a few non-framed items for a more eccentric or collected look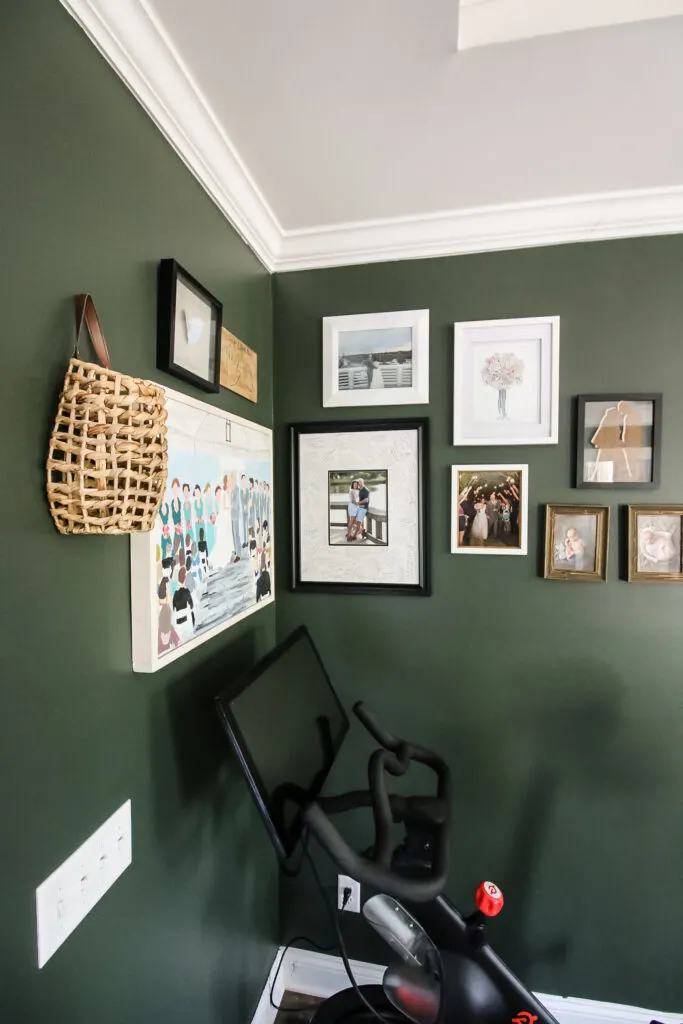 Corner gallery wall ideas and layouts
Corner gallery walls are usually either linear or random.
Linear
An easy way to design a corner wall photo gallery is to have the art neatly lined up. Create a vertical line 1-3 inches off of the corner on one wall. Line up the edge of all frames on that line and work out from there!
Random
Random gallery walls seem easier to do than planned, measured ones. However, it can be a lot of work to make things look randomly perfect. Make sure nothing lines up too much for this look.
Decide if you want a symmetrical shape or one that shows more movement first.
In general, I suggest putting larger wall art closer to the corner and smaller items on the outer sides.
I really, really suggest cutting paper the size of your art and taping it on the wall to determine a perfect random layout!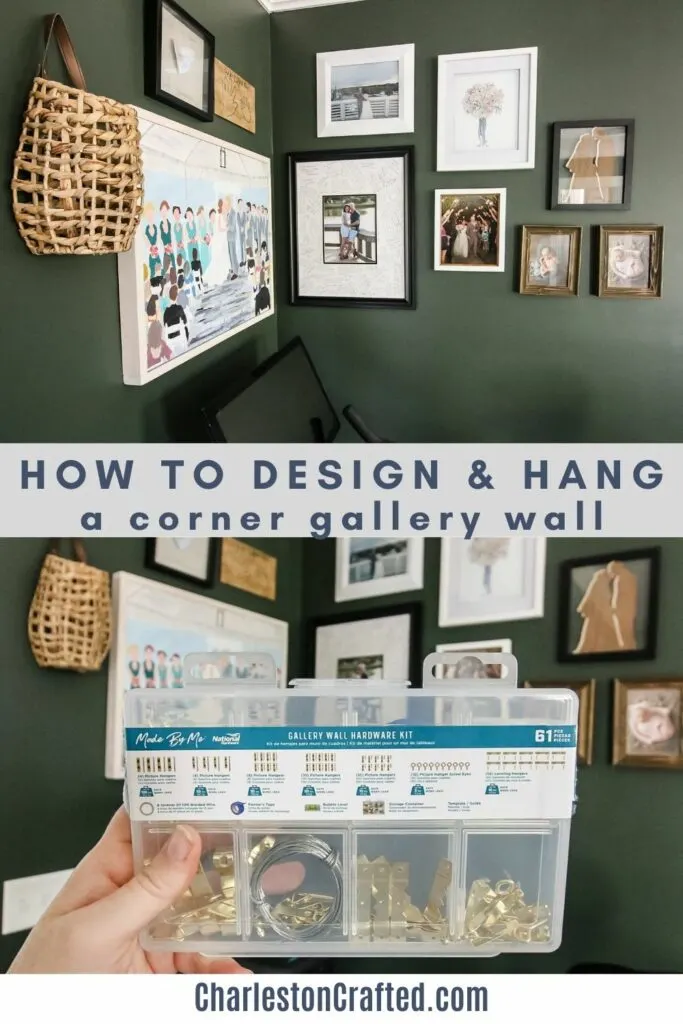 How to create a gallery wall in a corner
Hanging a corner gallery wall isn't too different from my advice for hanging any gallery wall!
STEP 1: Gather your art
Decide on what you plan to display. Choose something with a common theme or similar feel.
We decided, since this is our owner's suite, to display various wedding-related art work and mementos in this space.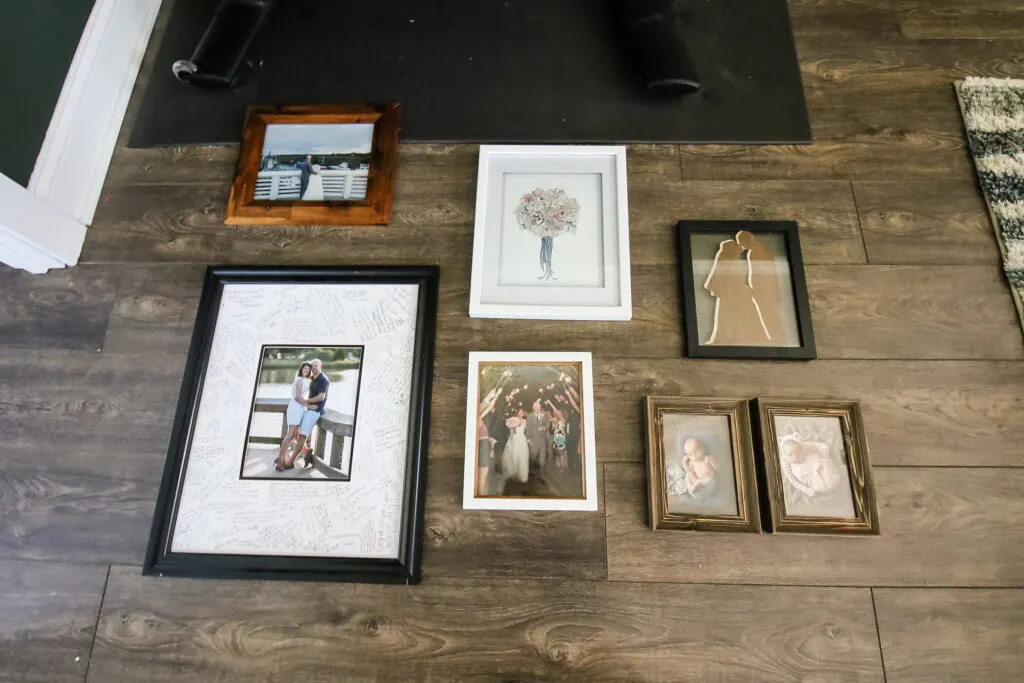 STEP 2: Determine your layout
The easiest way to determine a gallery wall layout is to cut brown paper to the size of each frame and use tape to play around until you get the layout you like on the wall.
STEP 3: Hang your art
Use art hanging hardware to hang each item in place and step back and enjoy the space!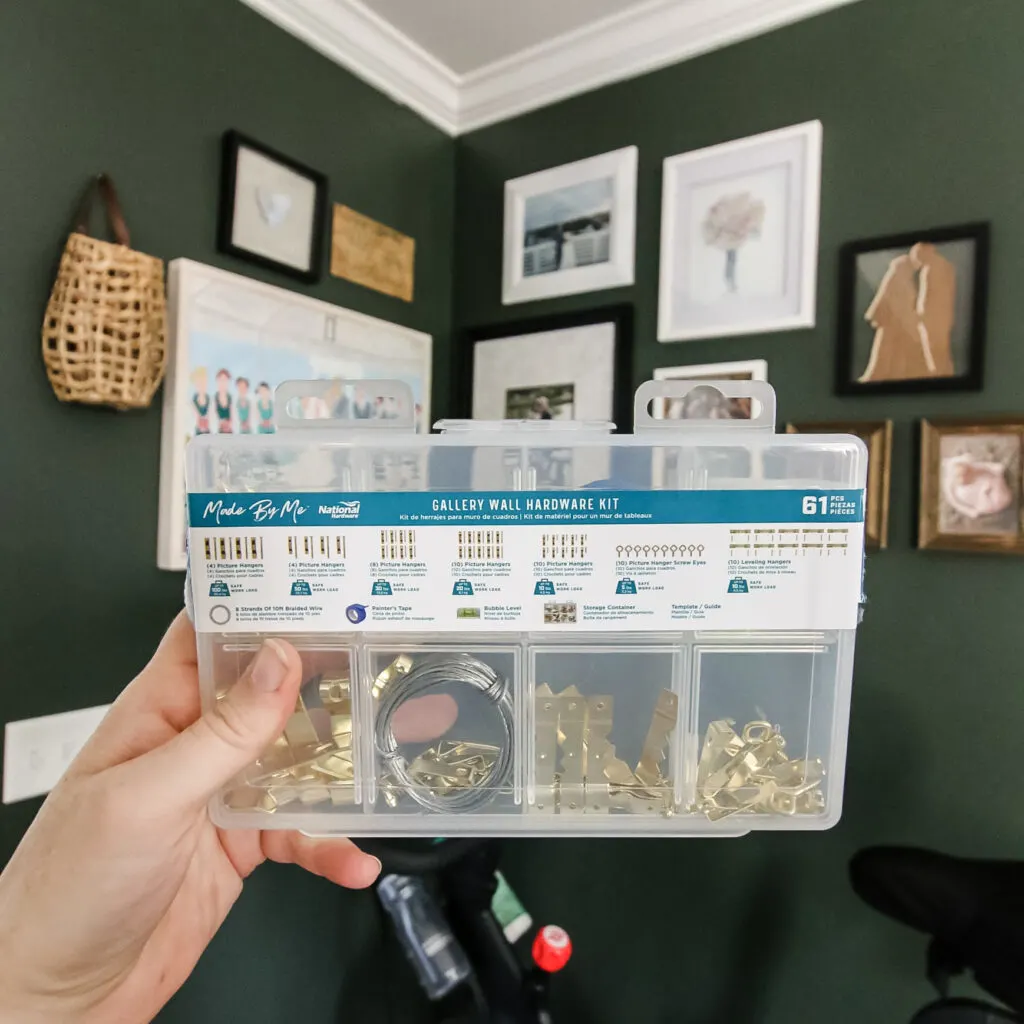 National Hardware Gallery Wall Kit
We hung our gallery wall using the new Gallery Wall Hardware Kit from National Hardware. We love the Made X Me DIY kits from National Hardware because they include everything you need to do a DIY project.
The Gallery Wall kit includes:
36 Picture Hangers
10 Picture Hanger Screw Eyes
10 Leveling Hangers
8 Strands of 10FT Braided Wire
Small level
Painter's tape
Hanging guide template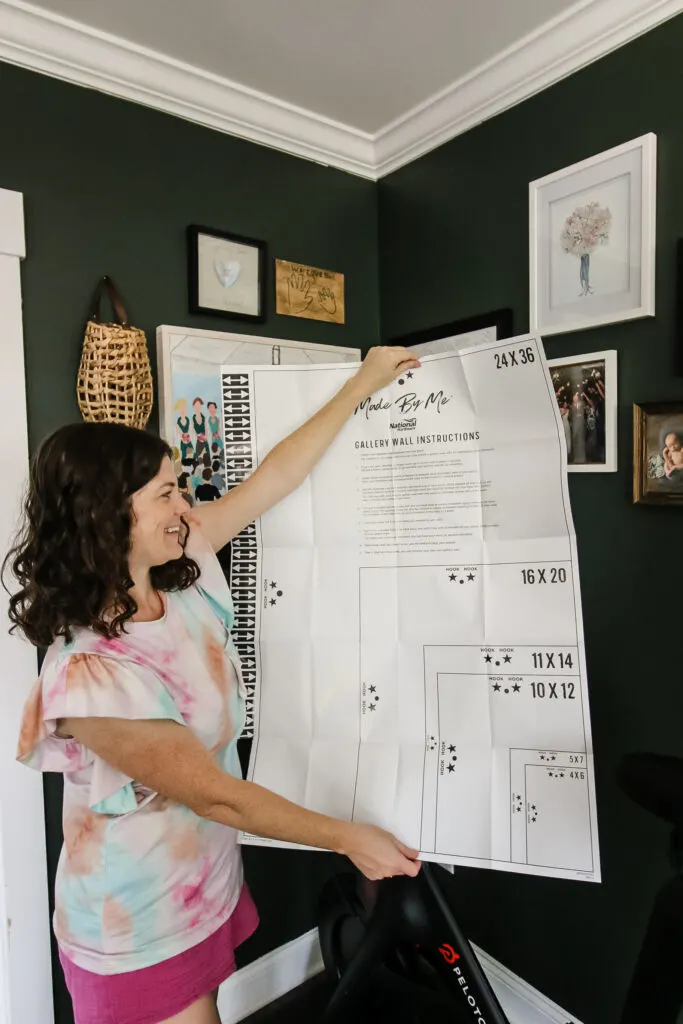 It all comes in a really nice reusable plastic organizer, making it easy to store and use for multiple projects (it's enough hardware for a LOT of frames!)
One great thing in the kit is the Hanging Guide template. This is a paper with pre-drawn standard sized frames that you can cut out and pair with the painter's tape to design your gallery wall in place!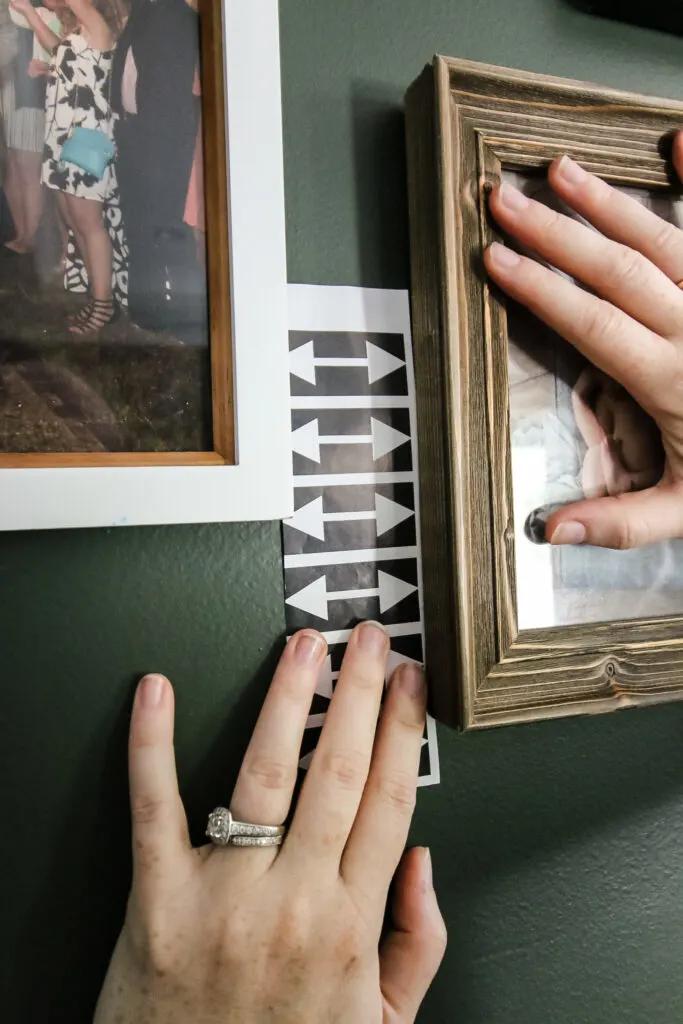 Plus, there is a whole strip of paper spacers that you can cut to ensure you get even spacing as you hang your art. This was clutch for my "random" layout looking more cohesive!
What gallery walls are you hanging in your home lately?!
What's your favorite wall decor for corners?!