Want to get your hose organized and tidy? Here's our complete Hoselink retractable hose reel review to see if it would be the perfect fit for your yard!
This post was sponsored by Hoselink. All views and opinions are our own and are aimed at providing you with an accurate review. Thank you for supporting the brands that make Charleston Crafted possible!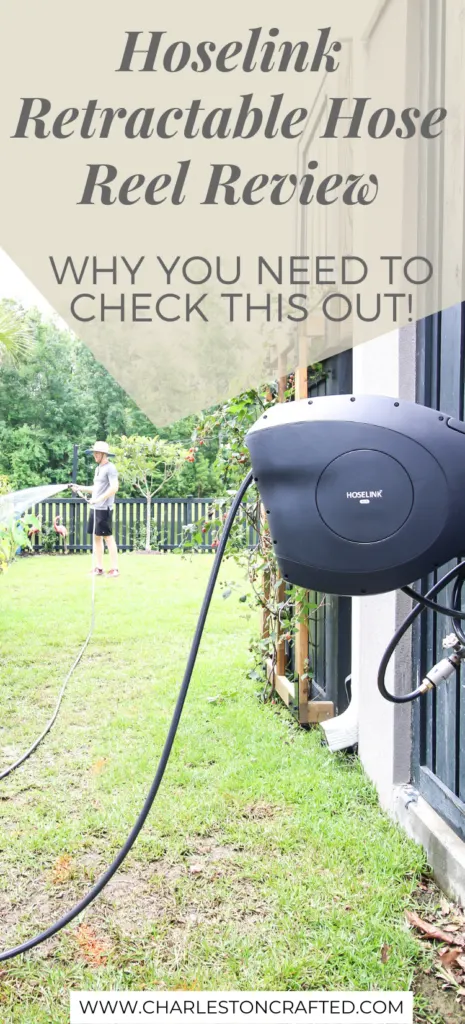 We have been doing a ton of planting in our backyard over the last two years. When we moved in, there wasn't a single tree, flower or bush to be seen.
We've worked hard to add depth, color and height with different tropical plants, fruit trees, and even a little whimsy with our recent topsy turvy planter.
There's been some building projects too, like a few raised bed gardens, a modern trellis garden and a blackberry trellis, but they are all in different parts of the yard, making them hard to water with our backyard hose.
We've been adding all of these elements of growth, but our yard cooks in the sun all day long during the summer and everything gets really dry if you don't water it.
In order to water it, we've been dragging around a huge hose to keep things hydrated, but we recently had the opportunity to upgrade to a Hoselink Retractable Hose Reel.
The Hoselink reel has been a game changer in ease of watering in our yard compared to the hose we were using before. We're going to show you all about how the Hoselink Retractable Hose Reel works, talk about the pros and cons, and help you decide if it is right for you!
Hoselink retractable hose reel review
The Hoselink retractable hose reel is a really cool product that is great for a lot of different types of people working in their gardens and yards. Let's talk about the aspects of the Hoselink hose reel and see if it's something you need!
If it is, make sure you use our coupon code "CRAFTED" for $15 off orders over $75!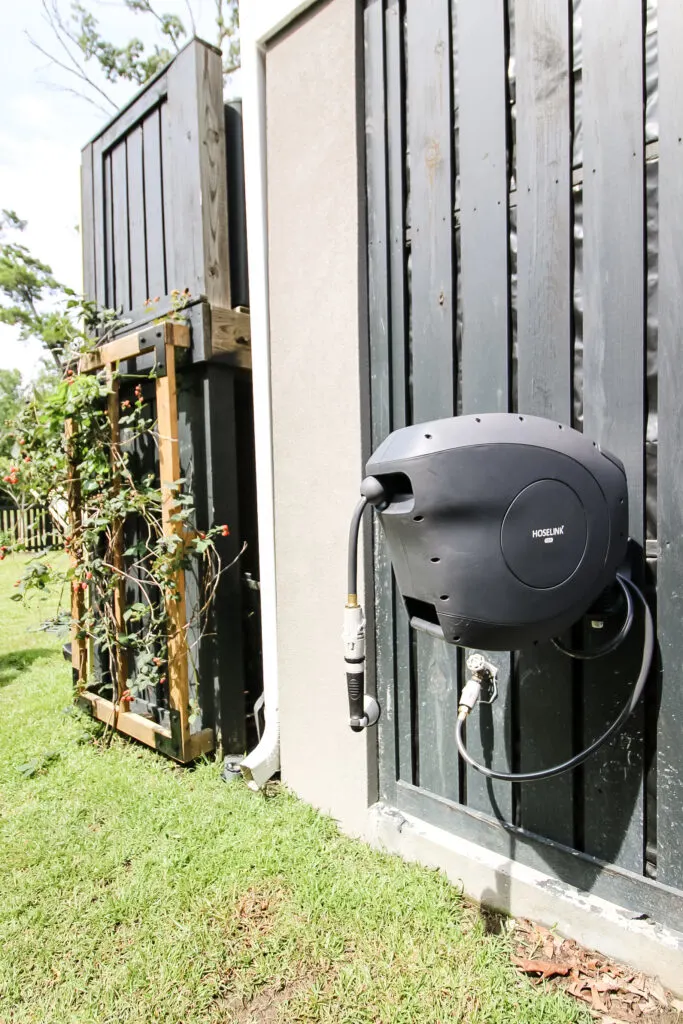 What is a hose reel?
A hose reel is a plastic encased box that rolls your outdoor hose up neatly. The hose reel helps to prevent kinks and damage to your hose.
This will help to keep your hose area more organized and also can help to extend the life of your hose by protecting it from the elements.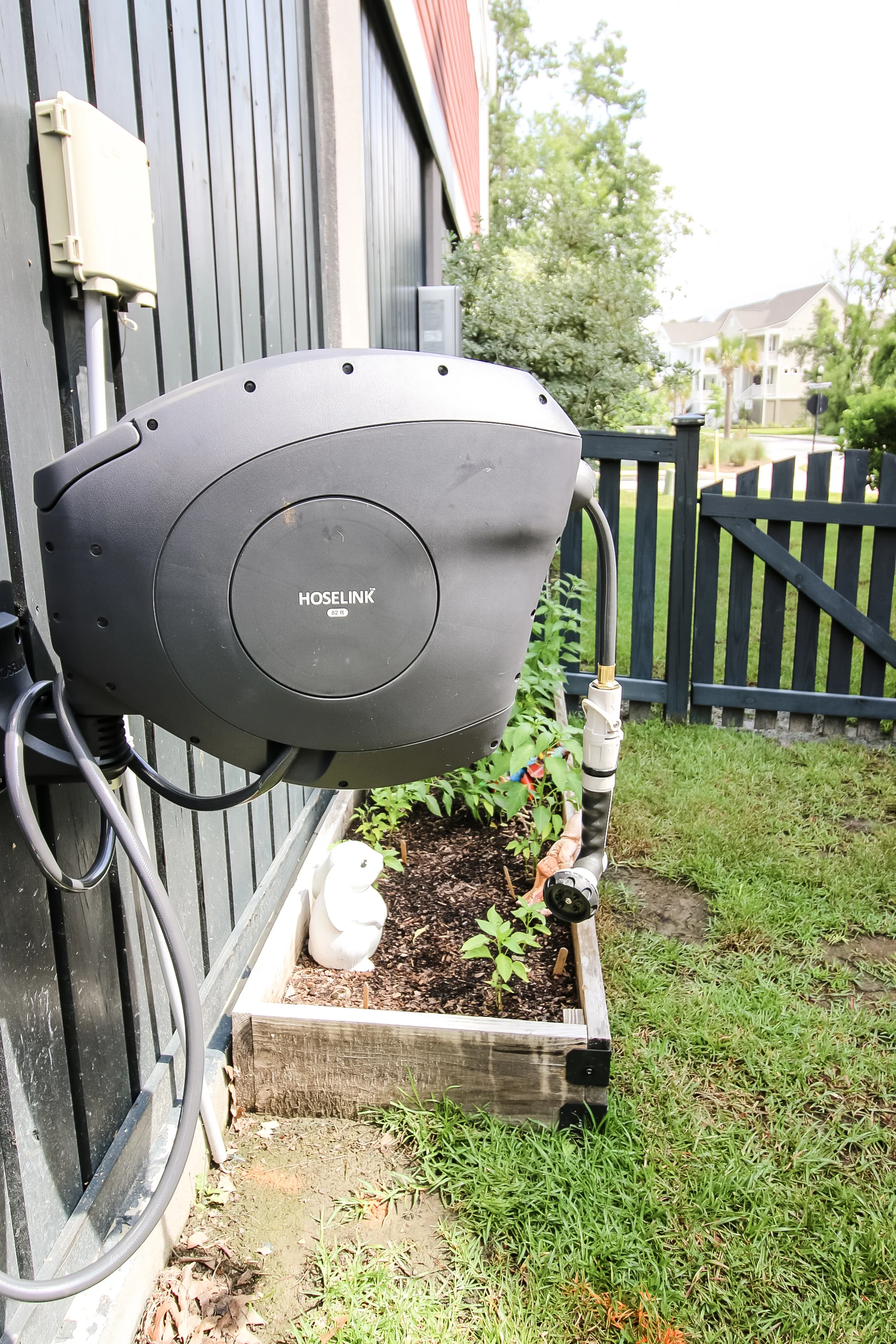 The Hoselink retractable hose reel does the hose rolling up for you, no hand crank required. Simply give the hose a little tug and it goes back in for you!
How does a hose reel work?
The Hoselink hose reel is wall-mounted (though they do sell a fixed ground mount as an add-on). The fixed ground mount would be great if you had a big property and needed your hose to be permanently farther away from your house.
The hose is spring loaded inside the casing. It also has a 'stop-anywhere' locking mechanism meaning that when you stop pulling, the hose will lock in place until you start pulling on it again.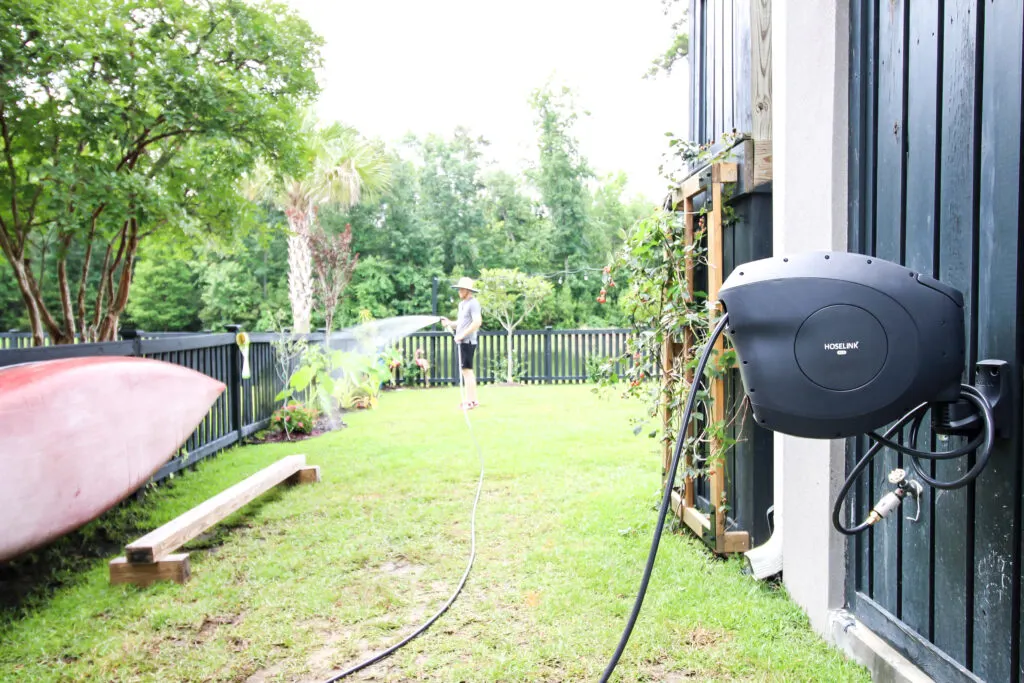 If you need to go farther, keep walking and it will continue to go with you and lock in place when you stop pulling.
When you are done using the hose, all you need to do is tug lightly and the automatic rewind system will pull the hose back into the casing.
What is included with a Hoselink hose reel?
I love that the Hoselink hose reel includes the hose, nozzle, and casing all together without needing any add ons.
Included with a purchase of the Hoselink hose reel, you get:
All-season hose in length you order, either 50′ or 82′ (9/16″ (14mm) hose diameter)
8 pattern spray nozzle
Quick connect hose fittings
6 1/2′ leader hose (to connect to your spigot)
Wall bracket + screws
2 handles for easy portability
Options/customizations
We had two choices when choosing our Hoselink hose reel – color and length.
Color
The Hose Reel currently comes in charcoal or beige. We chose charcoal because the lower section of our house is painted black, and it blends well. Beige would be great if you had light color siding, brick or stucco where you were mounting it!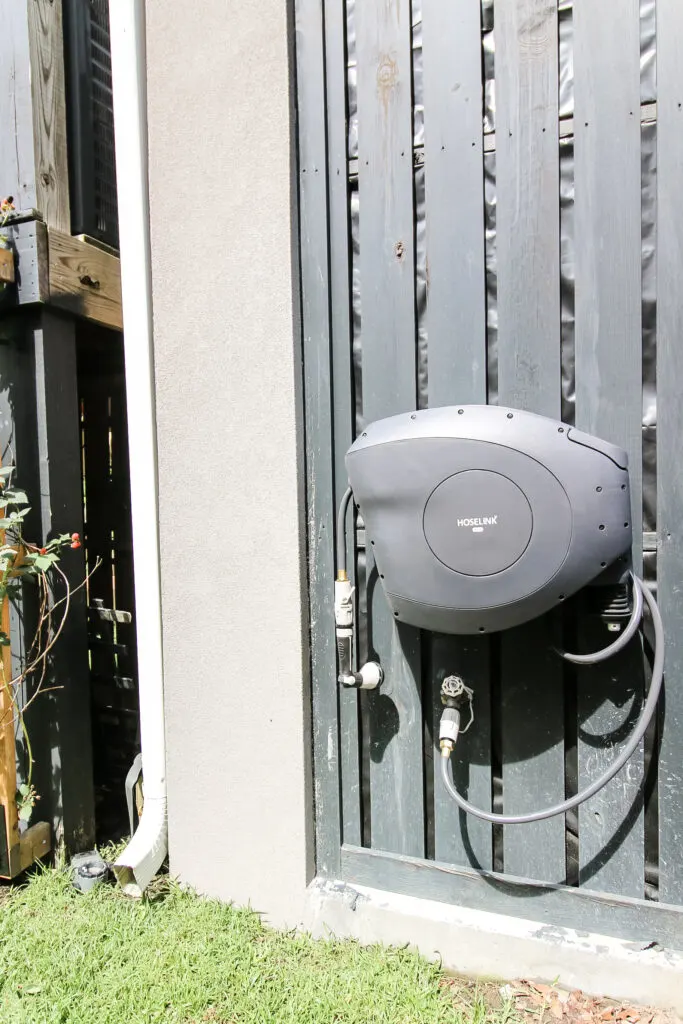 Length
You can get the hose reel in either a 50 foot or 82 foot retractable length. The 50 foot length is great if you have a small yard or a square townhouse yard or just need a short length to reach your garden.
We don't have a very big backyard, but it's definitely big enough that we need the 82 foot length to reach to the other side of our yard. In general, my thought is it's better to have a little more than you need just in case versus coming up short.
How do you install a Hoselink hose reel?
The Hoselink hose reel came with everything we needed to get set up and installed in just a few minutes. It included the hose reel fully assembled, the post base, screws and nozzle ready to go.
The hose reel is pretty heavy (about 30 pounds), so it will need to be attached to a solid wall or post using the included wall bracket. It can be installed up to 5 feet from your spigot.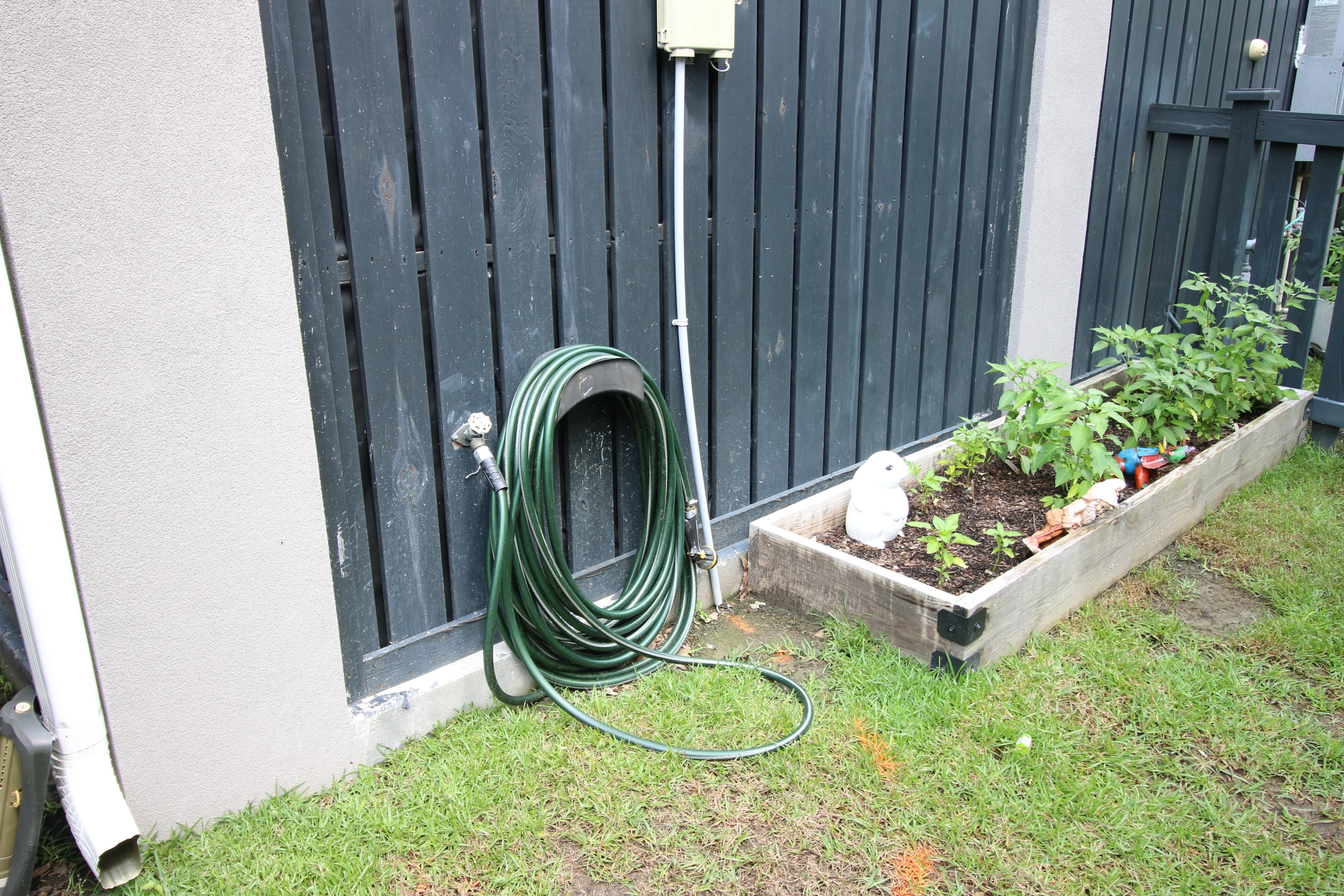 We started out by removing our old hose and hose hanger and picking the right height on the wall so that the Hoselink casing wouldn't hit the spigot when it turned flat against the wall.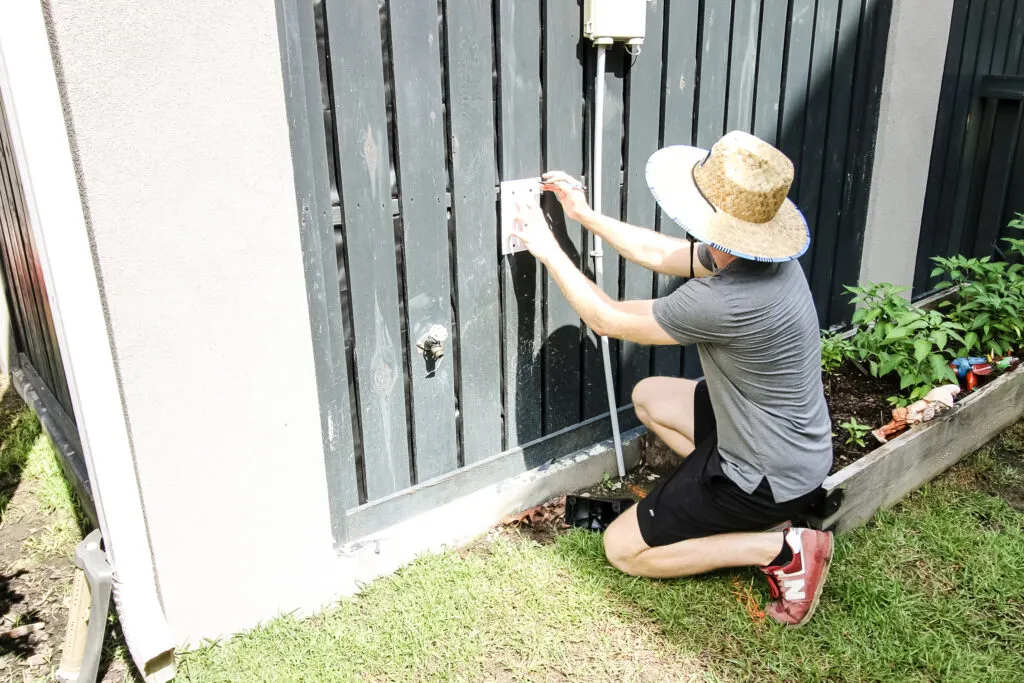 Then, we used the included mounting template and drilled four holes into our slat and screwed the mounting base into the wall.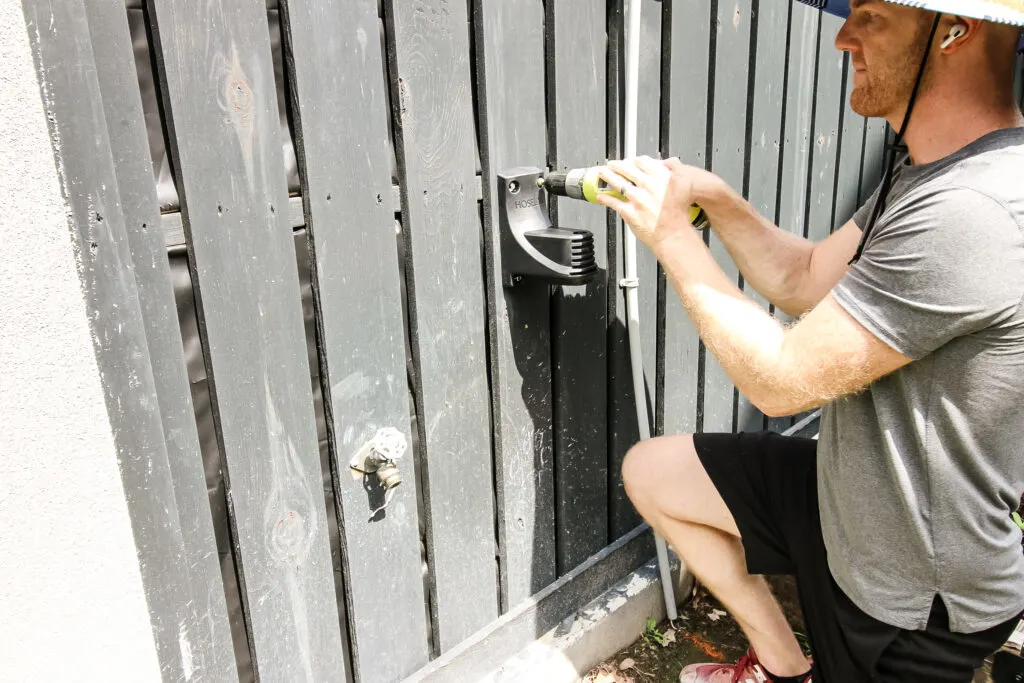 After that, we just lifted the hose reel up and slid the pole down into the bracket.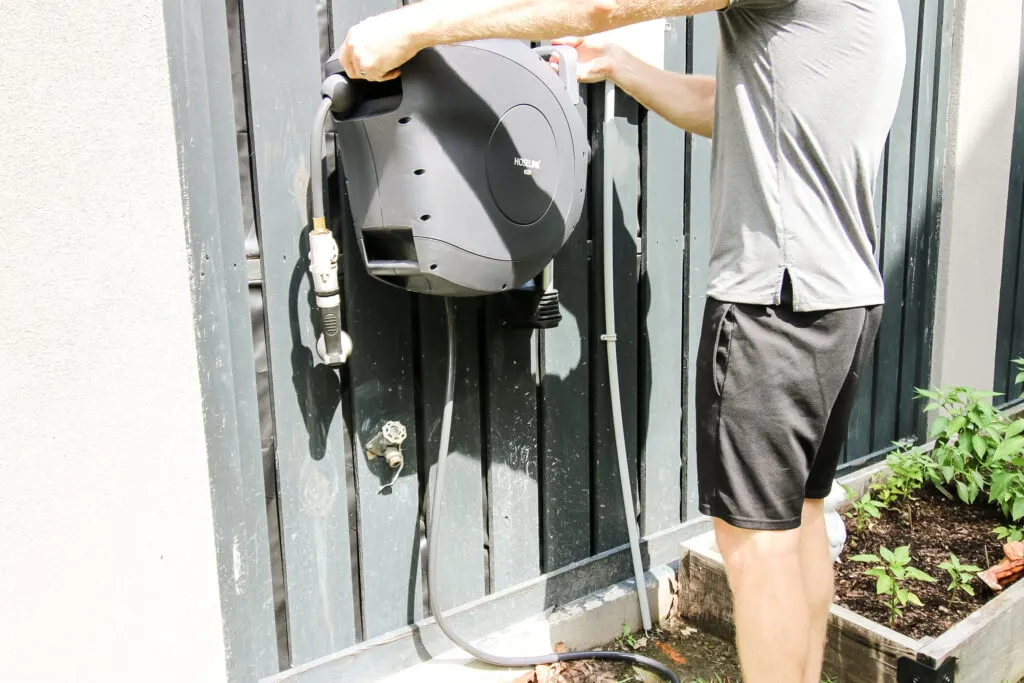 Finally, we attached the quick connectors to the spigot and the nozzle and it was ready to go. That easy! The whole process took about 5 minutes!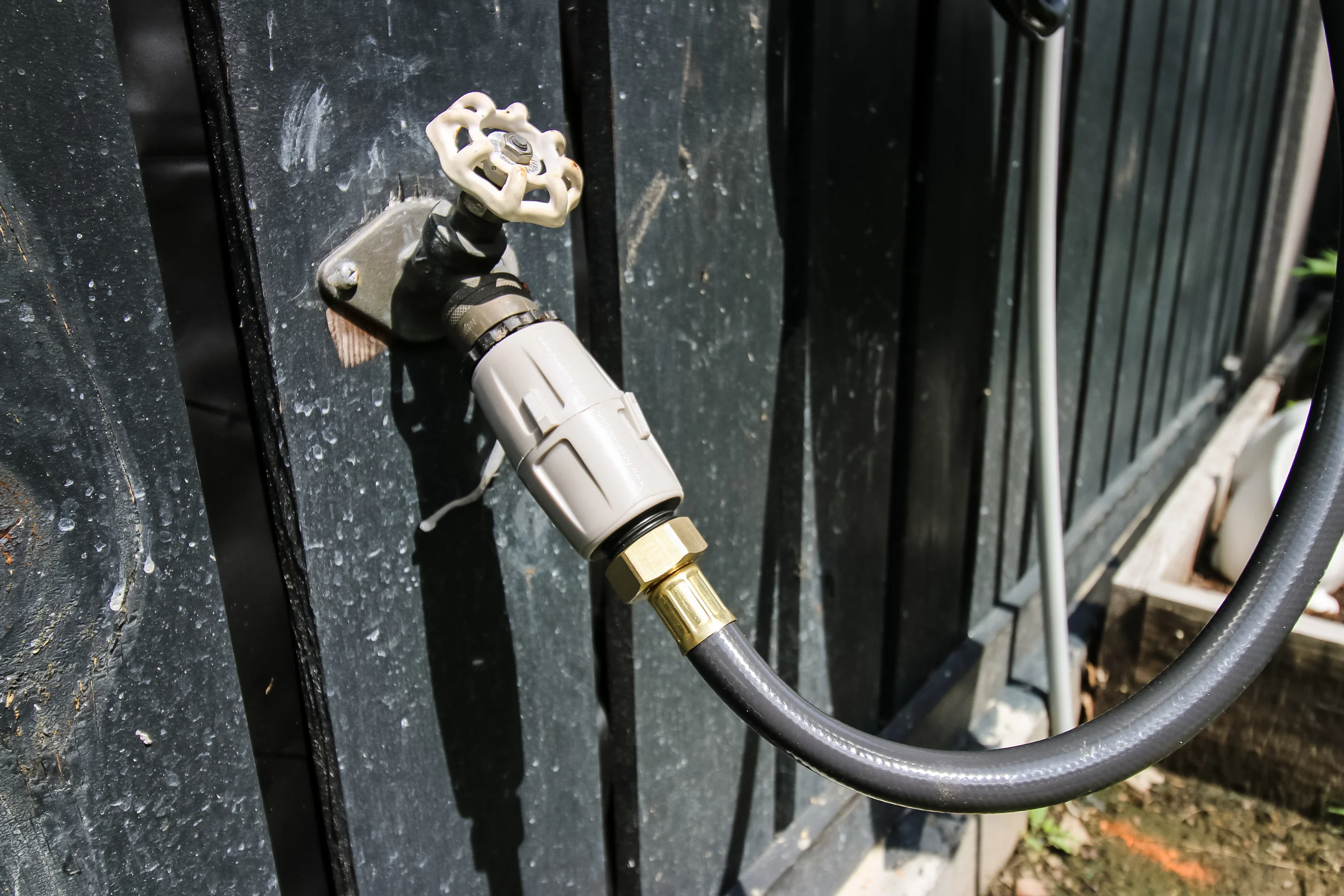 I'd recommend making sure you plan to make sure the hose reel doesn't hit the spigot or gutter or any bushes when you mount it, so make sure that you pick a good spot for that. You might also want it to be a little higher than a regular hose so you can easily grab it and pull it out.
Our experience with the Hoselink hose reel
Overall, we've really been enjoying the Hoselink Retractable Hose Reel. It's much more simple than having to unload loops of heavy hose off the hanger and hope you have enough.
The automatic retraction is also so nice compared to dragging a standard hose across the yard and looping it up around the hanger.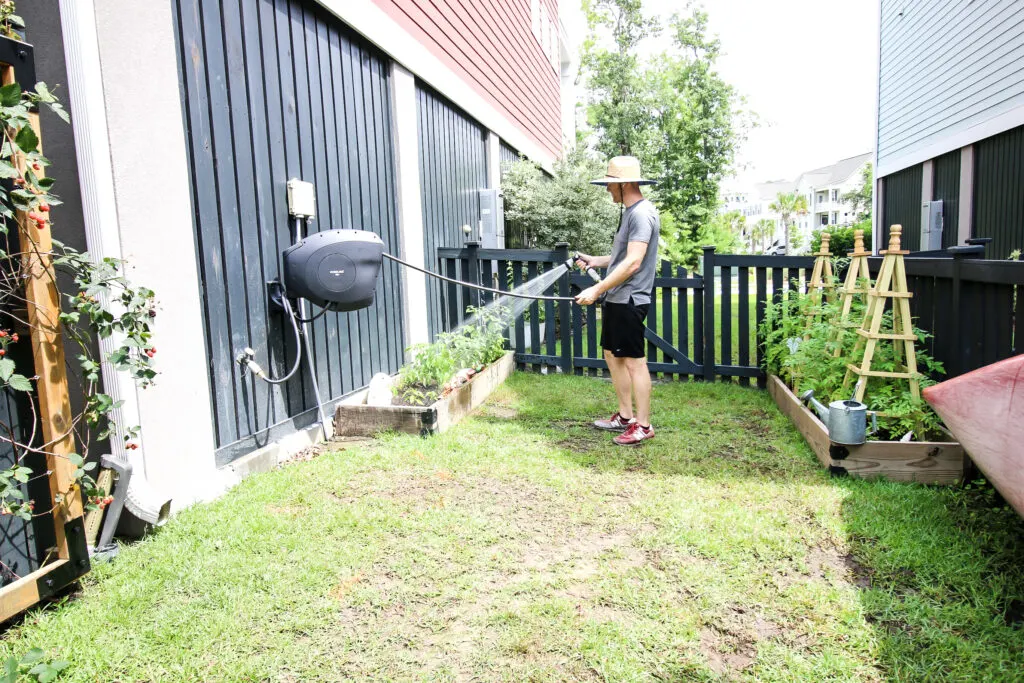 The nozzle has a lot of great spray functions and is easy to turn off and on with a flick of the thumb.
It really is nice too that we can pull it a little ways to spray the raised bed gardens, pull it a little further to reach the fruit trees, then go all the way to the other side of the yard to water the giant elephant ears without having to go back and adjust the hose length.
What we love about the Hoselink hose reel
We really love our Hoselink hose reel! Here are a few of our favorite things:
You can't beat the convenience and efficiency of a retractable hose!
It is so neat and tidy, it looks great but also saves space compared to a loose hose
No tangles, no kinks
Super smooth retraction mechanism makes for a hassle-free experience
Great quality, UV-resistant and weather resistant (we'll see how the color of the housing holds up against the South Carolina sun over the years)
Corrosion-resistant fittings and connectors (no more stuck hose or nozzle!)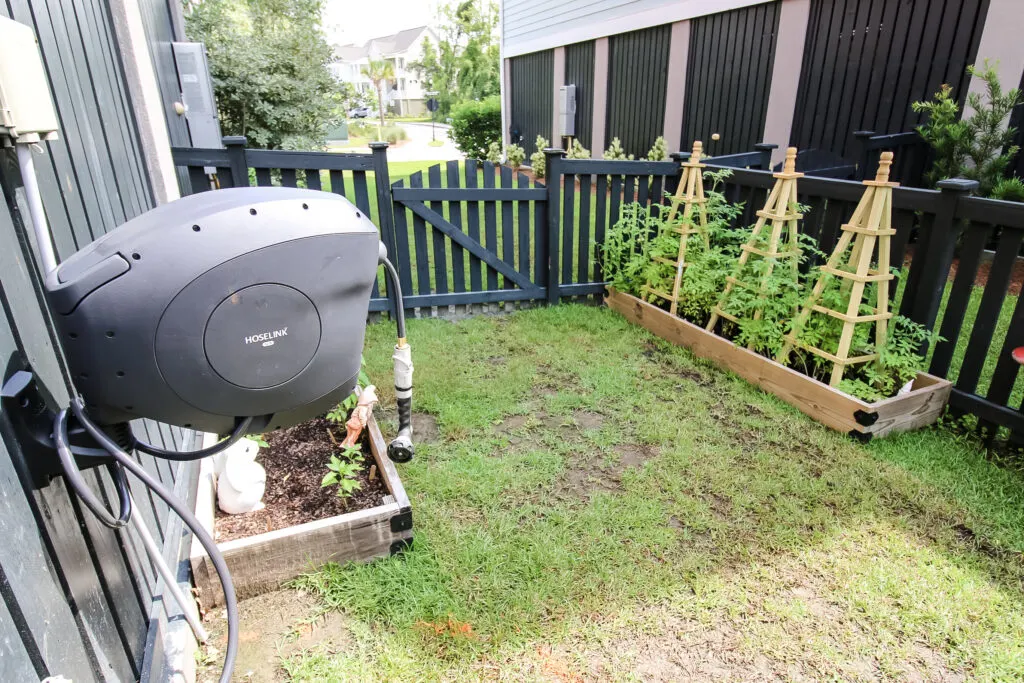 If you do get a stuck nozzle, here's our tips for getting it off!
Is the Hoselink hose reel worth it?
I think a Hoselink Retractable Hose Reel is absolutely worth the money if you are in a position to pay for the upgrade. The hose reel is a premium product, but it really has a ton of benefits that make it so.
Let's compare the price of a Hoselink Retractable Hose Reel package compared to buying items off the shelf at the local hardware store.
Our 82′ Hoselink retails for $235 on their site (but grab $15 off with our code "CRAFTED" through July!) and includes the hose, reel, and nozzle all together.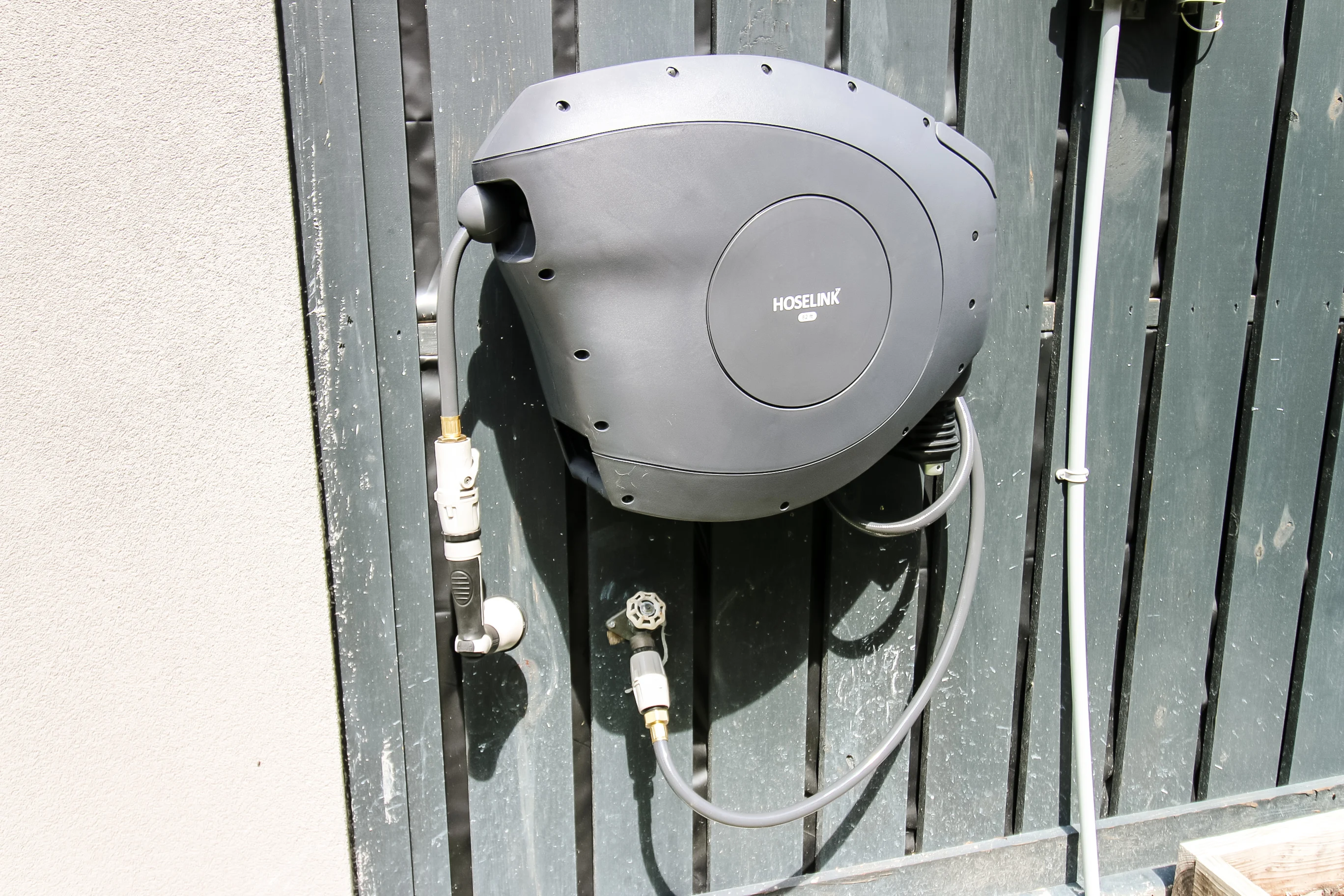 A similar a la carte package at Home Depot would look like this:
75′ high performance hose- $70
Manual crank hose reel box- $60
Thumb control spray nozzle- $13
Total- $143
We've gone through three hoses in our 6 years of owning homes and I don't think that will be the case now. I absolutely think that if you have the means to do so, a Hoselink Retractable Hose Reel is worth the $90 extra dollars you'd spend on it.
I also believe that if you are a smaller person, older person, or someone with any sort of back/knee/shoulder issues, the easy pull system and automatic retraction of the Hoselink reel make it very attractive.
Hoselink coupon code
We're excited to be able to offer you a Hoselink coupon code for a limited time! Use the code "CRAFTED" to get $15 off your purchase of $75 or more.
This will easily be applied with the purchase of the hose reel, but there are also lots of other garden and solar light products on their site that you can use the coupon for!
Frequently Asked Questions
Here are some commonly asked questions about Hoselink products!
Where are Hoselink hoses manufactured?
Hoselink is an Australian company founded by Tim Keirath. The hoses are currently manufactured in a number of countries including Australia, Italy, China and Taiwan. Hoselink products are Australian designed and 100% Australian owned.
Can you replace the hose in a Hoselink reel?
The entire hose cannot be replaced within the reel, but Hoselink does offer a hose repair kit for small damage. However, I think that the hose will stay in really good shape inside the reel for a long time.
Does Hoselink have a warranty?
Hoselink hose reels are covered by a 2-year warranty and a 30-day money back guarantee.
Any more questions about the Hoselink retractable hose reel?