Looking back at our whole wedding planning process and wedding day, there are lots of things that we are glad we did and things that we wish we hadn't done. This is the same with any big events or decisions you make in life. Hindsight is always 20/20 so we thought we'd take a look at some of the biggest things we would have changed about our wedding or were really glad we had!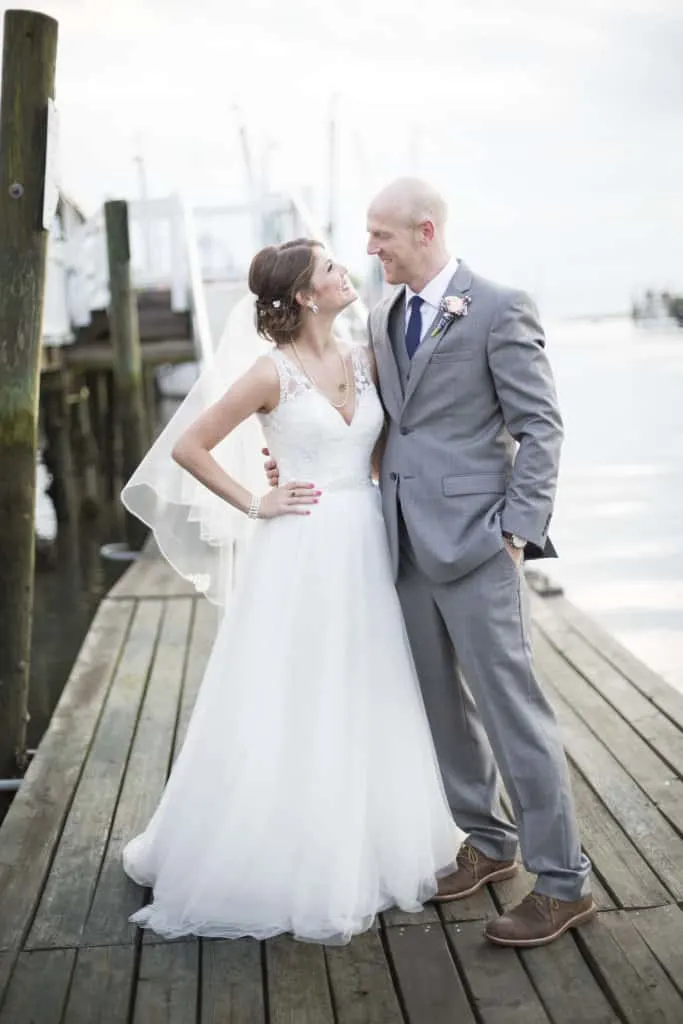 Glad We Did:
A photobooth is really a splurge because it's not really necessary. However, we got a great deal on one by working with a new vendor who was building their portfolio and reputation. Our guests loved it and we made our photos into a scrapbook for our coffee table and really enjoy looking at them. I'm so glad that we went for the booth!
To us, an open bar is a must for a wedding. We've been to some weddings that had cash bars or no bar and it really changes the vibe of the wedding. Not to say we're alcoholics or anything, but you're always going to be conscientious about drinks if you have to pay for them (and have to have known to bring cash) and when there are no drinks, everything just seems too formal. An open bar gives people to drink as much or as little as they are comfortable with and not have to worry about it.
Hiring a day-of coordinator was probably our smartest decision of the entire wedding. We used our florist, who offers coordinator services, and it worked out great. She knew where everything was supposed to go and took care of setting everything up at the venue on the day of. All we had to do was show up and not worry about a thing. She executed our incredibly detailed vision exactly like we would have.
Choosing to do a lot of DIY for the wedding was a great option for us. This really personalized things and made the day really feel like us. We did things to incorporate lots of parts of our lives together so it made us feel really great and gave us a sense of accomplishment from our year of planning.
We were so glad that we had a Welcome Party. We mentioned this before, but this was such a great event. It gave us the chance to talk to everyone in a much more personal setting than the wedding. We were able to give more time to our friends and family that came to this event and sit down and talk with everyone. We were so busy being pushed and pulled in tons of directions at the reception, so having the Welcome Party was a way to say thank you to everyone.
Eating by ourselves was a great decision for the reception. We had heard from so many people that they didn't even get to have a chance to eat at their own weddings. We knew we wanted to eat and we had to make sure that happened. So we ate alone for about 10 minutes in the "holding room" at the venue and this gave us a chance to fuel up and prepare for the rest of the night.
Things We Would Have Changed:
I've hinted at it before, but I was super set on having a harpist for our ceremony. Retrospectively, it seems like a silly thing to be set on, but at the time it was important to me. I booked it really early in the process, and we paid $550 for an hour of music (30 minutes during seating and 30 minute ceremony). If I had waited later in the process, this probably would have been cut due to cost. While it was beautiful, we really had a hard time hearing any of it during the processional because it was monsooning rain and the musicians moved away from the tent to be under the gazebo. So, we couldn't have predicted it, but it seemed like a bit of a fail.
We decided to have a late night snack pass of mini cheeseburgers and fries. They were delicious, but they were passed around only 1 hour after dinner and less than 30 minutes after the cake cutting, so no one really ate any (except my teenage cousins). I passed on some myself, and now wish that I had taken one. People tend to "follow" the bride and groom, so if I had taken one I bet more people would have, too. However, if we hadn't had this pass, we would have had to add more food to hit our minimum.
It would have been great if we had decided to pay for an hour for our reception. The night went by SO FAST and we couldn't even take it all in. It was a whirlwind of a night and it would have been so great if we had had an extra hour to talk to our guests more, take more time to dance, go outside and enjoy the venue/view more, and spread things out.
And with that, this is the end of our wedding recaps and therefore our last WeddingBee recap post. It's been a blast and I have really enjoyed blogging with y'all. I am really sad to say goodbye, but it can be more like see you later – we have been blogging over at Charleston Crafted since 2012 where we will continue to share healthy recipes, DIY projects, trips and travels, activities around Charleston, and anything going on around our lives. We'd love for you to add us to your blog reader or click over! It's been all wedding all the time lately, but we are excited to get back to real life.
It's been a blast! Corals – out!