From patios and pathways to water features and garden structures, we've got you covered with DIY hardscaping ideas and tips on design, maintenance, and sustainability.
If you are lucky enough to have a backyard, it is a pleasure to transform it into a useable space.
One way to make a backyard look more custom and functional is by adding hardscaping.
What is hardscaping?
Hardscaping is the use of man-made materials in outdoor spaces. This could include patios, walkways, walls, garden beds, pergolas, outdoor kitchens, and more. Basically, anything that is not plants or naturally occurring!
Hardscaping can make your yard more beautiful and more functional. It defines areas, gives them purpose, and is a great way to make the outdoors an extension of your home.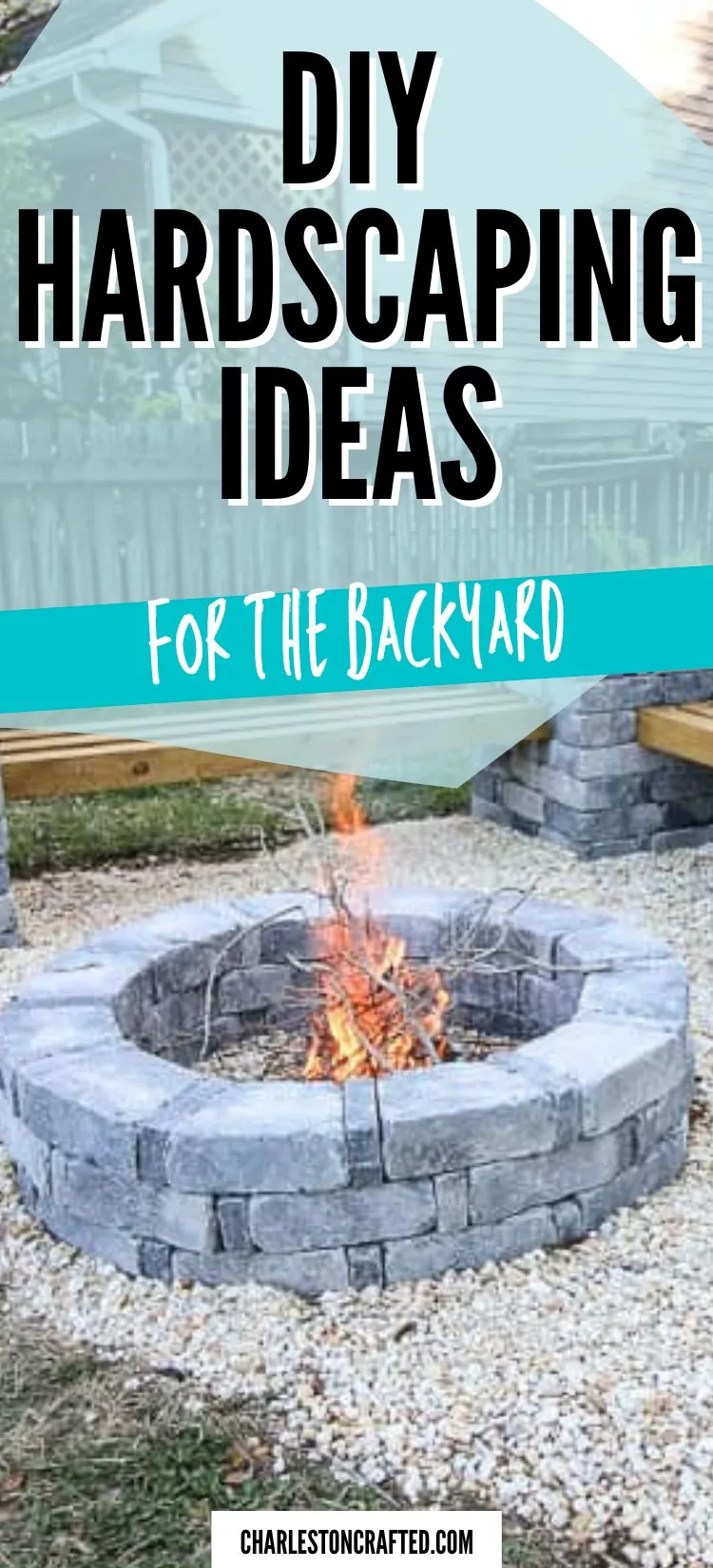 Hardscape Planning and Design
The first step of any yard project is planning. Planning for your hardscaping project will involve:
Measuring the space as-is
Assessing the existing features and identifying what to keep and what not to keep
Deciding on your desired functional areas – kitchen space, seating area, dining zone, playground, etc
Choosing a style or aesthetic that you prefer (pull ideas from pinterest!) which will help you narrow down materials
Setting a budget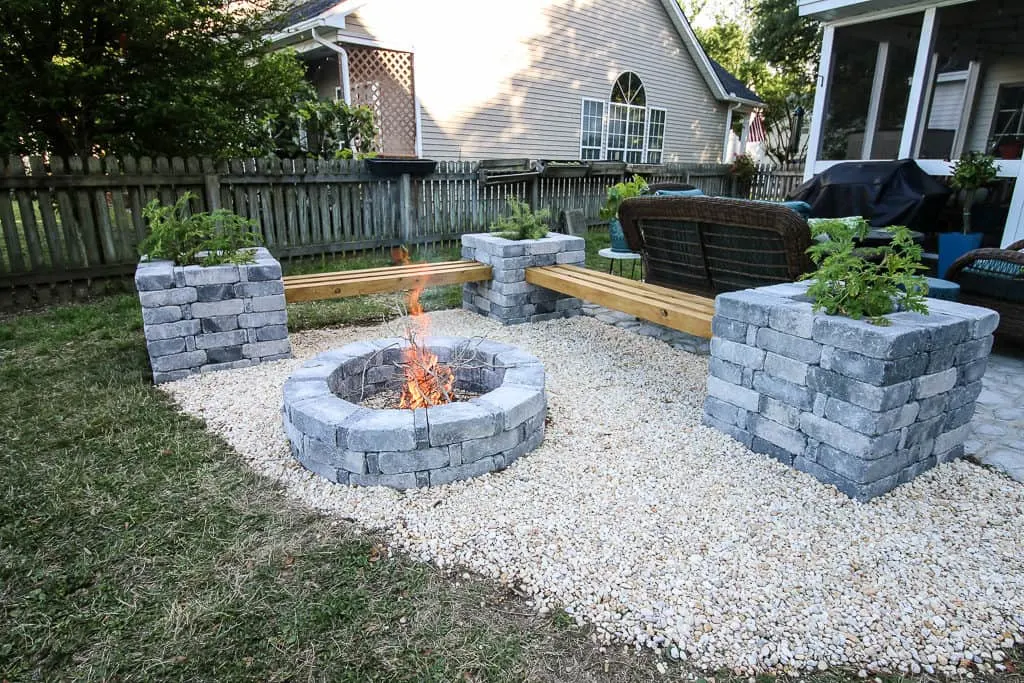 Hardscaping Ideas
Some of the most popular hardscape backyard projects include:
patios
pathways
retaining walls
water features
outdoor kitchens
fire pits
garden structures
play areas
Patios and Outdoor Living Spaces
Patios are a natural place to start with hardscaping projects. They give you a defined area for seating, cooking, or entertaining and can create a beautiful focal point for your yard.
Patios can be made of many materials including concrete, pavers, brick, or natural stone.
They can be designed with furniture and seating options to create an outdoor dining space or more of an outdoor living room feel.
Stone patios can be combined with outdoor kitchens or shade structures such as pergolas, gazebos, and umbrellas to make the space even more comfortable and usable.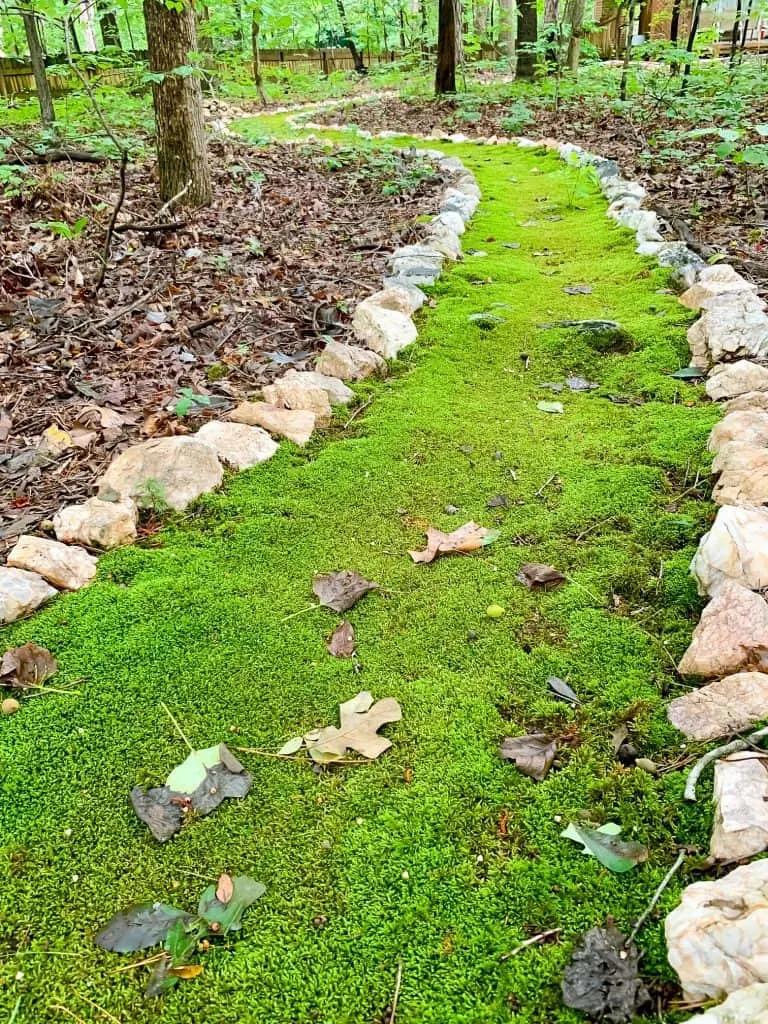 Pathways and Walkways
Walkways are another great space for hardscaping materials. While I am personally fond of a moss pathway, hardscaping can be great in areas that get muddy or stay wet.
Popular material options for walkways include gravel, flagstone, and brick.
While you can have clean-lined, straight paths, I prefer the look of a meandering, curved trail.
Don't forget lighting! You can add lighting on either side of a pathway of any size to highlight it in the evening and make it easier to follow after dark.
Retaining Walls
Retaining walls have functional and aesthetic purposes. They can help to keep your yard's soil in place and help to better define the space.
Retaining walls can me made from concrete blocks, stone, brick, or timber.
Some retaining walls are designed with planting areas either within or on top of the walls. This is a great way to bring natural elements into your hardscaping!
Water Features
Another great way to add hardscaping into your landscaping design is with a water feature! This could include a small pond, waterfall, or fountain.
Water features could be designed to look natural with stone arranged like a real pond, or more contemporary with clean lines of stacked brick or pavers.
You can even add aquatic plants and fish once your pond is established!
Definitely consider adding a seating area near the water feature so you can sit and enjoy the peacefulness of being near even a small body of water.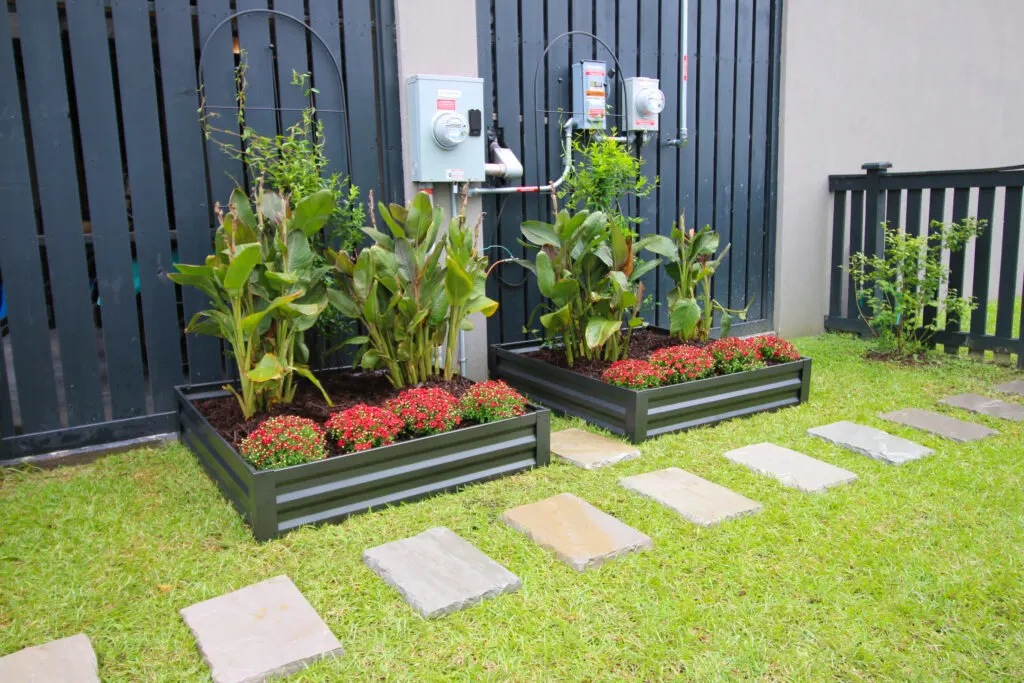 Outdoor Kitchens and Fire Pits
A super functional addition to any outdoor space is an outdoor kitchen. These can be super fancy – with cabinets, countertop, and storage – or as simple as a spot to keep the grill.
Outdoor kitchens are best when paired with an outdoor dining area so you can cook, eat, and entertain in one spot.
You can use stone and other hardscaping to build up around grills, cooktops, and cabinetry for a completely built-in look.
In addition to an outdoor kitchen, you could have a fire put. This could be built in, portable, or even a fire table. Built in fire pits are a great use of hardscaping!
Garden Structures
Arbors, trellises, and pergolas are all dramatic ways to add interest to your yard. These are usually made of wood but can sometimes be made from stone or other hardscaping materials.
These structures could be used for vertical gardening and for climbing plants, or might be designed for shade.
Either way, they are a great way to define an area of the yard and make a big visual impact.
Play Areas and Sport Courts
Swing sets, playhouses, and trampolines can all be made to look more built in and custom with hardscaping. This could include a border wall, patio, or other space-defining design ideas.
Hardscaping can also be used to define sports courts such as basketball or tennis courts.
Be sure that any hardscaping is used smartly in a safe way. You might not want a play ground on top of a hard surface, for example. Plan accordingly!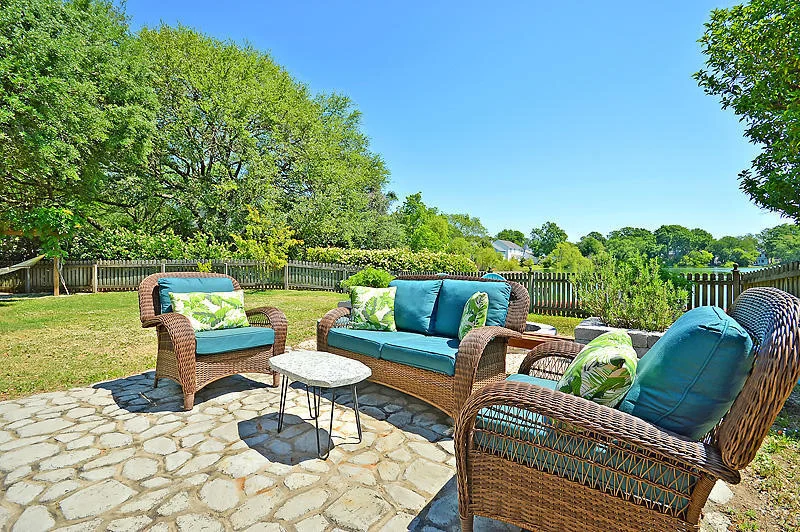 Maintenance and Sustainability
Choosing Low-Maintenance Materials
Opt for durable materials to help increase the longevity of your project. Concrete, natural stone, and composite materials are super resistant to wear and tear.
Consider materials that need less upkeep – such as sealed pavers or stain-resistant tile. This will be easier to clean and maintain over time.
For a super low-maintenance lawn, consider synthetic turf of gravel. Natural grass is a lot of upkeep, and alternative ground coverings can help to save time and water!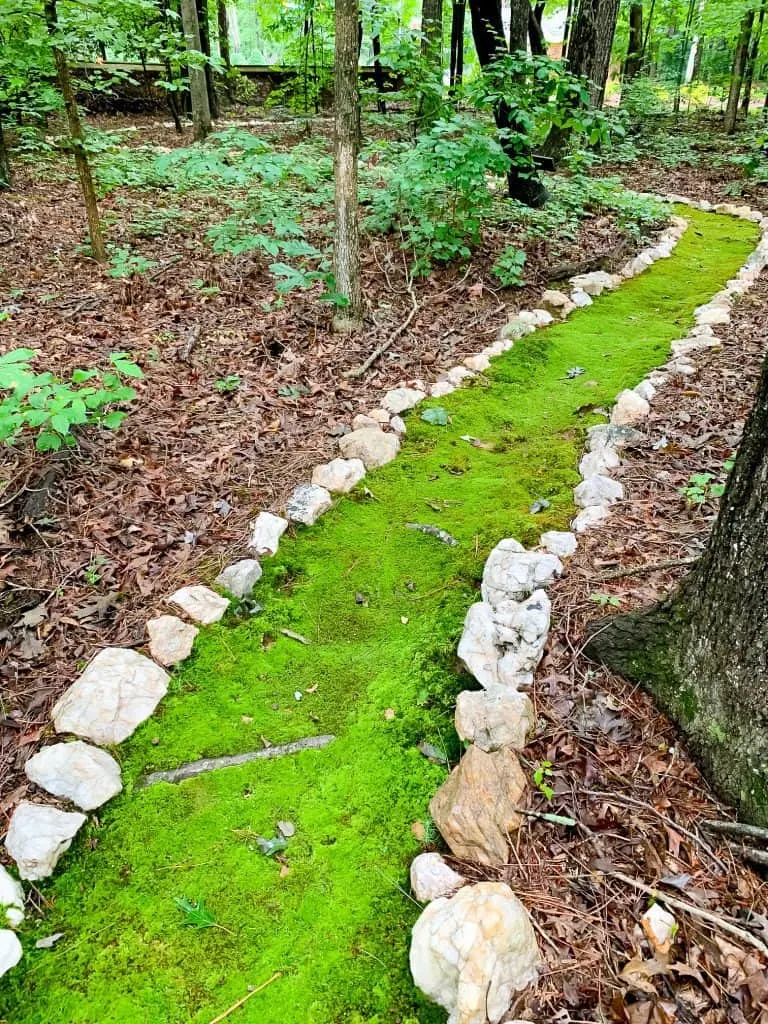 Proper Drainage and Irrigation Systems
Whatever you choose to install, be sure that your design includes proper grading and drainage solutions to prevent pooling water.
Consider using permeable surface materials to allow water to absorb instead of creating runoff.
If you are incorporating a lot of plants into your design, consider installing an irrigation system. Newer irrigation systems can include smart features like weather-based controls.
Incorporating Native Plants for Eco-friendliness
Native plants generally require less water, fertilizer, and maintenance than other plants. They also provide a perfect habitat for local wildlife.
Consult with local nurseries or gardening experts to identify native plant species that thrive in your area's climate and soil conditions.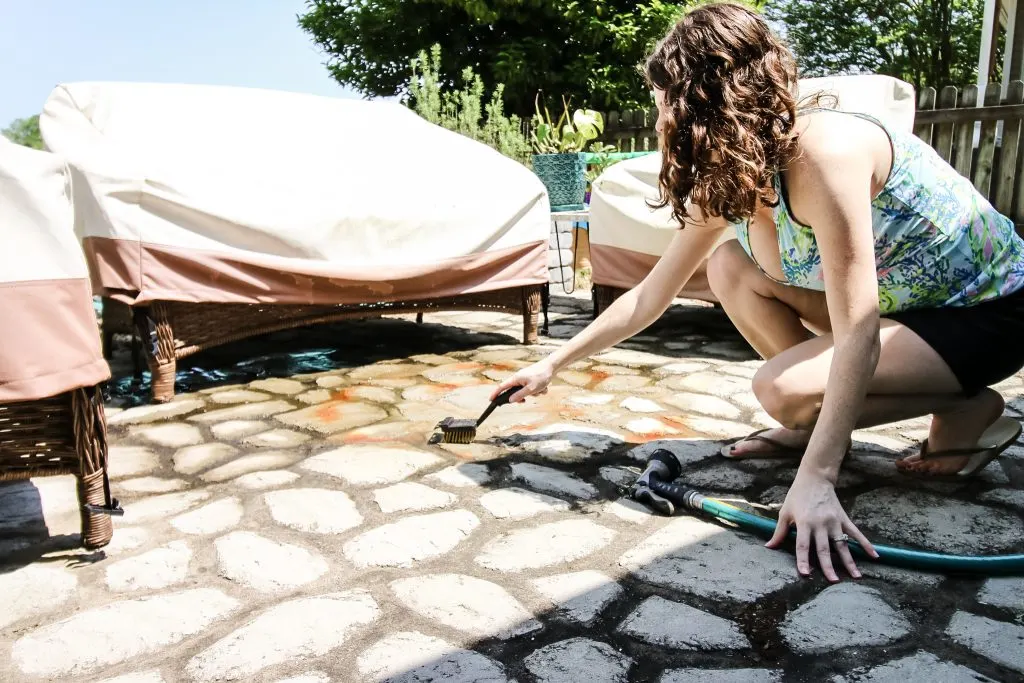 Regular Cleaning and Upkeep Tips
Regularly sweep and remove leaves, dirt, and debris from hardscape surfaces to prevent staining and maintain their appearance.
Use a pressure washer to clean stubborn stains or algae growth on hardscape surfaces.
Implement a weed prevention strategy such as installing a weed barrier under gravel or using appropriate herbicides. Regularly inspect and pull weeds as they appear.
Perform seasonal maintenance tasks like inspecting for cracks, resealing surfaces, and checking irrigation systems to ensure proper functioning. Don't let small problems grow into big problems!
Examples of Hardscape Designs
Here are some step by step tutorials showing DIY hardscape ideas that you can add to your backyard!
Hardscaping ideas for the backyard
Here are step by step tutorials for hardscaping ideas that you can use in your backyard!
What are your favorite backyard hardscaping ideas?