True story: I bought this book on accident. I recently found some online lists of books being made into movies in 2015 and added a bunch to my Amazon wishlist. Guess I wasn't paying very close attention, because I meant to pick up The Girl on the Train by Paula Hawkins but instead ordered Girl on A Train by AJ Waines. Luckily for me, it was a good mistake. Oh, and Sean laughed and laughed and then downloaded the Hawkins version on his Nook, so I'll be reading that one whenever he's done.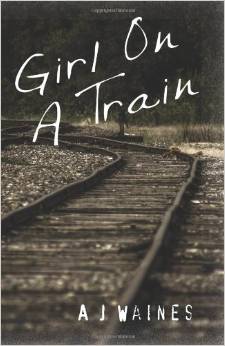 Girl on a Train follows protagonist Anna, who rides on a train seated next to a curiously behaving girl. The girl overhears that Anna is a journalist and asks her if she investigates crimes. Then, the girl quickly scurries off of the train, before her ticketed stop, dropping a locket into Anna's bag. A few minutes later, Anna learns that the girl has thrown herself in front of the train in an act of apparent suicide.
Anna, being the investigative journalist that she is, can't help but look into the crime and the girl's history. It leads her down a curious path involving a child's abduction, strange behavior in a church, and Anna's own husband's death two years prior.
The back cover of the book describes the ending as "astonishing". I'm not sure if that's the word I would have chosen, but it definitely is surprising and unexpected. I have also seen it described as "Gone Girl-esque". I would have to disagree. All of Gillian Flynn's books have something sick or twisted in them. This book had death, suicide, and suspense, but none of it was really sick or twisted. At least, not nearly at Flynn's level.
I really recommend this book if you are looking for a good mystery novel. It's got a good pace (crucial for murder mysteries) and nice character development. I would definitely read another book by this author. Also, it's set in England. This is totally lame, but I love British books. I blame Sophie Kinsella.
For more books we love, be sure to follow me and Sean on GoodReads! My goal is to read 25 new books this year, I'd love your suggestions!