It's January, which means that it's the time when a lot of people re-evaluate their lifestyles and start to make some new healthy choices. While many are making resolutions, we challenge you to make small, long-term lifestyle changes. We really made huge steps to live a healthier life in 2015 and are excited to extend that into 2016.
If you are also looking to improve your fitness, here are 5 tools that we personally own and use daily to live healthier lives.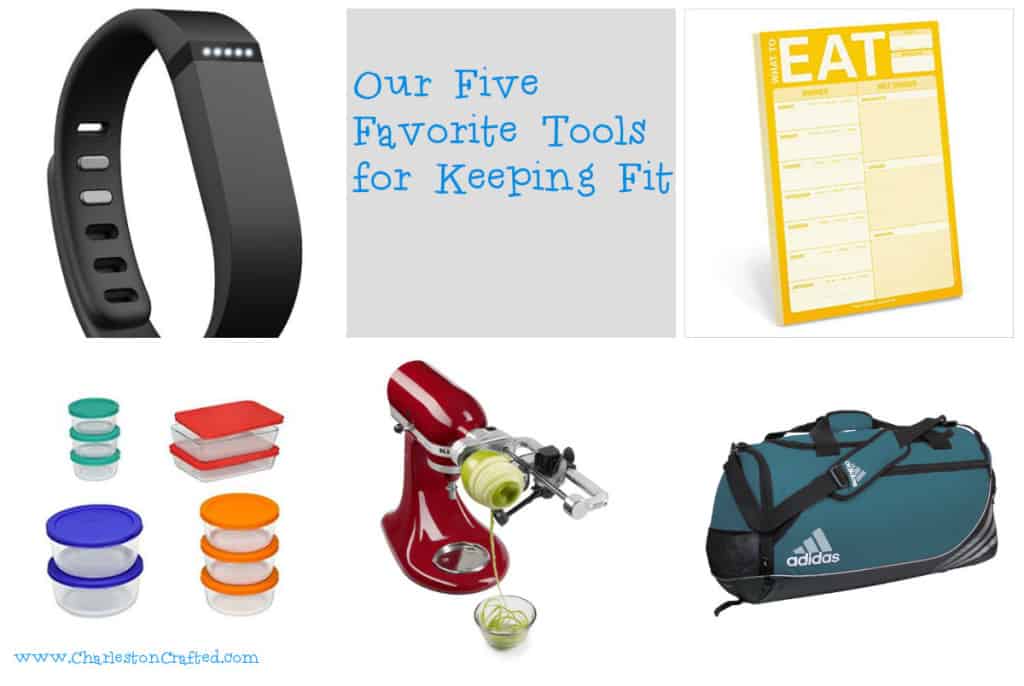 FITNESS TRACKER
Sean & I both wear FitBit Flexes and have since March 2013. They are going strong and we love tracking our steps – it makes me feel more accountable and also pushes me to step it up, especially on otherwise lazy or rainy days. I hate not hitting my goal! the FitBit Charge HR  (with heart rate monitor) is the newest version and while I haven't personally tried it, I have heard great things.
MEAL PLANNING BOARD
Meal planning is so crucial to eating healthy. By planning in advance, you can shop better, food prep, and set yourself up to make the best decisions. We have this magnetic notepad where we plan our meals for each week on Sundays and it makes it simple to plan as well as see what is coming up on the menu!
GLASS TUPPERWARE
On that same note, meal planning is so much easier if you have a nice set of stacking glass tupperware. It is washable, microwavable, and stays clean easily. It also makes it simple to see what you have in the fridge – which is crucial to eliminating food waste.
SPIRALIZER
One of the most excited changes that we made in 2015 was eating way more vegetables. The crucial things with vegetables are seasoning them well and having a variety of veggies and preparations. I have loved my handheld spiralizer for making vegetable noodles (like sweet potato noodles or cucumber ribbons). I actually received this spiralizing attachment for my KitchenAid mixer for Christmas and am so excited to expand my spiralizing – it rips through veggies and I am in love. Expect beets, butternut squash, and maybe even jicama noodles coming your way!
GYM BAG
Having a fully stocked gym bag in your car helps eliminate any excuses to skip a workout. Sean loves this one, especially for its compact size and separate shoe compartment (to keep your clothes from getting stinky). Sometimes success is just about eliminating excuses and setting yourself up to succeed!
Some of the links below are affiliate links, meaning that if you click thru and make a purchase, we receive a very small percentage of the sale. Thanks for supporting the brands that make Charleston Crafted possible!