I never really thought that drawing up a floor plan would be a major dilemma. Of course, table assignments might be a headache after RSVPs come in, but I always thought that the tables just sort of… placed themselves. Well, as far as our venue goes, I thought incorrectly.
I didn't much consider the floorplan until we discussed it with the catering manager at our tasting. Ok, that's not exactly true. We talked about it during our initial walk through – "the dance floor will go here!" – but we never sat down and counted seats and tables or anything like that.
Now we are starting to actually think logistically. Our venue is slightly unusual in that the reception area is two stories – a main level and a balcony/loft on the second floor. I actually love the second floor – it has sweeping views of the creek and allows for a bird's eye view of the main level. This was a huge selling point to me.
Another big selling point is the tables and chairs included with the venue – we get 148 chiavari chairs, eight 60″ round tables and sixteen 48″ round tables. That will save us a lot on rentals. But now we just have to figure out where all of the tables will go.
To get us started, here are the blank floor plans for the space: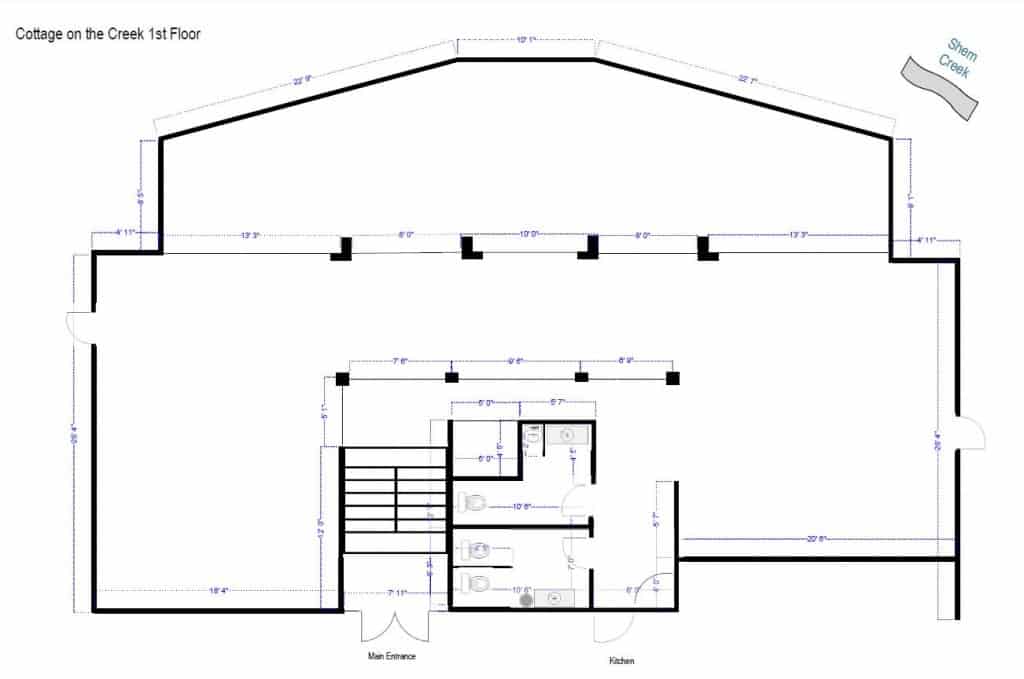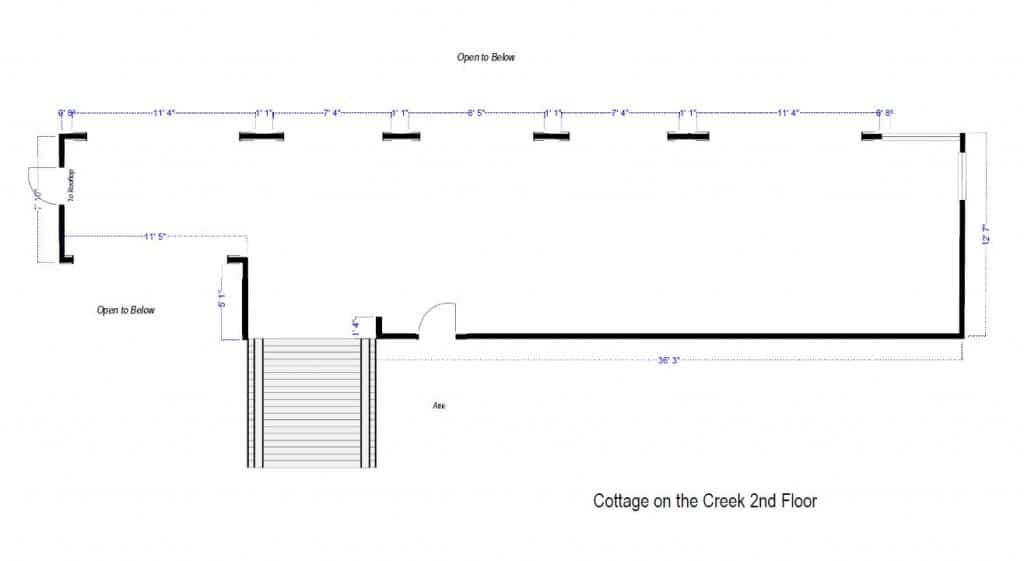 We are basically set that the upstairs will look like some variation of this: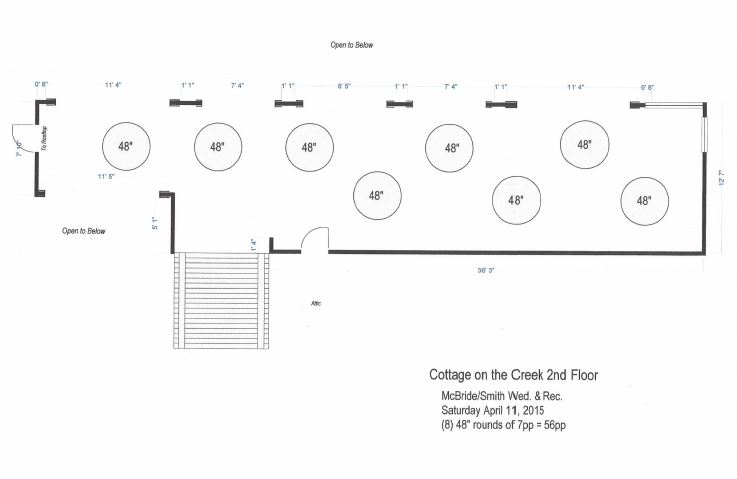 The maximum number of tables that can fit upstairs is eight. At six people per 48″ table, that's 48 people! We are not sure what our final head count will be. We are inviting 147 but, since it is a semi-destination wedding, we are expecting about a 2/3 turn out and are planning for between 100 and 120. **Note – the catering manager told us that we could really have seven people at the 48″ tables and nine people at the 60″ tables. This seems crowded to me. We are going to budget for six and eight and only throw in an extra person here or there if the seating chart demands it.**
My ideal upstairs layout would eliminate the two far left tables. The door on the far left leads to the rooftop porch – one of the highlights of the venue – and I'd love to keep the path between there and the stairs from the first floor as clear as possible.  I don't really want to have less than six tables upstairs because I don't want it to feel like a small, second thought of an area. It is beautiful up there and I want the seating to feel very deliberate. I had this fantasy about putting in all of this lounge furniture and maybe a photobooth on the loft, as a place to get away from the main hubbub, but unless we have under 100 guests, there won't be sufficient seating downstairs. I like this plan just fine though: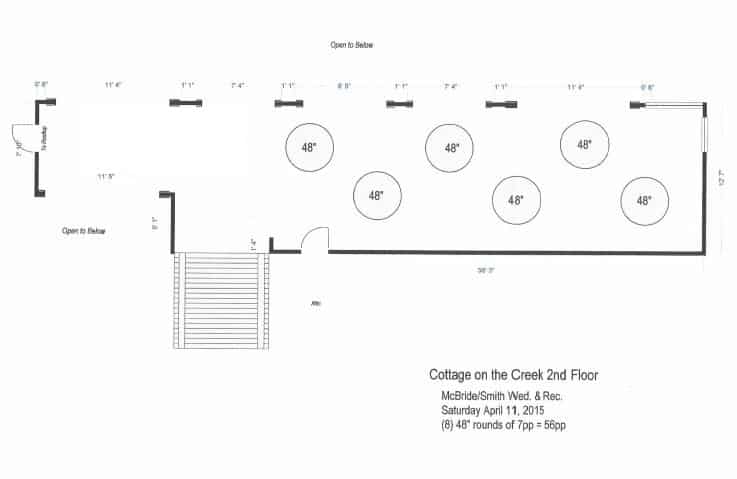 Six (48″) tables that seat six each would mean 36 guests would be sitting upstairs. Assuming that we have 120 attend (the high end of our estimate), that would leave 84 guests to sit downstairs. At 100 guests, it leaves 64 for downstairs. So, we needed to come up with plans to seat 64 to 84 guests downstairs. Let the games begin.
We plan to have 3 chef-manned stations serving our dinner. These stations each are 8′ x 3′ tables, but the main issue is leaving enough room for people to queue up around them. No one wants their table squished in where everyone is getting food, so we have to be very cognizant of that.
Our original plan was to have the dance floor to the far left. This would allow us to have a whole sort of "dance room" and have seating in the "porch" area as I like to call it (even though it is all inside). This area has huge glass windows and sweeping views of the creek.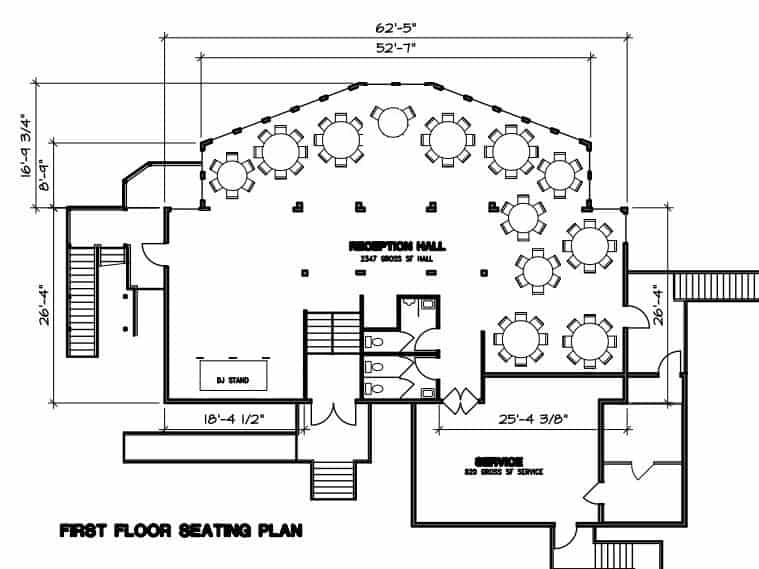 Unfortunately, this plan didn't take into consideration food stations, and when you add them, it leaves very little room for seating.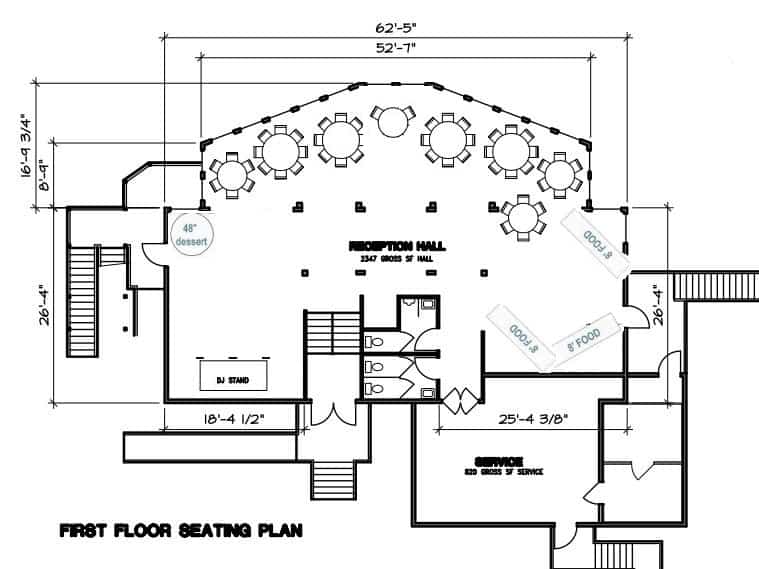 Once we added the food tables and space, we realized that our original plan would allow for four (60″) tables seating eight and three (48″) tables seating 6, or seating for 50. Even with the max of 48 people upstairs, that does not give us seating for 100 guests and would not meet our needs.
Here is the floor plan that our caterer suggested: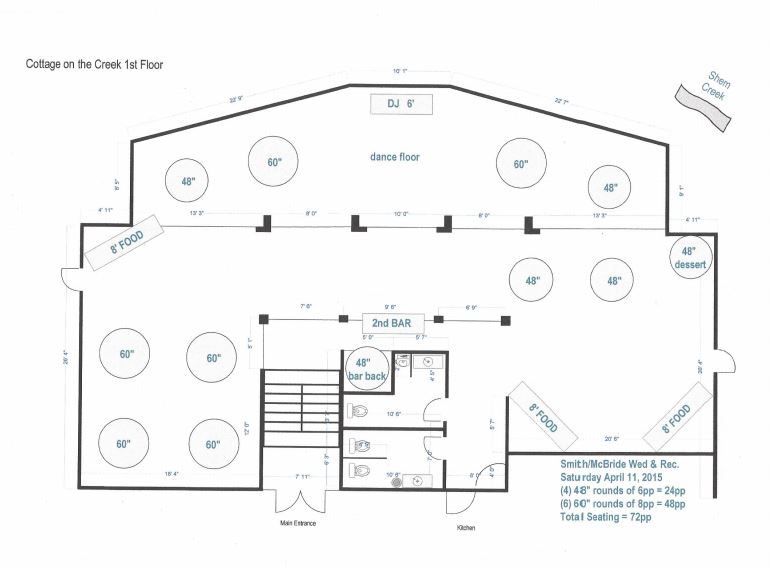 It places the dance floor at the center of the porch, with tables flanking it. Two food stations are on the right side (I keep wanting to call them rooms but it is really one big open space – the black squares in the center of the floor plan are columns). The remaining food station is to the far left. This plan is OK. But, I feel like the food is taking up a lot of table space!
This plan holds six 60″ tables with eight guests each and four 48″ tables with six guests each. That's total seating for 72, plus we would squeeze in a sweetheart table, probably near the DJ stand. 72 guests downstairs + 36 guests upstairs is a total of 108 guests – right in the middle of our range.
Of course, I had to play with things. This is the floor plan that I came up with: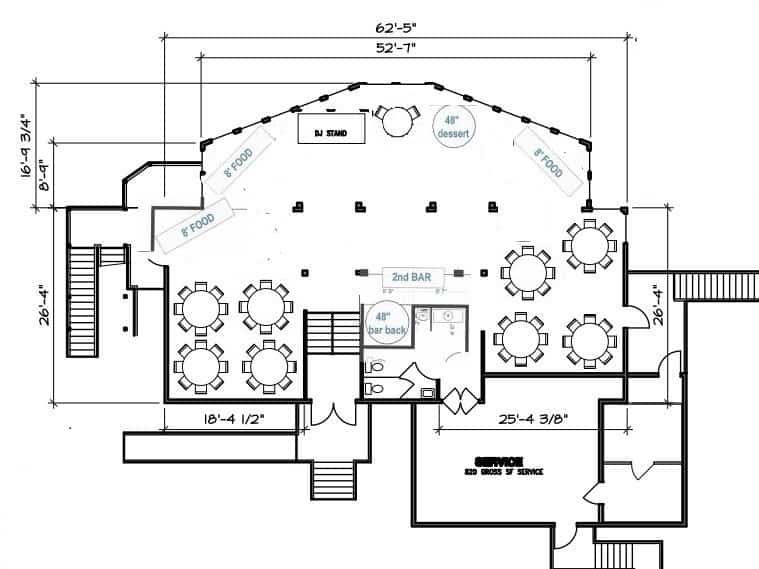 This plan utilizes the entire "porch" as open space. It has food stations there for food time and then will become totally dance floor after dinner. It's hard to tell how much space the DJ stand and sweetheart table take up in this crude mock up.
This plan allows for eight large (60″) tables downstairs. They each seat eight guests, so that's seating for 64 guests downstairs. with 36 seats upstairs, that's seating for a hundred guests exactly, the extreme low end of our guest estimate.
So, I got back to designing. Next, I came up with this design: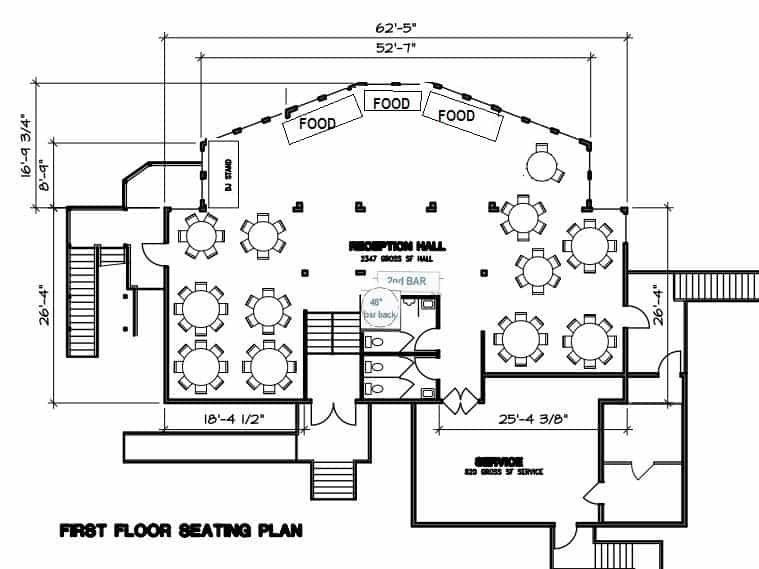 It places the dance floor and all of the food in the "porch" area. This clears up more space for tables by sort of combining the dance floor and food area. It is operating under the assumption that people will eat for the first hour or so and then it can transition to dancing. This way clears up a lot of space – but I'm not sure how practical it is. I don't really want buffets in the background of our first dance, and I want people to feel free to dance all night long, not just after the food. Plus, it might be hard for them to clear out the food stuff while people are dancing. Regardless, this design has room for six (60″) tables seating eight and five (48″) tables seating six, for total seating of 78 guests downstairs. With 36 upstairs, that's seating for 114.
Honestly, I'm not in love with any of these options. So, there are three things that I'm going to do:
1) We really just need to wait and see how many people are going to RSVP yes. The difference between 100 and 120 people is 3 tables – which is a big change in this tight of a space. If our estimates are totally off and we have over 120 RSVP yes, we will need a totally new approach (including filling in those 2 extra tables upstairs and adding a 7th or 9th person to some tables).
2) We are going to go to the venue and actually try some of these lay outs in real life. The paper floor plan is great for brainstorming – but I won't feel good about it until I see it. It's hard to know if I'm cramming tables in too tight or leaving awkward gaps without seeing it in real life. We might recruit some bridesmaids (we have no local groomsmen… luckily for them!) and see if we can get in there and move some tables around. The venue is very good about letting you check out a key on days that there aren't events. Hopefully this will ease my stress.
3) I am asking YOU for help! I am so lucky to get to blog to such a wedding loving community, so I figured it was worth an ask. Does anyone have any ideas based on what I've posted above? Any scenarios that we haven't considered? I'd love to hear from you!