Building something with a Kreg Jig? Wondering what kind of screws to use? Let's talk about Kreg pocket hole screws, if you have to use them, and any alternatives!
A Kreg pocket hole jig is a wonderful tool if you want to get into woodworking. Pocket holes are a user-friendly, DIY way to build furniture for your home. There are lots of different Kreg jigs, and you can read about them here. But one part of the Kreg system is that there are special screws that work with the jig. Let's talk about them here.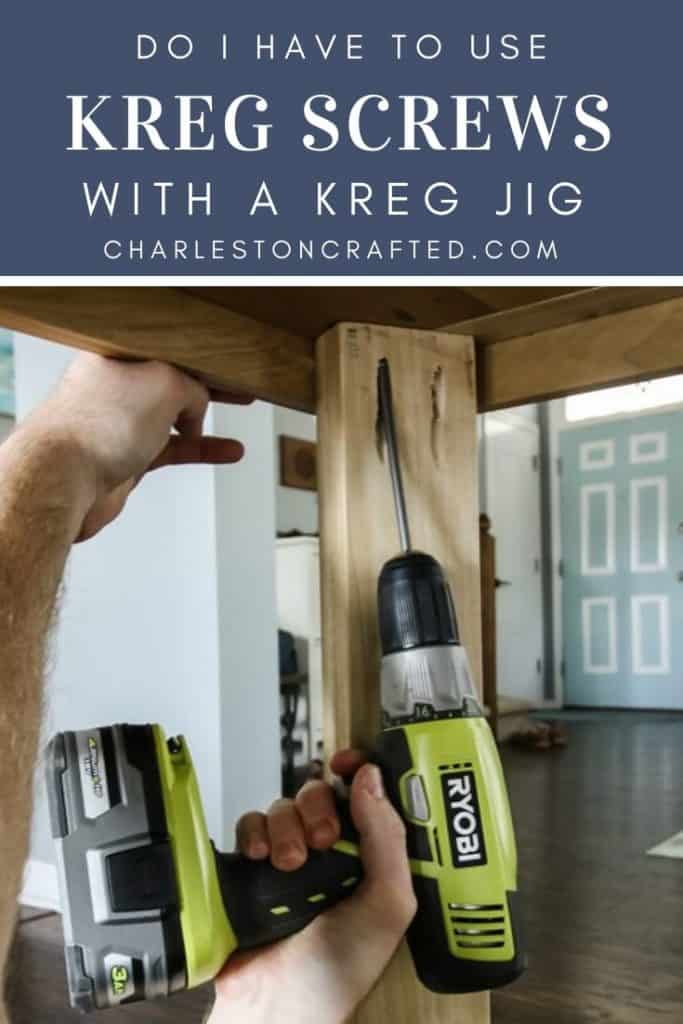 What screws to use for Kreg jig
Do you have to use special screws for Kreg pocket holes? Yes.
Kreg has specific screws to use when you drill pocket holes with a Kreg jig. Their specific screws have a square driver hole that work with the specific driver that comes with you jig.
The Kreg screws come in course and fine thread. Course thread screws are for soft woods and plywood. Fine thread is for hard woods.
The screws have a flat-based head so that the screw head pulls the two pieces of wood together as you drive it in.
Click here to get a set of each length Kreg screw and be ready to go for your next project!
What Kreg screw length you need for wood thickness
Do you have to use Kreg pocket hole screws?
You really do need to use Kreg screws when using the Kreg jig. The screws come specially designed to work with the holes that are drilled by the Kreg jig. Trying to use other screws will not properly bring the wood together.
Can Kreg screws be used outside?
Kreg screws can be used outside. Kreg screws come in their normal zinc, but also come in an outdoor coated version. The outdoor screws are blue and coated with a special coating to keep them from rusting in weather.
Alternative to pocket hole screws
You really should use Kreg screws in the pocket holes that your Kreg jig creates. They are specifically designed for Kreg pocket holes.
However, if you don't have access to Kreg screws, you can try using regular wood screws, but they would have to have a flat-bottomed screw head. But like I said, I wouldn't recommend that. There are also other brands that make pocket hole screws, but I recommend sticking with Kreg if you can.