Want to build a wooden container to hide your litter box? You'll love this DIY Hidden litter box solution!
This shop has been compensated by Collective Bias, Inc. and its advertiser. All opinions are mine alone. #LoveTheseCleanPaws #CollectiveBias
No one likes unsightly, smelly cat litter boxes in their house. They are gross and embarrassing and no one wants that. That's why you need a hidden litter box and the right cat litter to make sure that no one that comes into your house immediately knows you have a cat. We have a DIY hidden litter box solution for you to pair with Fresh Step® Clean Paws™ Triple Action Scented Litter from Target to make sure your house stays fresh.
DIY Hidden Litter Box Solution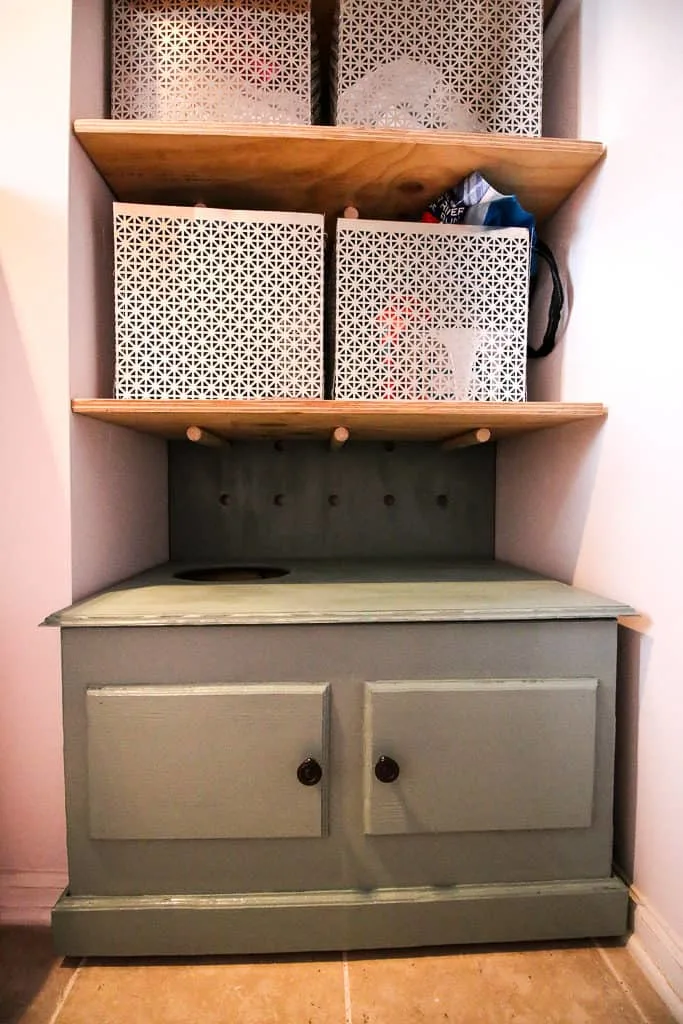 We wanted our litter box to look like a piece of furniture and to fit perfectly under the shelves in our laundry room. We had an old litter box that I made a couple years ago in there that was warping and unsteady that we needed to replace with something solid. This hidden litter box doesn't even look like a litter box and is easy to recreate.
Hover over the image below to start shopping for your cat!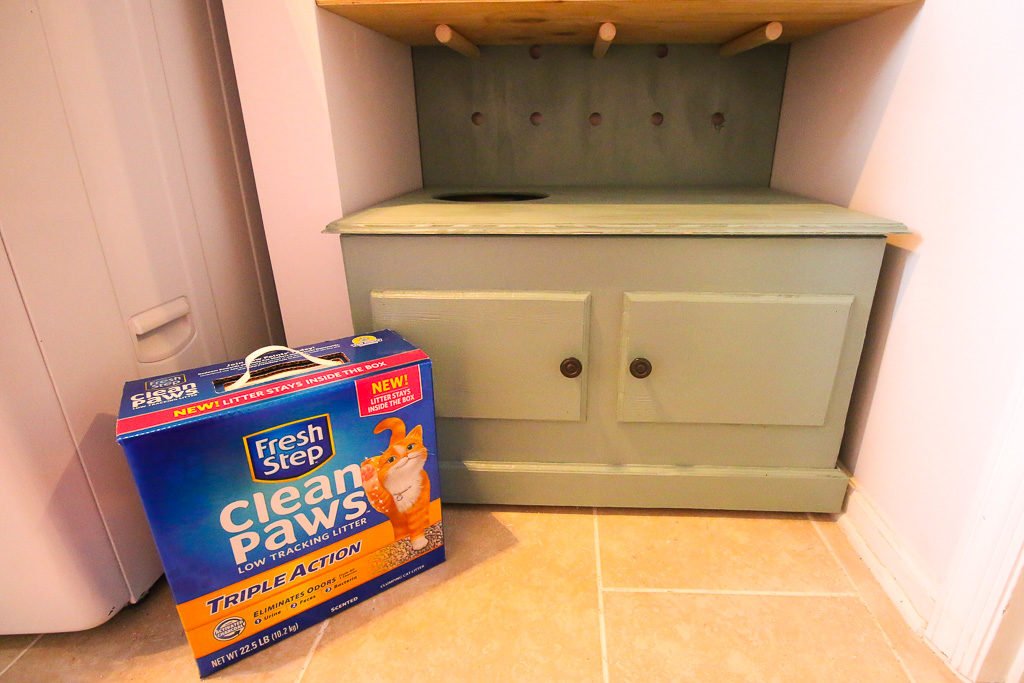 First thing to do is make your cuts. I find projects are easier when I know exactly what to cut first and then put it together. I used three 2'x4′ sheets of 1/2″ plywood for the whole box and used Kreg Jig pocket holes to connect most everything together.
Cut List:
Top: 29″x21″
Bottom: 27″x19″
Front and back: 28″x16″
Two sides: 19″x16″
Middle divider: 19″x15 1/2″
Front molding: 29″x3″ (45 degree miter on each end)
Two side molding: 20″x3″ (45 degree miter on each end)
Two faux doors: 12″x8″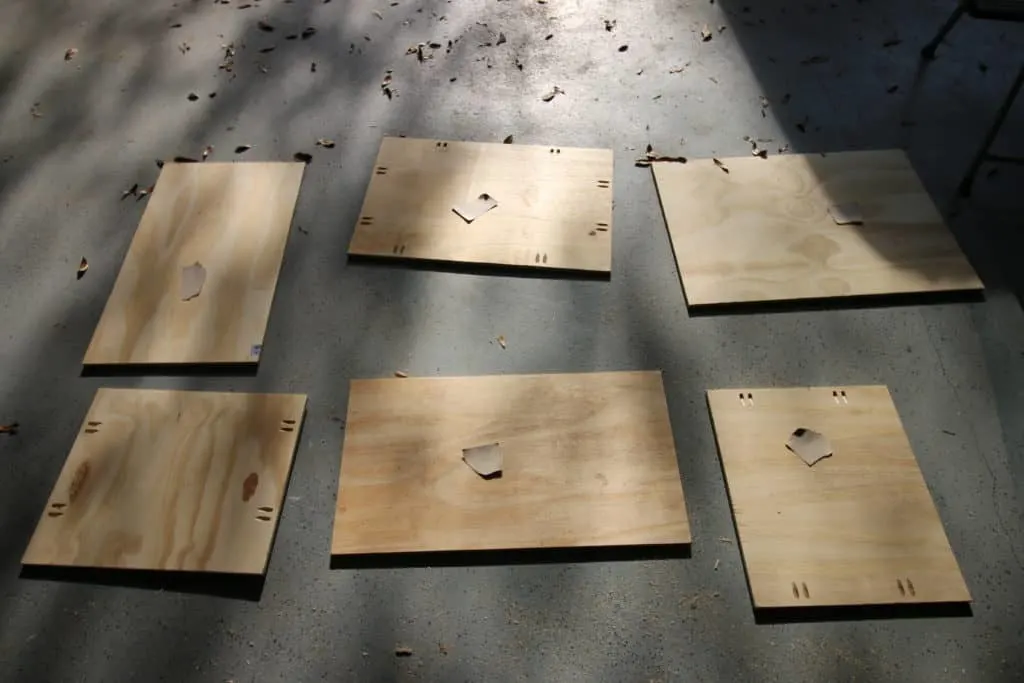 Start by attaching the two sides to the outside of the bottom piece by using pocket holes from the underside of the bottom. Then, attach the front and back pieces to the outside of the bottom piece the same way. Follow that by attaching the two sides to the front and back pieces, which should be on the outside of the side pieces.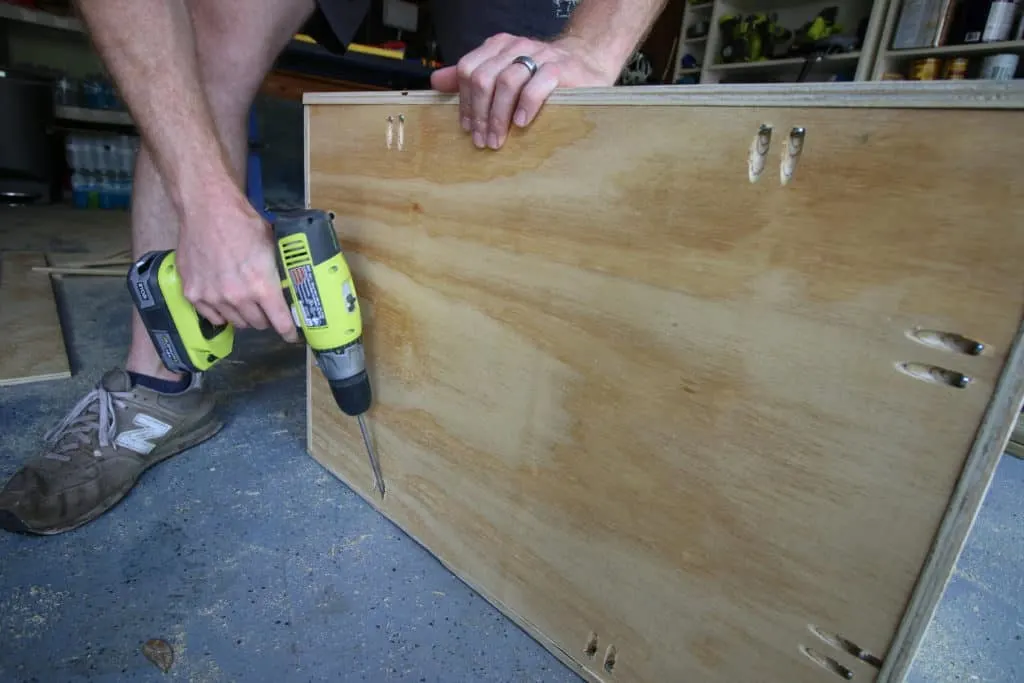 Drop the middle divider into the center of the box and screw it into the front and back.
Next I attached the front and side molding pieces using a nail gun. Couldn't use a pocket hole for this. You could also glue them on with wood glue.
Next I used the nail gun again to attach the two faux door fronts centered on the box.
For the top, I used a router to cut out a hole for the cat to drop into the box from. The hole was 9 inches in diameter and toward the back of the piece.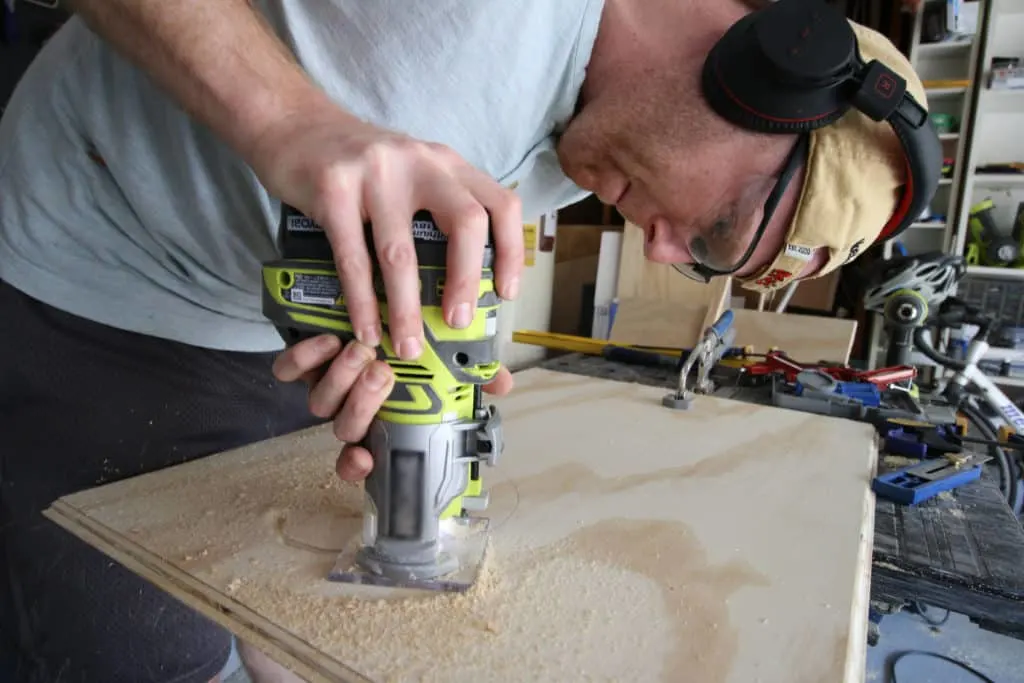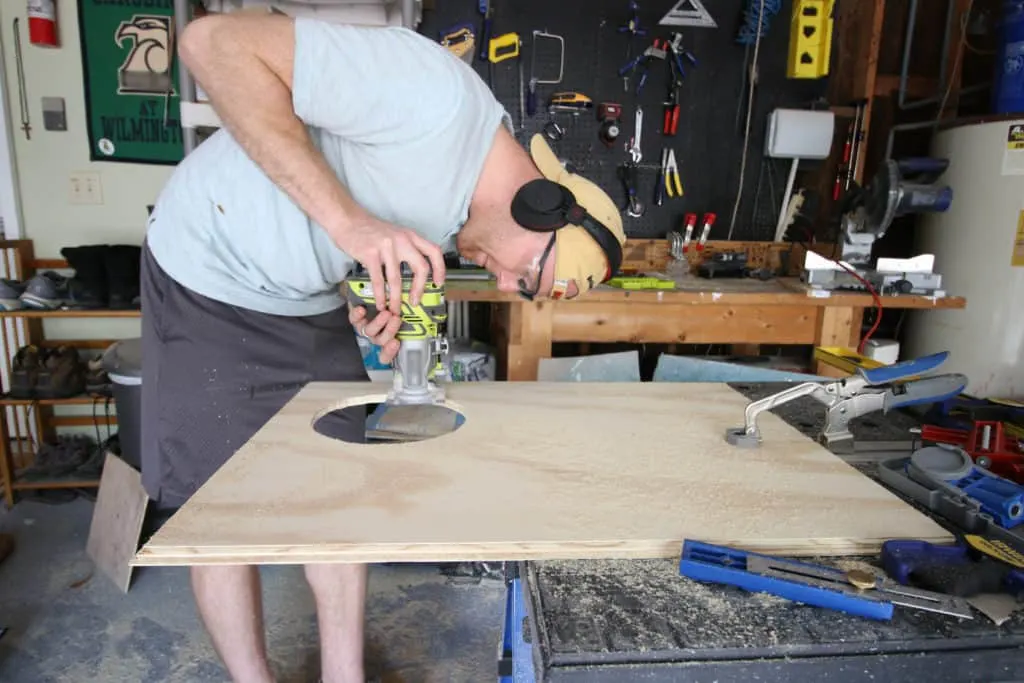 You might notice on the pictures that I used a palm router to fancy up the edges on the top, faux doors and the molding. This is optional, but adds a nice touch.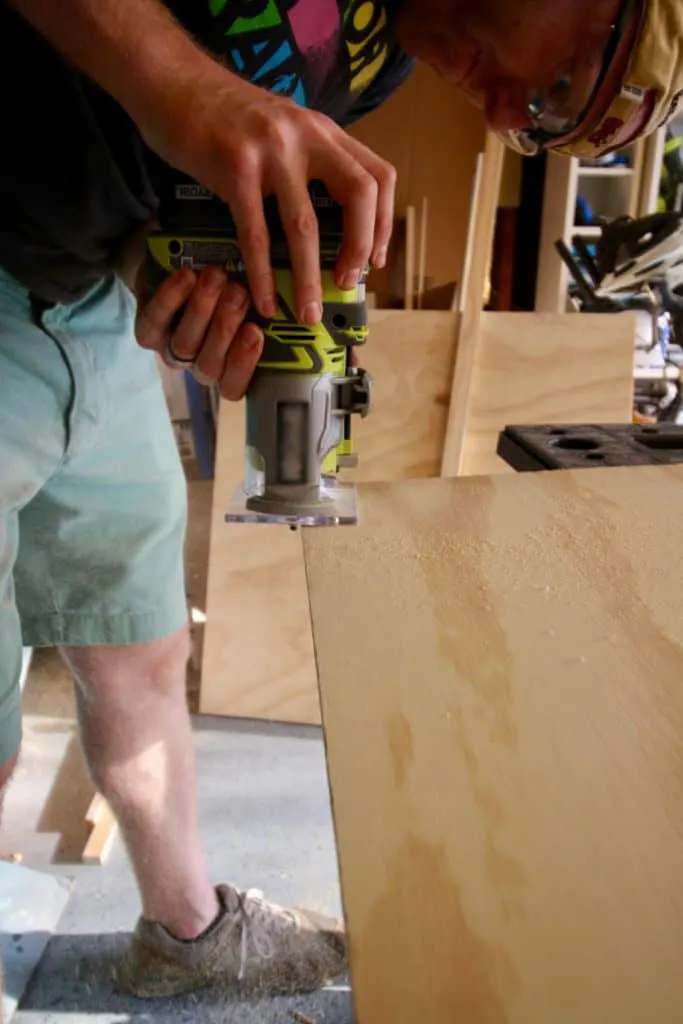 The last thing was to attach the top, which we used two hinges for.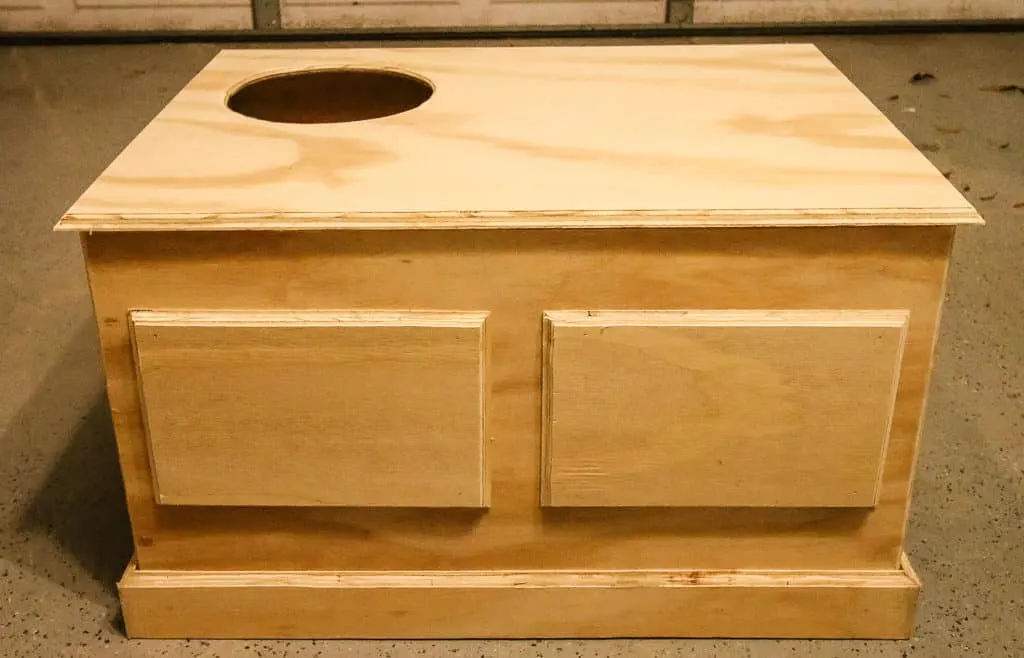 We painted our box with Behr's "In the Moment" to match the cabinet and peg board shelves we did in the laundry room. You can paint with anything you want or stain.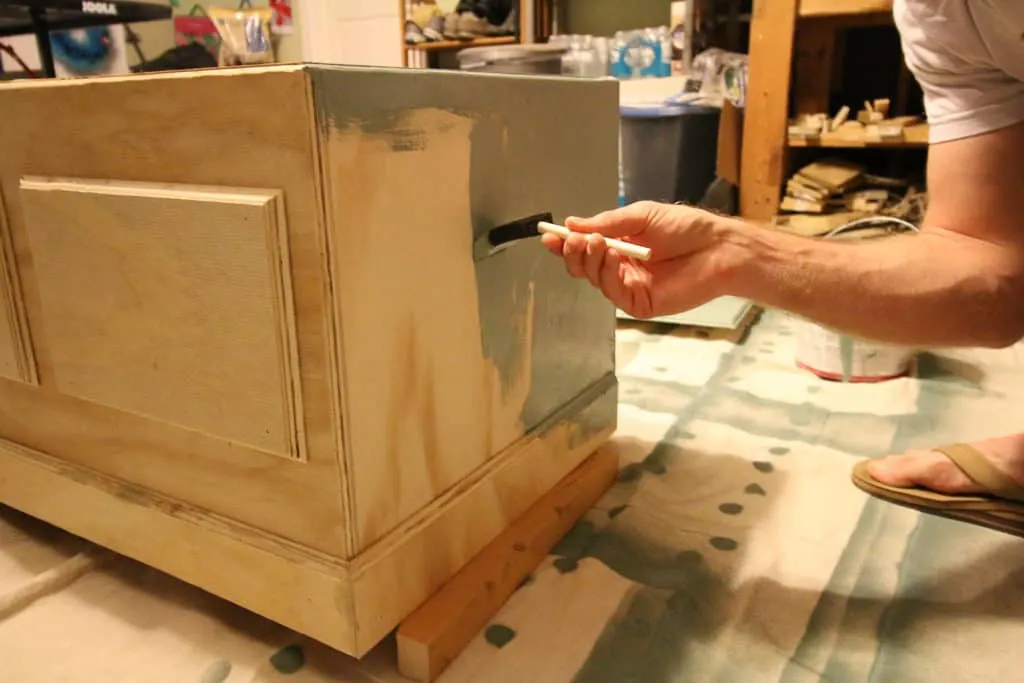 Once you have your box built, it's important to remember to put the right litter inside of it to keep your room from smelling. That's why we went to Target and chose Fresh Step® Clean Paws™ to help keep our cat's paws and our home clean. Fresh Step® Clean Paws™ is a low dust and low tracking litter for cleaner surfaces. It does no good to build a beautiful hidden litter box if the litter still smells. Fresh Step® Clean Paws™ eliminates odors from all three possible smell sources by blocking urine odors, eliminating fecal odors and stopping odors from bacteria. Plus their special blend of larger particles are designed to stick less to our cat's fur and stay in the box. The high quality clay forms tight clumps and leaves virtually no stinky crumbles behind after scooping.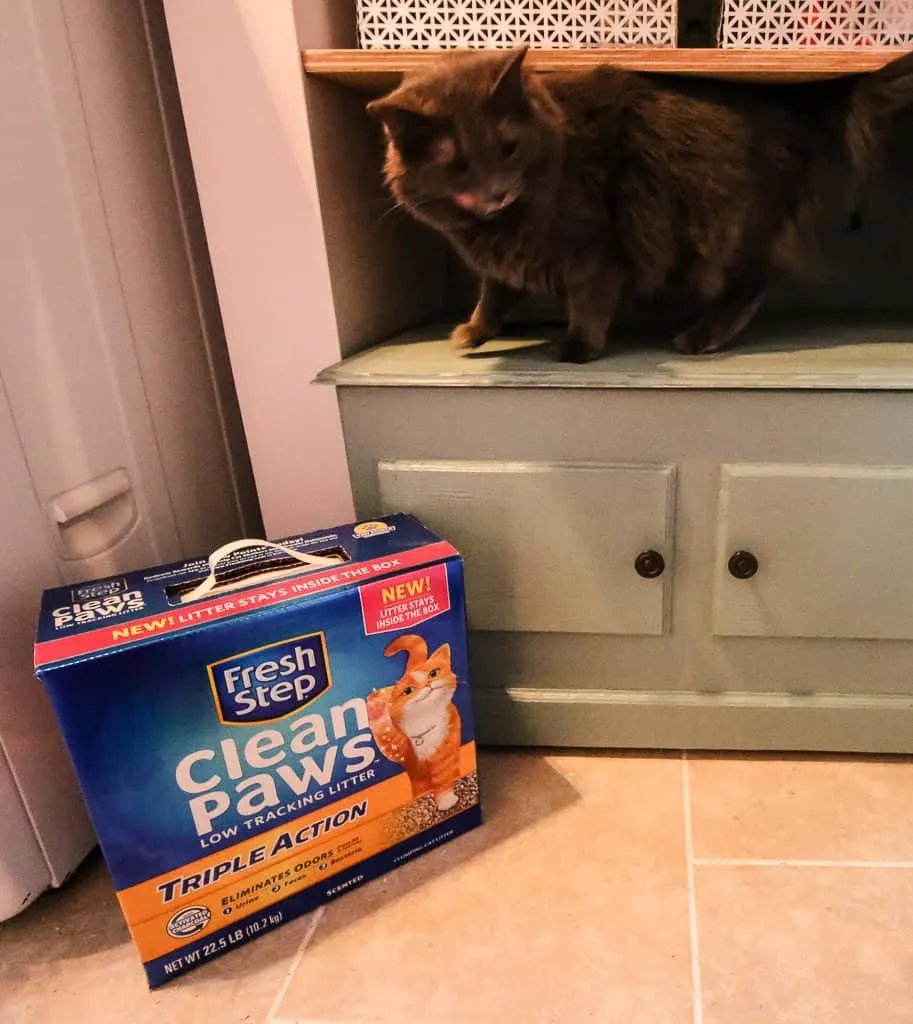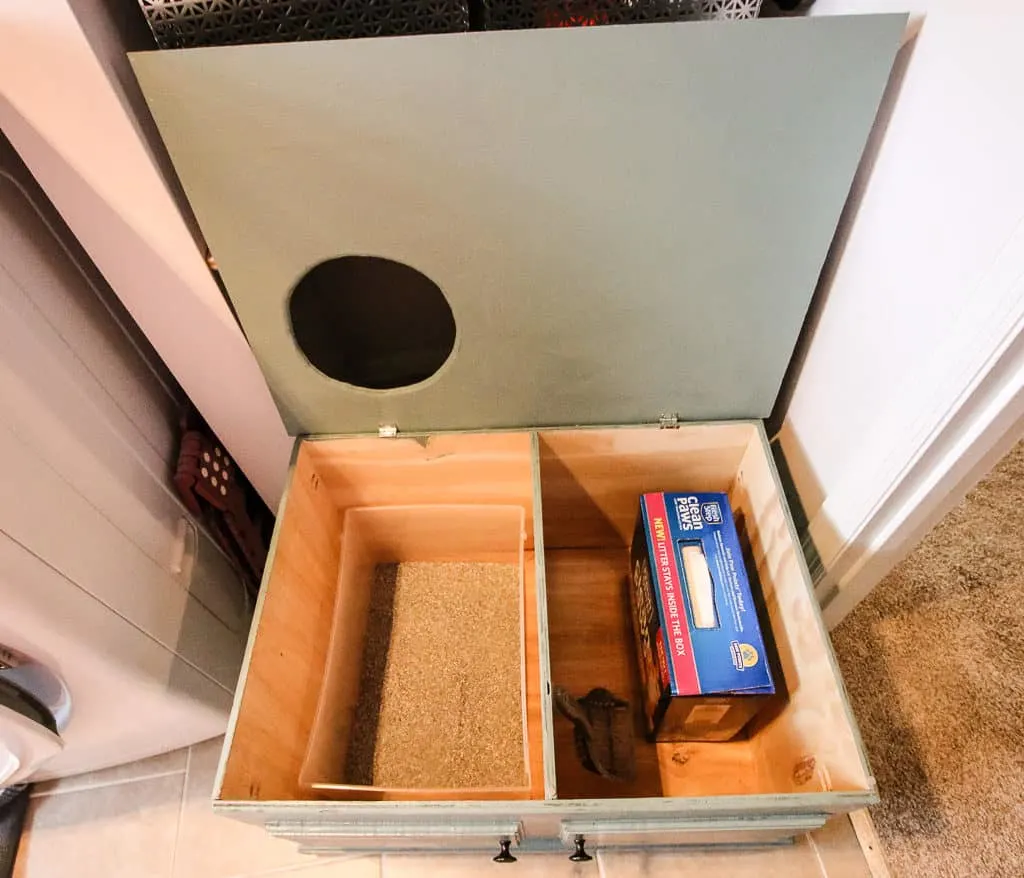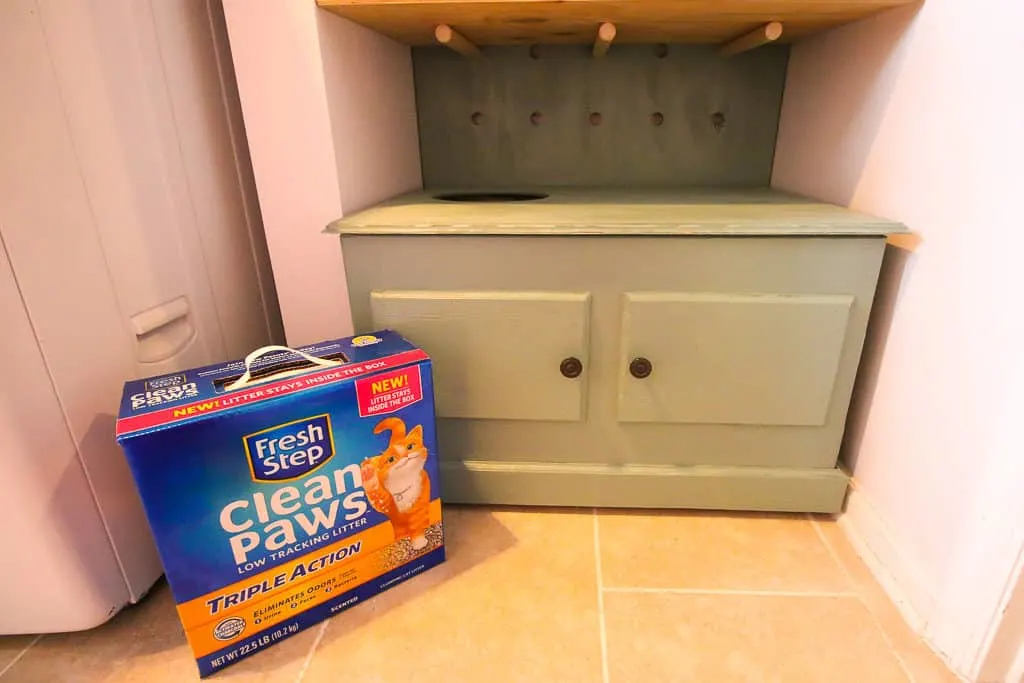 We got ours at Target where they are running a Cartwheel offer from 4/1-4/7!
Combining our awesome litter box build with Fresh Step® Clean Paws™ really makes the perfect DIY hidden litter box solution!
© 2018 The Clorox Company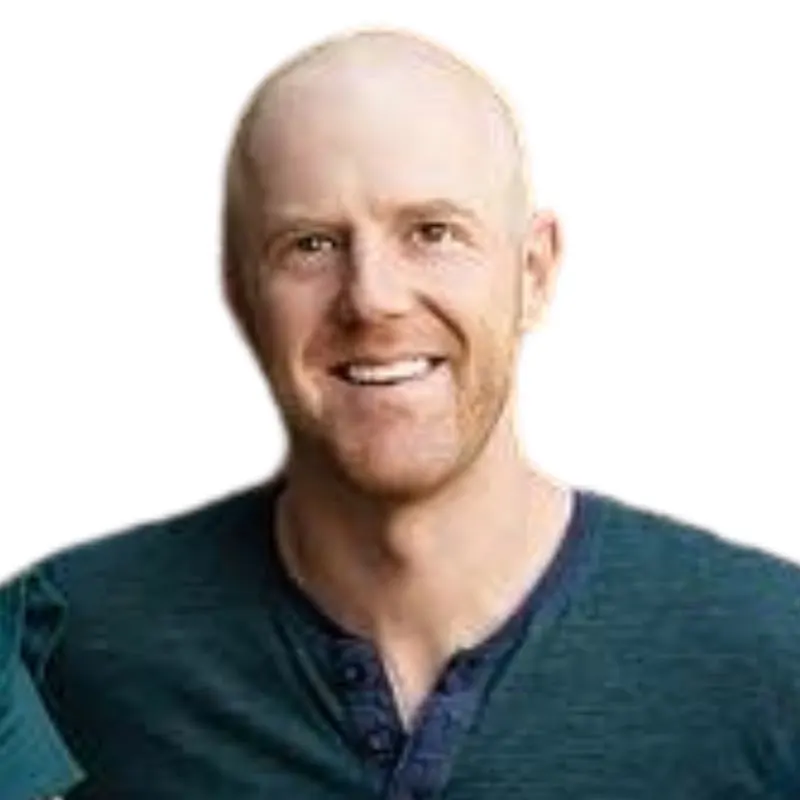 Hey there, I'm Sean, the woodworking enthusiast and builder behind CharlestonCrafted.com! Since 2012, I've been sharing the magic of turning raw materials into beautiful creations. I love teaching others the art and satisfaction of woodworking and DIY. I try to inspire fellow crafters to make something extraordinary out of nothing at all.