Considering adding a daybed to your space? Let's talk about what is a daybed and how to use one in your home!
This post was sponsored by Wayfair. All opinions are our own. Thanks for supporting the brands that make Charleston Crafted possible.
As a part of our guest bedroom makeover, we decided to swap our our full-sized platform bed for a daybed with a pull out trundle.
I wanted to dive into that decision today, because it isn't the obvious one!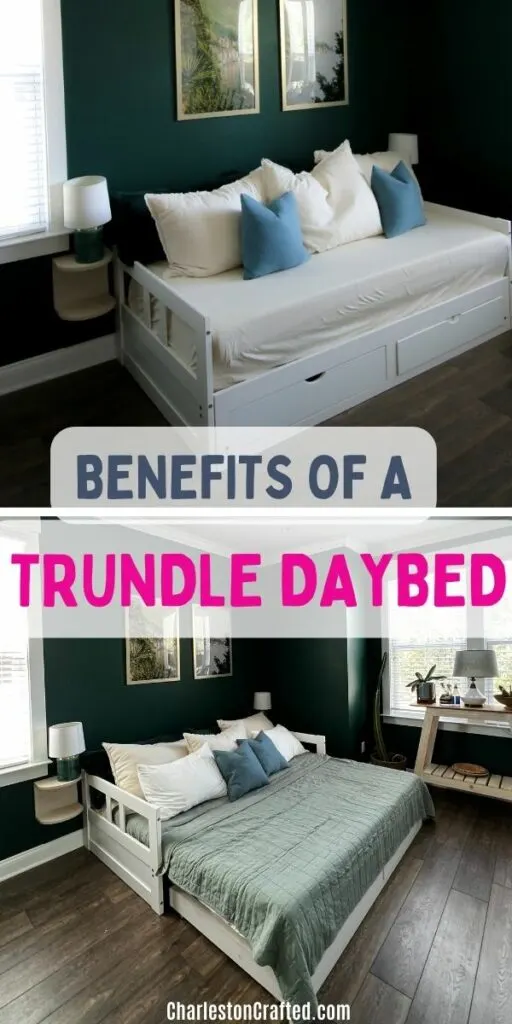 Our goal in this space was twofold: to make it beautiful and comfortable for our guests, but also to make it more functional day-to-day with our family.
An expanding day bed is the perfect way to accomplish both of those goals.
When in couch position, a daybed will take up less floor space than our previous full sized bed. It will allow easier access to the piano we are moving in here and leave floor space for the kids to play.
Plus, we are hoping to use the daybed as a couch as a cozy place to read and snuggle with the kids.
When the daybed is folded out, it will provide a king sized bed for our guests. This will be much more comfortable – and give 22 inches more in sleeping width – especially when we have a couple visit. A double bed is really tight for two people!
Click here to check out the daybed that we chose and keep reading to learn more about daybeds!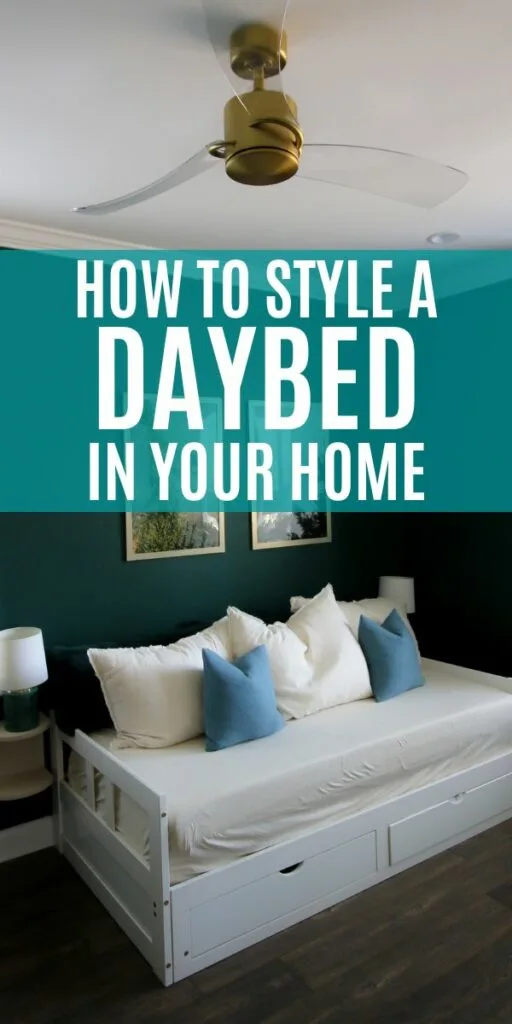 What is a daybed?
A daybed is a piece of furniture that pulls double duty as both a bed and a sofa. Typically they have 3 sides and an open long edge. This gives them the feel of both a head and footboard as well as a couch back.
Daybeds are great for sleeping as well as lounging and relaxing.
How does a daybed work?
Daybeds work as both a bed and a couch by being mattress sized but having sides that, when combined with pillows, create a cozy place to sit and relax.
What are the benefits of a daybed?
The biggest daybed benefit is that it is one piece of furniture that pulls double duty. Whether you need someone to sleep on your sofa or want to lounge in an extra bedroom, a daybed could be the perfect solution for your space.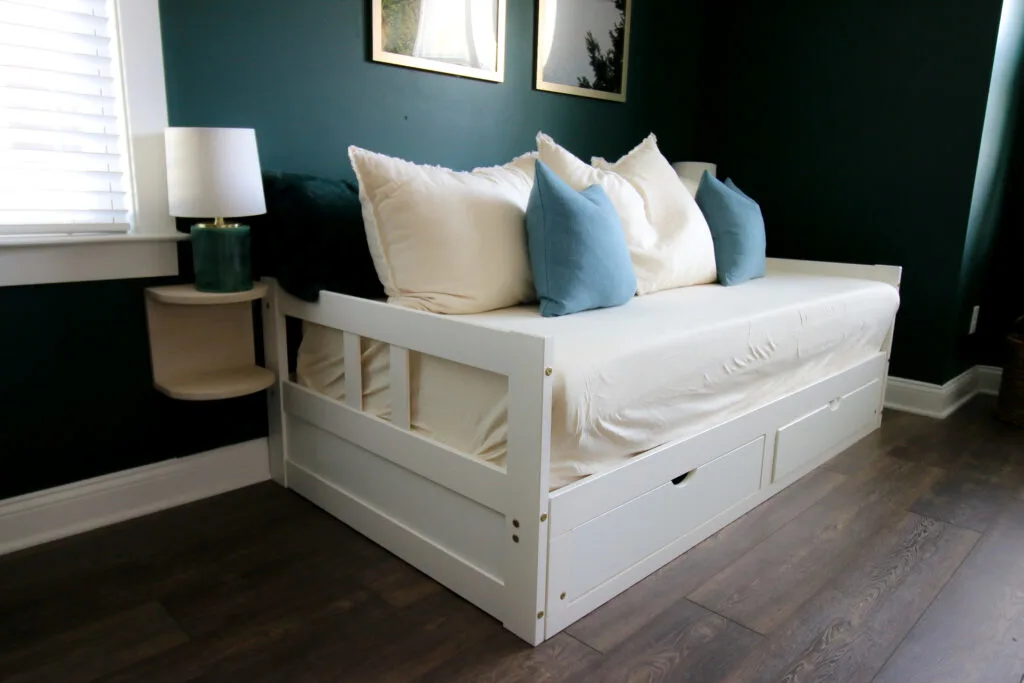 What are the best uses for a day bed?
Guest bedroom
Living room with no guest bedroom
Living room/bedroom combo in a studio apartment
Nursery sleeping/snuggle area
Kids room bed
Playroom
Office that doubles as a guest room
Types of daybed
Standard twin daybed
Expanding daybed with trundle
Daybed with storage drawers
Daybeds come upholstered, wood, or metal and in basically any style you can dream up!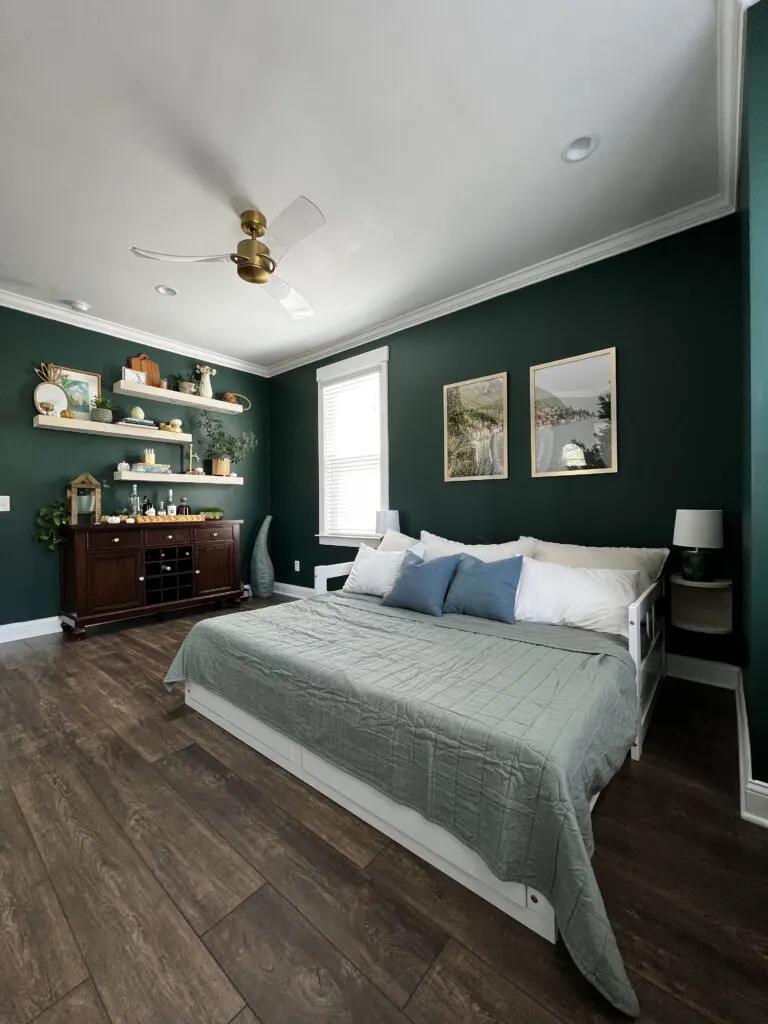 Are day beds suitable for everyday use?
Daybeds are made of a day bed frame and – almost always – a twin sized mattress. For this reason, as long as the mattress is comfortable, the bed will be comfortable, too!
If you want to use it as a daily couch, you will just want to work to find the right balance of pillows to have the back rest be comfortable for daily use as well.
Are daybeds for adults?
A daybed will work for any adult who is willing and able to sleep on a twin sized bed. If you need something larger, look for a daybed with a trundle that pulls out to be a king! That is 100% fine for any adult couple.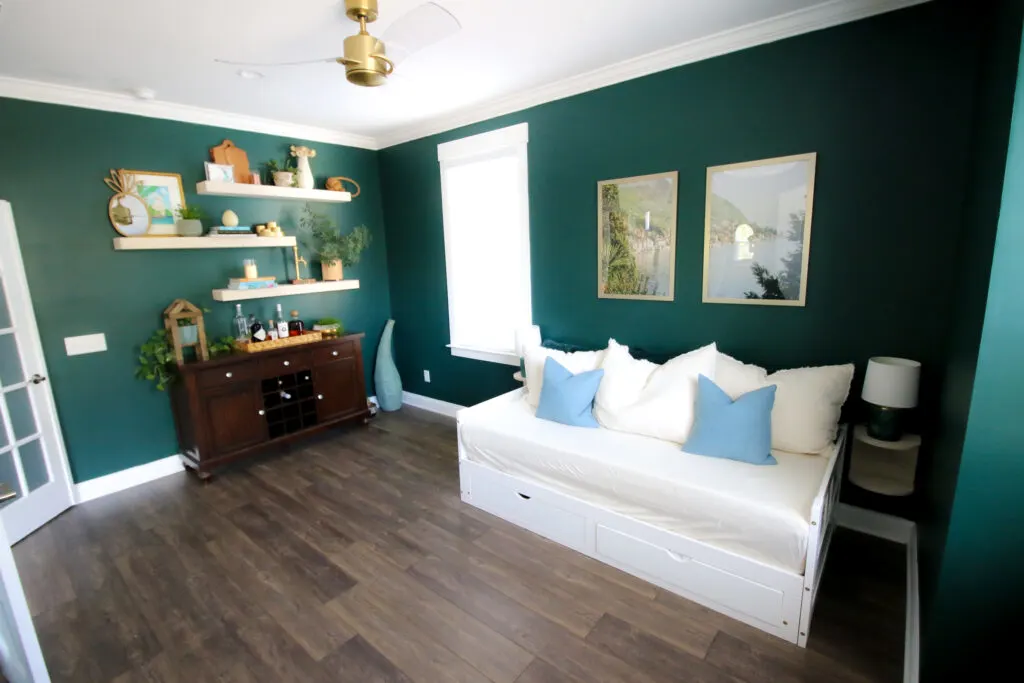 How to style a daybed
Daybeds are typically styled with a mattress, bedding, pillows, and accessories.
Daybed mattress
Your exact purchase will determine the right mattress for your daybed, but most fit a twin sized mattress. If you choose a daybed with a trundle, there is a height limit to the mattress – usually 6 inches. For this reason you will likely need a foam mattress.
This is the mattress that we used for our daybed.
The expanding daybed that we got has a pull out trundle that turns it into a king sized sleeper. When in a sofa position, the twin mattresses stack for a 12″ thick seat cushion. When pulled out, the two mattresses go side by side for a (modified) king set up.
Do daybeds need boxsprings?
This will depend on the exact daybed that you purchase, but most daybeds do not need a boxspring. They are almost always set up with slats like a platform bed.
Are daybeds comfortable?
Daybeds are as comfortable as the mattress you put on them. If it will be rarely used, you might be OK going for a cheap mattress. But, if it will be used often or you care about your guests comfort, go for something of a high quality.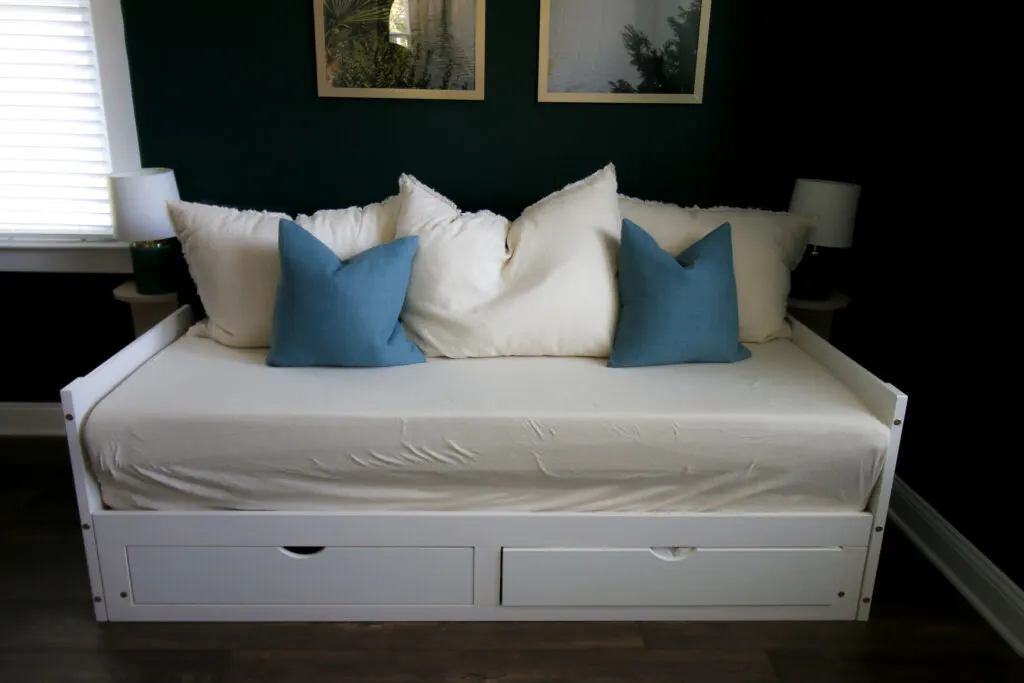 Bedding for daybeds
You can keep your daybed made up as a twin bed, but that's not super inviting for lounging like a sofa. If you want to make it more sofa-like, I suggest just a fitted twin sheet and pillows.
You can keep the additional bedding in a basket or closet – or in storage drawers underneath – to be pulled out when someone will sleep on it.
Daybeds are much deeper than a standard sofa, so you will want 2 or even 3 layers of pillows to lean into to get the feel of the depth of a couch.
Daybed decor
Daybeds typically have low backs along the long edge. This can make them look small or dinky in a room. For that reason, I always suggest hanging large art or a gallery wall over a daybed. This applies to bedroom or living room daybeds and makes a great focal point in the room.
How to style a daybed to look like a couch
To get your daybed to look most like a couch, first, buy the right daybed. Something with a higher back than sides will have more of a traditional sofa look.
Then, add pillows. A body pillow or three sleeping pillows can be used along the long side to form a back. Then, add smaller pillows – one on either end – just like on a couch. Finally, a lumbar pillow can be great for the middle. Add a throw blanket and you are ready to get cozy!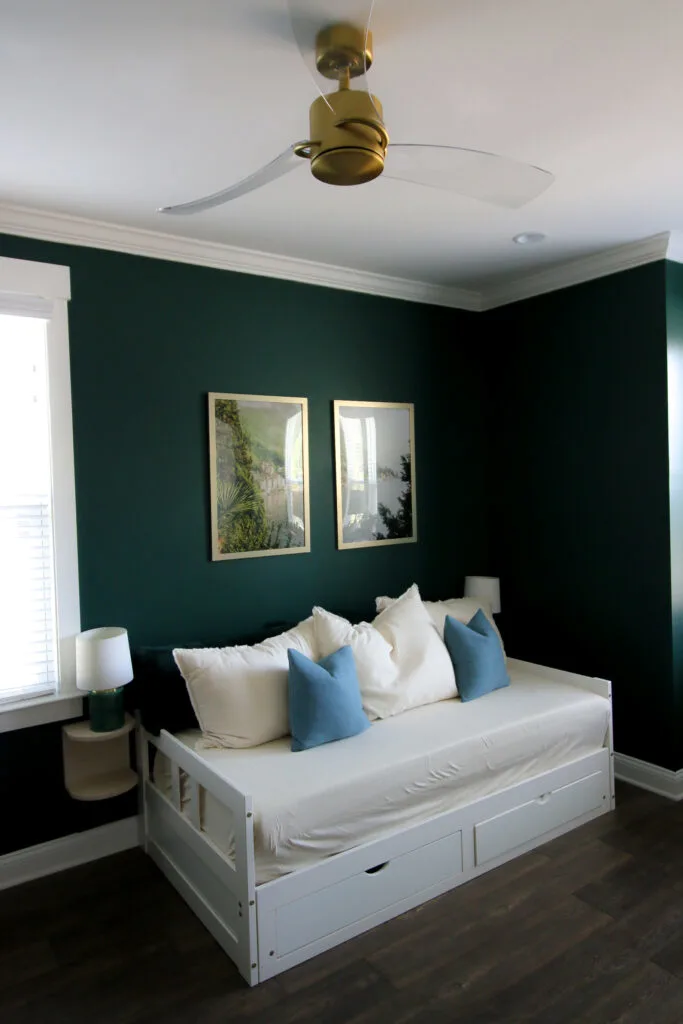 How does a daybed compare?
Daybed vs sofa bed
If you are choosing between a daybed and a couch, I would think about what you will use it for most often. Daybeds are usually a bit deep to be a super comfortable couch, but sofa beds are notoriously uncomfortable for sleeping.
Daybeds are usually twin size beds which are 38 inches deep. A standard sofa is 21 to 24 inches deep. So, a daybed is fine for extra seating – or even sitting way back with your legs crossed – but can be a bit awkward for a regular seating area unless you add lots of throw pillows.
Since our primary use of this piece is as a sleeping space, it was my priority to make that more comfortable. So, a daybed made more sense than a sofa bed for us.
Daybed vs futon
Another popular option is a futon. Futons are couches that have one big futon mattress and folds back flat to make a bed.
Futons are, in my experience, pretty lumpy and uncomfortable and are often not super aesthetically pleasing. To me, futons are the worst of both worlds – an ugly lumpy couch and an uncomfortable lumpy bed. Harsh but true!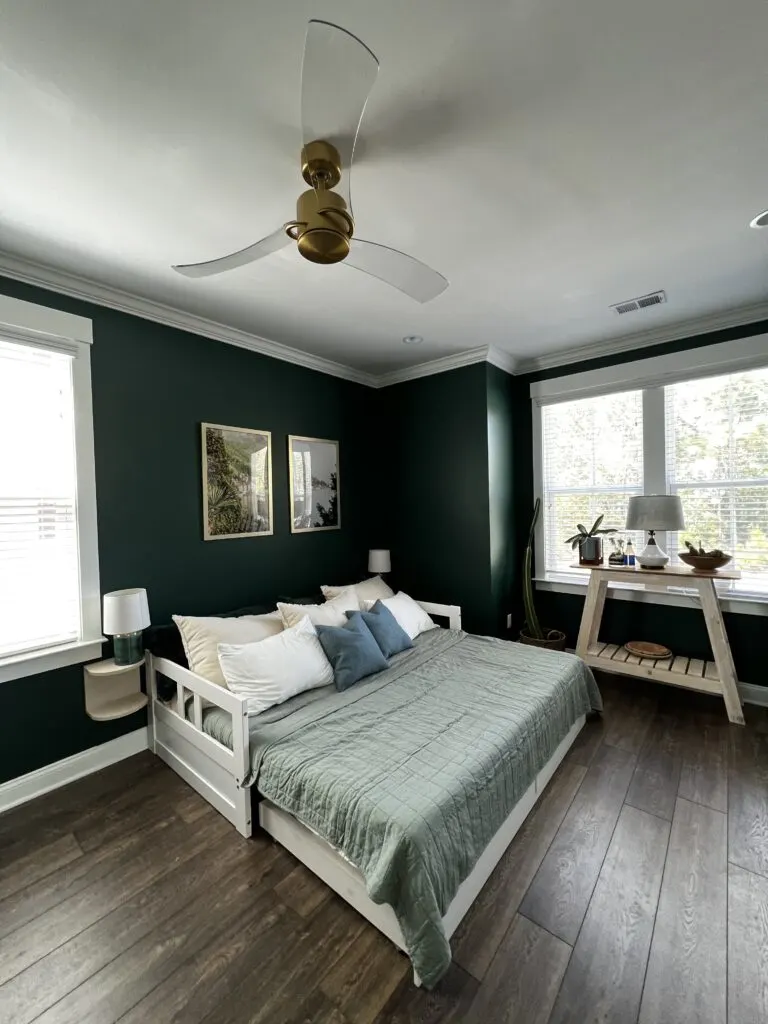 Daybed vs twin bed or regular bed
Of course you could always have a twin bed in your space. You can even place it lengthwise against the wall for a place to lean. My aunt's mountain house when I was a child had 2 twin beds making an L shape in a corner for the tv room slash overflow sleeping space.
The benefit of a daybed over a twin bed is that a daybed is designed to look a bit more like a couch than just a plain bed mattress. It's a more stylish option for lounging than just a bed!
Daybed vs trundle bed
A trundle is a pull out bed that comes out from under any bed for an extra sleeping space. They are great for guests or sleepovers. A trundle bed, unlike a day bed, doesn't provide a seating area, but the trundle also has the benefit of going completely away when not in use.
It's worth noting that a trundle can go under almost any bed. Our daybed ha a trundle, which is what allows it to turn from a twin daybed into a king sleeping bed!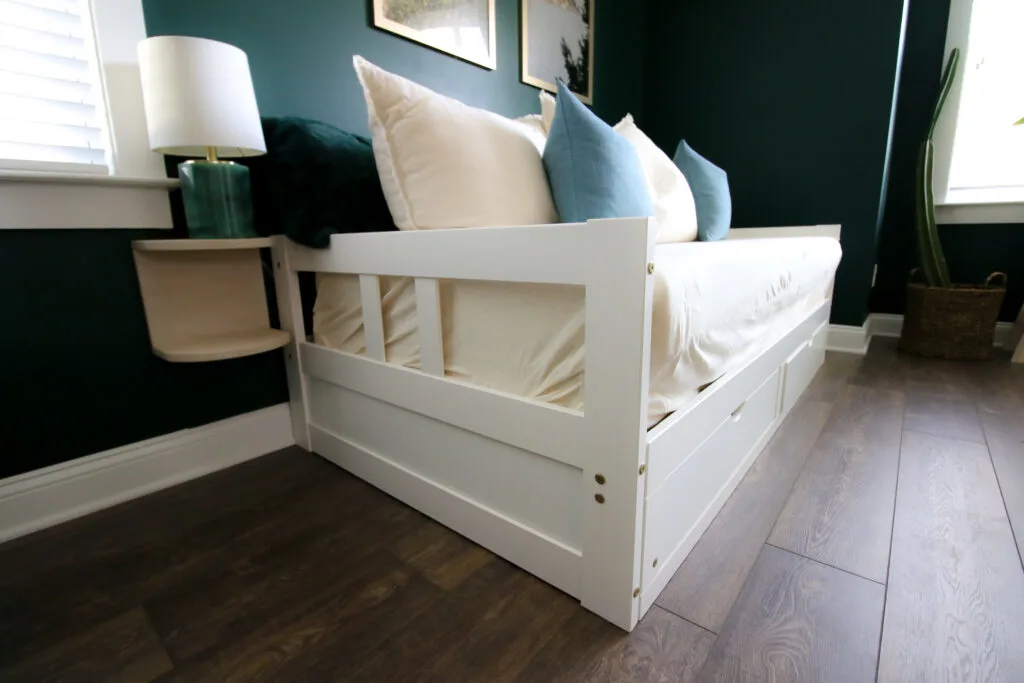 Daybed Inspiration at Wayfair
In addition to the daybed that we chose, Wayfair offers tons of beautiful daybed options. There are twin daybeds, full sized daybeds, and daybeds with trundles to choose from.
Here are some of my favorites!

Any questions about daybeds for me?!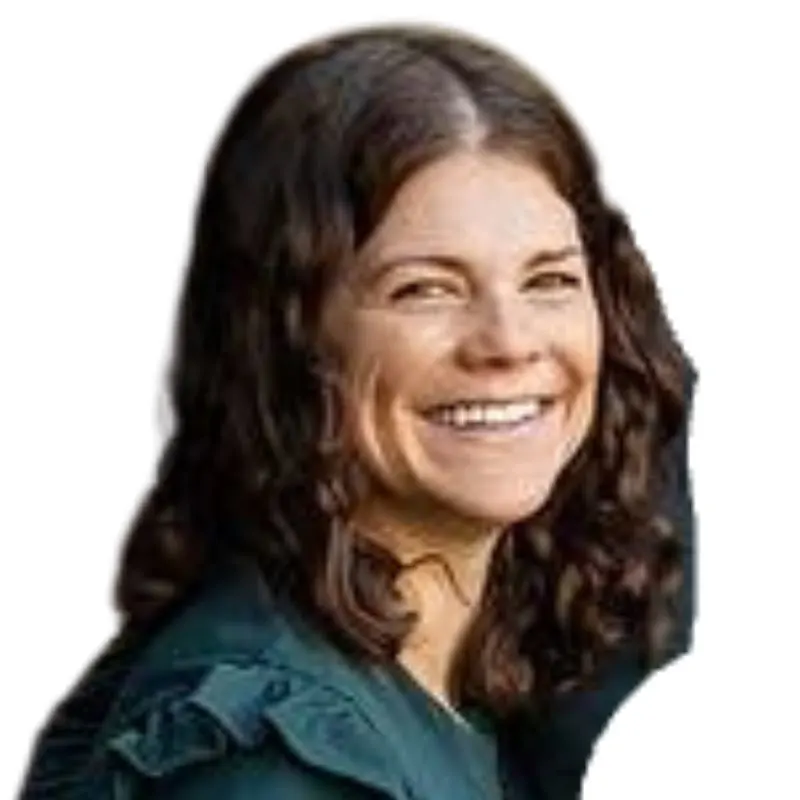 Hello, I'm Morgan, half of the creative force behind CharlestonCrafted.com! With a passion for DIY that dates back to 2012, I've transformed three homes and now I'm dedicated to helping others craft their dream spaces. Let's turn your house into a home together!