Looking for a cheap futon? Here are my best finds!
You probably want a sofa for your home. It doesn't matter if you have a house, an apartment, or anything in between. However, when you have a small space, you might need a sofa that does double duty.
So, in comes the futon. Futons are awesome because they serve as both a couch and a bed. They can be perfect for overflow guests when you don't have a guest room. Or, put one in an office space to allow that room to do double duty.
However, you probably don't want to spend a ton of money on a futon. I can't say that I blame you. So, today I have rounded up some inexpensive futons from around the web for you to browse.
These aren't your mom's futons. I tried to stick to modern looking pieces that might not look quite as cheap as they are.
Now, I will say, nice furniture is very nice and usually worth the investment. It can be made locally, or at least in the USA, by well paid and highly skilled artisans and furniture makers. Expensive furniture will likely be made from high quality materials and will definitely last you much longer than a cheap piece of furniture.
I get that, I really do. But, in reality, sometimes you can't spend a ton of money on a couch. As much as I appreciate fine furniture, ten times out of ten I will tell you to buy a cheap couch rather than go into debt buying an expensive couch you can't afford.
I have to remind you that the best way to get a great deal on furniture is to buy it used! Be sure to check Facebook Marketplace and your local thrift stores! This also is a great way to reuse + keep old sofas out of the landfill.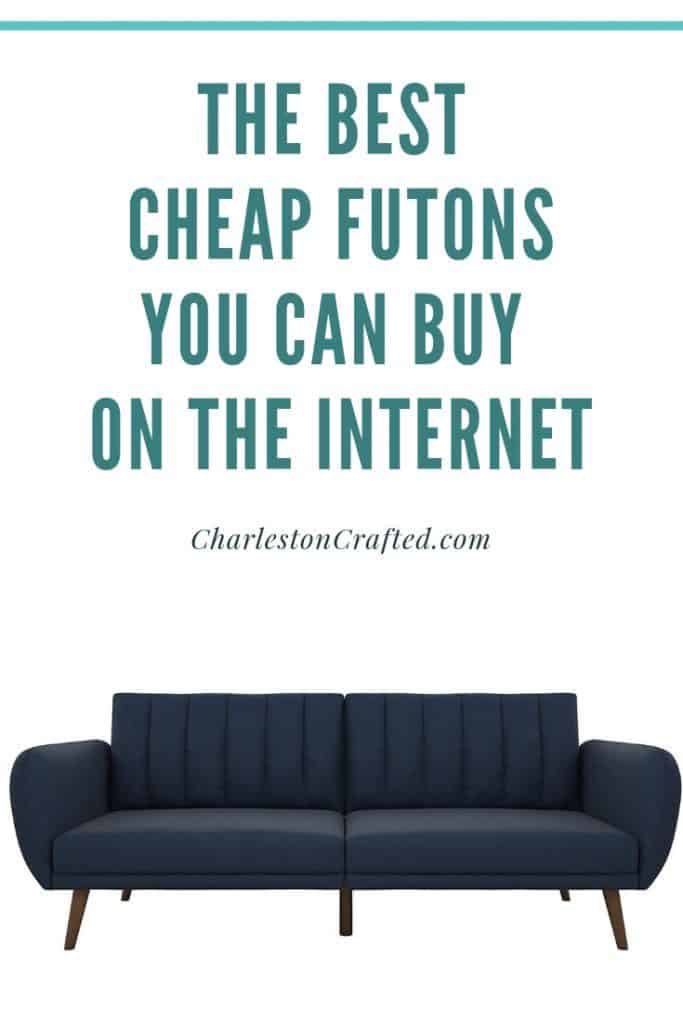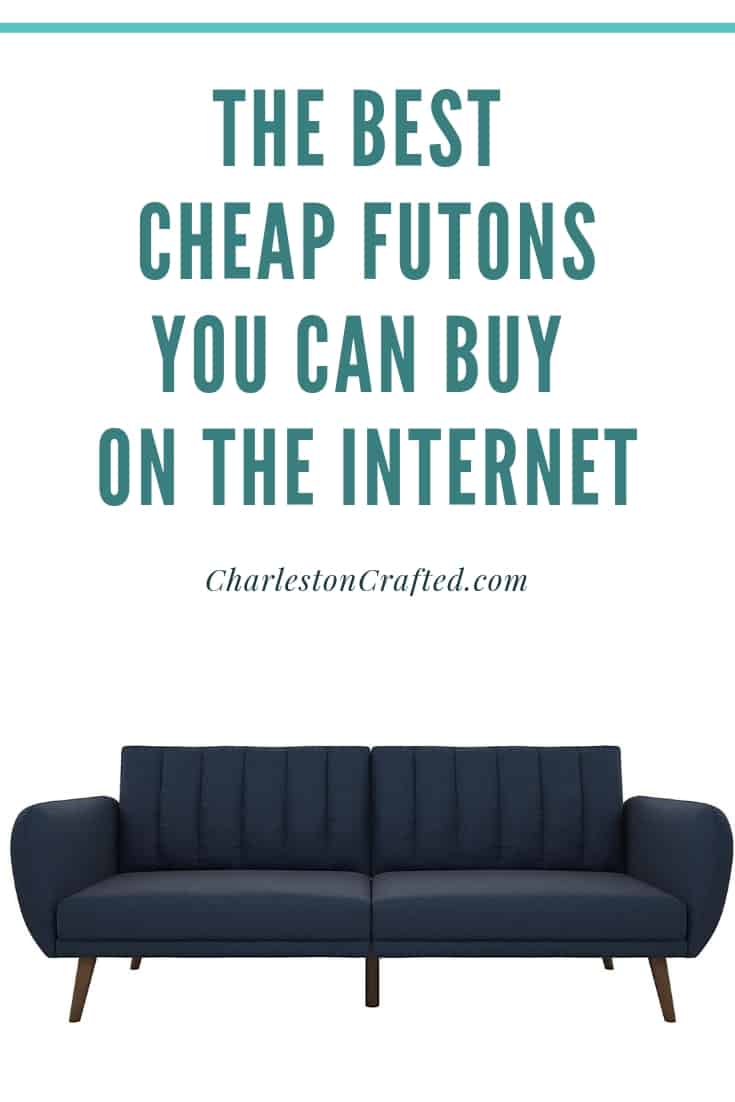 The Best Cheap Futons on the Internet
So, today I am rounding up the best cheap futons on the internet. Of course, what "cheap" means to you can vary, so you can find a few different price categories below. Whether you want a futon under $500 or even as low as under $250, I hope that you will like one of these finds!
Futons under $150
Best Choice Products Upholstered Button Tufted PU Leather Convertible Reclining Lounge Couch Futon Sofa Bed w/ Sturdy Wood Frame – Black – Amazon
Mainstays Memory Foam Futon – Walmart
Futons under $250
DHP Dillan Convertible Futon with Microfiber Upholstery, Grey – Amazon
Futon With Arms – Room Essentials™ – Target
Devon & Claire Bari Leather Foldable Futon – Walmart
Novogratz Brittany Sofa Futon – Navy Linen – Amazon
Sunrise Coast Torino Modern Linen-Upholstery Futon with Wooden Legs, Royal Blue – Amazon
Better Homes & Gardens Porter Fabric Tufted Sofa Bed, Multiple Colors – Walmart
Futons under $500
Novogratz The Audrey Futon with Independently Encased Coils and Soft Velvet for Top Comfort, Green Velvet – Amazon
Susan Velvet Convert-a-Couch Storage Arm Futon Sofa Sleeper – Handy Living – Target
DHP Emily Convertible Futon and Sofa Sleeper, Modern Style with Tufted Cushion, Arm Rests and Chrome Legs, Quickly Converts into a Bed – Green Velvet – Amazon
Novogratz Brittany Sleeper Sofa Sleeper with Memory Foam Mattress, Blue Linen, Twin – Amazon
Faux Leather Futon Sofa With Arms Black – Room Essentials™ – Target
DHP Haven Small Space Sectional Futon Sofa, Black Faux Leather – Amazon
Felix Linen Futon – Room & Joy – Target
This post contains affiliate links, meaning that if you click through and make a purchase, we receive a small percentage of the sale. Thanks for your support!