I kept my wedding dress a secret until the big day, so I thought that I'd stop in now and tell you about it.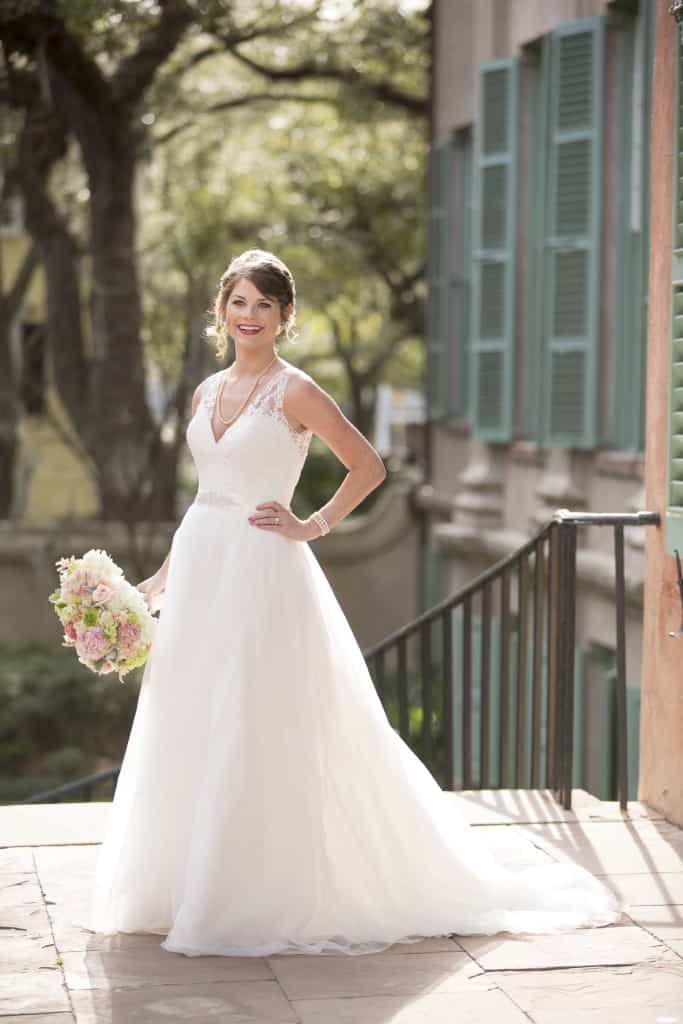 Bridal Portrait by the lovely Ava Moore Photography… more on these tomorrow!
I was definitely a bride with very little vision of what I wanted in a dress. I tried on a variety of shapes and sillouettes. I was definitely veering towards a more fitted, mermaid shape until I found my dress. Here are a few of the no's that I tried on. Sorry for the few and poor photos and the lack of details – this was in July and I unfortunately did not take notes on the "rejects".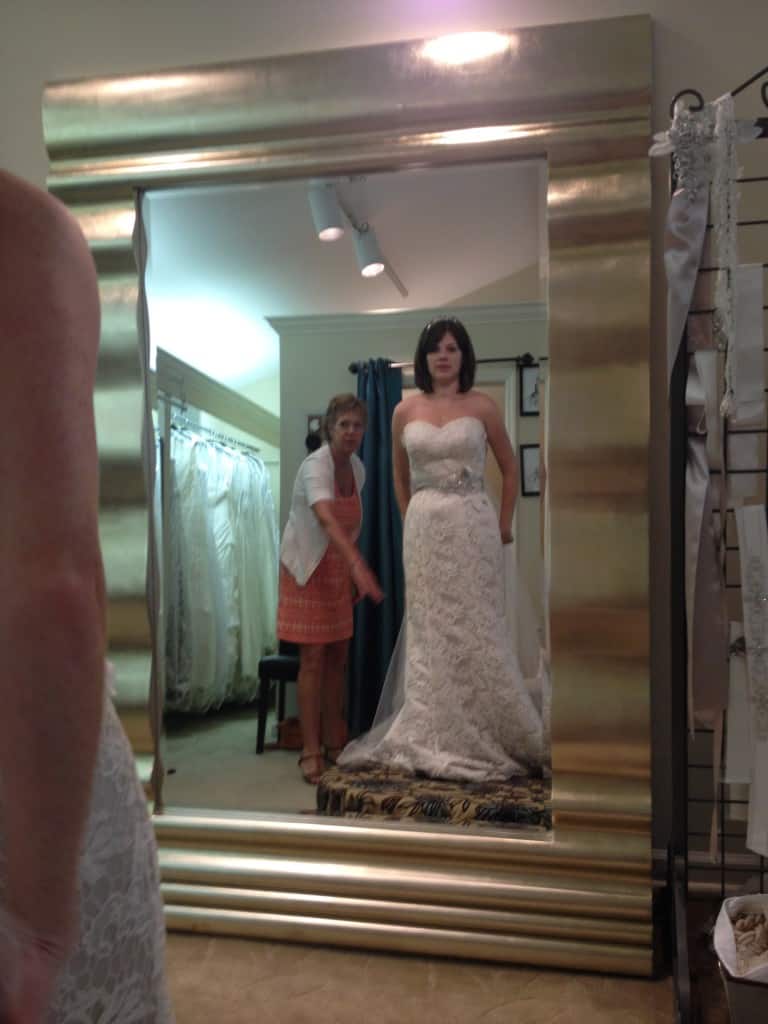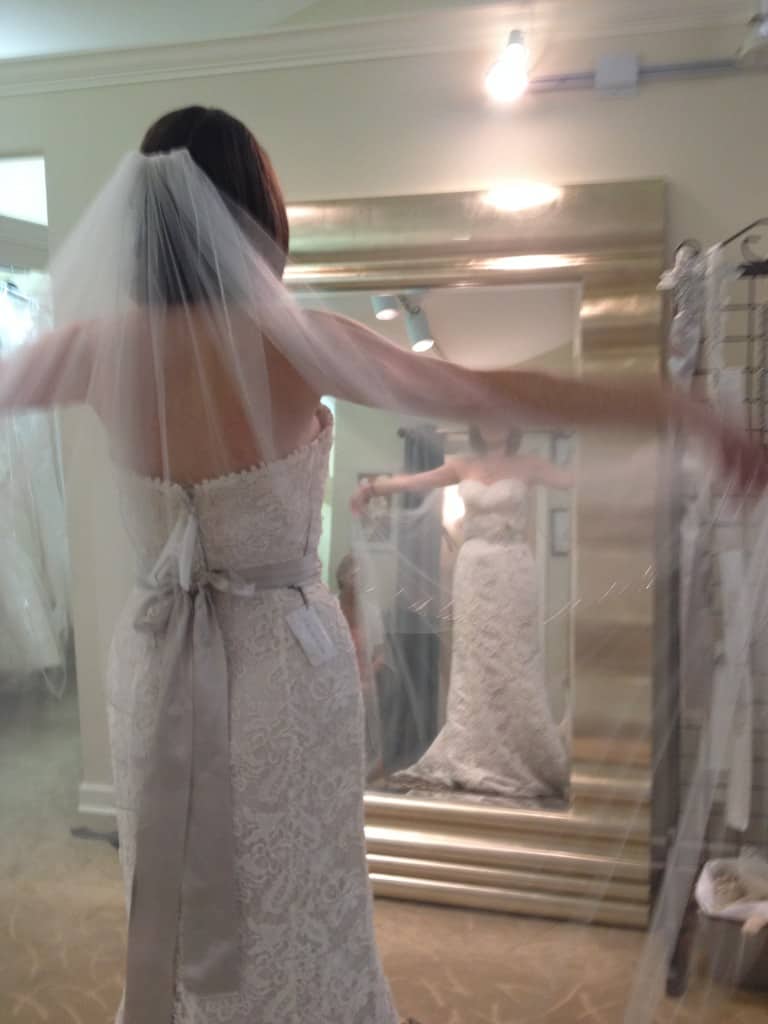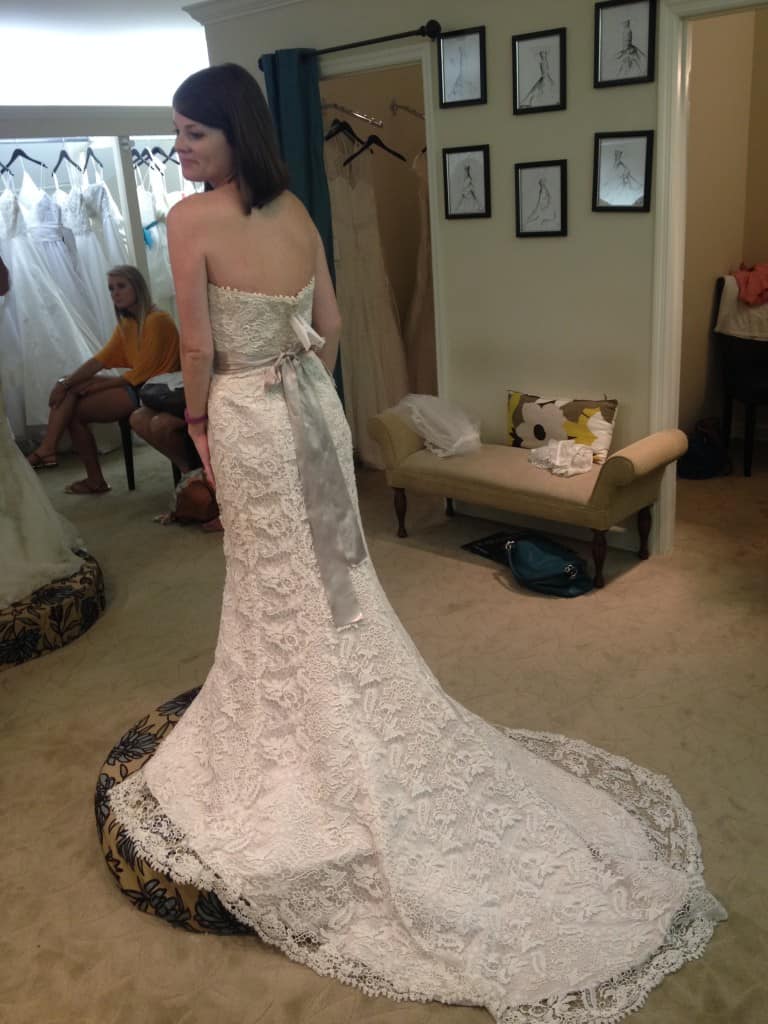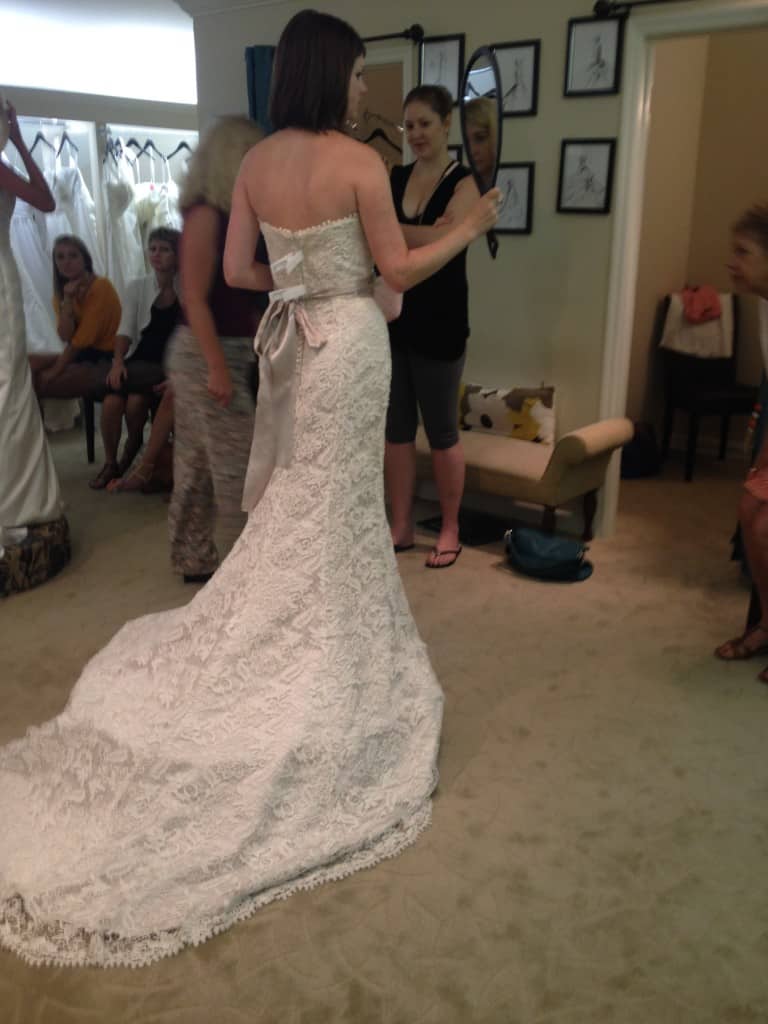 This was a very close contender. I loved the shape of this one but the lace was really heavy!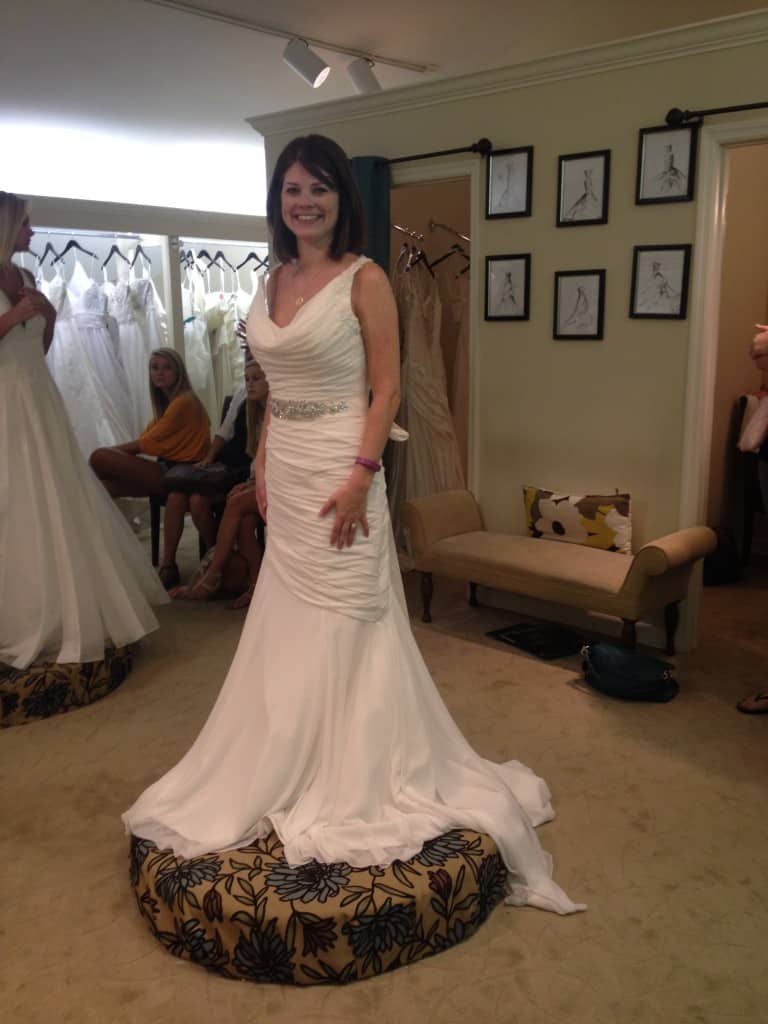 Loved those straps but I wanted something a bit more youthful.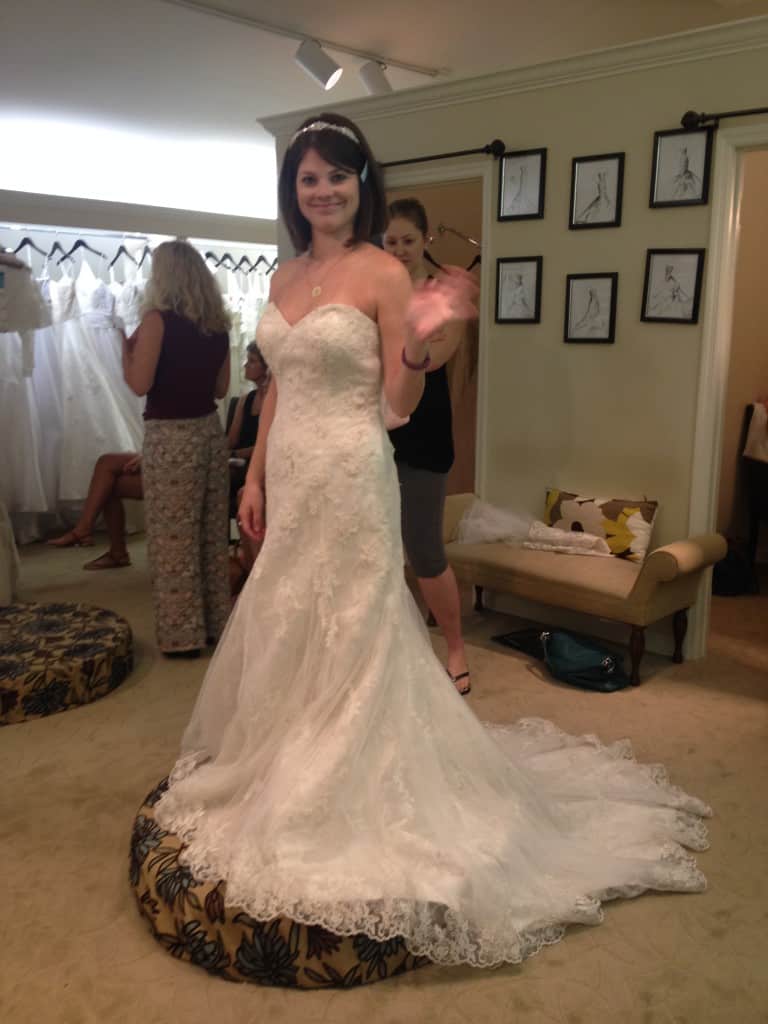 I really loved this shape but wasn't as into this style of lace (clumps of lace all over the dress).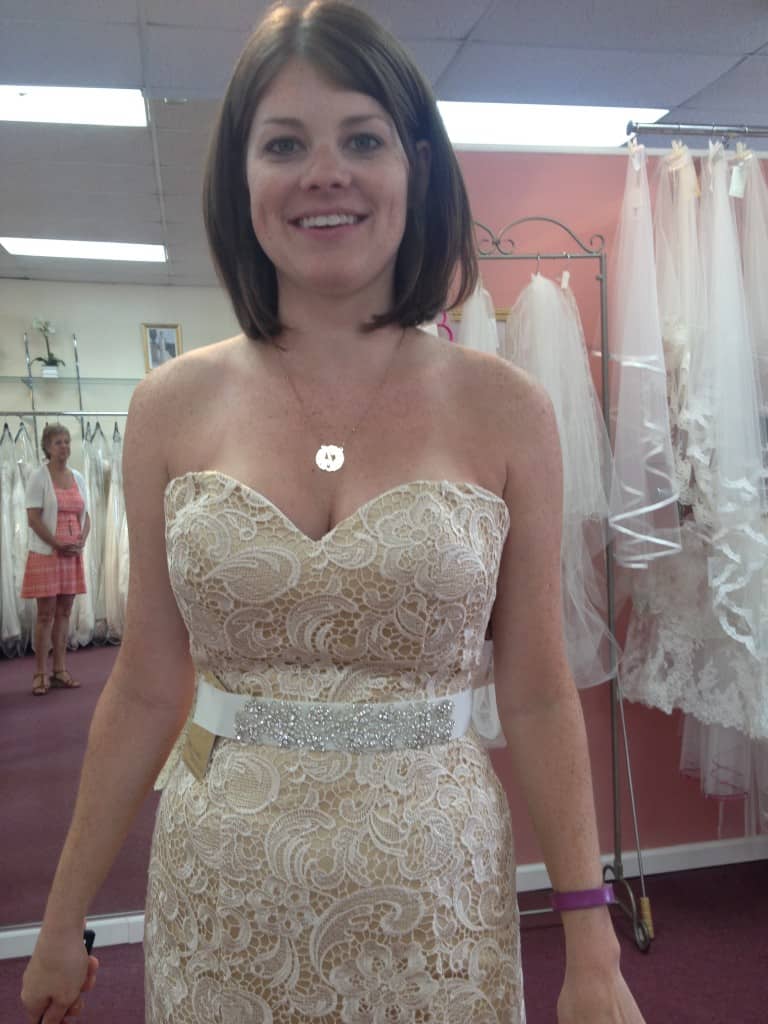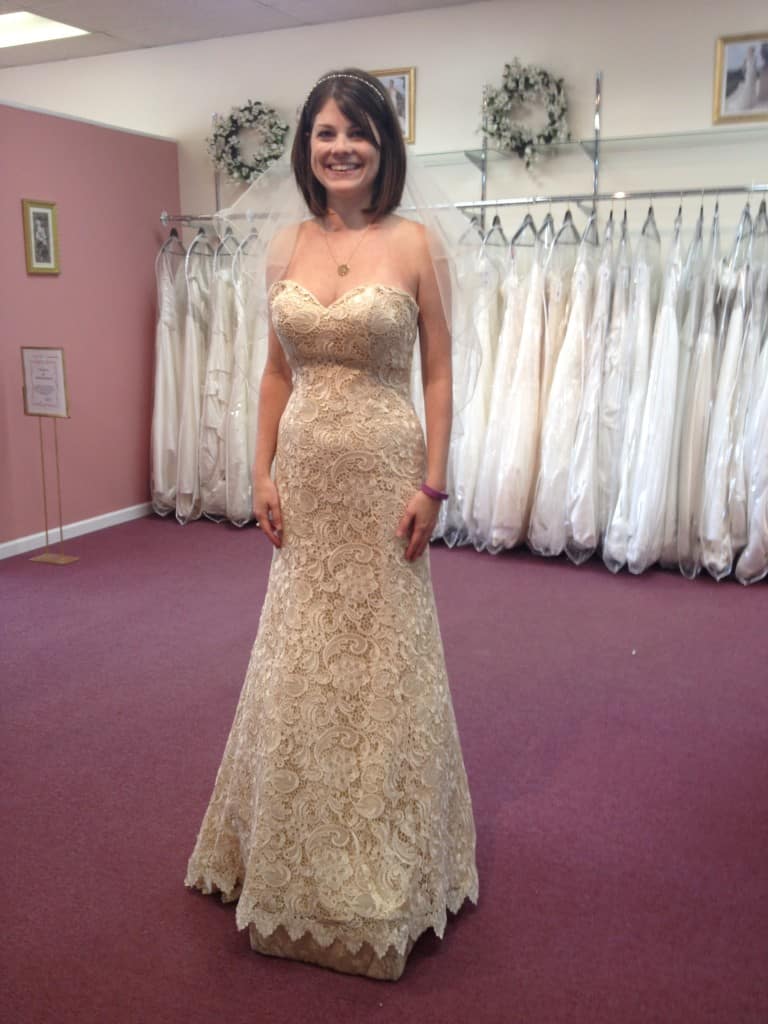 I was really into this gold dress – it made me feel like Beyonce! However, my entourage wasn't impressed. Now that I see the pictures, I have to say that I agree with them.
These were beautiful and I really could have been happy in any of them. Having such loose requirements (I just wanted to be relatively comfortable and look pretty!) made it pretty easy to fall in love with multiple dresses.
In case you couldn't tell, I was really feeling the mermaid/fit and flair shape with a lace material. That's really trendy and a lot of the dresses that I saw were in this style. So, I was really surprised when I fell for my dress. It had some lace, but definitely wasn't mermaid. People told me that mermaid was the most flattering style for curves, but I found that not to be true.
Here, of course, is the dress that I selected. It is an Allure Romance 2716.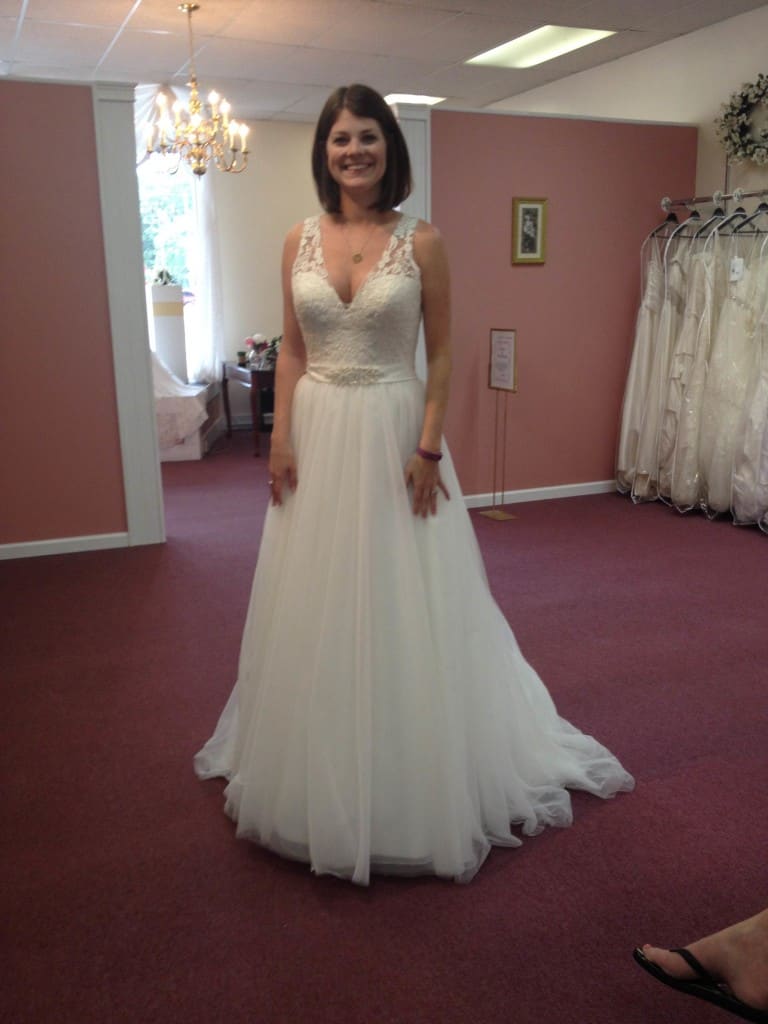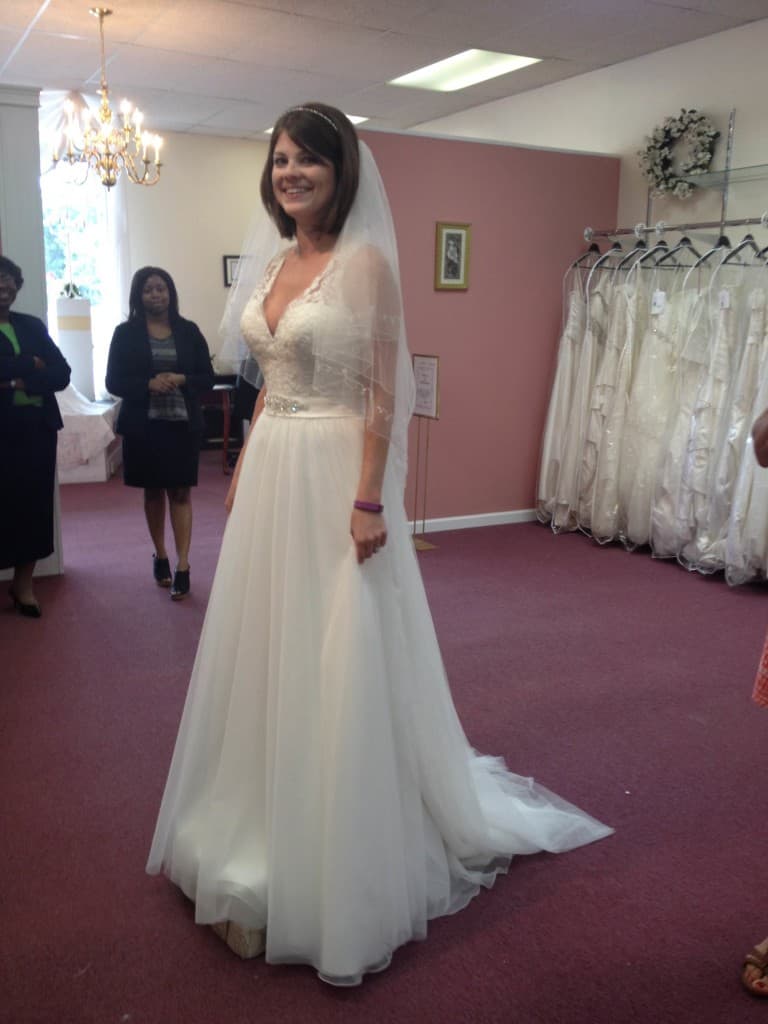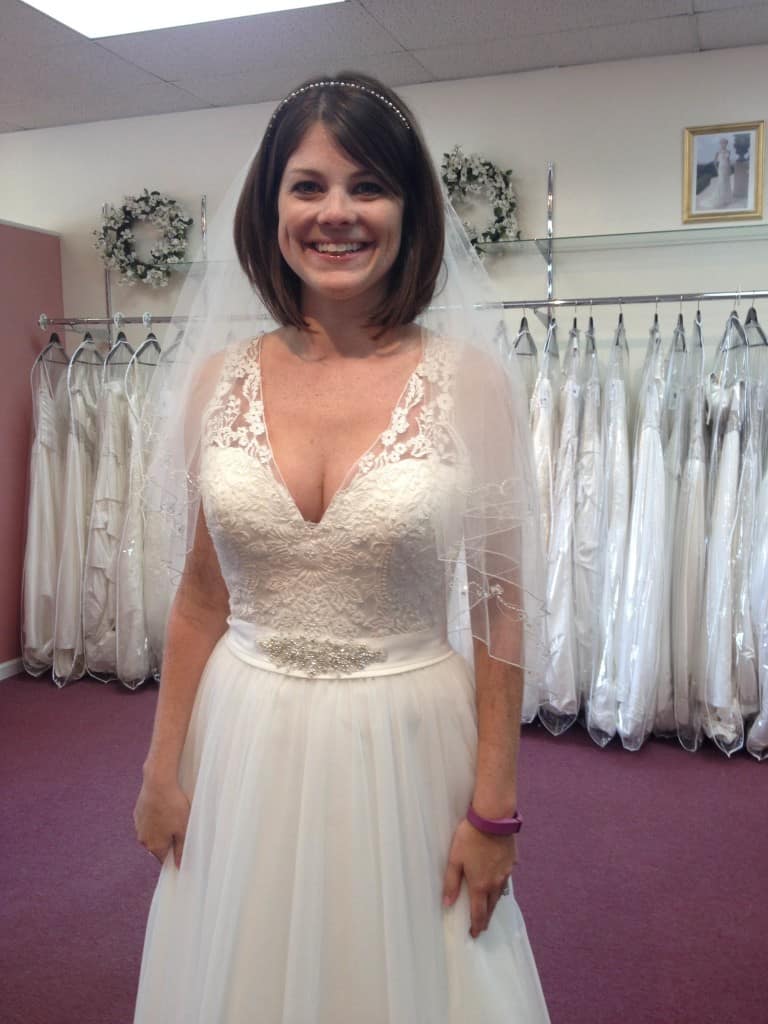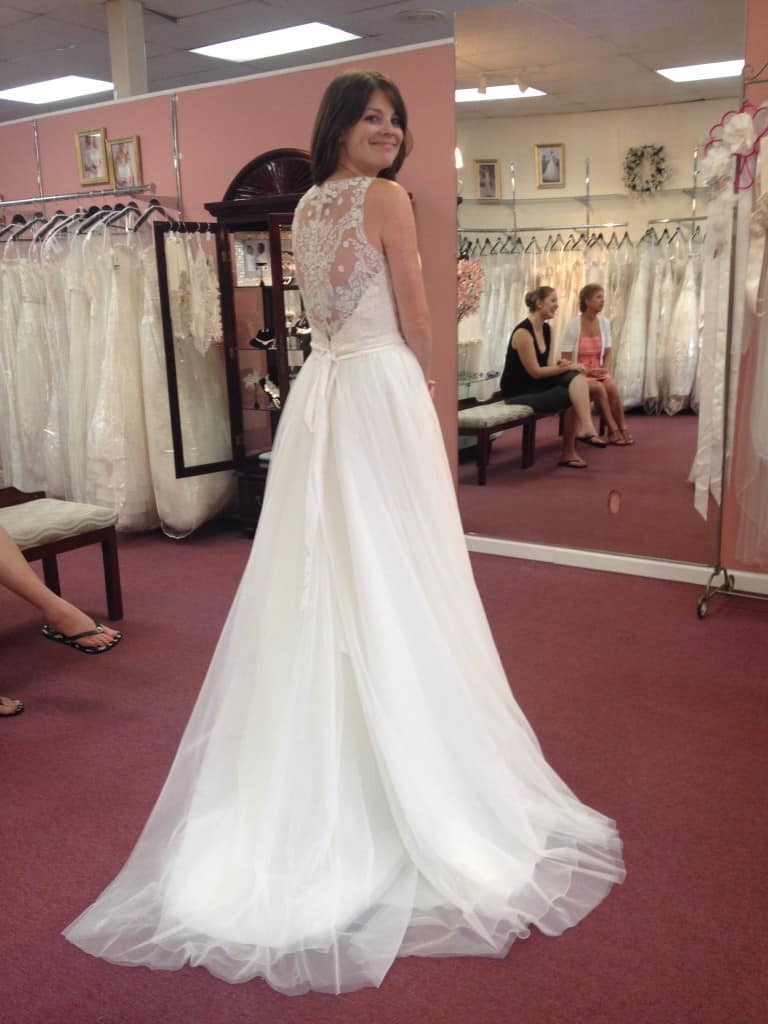 There are lots of factors that can make a bride fall in love with a dress. It certainly helped that this one was exactly my size. I loved the straps, the flattering neckline, the satin belt, and was really surprised to love the a-line skirt. It was enough to make me really feel like a bride. Of course, the lace back and functioning buttons were just icing on the cake.
I was lucky enough to have my mom, Sean's mom, and one of my bridesmaids to come shopping with me. It was the dream team as far as I'm concerned – an entourage of three is about all I could handle!
Alterations-wise, there wasn't much to be done. I ended up losing a bit of weight, so I had to have the waist and straps taken in in March. Otherwise, I just had it hemmed a few inches. The only major change that I made was having some "bling" added to the belt. (in the image above, I have a jeweled belt tied on).
I knew that I wanted to wear my great-grandmother's pearl necklace, so I had to add some sparkle elsewhere, and the existing belt was the perfect place. I purchased the bling from another dress' belt and got a discount for wanting only the applique and not the ribbon belt. Win-win!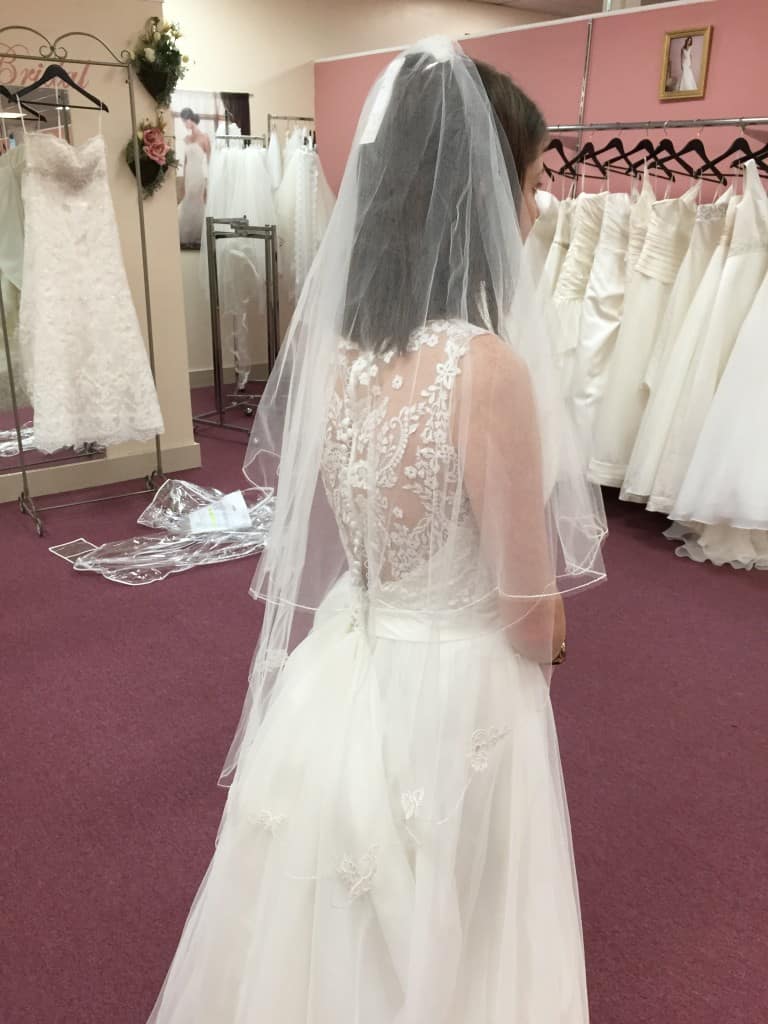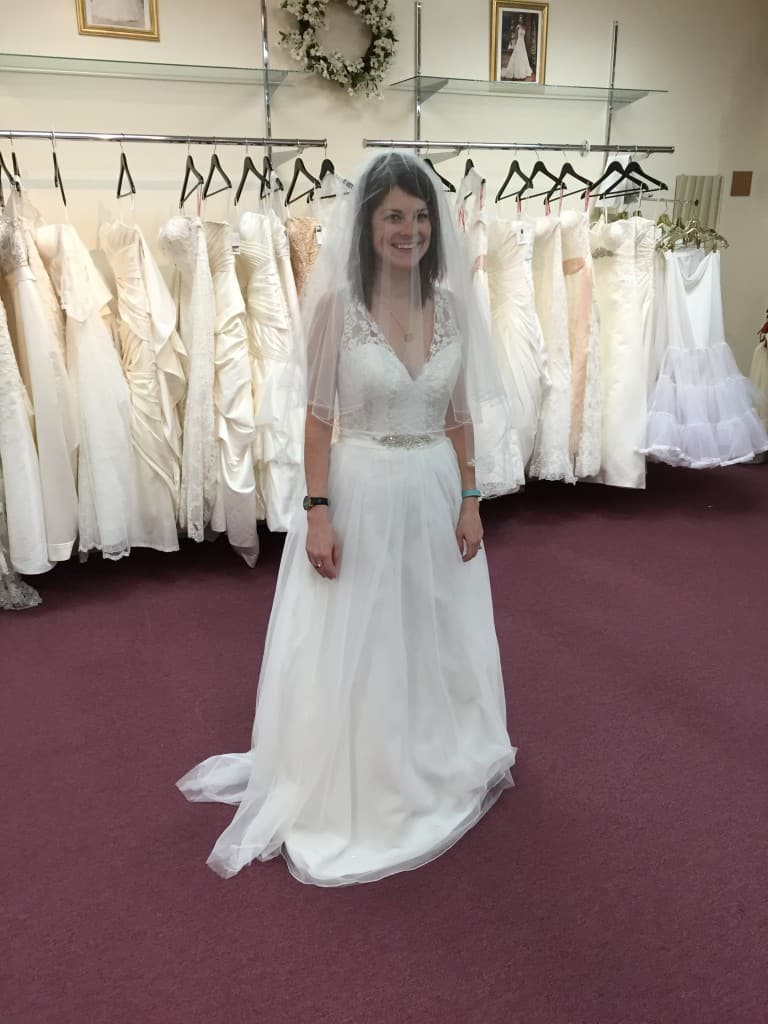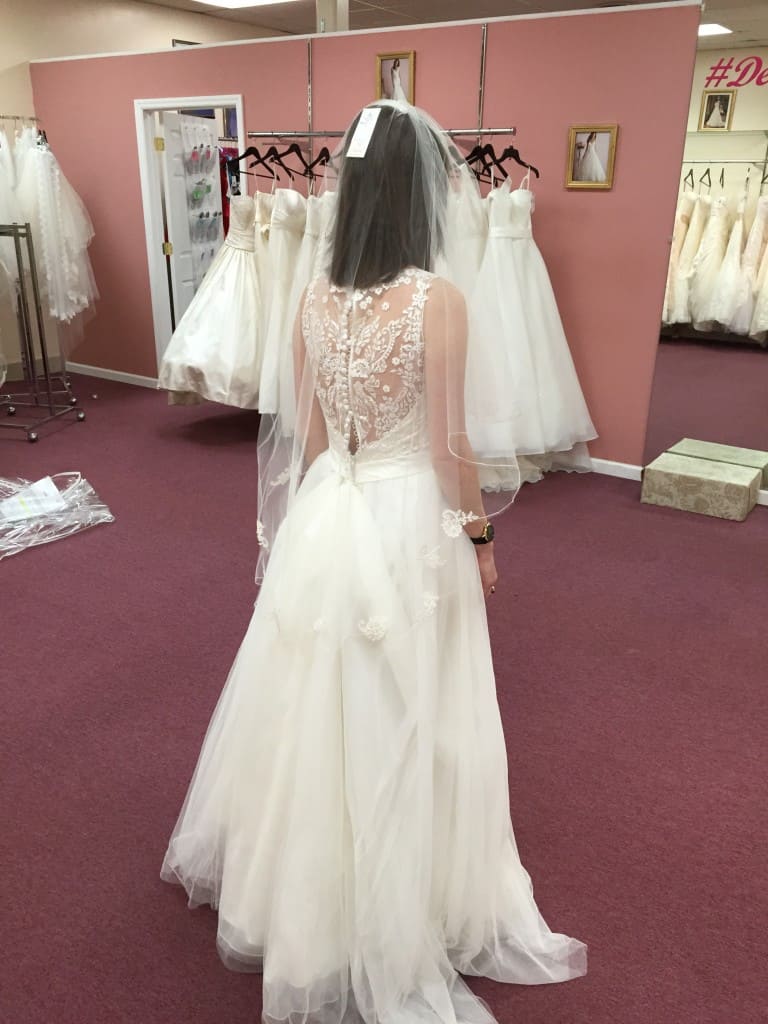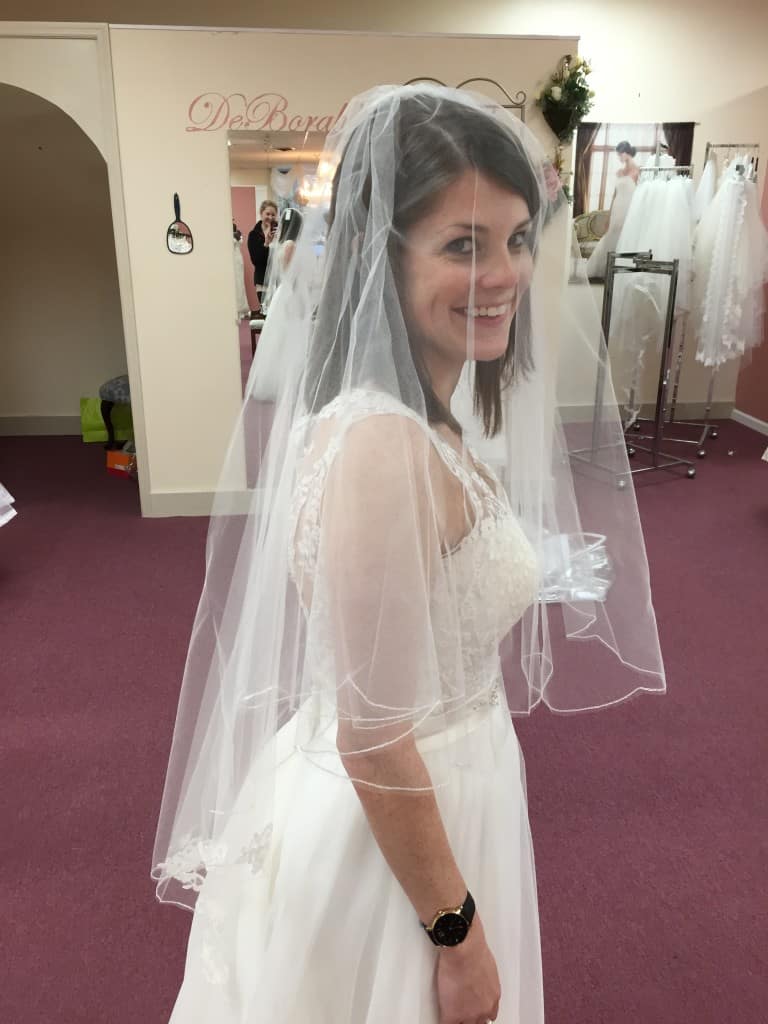 Here it is after alterations. Am I glad that I chose this dress? It photographed very well – the lace back made for beautiful interest in pictures and the shape was very flattering. The straps made it very comfortable to wear all night, and the full skirt was still really light weight. There was just the right amount of bling for my creekside event. Plus, it came at a great price! I am so happy with my choice.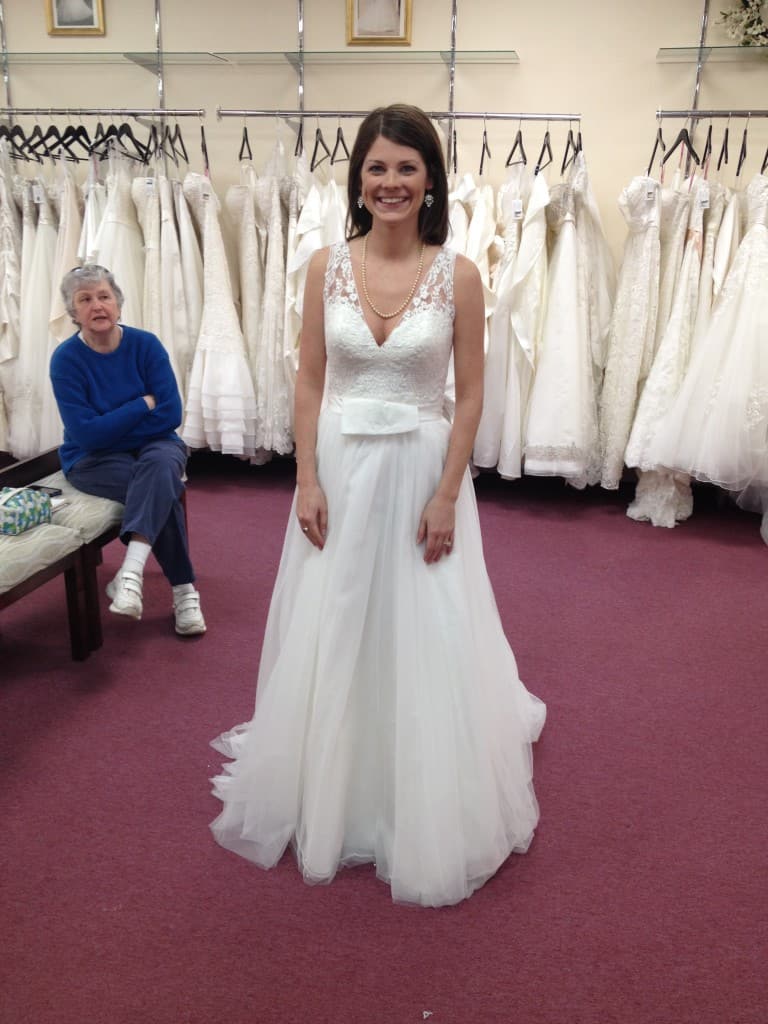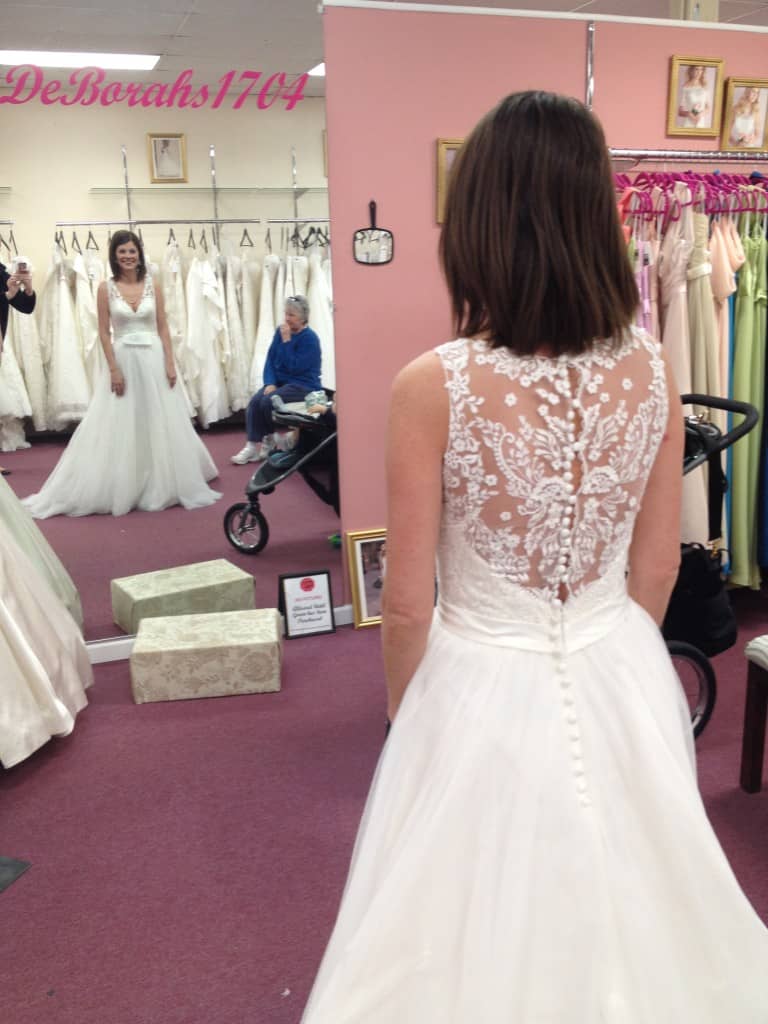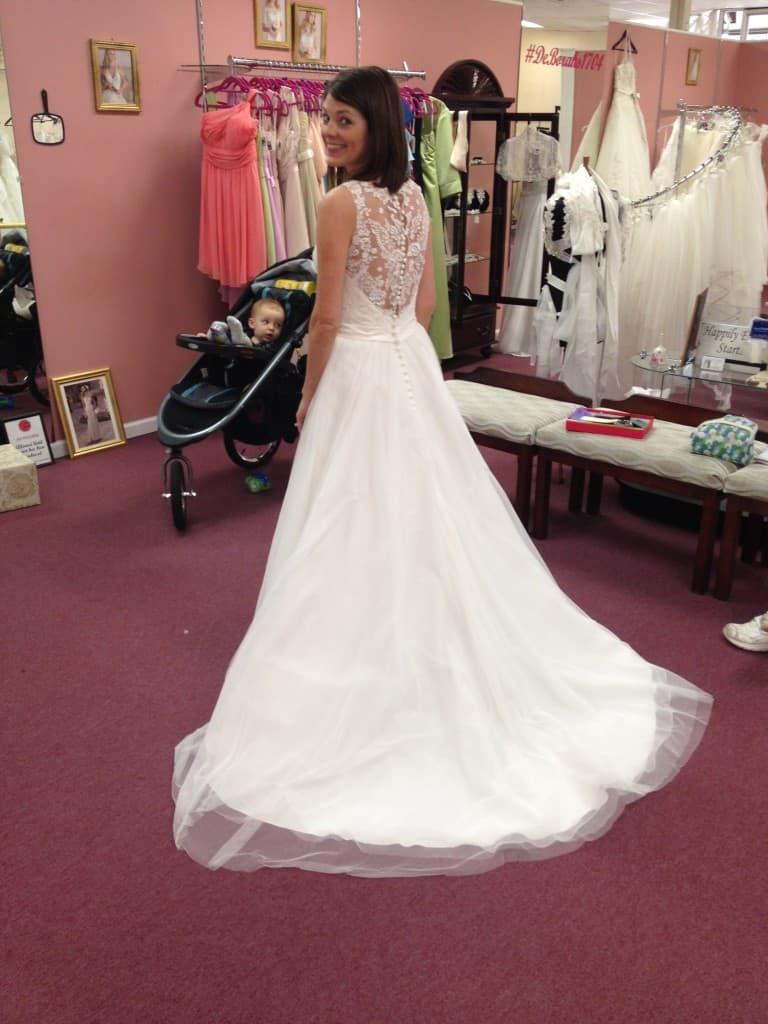 And here it is after the second fitting. I was playing around with the accessories at this point – I wanted to have a nice balance of pearls and bling. I know that a smaller necklace with a pendant would have probably sat nicer with the v-neckline, but it was important to me that I was able to wear my great-grandmother's pearl necklace. Her family were farmers, so it was really special for her to have something as nice as this necklace. I hope that my little sister will wear it at her wedding one day, too! So, I supplemented it with some bling on the belt (covered with tissue here so it wouldn't snag my skirt) and some bling earrings (I ended up wearing different ones – these were just for the trial.)
I'll be back tomorrow to share my bridal portraits and the accessories that I ended up going with. I'm so glad to finally be able to share!