This weekend, I participated in my first ever triathlon in the second event of the 2013 Charleston Sprint Triathlon Series at the James Island County Park. I'd never done a triathlon before, but I pretty good at swimming, biking and running individually and something was motivating me to try a tri… so I did!
The event started at 7 a.m. but my age group went last, so I didn't kick off until 7:45. We started out in the water for a 600 meter swim. I was a little grossed out because it was in the same lake that the dog park feeds into and I know what goes in there… Nonetheless, I was a competitive swimmer for 13 years, so I tried to power through this part of the race. About 40 meters in, someone kicked me in the face and knocked my goggles off, so I had to tread water while I fixed them. The length wasn't hard, but I kept veering off to the left and had to keep looking up to make sure I was on track. Down the home stretch, I popped out of the water and took off for the transition area.
You can read our page on all of the Charleston County Parks here!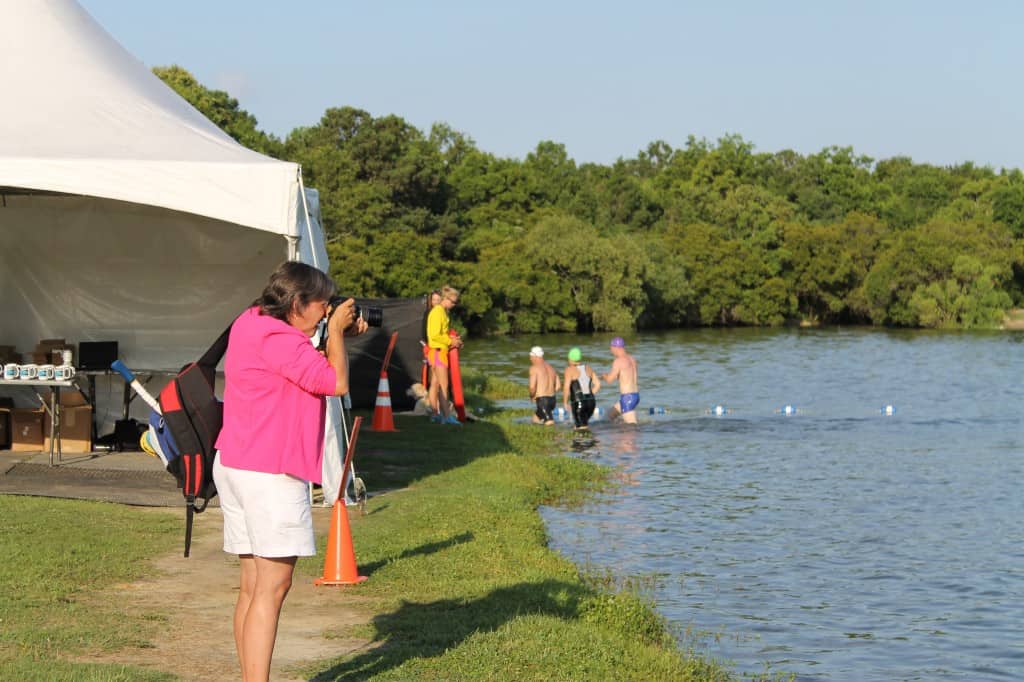 Charleston Sprint Triathlon Series
This was my first ever transition. Needless to say, it didn't go very well. I had the 7th best swim time in my age group, but the 3rd to worst transition time, so I lost a lot of ground that I had initially made. I took too much time trying to dry off my feet and get my socks and shoes on. Plus, I had sliced my finger open with a knife really bad a few days before, so I had that all wrapped up and it was hard to pull up my socks.
I took off on the bike for the 12 mile bike ride and cruised along. I thought I was going at a decent pace, but I learned after seeing my time that I should have pushed myself a little harder because my time wasn't great. But it was a nice ride on a route that I've actually done before, so I knew what to expect.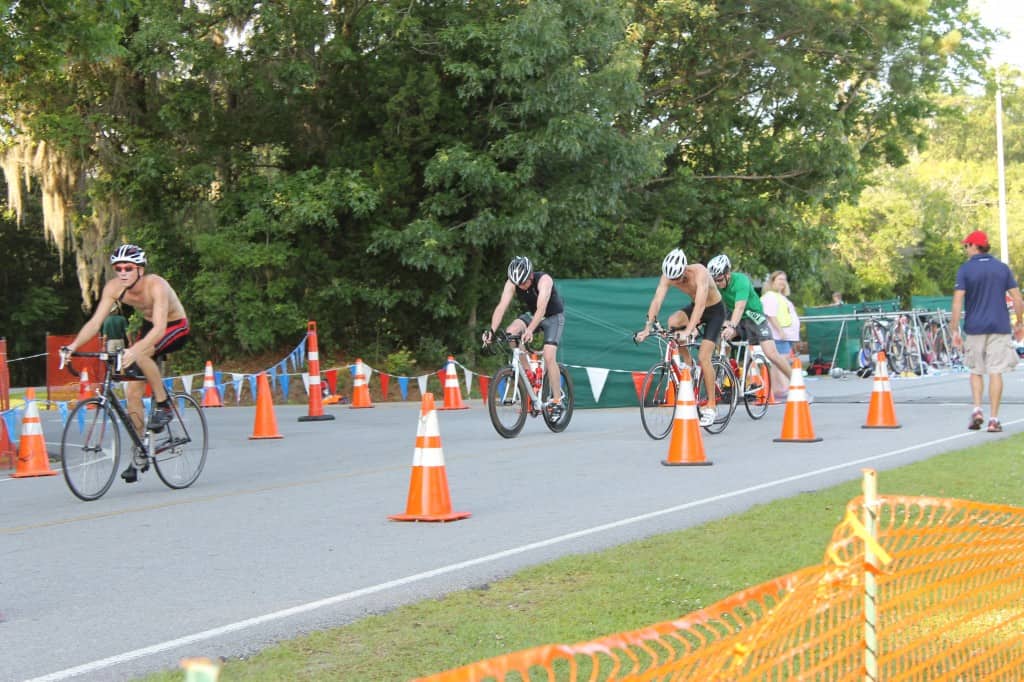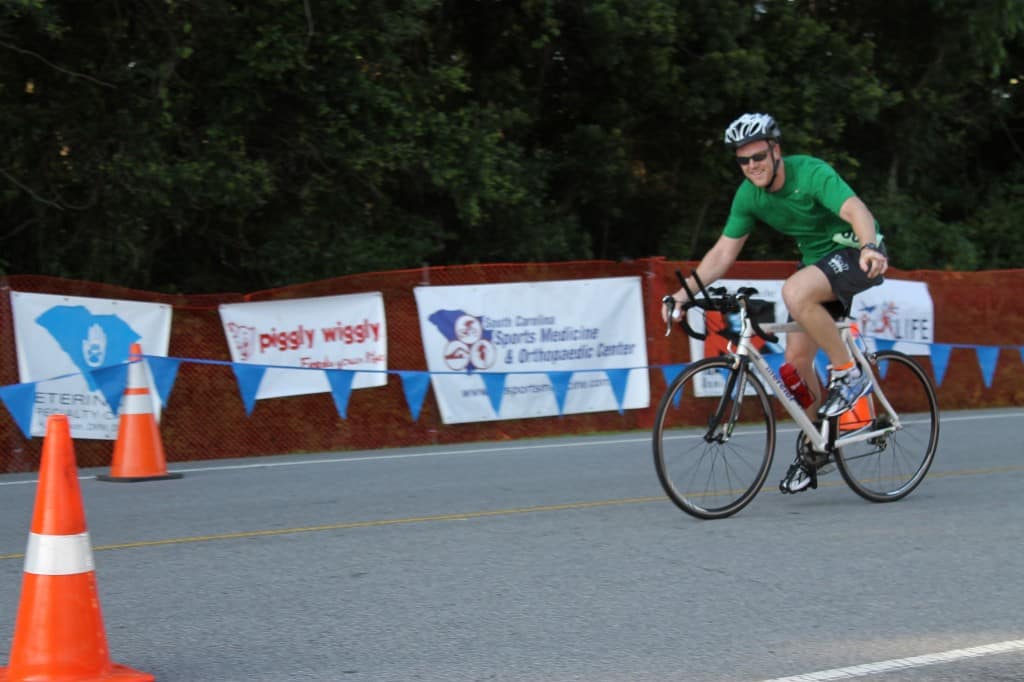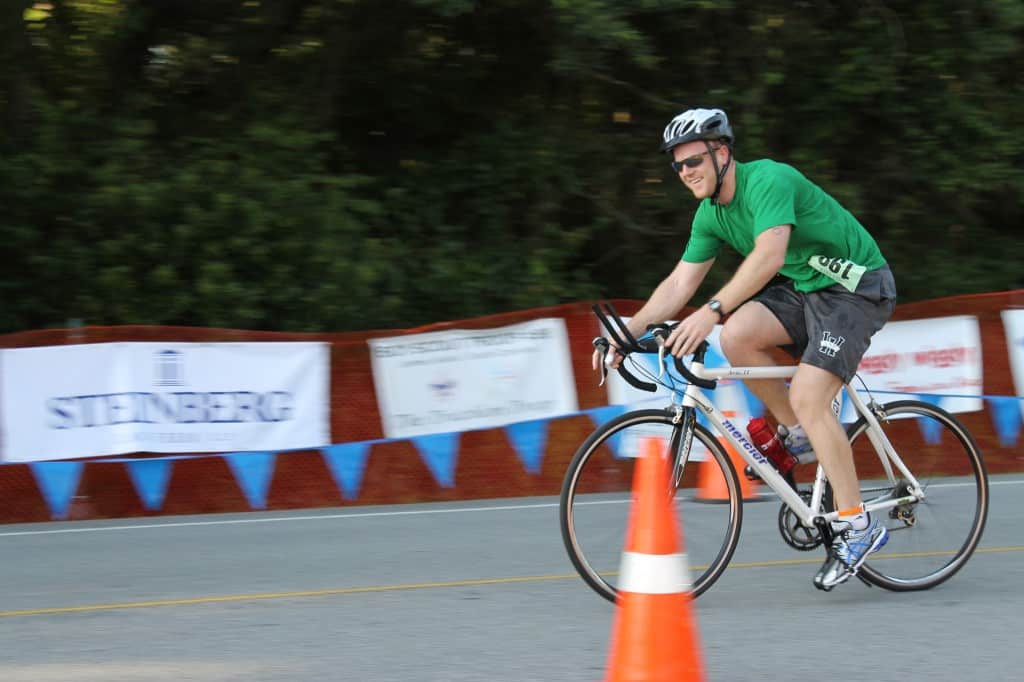 As I came into the next transition, I almost fell trying to get off my bike, but caught myself, much to the amusement of one of the volunteers. I stowed my bike and started the 3.1 mile run. Immediately, my legs felt like lead and were really hard to move. But I just kept telling myself that I needed to not stop and walk. That helped me keep going and I ended up with a good time of 22 minutes, which is decent even if that's the only exercise you're doing, not to mention on the third leg of a triathlon.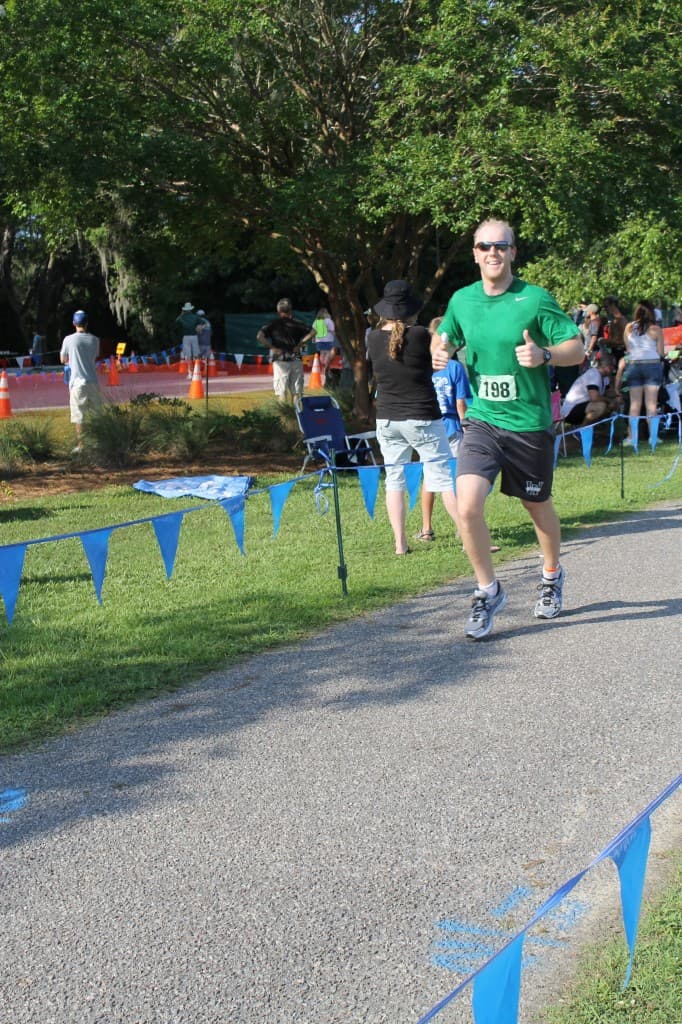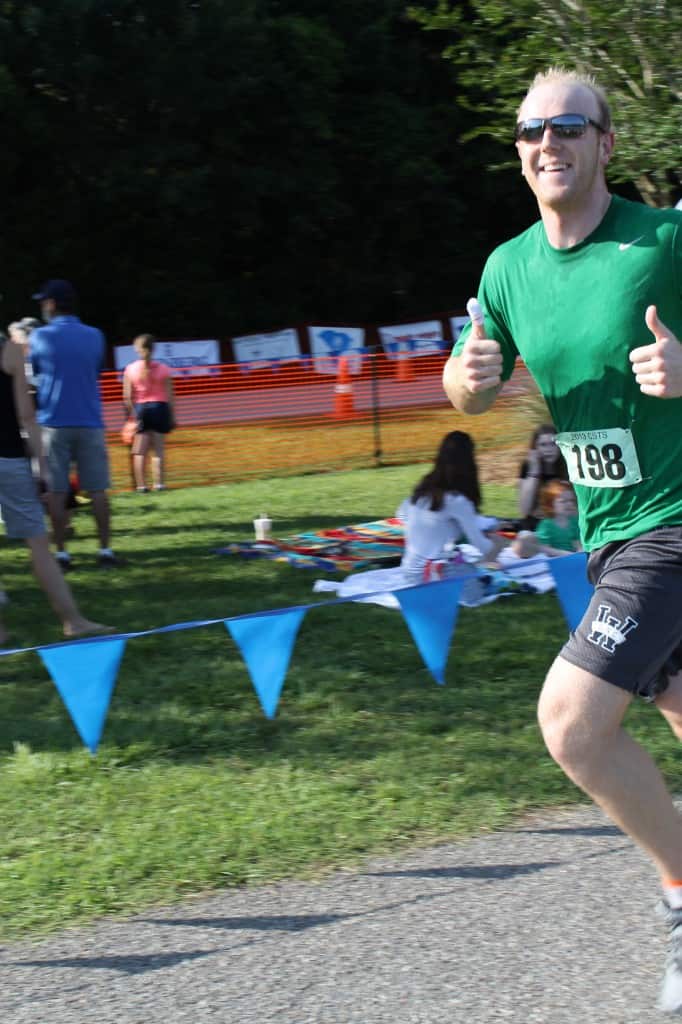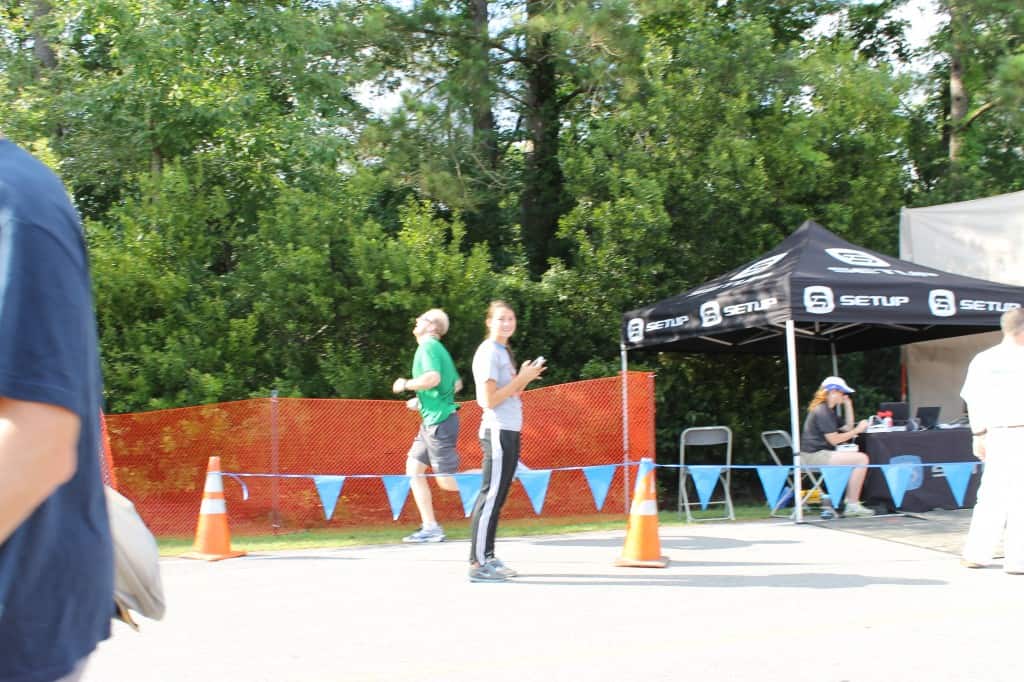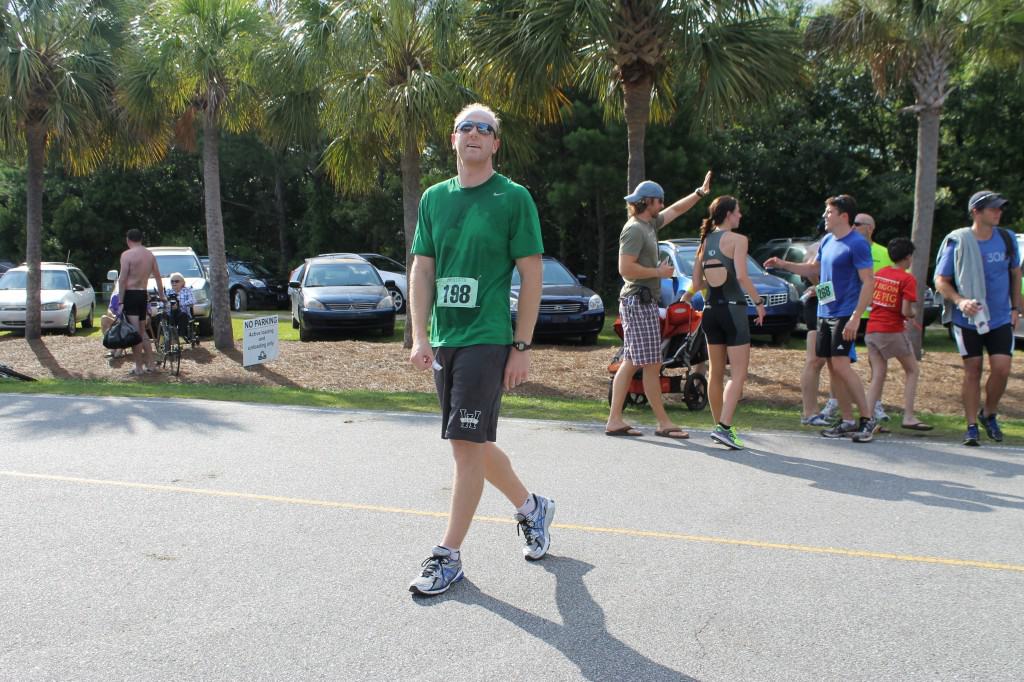 I finished the race in 1 hour, 16 minutes and 10 seconds. My goal for the race was an hour and 15 minutes, so I was pretty close and I'm pleased. And it was so nice to have Morgan there to cheer me on the whole time. I usually don't have a fan section at races, so I was happy to have the encouragement.
Now I have the itch (no, not a skin disease from the dog lake) and want to do it again. I'll probably shoot for the fourth race in the series in a month.
Have you ever done a triathlon?