A couple of months ago, you guys read about how difficult it was for me to buy an engagement ring for Morgan and the nervousness I had with the whole process. It's not easy to choose a ring for someone else to wear for the rest of their lives. Well, last weekend, I had to choose a ring for myself to wear for the rest of my life.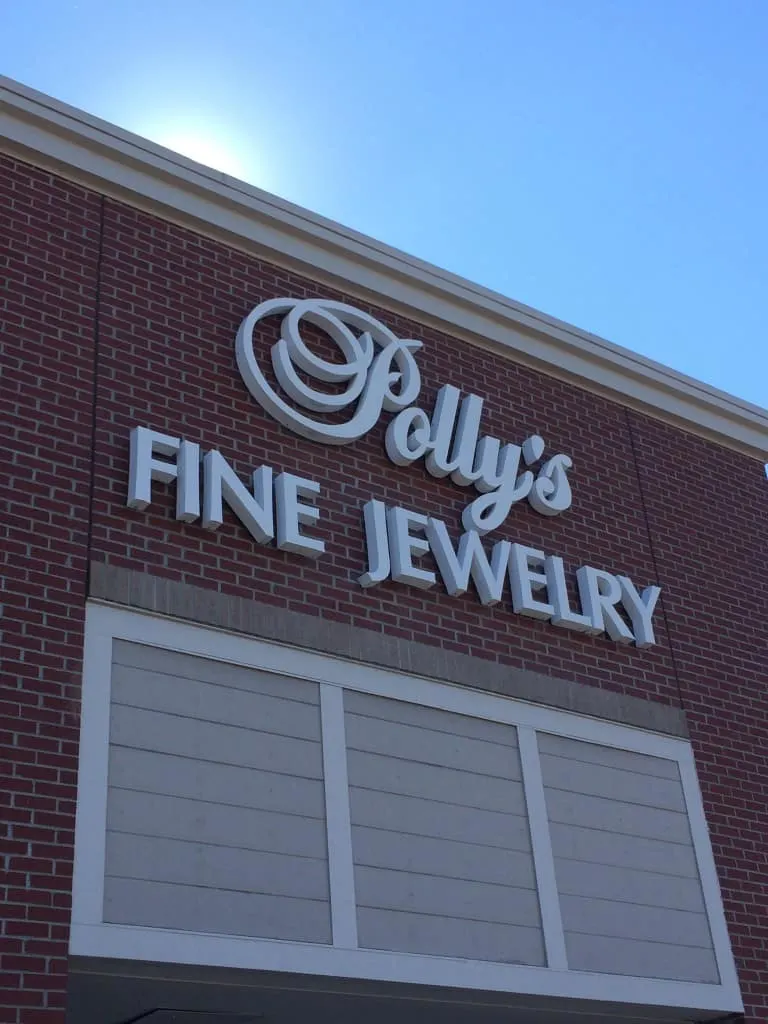 We went to Polly's Fine Jewelry in West Ashley to look for our wedding bands, which is where I had bought Morgan's engagement ring. We met with the same person who had made the process so easy for me the first time. She took us over to look at options for Morgan, but it was a pretty simple choice for her since there was a matching wedding band for her engagement ring. The only thing she had to decide was whether she wanted a straight band or one that curved around the halo of the engagement ring. Since her halo isn't round, the curved band left some gaps, so she went the the straight band. Boom, done, easy.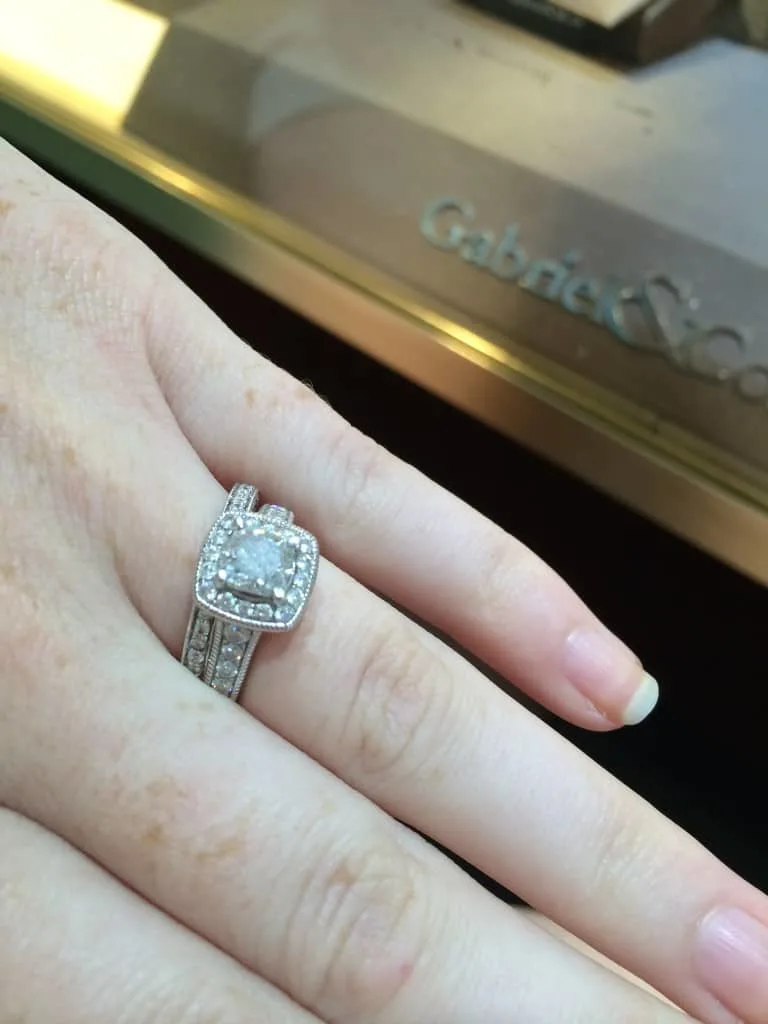 My choice, on the other hand, was a little more difficult. I've never worn a ring in my entire life. No class ring, no pinky ring, no Super Bowl ring. I started looking at rings and tried on four or five in a row and took them off right away saying, "This one is too heavy." That was when I realized that since I've never worn a ring before, they were all going to feel weird.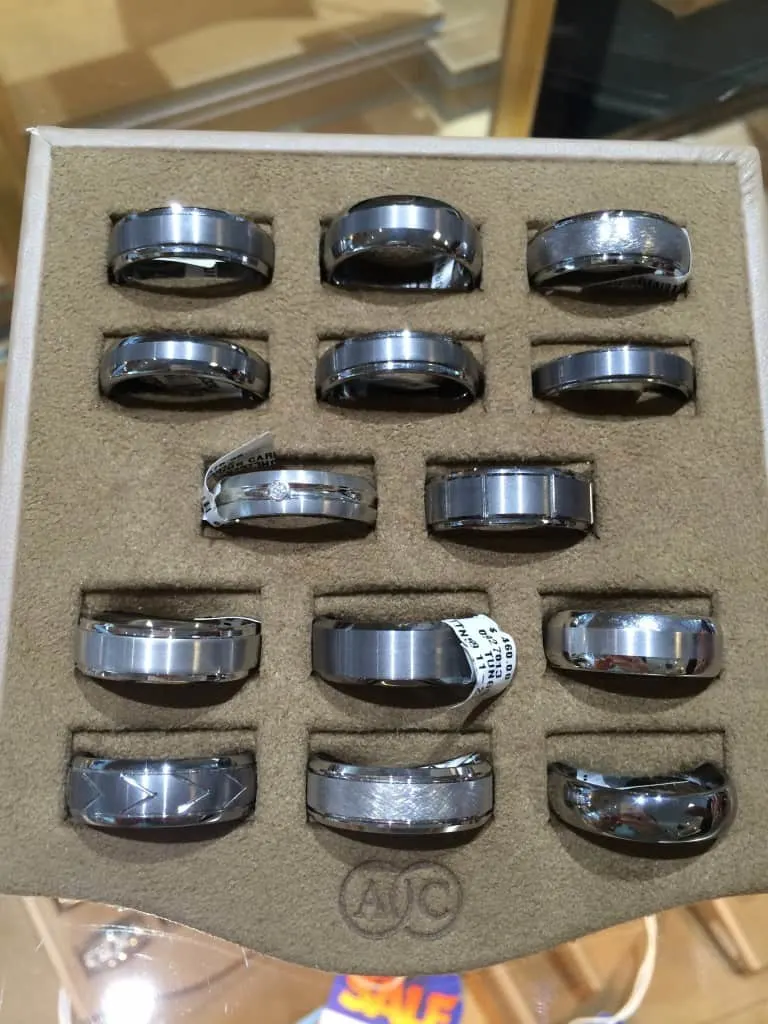 I quickly learned that there was a very large difference in the price of the metals that were available. White gold rings were very lightweight, but also around $1700. Tungsten rings were heavier, but only around $200. So, I was quickly able to figure out what type of ring I wanted- tungsten. Then it was just a matter of picking the band. I had an idea of what I wanted and didn't want, based on what I had seen on other people. I know I didn't want anything smooth and shiny because I'm very active and figured I would scratch it.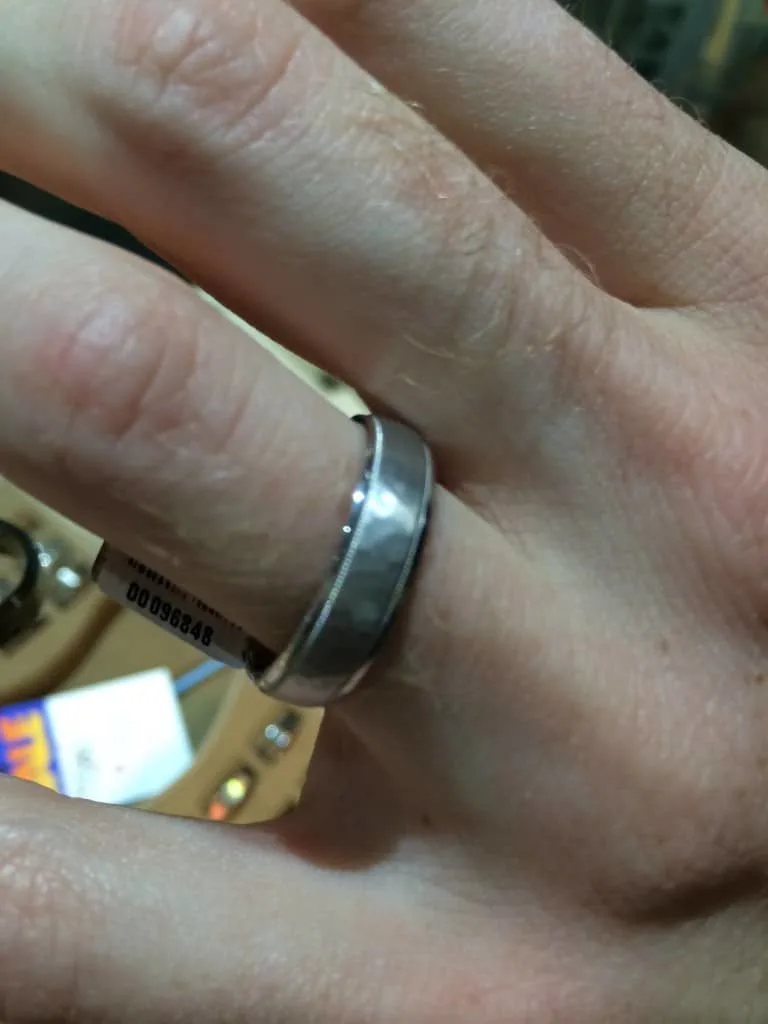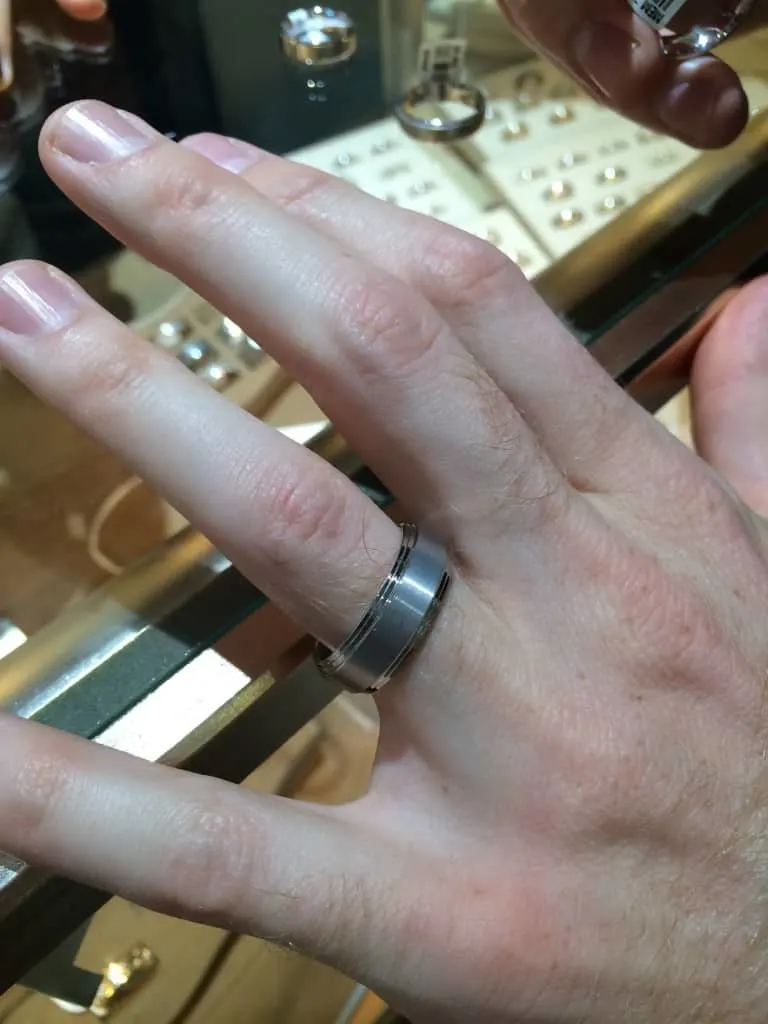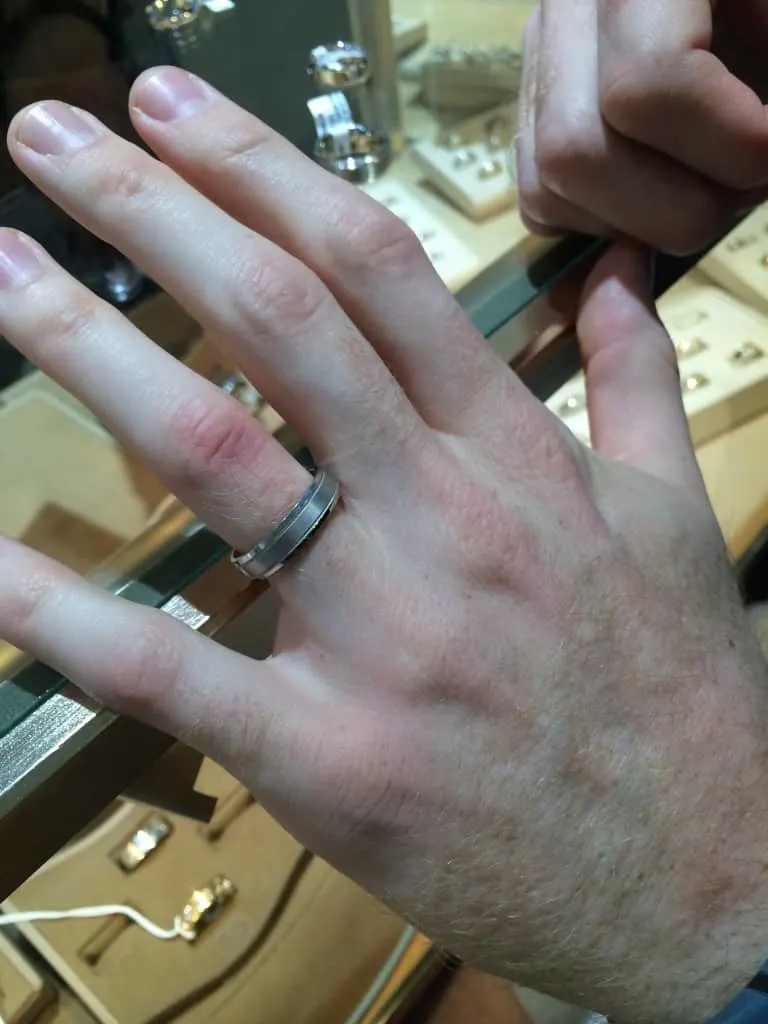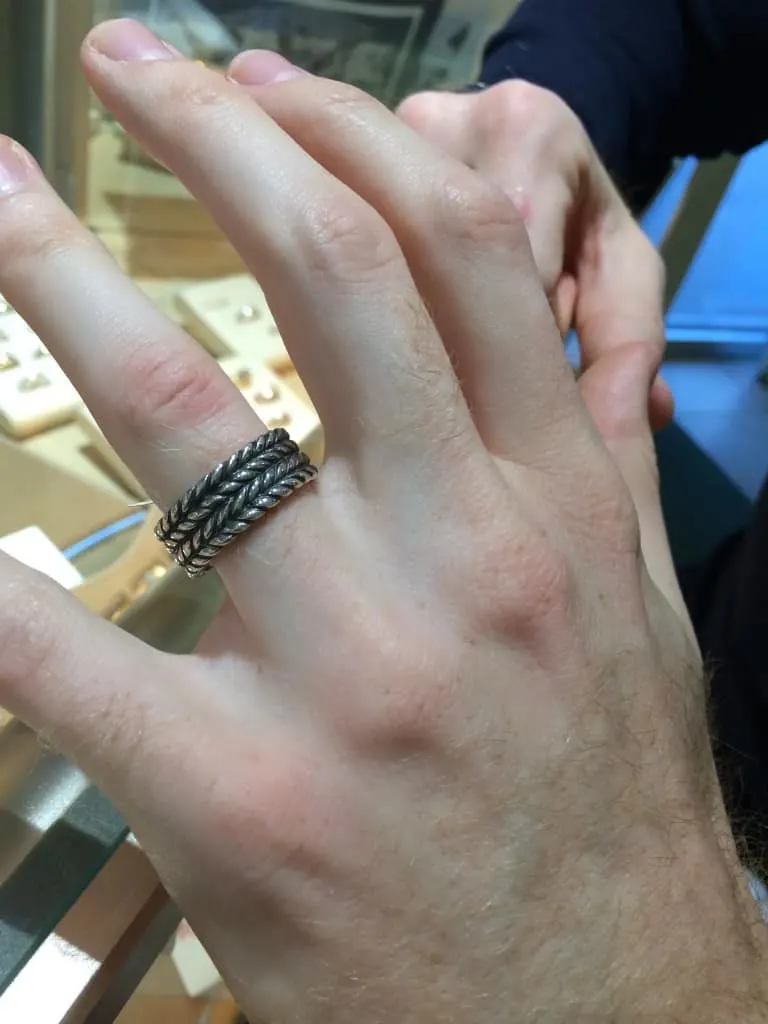 In the end, I chose a ring with a "hammered" look. I think it looks unique and I've never seen anyone else with one that looks like it. But I didn't like the one that was in store in the grey tungsten because it was too dark, so I ordered it in the white tungsten like the color of the ring below it.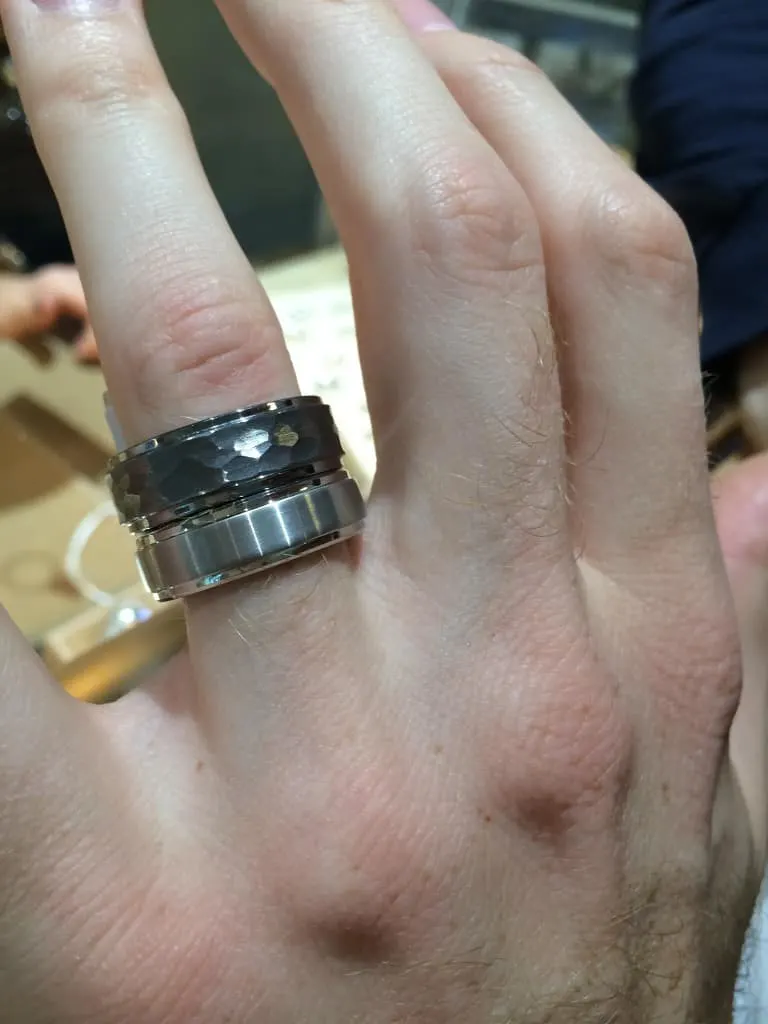 It was an interesting process, but Morgan convinced me to just go ahead and pick one and not dwell on it for a long time. It was good advice. So now we have our rings and just have to wait for the day we can exchange them!
Share your wedding ring buying story!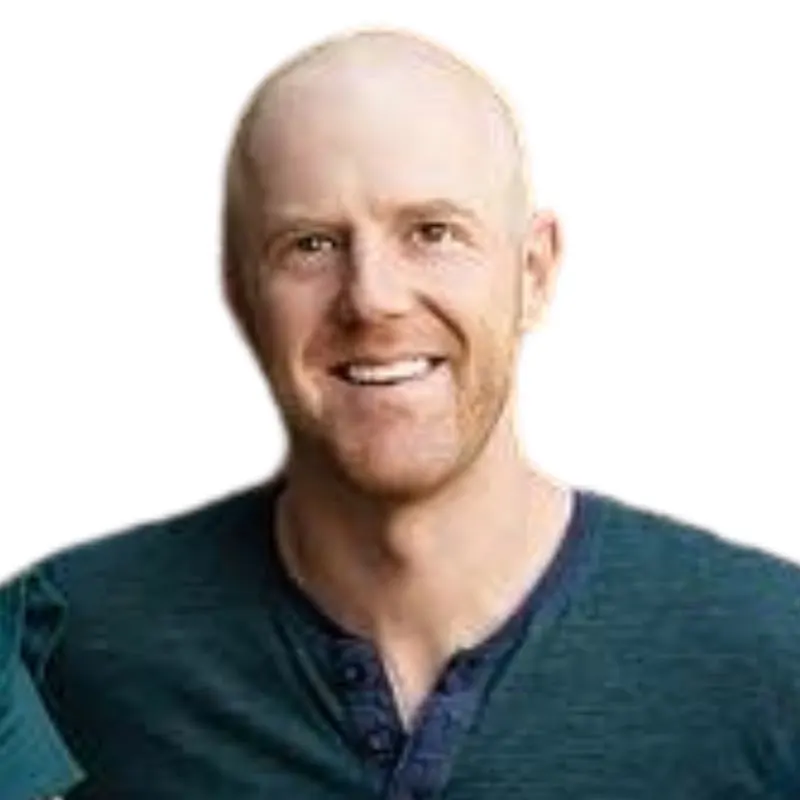 Hey there, I'm Sean, the woodworking enthusiast and builder behind CharlestonCrafted.com! Since 2012, I've been sharing the magic of turning raw materials into beautiful creations. I love teaching others the art and satisfaction of woodworking and DIY. I try to inspire fellow crafters to make something extraordinary out of nothing at all.