Want to build a DIY cardboard castle for your cat? Here are the step by step instructions that you need to do so!
I love making my gray fluffy cat, Bear, happy. I have bought her a ton of toys and as you can imagine nothing makes me madder than when she ignores the new toy in favor of the empty box. So, I decided to embrace the box and build Bear a castle from empty cardboard boxes!
Building a cat castle from cardboard has a few big benefits – it is free if you have boxes on hand (online shopping for the win!), it is eco-friendly because you are re-using old boxes AND it's entirely recyclable or it can fold up flat in case you do want to store or keep the cat house for later.
It's more convenient and 100% cheaper than buying cat furniture – really it's a win-win-win.
If you want to make a DIY cat house cardboard box, simply adjust your design so you cut it less like a castle and more like a house shape!
Love DIYs for your pets? Check out all of our pet projects here!
DIY Wooden Top Entry Litter Box // Potted Cat Garden // Rolling Pet Food Container
DIY Raised Pet Bowls // How To Build Pet Bunk Beds // DIY Dog & Cat Narwhal Costumes
How to Build a DIY Cardboard Cat House Castle
What you need:
Cardboard boxes big enough for your cat to get in – I used one medium and one small
Strong clear tape
Scissors
Box cutter (helpful, but you can use just scissors if that's all you have)
Felt, ribbon, hot glue gun, or any supplies to decorate
What you do:
Design a general layout plan for your DIY cardboard cat castle.
I wanted 2 stacked boxes. I added a few rounded windows, square saw teeth along the top, and a drawbridge door!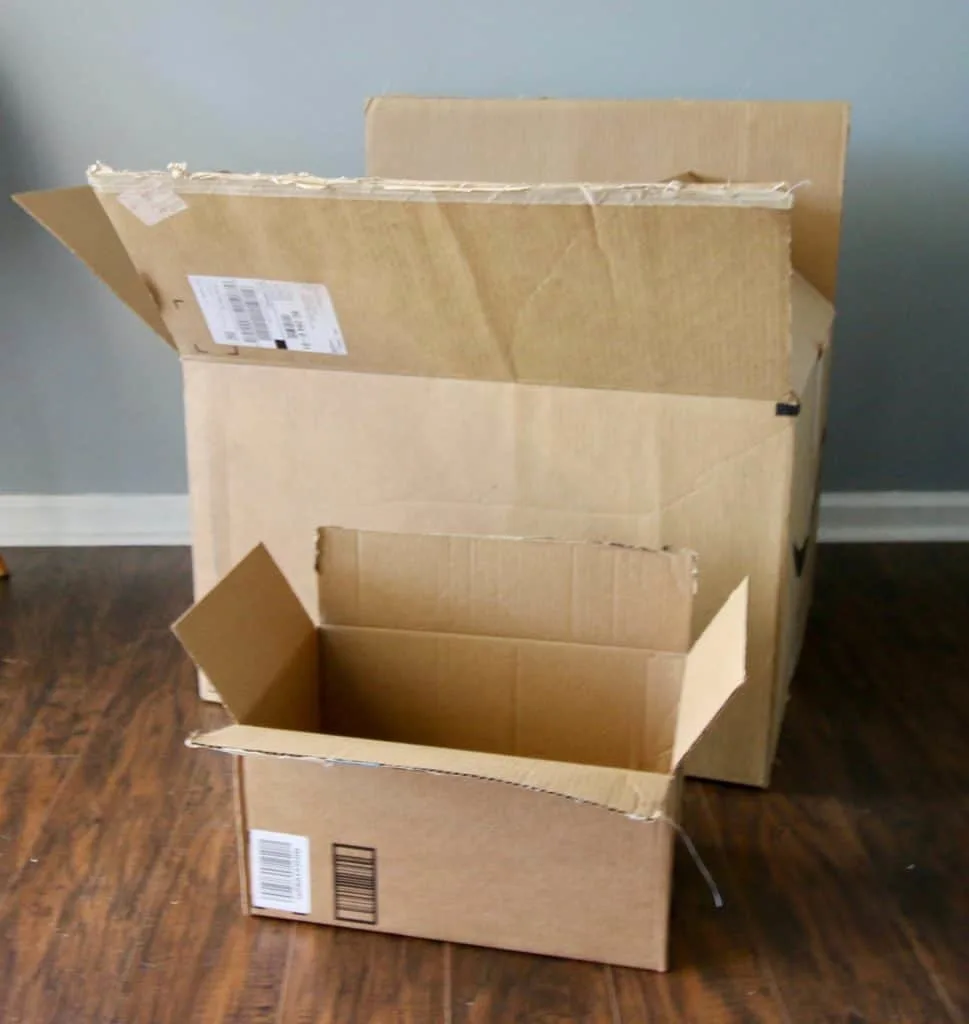 Assemble your boxes and tape them if needed.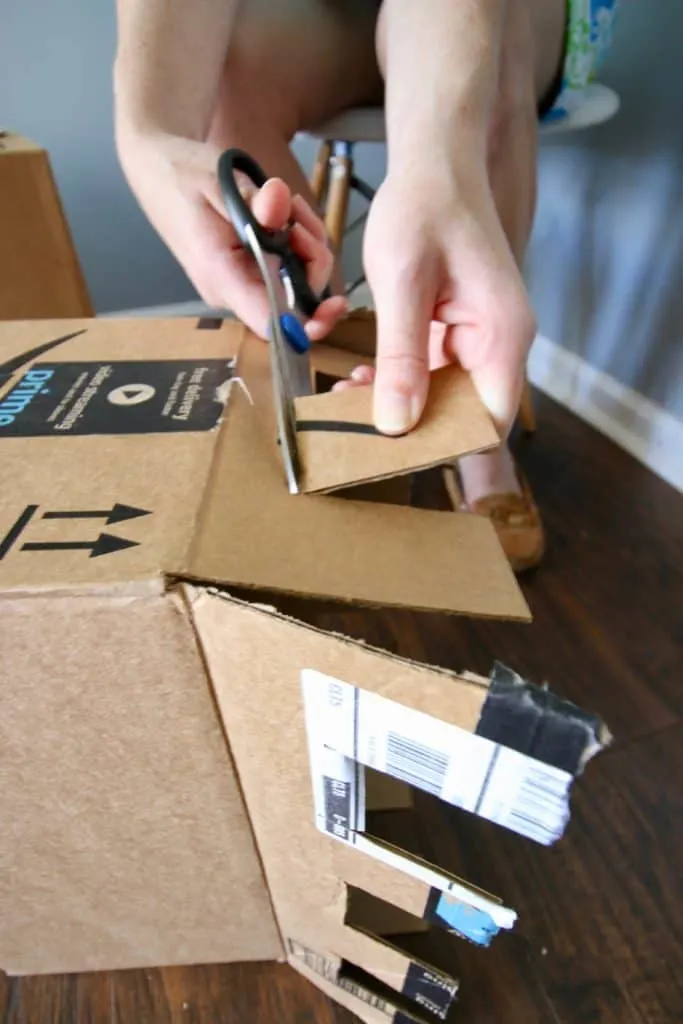 Use scissors or a box cutter or a utility knife to cut out your designed windows, doors, and accents. You can add them to the side of the box or even the side flap!
If you are nervous about this part, you can use a pen to draw a line and trace that with your blade.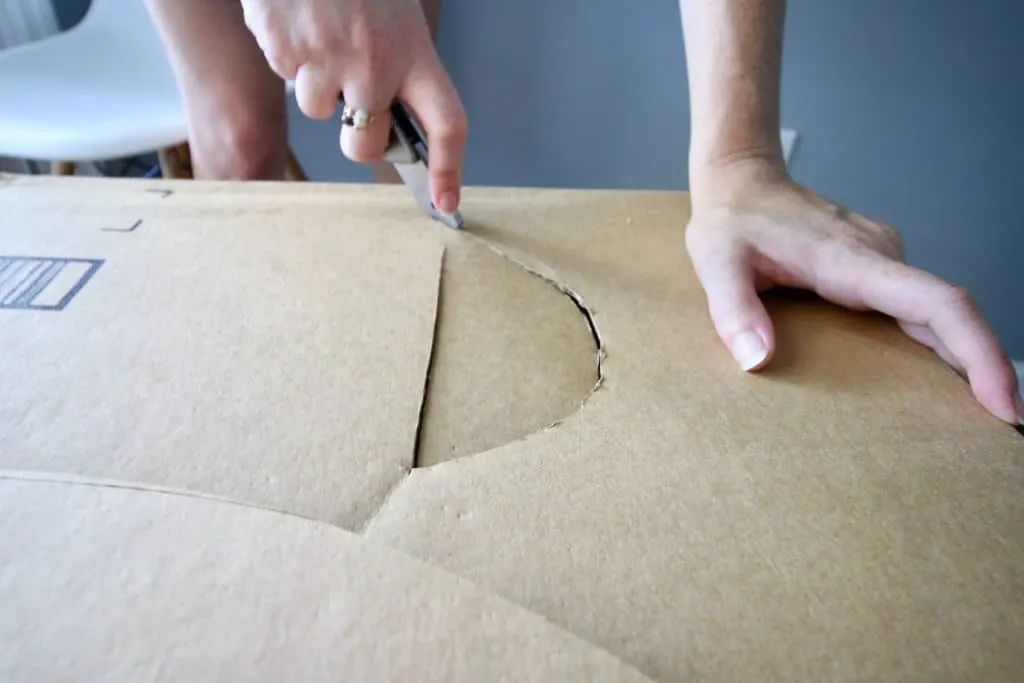 Use tape to attach the boxes together. I made a top box as a "turret" and the bottom box as a base.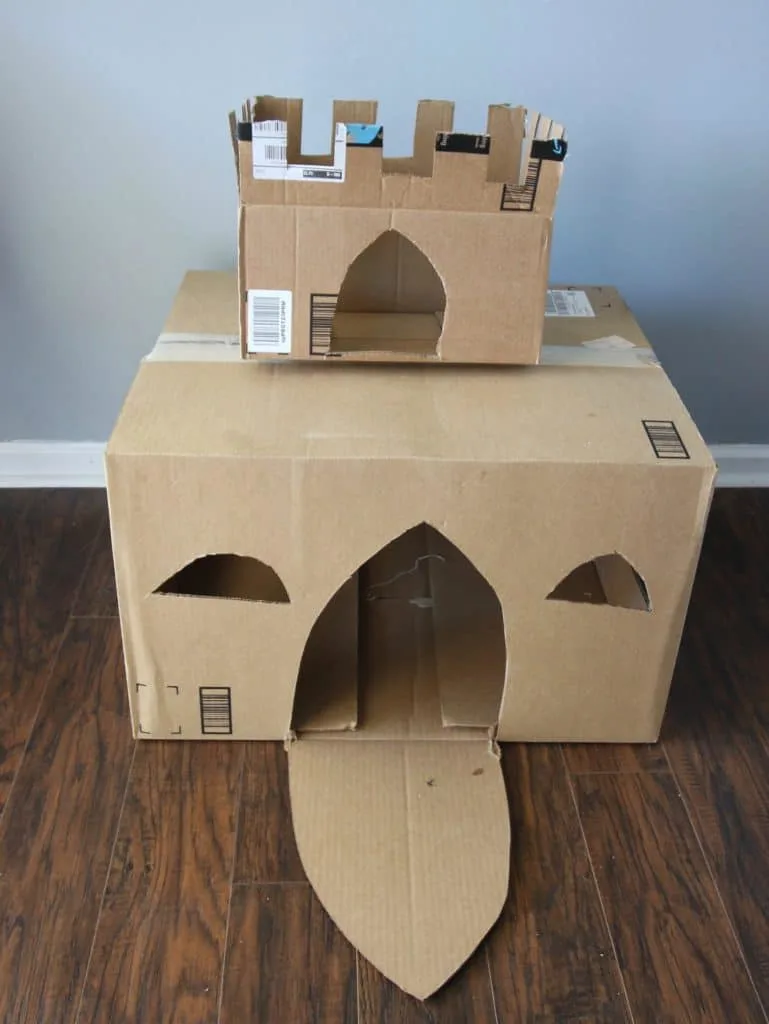 Add any decorations. I made these flags with felt, hot glue, and skewers. Go with anything your cats love! String would be great!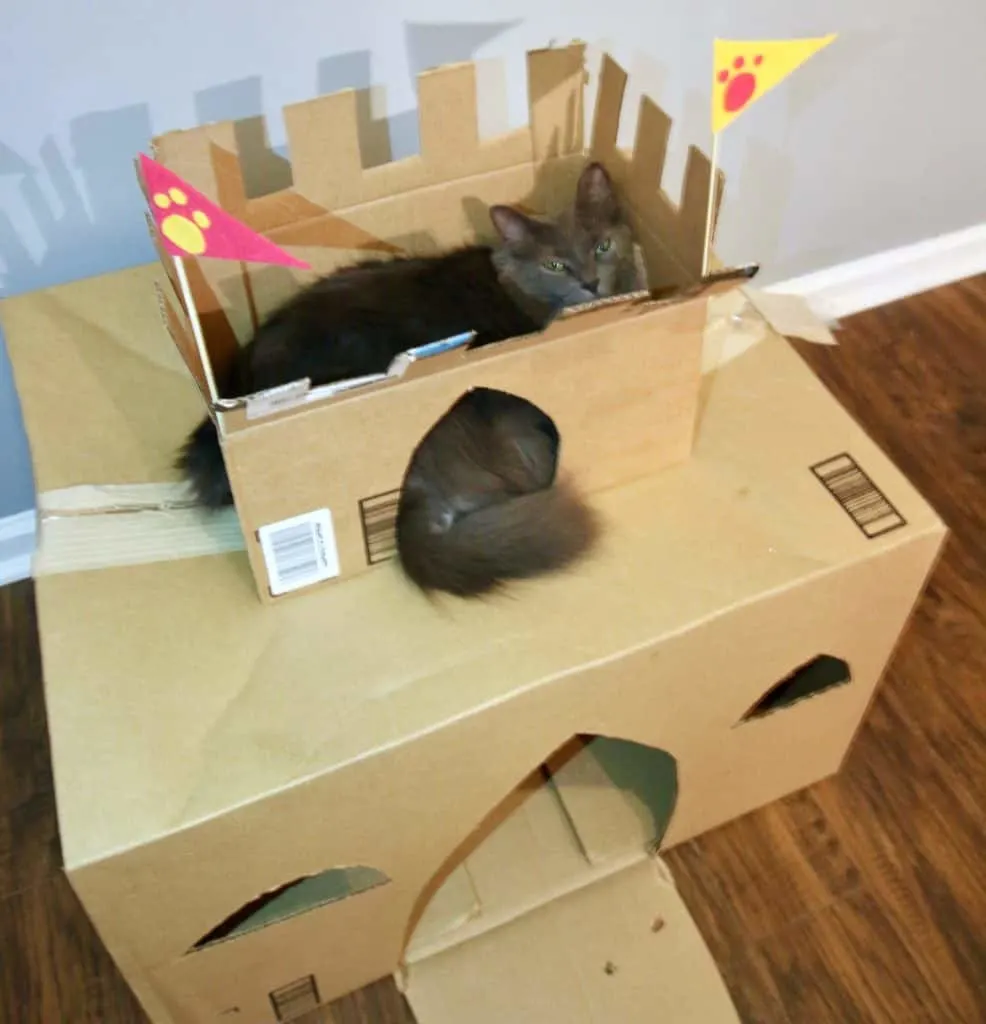 Check out tons of ideas for DIY projects for your cat!
Get the easy to follow cat castle plans in the printable widget below!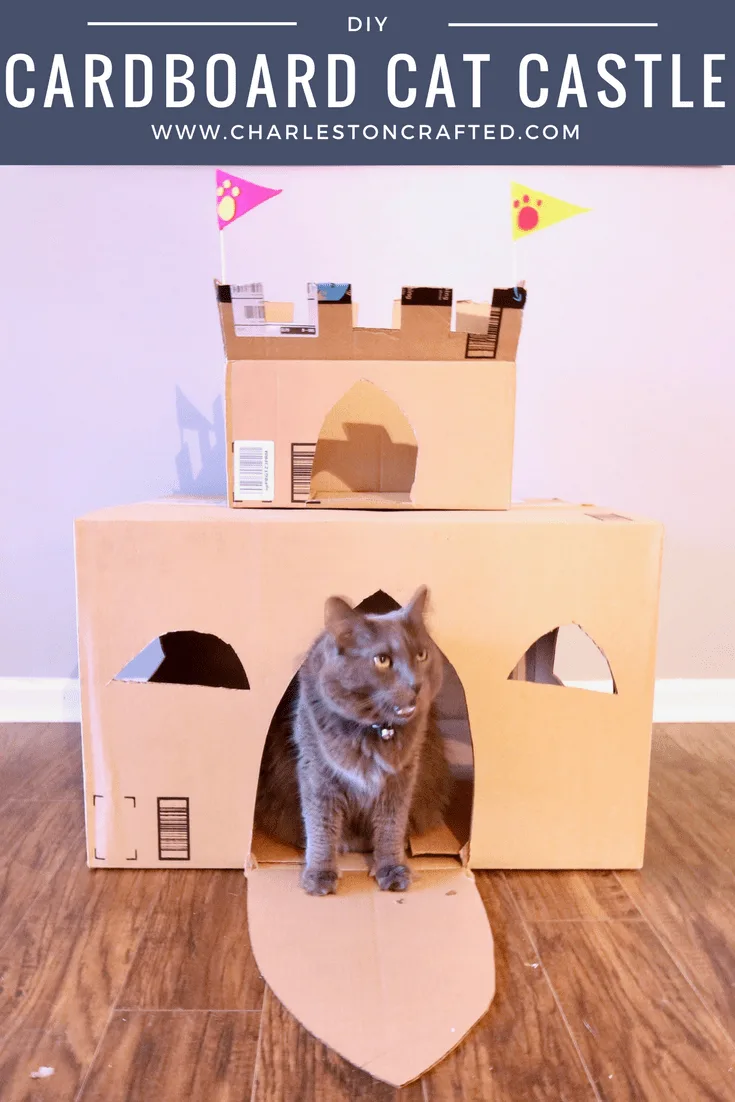 Yield:

1 cardboard castle
How to make a cardboard cat castle cat house
Is your pet worthy of royalty? It is so easy (and free!) to build this DIY cat castle out of old cardboard boxes. Here is a step by step tutorial.
Materials
Cardboard box
Felt or other decor as desired
Tools
Scissors or box cutters
Box tape
Instructions
Design a layout for you castle based on the boxes that you have and your cat's needs.
Assemble your boxes, taping as needed.
Use scissors or box cutters to cut out your desired windows or doors.
Use tape to attach your boxes to each other.
Add any decorations - I made little felt flags. Use feathers, string, or whatever your cat likes!
Recommended Products
As an Amazon Associate and member of other affiliate programs, I earn from qualifying purchases.
Coax your kitty into her new DIY cat castle. Need some help? Bear wasn't 100% sold at first, so I lured her over with Meow Mix Simple Servings.
I love that they come in an easy-to-open and easy-to-serve cup (without forks or spoons). She loves that they have pieces of real seafood in a savory gravy.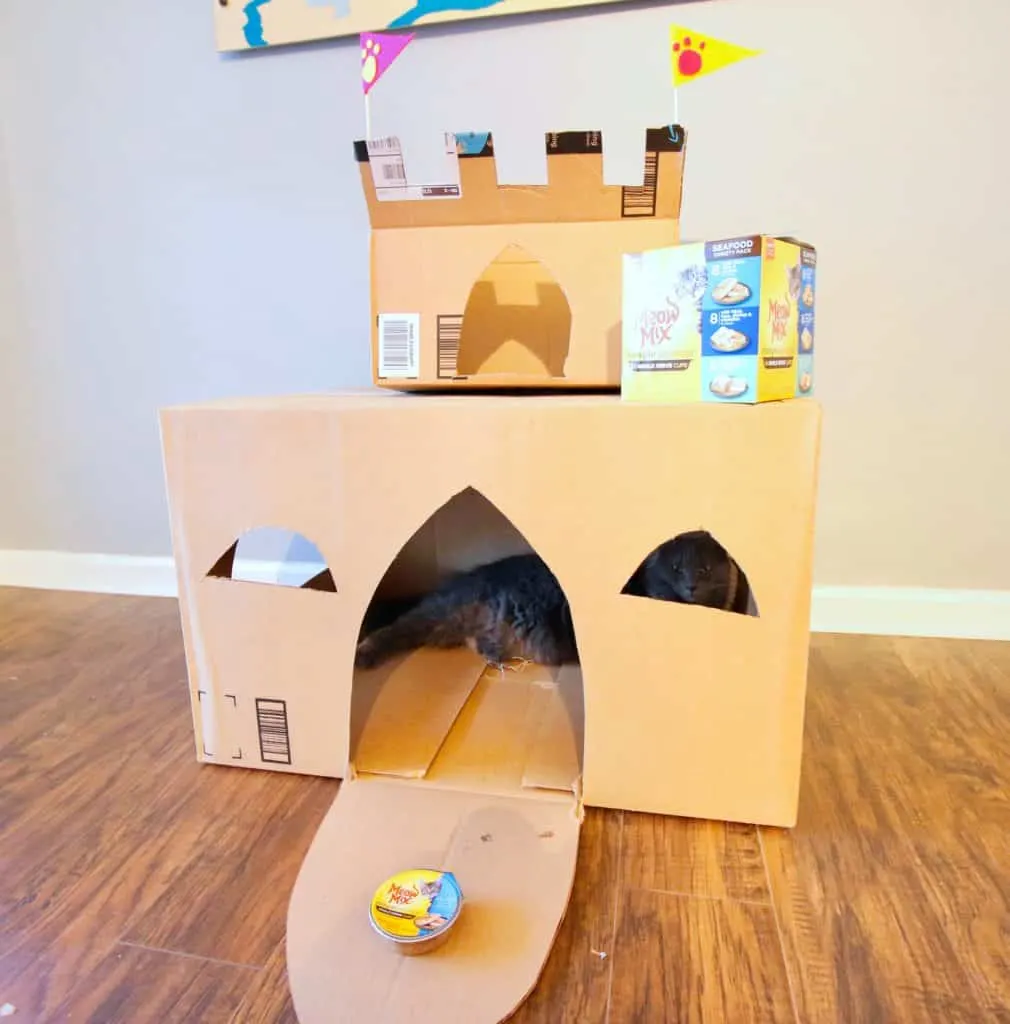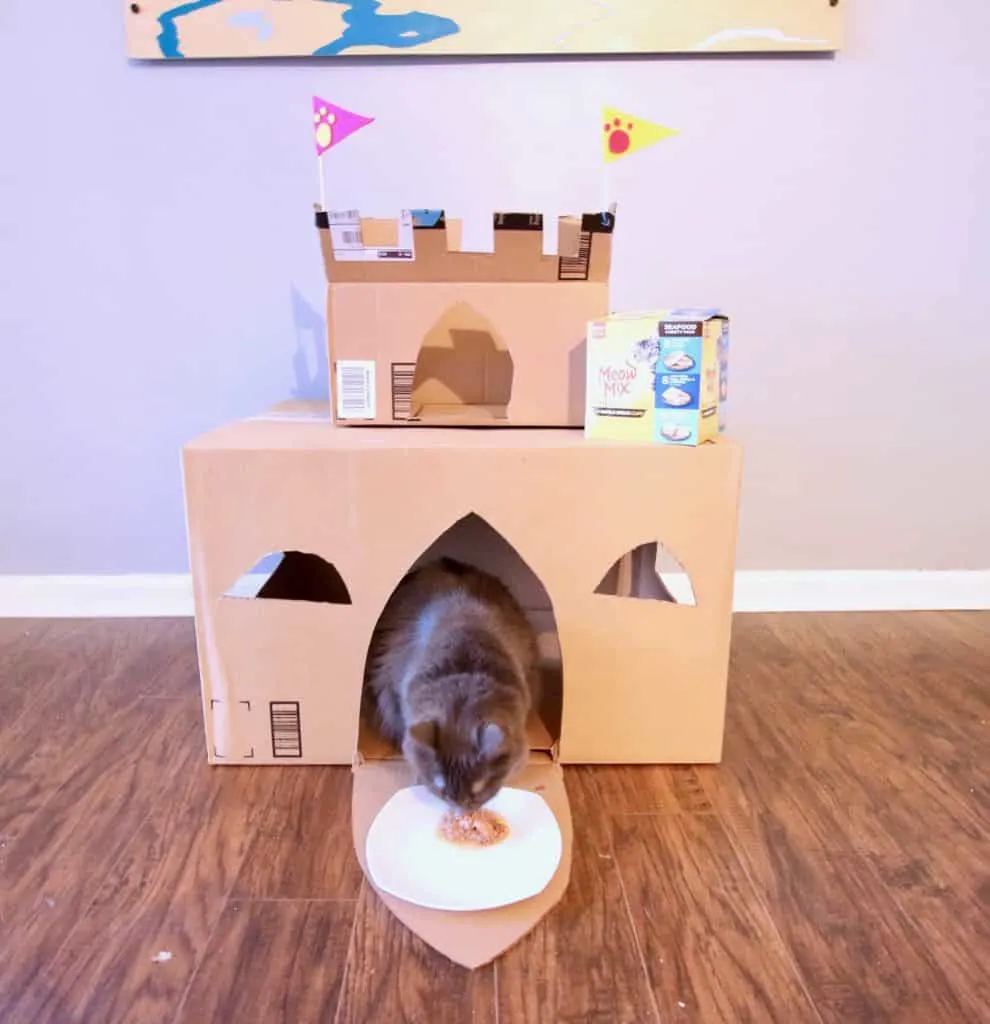 With a single serving in every cup, you can feed your cat the wet food they crave, minus the portioning and leftovers. All you have to do is open and serve—it's that simple. It comes in several flavors, but Bear's favorite is the Seafood Variety.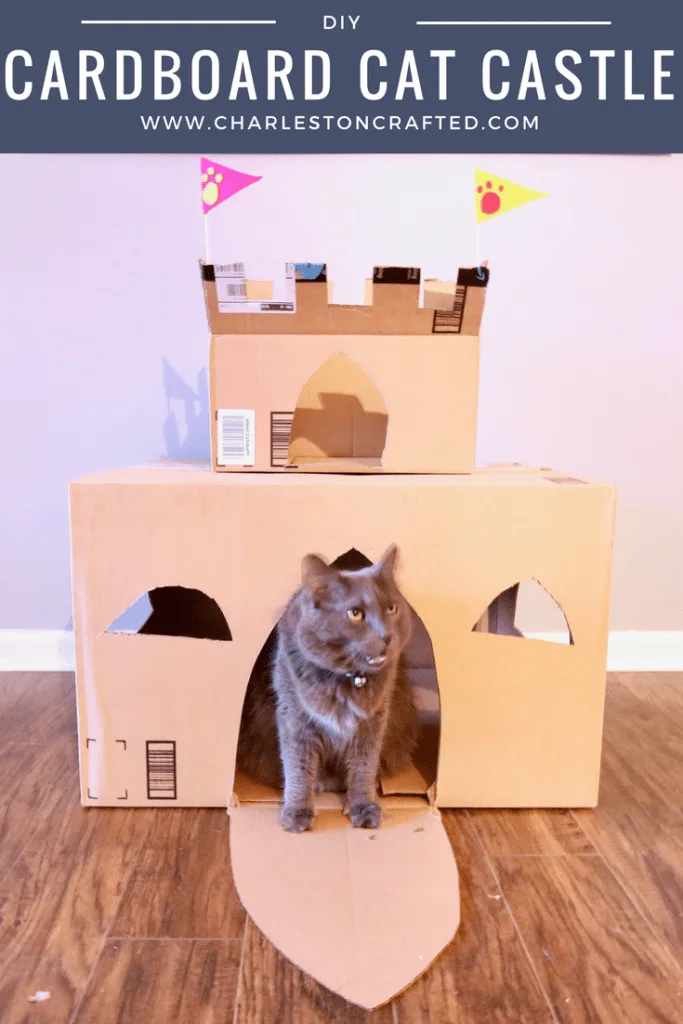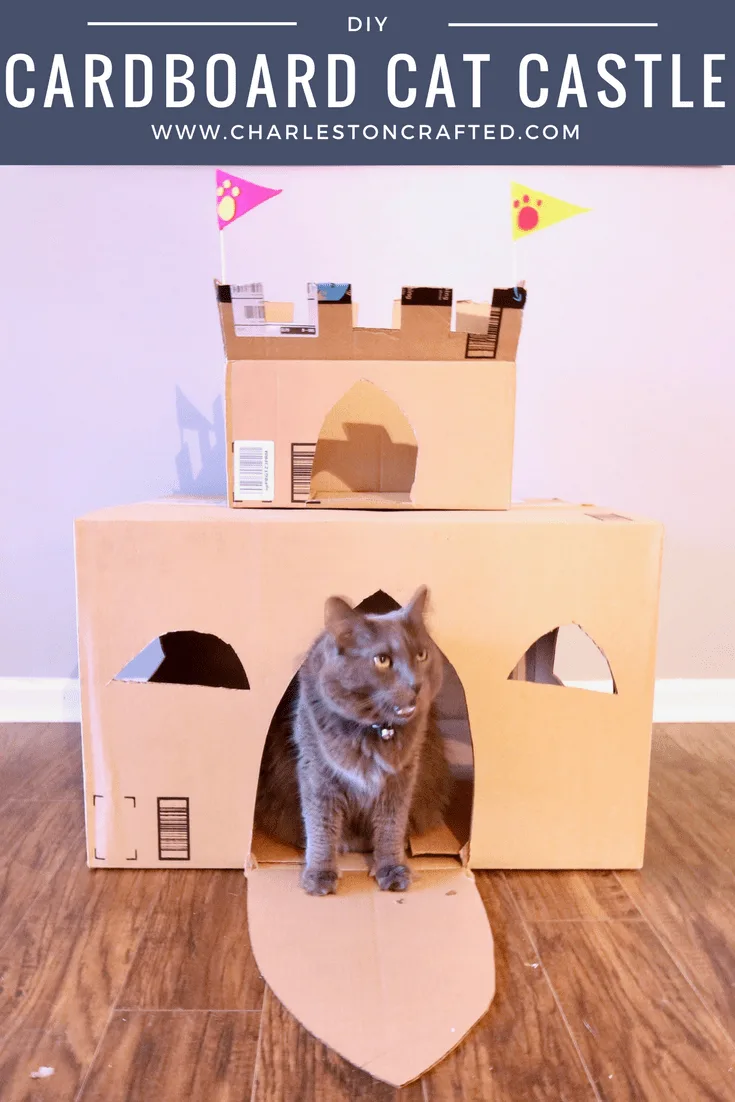 If you make a DIY cat castle, please share it!
Click here to check out our project on how to build a DIY self-filling cat food dispenser!
This shop has been compensated by Collective Bias, Inc. and its advertiser. All opinions are mine alone. #MeowMixatTarget #CollectiveBias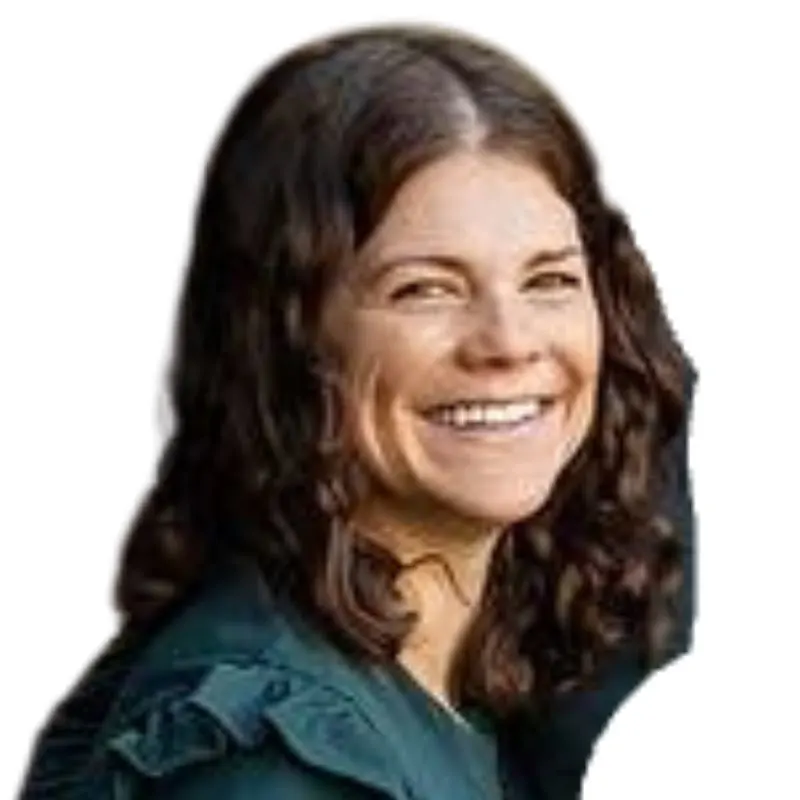 Hello, I'm Morgan, half of the creative force behind CharlestonCrafted.com! With a passion for DIY that dates back to 2012, I've transformed three homes and now I'm dedicated to helping others craft their dream spaces. Let's turn your house into a home together!