This is a fun topic that we have gotten asked a bunch and I thought would be fun to address in it's own post. When we were house hunting, we knew that we wanted a fixer upper. Not a tear down, but a house that needed cosmetic work. I obviously love DIY and design projects, but we also saw it as a way to add value to a home. But, if you know that you want to put money into a house before you even buy it, you might wonder how to budget for home renovations during the house hunting process.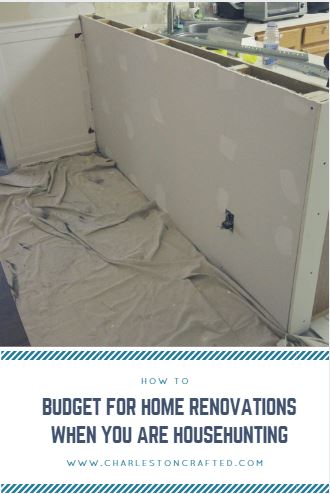 The most important thing is to set your total overall budget. This is for your house and really for any cash that you will be able to put into it in the first six months of living there. You might could finance renovations with your bank, but we have never done that so I won't speak to it.
Once you determine the total amount of cash that you have available, you have a starting point. This will need to cover down payment + closing costs + moving costs + renovations + any major furniture or decor purchases needed immediately like a bed or a couch.
It's a good idea to talk to your lender and determine how much of a down payment you will need at different price points. Write that down on a note in your phone so as you scroll and look at houses, you can do quick calculations to determine your remaining renovation budget.
Think about the projects that you hope to do and do some general research. For example, the odds are good that you will need to replace flooring. Go to your local home improvement or flooring store and browse. Find a sample that you like. Get the price per square foot. When you look at a house, note the square footage and you will be able to do a rough estimate of costs. Look at water heaters, pick up a brochure on roofs, and swing by the appliances. Just keep a running note of sample costs and keep referencing it as you hunt.
Another great resource for estimating costs is your realtor. An experienced realtor can usually estimate renovation project costs.
If you want to be super organized, create a spread sheet. Enter in as columns the possible costs for the items that you researched. Make each potential house a row and add the square footage to approximate renovation costs for each house and make them easier to compare.
I hope that this helps you to budget for home renovations as you are house hunting. Do you have any other great advice or tips?