If you are planning on buying a house and moving, you probably know that it is really expensive. While you might be focused on budgeting for a down payment and closing costs, you also need to consider moving costs. Aside from actual movers, here is a list of actual unexpected expenses that we or friends have incurred when moving. Make sure that you budget for them right alongside your down payment and closing costs!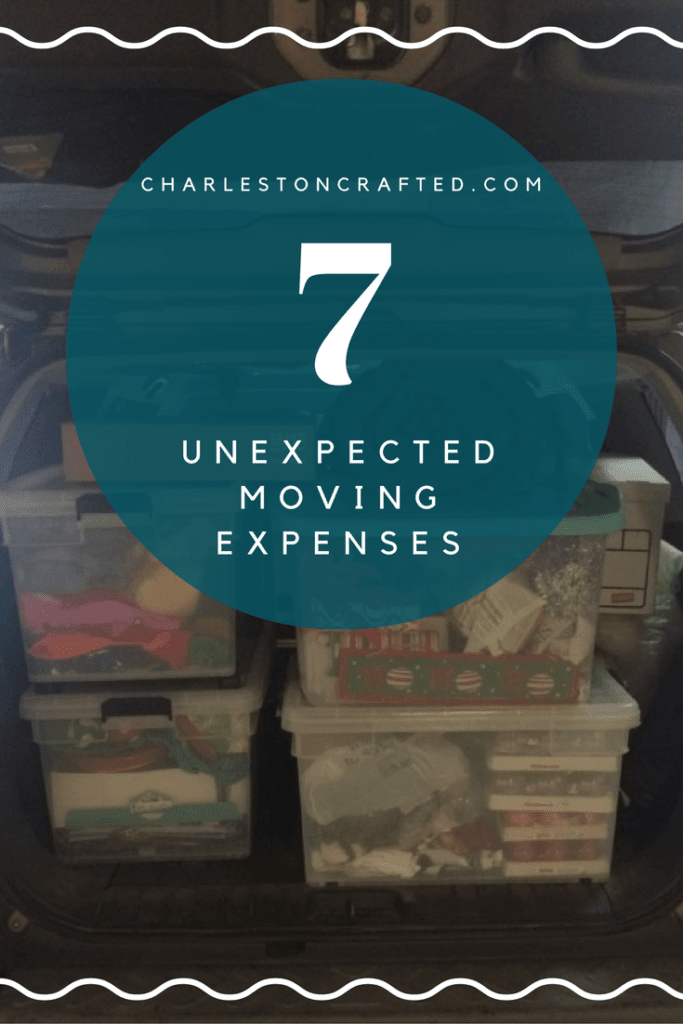 Moving Supplies – boxes, tape, and packing materials can all add up, especially if you need a lot of them. We shared this post on our favorite resources for free moving boxes, so really try to get as many as you can for free to save a lot. At the store, large moving boxes can cost over $2 each, plus the costs of packing tape, bubble wrap, and other supplies.
New Locks – most anyone will tell you that the first thing that you should do after moving is change the locks. We went ahead and changed the knobs and locks on all of our exterior doors. Depending on how many doors you have, it can really add up when you're looking at between $25-50 for different lock types. Consider buying a pack with multiple locks in it to be more cost effective.
Light Bulbs – It was important to me that we had LED light bulbs in all of our fixtures. Light bulbs aren't expensive, but replacing every bulb in a house can hurt your bottom line. Once again, consider buying in bulk to save per item.
Blinds – we somehow never realized in all of our walk-throughs of our house that not a single window had blinds. It was a vacant house that had renters in it before and apparently they were so destroyed that they just took them all down before they listed the house. Well, we figured out pretty quickly that we needed the privacy and the thermal protection from blinds, and even choosing plastic "faux wood" blinds seriously adds up! Price these out in advance and prioritize which rooms you need to do first if you can't swing them all right away.
Any Immediate Repairs – did you agree to ignore any problems in your home inspection? Ours revealed that our garbage disposal was broken but we overlooked it because we knew that we could DIY the fix (and we wanted to focus on getting them to pay for a new HVAC system). Make a list of any problems in the inspection that you don't have fixed and go ahead and repair them immediately or you will never do it! However, that will come with a cost. So try to make sure to lower how much you pay for the house.
Yard Equipment – if you are moving into your first house with a yard, you probably don't have a lot of yard equipment. We previously lived in a 3rd floor condo and definitely didn't have a yard. We moved during the summer and pretty quickly had to get a lawnmower, rakes, shovels, edgers, a hose, and more. Luckily, we were able to get some things as "hand-me-downs" from Sean's dad, who was downsizing at the time. If you are in a pinch, consider pawn shops for larger equipment like mowers, or ask your neighbors if you can borrow things for the first season. We apologized to our new neighbor the first few times we asked them for help and he kept saying, "don't worry about it, we're neighbors." They are happy to help. Sometimes, when you feel like you are hemorrhaging money, "good enough" is good enough for now!
Appliances – is your seller taking their washer, dryer, microwave, or refrigerator? Those are big ticket items that you probably need right away. If you can swing purchasing them on a holiday weekend, big box stores are more likely to have sales. You might also need to budget for delivery fees for those items if you don't have a truck or don't want to move them from the store yourself.
What unexpected moving expenses have you encountered?