The internet has, quite obviously, done a lot for shopping. It allows you to find anything that you could ever dream up at any time of the day or night. Often, you can find it for a killer price. But despite all of the obvious pluses of the internet, there's still nothing quite like shopping in real life.
I've about driven myself crazy looking at bridesmaids dresses online. I've looked at mint dresses, ombre dresses, and floral Lilly Pulitzer dresses. I've looked at wedding stores, department stores, and sketchy China-based knock off Etsy shops. And I haven't made a decision. And I have just felt anxious and nervous about the whole thing.
And then I decided to just go, in real life, to a bridal store. I don't know why this was such a concept for me. I guess I was nervous about gathering all my girls and so set on not inconveniencing anyone. It was so much easier just to look online at night or cruise Nordstrom.com on my lunch break.
I decided to focus my search on long, chiffon gowns in shades of mint. Because of the variety of shades that I wanted, I knew that I would need to buy from a bridal store instead of a generic department store. Luckily, Charleston has tons of bridal boutiques.
I actually ended up making two shopping trips, and both of them were very successful. About a month ago, me, my sister, and one of my bridesmaids went to Bella Bridesmaid downtown for about an hour. They have a lot of beautiful gowns. It was a lot of fun to see them try on the dresses and often surprising to see what was flattering and what was not. This trip would not result in me finding a dress, but it did solidify to me that I wanted something long, flowing, and a little bit different. I was also feeling heart-pangs for the ombre mint. Unfortunately, the dresses I loved the most at Bella Bridesmaids didn't come in many shades of green, and also were way over budget (over $300 each).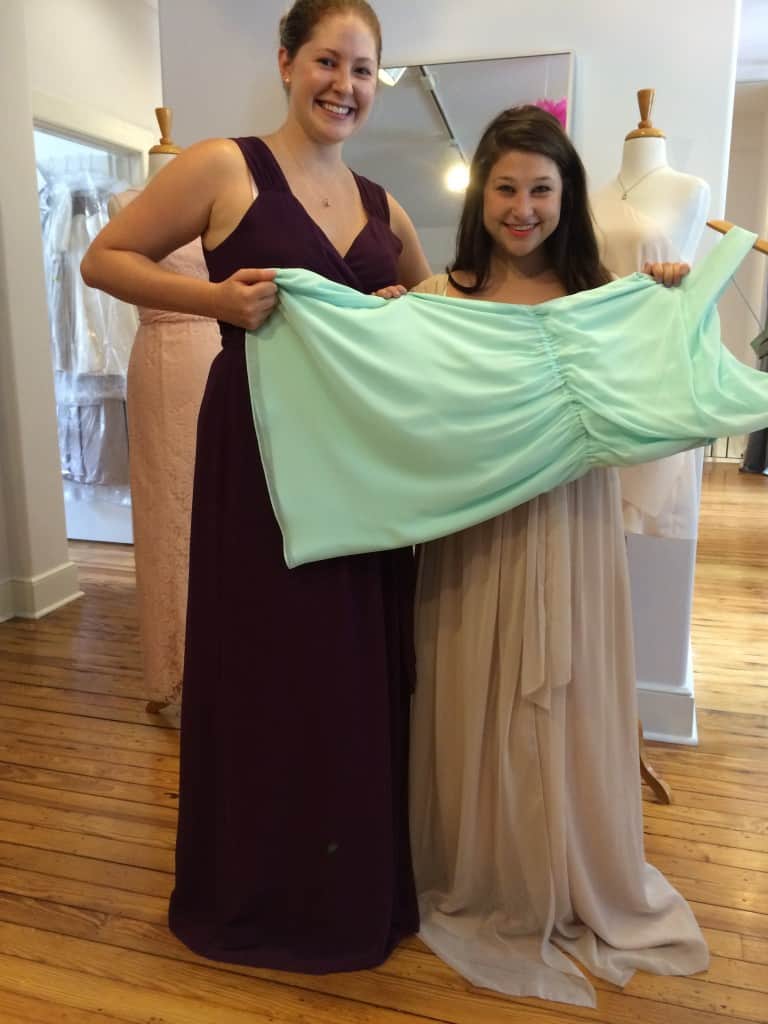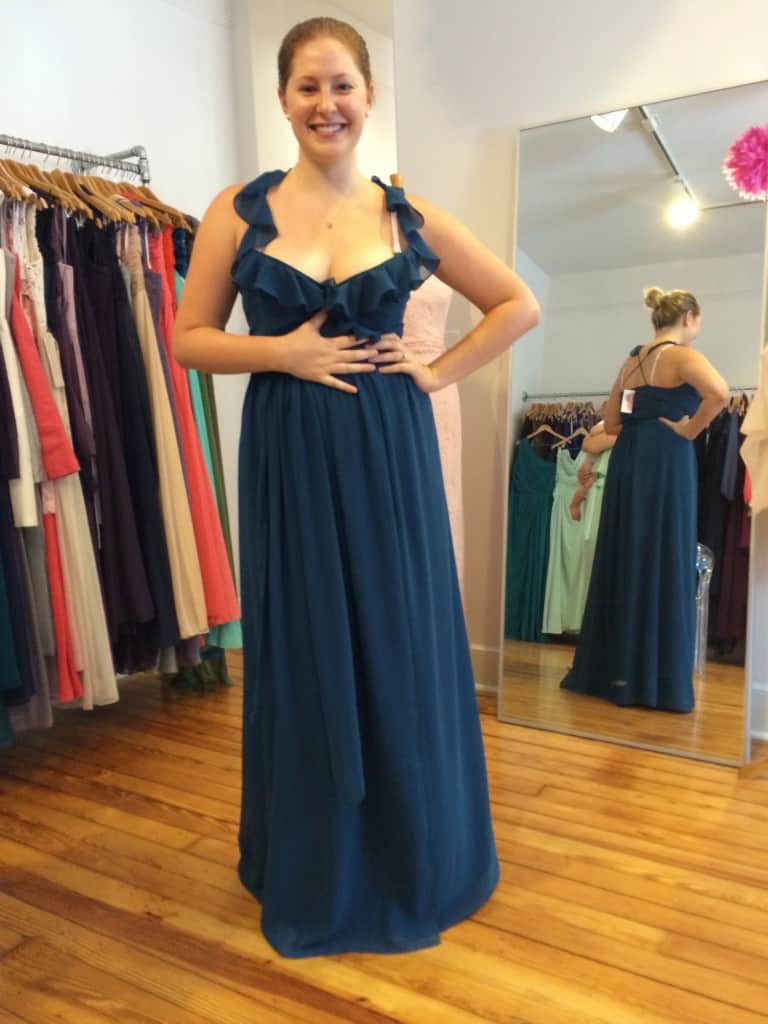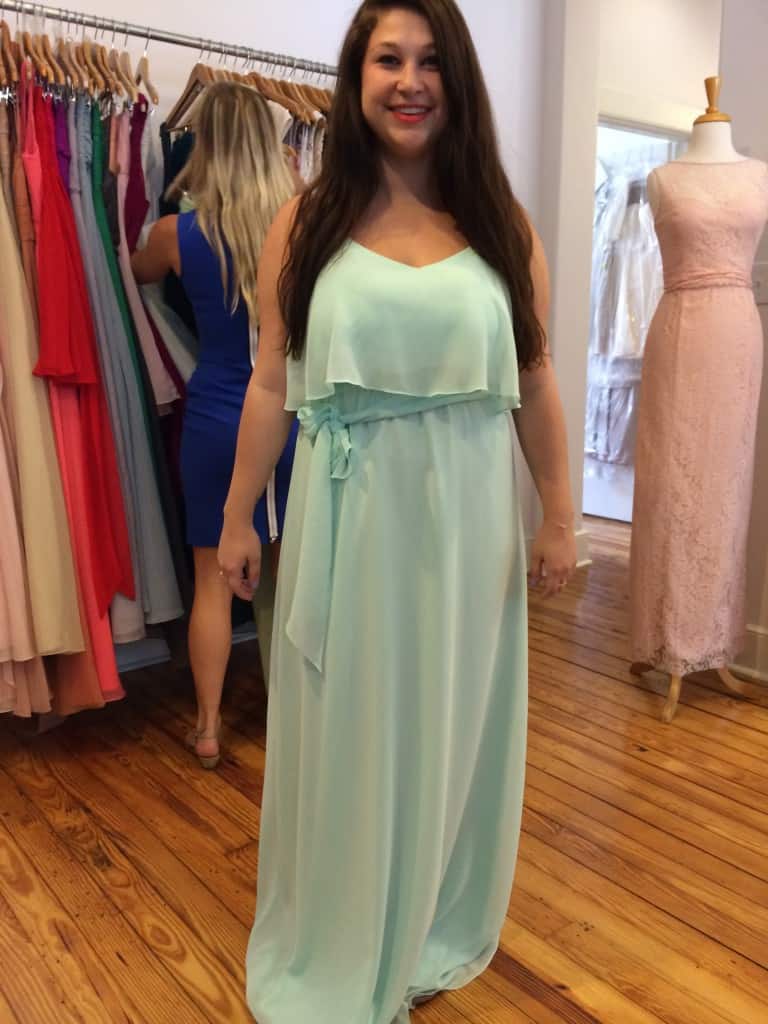 Two weeks later, I set up an appointment at the store where I actually bought my gown, Deborah's. Three of my bridesmaids came, all different than the ones who came the last time. I approached this visit with a totally different mindset than the last. Enough browsing and looking around. I wanted to pick a dress.
I told the boutique owner (Deborah) that I was most concerned with color and least concerned with cut. Obviously, I want a nice fit and look but color was my #1 priority. So, she handed me swatch cards and we picked designer brands that had the colors that I liked. They only tried on these dresses. This was a great idea, so I didn't get attached to a dress that wouldn't work for my vision.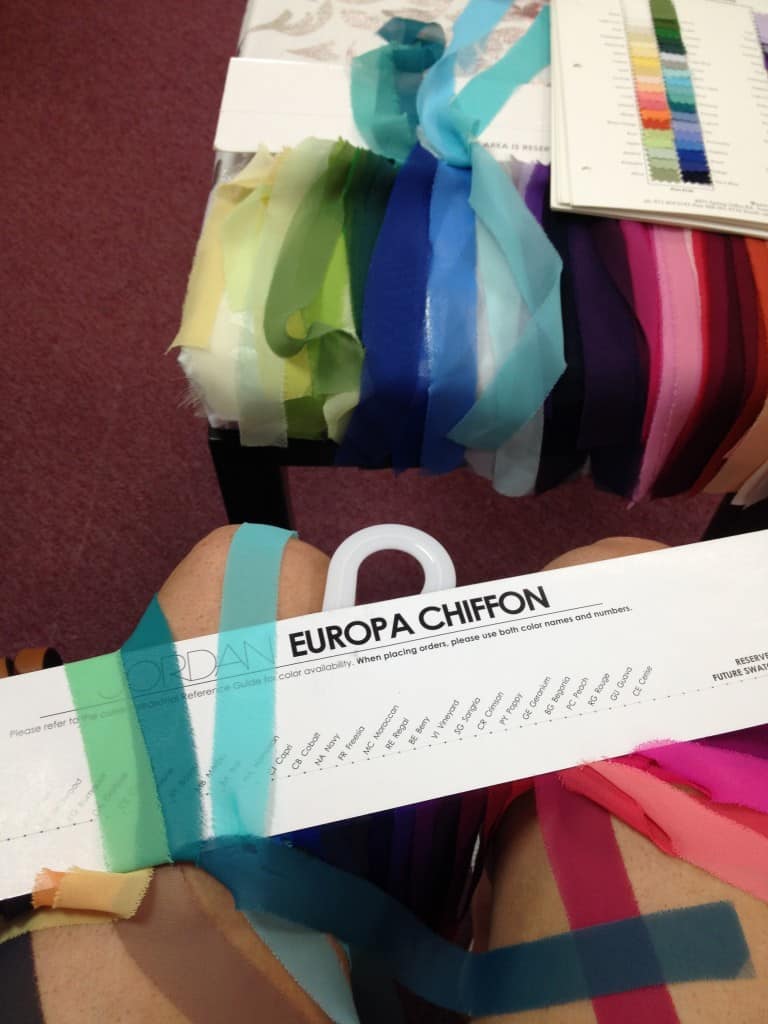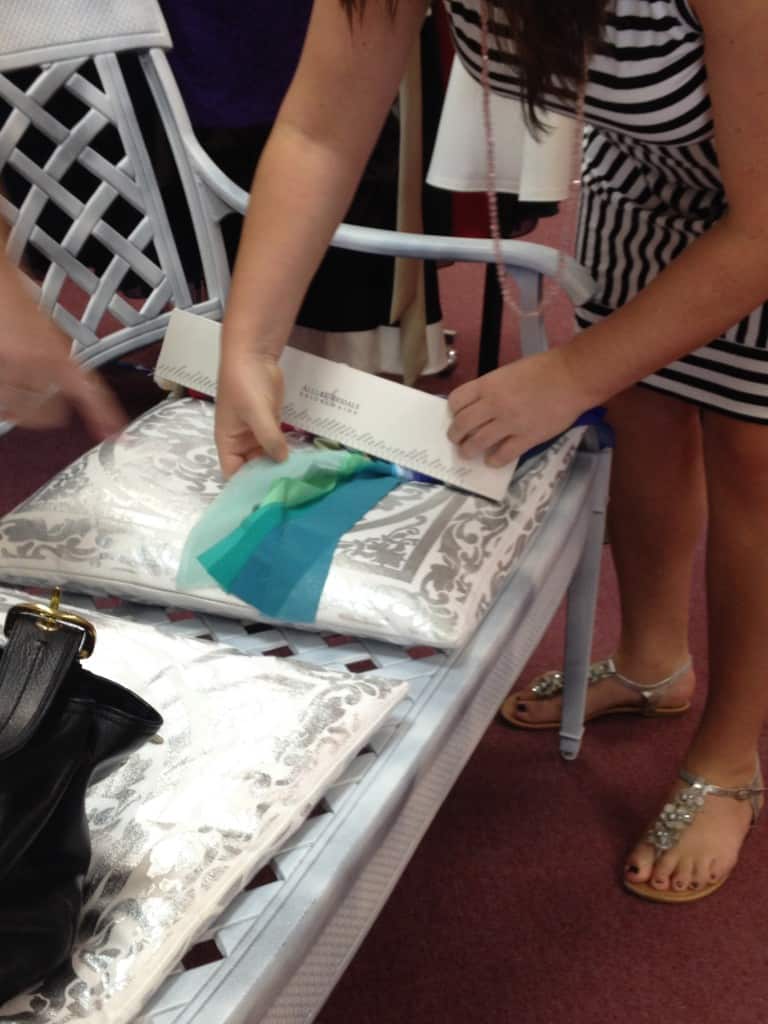 Then I just let the girls try things on. They were pretty confident in their choices – they all wanted to stay away from strapless (#bigboobieproblems) and we liked something with a little unique feature to it. We ended up really loving the Allure 1310. It's funny because, if you'd shown me it on the hanger, I would have been like meeeeh skip it. But on, it's very cute. The ruffle is fun and southern and a little different. And it's a halter strap – which I wasn't really considering. But, it's a thick strap, and the bodice is very fitted and has boning, so it can really be worn without a bra (and this is coming from my DD+ cup bridesmaids!)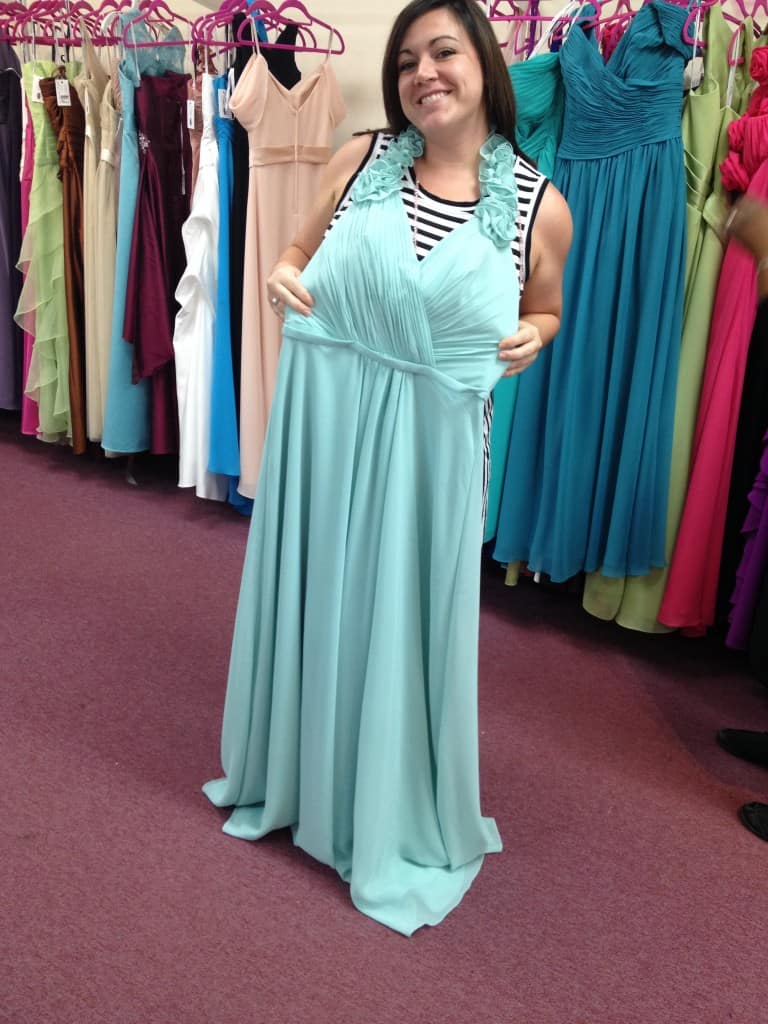 Can you guess what colors I went with? If you guessed shades of sea glass, you are correct. It's actually waterfall, teal, and oasis. This is the link to style 1309 so you can see the lightest shade, which is the one they tried on. I think it's gonna be lovely.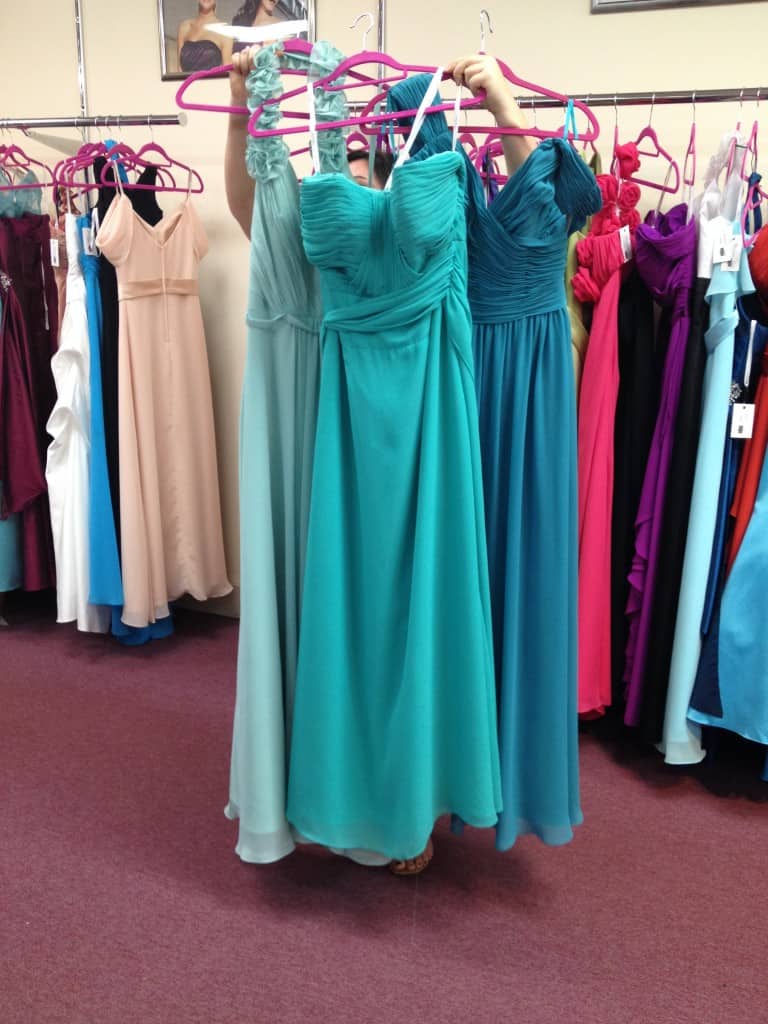 The dresses were priced very well, plus we got a 15 percent discount (since I bought my gown from them as well). We are in the process of measuring and ordering now, and I am so excited for them to come in!
More than anything, I'm glad to be done with this decision. It was really so incredibly stressful for me, totally unnecessarily. If you are looking for bridesmaids dresses, I encourage you to get off the internet and go look in real life. What you like may surprise you!
Now – to figure out how to accessorize! I told my girls nude shoes of their choice (some want heels and some want flats, and I want them to be comfortable) but I want to pick out some fun jewelry to gift them. What do you think – a small pendant? Bling bracelet? Fun earrings? I never rock a neck ruffle in real life, so I'm not exactly sure how to style it!