Once you get engaged, one of the first things that you might want to do is select your bridal party. Especially for the ladies, you might want to rely on your bridesmaids to help you plan and make decisions and work on wedding related projects.
I was lucky in that Sean told me to choose whoever I wanted to be my maids and he would base his numbers off of mine. I immediately knew who I would choose.
I was actually really nervous to ask them, though! I didn't think they would say no, but I wanted them to know that I really think they're special to me and that it's important to me that they be by my side on my big day.
I decided to get trendy (surprise!) and make little boxes to present them with. I kept it simple because I didn't want it to be junky or give them a bunch of stuff they'd feel obligated to stick around their house.
I started with a simple wooden box from Michaels. I figure they could keep wedding stuff in it for the year and then trash it J That's what I would do, at least!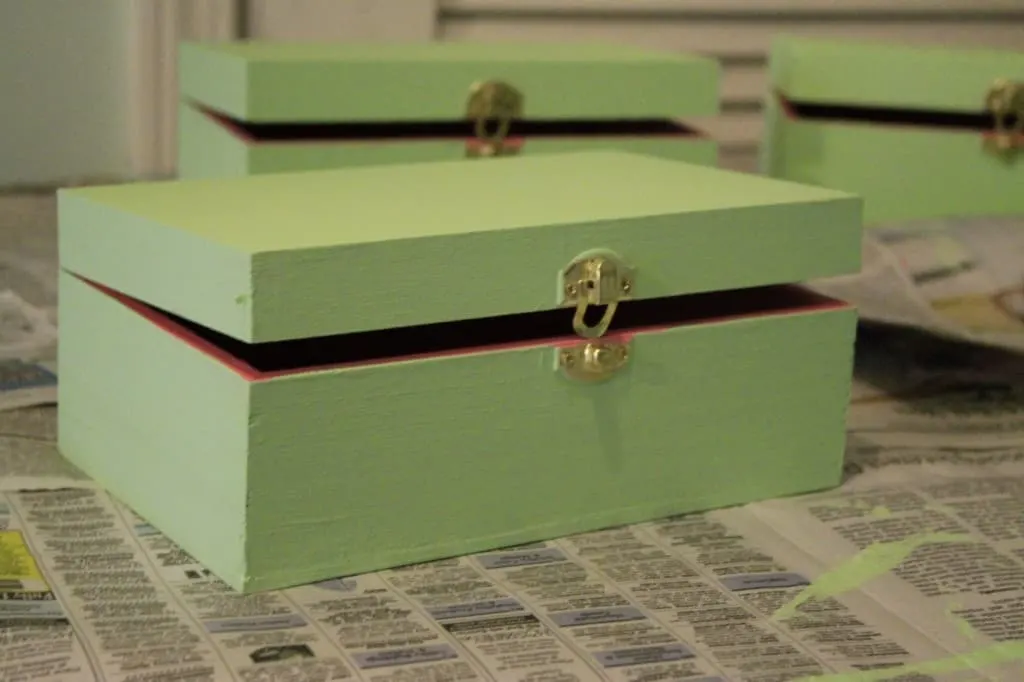 I customized each box by painting them my wedding colors – mint and pink.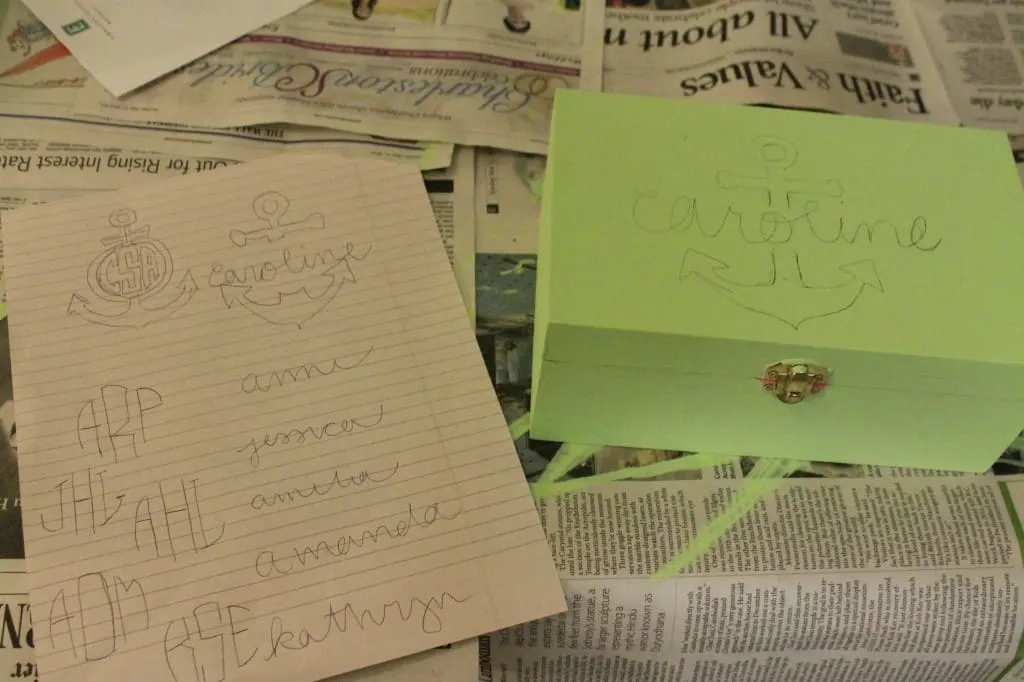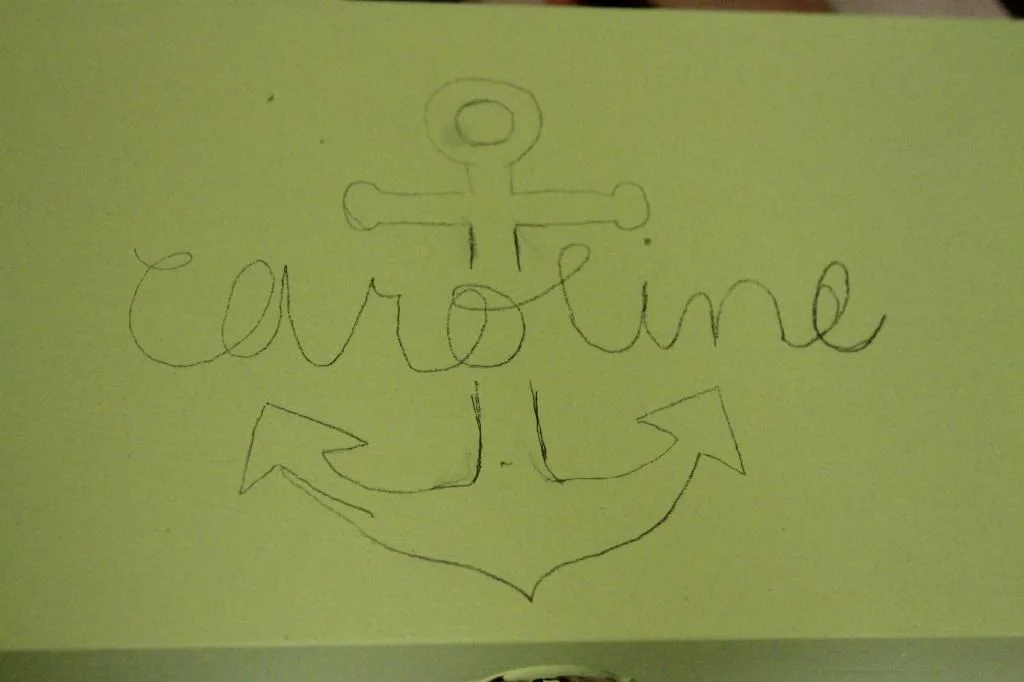 Then, I used navy to pain their names and an anchor on the front in navy. I almost did monograms but figured I'd have better luck getting it to be legible this way. I free-handed it with pencil then went over it with navy paint, the 75 cent tubes of acrylic from Michaels as well.
I sprayed each box with 2 coats of glossy modge podge (in a can like spray paint) to give them a slightly glossy finish.
In the end, they needed more sparkle, so I hot glued "bling bling" on the sides. Because, it's a wedding! Sparkle ladies!!
Then came time to fill them. Like I said, I didn't want to fill them with too much junk they didn't want. But I wanted there to be a little fun! I added pink paper "grass" (1 bag did all 6). On top I added the champagne, a 'love" candle (the junkiest thing I got – but so cute and relevant to weddings and pink!), 2 glow stick bracelets (because, party), and a mini bottle of champagne and a paper straw. Everything except the champagne was from Michaels.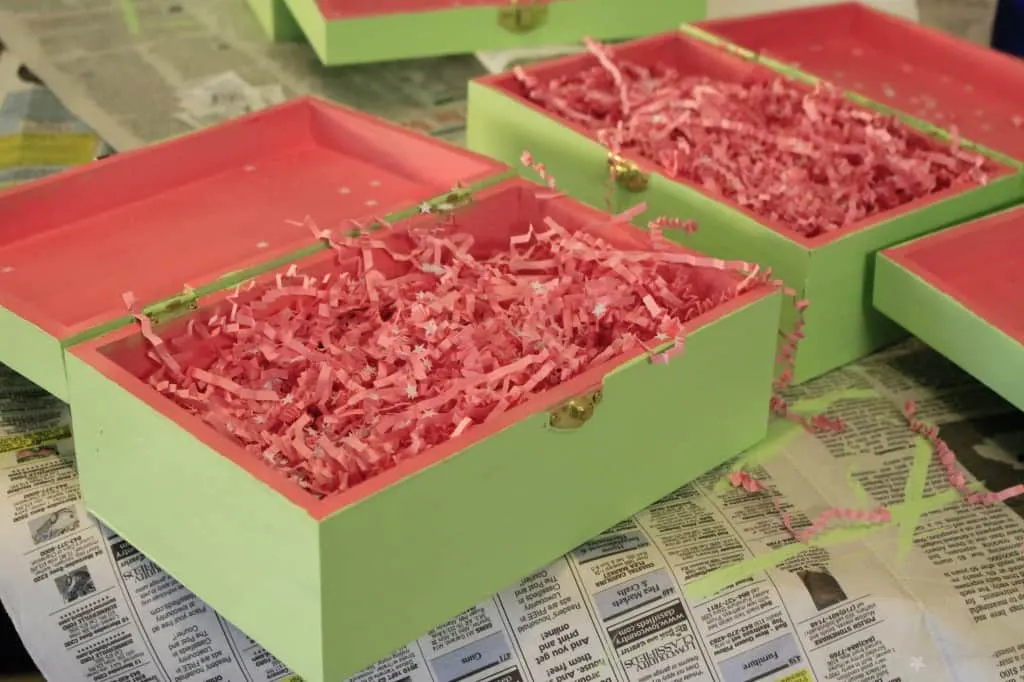 To make the champagne sparkle, I used a foam brush to paint modge podge over the bottom half of the bottle, then sprinkled glitter over the whole thing. Make sure to catch the glitter on a papertowel or something, because tons will fall off that you can pour back into the jar or use on other bottles. Each bottle got sprayed with 2 coats of glossy modge podge (spray can type) to keep the glitter on. It just gives it a little something extra, don't you think?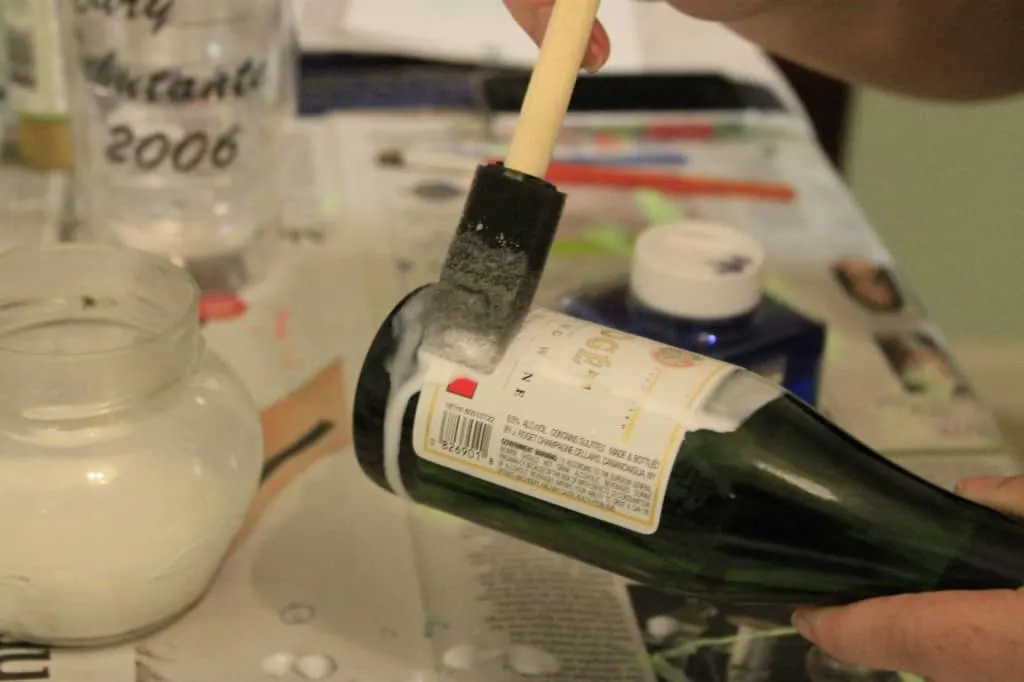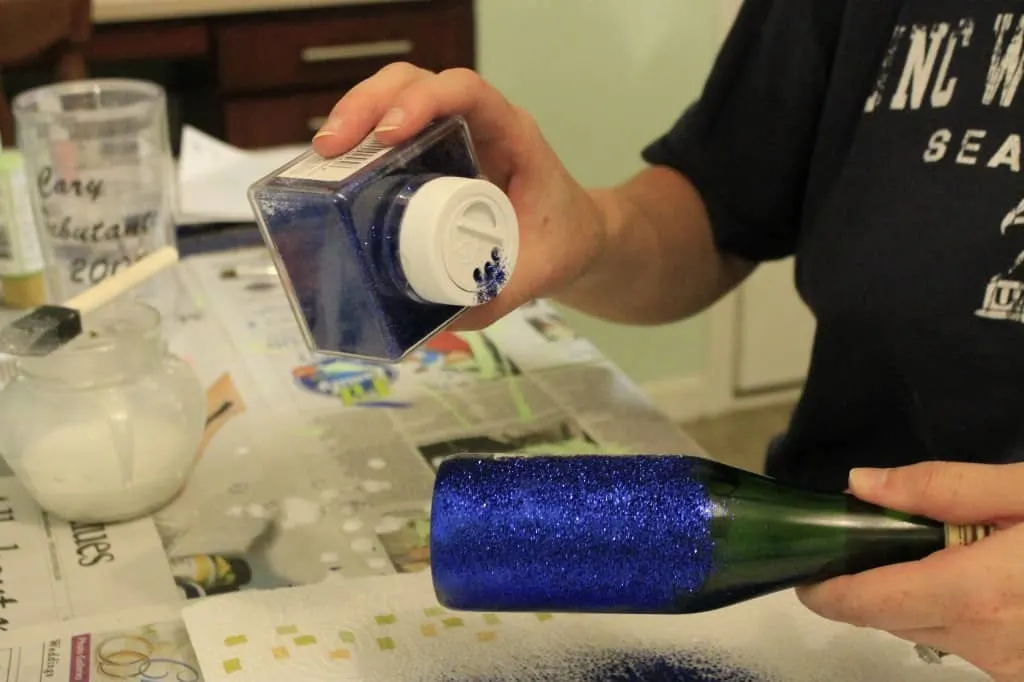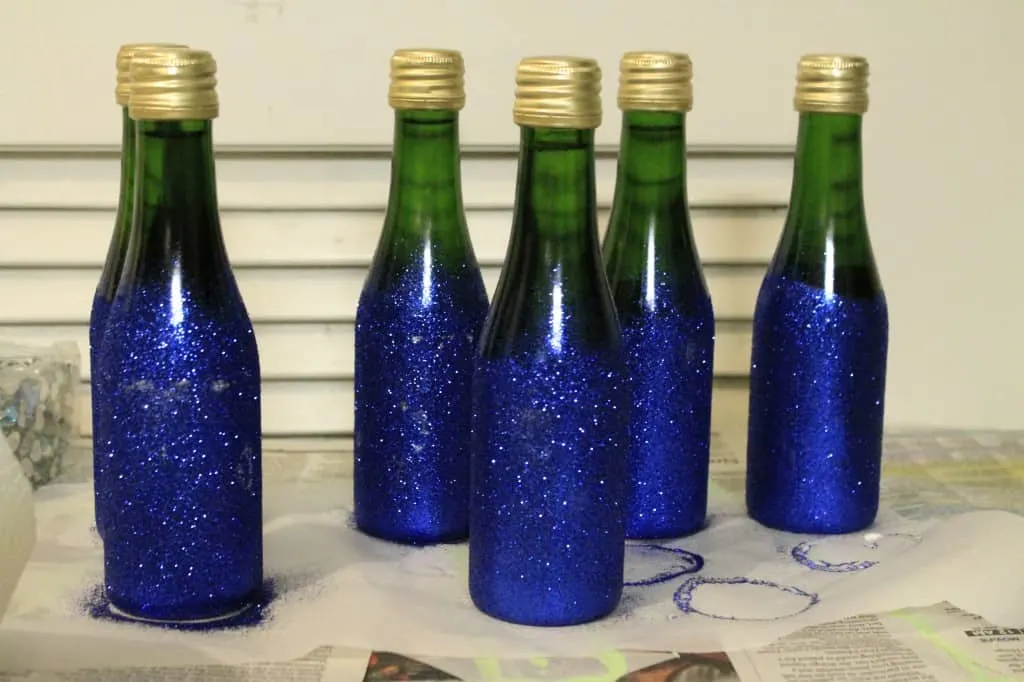 I also wrote a personal card to each girl.
I am so excited to have this great group of girls by my side on our big day! I have lots of other goodies cooked up for them – can't wait to share!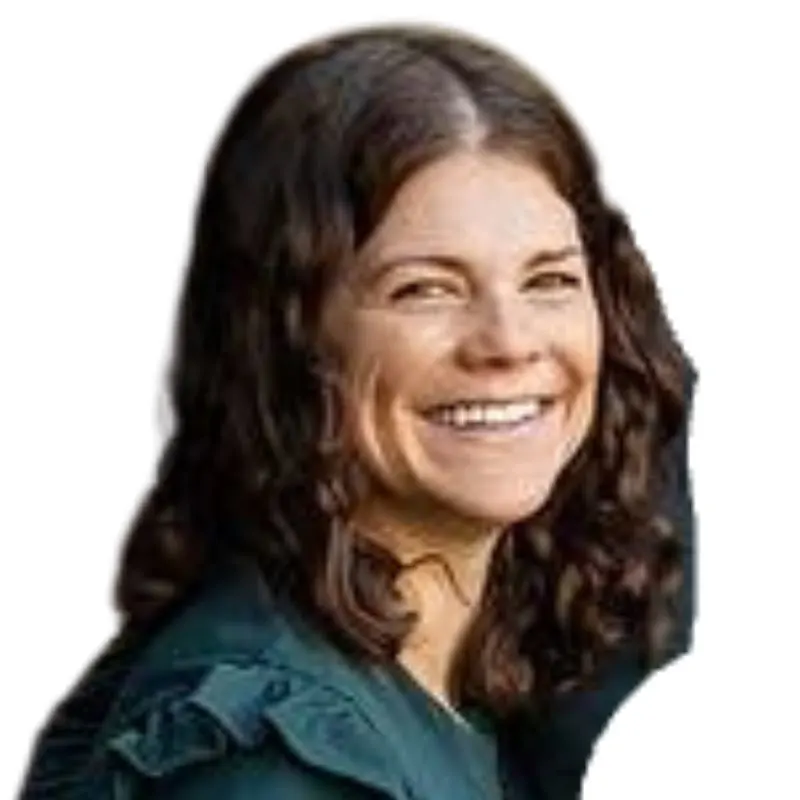 Hello, I'm Morgan, half of the creative force behind CharlestonCrafted.com! With a passion for DIY that dates back to 2012, I've transformed three homes and now I'm dedicated to helping others craft their dream spaces. Let's turn your house into a home together!