Want to pick the perfect dining room paint color? Let's talk about how to pick a paint color and see some examples in real homes!
Picking paint colors is fun but can be super overwhelming. Part of the problem is that there are nearly unlimited paint colors – seriously, so many – and paint really impacts how a space feels!
So, let's look at some popular dining room color palettes to help you narrow down your paint color selection.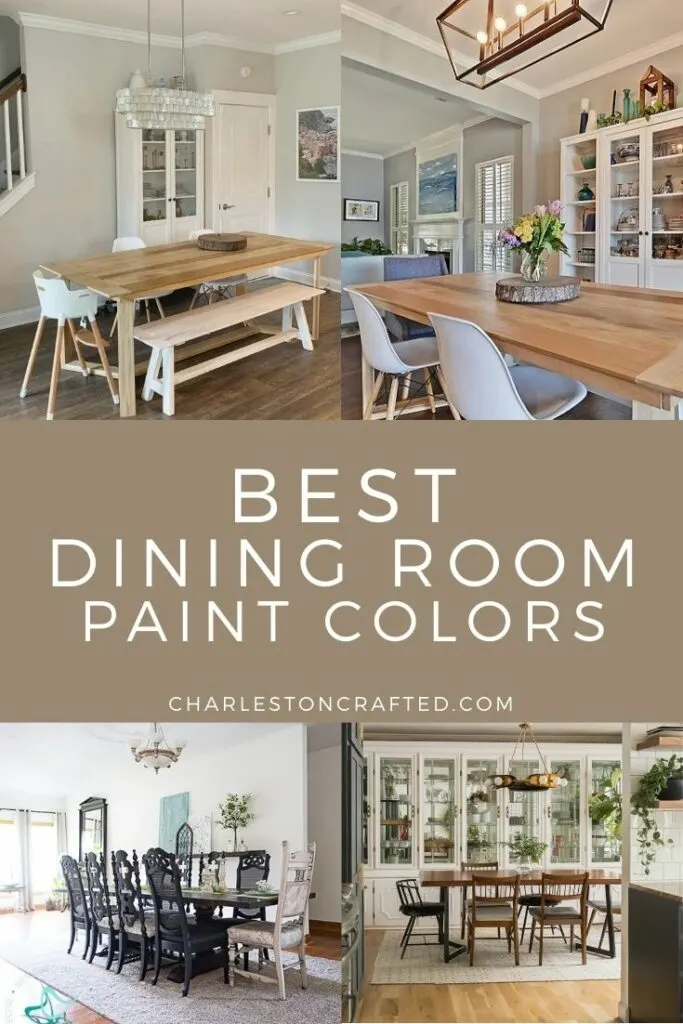 What color is best for a dining room?
The best dining room color schemes are going to be paint colors that flow well with the rest of your house. Having a home where each room has a different color or theme is a bit dated.
The easiest thing to do is paint your house all one color. Here are my favorite whole house paint colors!
This is especially true if your home is open concept and you don't have a shut off formal dining room but more of a dining table nook.
If you want to provide contrast in your dining room walls, there are a few options.
First, you can paint all but one of the walls the color of the adjacent rooms and have an accent wall. This is a great way to incorporate color without having all the walls painted different.
Another option that I love is to choose a color 2-3 shades lighter OR darker than your paint color on the same color strip.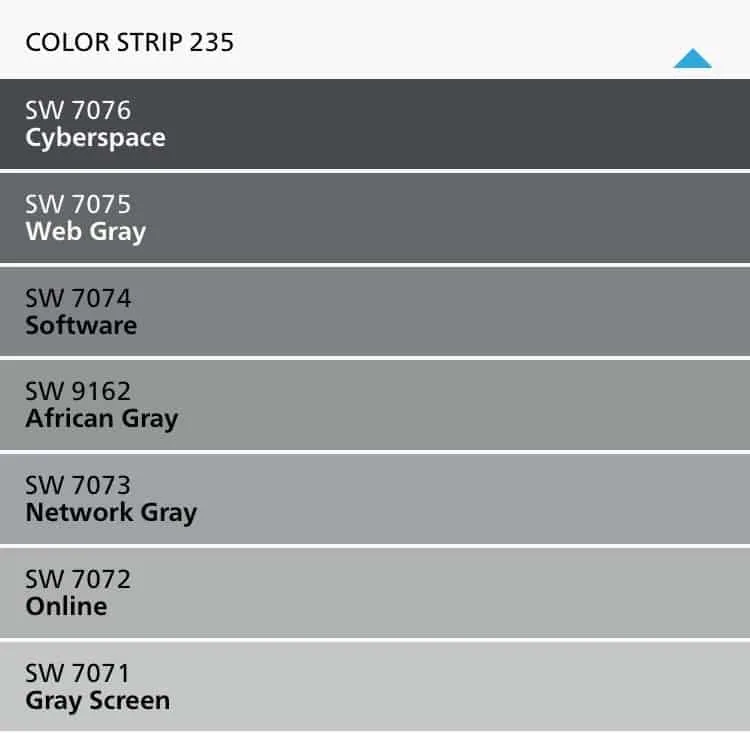 So, on the swatch above, if the rest of your space was 7072 Online (like my old house!), you could paint your dining room African Gray or Software.
These colors are designed to coordinate, making it an easy color flow. I don't suggest picking 2 colors right next to each other as they sometimes can look so similar like it's just a mis-tint.
Dining room styles
Here are some common and popular home decor styles for a dining room:
Neutral
Moody
Formal
Dramatic
Casual
Rustic
Modern farmhouse
If you know you love one of these styles, go on pinterest and search the style name and "dining room" to find real life examples.
Of course, paint colors will look different in every room, depending on a lot of factors but especially your natural lighting.
I always recommend swatching colors in your actual room before committing to anything!
My Paint Color Formula ebook walks you completely through the process of picking and testing paint colors for your home.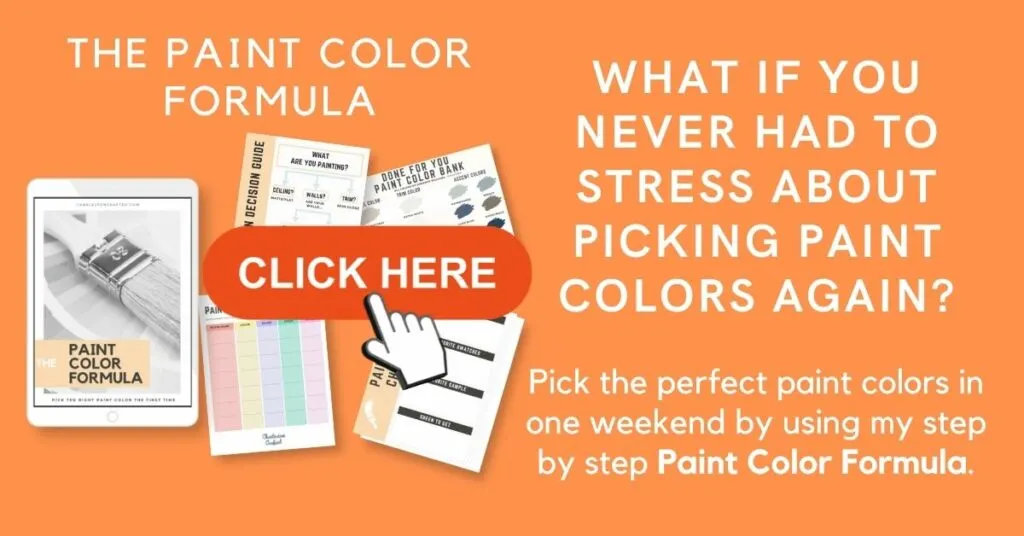 Dining room paint color ideas
Here are paint colors in real homes to inspire you to paint your own dining room!
Best dining room paint colors
Here are real dining rooms with their paint colors to inspire you!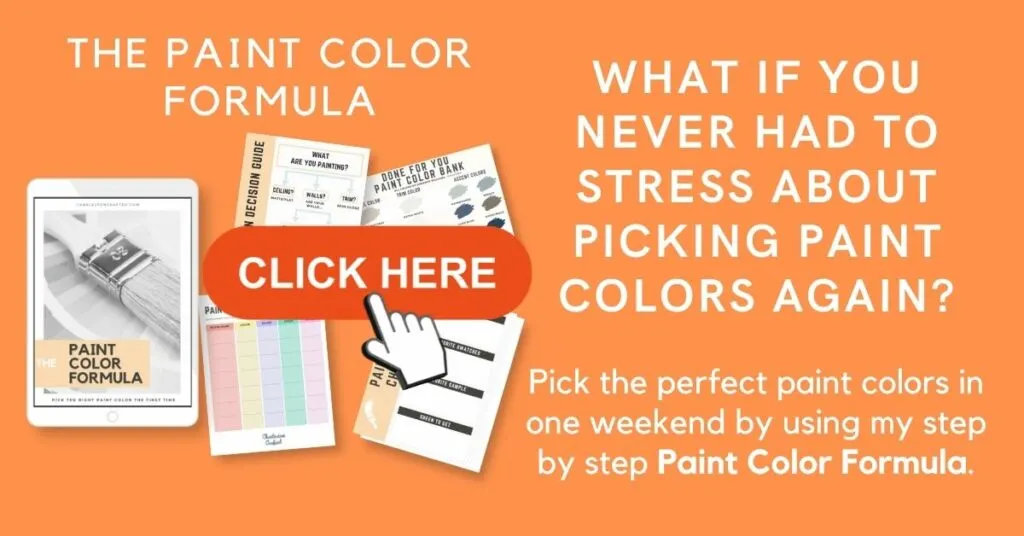 Get paint samples!
Samplize will send you 12″x12″ peel and stick samples of paint colors from many popular brands so you can see exactly how they will look in your home!
Love paint colors? Be sure to check out:
The Paint Color Formula – my complete guide to picking paint colors!
The best blue-gray paint colors
My favorite light gray paint colors for any home
The Best Gray Paint Colors for a Nursery
The Best Classic Navy Paint Colors
21 Paint colors for Master Bedrooms
The 28 Best Light Gray Paint Colors for Any Home
6 Perfect Gray Paint Colors for Cabinets
10 Best Paint Colors for Laundry Rooms
Painting for the first time? Check out my video tutorial on the easiest & cleanest way to open a paint can!