Have you voted for Best of Charleston 2015 yet? If yes, great job picking your favorite local establishments. If not, go vote! Best of Charleston 2015 is the annual local competition where you vote for the best of *blank* in hundreds of categories of things around Charleston.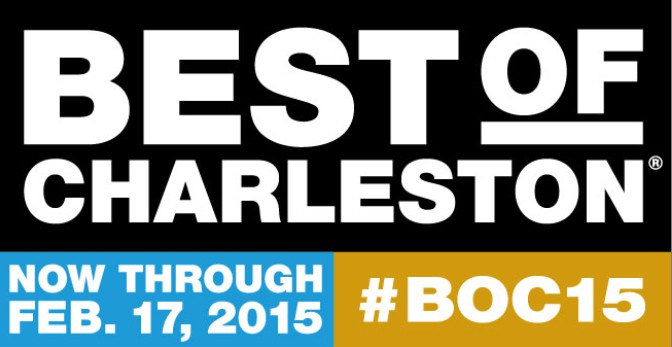 Categories are broken up by seven main categories: Eating and Drinking Out; Shops and Wares; Attractions and City Living; News and The Media; Politics and Public Affairs; Recreation, Health & Beauty; and Culture, Arts and Entertainment.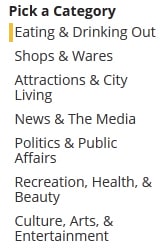 Within each of these main categories are a bunch of different sections. The number sections in each category varies greatly, with the Eating and Drinking Out category having by far the most sections. Once inside each category, you can vote in any or all of the sections for your favorite local establishments. We decided to give you some info on some of our favorites from each category and sections to help you make educated decisions. Keep in mind, these recommendations have not been sponsored in any way and do not have anything to do with our jobs outside of this blog.
Eating and Drinking Out
In the "Best Asian Fusion" sections, we are huge fans of Basil. Morgan dies for their pad thai. "Best Barbeque" is a tough category because my favorite is Fiery Ron's Home Team BBQ for sure, but Melvin's has the best backyard burgers in town in my opinion. I absolutely cannot express enough why I think Surf Bar should win the "Best Cheesesteak" section. They are my favorite place on Folly Beach and I've taken people from Philadelphia there and they were amazed. For "Best Deli," Morgan and I would both strongly encourage you to vote Ted's Butcherblock. Even if you don't vote for them, please try it. We have had them cater Valentine's Day for us as well as go there all the time for sandwiches. As for "Best Downtown Restaurant," we would like to add a write-in vote for Lowcountry Bistro. I'm disappointed that the Charleston Riverdogs stadium isn't an option for "Best Hot Dogs" because they are truly the best. We've been to both Wild Olive and Fat Hen for "Best Johns Island Restaurant," but we'd give the nod to Wild Olive. "Best Mexican Restaurant" is hard because Santi's is the best true Mexican, but Mex One Coastal Cantina is our favorite. For the options of "Best Shrimp and Grits," I'd give the nod to 82 Queen, but Fleet Landing is right on their tail. Finally, I'm giving "Best Tapas" to Voodoo because they have the coolest options.
Shops and Wares
A lot of the places in this whole category are pretty mainstream, but for "Best Bookstore," we vote Mr. K's. It's an awesome used bookstore in North Charleston next to the Tanger Outlets and you get great deals on books old and new. Bert's Market would get my vote for "Best Corner Store" because they give free coffee. Hokus Pokus is definitely the "Best Costume Store" because they have given us great supplies last minute before. As for "Best Doggie Day Care," we always take CiCi to Pawpurri, which isn't on the list, but we'd recommend it. For "Best Florist," I bought Morgan flowers from Tiger Lily when I left town a couple weeks after we had started dating. She said she had never been given flower by a guy before, so I did well with the great flowers I got from there. Publix is definitely the "Best Grocery Store," hands down. Love their customer service and great prices. Have to give a shout out to Polly's Fine Jewelry for "Best Jewelry Store" because that's where I got Morgan's beautiful engagement ring and where we bought our wedding rings. Our "Best Thrift Store" is the Animal Helpers Retail Store. As you know, we have two rescue animals, so anything that benefits animal rescue operations, we support them.
Attractions and City Living
Charleston has a ton of great attractions, but in the list for "Best Attraction," I'd have to give the nod to the Charleston Farmer's Market in Marion Square because you get great, local foods, but it's also a fun time out. For "Best Festival," I really can't decide if we like SEWE or Charleston Wine and Food Festival better. They are got great events for the whole family and are classics in Charleston. James Island County Park is probably our vote for "Best Public Space" because it's really close to our house and we love the trails and dog park for CiCi. Finally, Charleston City Market is definitely the "Best Tourist Trap."
News and The Media
These are the people that cover what is going on in this great city. "Best Local Interest Blog" goes between the Holy City Sinner for a snarky commentary on news, or Andy Paras' Charleston Socialscape for a more traditional look at what's going on. Andy Paras also has the "Best Local Twitter Feed" because he always knows what's going on in the area and can tell you why there's a traffic jam.
Politics and Public Affairs
"Best Charlestonian" is a funny category. Just look at the list of people, ranging from Billy Murray to the mayor to Stephen Colbert, who doesn't even live here. Vote for Mayor Riley if you want to vote for an actual Charlestonian. The "Best Charlestonian to Defriend" is Thomas Ravanel. Don't vote for him to win any good categories either, because he's ridiculous. The Charleston Animal Society has representatives on the "Best Community Activist" and "Best Do Gooder" sections, and we already said we endorse helping animals. Either Charleston Animal Society or Pet Helpers would deserve "Best Local Cause" for the same reason. Not going to comment on all the political stuff, that's up to you.
Recreation, Health and Beauty
The Bicycle Shoppe is where I always go for my biking needs, so they get my vote for "Best Bike Shop." "Best Bowling Alley" for bowling is Sparian's in Mount Pleasant, but The Alley is cooler for hanging out, they just don't have many bowling lanes. I love a lot of the options for "Best Golf Course," but my favorite is The Links at Stono Ferry. They just have the best views of the water and incredibly fun and challenging holes. Morgan uses VskiSalon for her haircuts and will be using them for our wedding, so our vote for "Best Hair Salon" goes to them. I don't have any hair to cut anymore, so I have no barber recommendations. The "Best Health Club" in my opinion is the MUSC Wellness Center, because that's where I go, and I love their selection of swimming, basketball, track, cardio, weights, racquetball and more, that most places don't have. The "Best Local Sports Team" is the Charleston Riverdogs because we always have so much fun going to their games and eating great food. "Best Park" would be James Island County Park, like I already voted above, but North Charleston Riverfront Park would be my favorite if it was closer.
Culture, Arts and Entertainment
Voting for this category made me realize that we apparently don't go out where the hip kids go anymore. I don't really feel comfortable voting on hardly any of these, but I like movies, so "Best Movie Theater" is going to go to James Island Carmike, because it's cheap and easy for us to walk to for a night out, but for any movie that has a lot of action and loud noise, go to Citadel Mall.
What are your votes for Best of Charleston 2015? Comment below!