Every living room needs a coffee table. However, they can get pretty expensive. So, I understand if you want to DIY your own coffee table!
We have shared 4 DIY coffee table tutorials: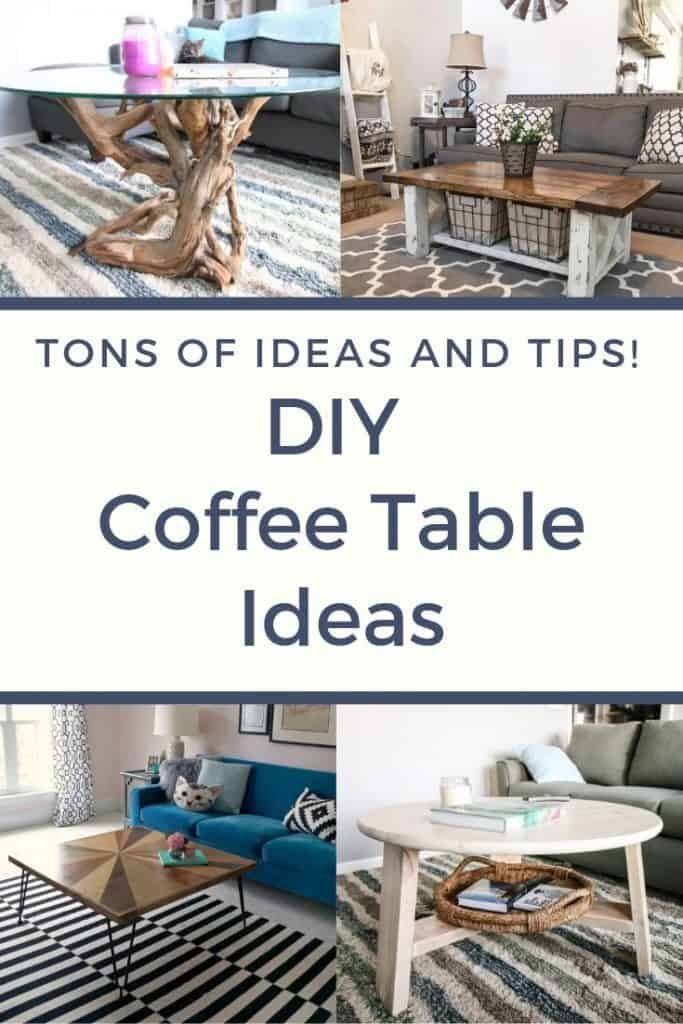 How to decide on a DIY coffee table design
If you're trying to decide what kind of coffee table to make, keep in mind:
The tools and skills that you have available to you
Your design style
The size of your space including height of table
Your storage needs
The finish that will best coordinate with your space
Coffee table shapes
There are a lot of choices for the shape of your coffee table. Some of the most popular coffee table shapes include:
Round
Oval
Square
Rectangular
Live edge
To pick your shape, take a look around your room. I don't like to have everything in the space either round or striaght. For example, in our sunroom we had a rectangular TV stand, couch, and TV. So, a round table added some balance to the space.
What shape coffee table works best with a sectional?
Following the above rule, I love a circular or oval coffee table paired with a sectional that has sharp right angles. If the sectional is more curved, go for a rectangular or angular coffee table. This makes it look less like a matchy-matchy set and more interesting.
How much space should I have between my sofa and my coffee table?
You want to allow for 18″ of clearance in between the coffee table and any wall or other furniture.
How tall should a coffee table be?
The height of your coffee table is going to depend on the height of your seating around it. You want the height of the coffee table and the seats to be within 2″ (up or down) of each other. Any bigger difference starts to look funny.
What materials are best for a DIY coffee table?
Tons of different materials will work for a coffee table. What matters most is your design style and functionality.
For your design style, make sure both the material and the design fit your style. For example, if you like farm house style, you don't want a lucite or acrylic table. That material is too modern for your home.
Just as important as style is functionality. Think of how you will use the table. Are you a coaster type of person? If not, it's ok – just get something that won't stain easily. If you have kids, keep that in mind and maybe glass table tops aren't for you in this season of life.
Coffee table topper ideas
Want to add a new top to an old coffee table? Here are some ideas!
Butcherblock countertop
Old door or window (cut to size)
Glass or mirror – can be cut at a glass store
Wooden cutting board
Cover existing top with contact paper
Tile or peel and stick tile
Chalkboard
Large tray
Pallet wood
Don't forget the table legs!
Materials-wise, table legs are a great place to have fun and express your style. Since they don't get the wear and tear that the table top tends to get, you have more room to play with fun materials and really express your style.
Here are some cool DIY coffee table leg ideas:
mold concrete legs
old staircase balusters
tree trunk
saw horse
vintage wood
old window or door (chopped up)
off the shelf tapered legs
use legs or base from an old vintage table
What kind of storage can I add to my DIY coffee table?
Storage can be really important. Coffee tables are a great place to stash things. Some ideas for coffee table storage are:
baskets or bins
hidden storage such as a lift up top coffee table
ottoman style table with removable lid
set baskets on top of the table
Making over an old coffee table
While it's great to build a coffee table from scratch, there is always the option to make over an old, thrifted or reclaimed coffee table. Paint can go a long way and this is often a super beginner level, low budget project!
Coffee Table Refinishing Ideas
Some of the best ways to refinish a coffee table are:
Paint with chalk paint – no sanding required!
Sand + re-stain or paint
Add a new table top
Save the table top and add new, interesting legs
Paint the legs one color and stain the top another color
Add contact paper to cover the top
Remove drawers and replace them with storage baskets or bins
Replace the knobs or hardware with something more your style
Stencil a design onto the coffee table
Use a colored wax to give the coffee table extra dimension
I rounded up some of the best DIY coffee tables from bloggers that I love. Check it out!
DIY Coffee Table Ideas
Coffee tables are an important part of your living room. But, they can be super expensive. Here are tons of DIY coffee table ideas!
What are your favorite DIY coffee tables?
Facebook | Instagram | Pinterest | Twitter | YouTube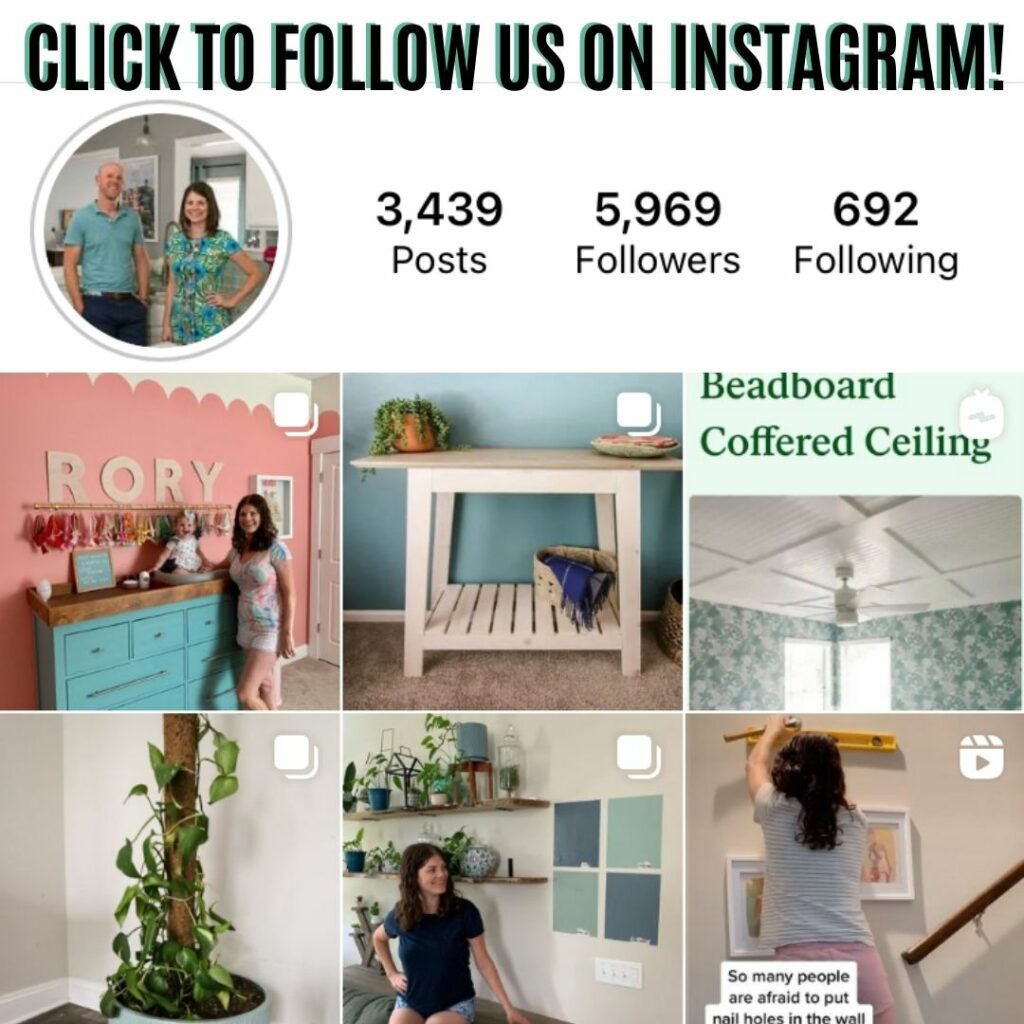 ---
Can we send you our newsletter?
Another great way to keep up with out latest projects is by joining our weekly newsletter! Get alerts of our latest projects and special peeks behind the scenes!
Follow along on Instagram
Join our online community where we share real time behind the scenes looks at our DIY projects and peeks inside our home + family!
---