Yesterday, we told you all about how we spent a few days in Asheville, North Carolina, doing some hiking and going on a self-guided brewery tour. One day when we were there, we spent the entire day at the Biltmore Estate. The Biltmore was originally a vacation home of the Vanderbilts, but they turned it into a public museum during the Great Depression in order to raise money to support the estate and help re-establish tourism in Asheville, which was really hard hit by the recession.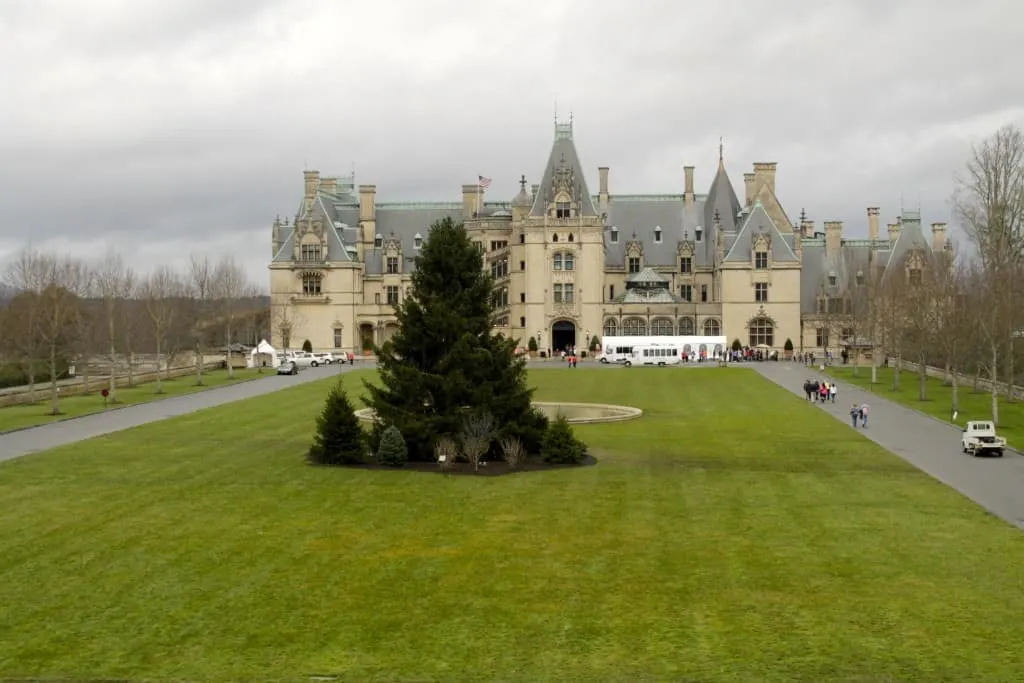 We were really excited to visit the Biltmore (it's on our 101!) and so we booked our tickets in advance. I really recommend that, if you plan on visiting, you do this as well. First of all, you save $10 per person (the tickets aren't exactly cheap at $75 a person) but also you are assigned an entry time to visit the house, and the sooner you book the more choices you will have for that.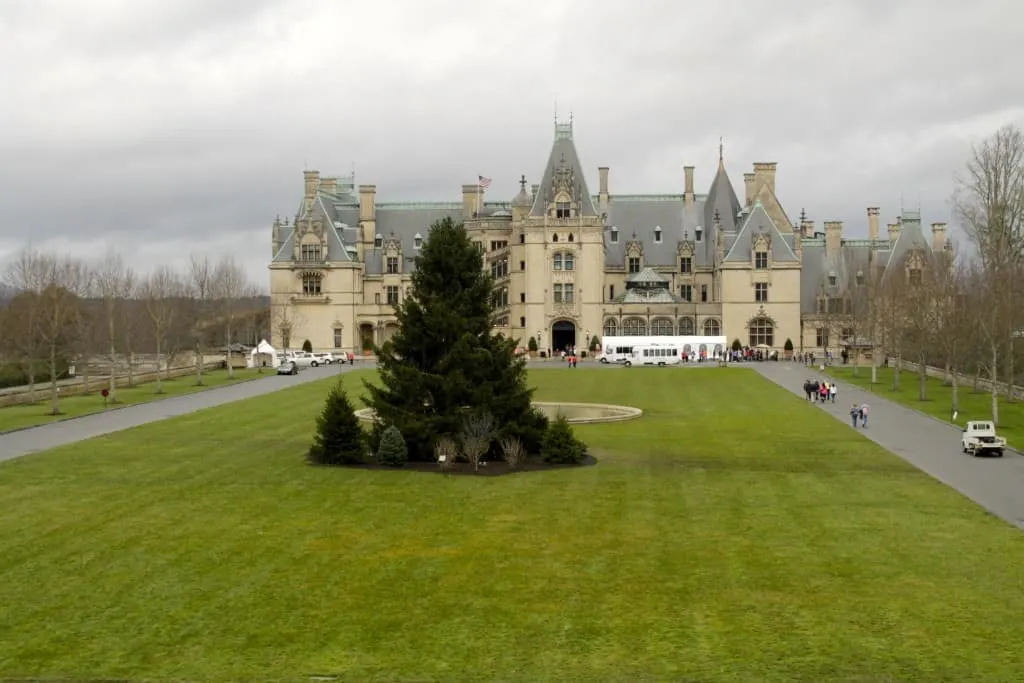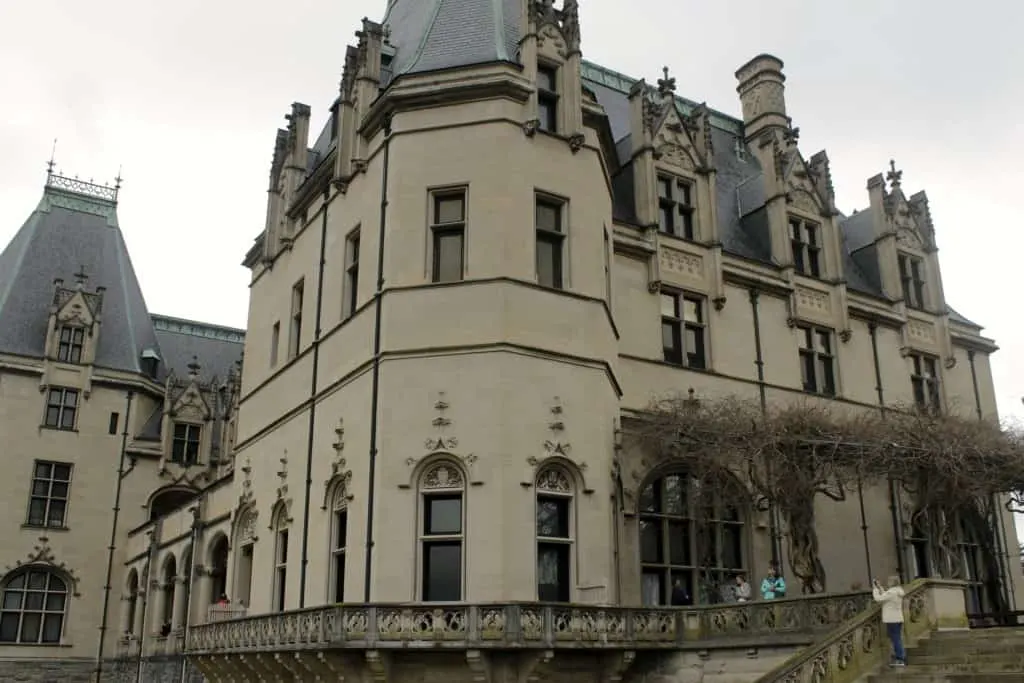 We booked an 8:45am house tour so we were there bright and early in the morning. We started the day off at the house. Unfortunately (but understandably), photography is prohibited inside the house. You can see some official footage of the house here. We were very lucky to see the house when it was fully decorated for Christmas, with 65 lit light trees! Our favorite highlights were the 3 story tall Christmas tree, the indoor atrium, the massive library and book collection, and the bowling alley and pool in the basement! Words cannot express how massive this house is – it shows extreme wealth in a way that I really don't think exists any more. We really, really enjoyed the house. And, the view from the many decks and terraces wasn't bad either.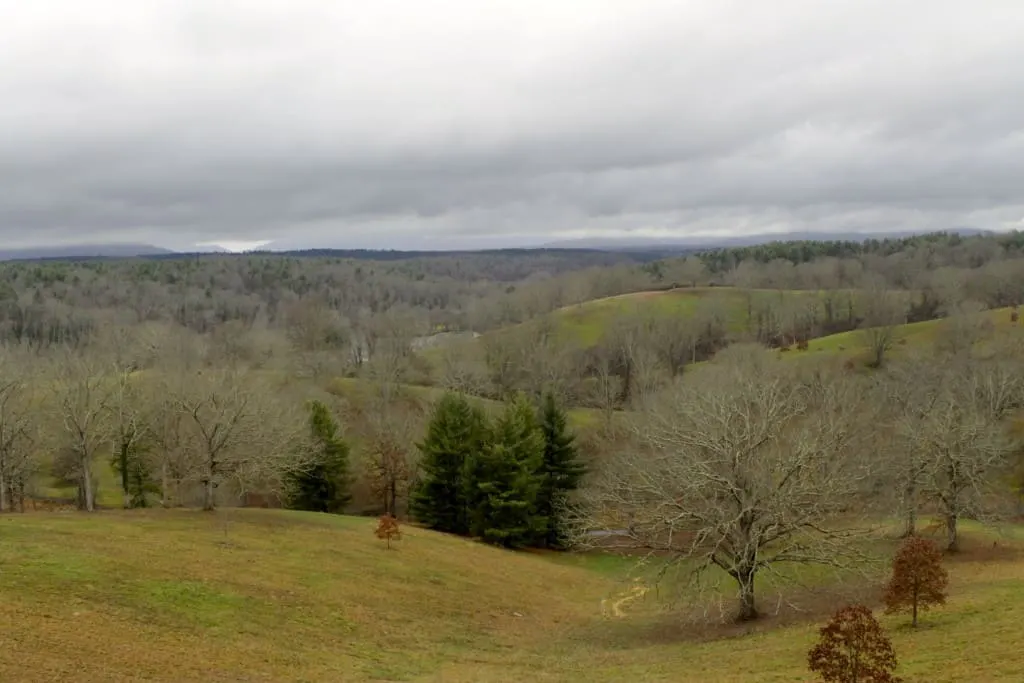 After touring the house, we decided to explore the 250 acre gardens. It was lightly misting and fairly cool (I mean, not for December, but relatively) so we were some of the only people who braved the weather to walk around. There was a small waterfall on a lake that was really lovely.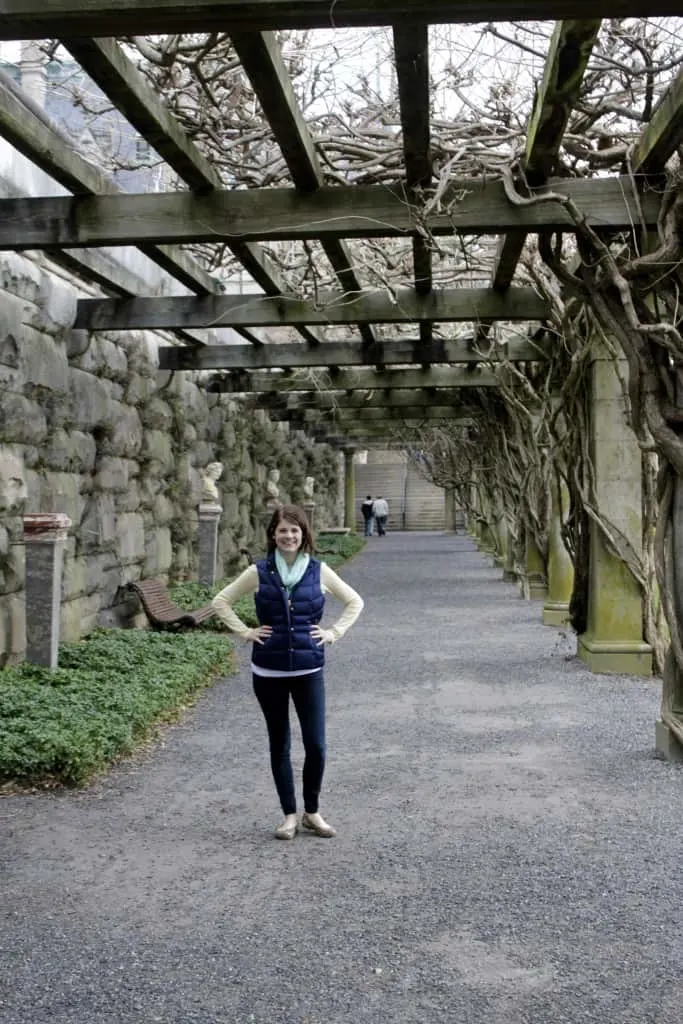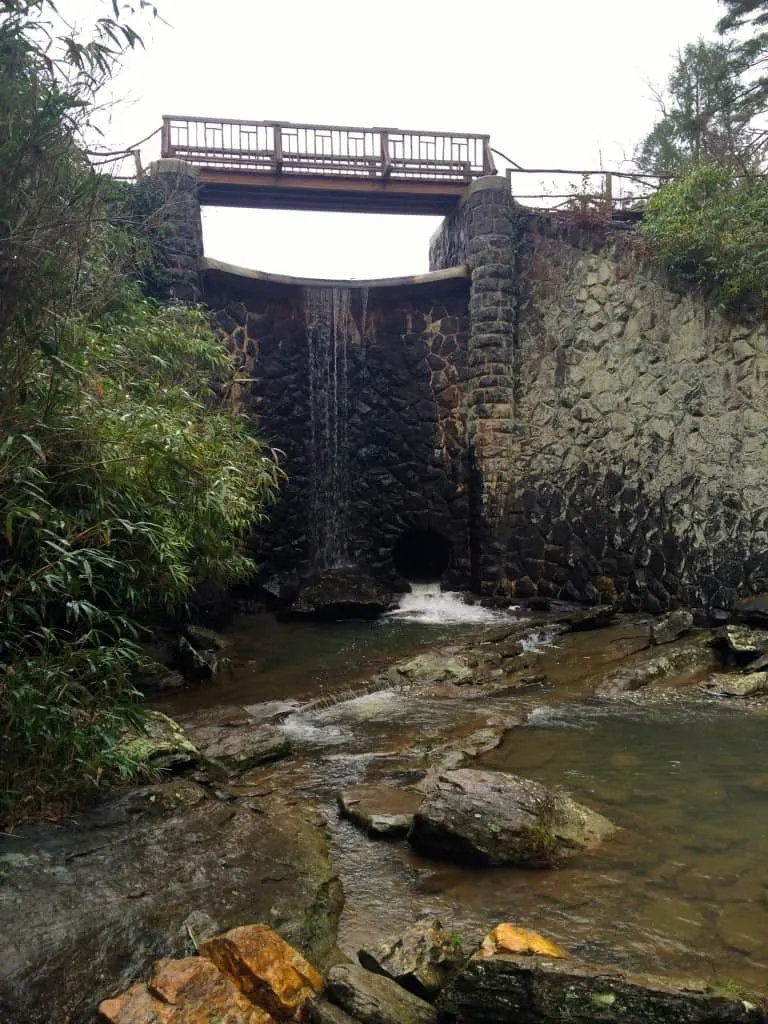 We also spent some time inside the greenhouse. It was huge with tons of flowers including poinsettias and, my favorite, orchids!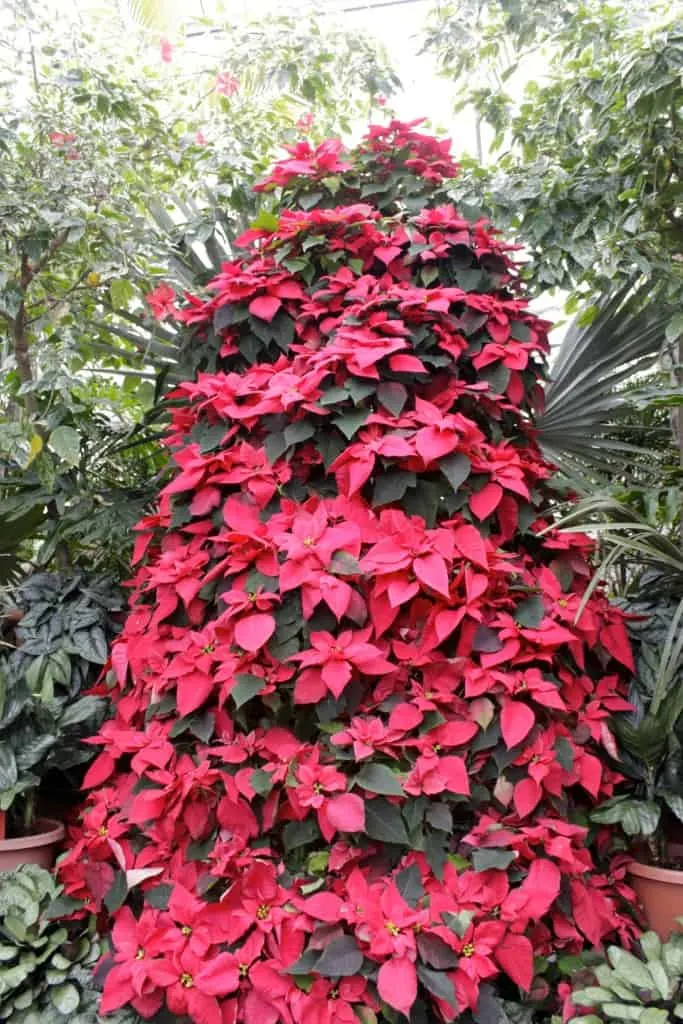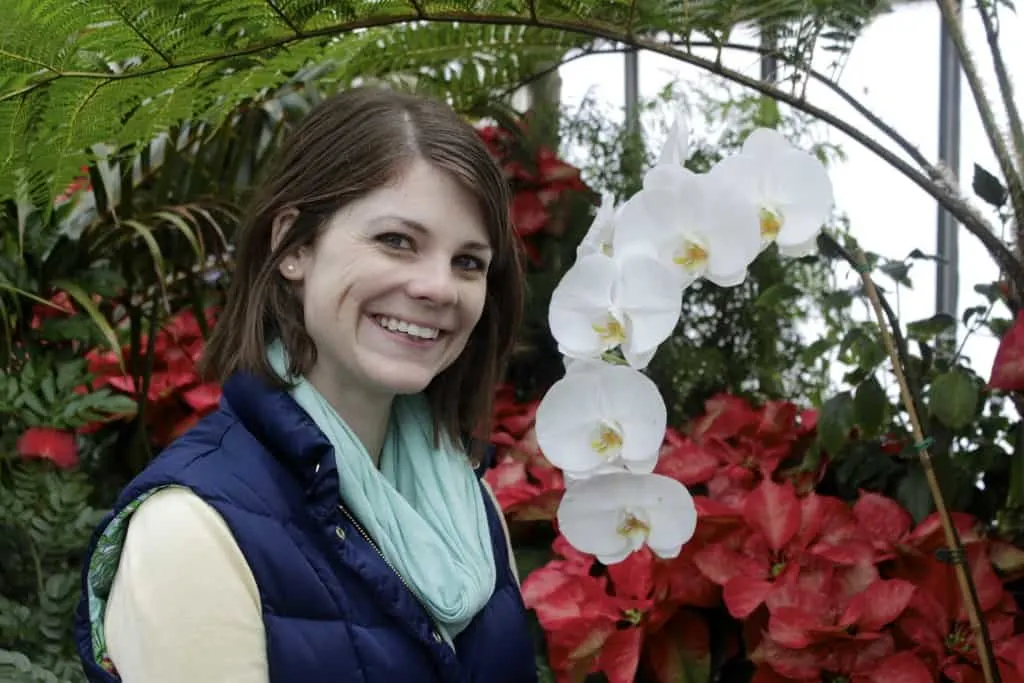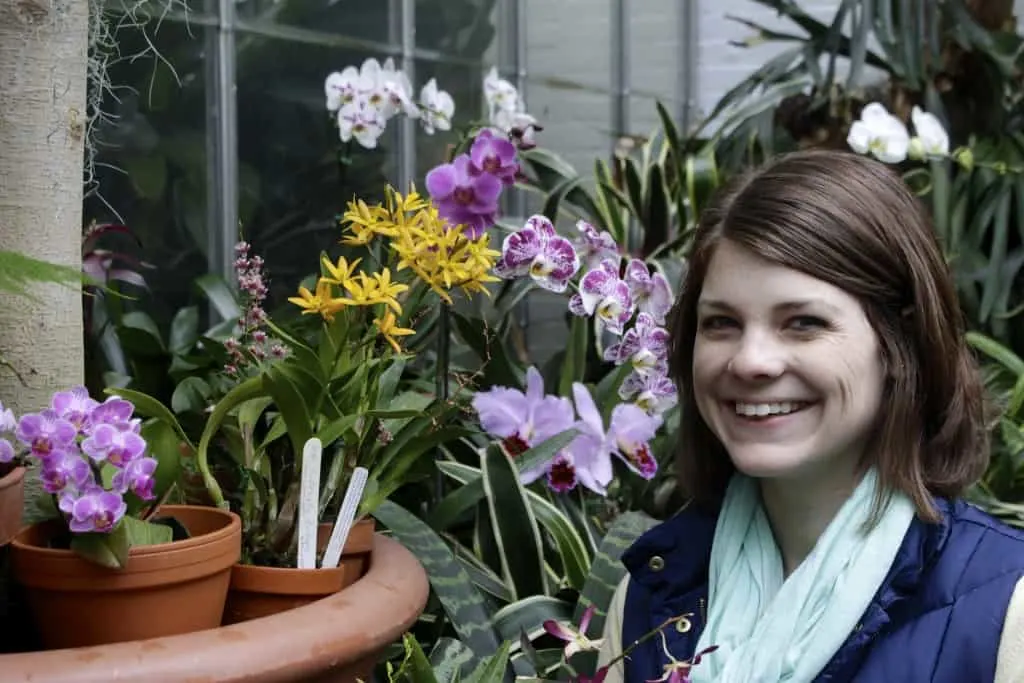 After exploring the gardens (and realizing my fitbit was dead and I wasn't getting credit for my steps… tear) we stopped by the snack bar next to the house entrance for a quick lunch. They have sandwiches, sausages, and salads as well as local wine and beer. We also popped into one of the many gift shops and grabbed a Christmas ornament, of course on major sale since it was a few days after Christmas.
After lunch, we drove 5 miles across the farm to Antler Hill Village, which is still a part of the Biltmore. There we found several more gift shops, a creamery, a grill and bar, a barn with a petting zoo, some kids activities, and my favorite – the winery! Included in your Biltmore ticket is a wine tasting. We took the 15 minute tour of the wine making facilities and then did our tasting. We tasted about 8 wines each – but they had at least 20 to choose from and it was unlimited. Honestly, I felt like my taste buds were getting burnt out and they all started tasting the same, but someone who was more wine-educated or just trying to drink could have kept going much longer!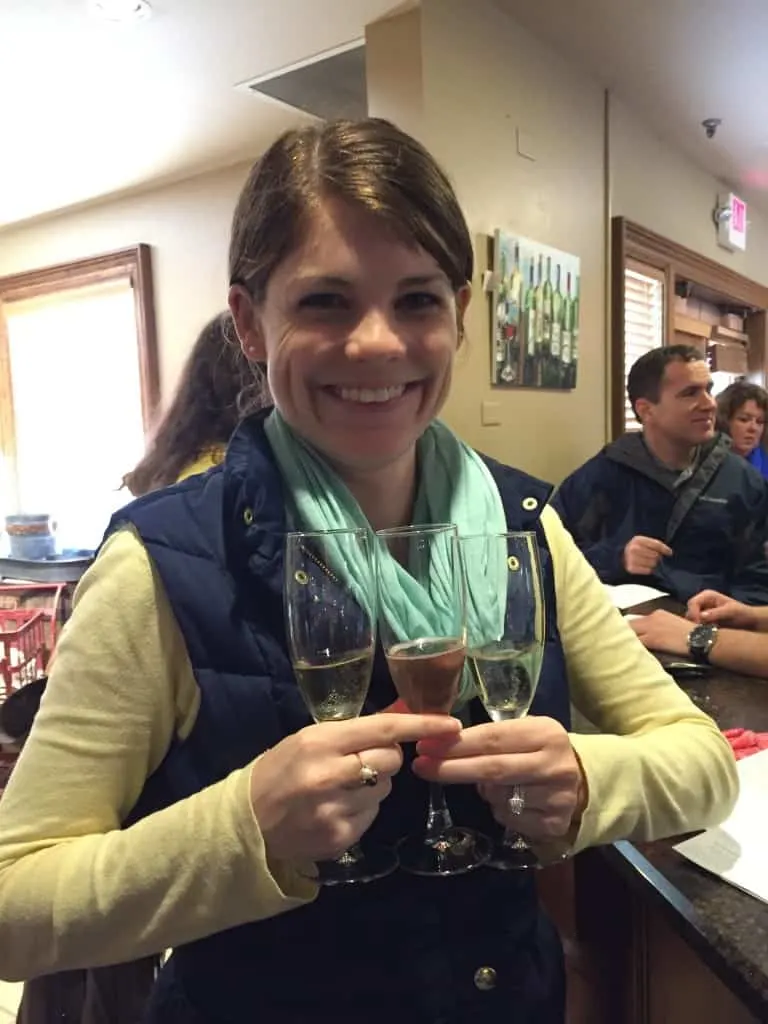 After our wine tasting, we actually went to the premium wine bar to purchase a few more samples – I wanted to try the sparkling wine and those were not available at the complimentary bar. At this point we had a slight buzz going on (hehe) and purchased three bottles of our favorites.
Next we deposited our purchases in the car and then decided to visit the petting zoo. We saw donkeys, horses, chickens, and goats. I was hoping for a pot belly pig but no such luck this time 🙂 After the petting zoo we walked over to the family history museum and saw some family collectibles and learned a little more about the Vanderbilt's history.
Finally, we enjoyed two big scoops of salted caramel ice-cream from the creamery. Even though it was cold, it was the perfect end to the day.
We ended up staying at the Biltmore from 8:30am until 4:30pm. So, if you are planning to visit, we suggest that you allow an entire day for it! We didn't linger around but didn't speed through either – it was the perfect balance.
Have you been to the Biltmore? I'd love to hear about your experience in the comments below!