Even though we just shared our 101 in 1001 a couple of weeks ago, we spent about a month planning it and coming up with our 101 goals. So, when we added visit a vineyard (#30) & go to a corn maze (#97) to our list, we had no idea that we'd be able to cross them off so soon!
We spent a long weekend last weekend in Dahlonega, Georgia celebrating me getting a new job (yay!) We were excited to spend some time hiking outdoors and exploring the falls (as Sean shared yesterday) but, we were also excited to spend a day doing all the "agritourism" attractions in the area.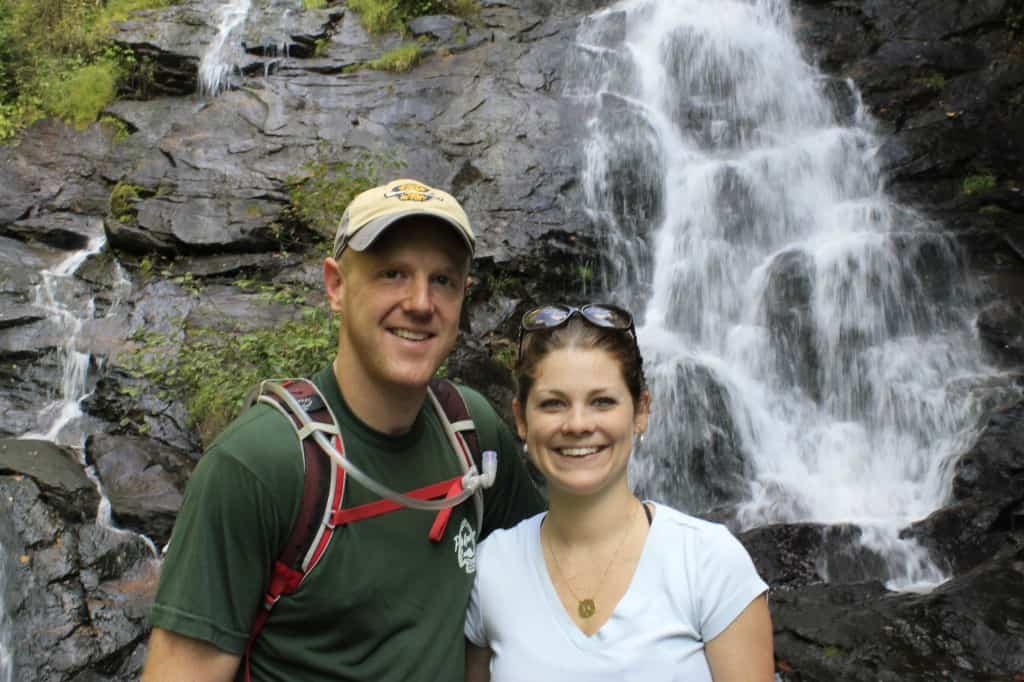 October is the peak season for this region, as the leaves change colors and the apples & pumpkins are in full swing. So, we spent our Saturday apple picking, touring a vineyard, and doing a crazy corn maze.
We started our day at Hillcrest Apple Farm. It was between the park and Ellijay, and man it was slammed! We are assuming that most of these peeps came up from Atlanta for a little fall fun.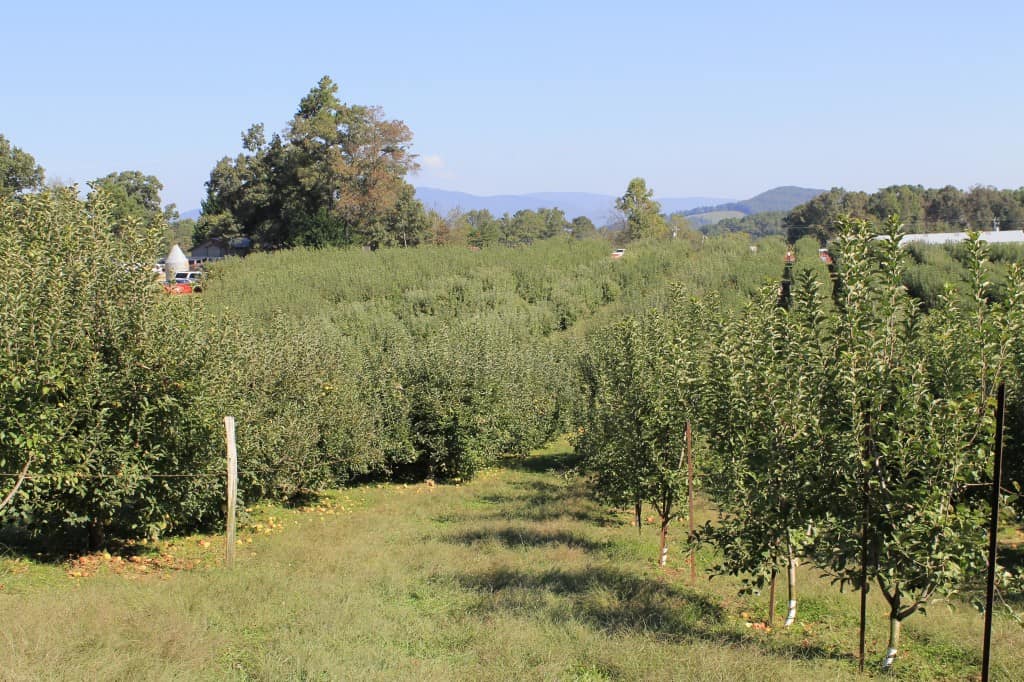 We were slightly annoyed/surprised (but in a it's cool, what can you do, vacay, yolo kinda way) that you had to pay $7 entrance fees to enter the "farm" as well as $11 for a plastic bag to fill with apples. The entrance fee covered a bunch of activities that we were deemed "too tall" to participate in… aka kid stuff. Sean would have really done most of it, but they were really being sticklers.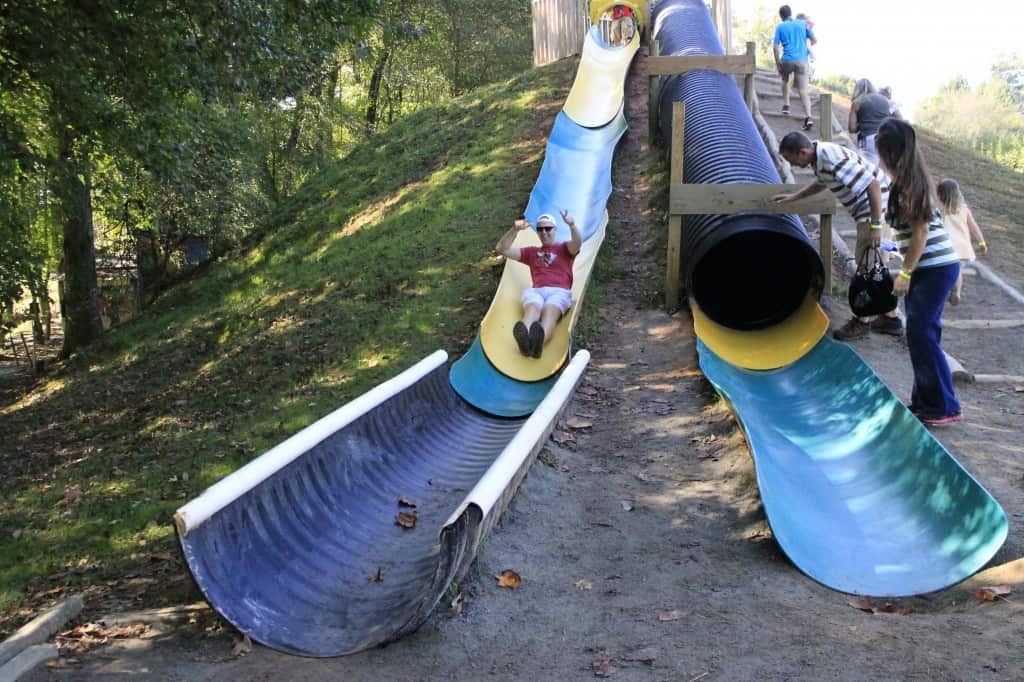 Sean miiiight have pretended to be with a kid to sneak up & ride this slide.
We did, however, have the chance to walk thru the moon shine museum. It was creepy.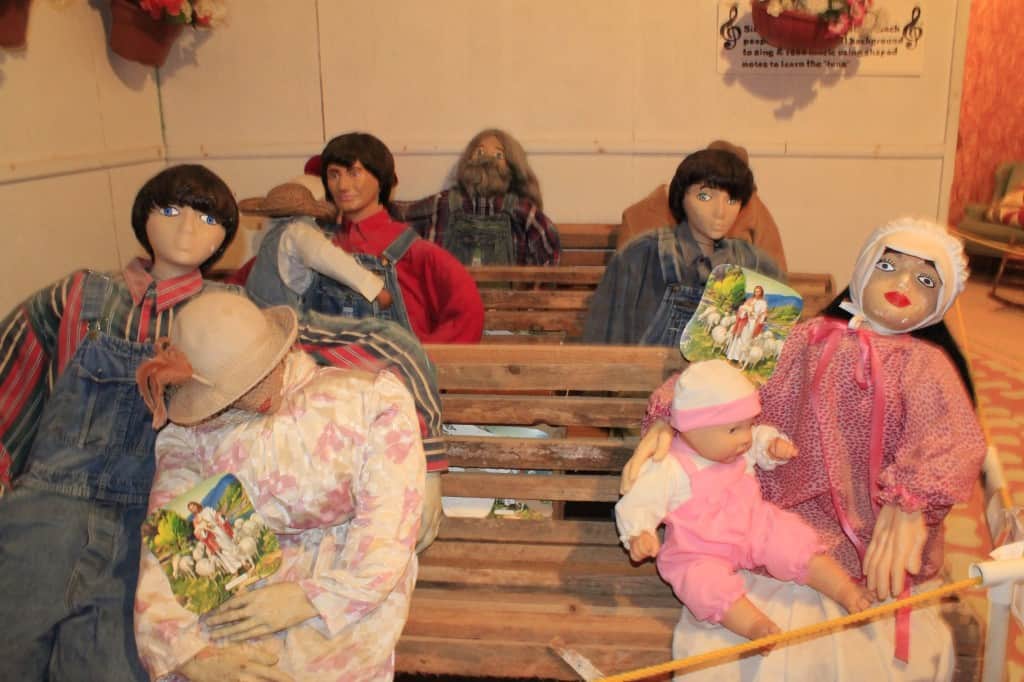 Somebody had too much moonshine…..
After wandering for a bit, we decided to just pick the apples already. There were about 8 different types, but they were only labeled on the end of the aisles, so we mostly had to guess.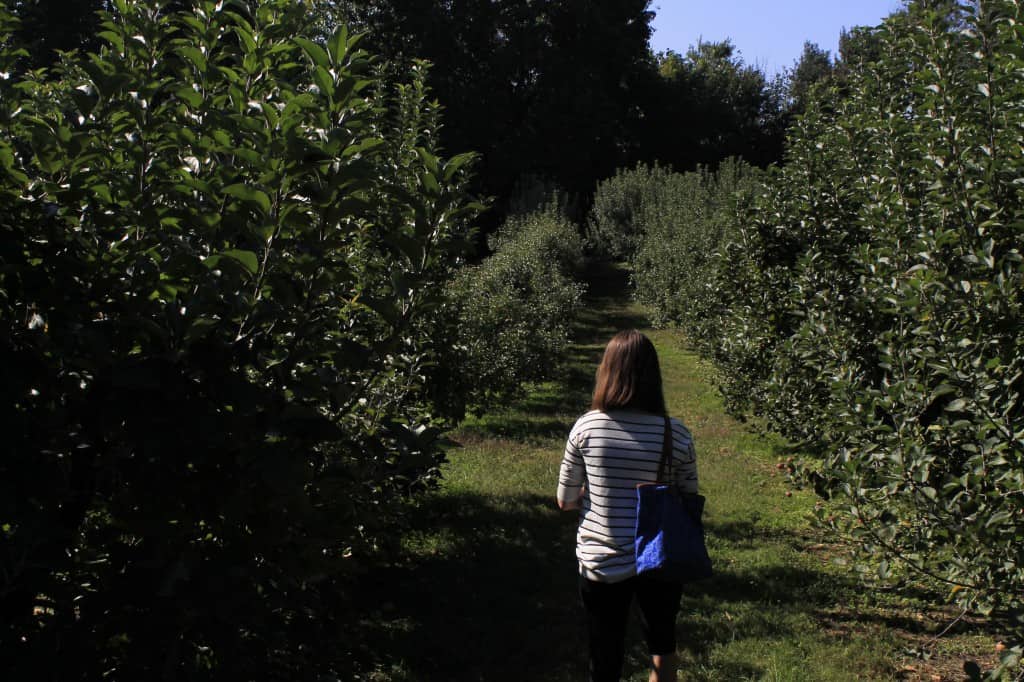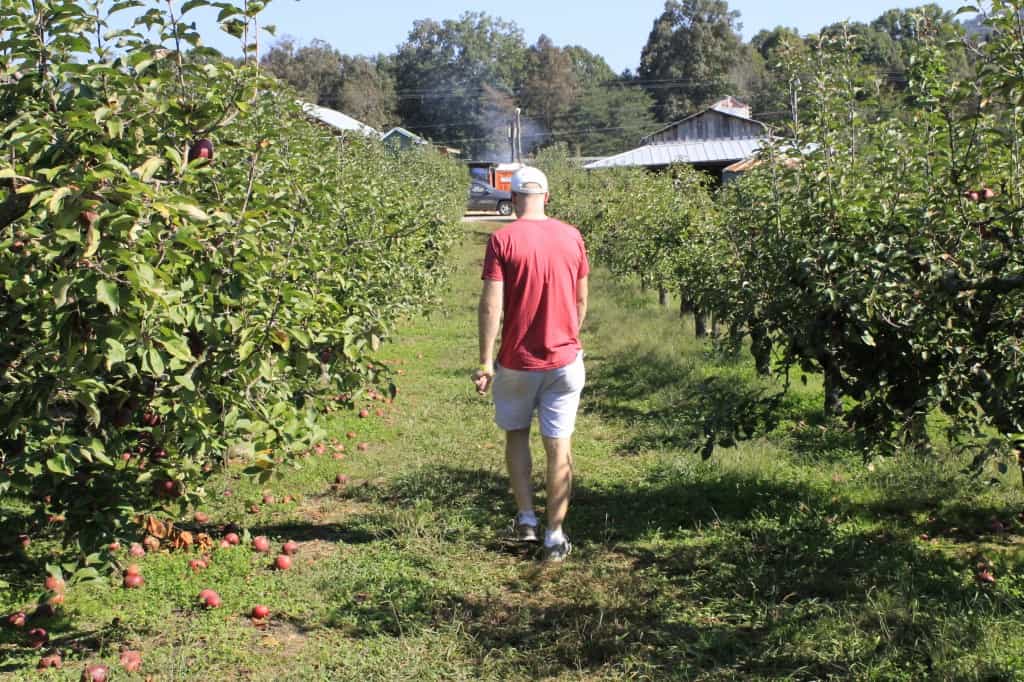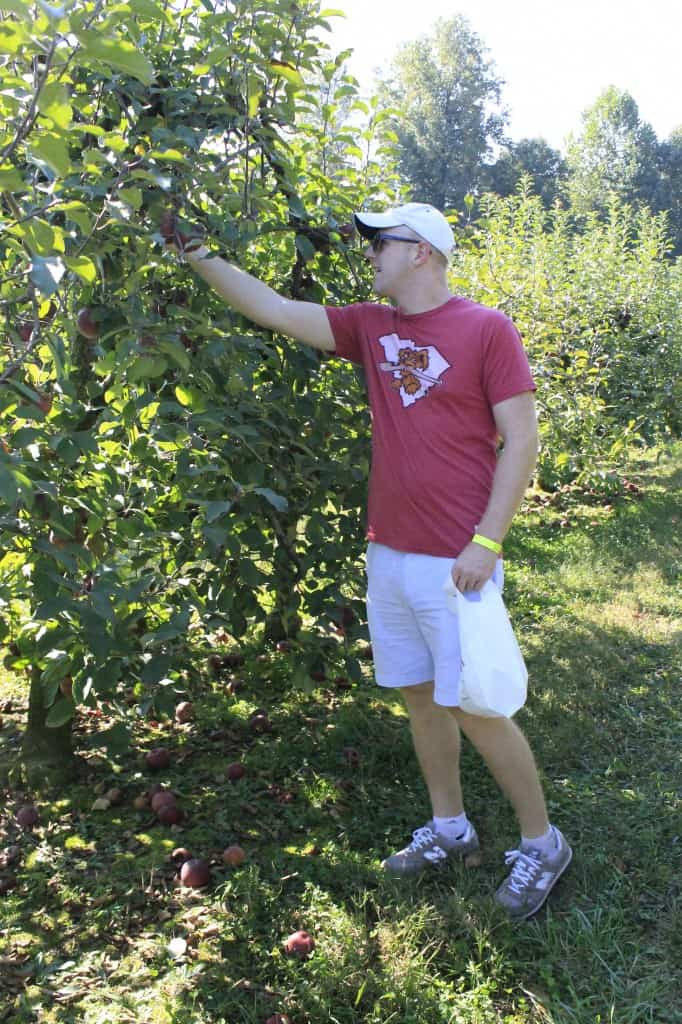 Some of the apples were huge, some were tiny, and some trees had no apples at all. I think it's because the different apples are ripe at different times but it could be because people had picked most of them already. We had a lot of fun, and it really was beautiful. It was neat to feel like a farmer!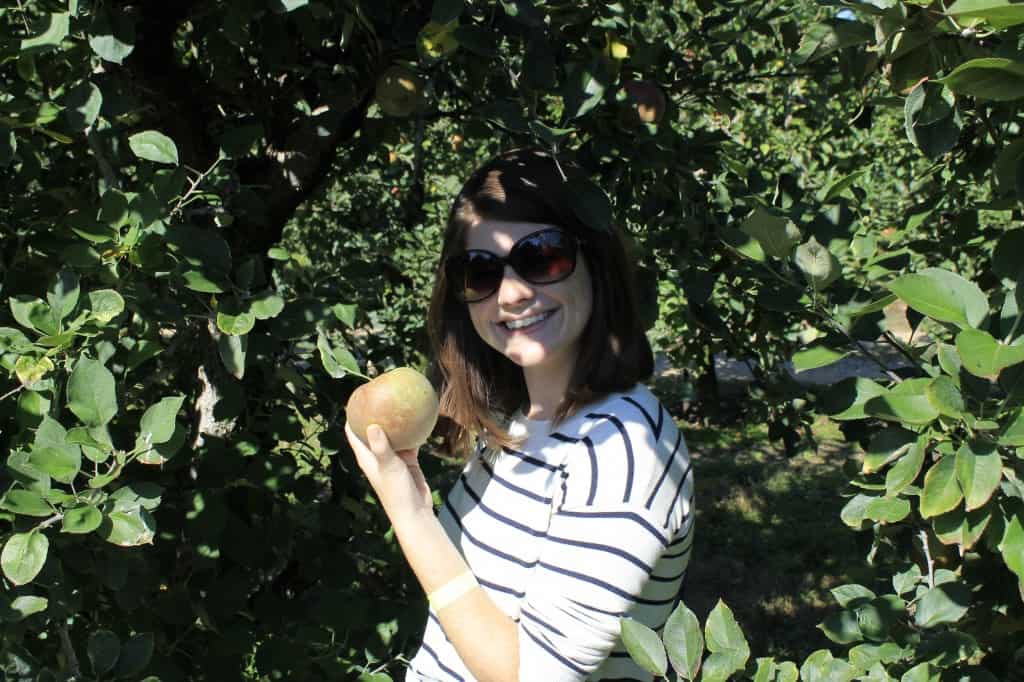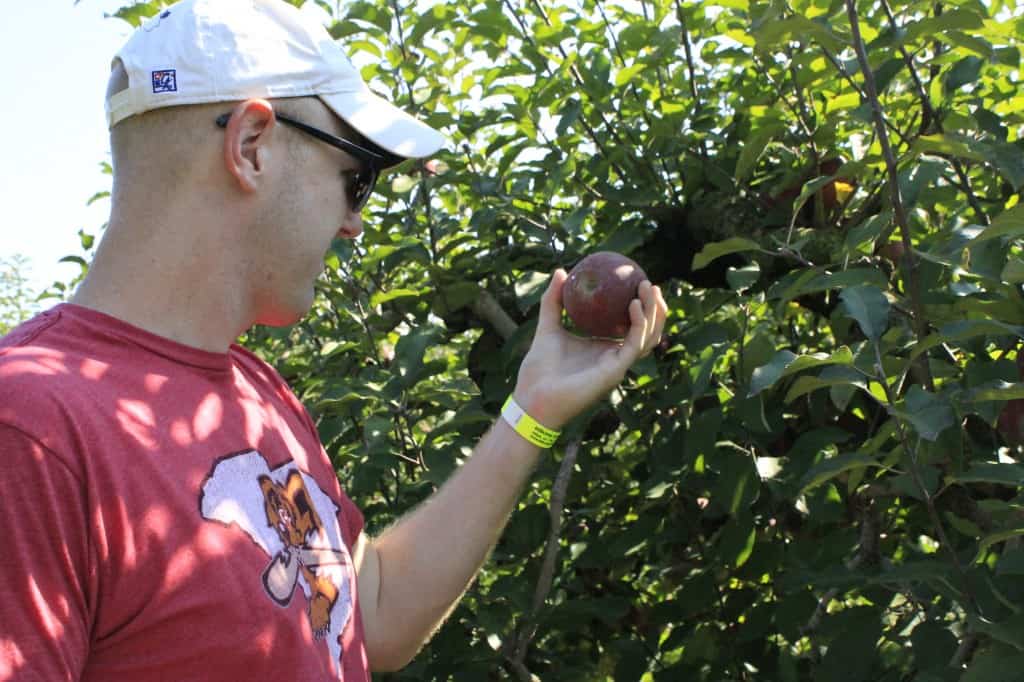 How about dem apples??
We also stopped by the store and picked up apple cider, donuts, jelly, and other goodies. Yummy!!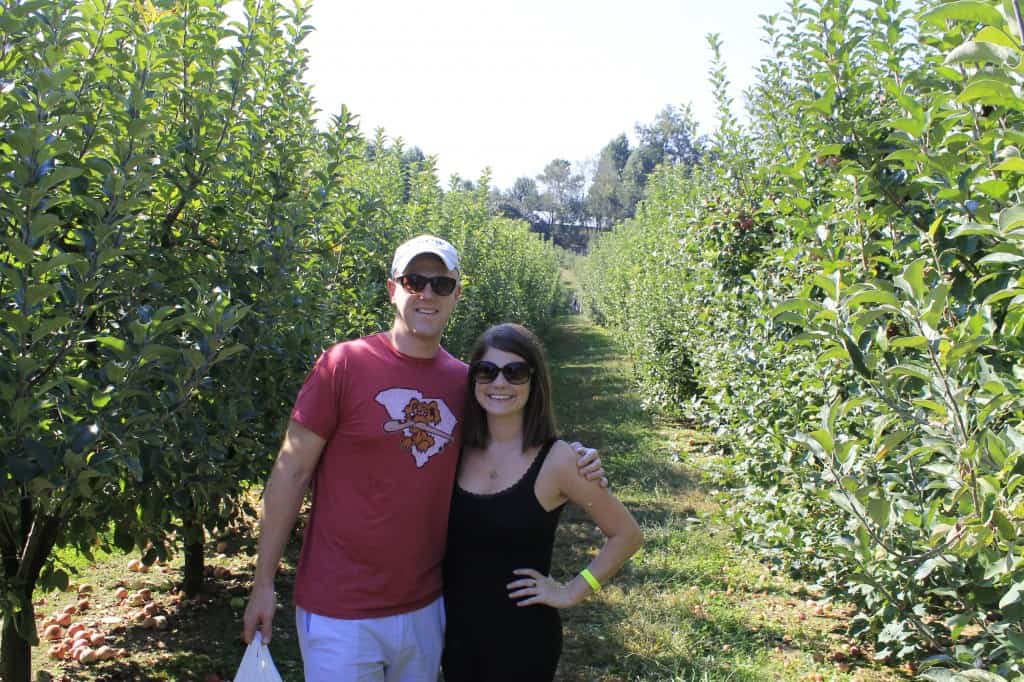 It was 90 degrees out, hence the missing sweater.
After the orchard, we headed to a vineyard. I was excited to escape all of the apple-crazy children. We headed to Wolf Mountain Vineyard in Dahlonega. It was gorgeously located on the edge of the mountains with an amazing view. We purchased the $30 tour + tasting combo. We planned on burning the hour before the 2pm tour in the restaurant, but it was reservations only. Whoops.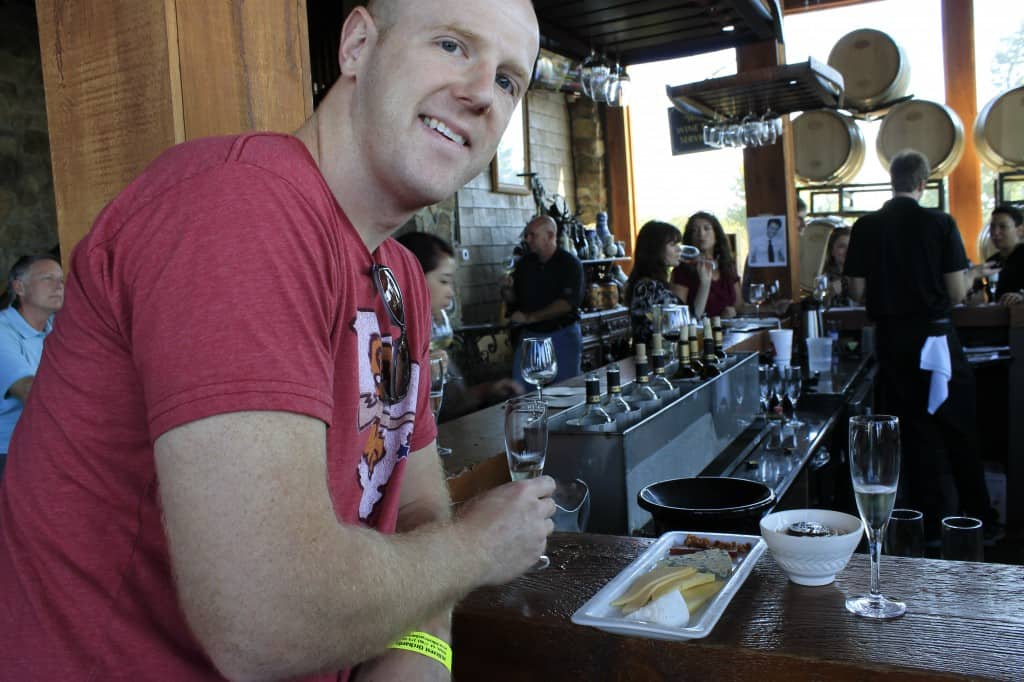 Sean likes cheese, and he don't care who knows.
So, instead we started our wine tasting at the bar with appetizers. We got a cheese tray + a fig-cheese dip and were sufficiently full. We got about 2/3 of the way through our 9 wine tasting before the tour started.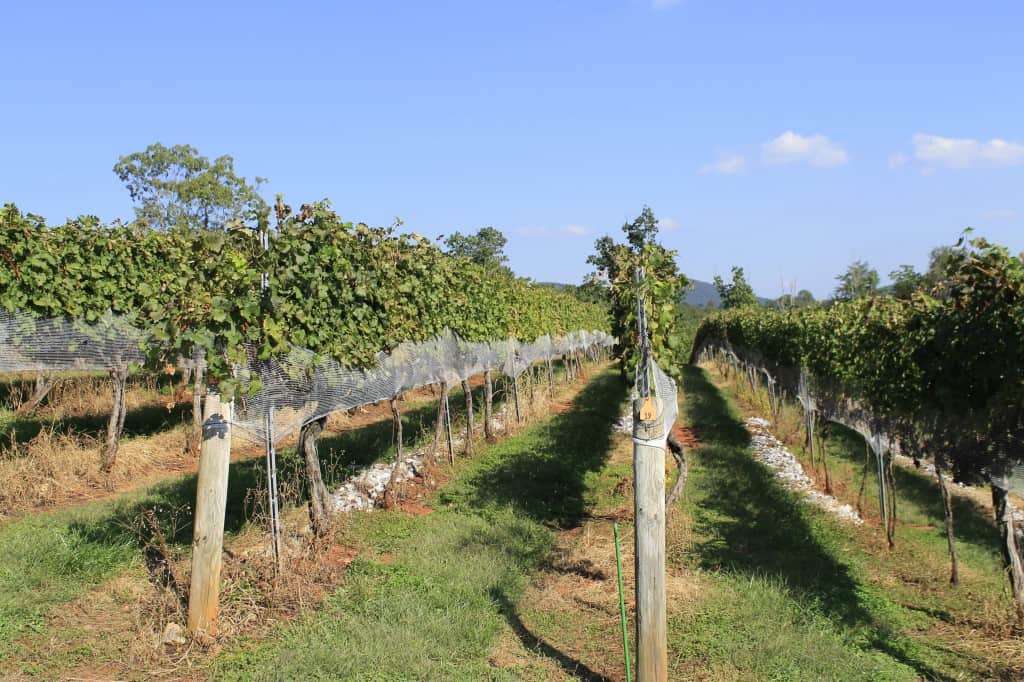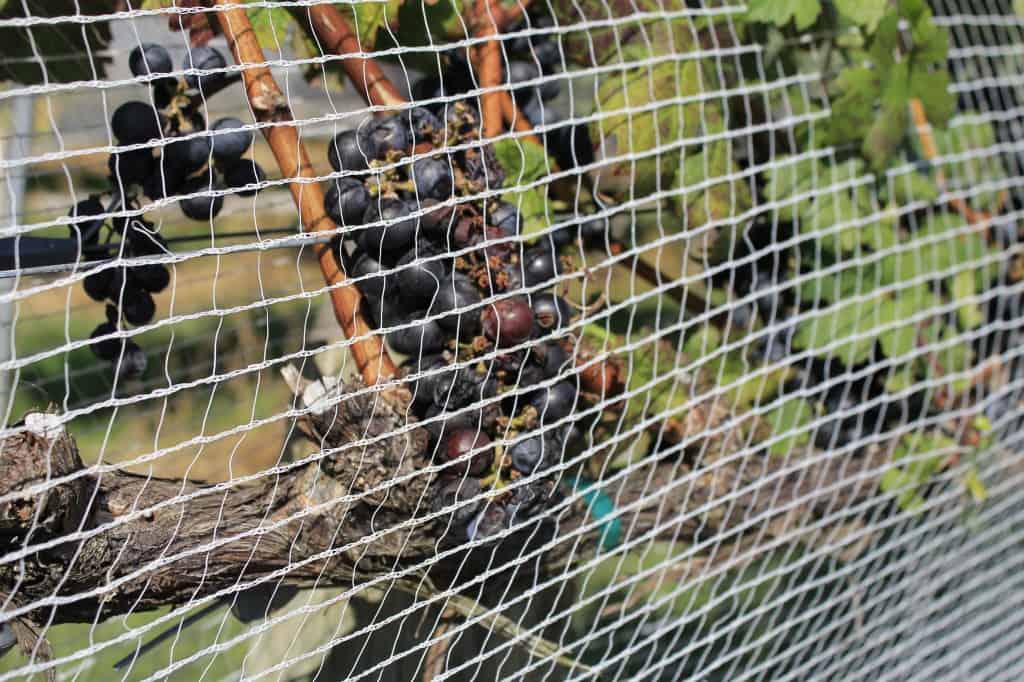 The tour was awesome. The owner (who was a major cutie, just saying) took us to the vines, to the crusher, to the wine making room, and to the barrel room. Then, we sis the wine tasting. What's that? We already did ours? Apparently the bar was so slammed, they were confused, and so we ended up doing the 9 wine tasting twice. No complaints here.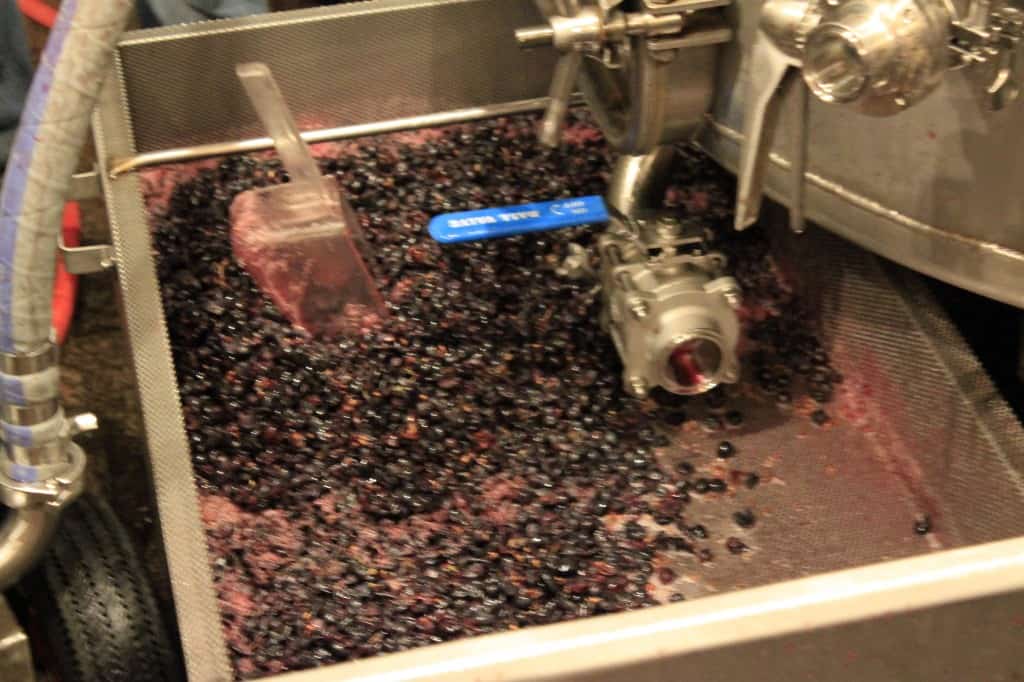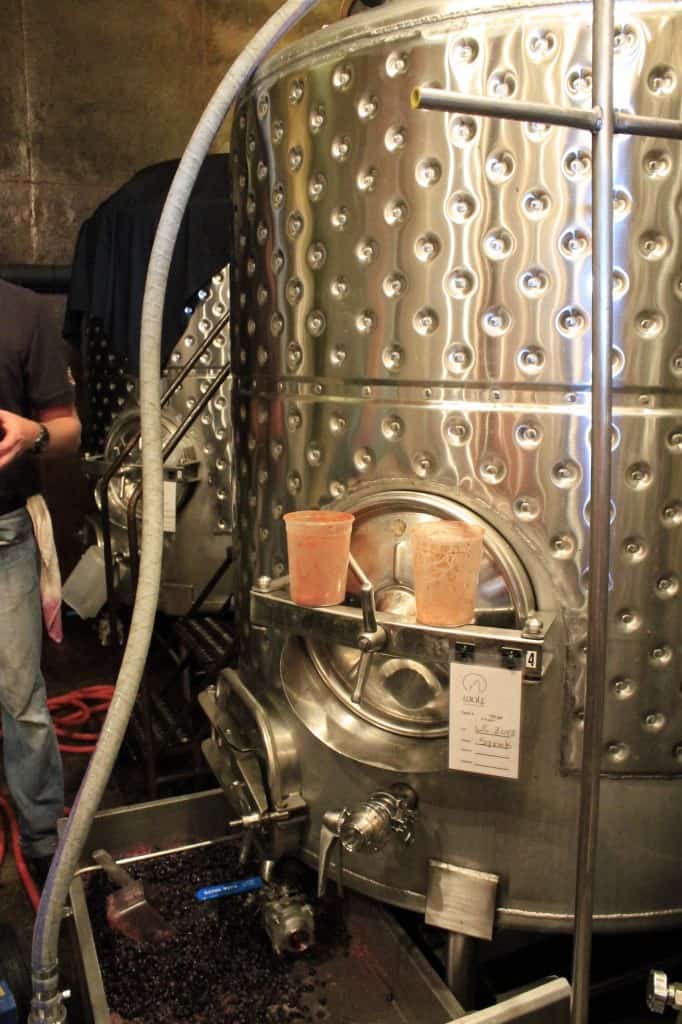 Wine machine.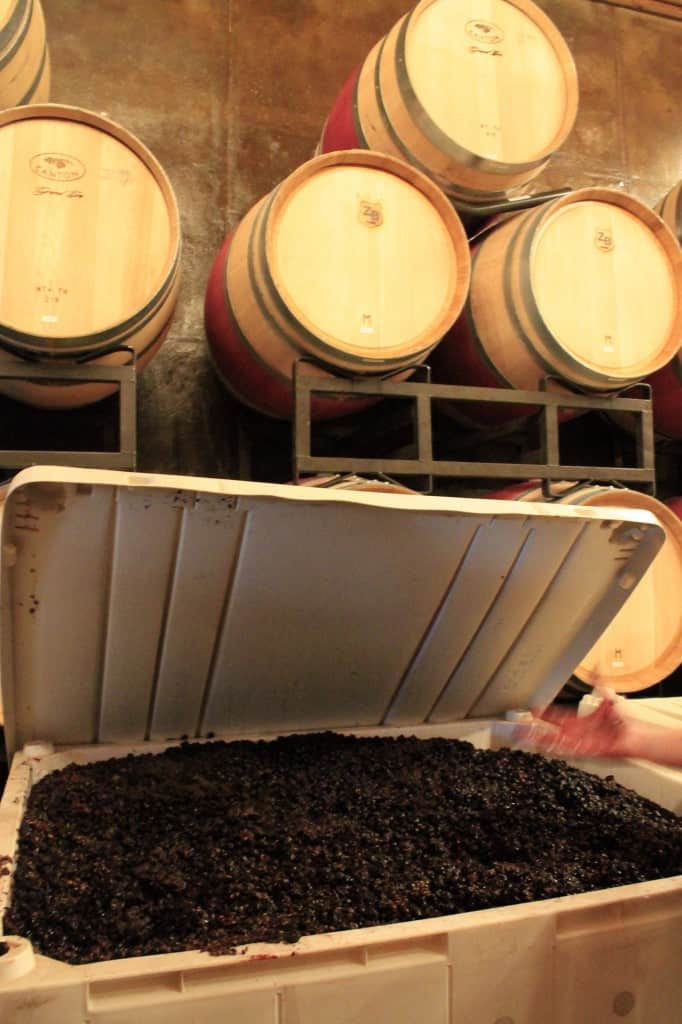 Have a grape.
I could not recommend this tour more. The owner, Stephen, was so incredibly knowledgeable and shared loads of cool information. It was really fun to learn lots of new stuff (for example – did you know that red wine is red because they ferment it with the skins on? The grape juice is all white.)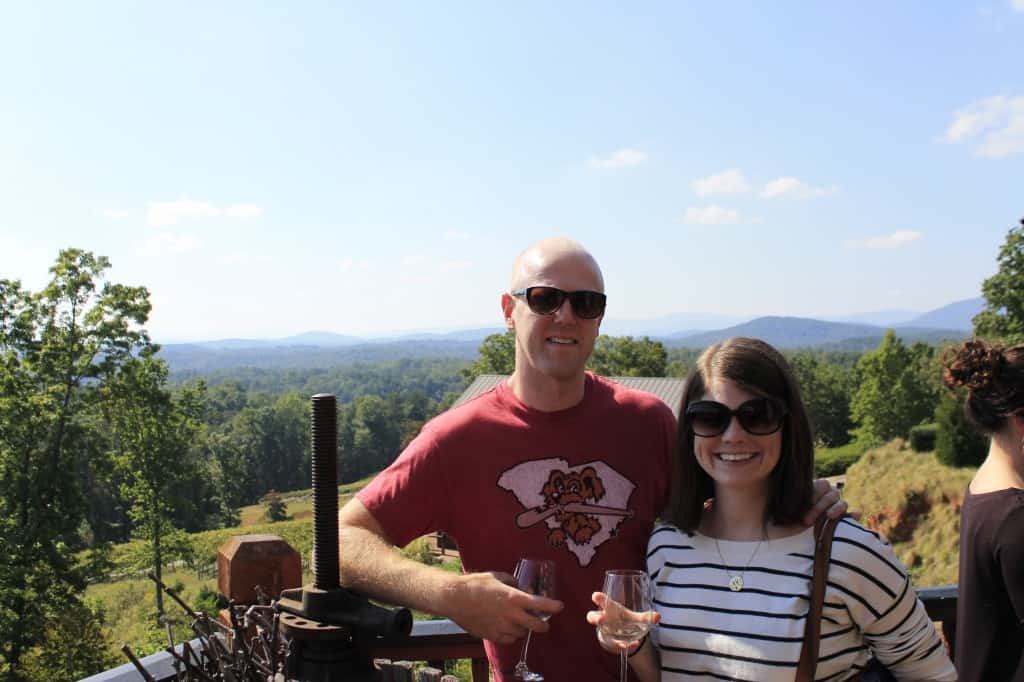 Plus, you can't beat the view. Lovely!
Finally, we ended the day at Uncle Shuck's Corn Maze. I don't know what I expected in a corn maze, but this thoroughly exceeded it. The maze was huge – over 4 miles of maze over 12 acres. It was nuts. I basically felt instantly lost.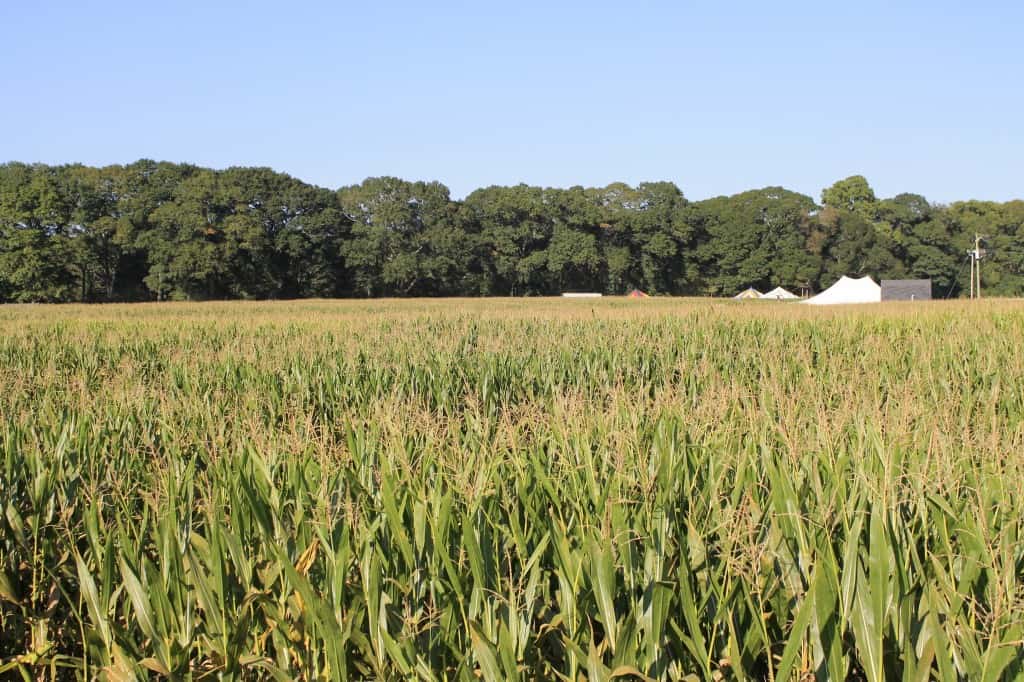 We wandered for a while before having to start using our map when I had to go to the bathroom! I could definitely see being lost for hours if you didn't use the map!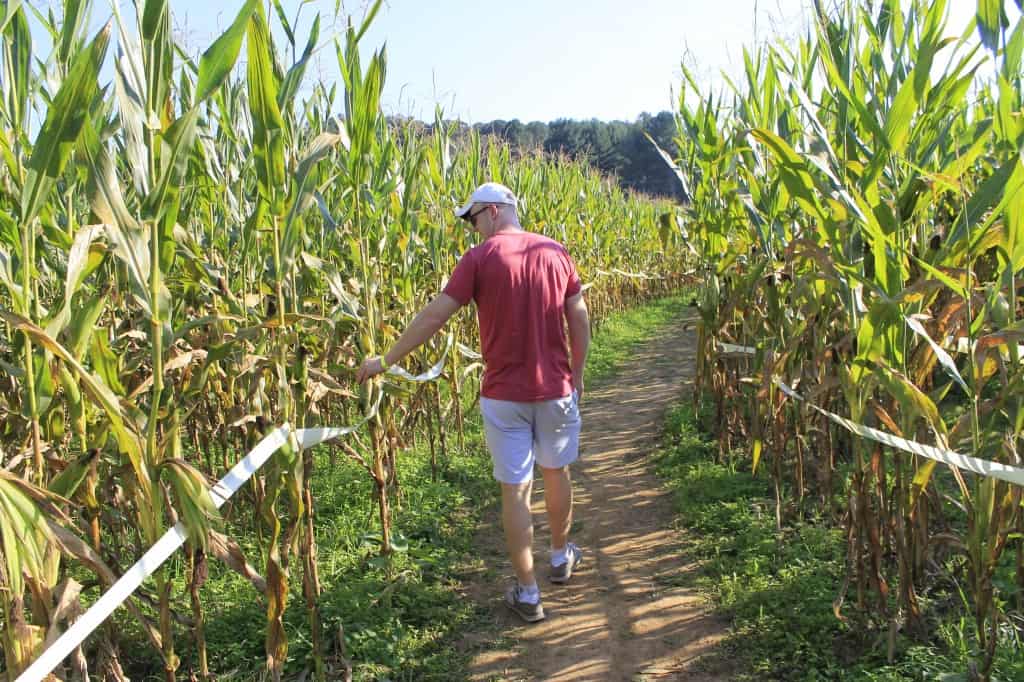 Sean ignoring the signs saying "NEVER touch the corn."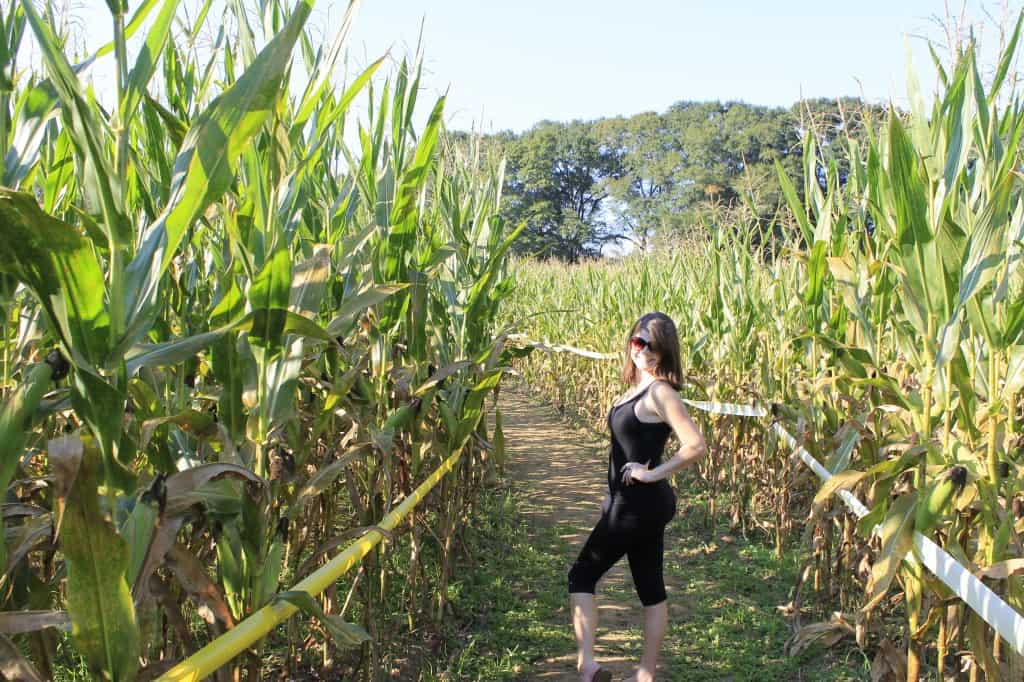 There was a second maze with a FSI: Farm Scene Investigation theme, where you collected clues to solve who murdered Farmer Joe. It was incredibly fancy and sophisticated – this wasn't some random corn maze, it was very intricately planned.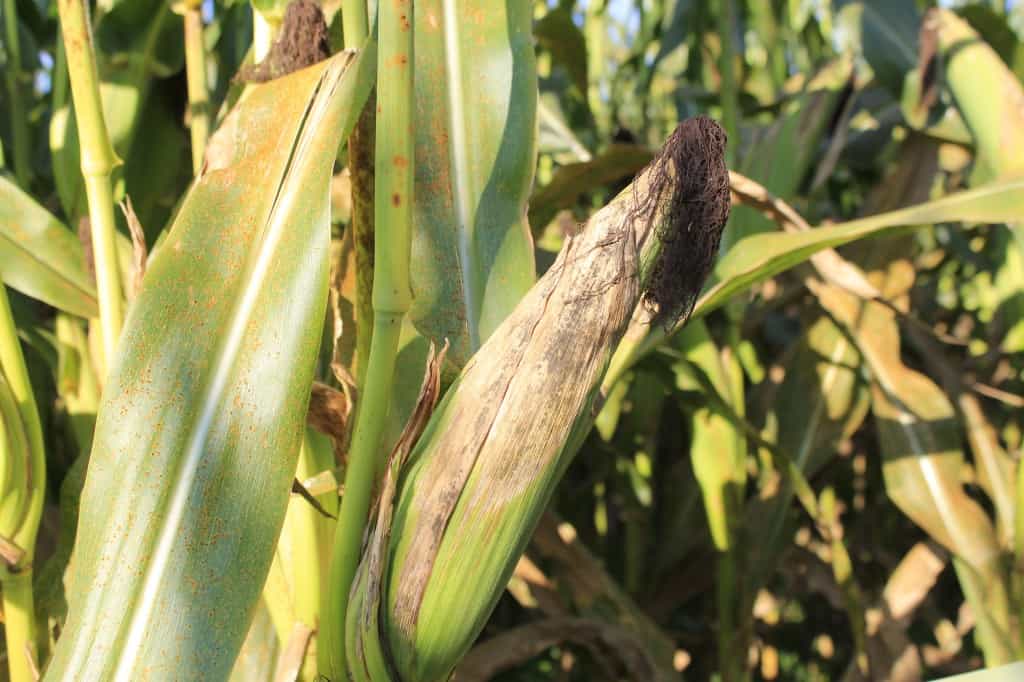 The corn maze really made me hungry for corn.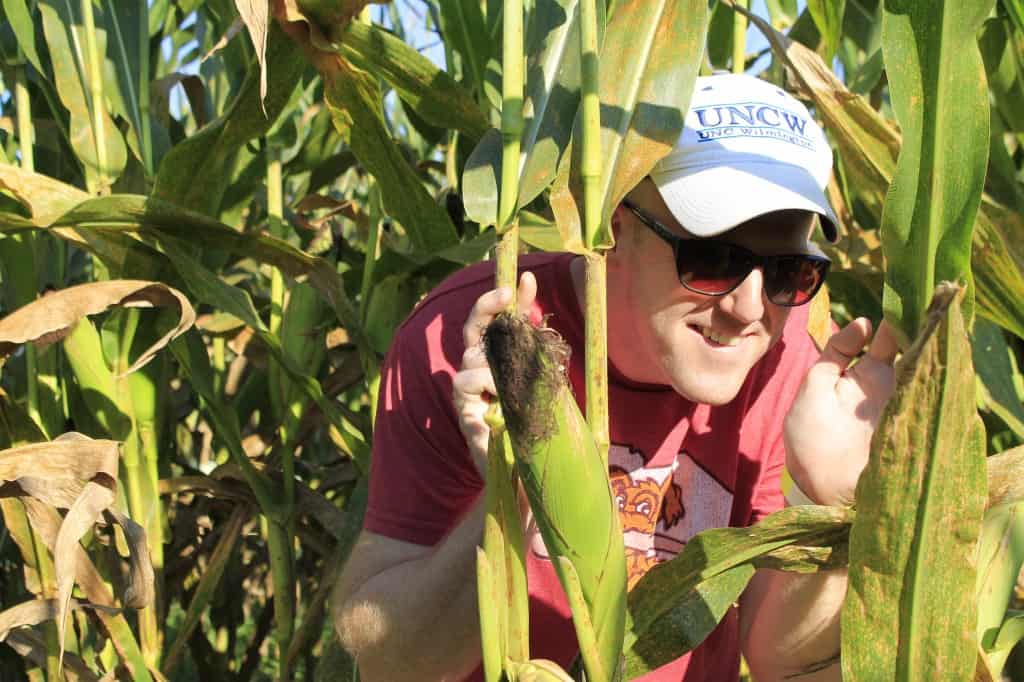 Hello, children.
We also grabbed some pumpkins at the patch – they were so cheap! Last year we paid $20 a pumpkin at the Charleston church patch, and we got all these for $17!!! If Sean hadn't stopped me, I would have gotten a LOT more 🙂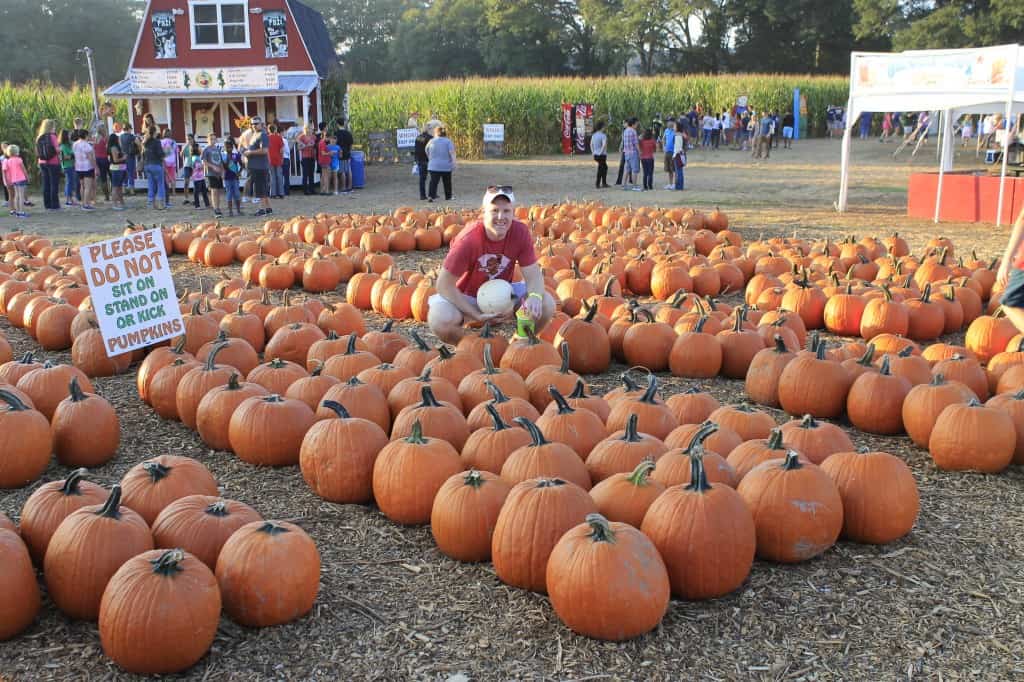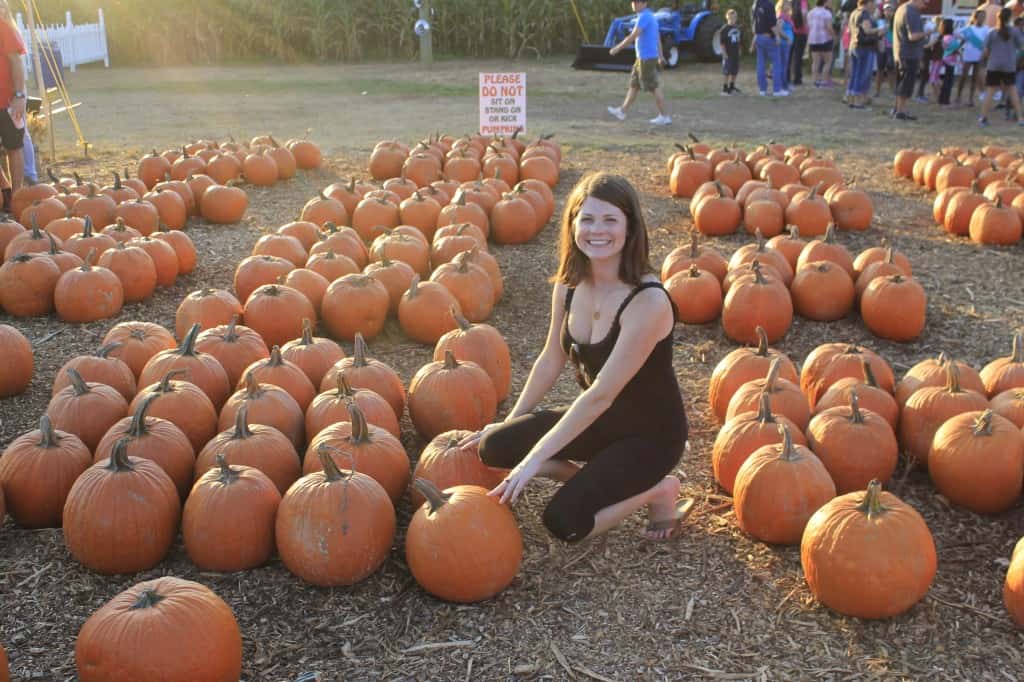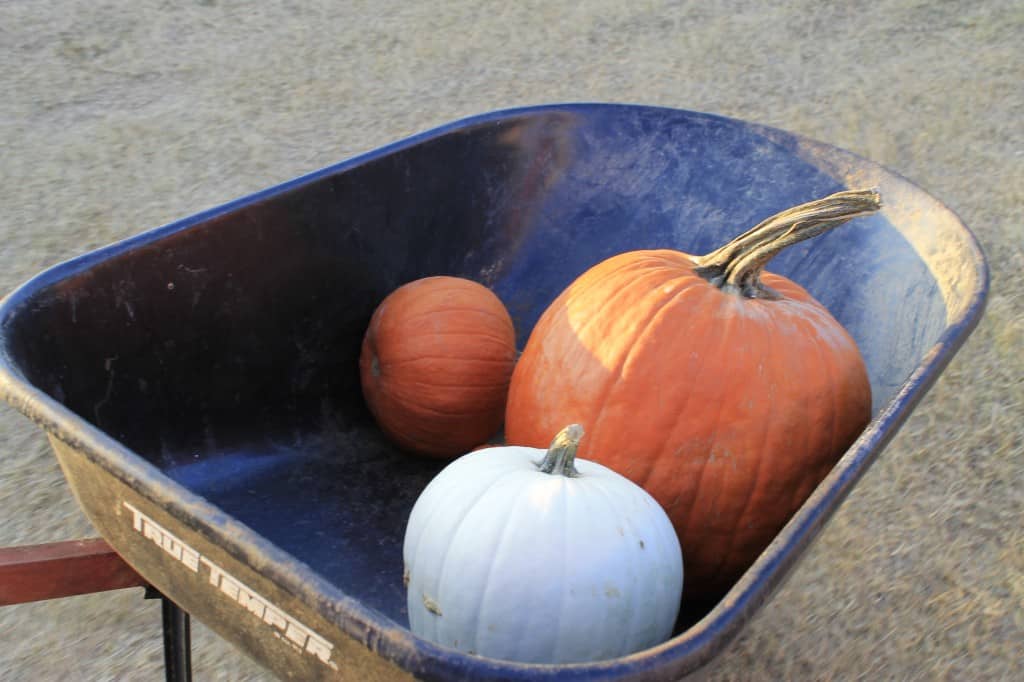 Before I discovered the mini pumpkins!!
We had such an amazing time & I am so glad to check these trips off our to do list!!