Want to add a vintage touch to your Christmas tree? Here are the best vintage Christmas tree toppers to decorate with!
Decorating the Christmas tree is one of the most fun traditions every year.
Some people like to use the same decorations year after year, while others mix it up. You could go for a themed tree, or have a mishmash of ornaments collected over the years.
Either way, it is extra special to add a tree topper to the top of your Christmas tree.
Today I want to talk about vintage Christmas tree, toppers and vintage–inspired tree toppers. These are really popular and add a really fun, whimsical look to any tree. Let's dive in!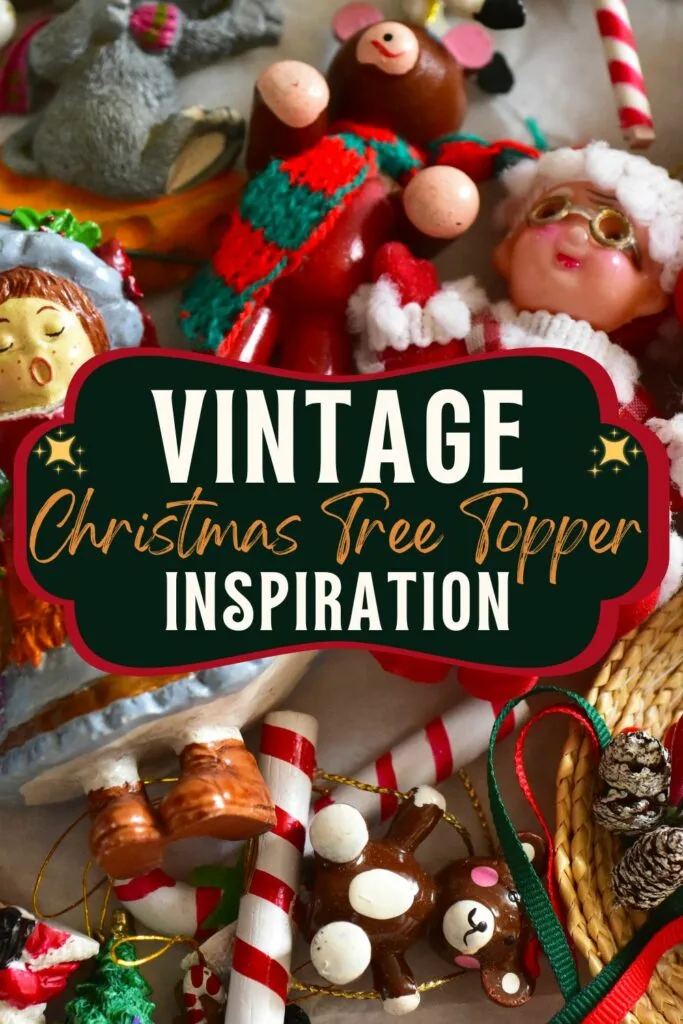 The Allure of Vintage Christmas Tree Toppers
There are a few benefits to using a vintage Christmas tree topper.
One, it could have an emotional or sentimental connection to you. Whether it is the actual tree topper of your youth, or just some thing that reminds you of it, it can be extra special.
Retro elements are also very trendy and having a vintage tree topper can be super chic.
Finally, truly vintage Christmas tree toppers are a more eco-friendly and sustainable option compared to buying something new.
Exploring Different Types and Styles of Vintage Tree Toppers
Christmas tree toppers come in many different sizes and styles. Here are some of the most common ones.
Angelic Elegance
Angel Christmas tree toppers are a classic. They are great if you'd like a traditional look and feel just really serene and classically beautiful.
Angels symbolize protection and guidance during the holiday season.
Shimmering Stars
Stars are the second most popular Christmas tree topper option. Star shaped tree toppers have a lot of symbolism with the Christmas holiday and also represent hope and illumination.
Radiant Reflectors
Reflector tree toppers, beautifully catch and reflect the light. They can of intricate designs or colorful patterns and cast a sort of rainbow shine on and around your tree.
Tinsel Tidings
Tinsel tree toppers are most frequently, star shaped and feature crinkly, metallic tensile, as well as lights. These toppers at a touch of whimsy in sparkle to your tree.
These are real vintage throwback and a great option for a vintage Christmas tree topper.
Quirky Characters
Of course, you can also find mini character themed Christmas tree toppers.
Santa Claus or snowman would be a classic one but you can also find things like Star Wars or Mickey Mouse. Whatever you love, there's a tree topper for that.
Where to Find Vintage Tree Toppers
there are a few good options for where to find vintage Christmas tree toppers.
If you want to shop in person, look at antique shops, flea markets, and yard sales.
If you like to shop online, check Facebook marketplace, eBay, and Etsy.
Of course, you can shop at places like Amazon and look for replicas of vintage tree toppers as well.
Best Vintage Christmas Tree Toppers
Here are some beautiful vintage and vintage-inspired Christmas tree topped to consider for your holiday decor!
Vintage Christmas tree topper ideas
Here are a ton of beautiful vintage Christmas tree toppers!
What's your favorite Christmas tree topper?