As you may or may not know, we went on vacation last week! We were lucky enough to get to spend eight days celebrating summer, our engagement, and the beautiful outdoors in and around Yellowstone National Park. Our trip involved a decent amount of driving (over 850 miles in the week!) and staying in 4 different hotels. It was one of the very best trips of my life.
We had such a blast and took so many pictures (over 1,200 after deleting the "bad" shots!) that we decided to break the trip up into 3 blog posts. So, we will share Jackson Hole and the Grand Tetons National Park today, then Yellowstone, and then Montana, outside of the parks. We will plan to share those posts on the next 2 Fridays, so be sure to stop back and check them out!
We started our trip Friday night. We drove from Charleston to Charlotte, with a pit stop in Columbia on the way. It adds a day on each side of the trip (plus 3 hours in the car) to fly out of Charlotte, but we usually do it anyways. We saved about $250 in flight costs, but more importantly it allowed us to leave our cat in Columbia (with my sister) and our dog in Charlotte (with Sean's parents). This saved us cash compared to boarding them at the vet, but the real reason we do it is that we know they have a better week when they aren't stuck in a cage. My sister is cat obsessed and loves keeping Bear, and CiCi has spent too many days sprinting in Sean's dad's yard to count. Plus, it's a chance to see them. Win, win.
We flew out of Charlotte at 2pm on Saturday. Our flight was Delta and went to Jackson Hole via Atlanta. We had a 2 hour layover in Atlanta and got snacks and beers.
We arrived in Jackson Hole around 7pm. It was the most beautiful plane landing we have ever seen. The snow-capped mountains were all around the airport! We rode a shuttle from the airport to the car rental spot, then headed straight to our hotel. We stayed at the Antler Inn, which was 2 blocks from town square. There was nothing flashy about the hotel but absolutely nothing dumpy about it and the location could not be beat!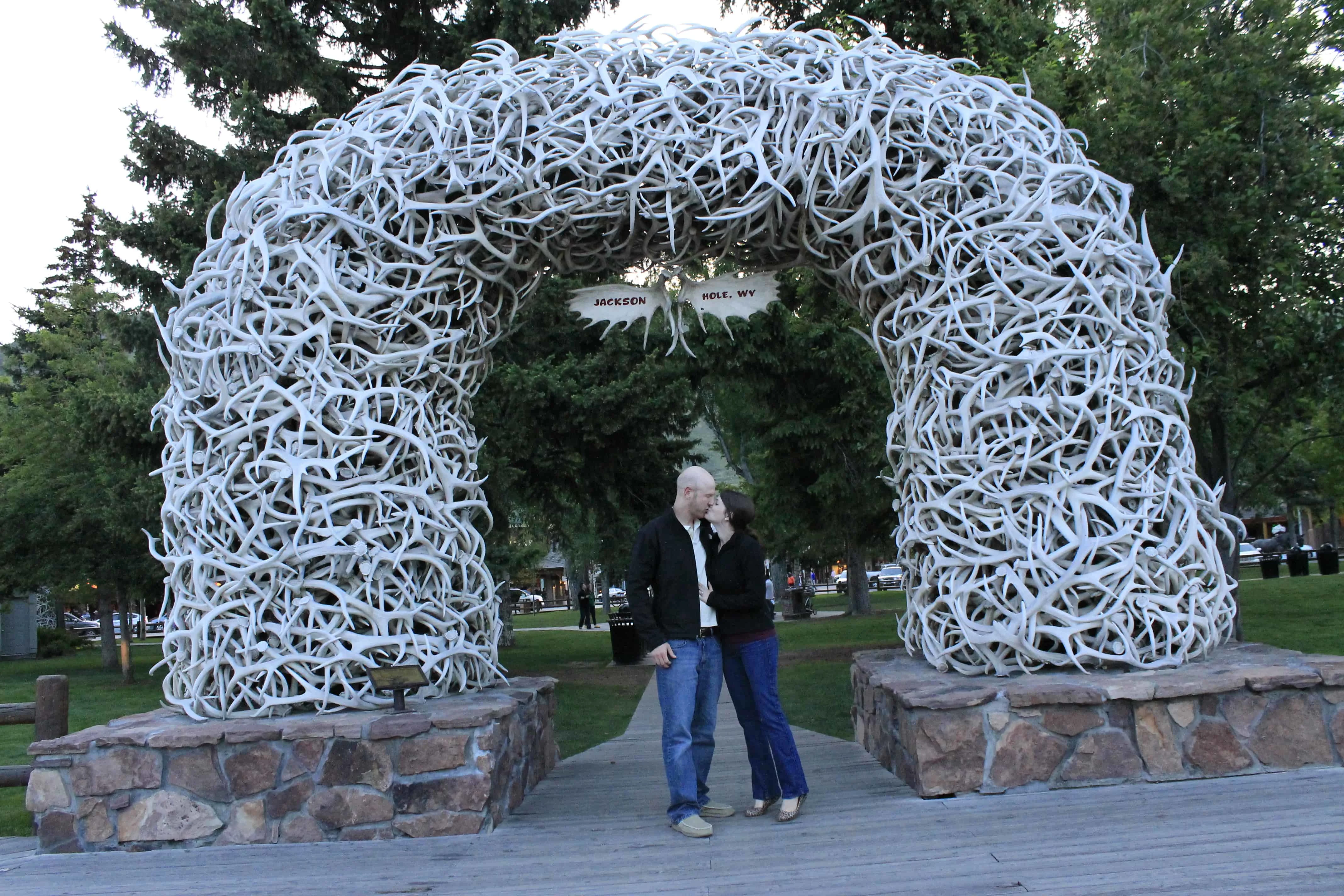 Jackson Hole is a touristy western-mountain town. The town square is small and has arches made of antlers on each corner! The Boy Scouts actually gather these antlers every year from the National Elk Refuge, build new arches, and auction the old ones off to raise money for their troops! Sean was a Boy Scout so he really thought this was cool.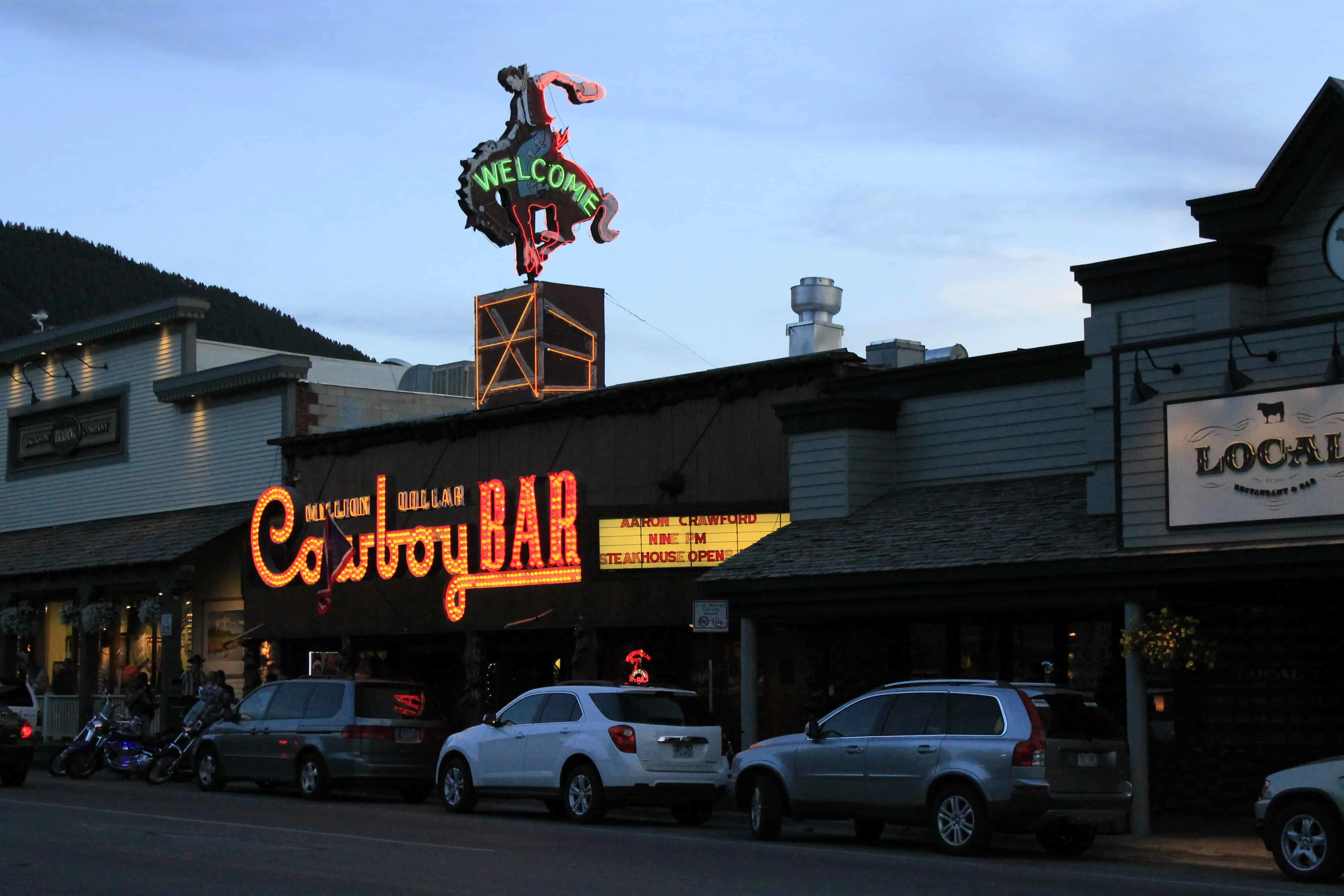 We ate dinner at the Cowboy Bar. It was a late dinner and we were kind of out of it. It was pricier than we thought from the outside (we ate in the steakhouse) but good.
We went to bed early because we knew we had a big day the next day!
Sunday we woke up super early with a plan to see the Grand Teton National Park. We stopped by the Backcountry Delicatessen and got breakfast sandwiches and lunch sandwiches. I want to take a moment to say – this place had killer food. If you're in Jackson, make sure to stop by!
We also hit the grocery store and grabbed apples, granola bars, Goldfish, sunscreen, and water. We got water bottles and a big 2.5 gallon jug of water with a spicket. We ate and drank all of this by the end of the week, and it was great to have water and snacks with us at all times! If you're going into the parks, we highly recommend doing this because there aren't a lot of places to get food inside the park and they aren't very good.
The Grand Teton National Park is about a 30 minute drive from downtown Jackson. You drive thru the National Elk Refuge, but this time of year (June) the elk have all gone "up the mountain" for the summer, apparently. We never saw any, but we did see lots of mule deer.
We started, as we did many days, by hitting the visitors center and getting tips on must-sees. Then we headed to Jenny Lake.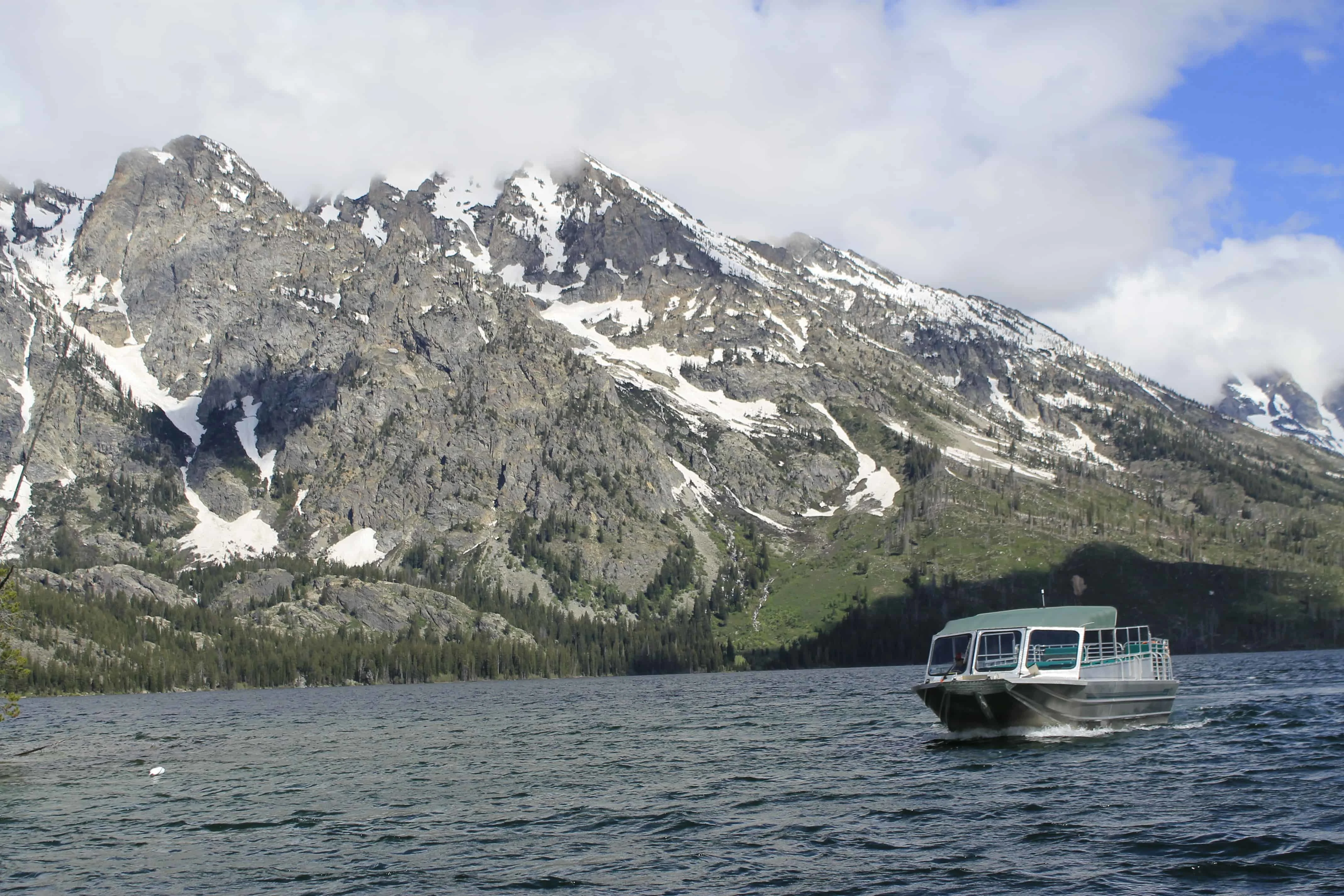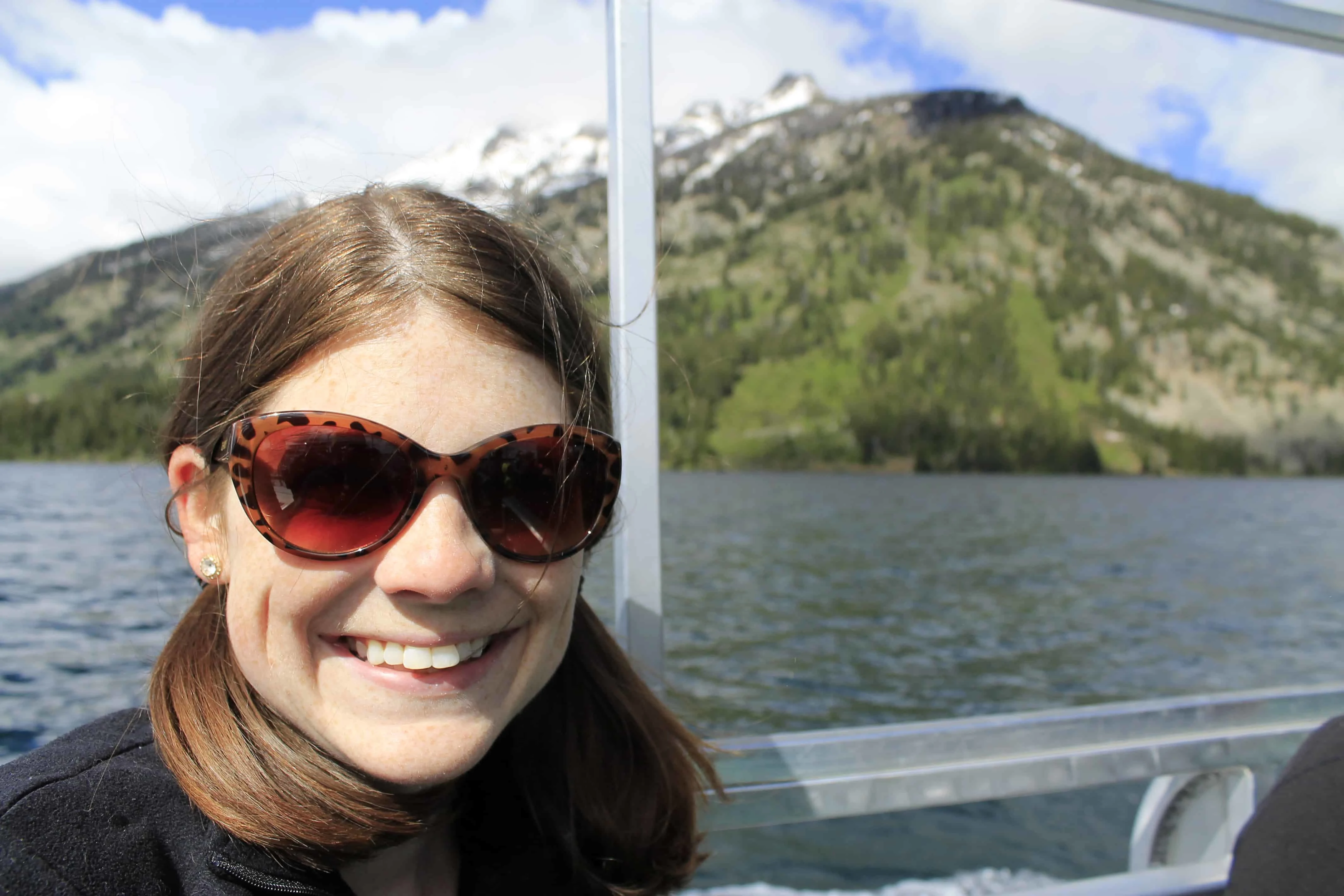 Jenny Lake has a ferry that takes you across. It was $15 per person, round trip. There is also a trail around the lake, but it was closed the day we were there. We hopped the 5 minute ferry ride and headed for adventure.
The ferry landed at a small dock at the base of a trail. We grabbed hiking sticks and headed up the mountain. Our first stop was Hidden Falls. Well, what we thought was Hidden Falls! We took tons of pictures with this little waterfall before realizing that the actual falls was another 5 minutes down the trail. This happened to us a lot – it was all so beautiful, we thought it was the "big attraction"!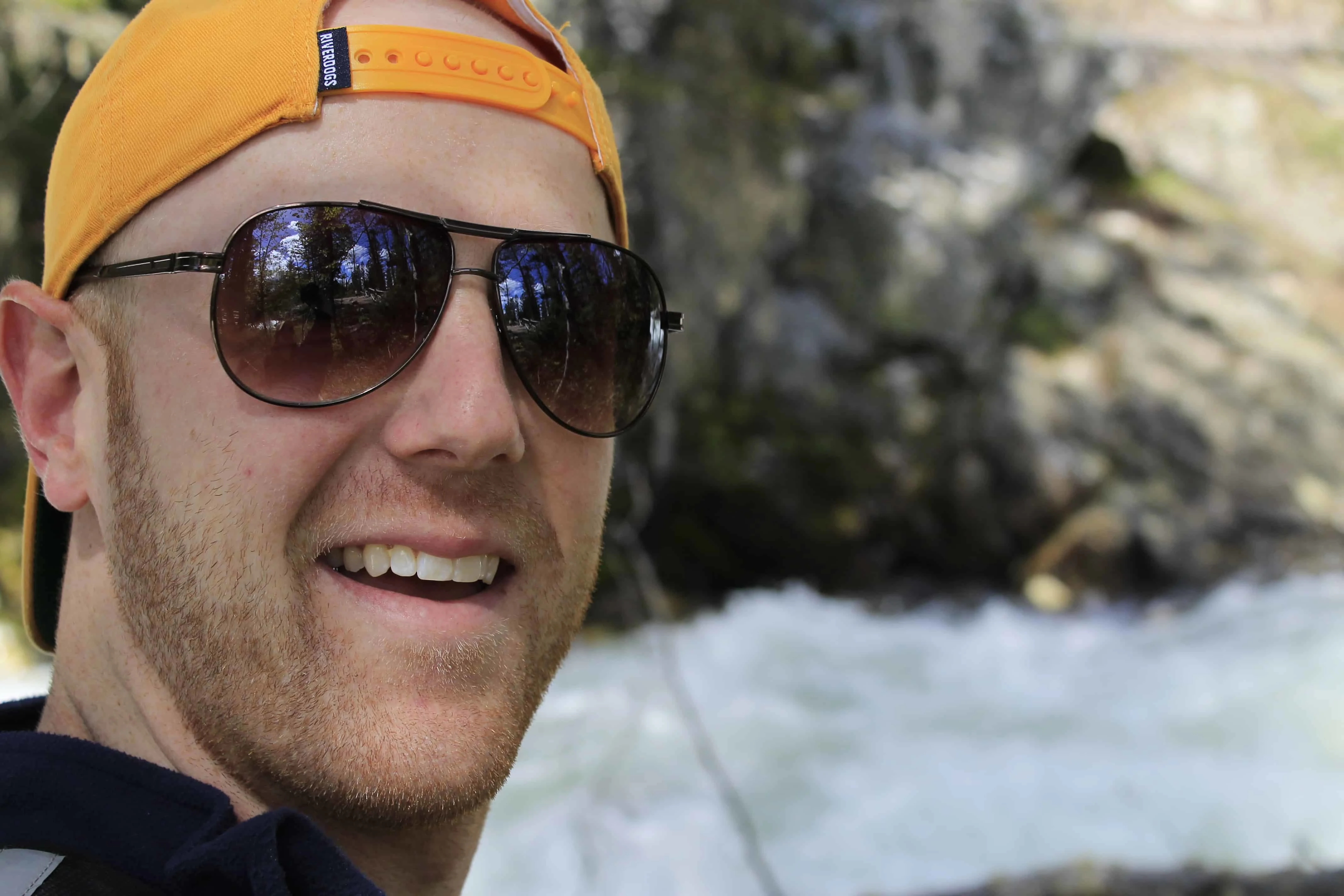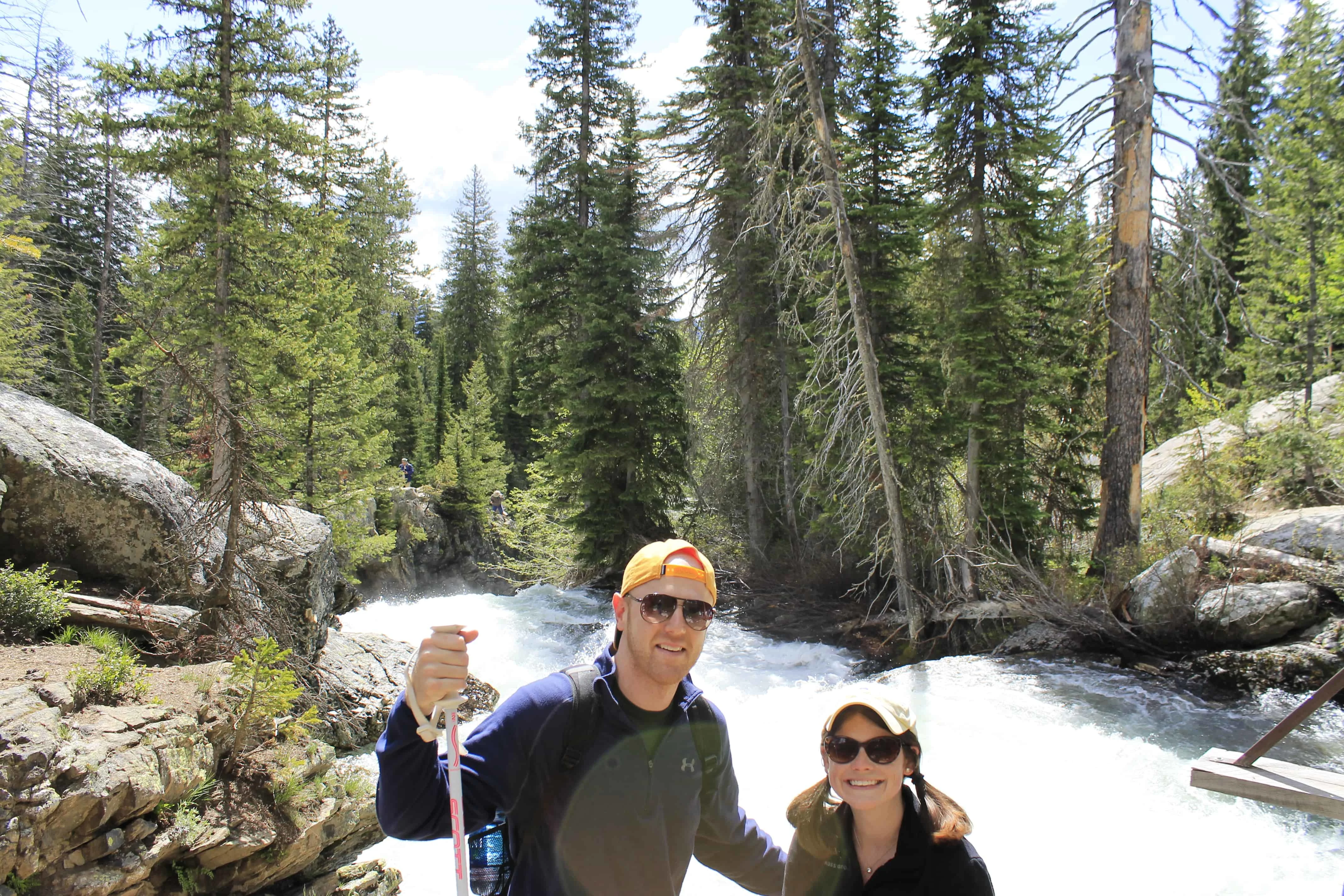 After seeing the real Hidden Falls, we hiked over the river and up a mountain to Inspiration Point. It had a beautiful, panoramic view of Jenny Lake and the Teton mountains.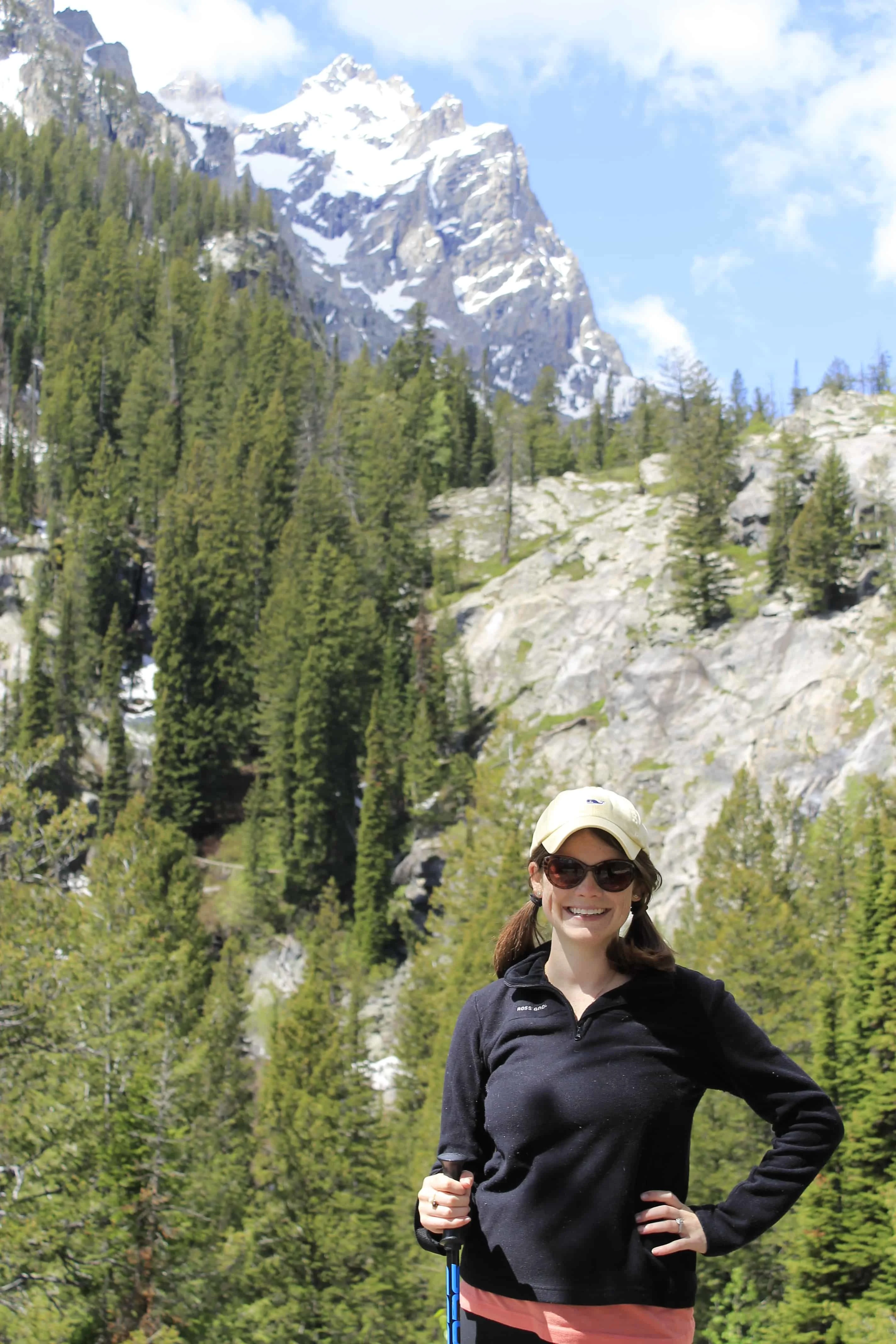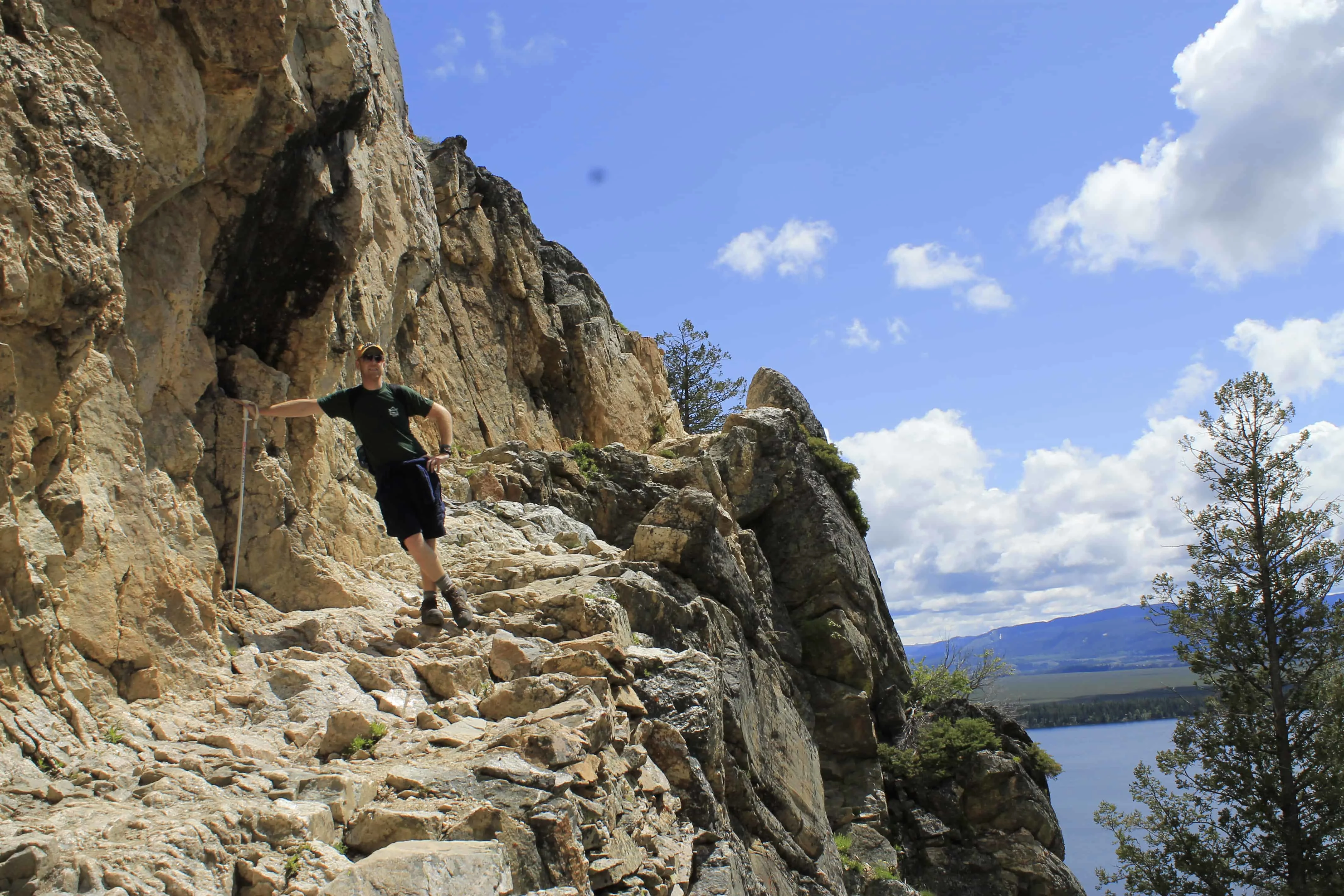 This is where most people turned around. However, Sean had talked to the park ranger and learned that we could keep hiking through to Cascade Canyon. This trail goes in between two of the tallest sets of mountains. She told us that the trail went 8 miles to Lake Solitude, but was snowed out about 1.5 miles in. Snowed out! In June! We couldn't believe it.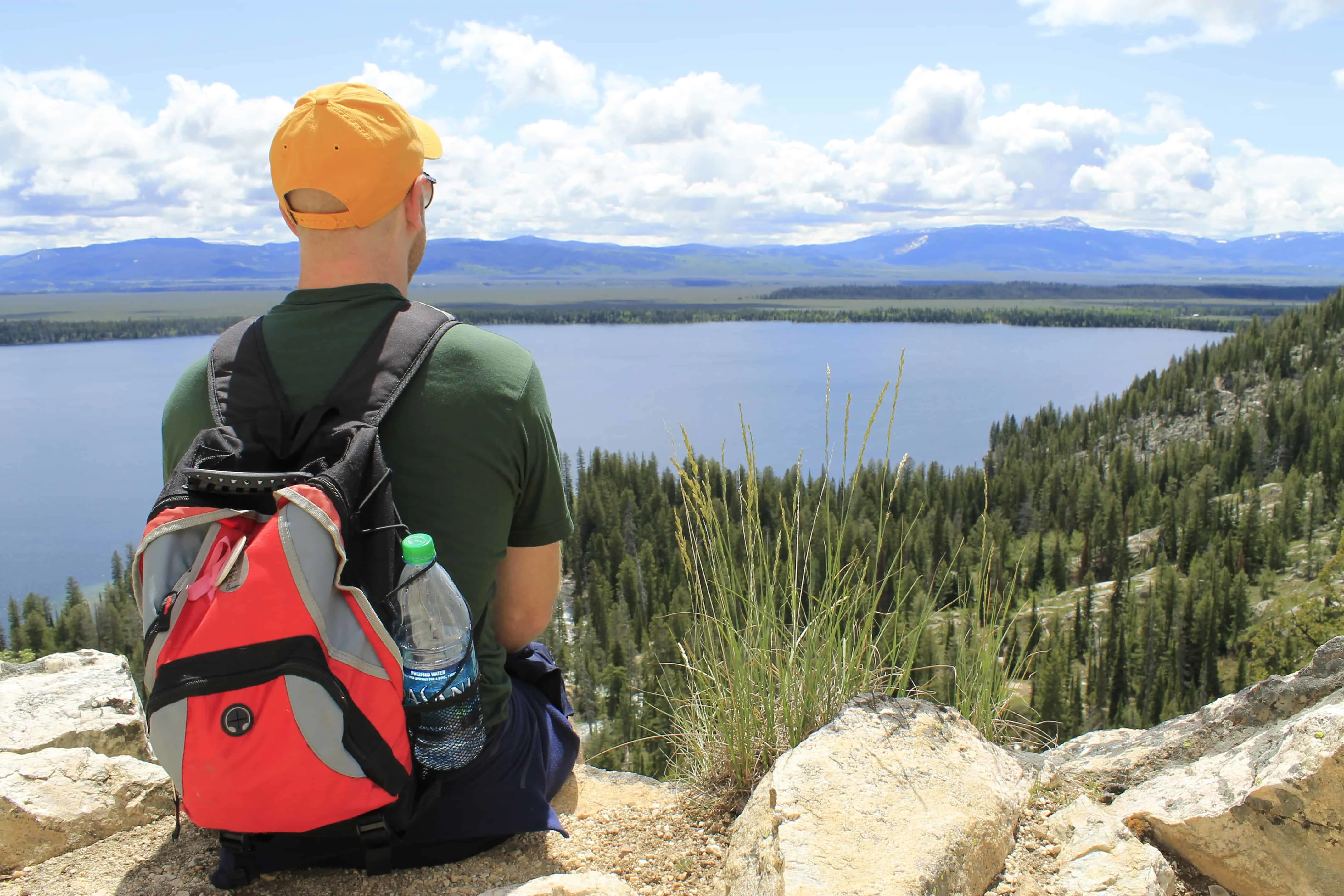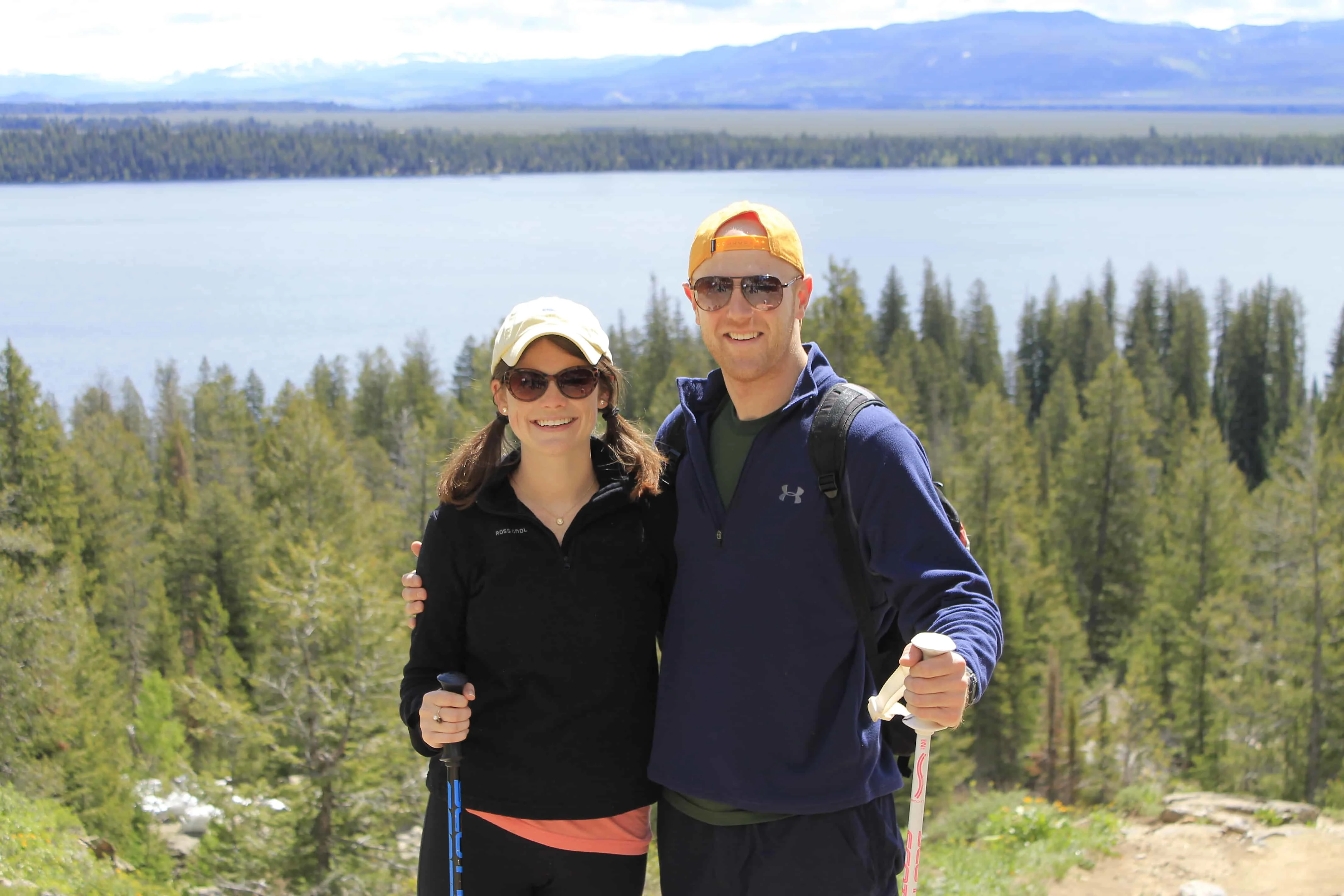 This is the point in my tale where I hop off the narrative and onto my tour guide soap box. If you go to the Tetons and want to do this hike (do it!) DON'T WEAR TENNIS SHOES! DON'T WEAR SANDALS! DO WEAR BOOTS OR WATERPROOF SHOES! Trust me, the snow was 10 feet deep in some spots! People in sneakers or hiking sandals (sorry Chacos fans) had cold, soggy feet. We wore boots and were 100 percent fine. Sean had on shorts and I wore ¾ length pants – the temperature was not the issue. It was standing snow on the trail.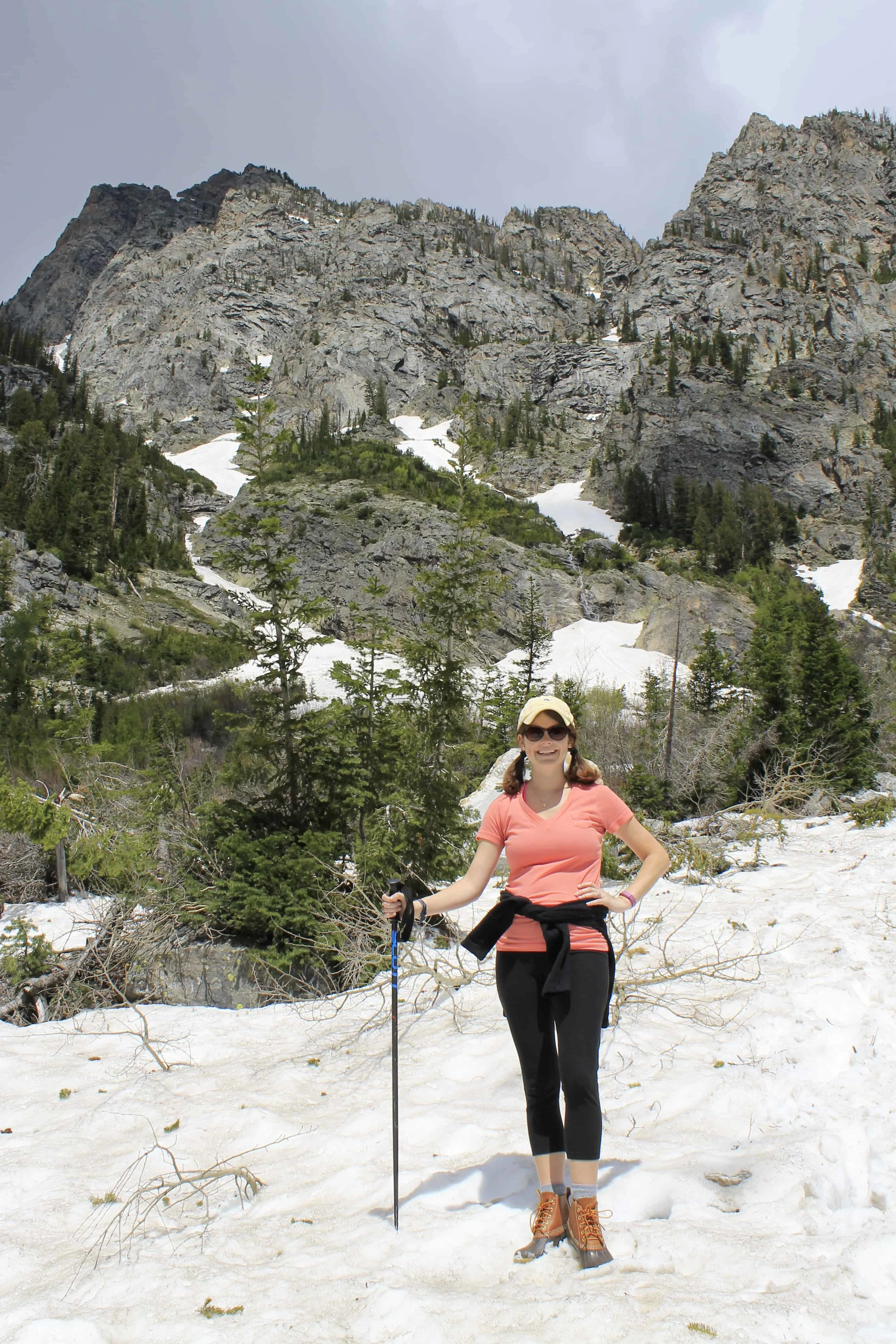 Back to the story. This was hands down the best hike I've ever done. We climbed snow drifts, saw spots that had recently been "avalanched," saw critters, and more. We were enjoying the sights, and then we rounded a bend about 2 miles in and the views just opened up and we had amazing, close up, panoramic views of the mountains. The Tetons are so crazy good looking because they are extra pointy. This is apparently because they are a (relatively) new mountain range – the rock hasn't had time to wear down to smooth, round tops yet. The snow caps in June don't hurt, either.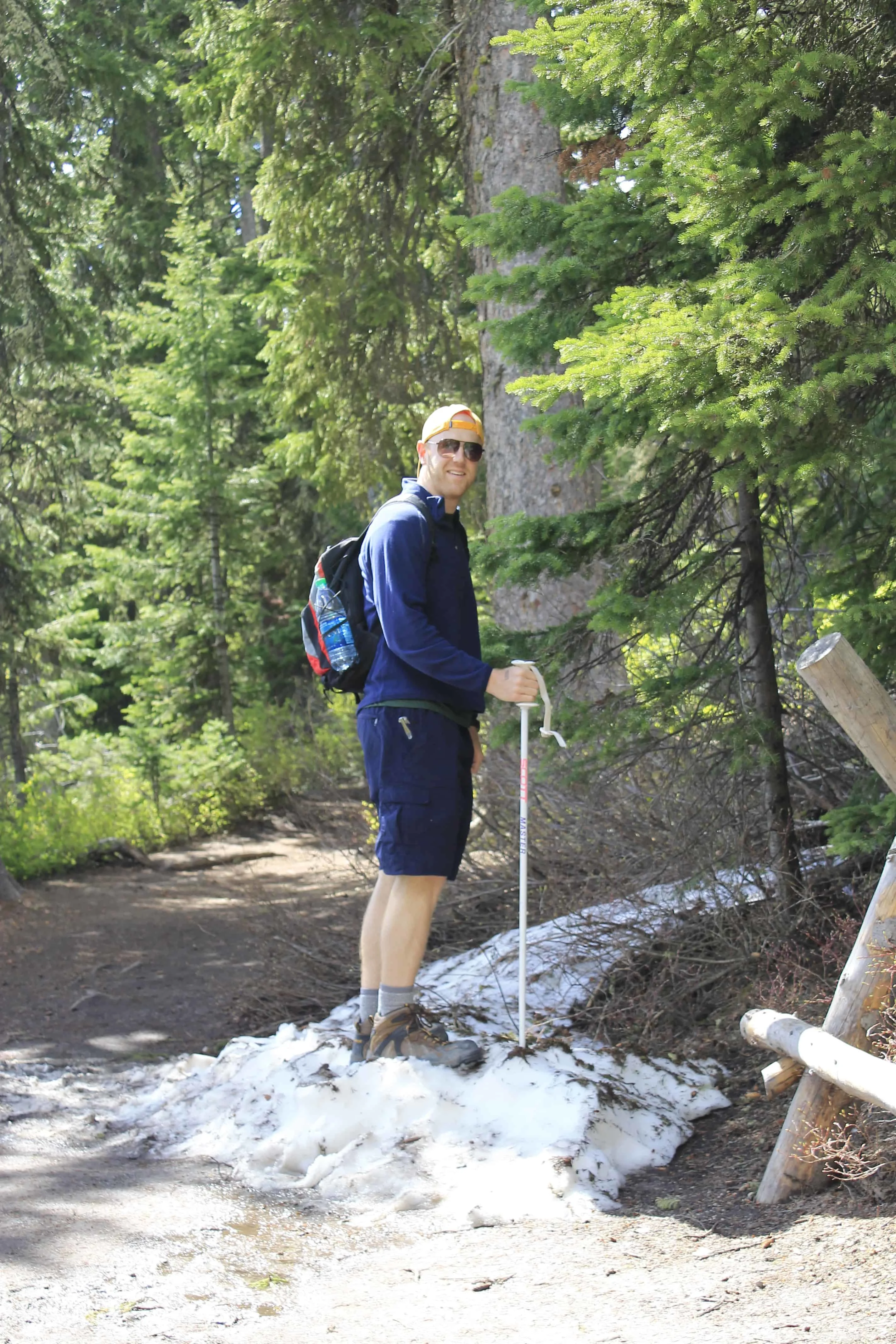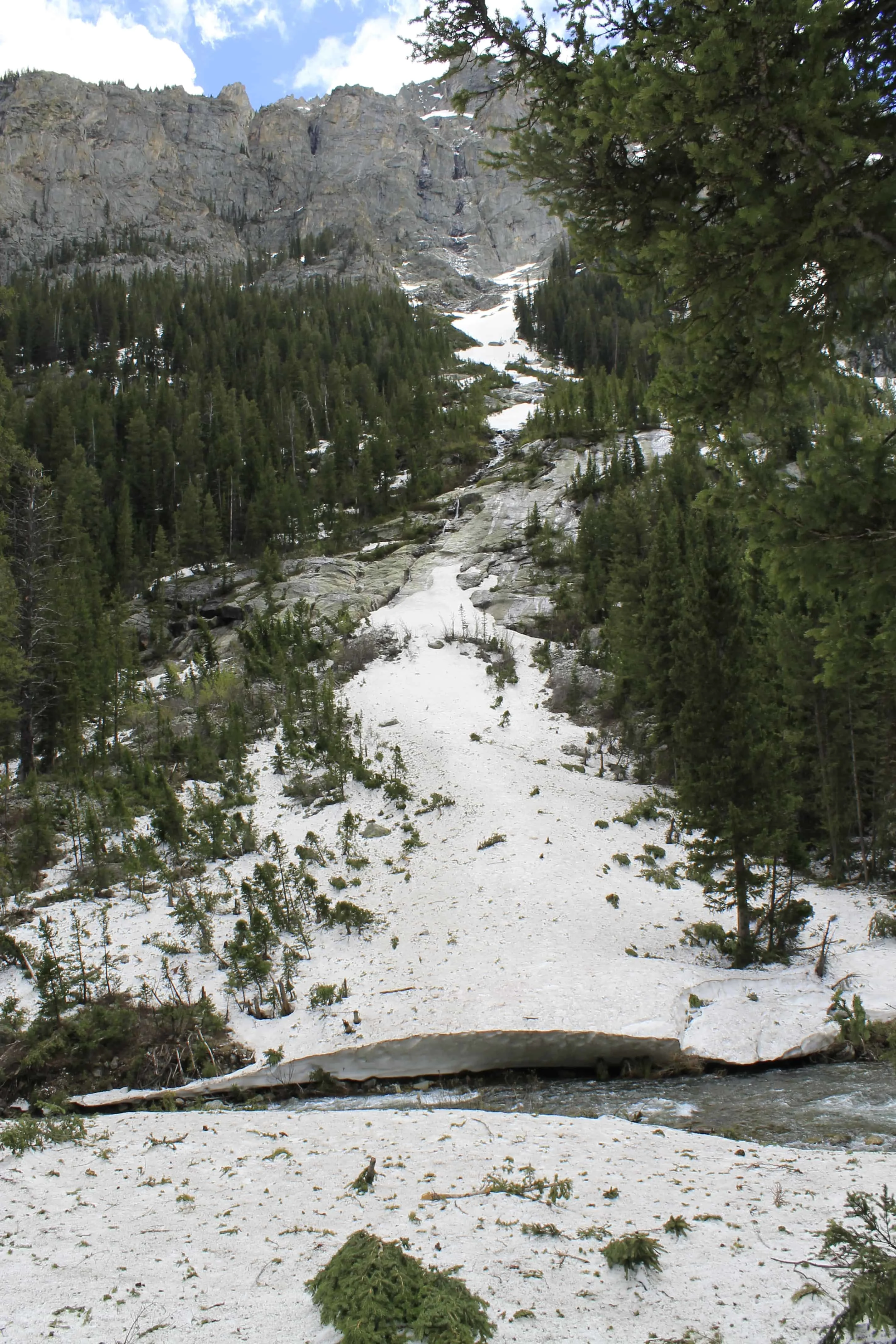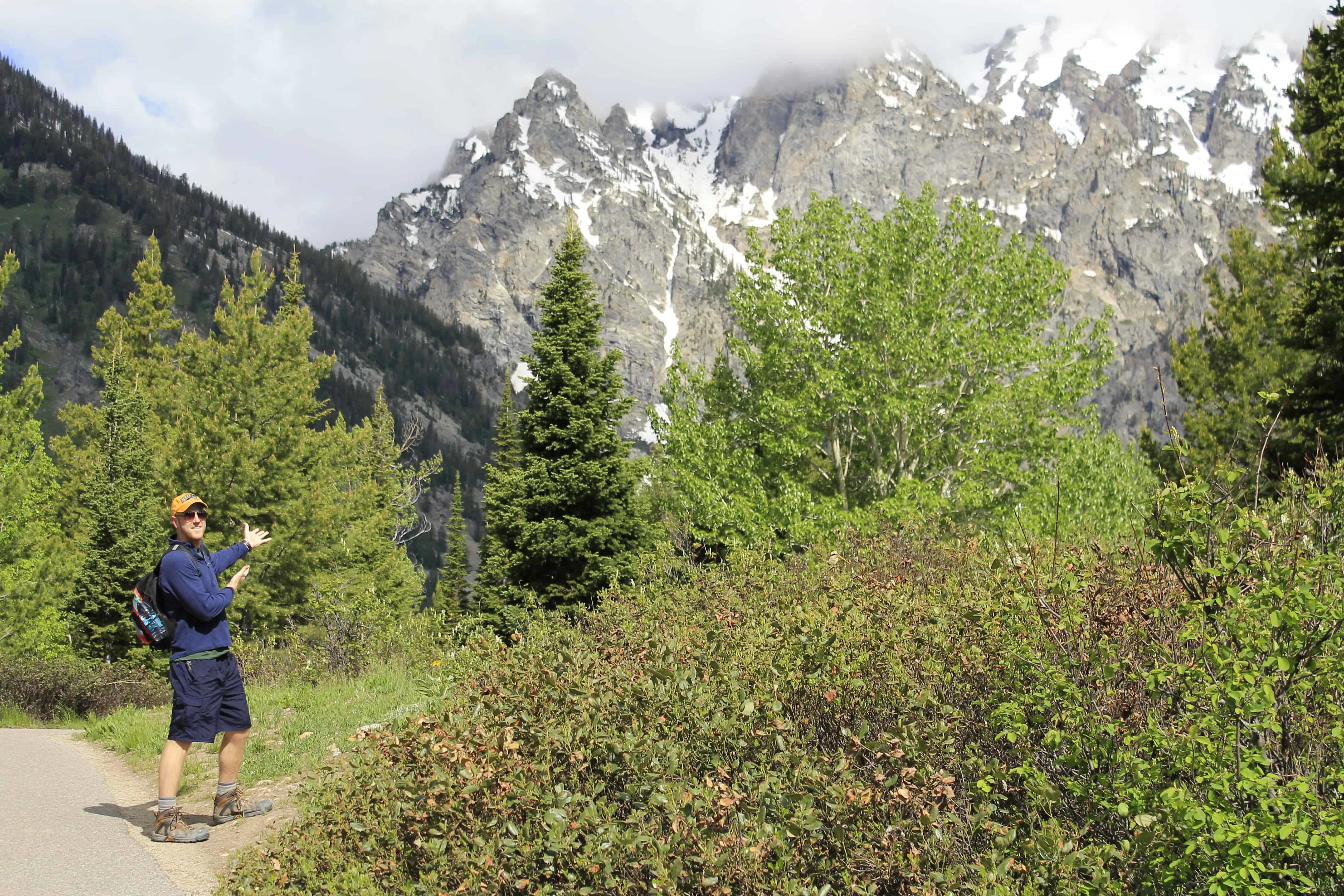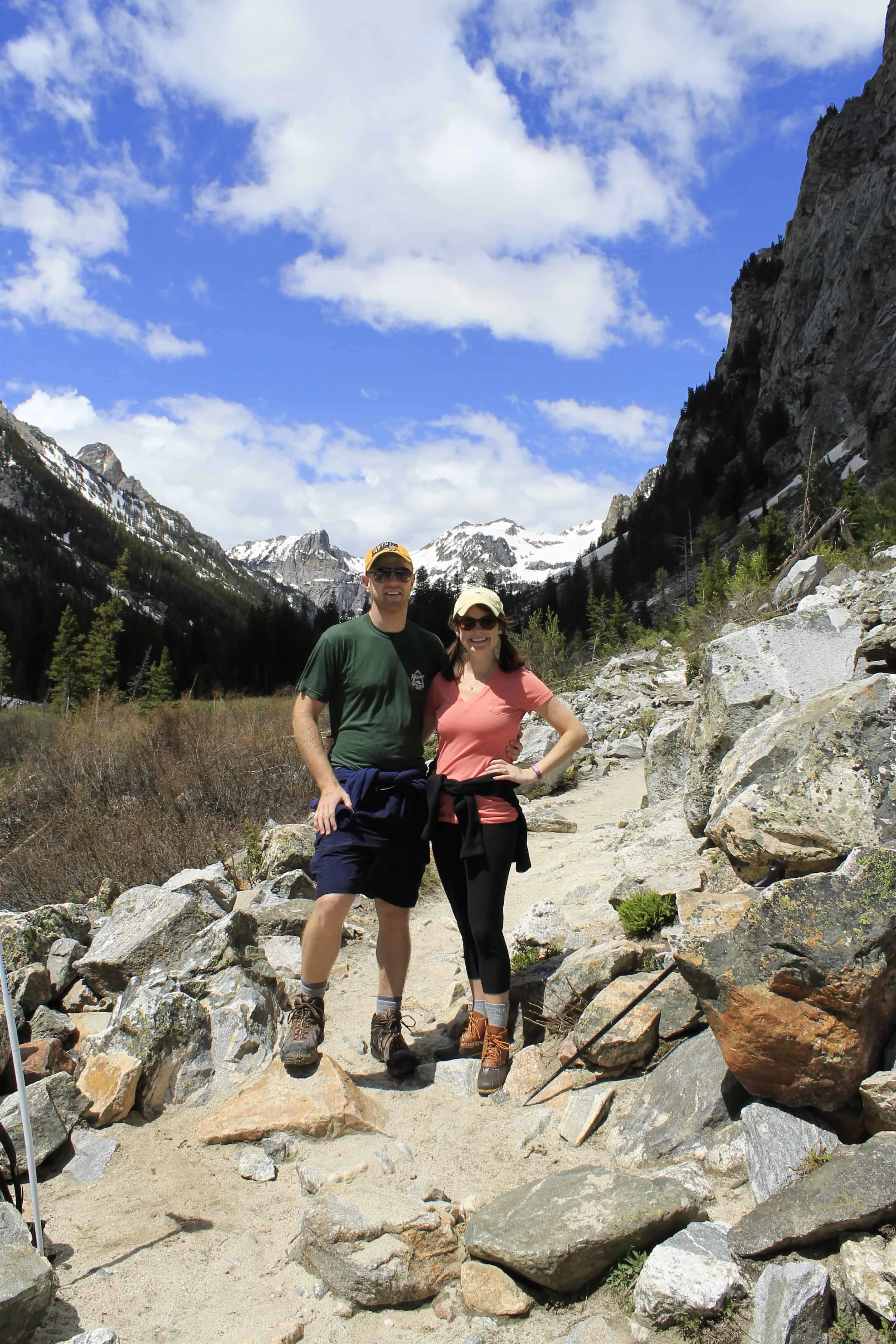 Another cool thing about this hike was that not a lot of people did it. We saw another set of people about every 20 minutes, and hiked for maybe 3 hours total. When we did see people, I made sure to get them to take our picture!
When we got to this spot, I felt like I was in heaven. The river stretched out to form an almost lake. There were huge rocks and we sat down to eat our sandwiches. We were at the base of Grand Teton, the tallest mountain in the range. It was amazing.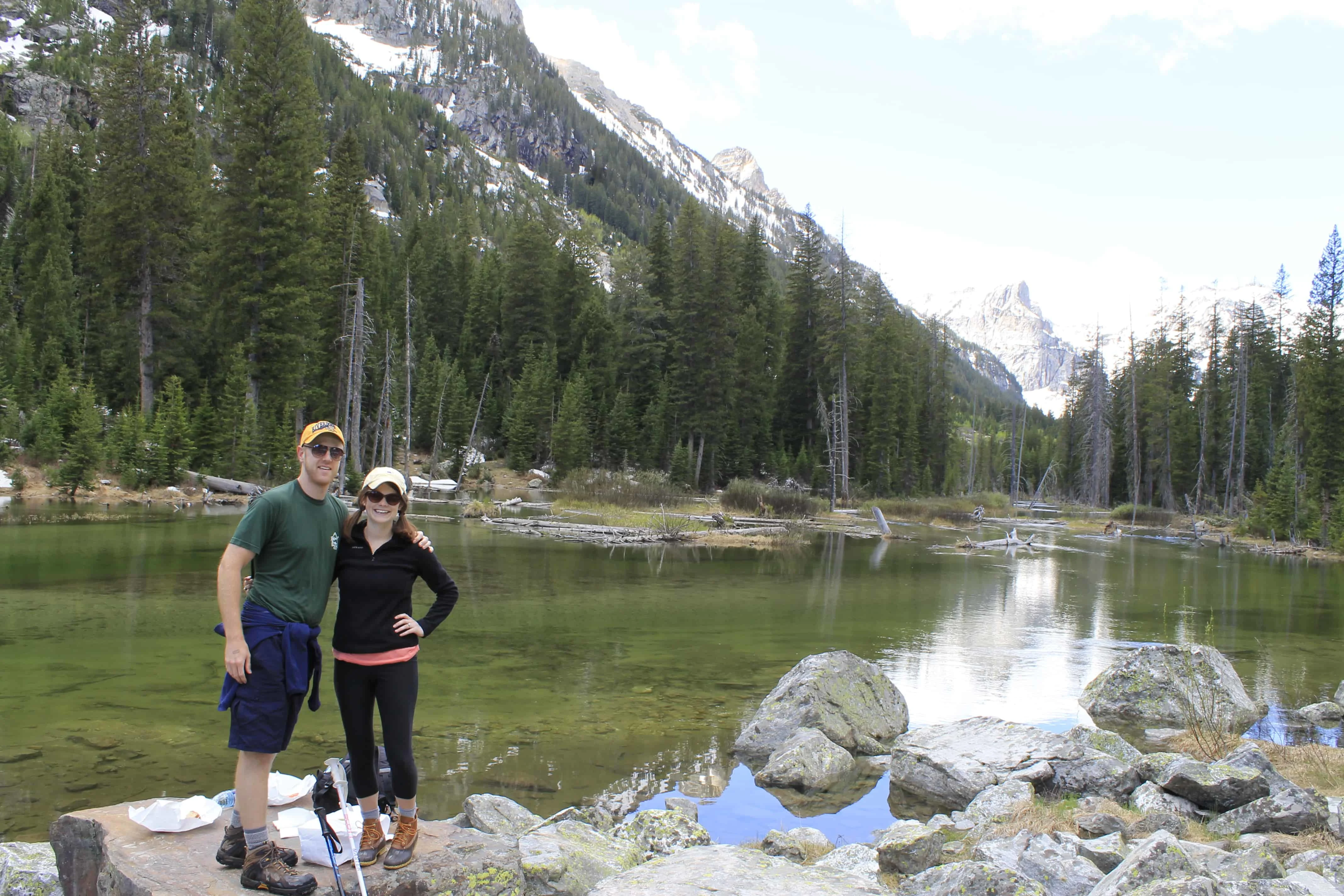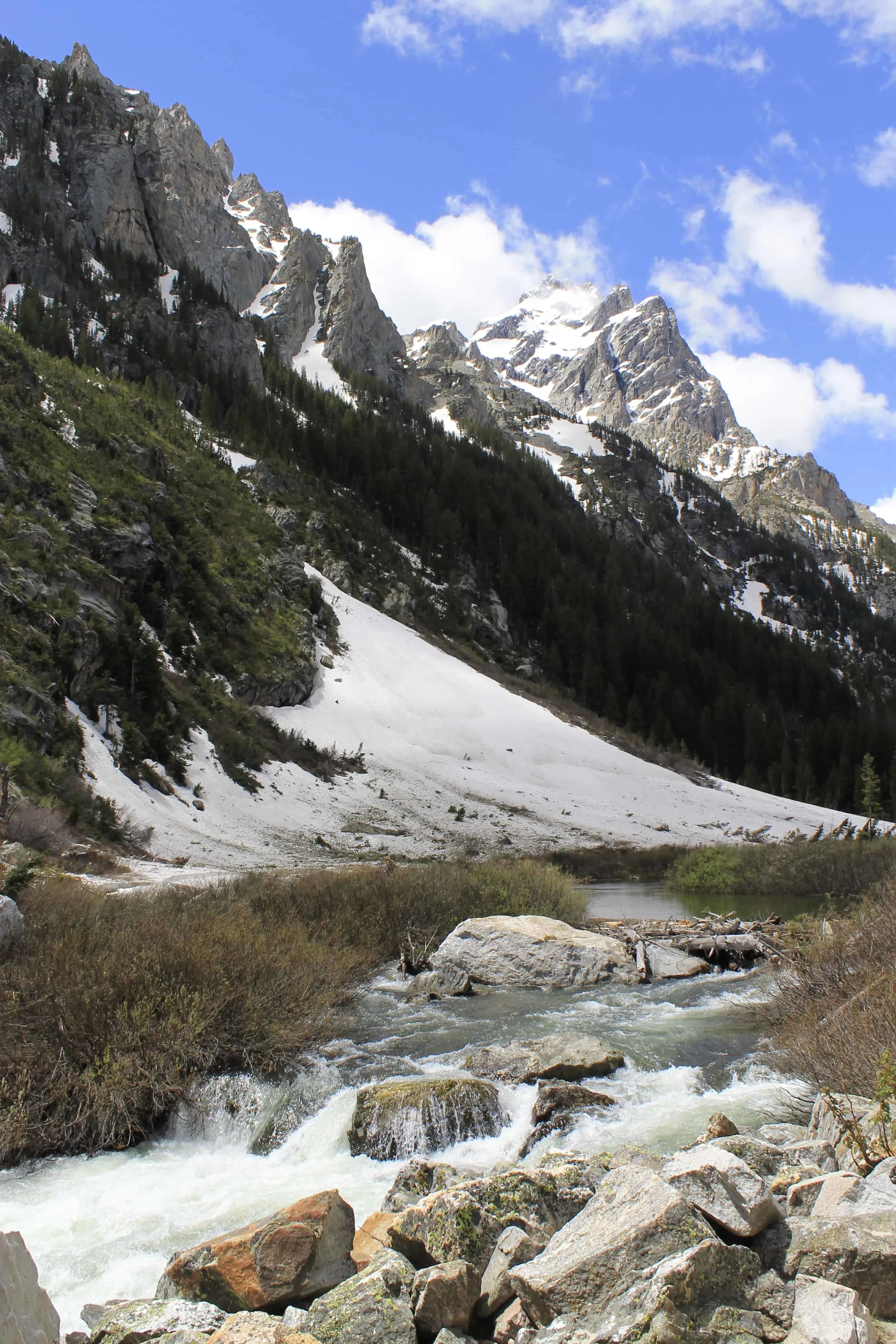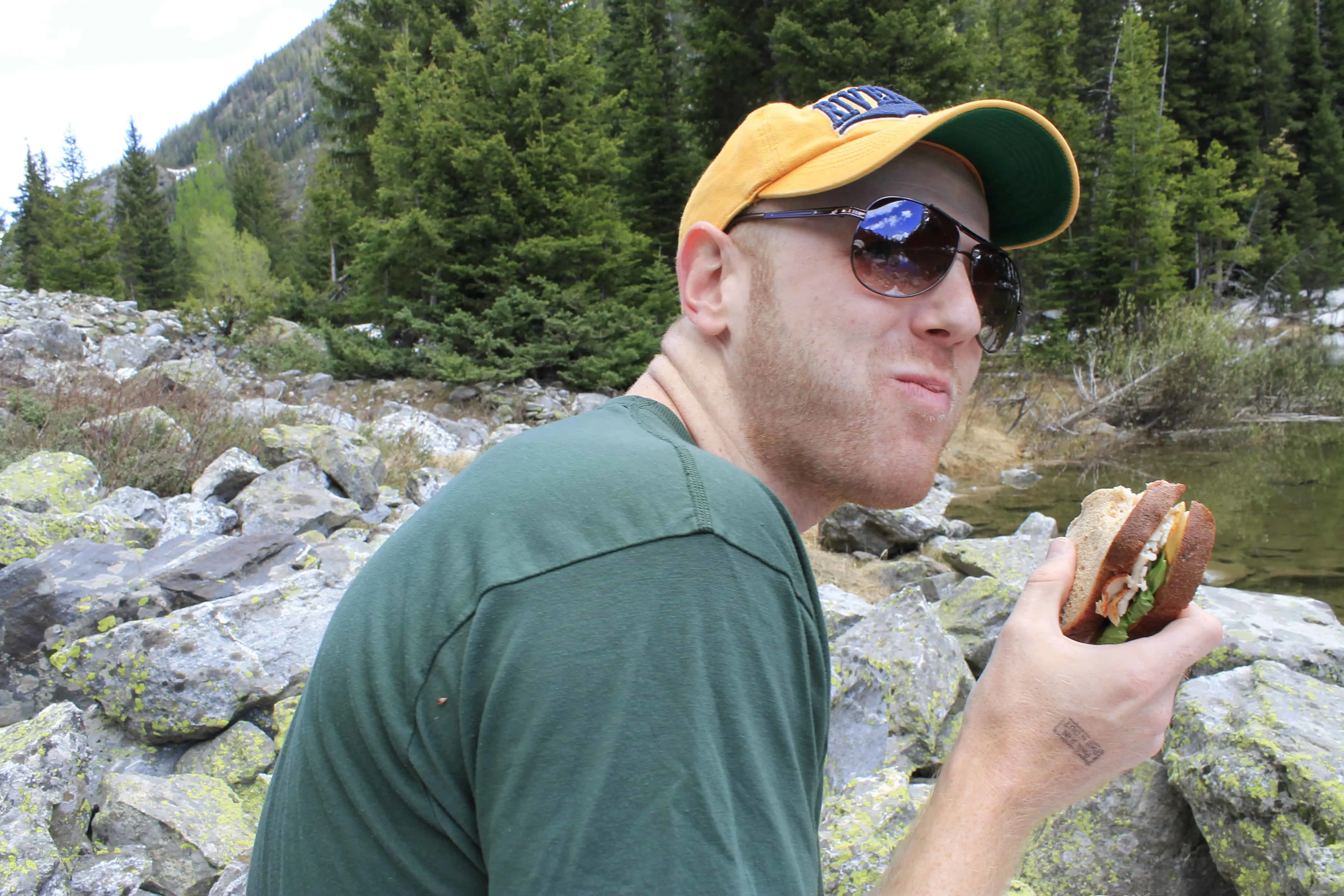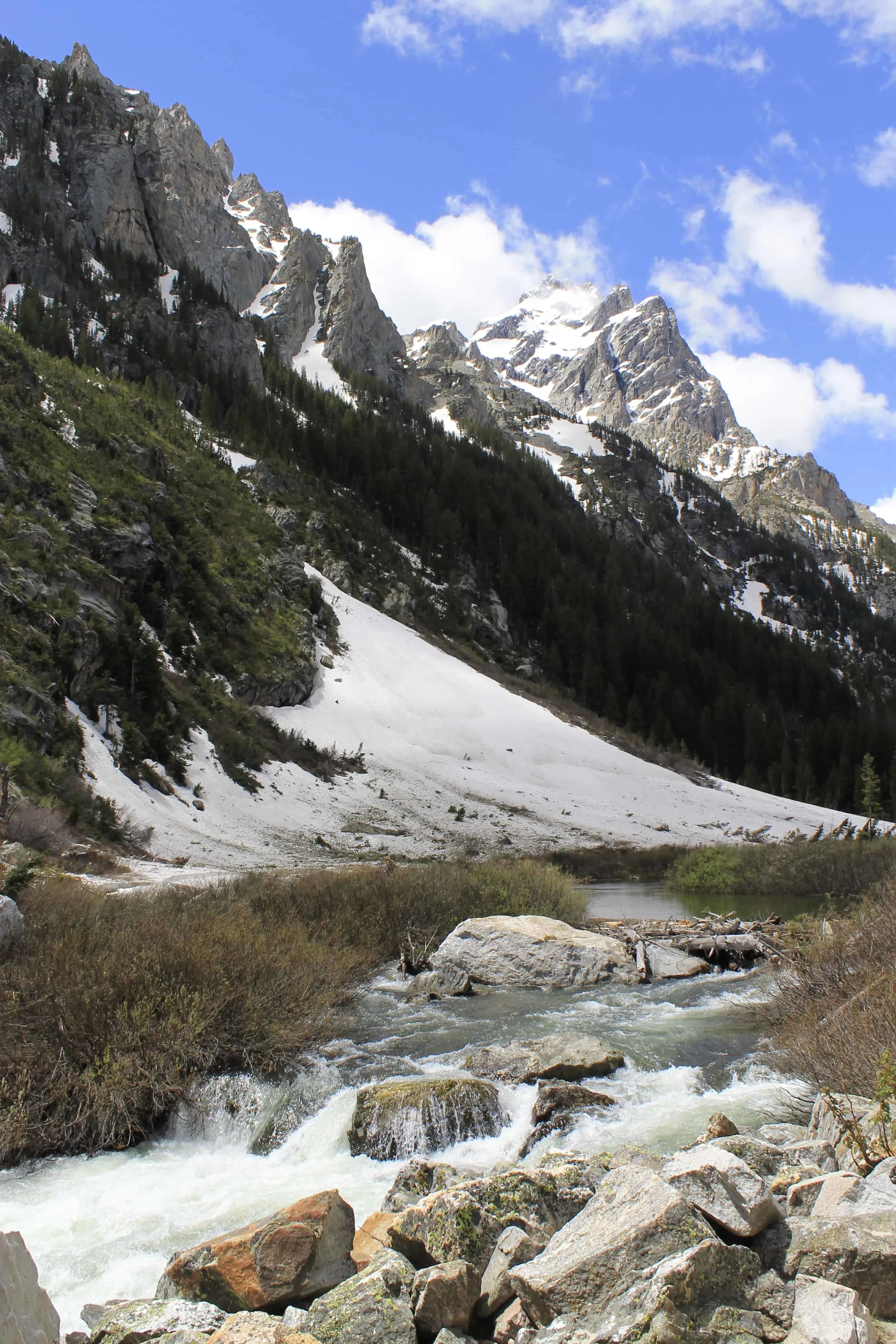 After lunch, we hiked back down the canyon and to the ferry. It was a nice, breezy ride back. After hitting the gift shop (Sean collects hiking socks from National Parks!) we headed slightly further into the park to the String Lakes. This spot gave us a short hike (more like a flat walk) and a great spot to take pictures from the base of the mountains. How about this wooden bridge?
Then we headed down Moose-Wilson Road towards Teton Village. It was a cool spot with some nice restaurants and hotels. They also have a ski-lift ride up the mountain, but we missed the last ride of the day. Instead, we grabbed beers from Wind River Brewery at Alpenhof. I loved trying all the local beers!
We headed back to the hotel, showered, and rested for a beat. Then we headed to dinner at the Snake River Brewing Company. It was slammed but we got seats at the bar right away. We tried a flight of their house-brewed beers. I loved the Snake River Pale Ale and the Blank Czech. Sean's favorites were the Lager and IPA. We also indulged in nachos and a bbq chicken pizza. It was all delicious and too much food!
This was a really cool spot because (at least the bar area) was a lot of locals. I loved talking to people and hearing their story. The bartender was from Georgia and moved to Jackson to work at the ski resort! Very cool.
After dinner, we went home and fell asleep almost immediately. I had over 22,000 steps (over 10 miles walked) for the day! A new all-time high for me!
I can't wait to share our next 2 days in Yellowstone National Park with you. Have a great weekend!