One of the most traumatic things that has ever happened to us happened about a year ago. If you've been following along with us since at least that time, you saw all of our Instagram Stories and pictures of CiCi when she was attacked by another dog. Or if you've found us within the last year, you may have noticed in any photos of her that she's missing half an ear. We never really told the story of what happened, so here it is.
Before
Last year we drove to Asheville for a little mini vacation after everyone left our house for Christmas. We rented an AirBnB in a neighborhood near downtown. It was really cool and a black bear even walked through the backyard about 10 minutes after we got there.
We spent our first full day hiking and then made a plan for our second day to go brewery hopping. We had done this a couple years before and were excited to do it again. We even mapped out all the dog-friendly breweries and what time they opened so we could have a really fun day with CiCi.
We went to Asheville Pizza and Brewing for lunch to start the day and then walked down the road to Catawba Brewing Company. At Catawba, there is a small lobby that has a door to a side seating area, which has an open doorway to the main bar/seating/brewing area. We knew from the sign out front that dogs were allowed only in the in the side seating area, so we planned to go in, Morgan sit with CiCi and me go get some beers.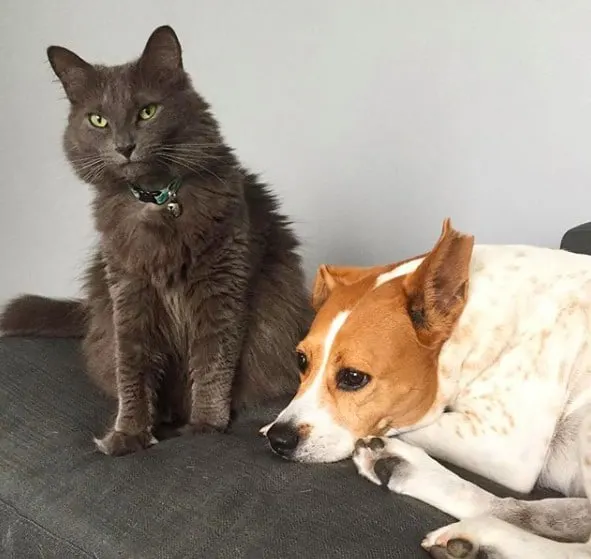 The Attack
When we opened the door to the seating area, CiCi and I walked through with her in front of me on the leash. Everything happened so fast. All the sudden, a bull terrier sprung out from under a chair and grabbed hold of CiCi's ear and started shaking its head. I heard CiCi yelp and the dog growling and I tried to reach forward to pull CiCi back by the harness. This is when I heard Morgan scream "OH MY GOD" at the top of her lungs, yet I barely heard it at all.
I looked back down and saw a little blood dripping from CiCi and I thought that the dog had drawn blood by latching onto CiCi's jowls. Then I heard another scream of "HER EAR!" and realized that the dog had bitten a huge chunk of CiCi's ear off and it was laying on the floor.
She started bleeding badly so I grabbed napkins to hold on her ear and yelled for someone to get me a towel, which I switched to and held as tight as I could all the way until we got to the vet. This was when we first noticed that the guy and his girlfriend that owned the dog just kept sitting there and did nothing to help.
Other people started coming to our aide and other people started yelling at the owners of the other dog yelling at them to get out. Someone told us to get their personal contact information for later (more on that to come). When Morgan went and took a picture of their license the guy said, "that's not even our aggressive dog, it's the other dog that's aggressive." We also put the ear in a cup of ice since we didn't know if we could reattach it.
A really nice couple offered to help us out. They Googled the closest animal hospital and called them and told them we would be coming in. They also offered to drive us and our bleeding dog to our car, which was about a mile away up a hill.
We drove to R.E.A.C.H. animal hospital and they bandaged her and told us they would need to put her completely under if we wanted to do surgery. They couldn't reattach the ear, but they were going to seal it up, or they could keep it bandaged and we could visit our own vet at home to figure out what to do.
For a number of reasons, we chose to not have surgery in the random hospital in Asheville and instead took her back to our AirBnB and had a terrible night sleep watching her.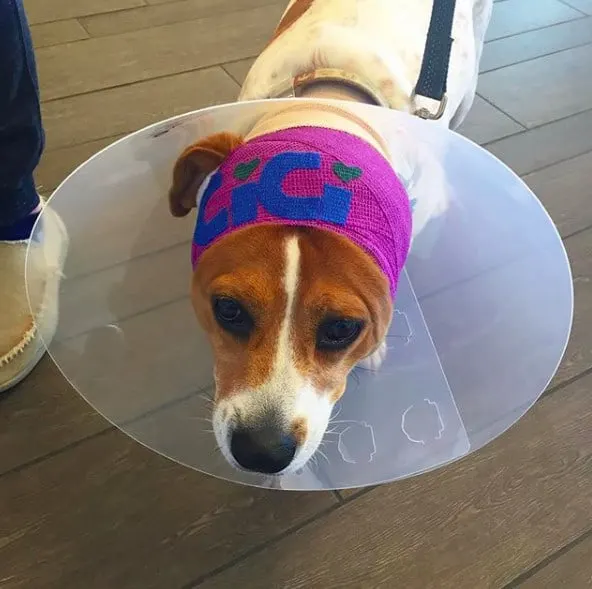 Aftermath
We drove back to Charleston the next day and, being December 30th, went to a pet urgent care to have the bandage changed since our vet wasn't open due to the holiday.
The next day, being New Year's Eve, CiCi was making a very strange breathing noise and her eyes swelled up. At that point, the only place open in Charleston was the actual 24 hour emergency animal hospital. We took her there and they said that the urgent care had wrapped her head too tight and she wasn't able to breath, so they put on another bandage.
Finally, on January 2nd, we were able to go to our normal vet. They talked about how it looked and recommended that they do a procedure to cut off the exposed cartilage and sew her flap back together. This scared us, but at least we know these people and we were home, so we did it.
The next few days were really hard since Charleston had a epic snow storm that shut the city down for five days. Of course CiCi, who loves the rare chance to see snow, couldn't play in it while she recovered from surgery and was wearing a cone. We did however put her in the wagon and drag her around the neighborhood a couple of times.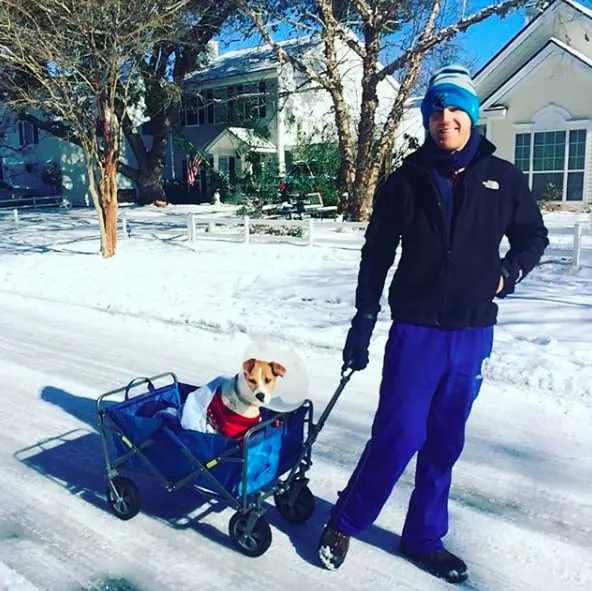 Evil People
This is when things began with the owner of the other dog. We tried using the contact information that they provided and he didn't respond. Didn't answer calls or texts for over a week.
We looked his up by the address of the driver's license that he gave us. It was a Florida license and a little internet prowling told us that he hadn't lived in Florida in years and in fact lived in Kentucky. I don't know if he thought we couldn't google, but it was really, really upsetting to find out he lied like this and was a precursor of what was to come.
Then I found him on Facebook and sent him a message there where we threatened legal action. The next day, he texted me.
When we talked, he seemed amenable to paying for the procedures, but still never said sorry. We went back and forth a few times and said he was going to pay me with Venmo after he talked to his girlfriend. He disappeared again and then texted me back a couple of days later and said that they had decided they would be willing to pay for the first bill at the vet in Asheville but nothing after that because "that was excessive and unnecessary."
All told, the bills from the four different vet trips totaled just under $800. The first one was about $250, however they told us that the surgery they were recommending was going to cost over $2,000. So I tried to explain this to the guy using his logic. If he was saying that he was willing to pay for the first bill, which would have been over $2,000 if we had done the surgery there, why would he not pay the whole $800 total for four visits?
We threatened legal action again, but unfortunately he must have discovered the same thing we had, which was that in North Carolina, their rules are that you have to sue someone in the county in which they lived… which for this guy was in Kentucky, where you had to do it in person.
We decided that we would rather put the whole ordeal behind us. I continued throughout 2018 at random times to request payment through the Venmo app, so even though he's not paying, he gets little notifications from me from time to time.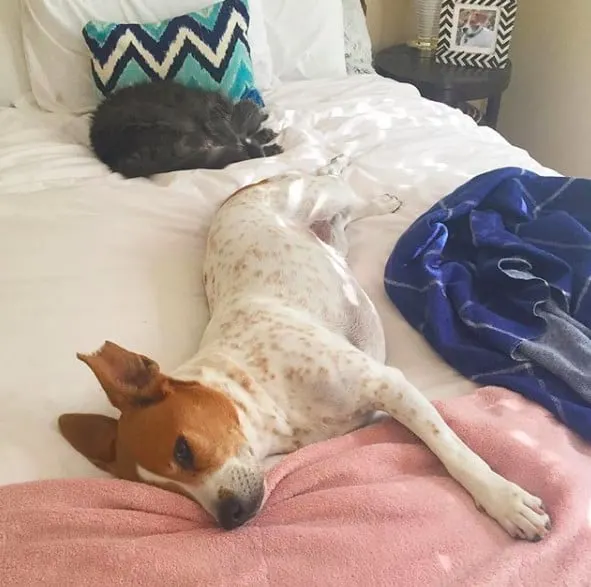 Lessons Learned
The entire experience ended up being worse for us than it did for CiCi. While it sucked for her physically for about a week, she got over it pretty quick. She didn't seem to notice any pain after a couple days and mostly just hated the cone.
For us, this ordeal really showed us that there are some scumbags in the world. I can't imagine being that guy. He tried to hide from us, forgetting that the internet exists and we found him. He gave us a fake driver's license to avoid us, but we still found him.
Then he offered only a portion of the payment and when I told him I wanted the whole thing, he ghosted again and never paid a dime. I want so badly right now to type his name, his girlfriend's name, and their places of employment right here into this post for the world to see.
I have wanted so many times to go onto their company's various social media pages and Yelp pages and write reviews saying how terrible those people are. I want badly to sue them because of how horrible they are, not even for the money.
But then I think about the people that helped us that day. Going out of the way on their vacation to find us a vet and drive us to our car. They are the opposite side of the spectrum. One day, that couple will be rewarded for their graciousness. One day, the dog biter couple will find that karma is a b!tch. We have to try to remember to be the good couple and control what we can control and help others where we can.
We also have really changed the way that we handle CiCi around other dogs. We haven't taken her to an off leash dog park since this attack. I also never let her get near a dog we don't know any more. She doesn't understand and hates being held back, but we now know that you have to be proactive in protecting yourself.
Today, CiCi is 100% fine. She would never know her ear is missing and she doesn't have any negative reactions or timidness with other dogs. The remaining portion of her ear sticks up permanently because it's not heavy enough to flop over anymore.
Everyone that sees her says "it gives her character." I always respond with "I wish she had more ear and less character." But oh well. She continues to be a beautiful happy dog and we can't wait for her to be best friends with our child.
PS – if you need a laugh after all that seriousness, check out when we let Bear write a blog post 🙂