Looking for small gift ideas for the DIYer in your life?! Here are some of the best stocking stuffers for woodworkers!
The holiday season is here and it's time to buy presents for a lot of people in your life.
If you have a woodworker that you are shopping for, the truth is that they probably already have all of the big tools that they want or need!
So, you probably don't want to buy them a tool.
But, there are lots of small woodworking gift ideas.
These ideas could work for someone that you just want to give a little gift to.
Or, they could work as stocking stuffers!
If you need some small gifts for dad who likes woodworking? These could be a great place to start.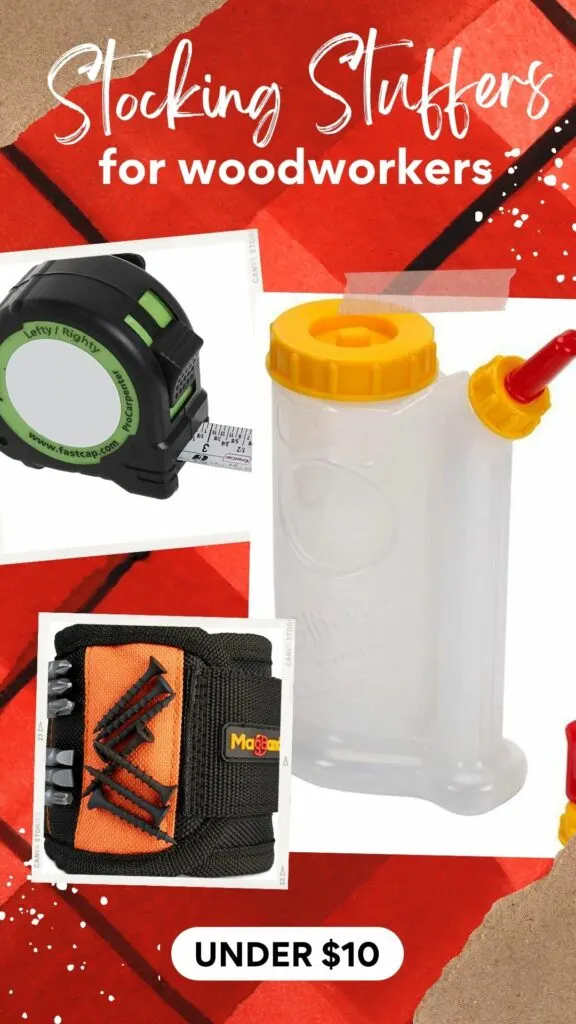 The best stocking stuffer gifts for woodworkers – under $10!
Here are some woodworking gadgets sure to excite anyone working on a woodworking project.
These are the best gift ideas for woodworkers that will run you less than ten bucks!
You really can never have enough tape measures. This one has a few extra features including an erasable notepad!
These are great for times when you have your hands full and need to be able to easily grab nails or screws.
Regular old school pencils have a much thicker tip than mechanical pencils. Seems inconsequential, but that 1/8th of an inch can really mess up your measurements! Stock them up with a big box of fine tip mechanical pencils!
The Glu Bot allows you to apply wood glue easier and more precisely than straight from the glue bottle.
These little boxes of screws are perfectly stocking-sized and always come in handy!
Having thin metal files is great for woodworking for cleaning up sharp interior corners or inside of drilled out holes. Get a set that has several shapes to fit different needs!
Swanson makes good stuff, and you can get their 12″ composite speed square for under $10. It's super handy for woodworking projects, but beware, it might poke out the top of the stocking.
Slightly over $10 (namely $12), if your woodworker also needs to dress up from time to time, try out Society Socks. They have really cool sock designs and donate a pair of socks to someone in need with each pair purchased. That's just good holiday karma.
What are your favorite woodworking Christmas gift ideas?!