Looking for ideas for classy Halloween decorations? You can get into the spooky spirit while still staying chic! Here are some great ideas!
I love Halloween. It's one of my favorite holidays to decorate for and celebrate because anything goes.
However, Halloween decor can easily get tacky.
And, no hate, my kids LOVE the house with the life size zombie battle in the front yard.
But, if you are looking for fancy halloween decor – chic halloween decor – something a bit more elegant and refined – the zombie battle probably isn't for you.
Here are my best tips for upscale halloween decorations.
Check out this year's biggest Halloween trends!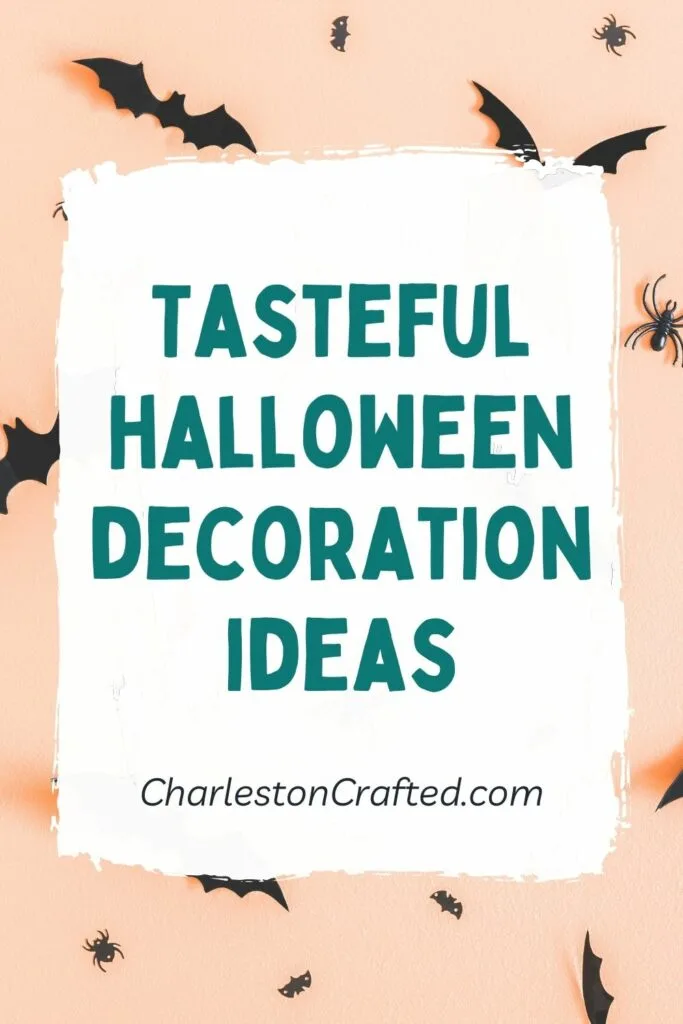 How do you decorate for Halloween in a classy way?
The best way to keep your Halloween decor classy is to stick to a simple, cohesive theme.
That includes a cohesive color scheme.
In my opinion, you want to steer clear of orange and stick to black, white, and metallic colors. Gold is a great, classy substitute for orange.
Some people can pull off the orange in an elegant way, it's just a little trickier. If you feel confident in your colors, then definitely go for it!
Classy Outdoor Halloween Decor
When it comes to elegant outdoor halloween decorations, your best bet is to keep it simple. Pick one main color and just a few decor pieces.
Porch decorating can be the perfect way to decorate for halloween in a simple, classy way.
Pops of black
Black stands out against most house colors. You can get large bats or spiders and stick them on and around your front door for a simple but impactful look.
White twinkle lights
White lights always look classy. They are a great way to illuminate your home at night for trick or treaters, too.
String lights can be wrapped on trees and branches for a "spooky tree" look that still looks very high end.
Lots of pumpkins
One of my favorite looks for fall in general is tons of pumpkins. Layer lots of pumpkins and gourds (different sizes and textures look great) up and down the steps to your front porch.
If you don't have steps, consider placing them on a tiered plant stand.
Florals
Florals always look beautiful. Mums are great (Costco has fantastic deals on huge ones this time of year) but looks for other seasonal plants like cabbages and ornamental kale. They have a bit of a spooky look to them!
Simple wreath
Stick to a wreath with one main color that goes with your front porch theme. Keep it fairly simple unles syou want your front door to be the focal point for your display.
Elegant Indoor Halloween Decor
Bar cart or buffet table
A dining room table such as a bar or buffet is the perfect place to decorate for halloween. Add pumpkins, skulls, black crows, bats, spiders, or whatever you prefer to this space for a contained, refined look.
Traditional – with a twist
You can also update your existing decor to have a halloween vibe. For example, if you have candle sticks or candle holders, replace the candles with black options, candles that drip "blood", or even mini white or metallic pumpkins!
Spooky art work
Swap the art in some of your frames for spooky art. Guests at halloween parties love this! I love art that looks like regular landscapes with little ghosts popped in!
How can I decorate for Halloween without being tacky?
Tacky is fun for Halloween, but if you are trying to avoid it:
Stick to a limited color scheme of 2-3 colors
Keep it simple with a few large, impactful items
Consider leaning into a Fall theme instead with pumpkins, gourds, and natural elements
Steer clear of inflatables or any large, life size zombies, monsters, or other creepy crawlies
What are your favorite elegant Halloween decoration ideas?