Looking for the top Halloween decor trends for the year? Here are my best ideas for decorating for Halloween – while staying trendy with your look!
Halloween is one of my very favorite holidays to decorate for. It's a chance to be completely silly and really go over the top.
I could go on and on about whyI love Halloween – it's a holiday about pure fun with no pressure for gifts or entertaining or anything like that.
But it's so fun to decorate for! If you want to decorate big or small, you can always have fun with Halloween decorations.
While it's fun to just make your house look like a Party City, there are also ways to do tasteful halloween decorations.
So, today I am going to focus on current home decor trends and how you can incorporate them into your Halloween interior house decorations.
Be sure to check out my favorite outdoor Halloween decoration ideas!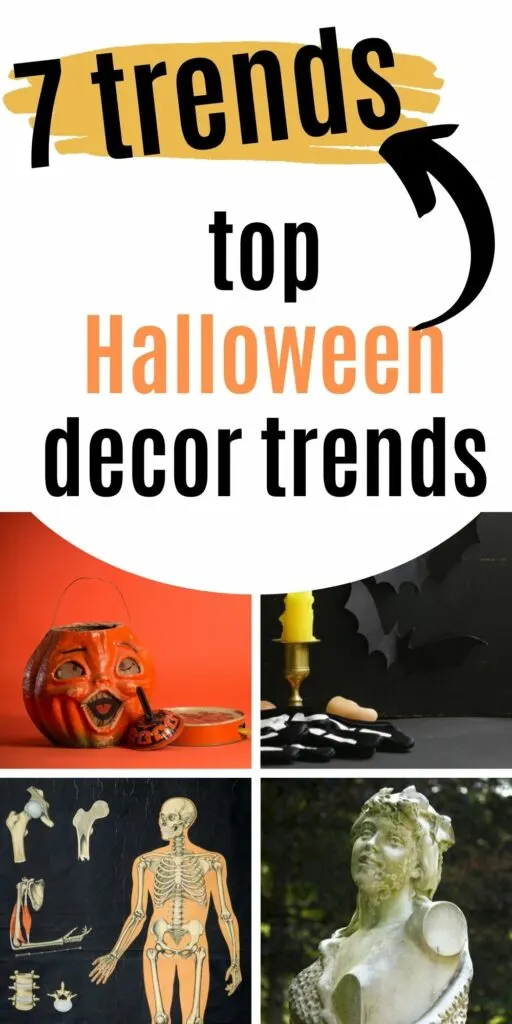 When to start decorating for Halloween?
It's typical to start decorating for Halloween in the first few days of October. We usually decorate the first full weekend in October!
Halloween Interior Decor Trends
Modern black
Black is always a modern decor choice and solid matte black is definitely trending for Fall. If you want a modern or high end look, focus just on black decor pieces.
You can also add black non-Halloween items to give your space a haunted feel. Swap out for black throw blankets or pillow covers for a quick and easy, but subtle, Halloween update.
Bring on the metallics
Metallic paint instantly makes ordinary items feel higher end. You can actually get inexpensive Halloween accessories like plastic bugs or pumpkins and spray paint them for a higher end look.
Currently, warm toned metallics – like brass, gold, or bronze – are trending. Go with a matte finish for a modern look.
Here are my favorite gold spray paints.
Ancient artifacts
Ancient relics are having a moment in decor and they honestly fit great in with spooky holiday decor.
This could be something as significant as a carved stone bust or more simple with a rustic clay pot.
Make them feel spookier by draping them with black fabric or spider webbing or perching a tiny little black faux spider on top!
Natural elements
Natural wood elements are really shining currently. This involved a lot of raw wood tones.
To get this as a spooky look, consider bringing in raw wood branches with a creepy, curvy look. Place them in a black vase and consider adding a little spider webbing to really give it Halloween vibes.
Oversized yard decor
Last year, people were really wowed by the super sized skeletons and inflatables available for your Halloween yard decor. This year, they are back and better than ever!
Be sure to check out:
Handcrafted touches
Handcrafted is really on trend, so look for anything handmade to incorporate in your decor. Search on Etsy or at local craft fairs for the perfect artisan touch!
Check out my favorite no-carve pumpkin ideas!
Stranger Things
Stranger Things might have aired earlier in the year but its presence in social media and culture is here to stay. If you watch the show, definitely try to incorporate Stranger Things elements into your decor!
Anatomical accessories
Anatomical art and posters are actually trending, too, which is perfect for Halloween. Consider printing large diagrams of various organs for a spooky art swap in your gallery wall!
For the most modern look, look for simple black and white prints with clean lines. Get as medical – or as spooky – as you'd like!
Vintage & retro details
Retro vibes are really hot right now. Consider crawling eBay for some vintage halloween decor to display! You can also find vintage looking pieces at current stores. Look for pastel colors for a modern retro look!
Harvest & Fall decor
Of course, you don't have to decorate strictly Halloween in October. If you prefer more of a harvest theme, check out my guide to this year's Fall decor trends.
What's your favorite halloween trend?