You can set a beautiful Christmas table without breaking the budget. Here are a ton of cheap & simple Christmas table decorations to inspire you!
Planning your holiday table? A holiday centerpiece is a great way to make Christmas dinner feel more festive.
But, pre-made centerpieces at places like Pottery Barn or even Michaels are super pricey.
So, today I want to share some Christmas tabletop centerpiece ideas on a budget!
What do you put on a table for Christmas?
Traditionally, your Christmas table decor ideas might include:
Place mats + place settings
Table cloth
Table runner
Christmas centerpiece
How do I make a budget Christmas centerpiece?
Cheap Christmas centerpieces for tables can be made from things you have around the house or gather outdoors. Some cheap Christmas centerpiece ideas for your dining table include:
Pine cones
Christmas ornaments
Christmas tree greenery (can cut lower limbs of tree off to fit into tree stand and reuse on the dinner table!)
Candy canes
A gingerbread house
Candle centerpiece
Ribbons in reds and greens
These items can be gathered in a variety of containers to turn them into a DIY Christmas centerpieces.
Vase
Jar
Wooden bowl
Glass bowl
Lantern
Platter
Candelabra
Cake stand
See all of my favorite modern Christmas decorations!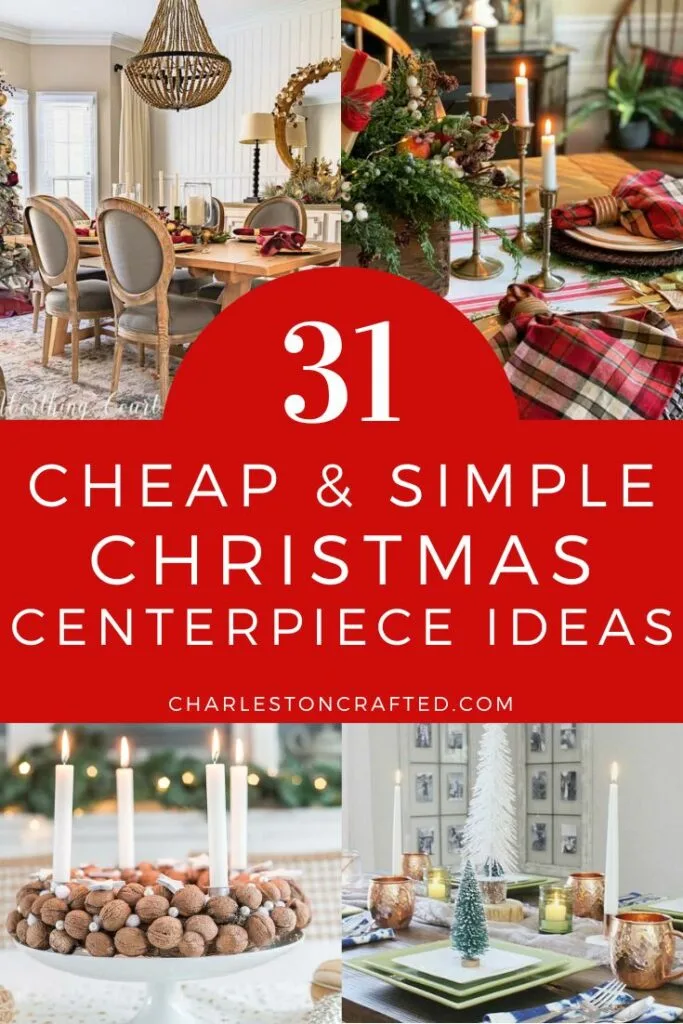 DIY Christmas Table Centerpiece Ideas
Here are some visual examples of beautiful, budget friendly Christmas centerpiece ideas.
DIY Christmas centerpiece ideas
Here are a ton of ideas for what to put on your Christmas table this holiday season!
What are your favorite ideas for Christmas table centerpieces?