We love our screened in porch – but it is beyond time for it to get a refresh! Here is our plan for decorating this space.
Our screened porch seems huge – when it is empty. However, lately, it has been feeling very small.
As the weather has gotten nicer, Luke has been absolutely loving going out onto the porch to play during the day.
However, for that to really work, we needed to lose some of the furniture and clear out a lot of space.
So, we decided to give our screened in porch a refresh. We can't just swap out furniture – we ended up making a long to do list!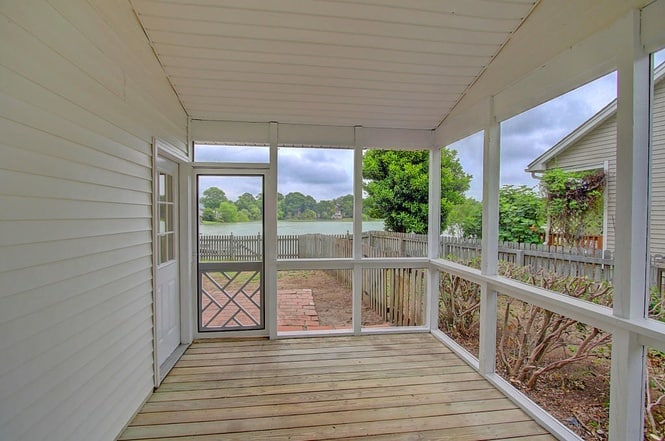 Things to consider when decorating your screened in porch
The floor – is the deck damaged? Our wooden deck is faded and not looking it's best, but it is structurally fine. Time to re-stain!
The ceiling – does it need to be cleaned? Do you wish there was lighting? A fan? We added lights and a fan last year, so we are OK in this area.
The furniture – are you trying to cram too much into the space? Be realistic about what will fit!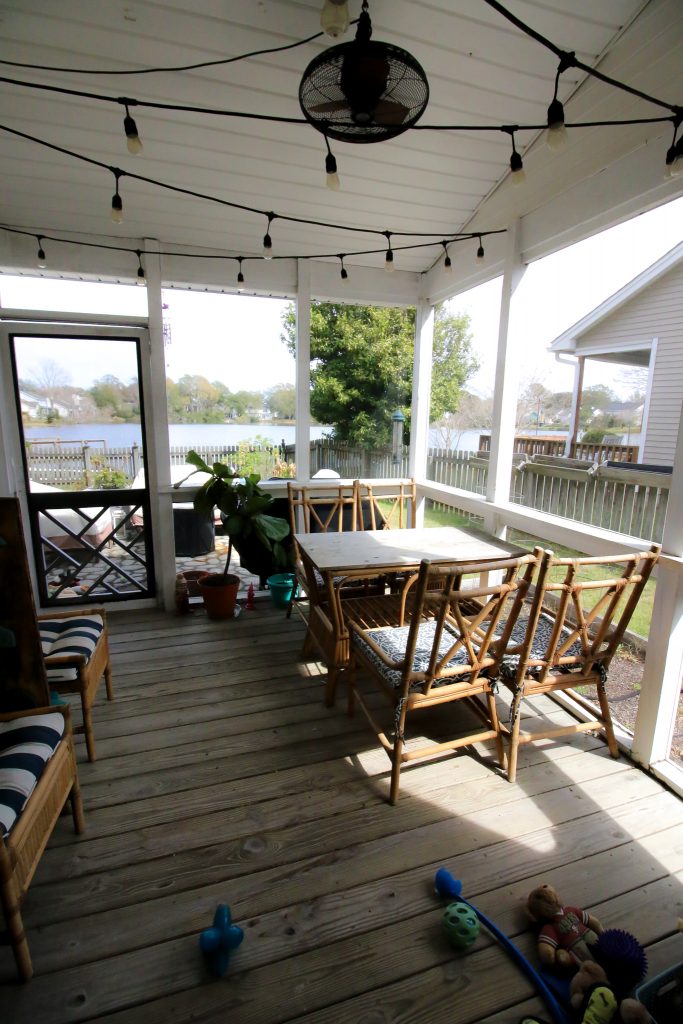 Our screened porch decor plan
The first thing that needs to happen to our porch is to re-stain the deck. This will revitalize the look and hopefully help the wood have a longer life.
We will be painting our deck with our paint sprayer and using a cedar colored wood stain.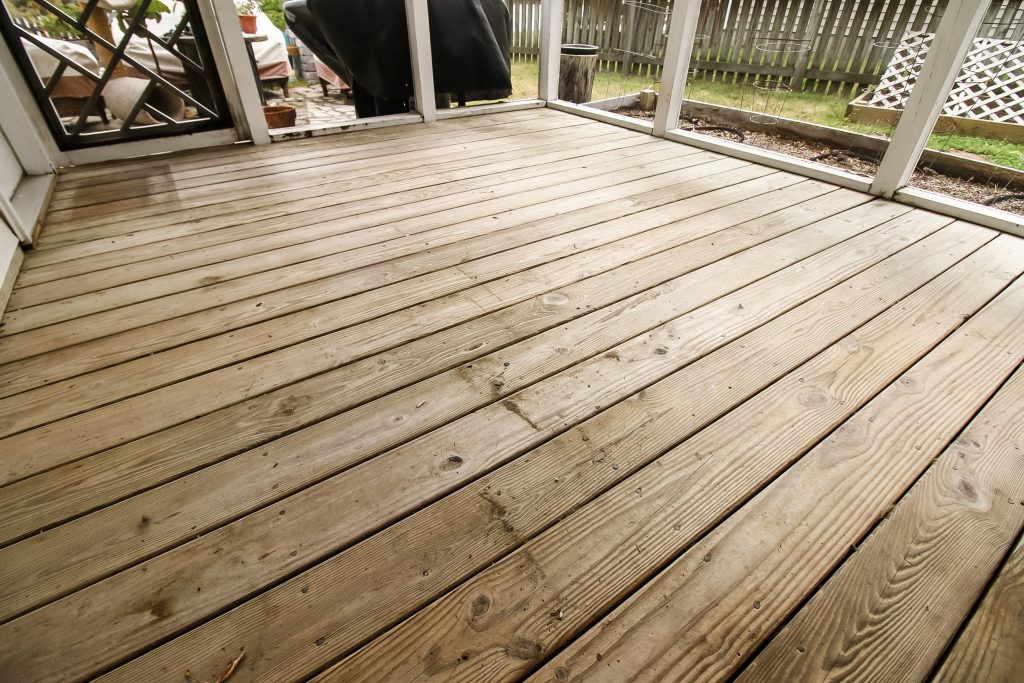 The next major thing is the furniture. We love the free bamboo furniture that I found on the side of the road, but it is truly too big for the space.
We are planning to replace this table with a smaller, round 4 person table. We actually already own a metal patio table (you can see it on our condo's screened porch!). It just needs a little makeover!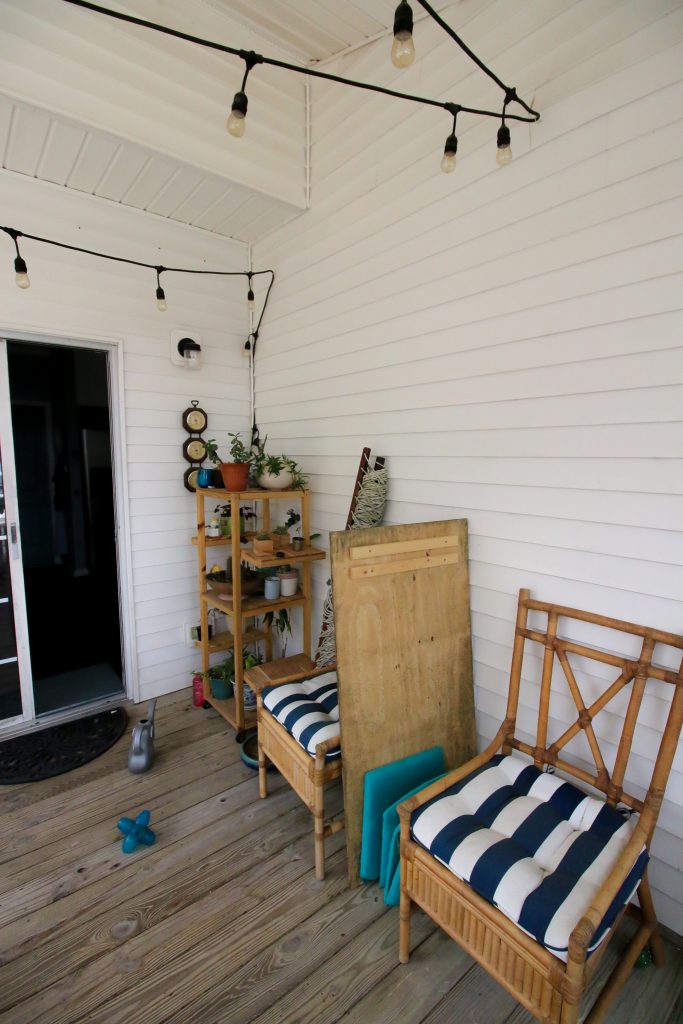 We already have a ceiling fan and overhead lights in this space. We had an outlet added close to the ceiling of the porch last year for these.
The plan is to leave our rolling plant stand in place. To replace the two bamboo chairs next to it, Sean is building a storage bench with a built-in planter! I am really excited to get this one in place.
Finally, Sean is also planning to build a new toy box for CiCi. Her outdoor toys can get gross – they need to stay outside! But they have overflowed this tiny bin. A big box is in order!
Things to keep in mind when selecting furniture for a screened in porch
If you are planning to decorate a small screened in porch, here are some things to keep in mind when selecting furiture:
Size matters – remember to measure tables with chairs pulled all the way out when deciding if they fit. Our bamboo table was OK, but the chairs don't really pull all the way out without hitting something!
Double duty is best – small spaces love multi-purpose furniture. We are excited to add a bench that is seating AND storage.
Light and airy furniture – furniture with lots of empty space – like the gaps in our metal chairs and a clear glass top – take up less visual space than solid pieces.
Decorate vertically – choose some taller pieces – or hanging decor – to draw the eye upward.
Make sure everything is outdoor grade – this should go without saying, but be sure everything is suitable to get wet and withstand the elements.
Any questions about decorating a porch?
Facebook | Instagram | Pinterest | Twitter | YouTube