CiCi is the most precious animal we have ever met (well, tied with Bear). We love her so much and she is an absolutely wonderful dog. We treat her like a family member and often better than we treat ourselves. Every night, CiCi gets a nice long walk after being cooped up in the house all day. Sadly, Mother Nature tricked us a couple of weeks ago with a time change that made it dark when we walk after work. We walk in an area that is not very well lit, so we've taken some precautions to keep CiCi safe.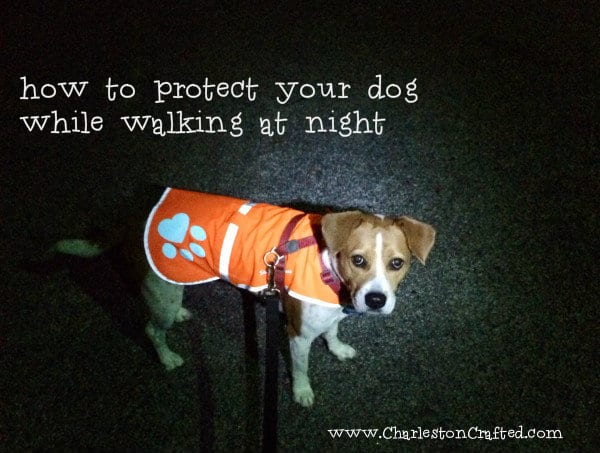 Reflective Doggie Vest– We bought CiCi a reflective doggie vest that makes her look a little like a construction worker… but a SAFE construction worker. She looks kind of ridiculous, but who cares. We would rather her be safe and poorly dressed than dead and stylish. The headlights of people's cars reflects off the paw prints and silver stripes to keep her safe.
Light Up Collar– We have a pink collar that has a button on it that lights up in three different fashions- a fast blink, a slow blink and a solid light. Having a blinking light around her neck is going to alert cars to her presence even before the light reflects off her vest.
Flashlight– We always carry a flashlight with us that serves multiple purposes. The light illuminates where we are going, lets us check to make sure there aren't any creatures walking around, and serves as a beacon to shine at cars when they are heading our way. I don't shine it directly into their eyes, but simply wave it back and forth a bit to make sure they switch to the other side of the road.
How do you protect your pets at night?