There is so much to do to prepare for a wedding. Vendors to coordinate, crafts to make, visions to bring to life. For me, it was also important that I get my body into the best possible version of myself. We are spending a lot of money on photography and we will be seeing people that we don't get to see very often. It was important to me that I look my best.
In this way, it was great that I had a year long engagement. It gave me plenty of time to create new routines and really improve my lifestyle. Almost all of these things, I plan on maintaining into the future, and I am so excited and proud of where I am.
I actually started my healthy eating & exercise regime March 1st, 2014, before we were even engaged (in April). I had a sort of come-to-Jesus moment where I realized that I was really unhappy with how I looked. I wasn't overweight at all, and I have actually always been very skinny & scrawny, especially in my arms and legs. I was carrying a small amount of extra weight in my stomach. I have a mild case of scoliosis (remember in middle school where they made you bend over and the nurse felt your spine? I was one of the lucky ones selected for follow up visits) and the slight curvature of my spine combined with having a desk job has resulted in me having terrible posture that often led to me sticking out my stomach. Combined with the little bit of extra fat on my stomach, I looked pregnant. Not in a, oh gosh I thought I looked pregnant kind of way. In a, strangers literally asked me when the baby was due. In public. To my face. It was humiliating.
After that happened in my workplace in front of coworkers (and I went to the bathroom to cry), I decided to get control of my life and my body. I knew that I needed to create a healthy eating and living plan that I could maintain long term and that I could get Sean to agree to participate in. Over the course of twelve months, I have lost ten pounds and about 2 dress/pant sizes. More importantly, I feel strong and lean and so much more confident in myself. I know that I have so much more energy and just feel happier – this is how I was meant to be!
I wanted to share some of the things that I have been doing and would love to hear if you did anything special to prepare yourself for your wedding, and whether you kept them up after the honeymoon!
Diet
My diet is really not a "diet." I just try to eat healthy about 75 % of the time. For me, that means being "bad" on Tuesday nights (when we play trivia at Mellow Mushroom) and usually on Friday or Saturday night, too. The trick with being "bad" and not busting your diet is just taking it easy. Don't forbid yourself pizza to the point that you can't stand it and order and eat a whole pie. Allow yourself pizza once a week, just eat two slices and a side salad or veggies if you're still hungry.
My diet isn't for everyone. I am naturally pretty small and honestly don't eat a lot. While I can sit down and stuff my face, I don't really get super hungry, but I always eat when I am. I also try to somewhat to eat "for my blood type." I have A negative blood and therefore should stay away from meat whenever possible. My jaw dropped when I read this article, because I tend to steer clear of a lot of meats anyways. I was vegetarian from the 4th grade to the 11th grade (and only started eating meat because I lived in France for the summer before my senior year of high school and felt like I had to eat meat to survive with the culture over there). I just never really felt that meat, especially red meat, agreed with me. Now I know why! PS – if you love food pics, be sure to follow me on instagram!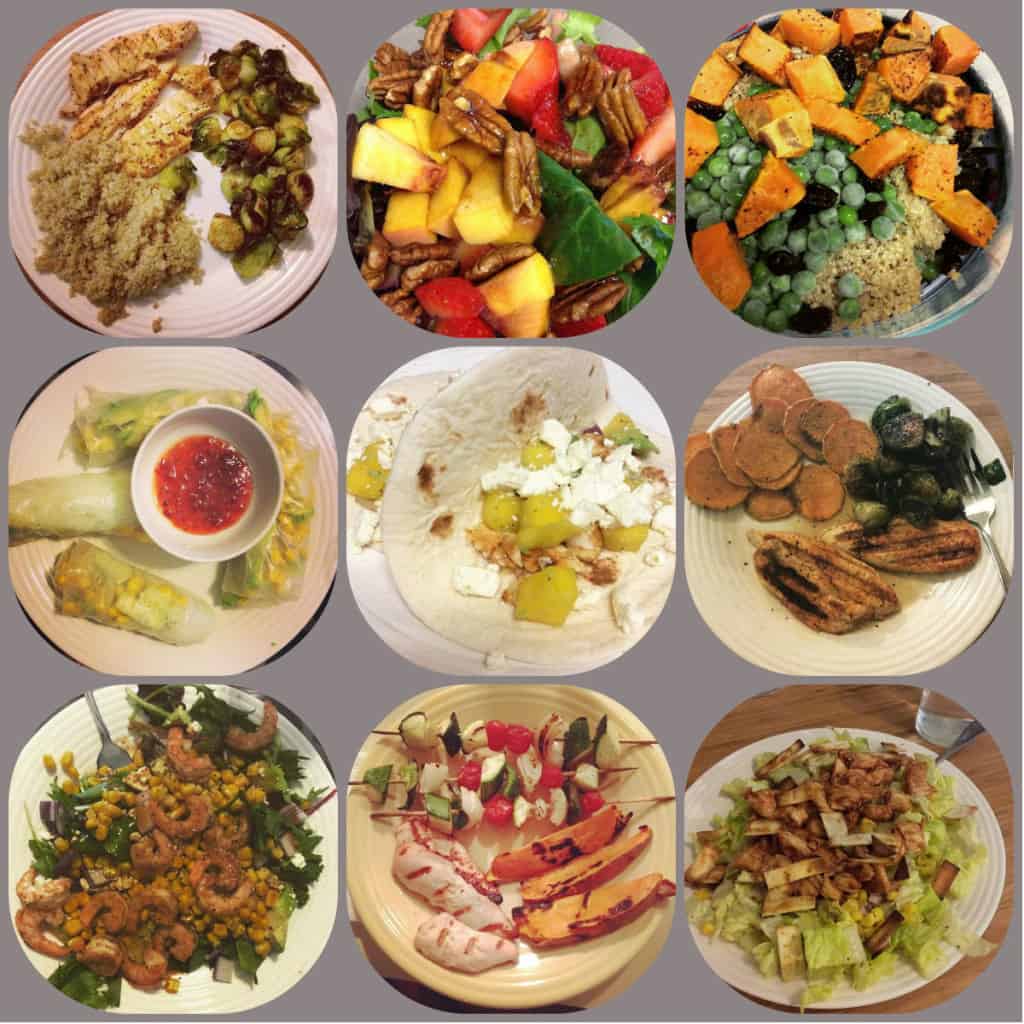 Here's what my average weekday meal looks like:
Breakfast – 7:30am – Sean makes us both protein smoothies in the Ninja blender. They contain banana, almond milk, frozen fruit, flax seed, and protein powder. We drink these while packing our lunches and watching Sportscenter. Recently, I have also been trying to drink a glass of hot water with lemon (before the smoothie – while I put on makeup and do my hair) to jump start my metabolism.
Morning Snack – 10am – I eat a 90-100 calorie granola bar (Fiber One bars are my favorite, but I've been eating Costco brand lately to save a little cash) at my desk at work. Something with a higher fiber count keeps you fuller, longer. This holds me over to lunch.
Lunch – 12noon – About 75 percent of the time, I eat a salad for lunch. My favorite combinations are apple/pear, feta, pecan, craisin and egg, avocado, feta, cucumber, red onion. I make all of my own vinaigrette dressings and usually make 2 days worth at a time. If we have a lot of leftovers, I will eat those, but that's not very often. I try not to eat the same thing for lunch more than twice in a row or I get sick of it.  If I am 100% over salads, I will make a quinoa toss up (sans the chicken) or even a sweet potato quesadilla or veggie club sandwich. It's all about mixing it up!
Afternoon snack – 3pm – My dad is nuts about nuts.com and he got me hooked on their energy squares. They are made with chia seeds, sunflower seeds, dates, cashews, and more, and come in flavors that are actually really yummy. I eat a square or two in the afternoon and can really see a difference in my energy level!
Dinner – 8pm – We eat dinner really late because Sean doesn't get home from the gym until 7pm. Once he gets home we walk the dog for at least 30 minutes, then go finish cooking and eating. I usually do the prep work before he gets home, but we like to have things hot so I don't do any cooking until after our walk. For dinner, we eat a huge variety of things. But, about 1/2 of the time we do salads for dinner, and the other half of the time we do a lean protein (chicken, tilapia or shrimp usually, occasionally a lean cut of pork or ground turkey) at least one green veggie, and a "good" carb, like sweet potatoes or corn tortillas. Once again, it mostly comes down to portion control and eating lots of yummy veggies.
Bedtime snack – 9pm – Growing up, I always had a bowl of ice cream every night before bed. When Sean and I started hanging out, I introduced him to my nightly ice cream. And I mean, we had BIG bowls. Four or five scoops. We would go through a carton in two days. We went cold turkey on ice cream about six months ago, but I still get that sweet fix! I am obsessed with Luigi Italian Ice because it is delicious, takes a while to eat, and are super low cal. We also used to get the fruit bars (popsicles) dipped in greek yogurt at Costco, but they quit carrying them. Bring them back, Costco!
Vitamins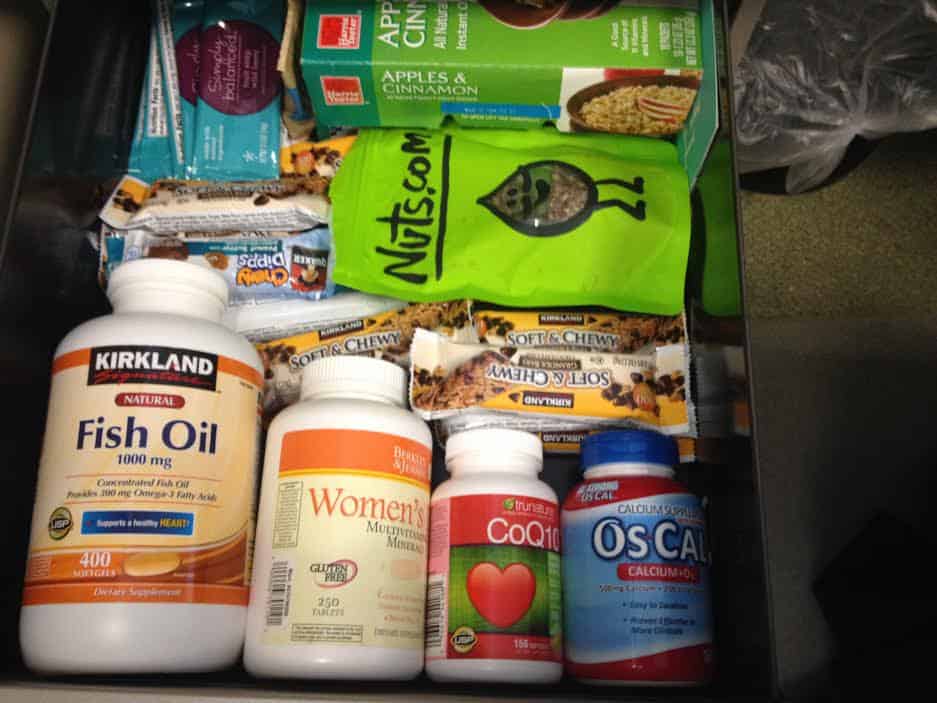 I have always been resistant to taking any kinds of supplements. However, I have been taking the following vitamins for the better part of a year and definitely see good results. I set an alarm/event on my Outlook calendar at work to remind me to take them after lunch – so I have food on my stomach.
Daily Vitamin – I haven't seen any specific physical benefits from taking this, but it does make me feel good to know that I am getting my recommended doses of a lot of vitamins and minerals.
Fish Oil – I have naturally/genetically high blood pressure. I also have what I lovingly call a "hummingbird heart" meaning that my heart beats really fast when I feel anxious about something. Like the doctor. Where they take my blood pressure. Fish Oil pills have a lot of Omega 3 Fatty Acids which are said to help lower blood pressure. I have seen a small decrease in my blood pressure and hope that with long term use it continues to go down.
C0Q10 – My dentist recommended that I start taking C0Q10 because I was having a problem with gum bleeding. I can definitely say that this cleared up my gums very quickly and I no longer have any bleeding! It's actually miraculous – If I miss it for a week, my gums start bleeding easily again. It really works!
Calcium – I started taking calcium after one of my (young) coworkers broke her leg playing pick up soccer. Her doctor told her that it might not have broken if she had been taking calcium and had stronger bones. At the time, we were playing kickball and I was slightly worried about some of the aggressive guys on other teams. Better safe than sorry on this one!
Biotin – This is the newest pill in my pill drawer. My hairdresser actually recommended that I take 3 Biotin after dinner every night to help with hair and nail growth. I have only been taking it for about a month but WOW my hair is growing at least twice as fast as normal and my nails are growing thicker and longer, too. It's really miraculous.
Exercise

While diet is very important to being healthy, adding exercise into my weekly routine has been the hardest and most effective thing that I have done over the last year. I exercise three times a week. I do work out videos – Jillian Michaels videos. They are each less than 30 minutes long and kick your butt! Many of her videos are available on youtube for free. All you need is a set of hand weights. Her videos include three minutes of strength, two minutes of cardio, and one minute of abs. I do them three times a week (Monday – Thursday with one "skip" day). I do each "level" on each video about ten times (3 weeks) before moving on to the next one.
I started with the famous 30 Day Shred, then did Ripped in 30, and have recently started Yoga Inferno. They are all good, but Ripped in 30 level 3 is by far my favorite – it will kick your butt, but in the best possible way. Best of all they are cheap (So much cheaper than a gym! Each DVD is a one time purchase of less than $10 on Amazon!), they are quick, and you do them at home. No one watching, no where to go, nothing to lose.
If I could ever meet Jillian Michaels, I would kiss her on the mouth. Once I committed to doing them, her videos have seriously changed my life. I have always been scrawny, especially in my limbs. For the first time in my life, I have muscle definition in my legs and arms (my calves are amazing. I am in awe everytime I shave my legs in the shower). I also have developed awesomely strong abs. Having a strong core has majorly helped with my scoliosis and posture in a way that I never thought could be possible. I stand up straight and have a flat stomach again!
Oh, this is relatively small, but I also do 50 crunches every morning. I do them while my flat iron heats up, it takes about a minute, and it makes me feel a little more awake! I used to do a whole routine in the morning with jumping jacks and push ups, but that was a bit more than my schedule allowed. 50 crunches is easy!
Walking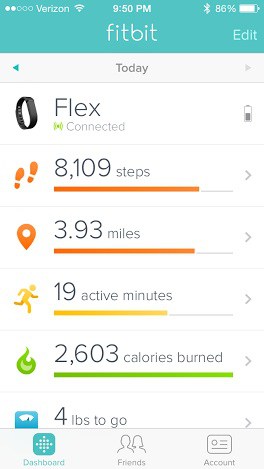 Another major life change occurred when I got my FitBit. Having a step counter on me at all times made me hyper aware of my activity level. I realized that I could easily walk 1,500 to 2,000 steps in twenty minutes, but when I sat at my desk all day at work, I would often find myself at 5pm with less than 2,000 steps! That's less than a mile! I have made it my goal to hit 70,000 steps a week, and while I don't always do it, I do find myself taking more opportunities to walk. I walk for 15 minutes of my lunch break every day, preferably outside when the weather is nice. I park further away at the grocery store. I tack an extra block onto our dog walk when we have an easy dinner to cook. Walking makes you feel good and healthy and can actually burn a lot of calories. It shouldn't be discounted as a form of exercise and activity!
Tanning
This is my bad girl, shame on me section that I really considered leaving off of here. But, for the sake of full disclosure, I have started tanning in preparation for my wedding. I purchased a two month package and am going once a week to the bronzing bed. I know the health risks, but… I honestly think that I look so much better with just a little color. I look thinner and healthier and much better in white. I worked at a salon in high school and then tanned a lot in college, so the skin damage is already there, and I swear that this is my last affair with the tanning beds. But I do think that my weight loss and new muscles look great with a tan!
Skin Care
On the other hand, I have tried to create a skin care routine. I now wash my face every night (I didn't use to) and use a night cream. The one that I use was purchased at an Arbonne at home party and was very expensive. When it runs out, I will be looking for new suggestions, preferably something I can buy at CVS.
Teeth
I have never had perfect teeth. I am trying to get them just to look as good as they can in pictures. So, Sean and I have both been doing Crest White Strips. We have been doing the Gentle Routine strips and will probably do a One Hour Express closer to the wedding date. I have also started flossing my teeth. I set an alarm on my Outlook at work to floss at 1pm, and I floss before brushing my teeth at night. Obviously, no one at the wedding will know if I floss, but it goes along with a general healthy lifestyle.
Pampering
Finally, I have booked myself a massage and a facial for a week before the wedding. I got a spa gift card for Christmas and am SO excited to use it. I'll also get a manicure and pedicure the day before the wedding. I haven't gotten my nails done since early 2013 (budget cuts, so sad) so it will be a mega treat for me.
Whew! That's a lot, but really it all just feels like a part of my every day life now. I'd love to hear what you are doing to get your body ready for your wedding or just to be happier with your body and lifestyle!