Whew, it's been a heck of a week since we moved in to our new house! When we were inspecting the house before we closed, we noticed that none of the windows had any sort of blinds or anything to cover them. So, considering we were going out of town the first weekend after moving in, we wanted at least the windows on the front of the house to be covered so no one was looking in. So, the first real project we did to our new house was to install plantation shutters in the living room.
We've seen plantation shutters in other people's homes before and thought they looked really nice. We're going for a cleaner, nicer look for our front room (or we will be whenever we get around to designing it), so we wanted these plantation shutters on the three windows in that room.
We decided on these plantation shutters from The Home Depot and ordered them before we moved in. They were delivered the day before we closed, which was actually a week before they were supposed to.
First lesson in window treatments- measure 8 times. We got them and they were too tall to fit inside the window box and two narrow to fit outside the window box. Luckily, they are designed to be able to cut, so I headed down the street to my buddy's house and used his table saw to trim off the appropriate amounts from the tops of the shutters. When I hung them, however, they were also just slightly too wide as well and didn't close all the way. So I went back to his house and cut off a small sliver from the bracket that holds them to the wall.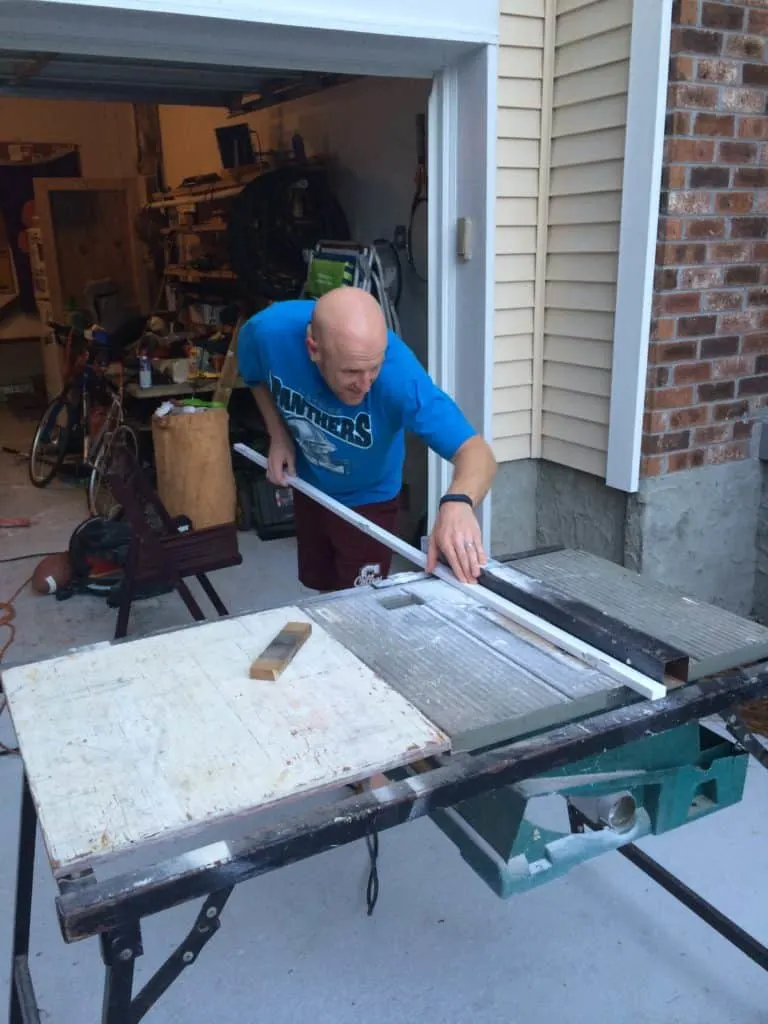 The shutters were very simple to hang (once they were sized right!). Three screws in each of the brackets on each side, then slide the shutters onto the metal pieces and they are installed.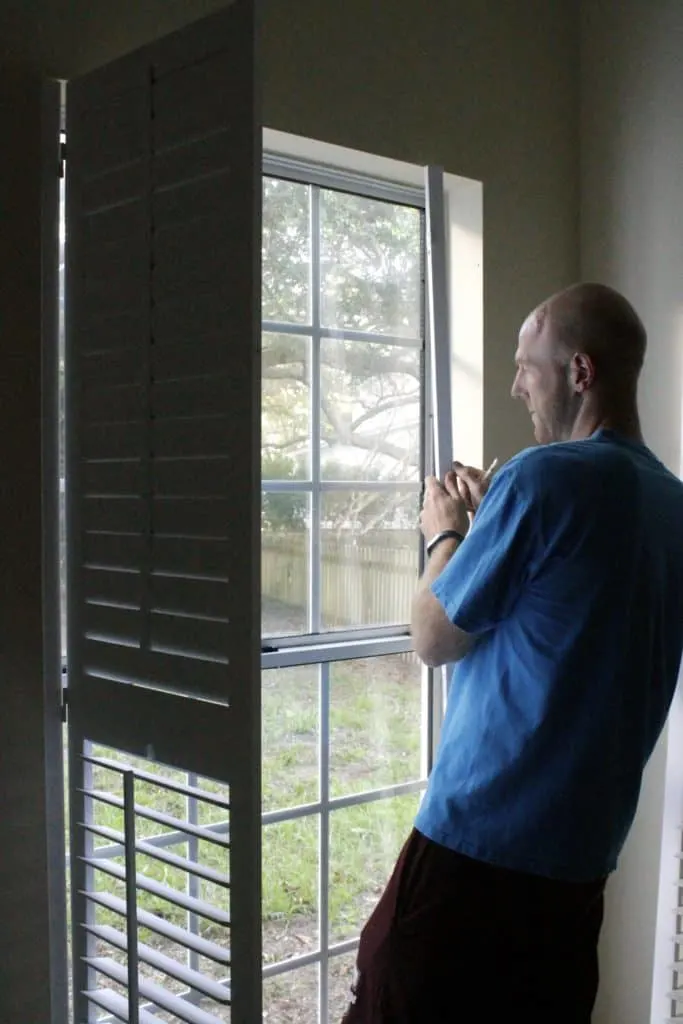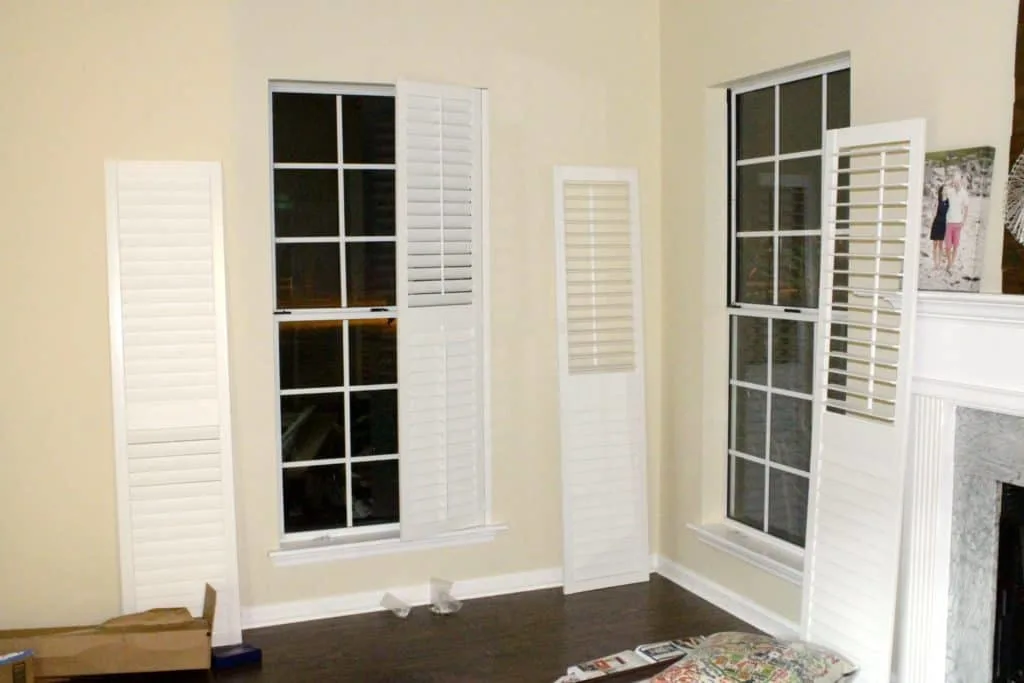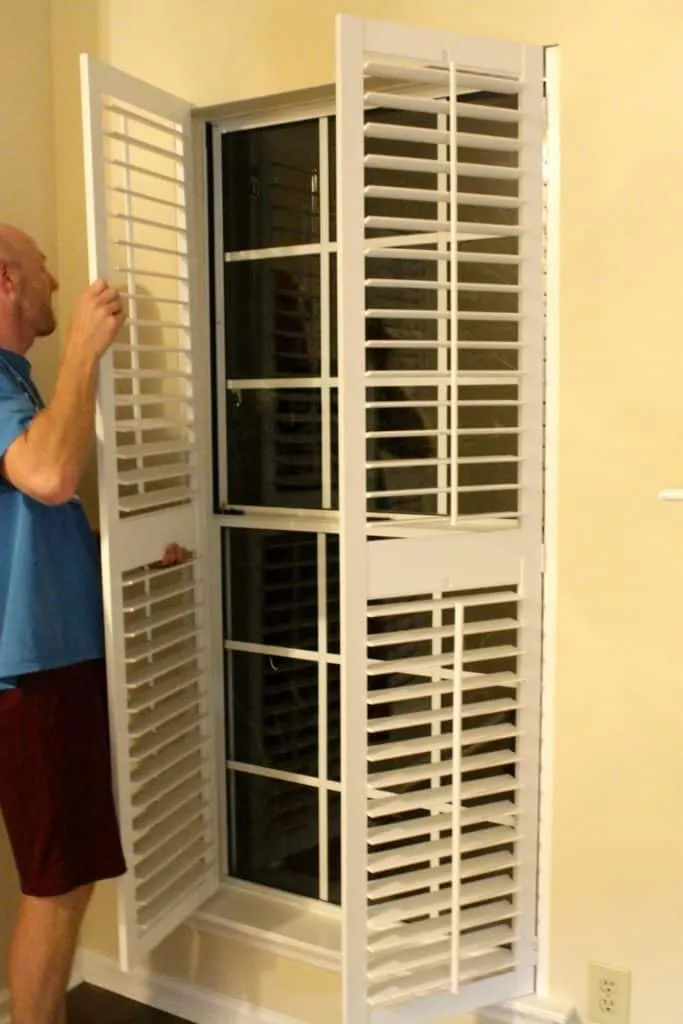 Then I added the knobs and hooks that came with them for aesthetics and to keep them closed and voila!
The plantation shutters in the living room look really nice and classy and keep all the light out and no one can peer in. We have a lot more windows in the house, but we really wanted to get these up quick so that people wouldn't be looking in on us from the street in the dark. It turned out great!