I am shocked to say that our mantel actually stayed empty from Christmas until now! It is very unlike me – I really love decorating it for the seasons! I just have let the baby get the best of me, but I was so excited to decorate for the summer.
See how we extended our fireplace to the ceiling here!
Patriotic Mantel Ideas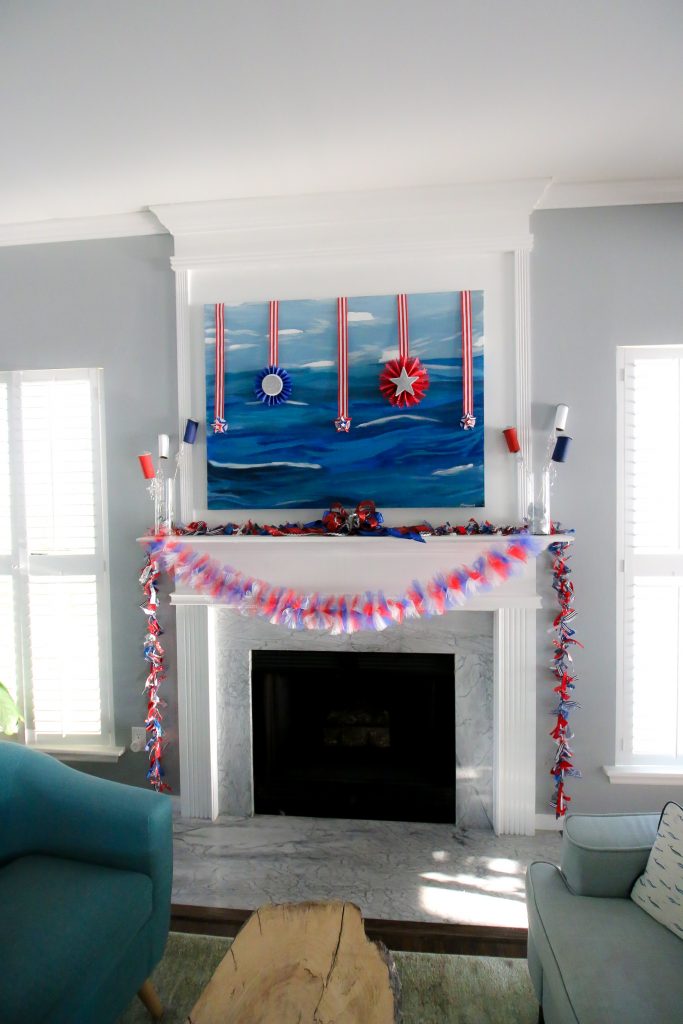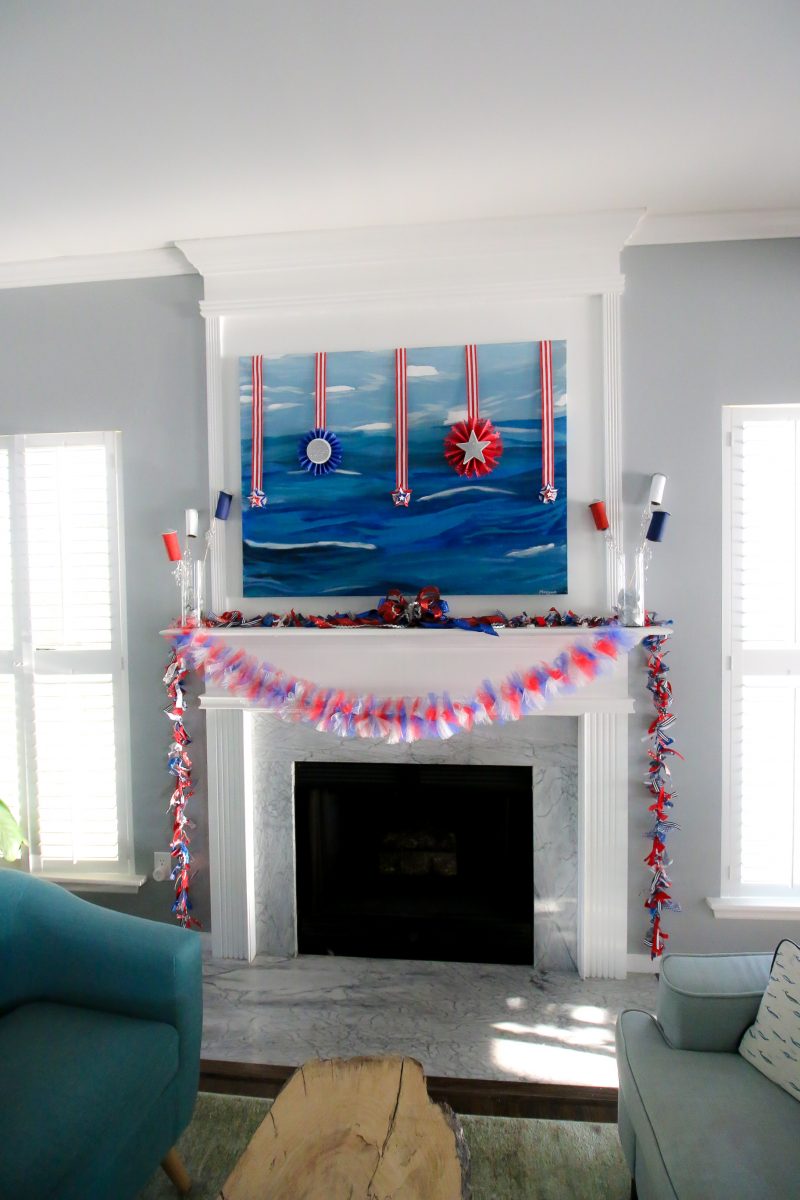 Of course, the basis of any patriotic mantel is going to be using red, white, and blue.
I like to focus on having high, mid-level, and low decor for a balanced look.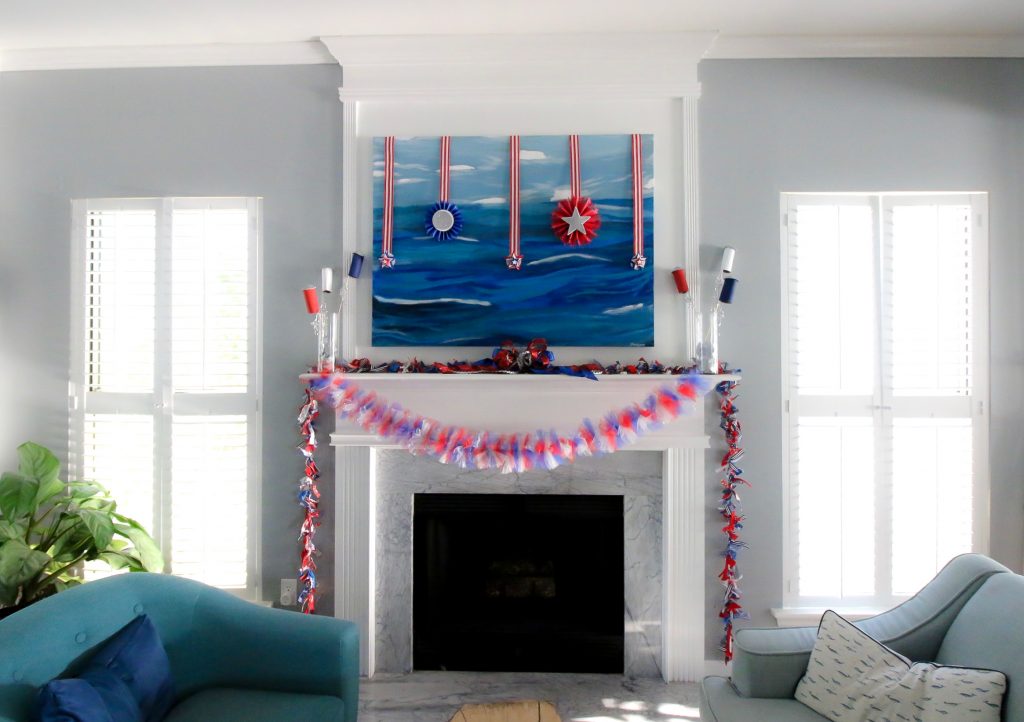 DIY Fabric Boas
The first thing that I made for my mantel was a fabric boa. I have made these before (here is a fabric boa I made for the Super Bowl one year).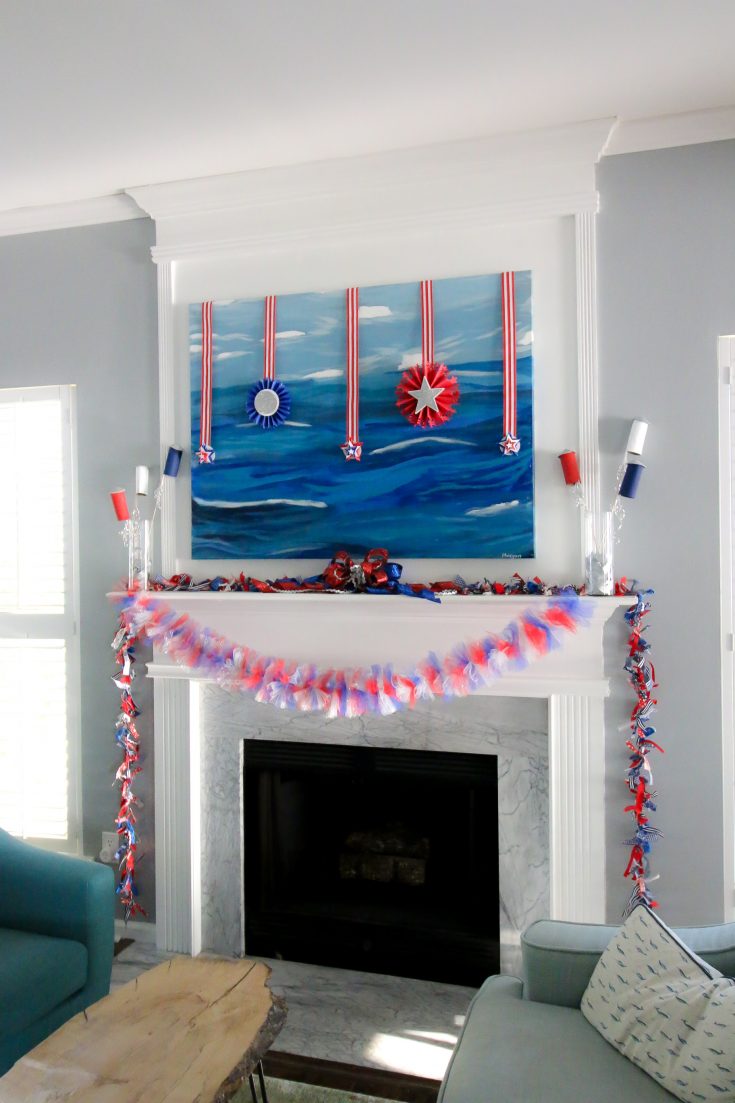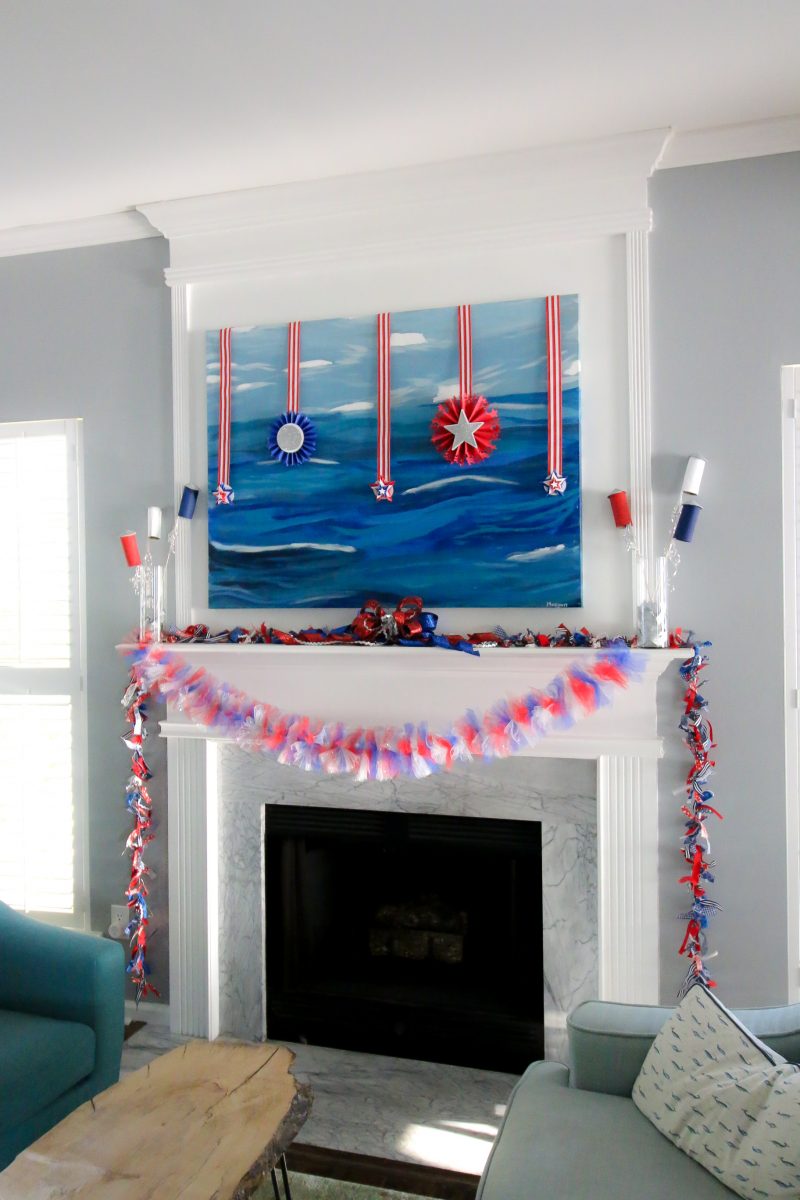 Yield:

1 boa
How to make a fabric garland
Fabric boas are a great way to create inexpensive garlands to use for decor! They are a great use of scrap ribbon and fabric and great party decor.
Materials
String
Scrap fabric
Ribbon
Instructions
Cut your string to the length of your desired garland, plus about 12" total. You might want to add extra length if you will need to tie it on to things to hang, or leave less excess length if you will just set it as a centerpiece, for example.
Prepare your fabric by cutting it into strips. They should be 1/2-1" wide and 4-6" long.
Prepare ribbon by cutting it into 4-6" long segments
Tie the fabric strips and ribbon in a simple knot around the string. I like to do it by color and space it evenly across the string before moving to the next fabric or ribbon.
Repeat until the garland is sufficiently thick.
Hanging paper decor
For my "high" decor, I decided that I wanted to hang a paper banner from the painting. I printed the Independence Day Rosette Banner from the Cricut Design Space.
Instead of hanging it on one string, I hung each rosette on separate, striped ribbons. I used tape to attach them to the back of my canvas.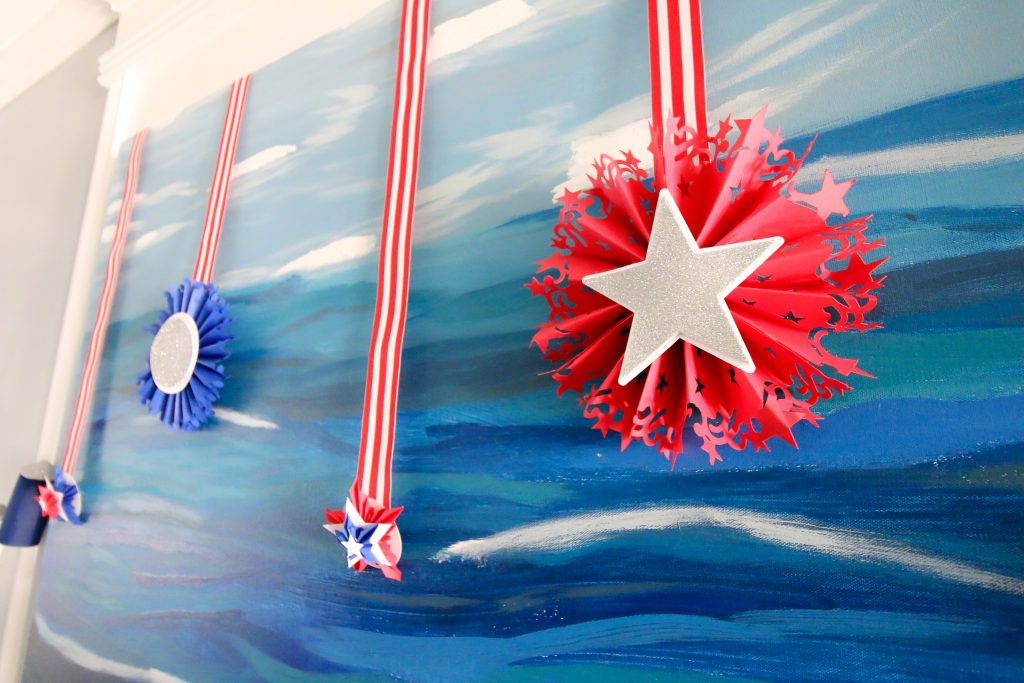 Paper Firecrackers
I also created some little cardboard firecrackers for mid-level decor. To make them, I used toilet paper rolls that I painted red, white, and blue. The tops are glitter foam and I added ribbons to be the "smoke". I assembled them entirely using hot glue, including attaching them to the dowels to stand up in the vase.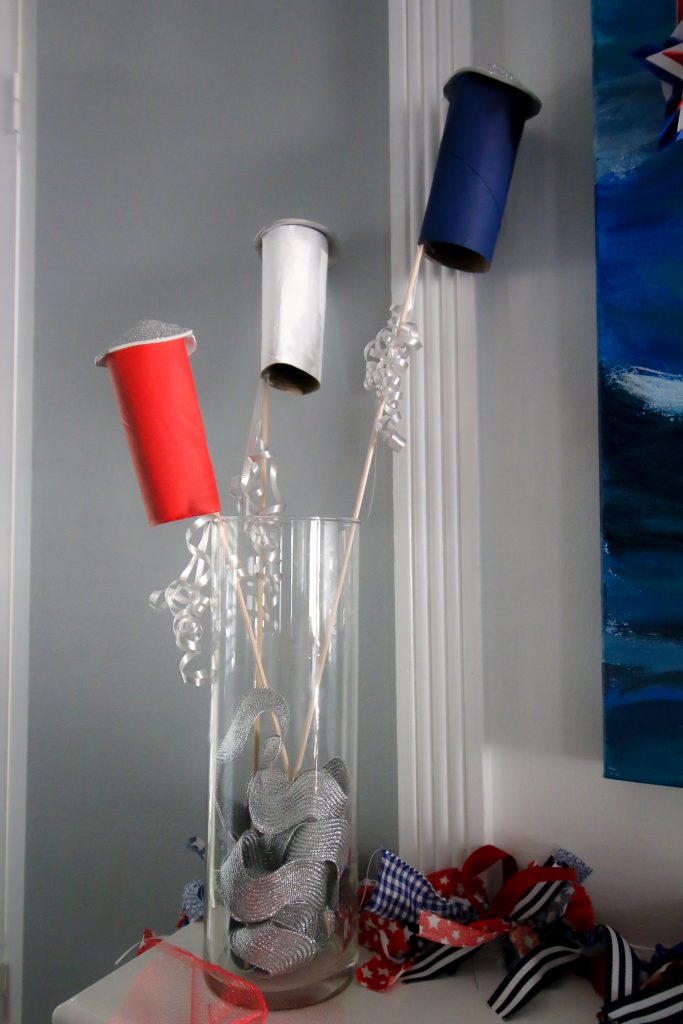 I topped the whole thing off with a big, old fashioned loop bow in the middle using three types of wired ribbon.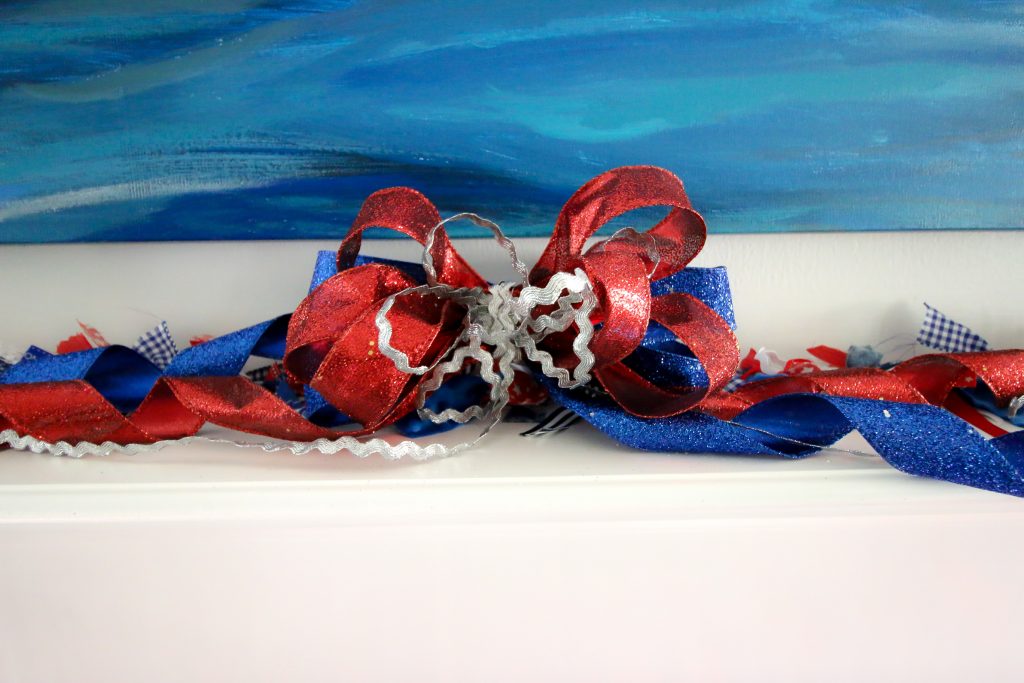 I love this mantel! If you enjoy it, be sure to check out all of our favorite budget-friendly mantel decor ideas!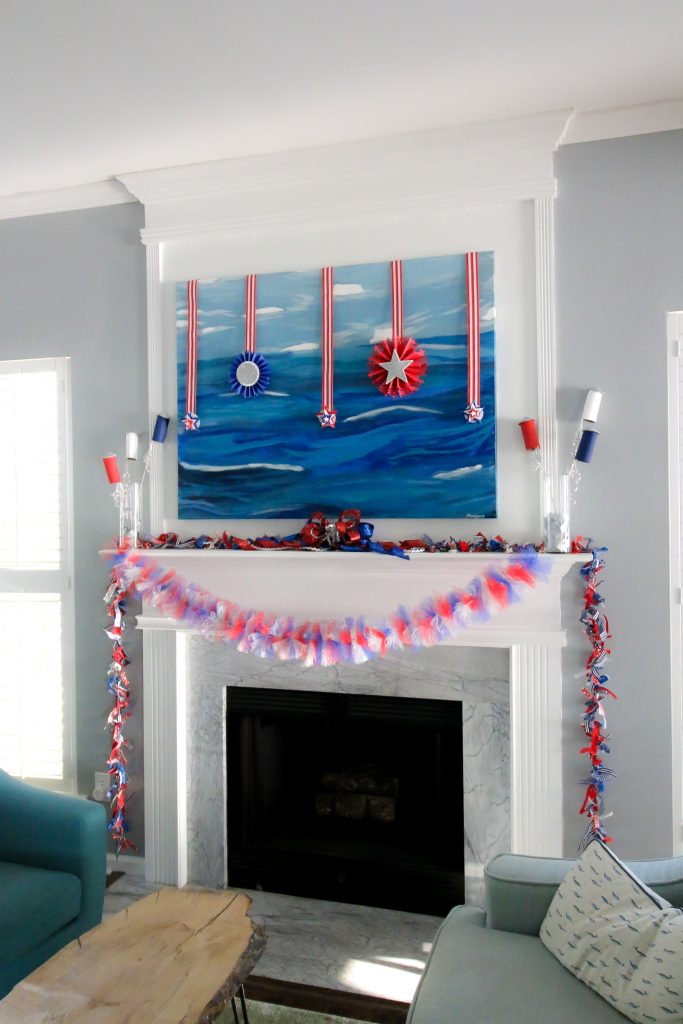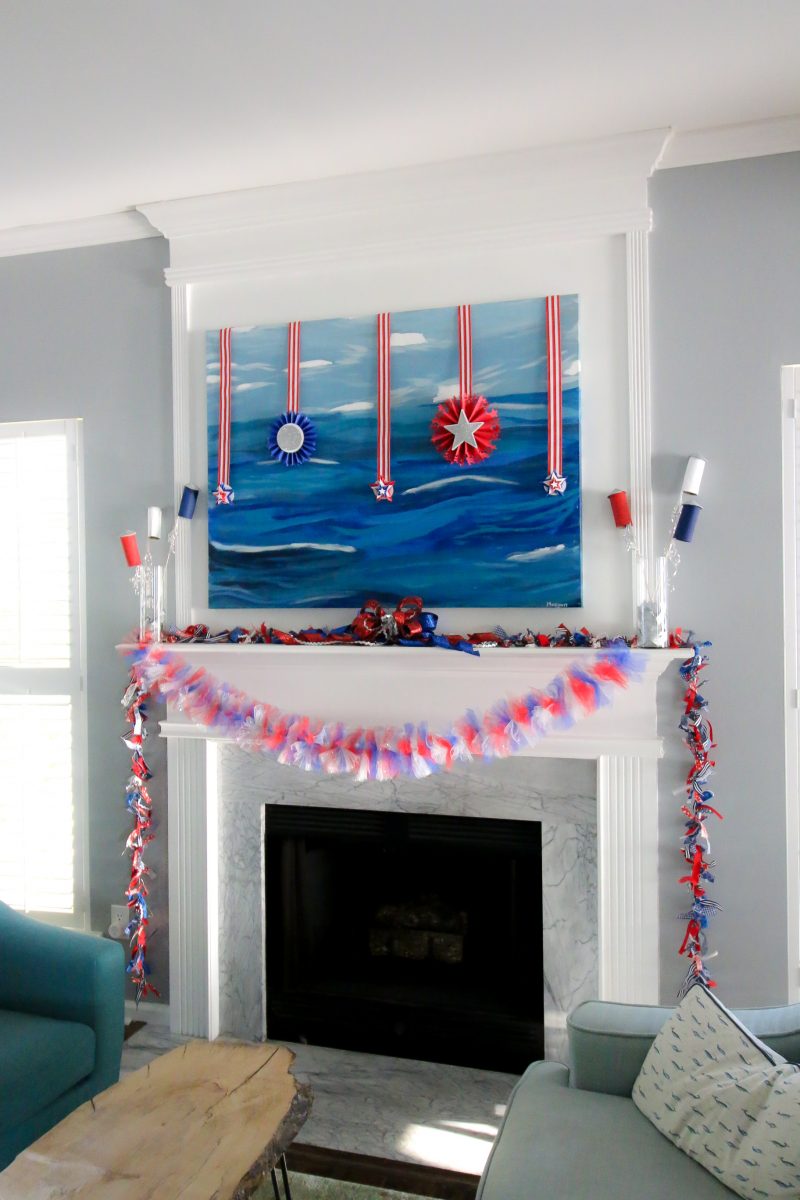 Inexpensive Mantel Decor Ideas
It is super fun to decorate your fireplace mantel for each season. But, it can get expensive. Here are some great inexpensive DIY Mantel decor ideas!
Facebook | Instagram | Pinterest | Twitter | YouTube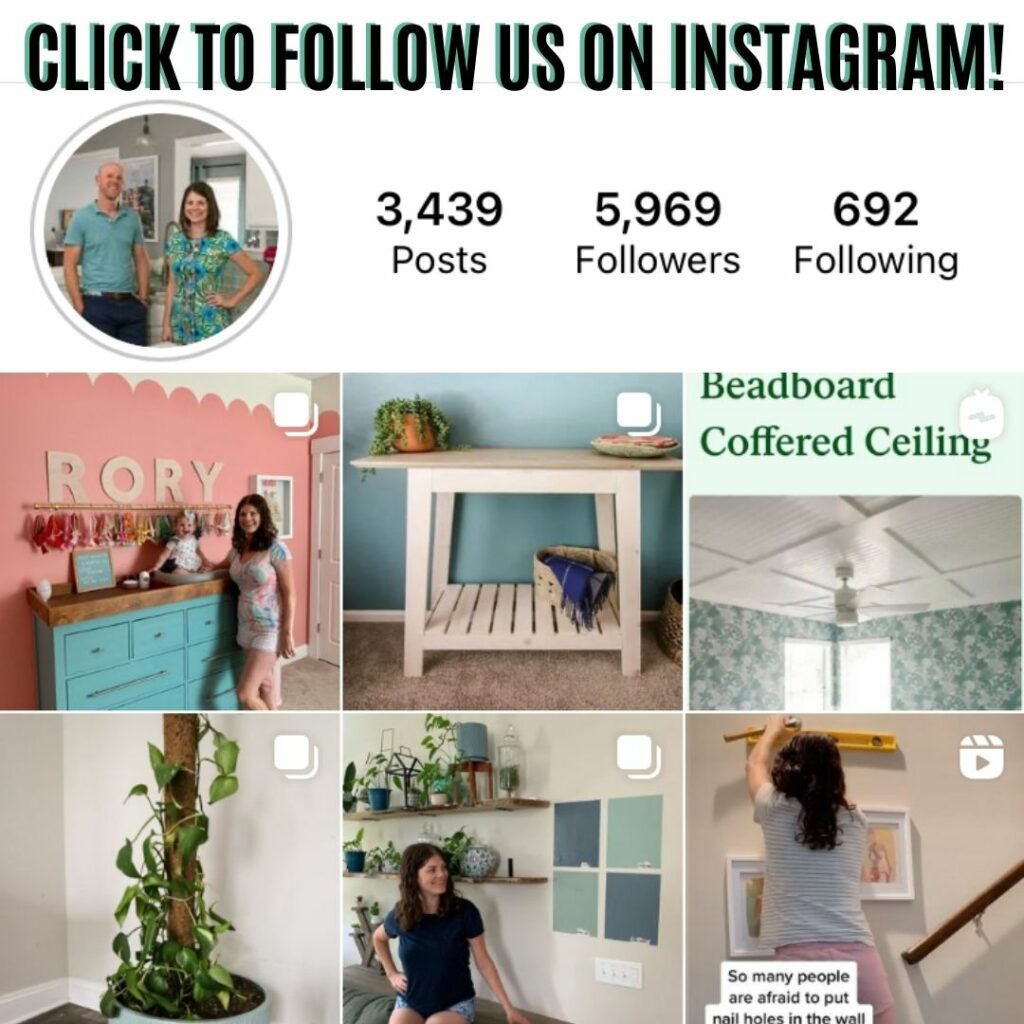 ---
Can we send you our newsletter?
Another great way to keep up with out latest projects is by joining our weekly newsletter! Get alerts of our latest projects and special peeks behind the scenes!
Follow along on Instagram
Join our online community where we share real time behind the scenes looks at our DIY projects and peeks inside our home + family!
---