I love mixing up my mantel decor for each season. However, it can get expensive to buy new decor. It can also be cumbersome to store a lot of out of season accessories!
I have decorated my mantel a lot and love to use things that were either gathered from around my home or my yard! Shop your house to decorate on a budget without having to buy anything new.
We also gave our fireplace a budget makeover. You can see how we extended our fireplace to the ceiling with molding here.
How do I decorate my mantel?
I suggest setting yourself up for success with a basic decor design. Our mantel is crisp white with clean molding lines. I added a large painting (with about 1-2″ of white space around it) that stays there all the time. I just change out what is sitting literally on the mantel for the season.
What can I use to decorate my mantel?
Books (stacked or lined up)
Framed art (shop your house!)
Candles + candlesticks
Vases + flowers
Jars – jelly jars, old candle jars, etc are perfect for small flowers
Sticks – sticking up or laying flat
Seasonal produce like pumpkins or gourds in fall, pomegranates in winter, fruit in summer
Mirrors
Greenery – branches, vines, cuttings from bushes
Fresh florals
Faux florals
Wooden accents – craft stores have tons of small wooden items that can be painted
Anything that inspires you!
Mantel decorating tips:
Use items with different heights and sizes to create interest
Layer decor for a more full, collected look
Mix natural elements with man made items
Don't obsess over symmetry
Pick 2-4 colors to keep everything cohesive
You can add command hooks or small nails to help keep items in place
When in doubt, keep it simple! Less is more, too much can look cluttered.
Here are my best inexpensive mantel decor ideas!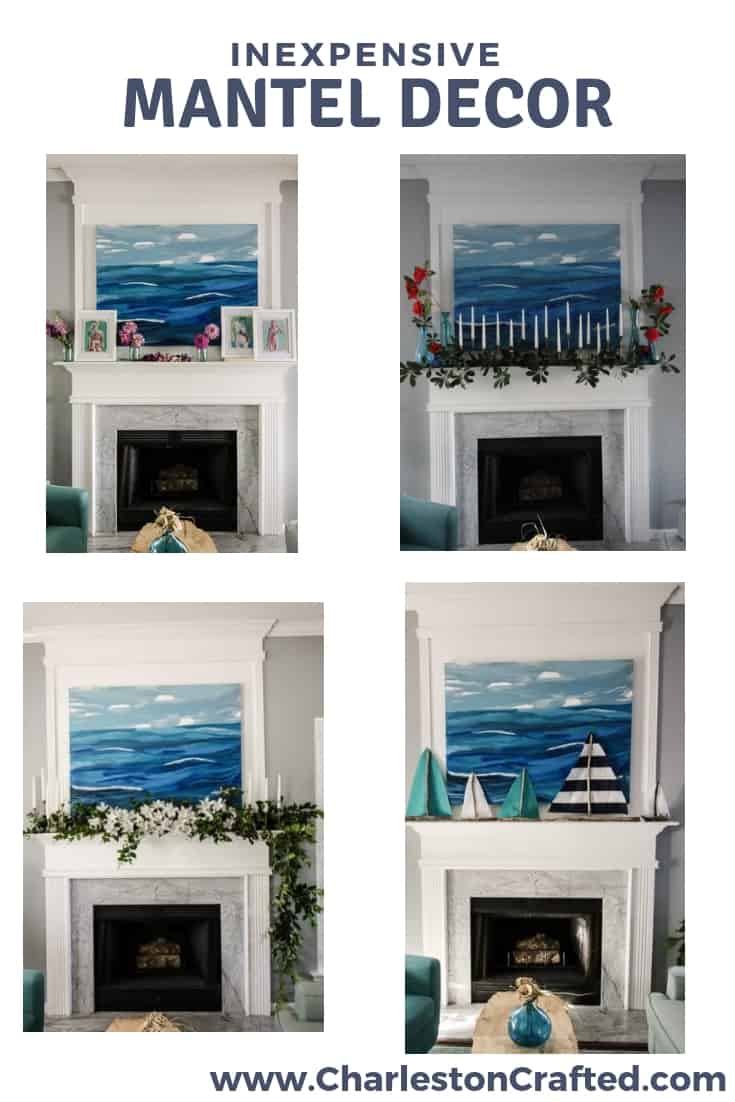 Inexpensive Mantel Decor Ideas
It is super fun to decorate your fireplace mantel for each season. But, it can get expensive. Here are some great inexpensive DIY Mantel decor ideas!

If you are looking to decorate a mantel, I hope that these ideas will inspire you!