I am all about a colored door! Especially since our walls are all gray, painting a door was a great way to bring a pop of color into a room. We rolled paint on our front door, but wanted to try something different on the back door. So, we decided to use a paint sprayer to see how it turned out. If you are interested in using a paint sprayer to paint an exterior door, it is really simple and fast to do.
The paint sprayer that we used is the Wagner Home Decor Paint Sprayer. It is very easy to use and really easy to clean as well. We really love the rotating nozzle so you can spray horizontally, vertically, or at an angle.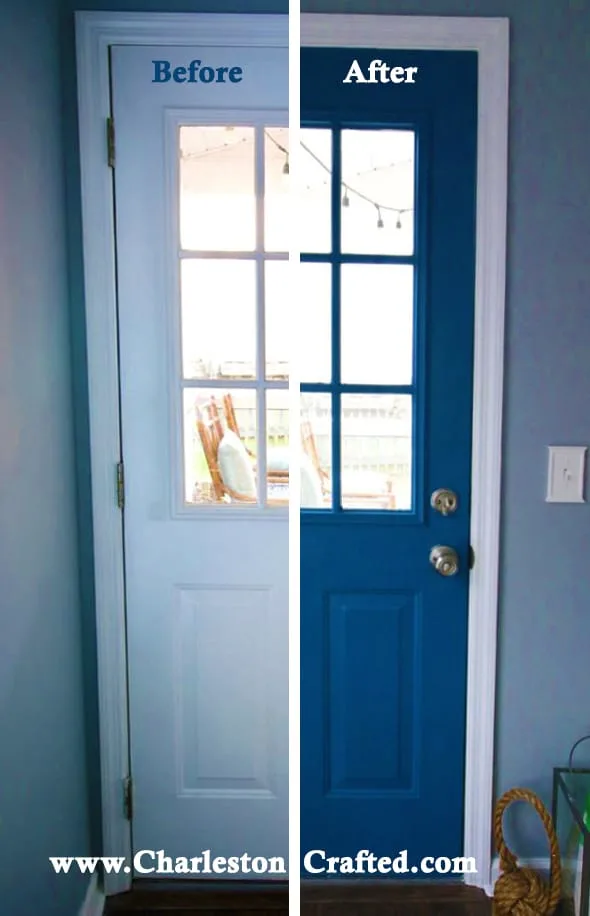 Here's how you do it.
How To Paint an Exterior Door With a Paint Sprayer
The most time consuming part of spraying anything is the prep work. Since we decided not to take the door off the hinges and spray it outside (it was over 100 degrees and this is a door to the outside – we didn't want no door on our house for hours!) we had to tape everything off really well. We used Frog Tape and kraft paper to cover everything that we didn't want painted like the knob, glass windows, and door frame. Do a good job taping – you don't want to miss spots because they were covered with 1/8th an inch of tape – trust me.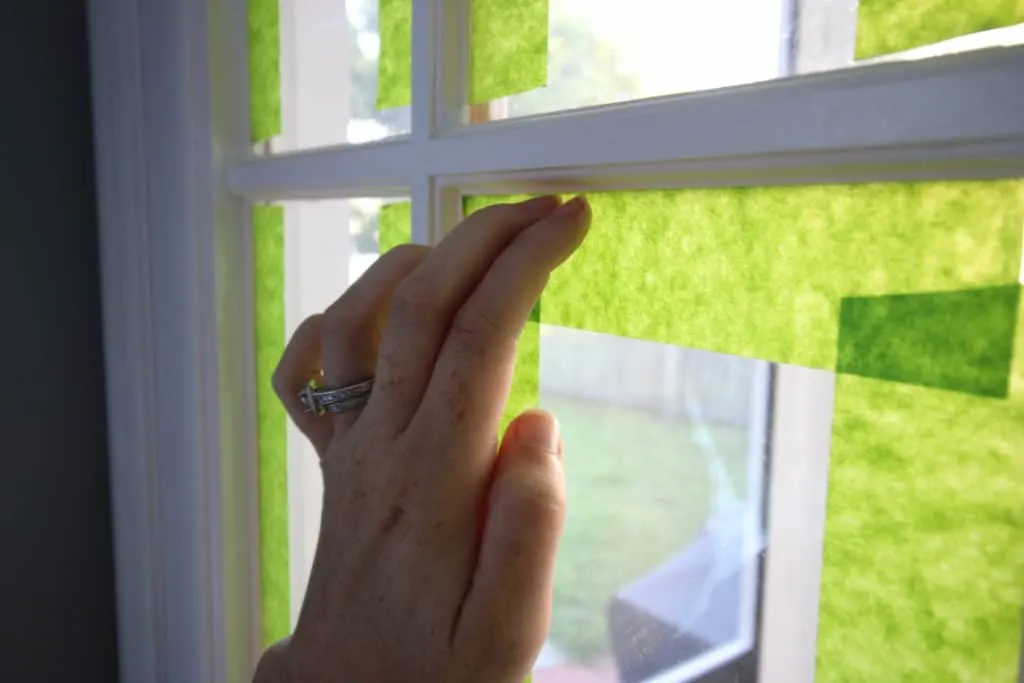 Fill your sprayer. We poured 1/2 of a quart of exterior semi gloss paint (the color is Sherwin Williams Georgian Bay) into the reservoir of the paint sprayer. We ended up using less than the 1/2 quart, so we will need something else to paint this blue :).
Screw the reservoir back onto the sprayer. We did a test on a piece of scrap wood in the garage to be sure that we liked how it was spraying – remember to hold the sprayer only about 3″ away from the thing that you are painting.
To spray your door, plug in the sprayer, and push the on button. Hold the sprayer 3 inches from the door and continuously move slowly across your surface. Work all in horizontal directions with the nozzle set to the up and down setting or in vertical directions with the nozzle set to the left and right. When we thought we were done, we shone a flashlight all over the door to see if we missed any spots and then touched them up.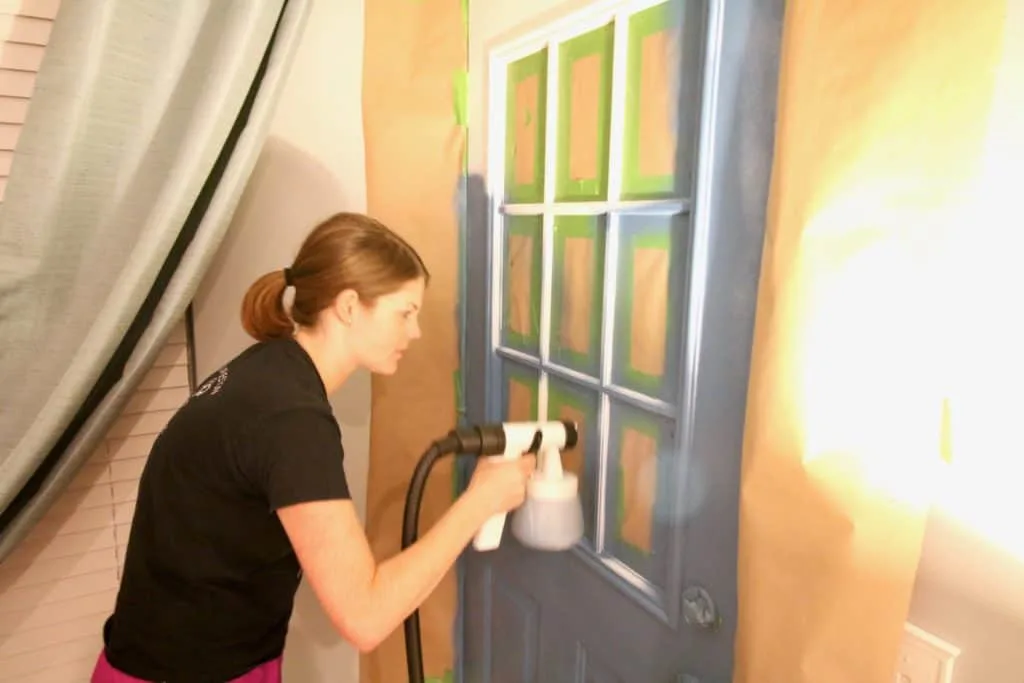 We let the paint dry for about 30 minutes before removing the tape. You want the paint to still be wet when you remove your painters tape so you get a clean line (dry paint tends to peel off, wet paint has more give) but right after finishing the paint was really wet, so that 30 minutes let it get just a bit tacky so I was less worried about bumping it.
Here is a live facebook video that we shared while painting: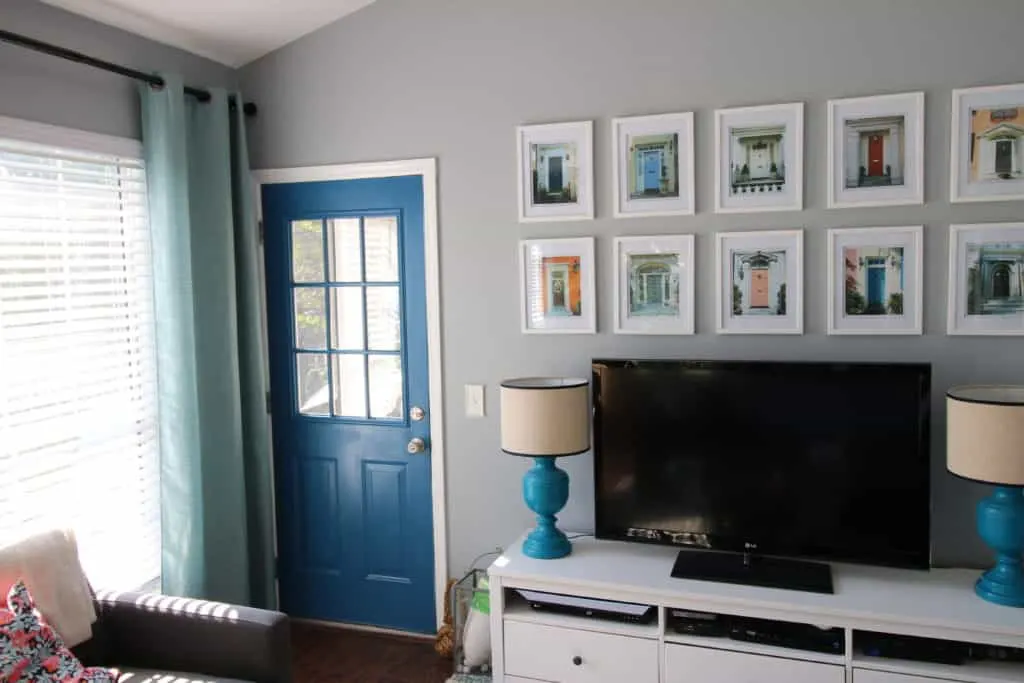 I am SO happy with how this turned out. The spraying took less than 15 minutes and it was an hour long project total. I can't wait to find more things to paint with my sprayer!
Have you ever used a paint sprayer?
This post contains affiliate links. That means if you click through and make a purchase we receive a small percentage of the sale. Thanks for supporting the brands that make Charleston Crafted possible.