We left our little bungalow in Charleston this past weekend to take a little adventure to the Windy City of Chicago! I had to head up on Wednesday for a training class for work on visual communication and infographics (hoping to be able to bring some of that to you too!) and stayed the weekend. Morgan joined me for a quick trip on Friday afternoon because she had never been there, but we definitely made the most of our weekend!
When I got out of my class, I met Morgan at the hotel room and changed into something more comfortable. Then we headed downstairs for dinner. It was a little early, but with her time change and the inside information I knew, it was fine. See, we were headed to Gino's East, a deep dish pizza place in Chicago, that I had been to before. There are a couple of locations throughout the city and there was one literally at the base of our hotel. We had to wait in line for about 15 minutes outside (not bad at all) but I knew from previous experience that the deep dish pizzas take about an hour to cook, so you have to wait once you order.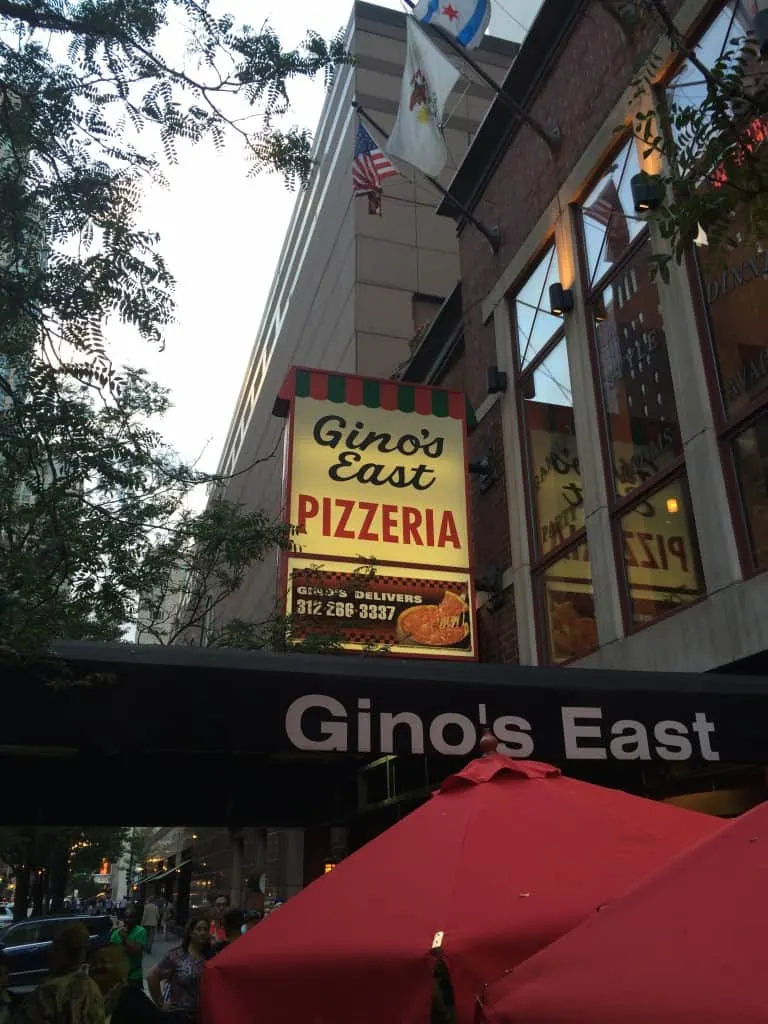 We got in and ordered a pitcher of local beer and a salad and appetizer to split while we waited for our pizza. We got a caprese salad (since we're obsessed with Italy now) and the crispy brussels sprouts appetizer. They were both fantastic. (It's a dark place, so sorry about the dark iPhone pics)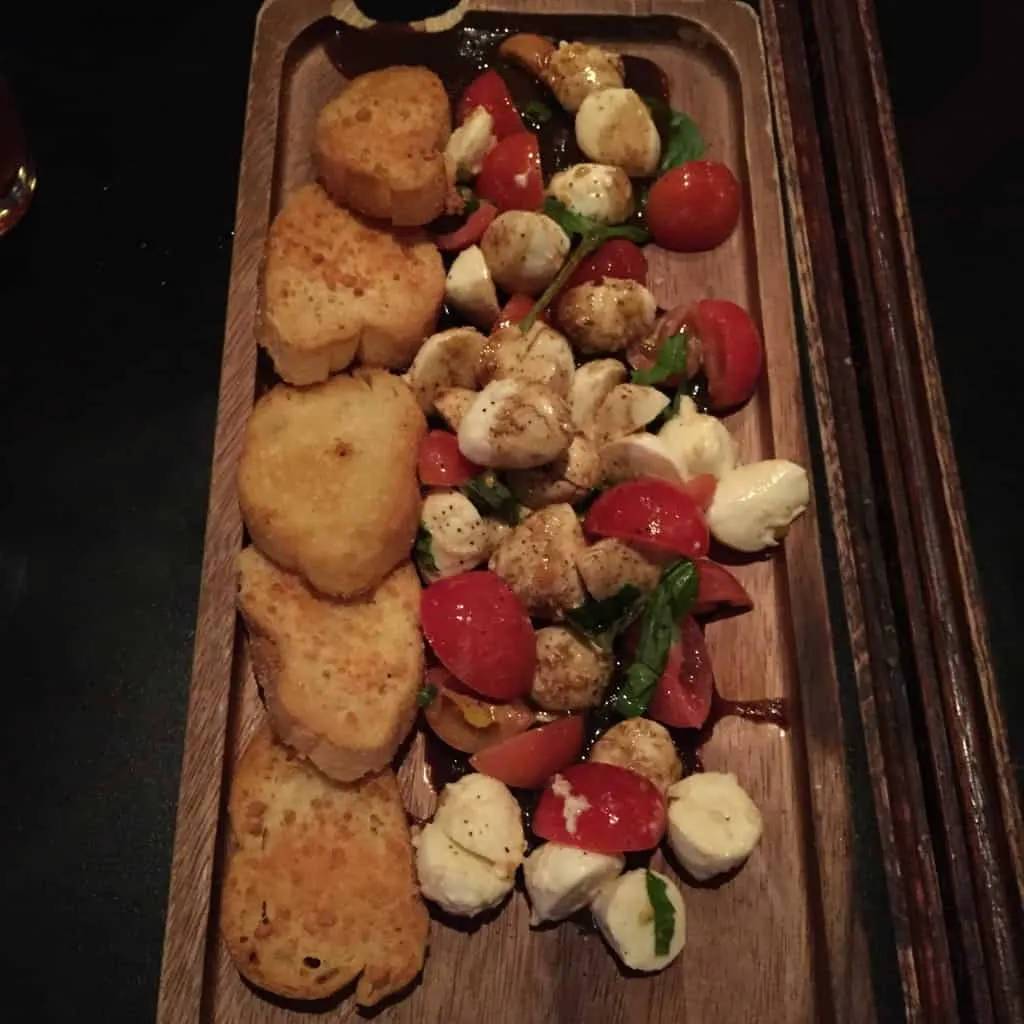 Our pizza came out at a perfect time after our appetizers. We got a great BBQ brisket pizza with onion and sweet peppers. We got a small for the two of us and couldn't finish, despite how great it tasted with the brisket and the sweetness of the peppers.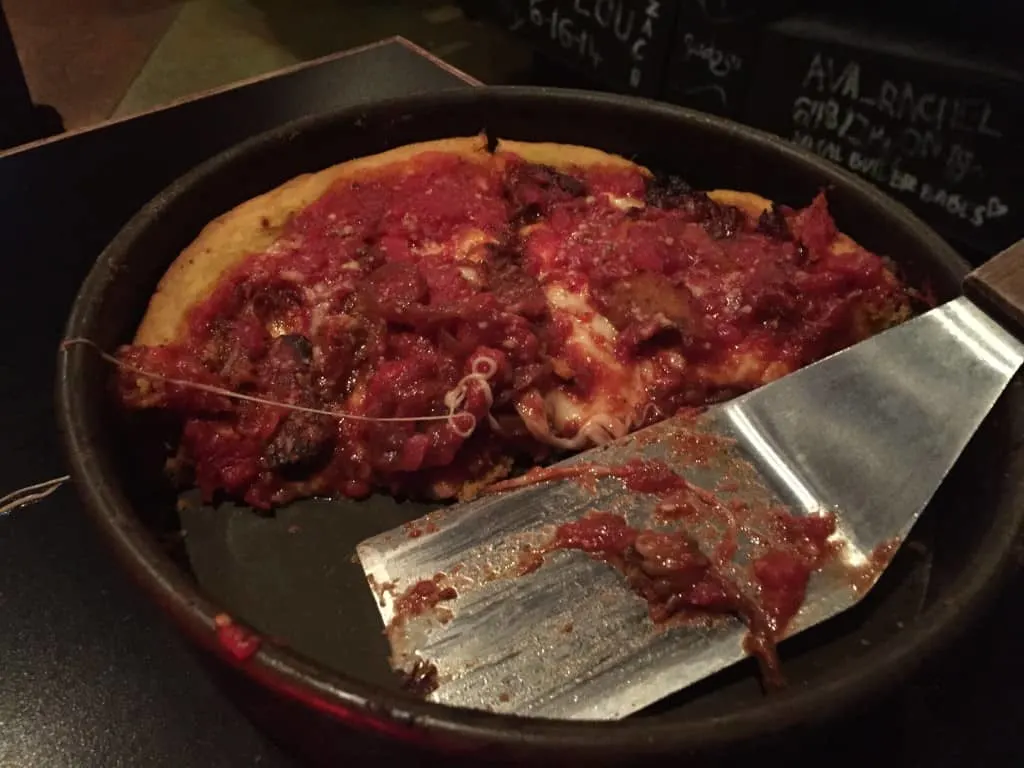 After dinner, we headed out for a walk to Navy Pier. I had never been to Navy Pier by myself, so this was awesome. There is a lot going on out there, with beautiful views back toward downtown and a beer garden with a live band. They also have a ferris wheel. I will admit- I'd never been on a ferris wheel before in my life. Not because I was scared, but because I'd never really had the opportunity before. It was so beautiful to see the city lit up at night and a very calm time up in the sky.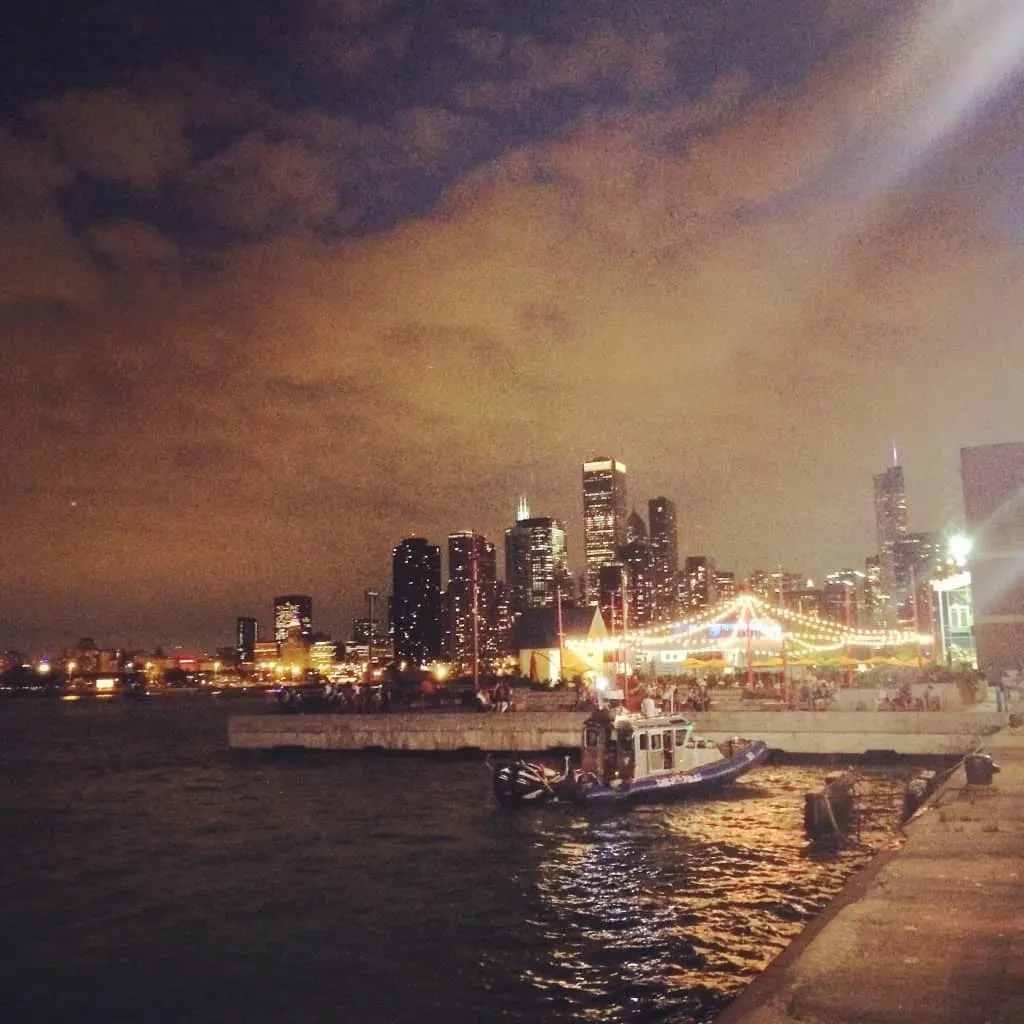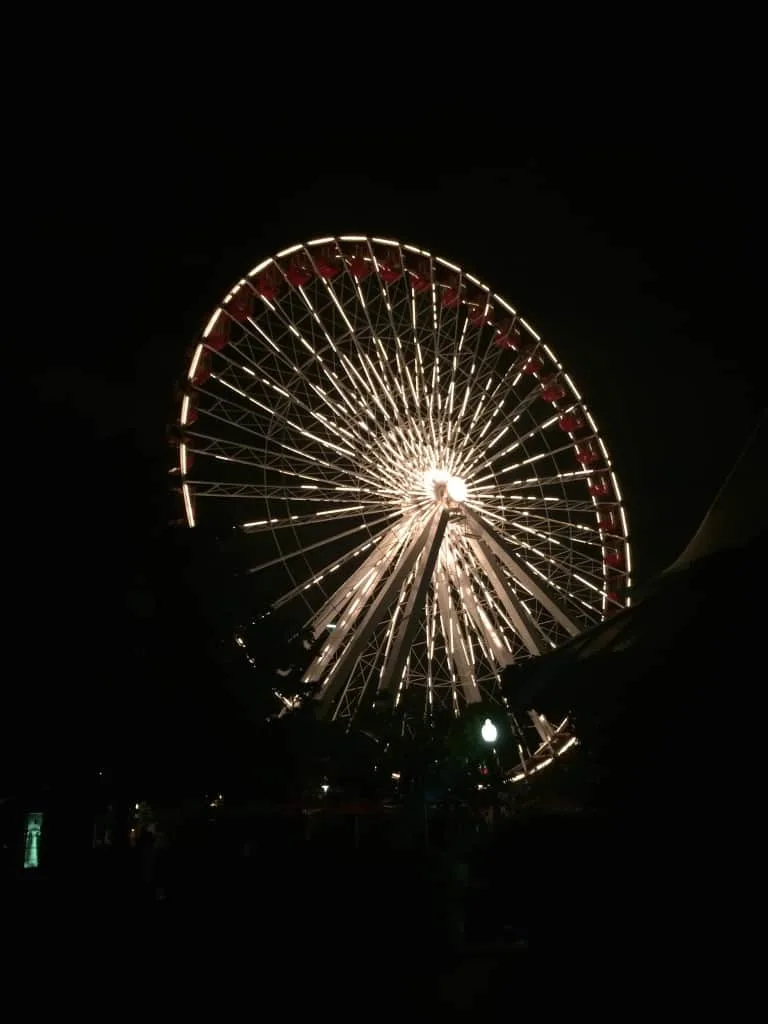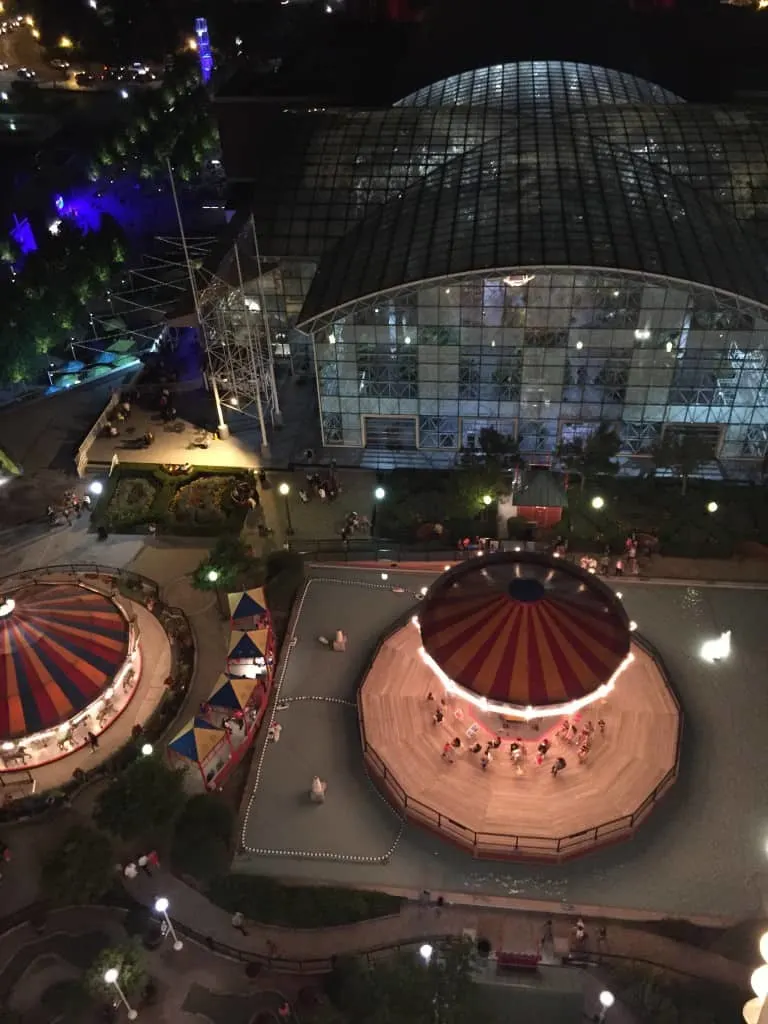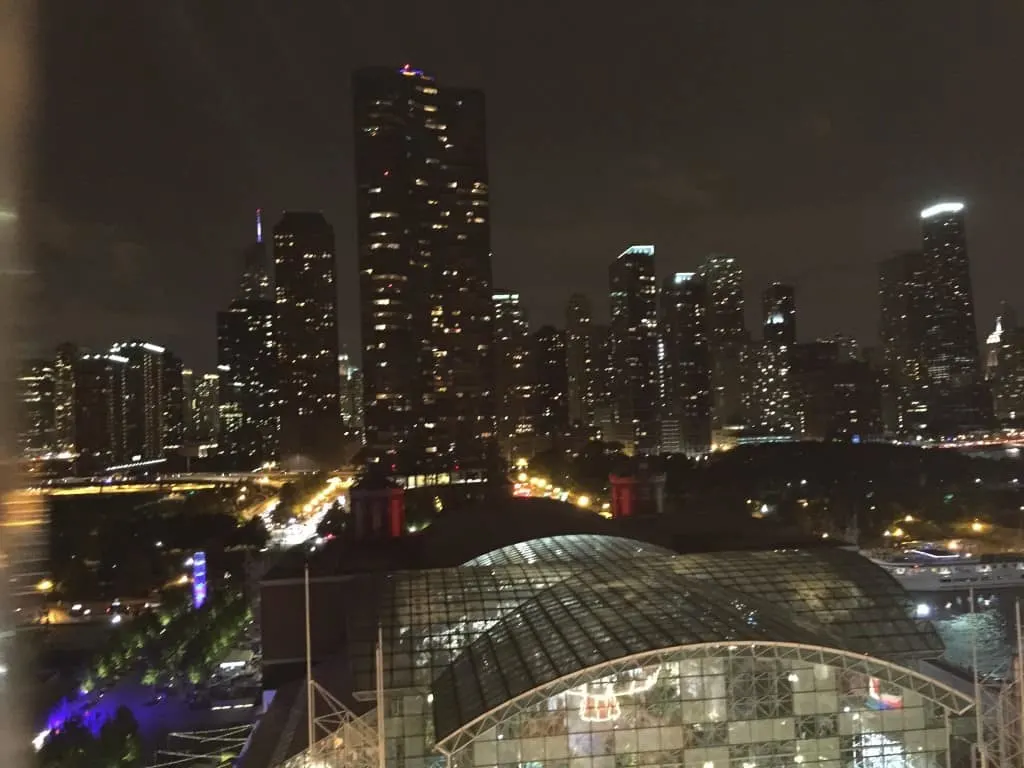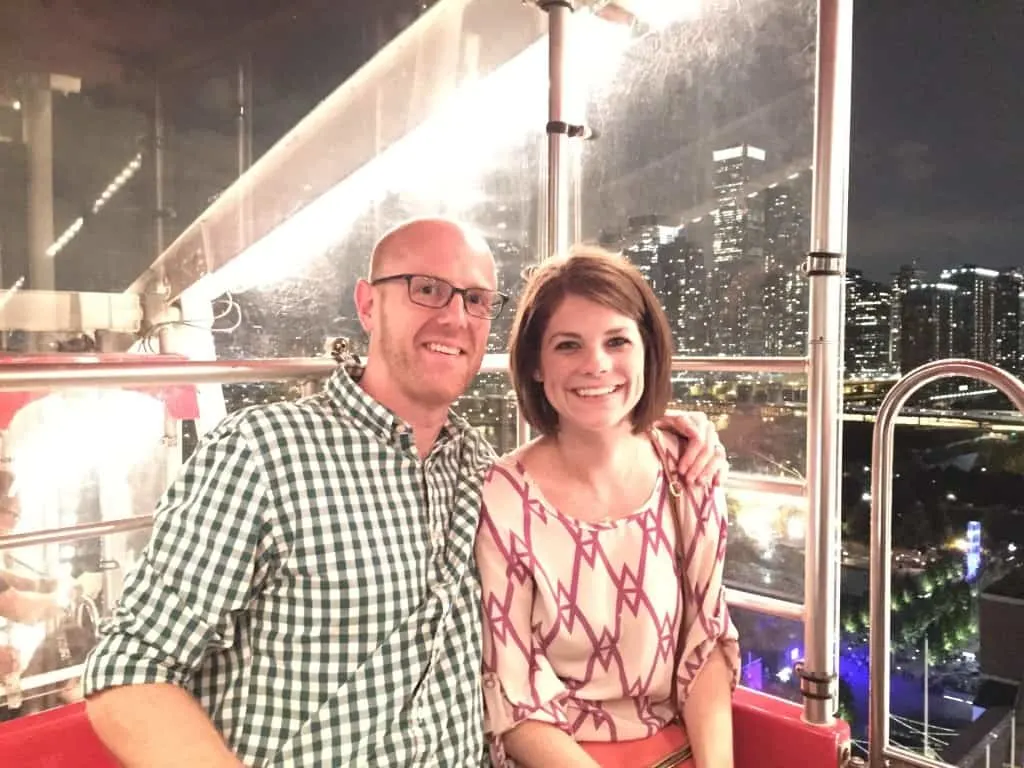 After the pier, we did something very hip- at least for us. Mind you, it was already 10:00 at night. We caught a cab and headed to Second City for the "Panic on Cloud 9" comedy show. Second City is where many famous comedians have gotten their starts and passed through. Tina Fey, Adam McKay, Steve Carrell, Jim Belushi, Bill Murray and Stephen Colbert are only a couple of the hundreds who have passed through. Let me tell you, the show we saw was friggin hilarious. We couldn't take any pictures during the show (which I'm a fan of), but it was so great. They did a hilarious take on many current social issues and had us cracking up the entire time. I would absolutely recommend going to see a show at Second City if you're planning a trip to Chicago.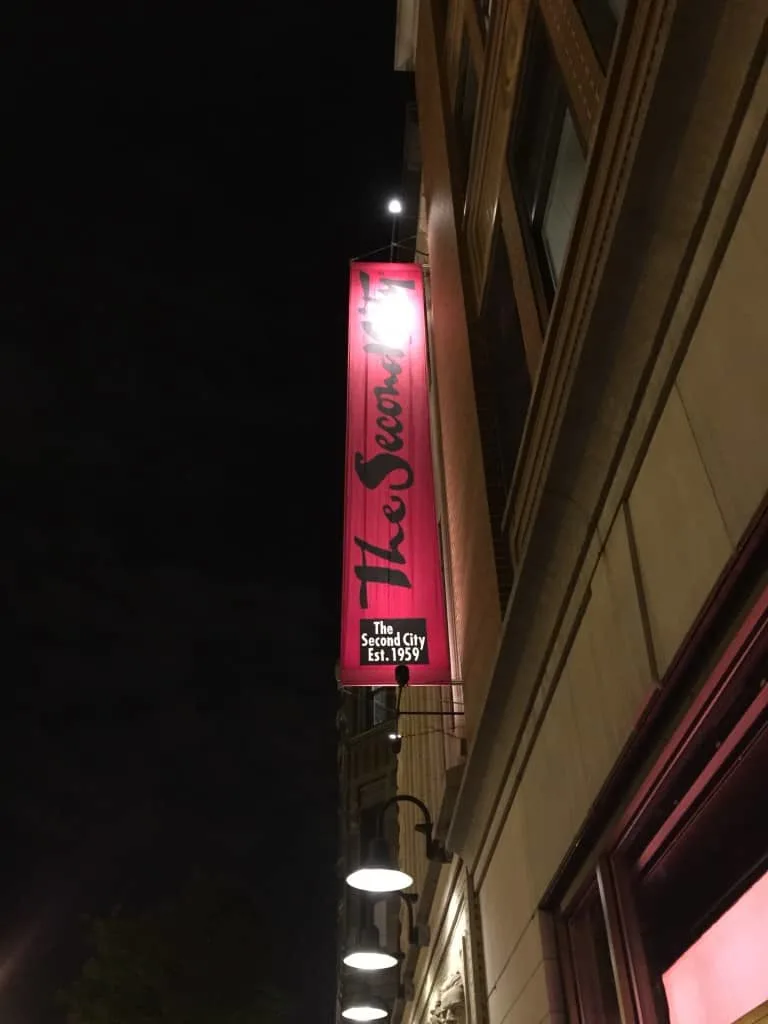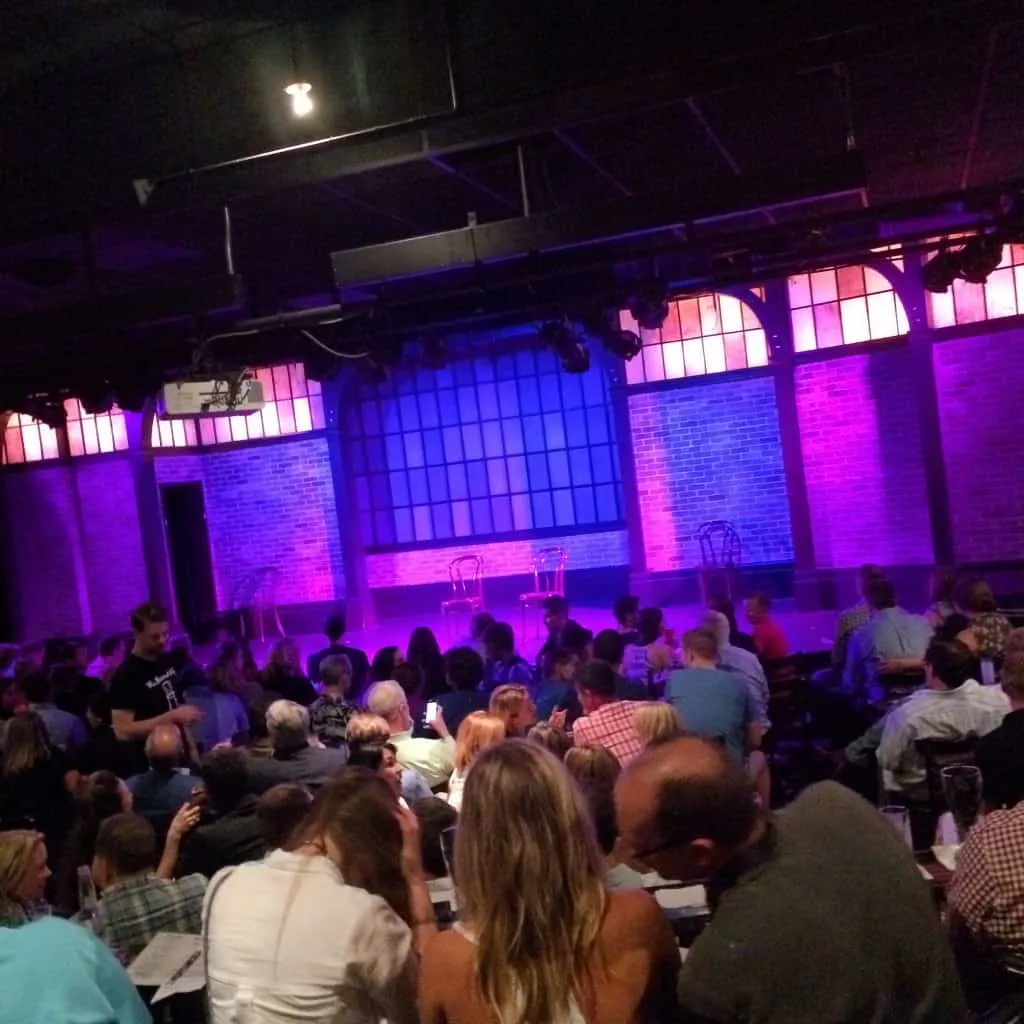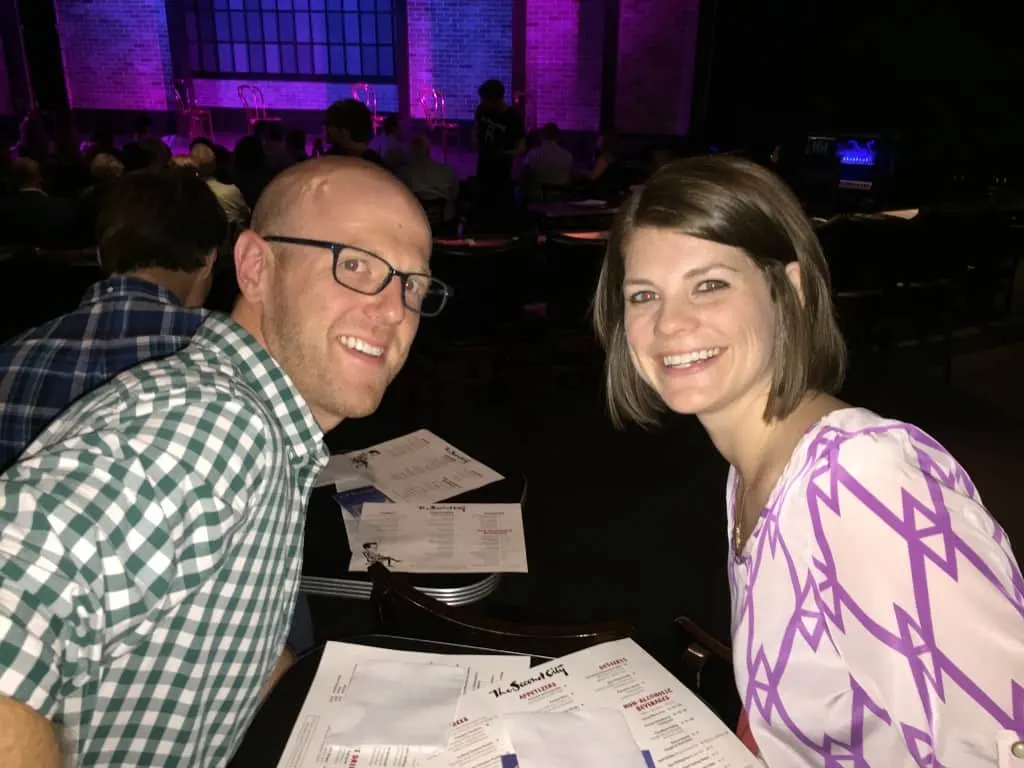 On Saturday, we headed down the Magnificent Mile to Millennium Park, the home of "The Bean." It's a beautiful park in the city with lots of great art, including The Bean, which is actually called Cloud Gate, as its reflection was supposed to symbolize the space between us and the sky. There's also several playgrounds and an awesome bridge over the highway in the park, which would make it a perfect place for families to hang out on a vacation.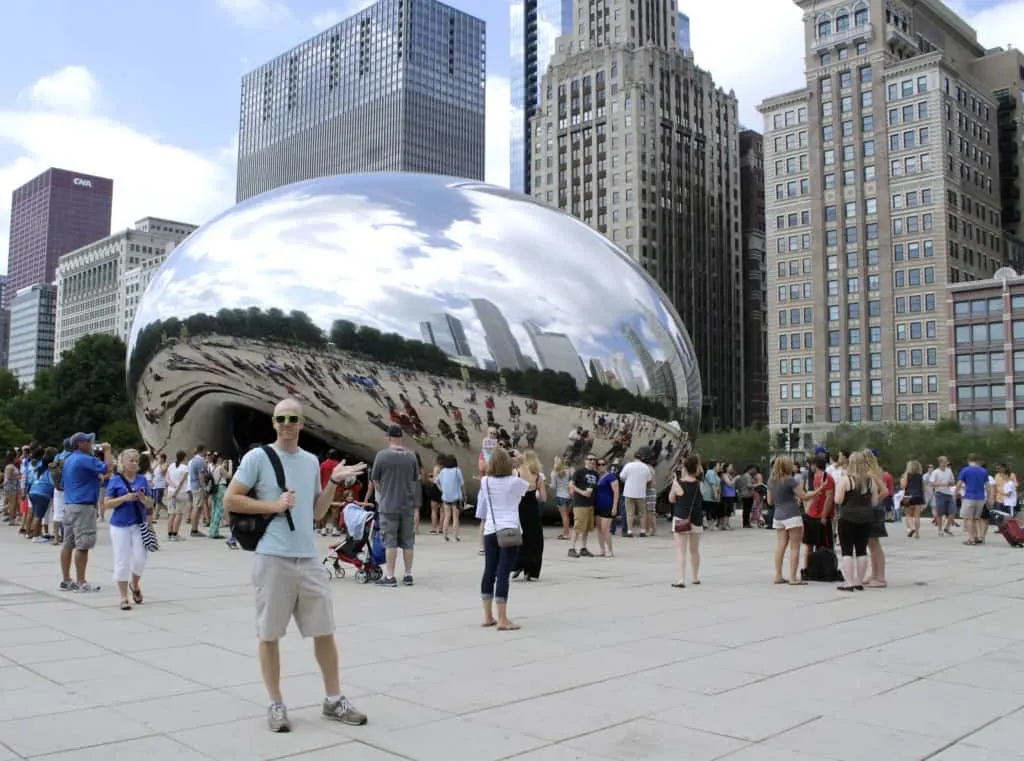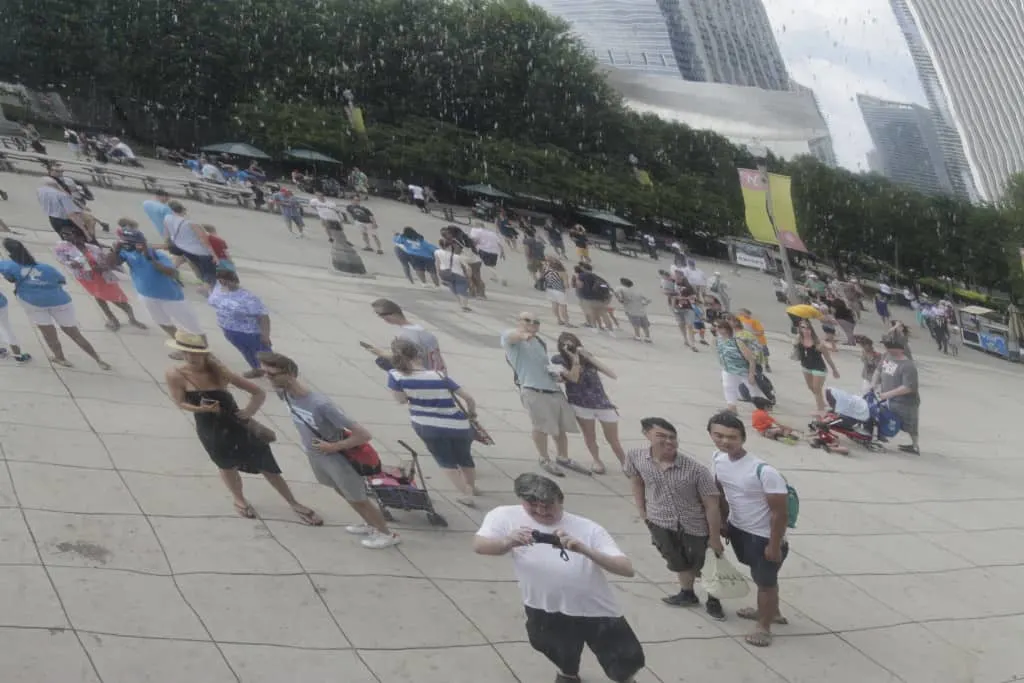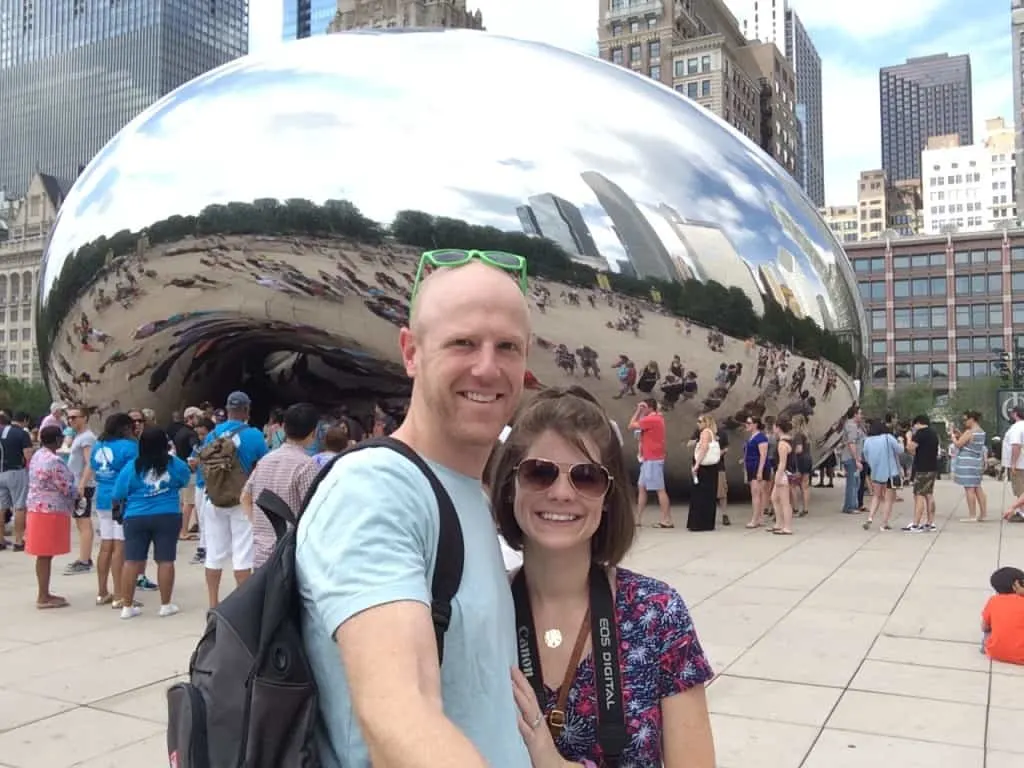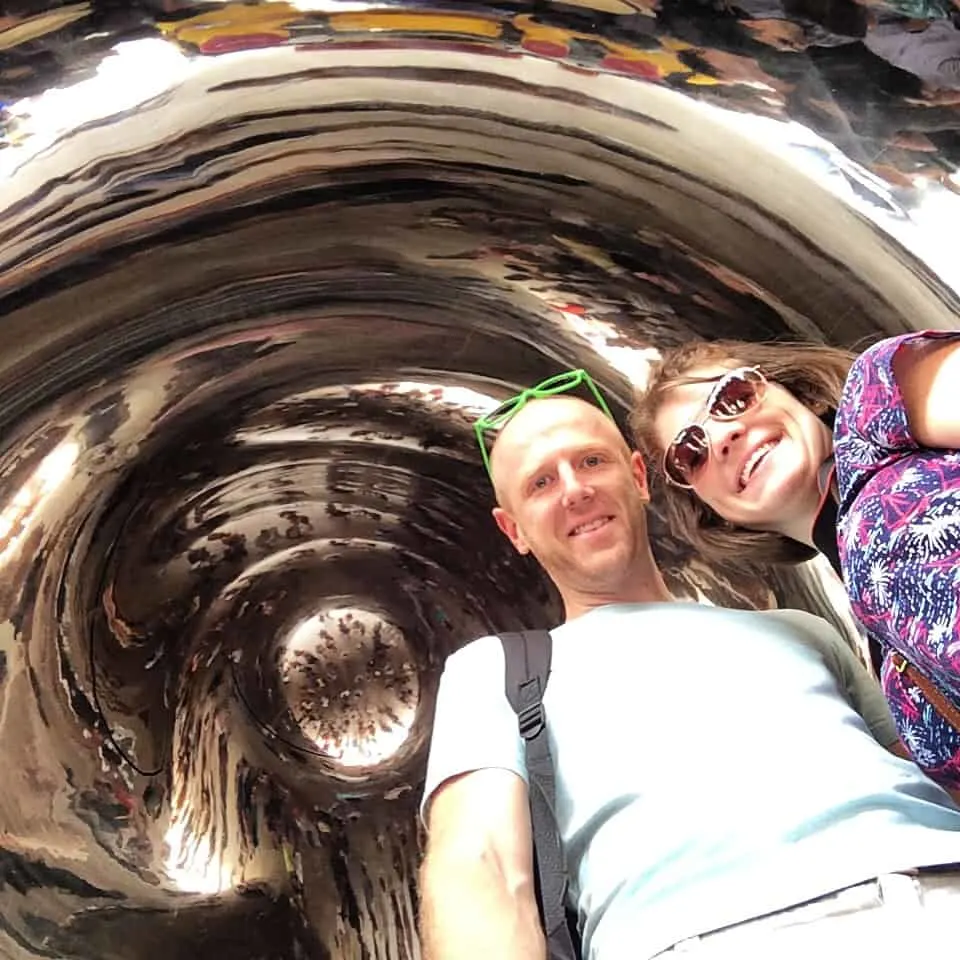 From there, we walked about a mile through the city to the Willis Tower (formerly the Sears Tower) to do the very touristy-heavy Skydeck Chicago. When we arrived, the line was wrapped around two sides of the building. From that point, it took us about two hours to get to the Skydeck. Every time we got off an elevator or bought our ticket, or went through a door, there was more waiting. But oh man, it was so worth it! The views were breathtaking and it was thrilling! Looking out the windows was fine and we weren't nervous at all. But, oh man, when we went out onto the hanging deck it was scary. Looking down was cool, but when I tried to sit down and lean back, I had some trouble.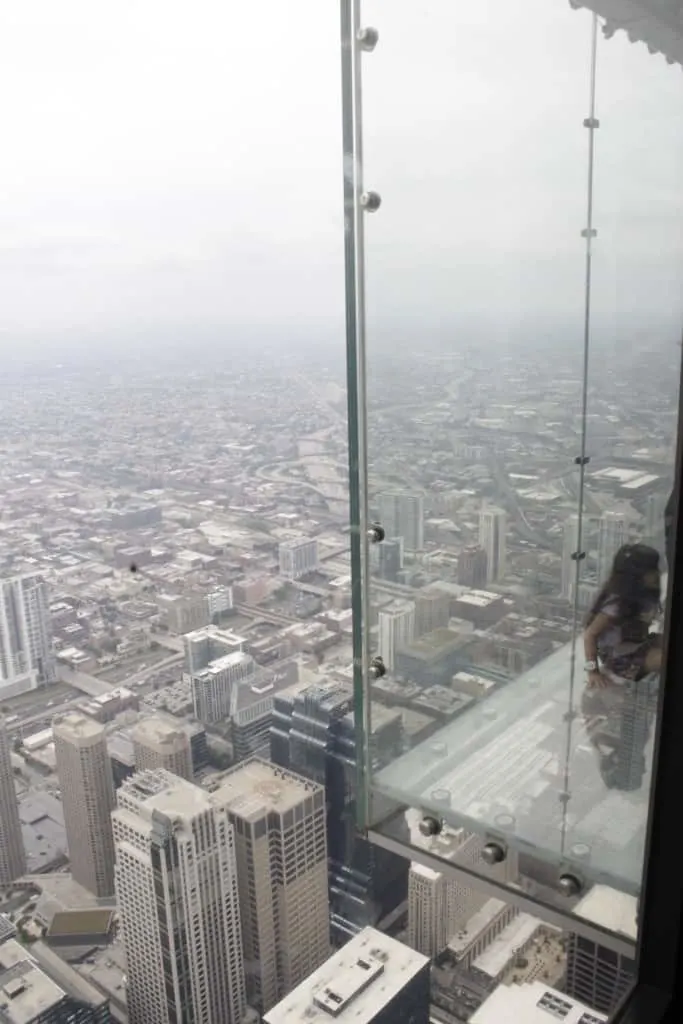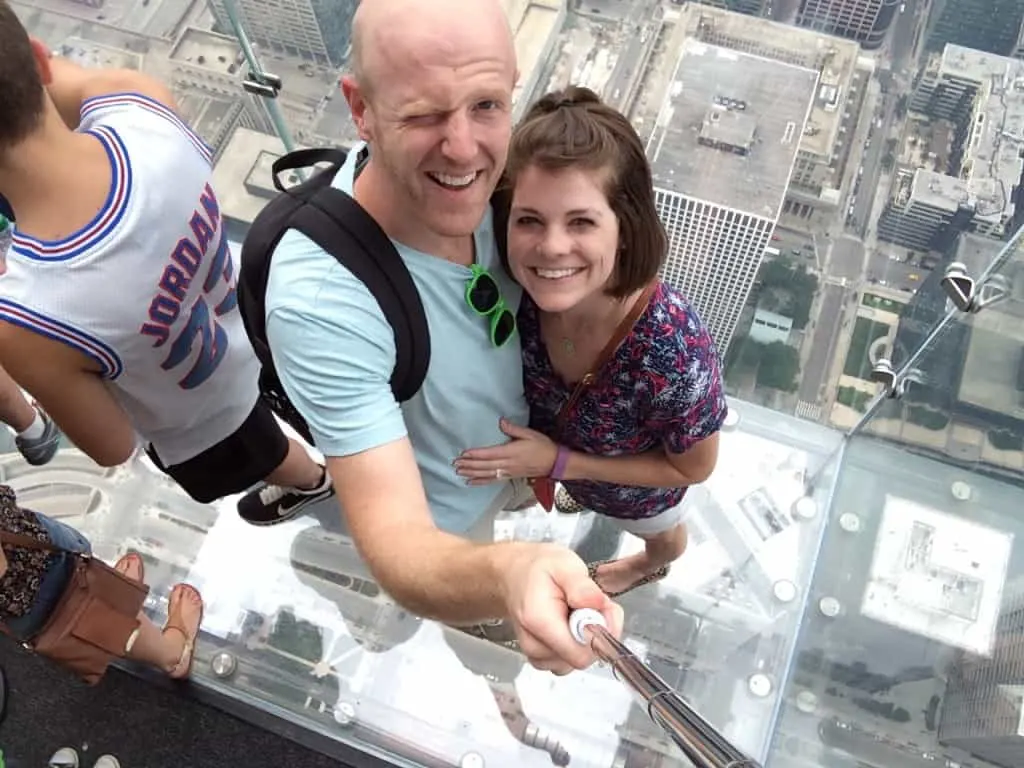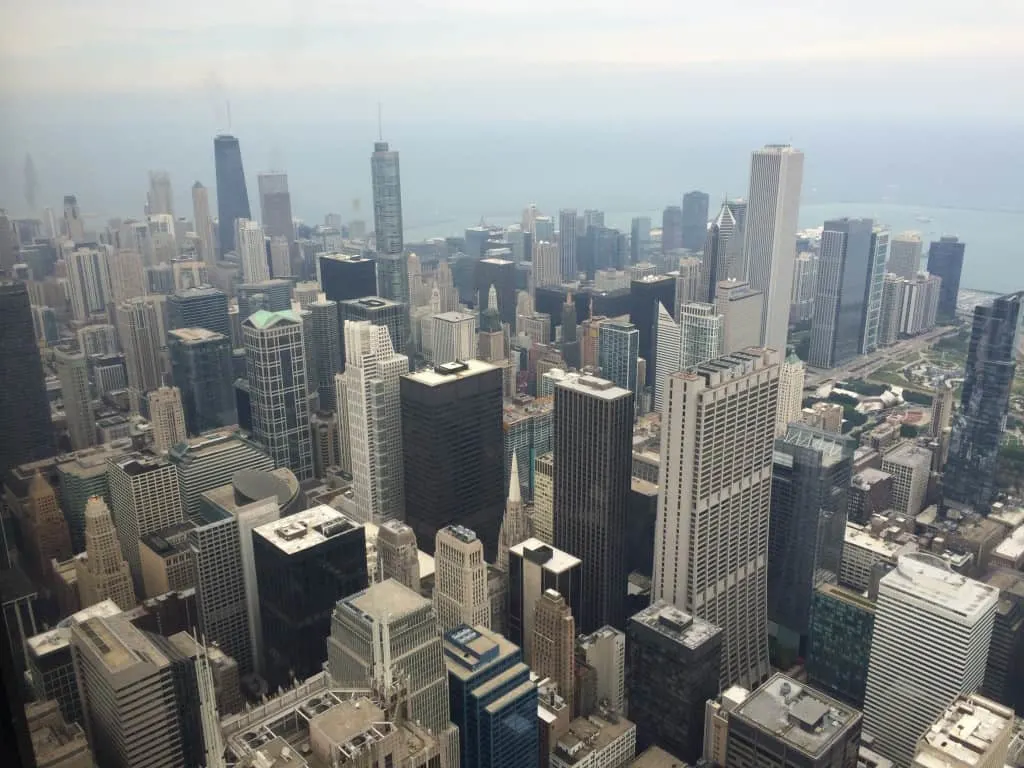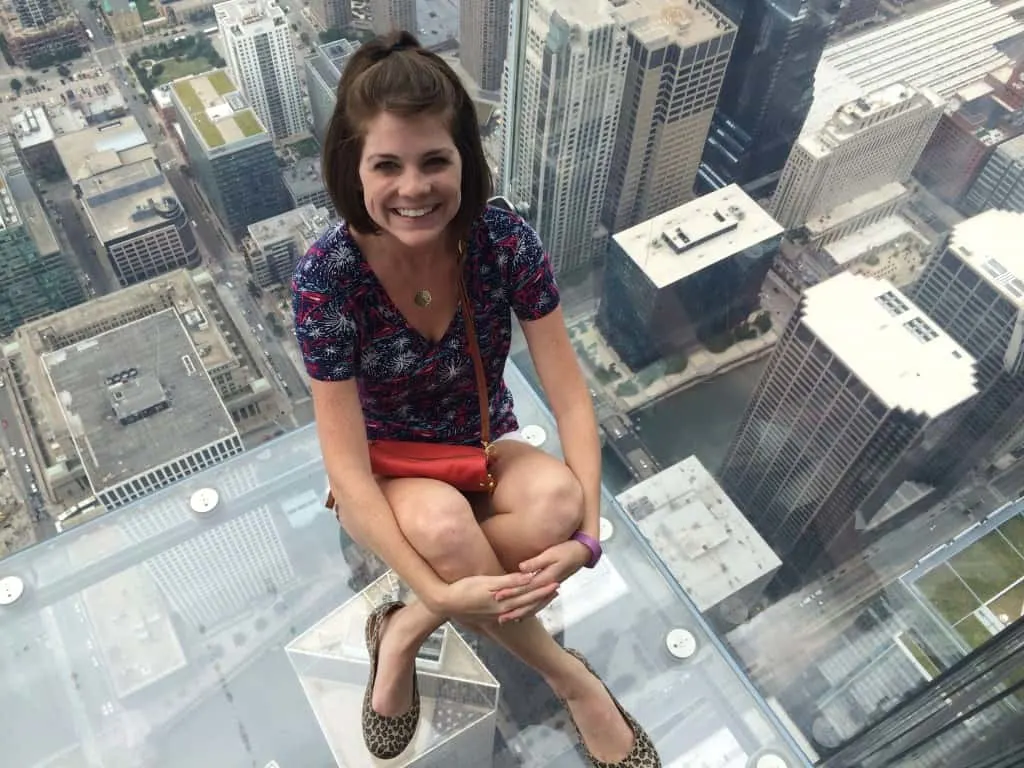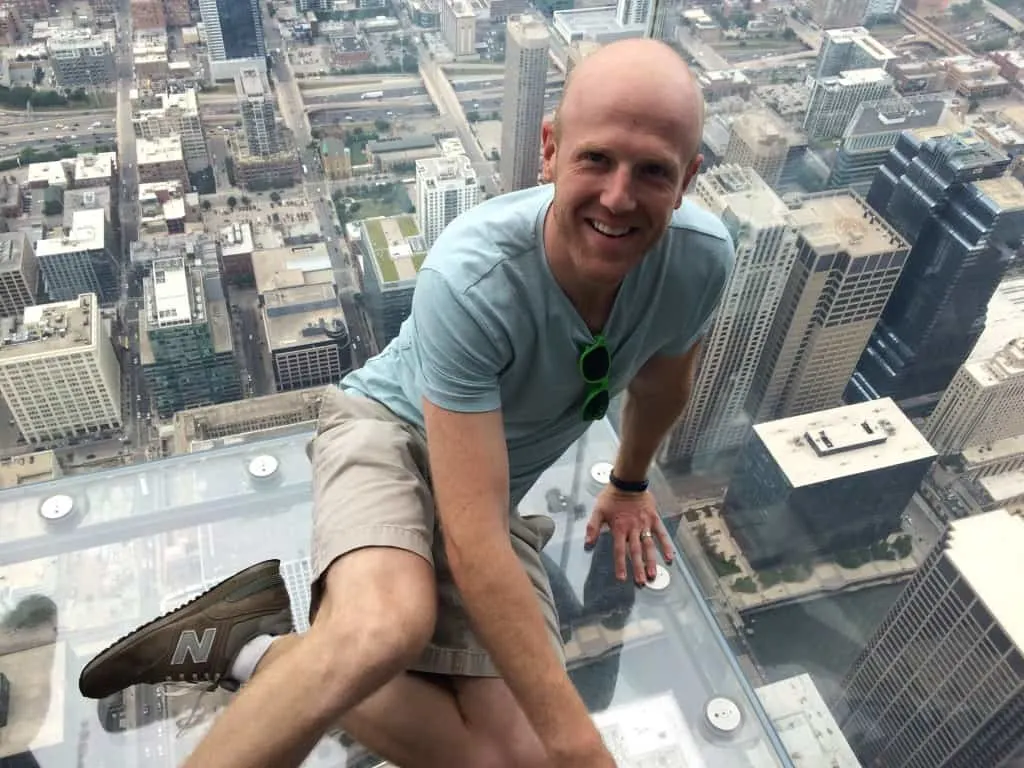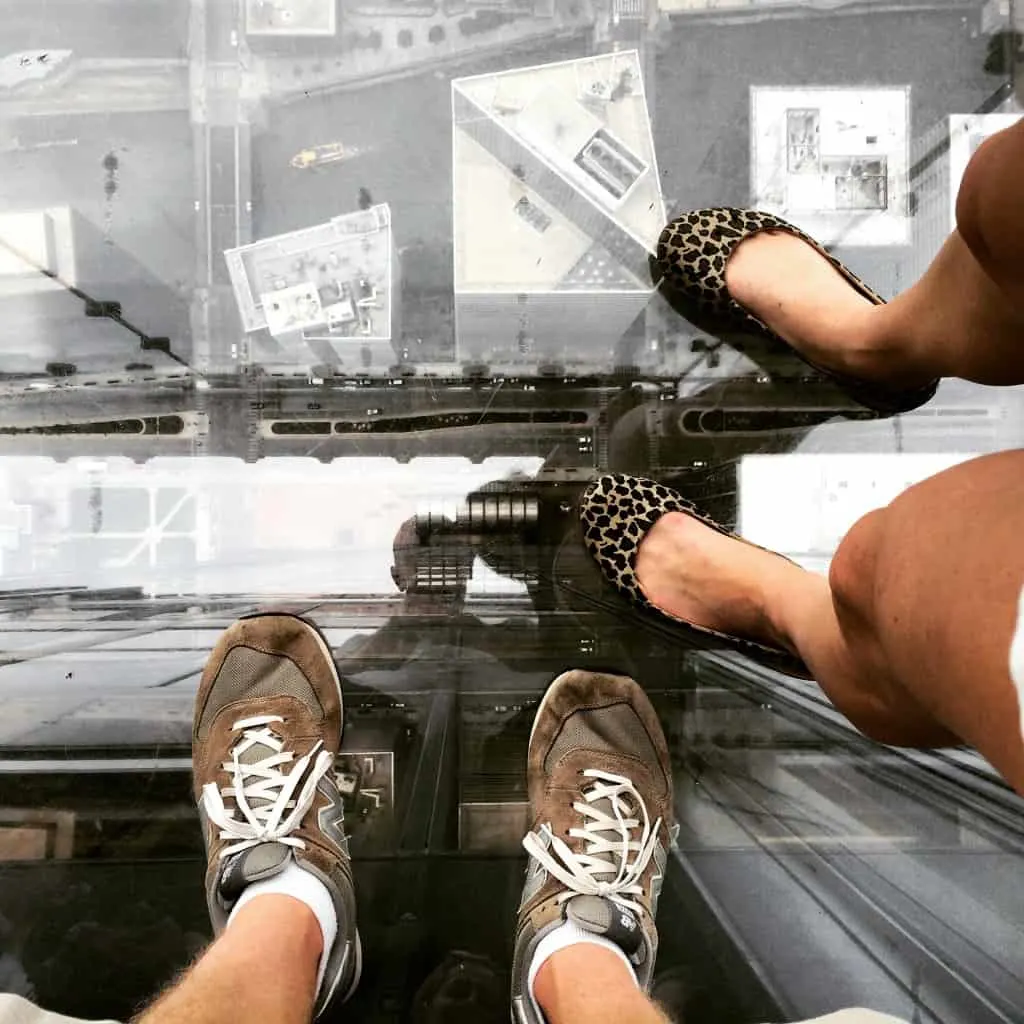 After this, we spent the next couple of hours walking along the Lakefront Trail, which is a dozen miles or so of uninterrupted, paved trails along Lake Michigan, giving you awesome views of the water and the city.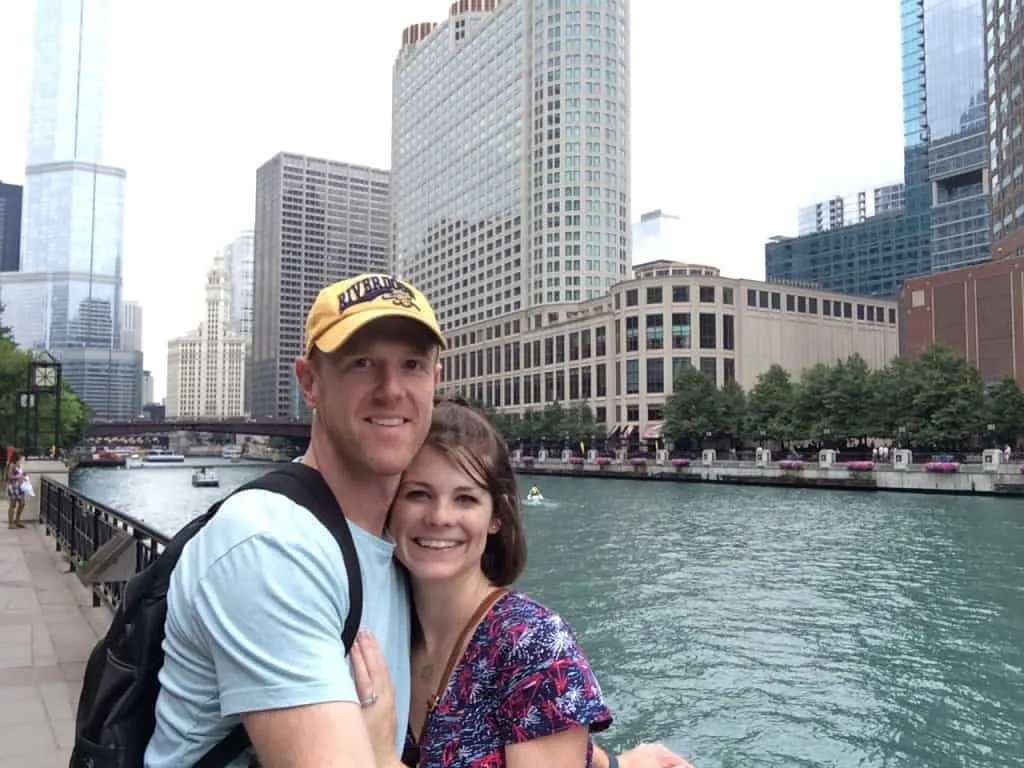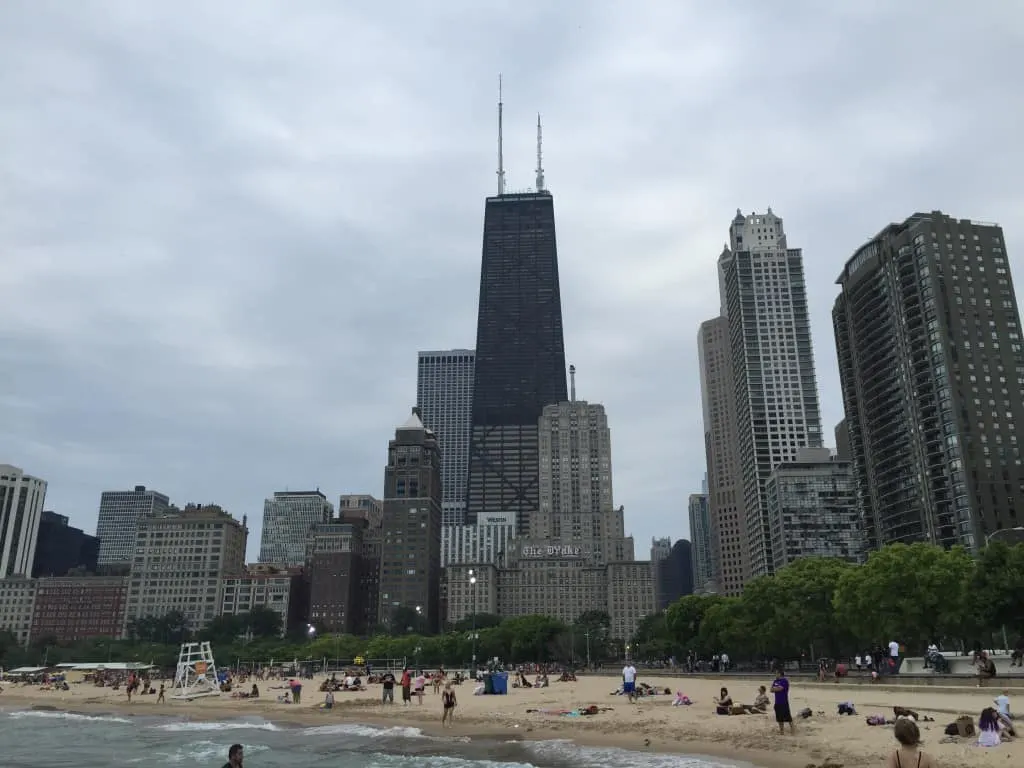 For dinner, we didn't act very adult-like. We ate leftover pizza from Gino's as well as some fresh Garrett Popcorn. It's a great place with an epic caramel and cheese popcorn combo.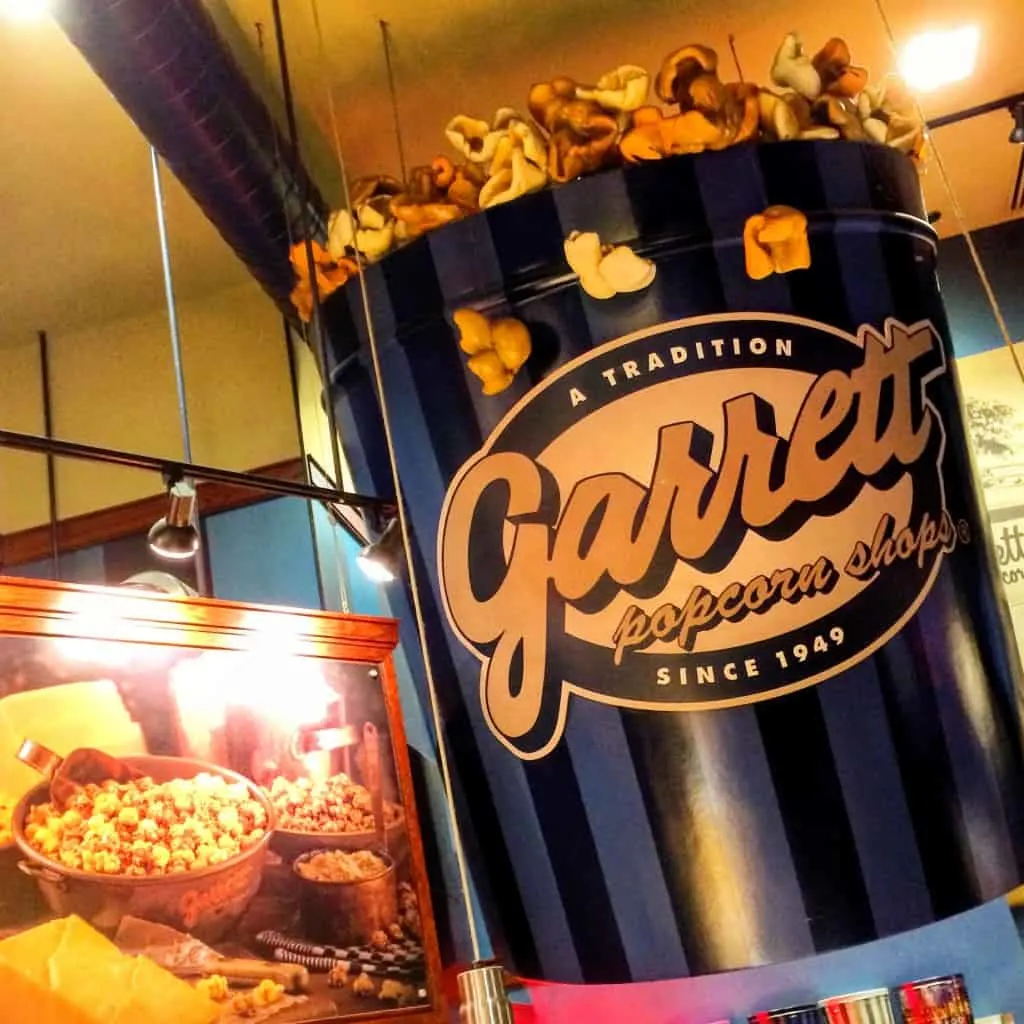 After dinner, we went to a much more secretive place in Chicago- The Signature Room at the top of the Hancock Building. It's a bar and restaurant on the 96th floor of the building with windows looking out in every direction! I've been before and really wanted to show Morgan the city at night. Sadly, a storm was rolling in as we were heading over there and by the time we got up there, all we could see was clouds. Still, it was pretty cool to say we had a beer amongst the clouds.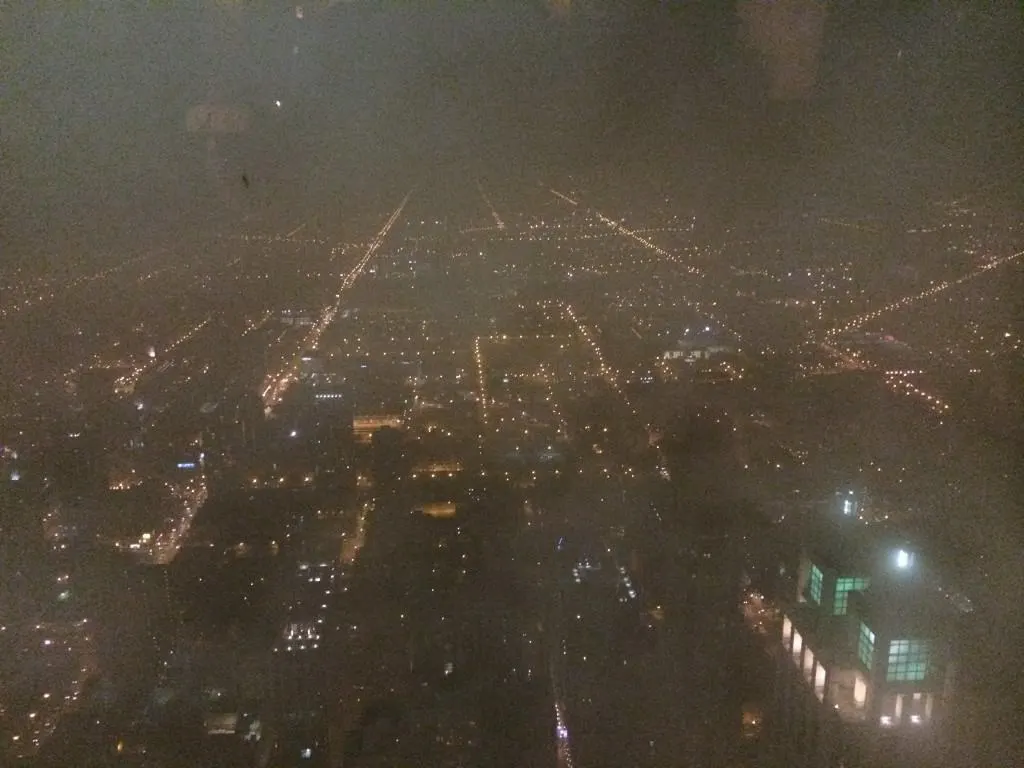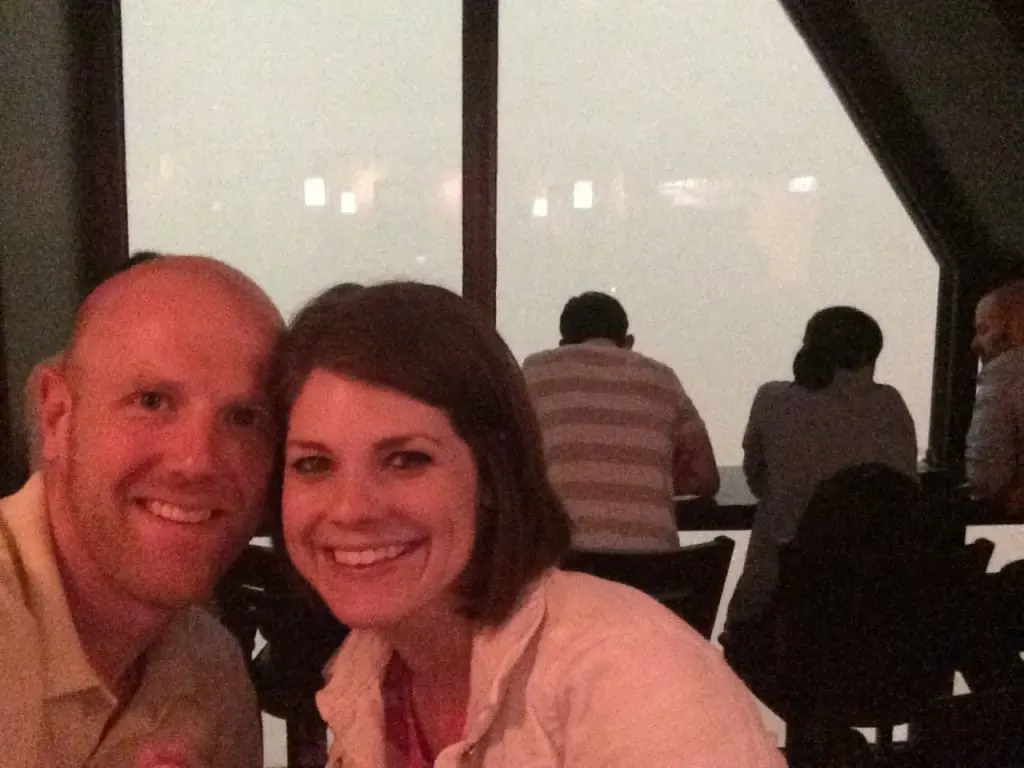 We capped off the night with a cookie dough sundae from the Ghirardelli Store, as you many know we are big fans of from our time in San Francisco. It was the perfect cap to the evening.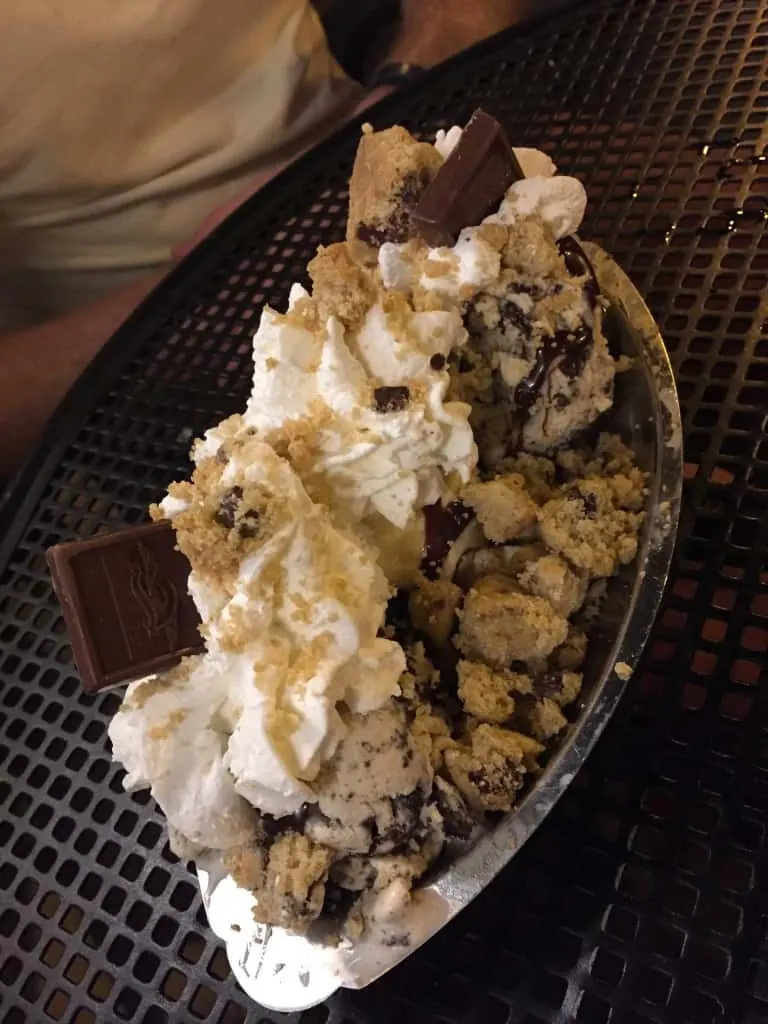 Sunday morning only saw time for a quick walk along the river before we had to head to the airport, but it was a cool morning and we had a great time.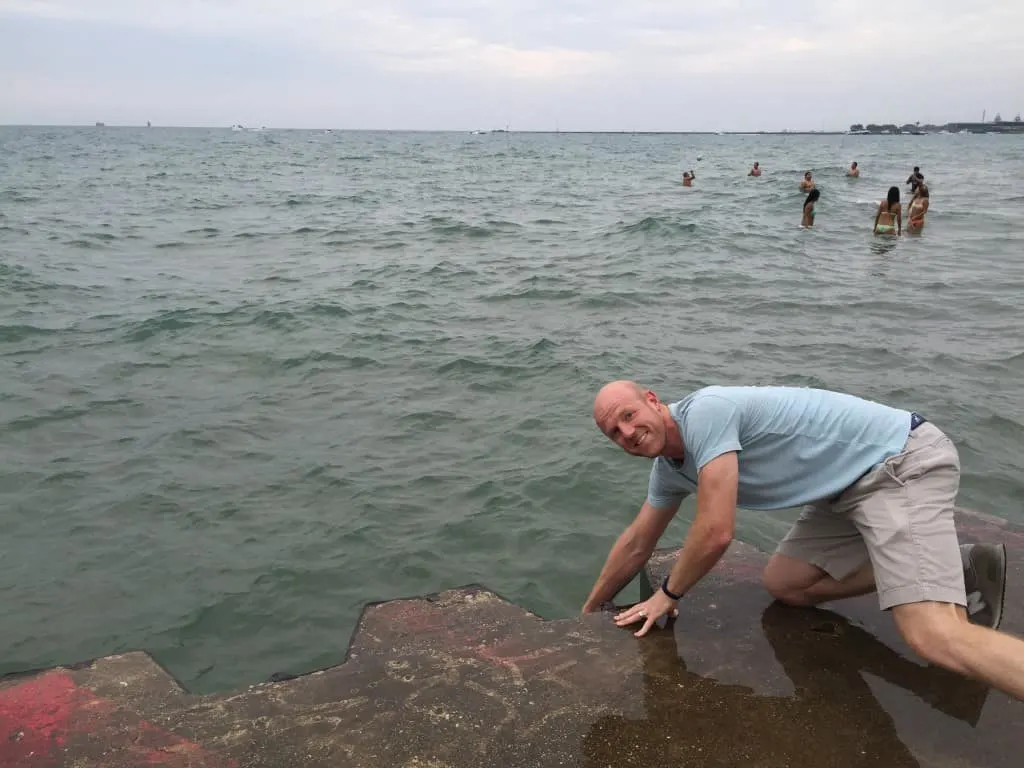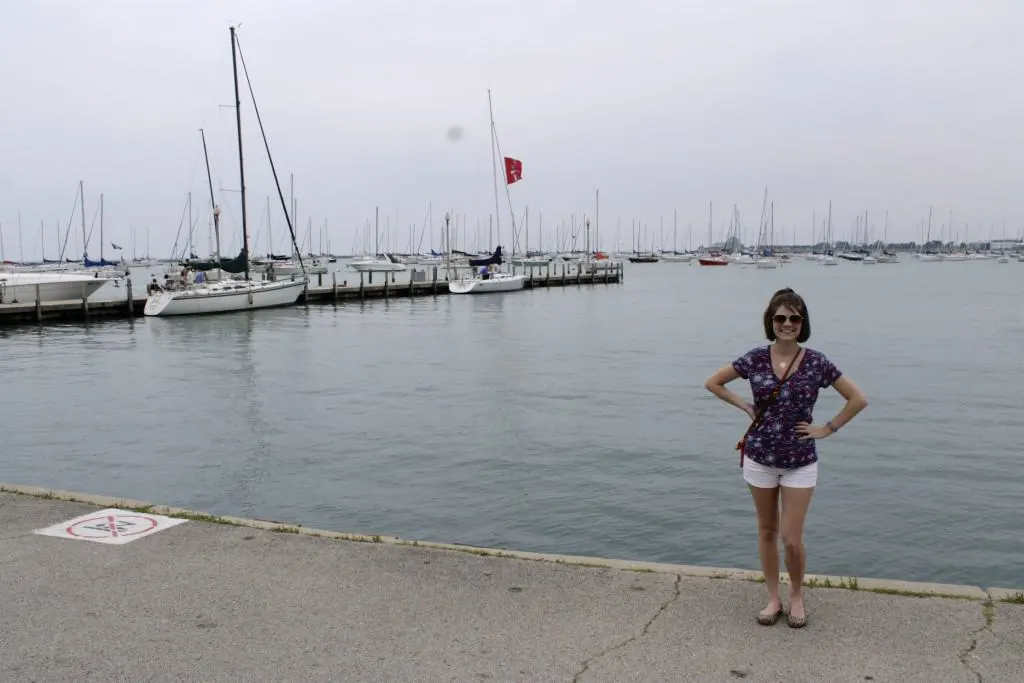 We had an epic time in Chicago and hope that if you go, you'll consider doing some of the activities we did. If you'd like more information on anything we did, just comment and we'll be happy to elaborate!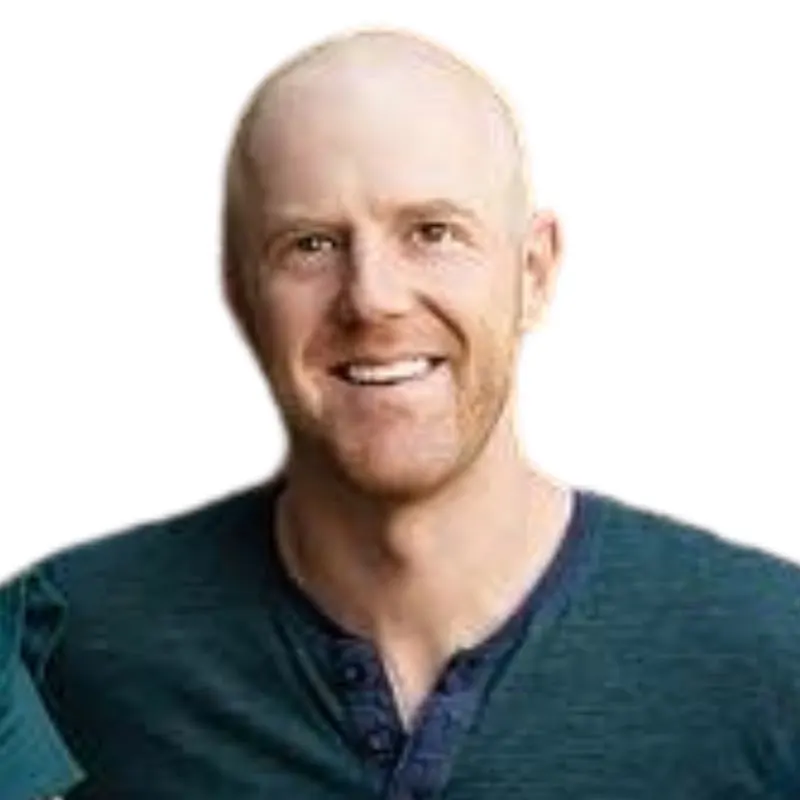 Hey there, I'm Sean, the woodworking enthusiast and builder behind CharlestonCrafted.com! Since 2012, I've been sharing the magic of turning raw materials into beautiful creations. I love teaching others the art and satisfaction of woodworking and DIY. I try to inspire fellow crafters to make something extraordinary out of nothing at all.