Welcome to week four of our one room challenge formal living room! We are redesigning our front room which was previously vacant (we just moved in from an apartment in July and didn't have any furniture for this space). Our end goal is a coastal chic vibe focusing on shades of seaglass, which is kind of my life vibe. We are doing the whole thing on a $2,000 budget which sounds like $$$ but doesn't go very far once you look at the cost of purchasing even an inexpensive couch, chairs, and coffee table.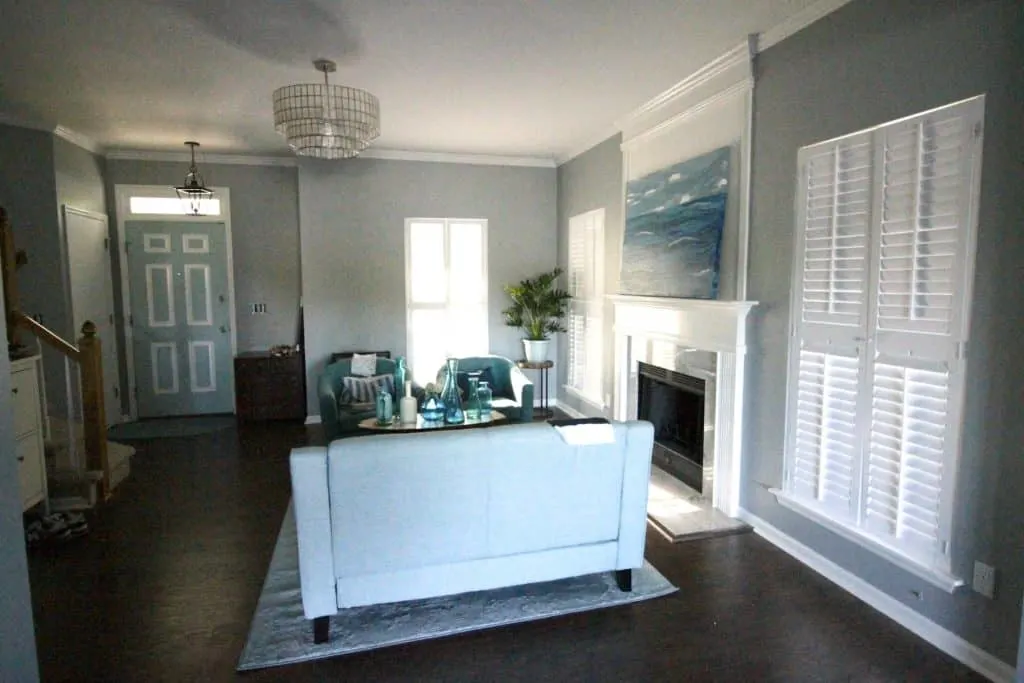 In case you've missed it, here's the challenge so far:
Week 2: Painting & Large Furniture
This week we have a lot of smaller updates for you.
Well, not so small as it took up Sean's whole weekend (#thanksbabe) but we hung crown molding! (PS – is it "molding" or "moulding"? Sean thinks it has a "U" and google seems pretty split.) It was our first time doing crown and took a lot of trial and error. Since we plan on crowning several other rooms, we decided to use this as a learning experience and will provide a full tutorial and tips & tricks after our next room. For now, know that it took about 10 hours to do our dining and front rooms. It kind of awkwardly ends next to the kitchen for now but we will continue it into that room once we strip that wallpaper. 2017. I don't want to think about it now.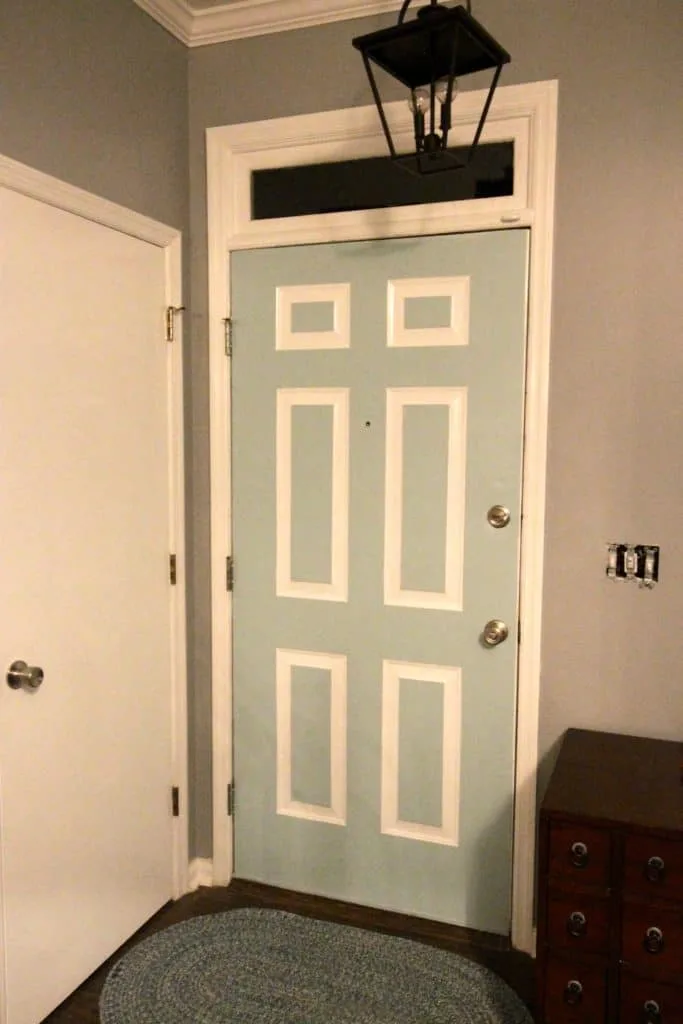 While Sean was hanging crown, I gave our front door, inside and out, a makeover. The color is Watery by Sherwin Williams. I am still a little startled by the boldness every time that I see it, but I am hoping that I get used to it! Here is the full tutorial on that process.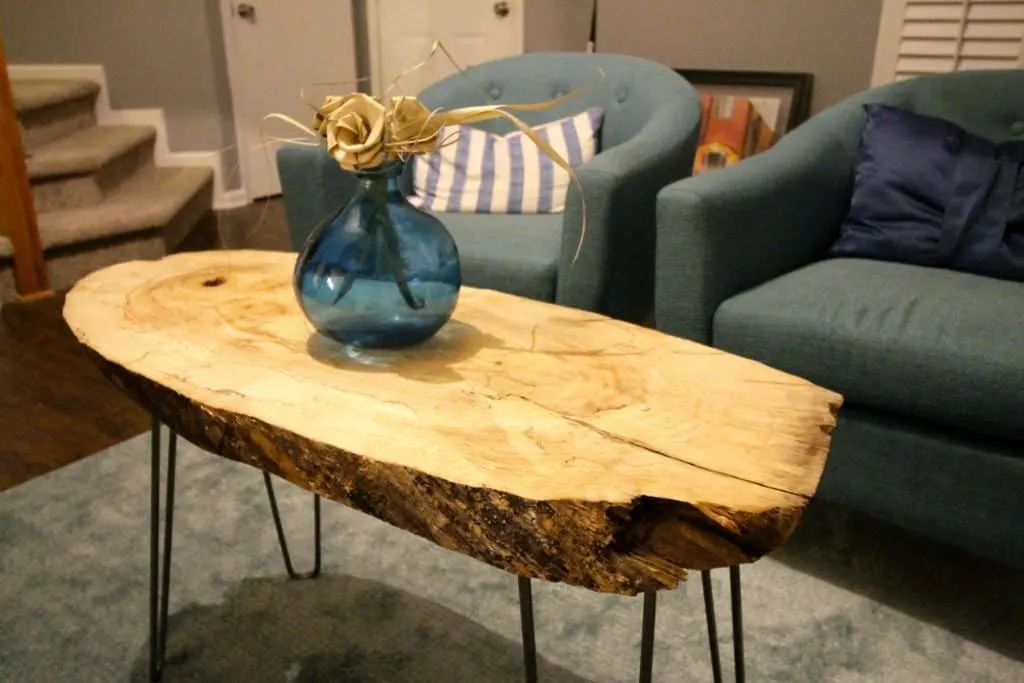 We also finally put together our live edge coffee table. That project was (for once) even easier than we anticipated. Hurrah! Here is the tutorial for that project: fun fact – all of the materials including the slab were ordered via Amazon! If Amazon doesn't have it, I don't want it 🙂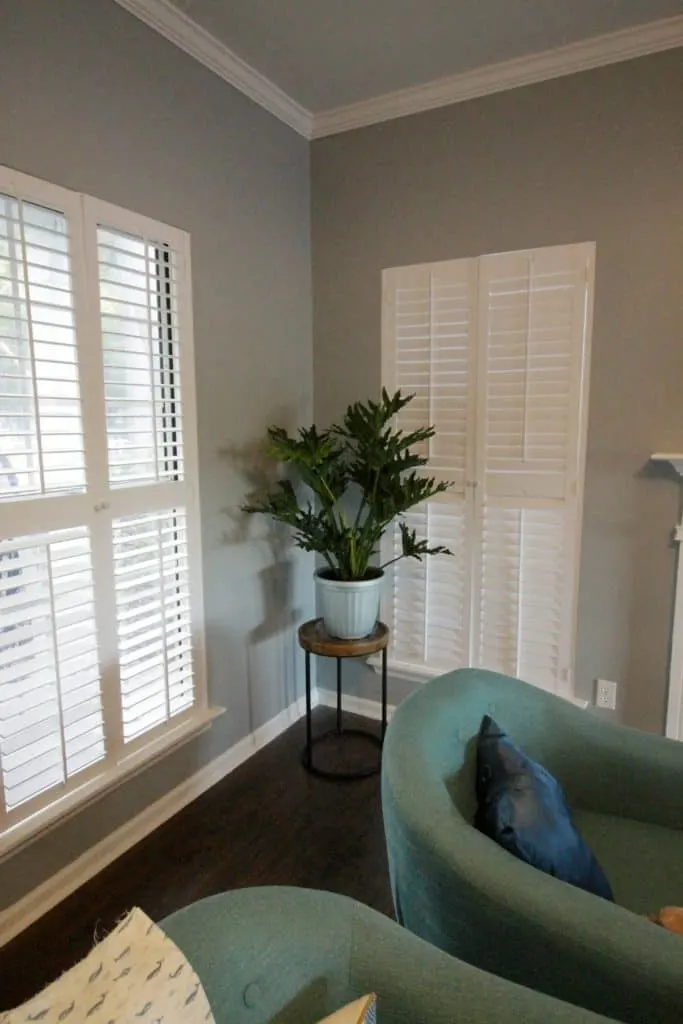 I picked up a plant (from Home Depot) and a plant stand (a side table from Marshall's) to put in the corner of the room. I am trying to fill that visual space without making it too junky and loved the airy feeling of the open bottom table. I am also trying to incorporate some dark metals into the room and the legs of this table do that perfectly.
So, to quote one of my girlfriends, "You're pretty much done now!" Sort of. The big stuff is done, which is good because we are both out of state next weekend and Sean is traveling for business right now.
Here is what we have left to do:
Pillows – I am challenging myself to a $0 investment on the pillows for this room. I have a LOT of pillows and a LOT of fabric, so I will just recover one of the 20 on the guestroom daybed. I have some temp ones down here now and am playing with fabric. Everything I love is patterned, so I am just really trying to force myself to keep it calm. Sean's in DC this week for 2 nights so that is my dedicated sewing time.
I am building a bench – which was supposed to be a super simple DIY and has kind of spiraled. I have had to make returns on pieces at Lowe's so many times because I can't figure out what I want. This HAS to be done this weekend or I'm just saying F' IT and scrapping the whole thing.
Art – I have all of the art for the space (I think, I hope, probably) but I wanted to wait until everything else was in place before hanging it. I painted something to go above the fireplace (sneak peek above) and it needs to be hung, and then other art should be contingent on the end height of the bench, or if we scrap the bench.
I'm building a driftwood sunburst style mirror inspired by Cortnie's work for the entryway. I desperately want a mirror there so I can check my teeth on the way out the door. I have the driftwood and the mirror I just need to get my act together enough to put it together. Add this to my "Sean's out of town" list.
I want to change up all of the lighting downstairs, not technically in this room but in the dining room-kitchen-eat in area. I would love to have it done in the next 2 weeks since it's visible from the front room but this is a 2 person job and since I want to move 4 lights (ugh) I don't know if we will get it all done. Maybe just the most visible dining room?
We need to finish swapping out the switches from beige to white. The outlets are done but I didn't realize how many of the switches are 3-way and just need to get more. And I keep forgetting. Put it on a list. The space will look much more finished when the switch panels are back up but I refuse to put back on the beige ones.
In the end I will need to do general styling and accessorizing. I am already imagining a white tray for the entry table and planning how to cluster that sea glass around the space but that will be literally the last possible hour.
Whew, when I list it like that, it's a lot. We have 2 weeks left in the challenge but that includes photographing and writing the final blog post and honestly I like to have my blog posts for the week done by Sunday night so I really have ten days. 3 of which we are in Virginia. Eeeeek!
Who are you loving following on the One Room Challenge? Link to them below so I can check them out!