Hey y'all. I actually re-arranged Sean's carefully scheduled blog post for today (sorry boo!) to bring you some wedding d-r-a-m-a. And by drama I mean entirely internal conflict that is quite literally keeping me up at night in fits of panic.
I can't decide what to do for bridesmaids dresses. I already shared my quest for the perfect mint dress with you. But I've somehow gotten this idea of ombre/shades of sea glass and now I can't make it stop.
Let me share a little inspiration:
Image via: Style Me Pretty Photo by: Judy Pak Photography Dresses by: Ivy & Aster Forget Me Not Long Dress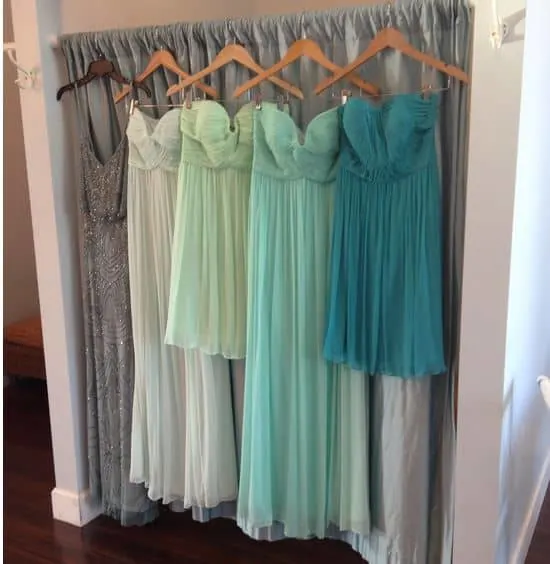 Image via: Weddingbee boards Dresses by: Donna Morgan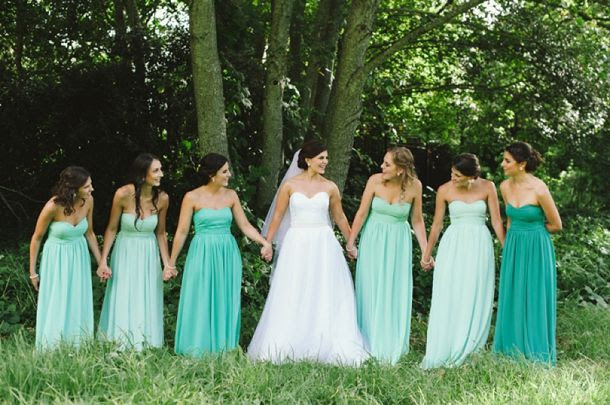 Image via: Southbound Bride Photo by: Love Made Visible Event by: Bright and Beautiful Dresses by: Miss Friday Clothing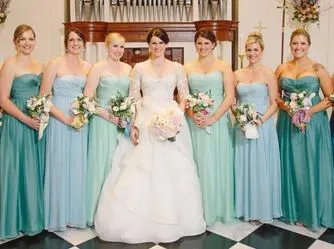 Image via: Bella Bridesmaids Photo by: Harwell Photography Dresses by: Bella Bridesmaids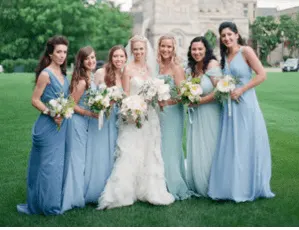 Image via: Style Me Pretty (p. 54-63) Photo by: Emily Steffen Dresses by: The Wedding Shoppe
Source: dresses from http://www.littleborroweddress.com // bad photoshop by me
Pros:
The multi color look is fun, youthful, and a little exciting
It makes it feel very springy and beachy to me
It makes the long dresses less formal. I'm caught up on long dresses because my BMs range from 5'2 to almost 6′ and I think long dresses will make them look more uniform and can disguise different heel heights (if people want to wear wildly different shoes). And the color makes it seem less fussy to me.
Cons:
It could be too busy?
It could be WAY too busy with the navy linens (but come on, neutral) and pink flowers (nonnegotiable, though there will be white flowers as well, and the centerpieces should be pretty small. Mostly worried about pink bouquets here)
It is pretty trendy. I might regret it later. but really, I'm going pretty trendy all over this wedding so this might be a wash.
I really think that the source I was trying to use (LBD) doesn't have the right colors to make this work. The 3 light colors are my best bet, but I think the mint + sea glass might look weird together. I might have to look at a different brand and I really wanted to give my maids the option to rent.
I know I need to just get up from my computer and go to the store and look at them in person. But I'm so indecisive and I don't want to waste anyone's time!
So – what do you think of ombre bridesmaids gowns? Is it totally wacky? Have I lost my rocker? Does it even matter?!