It's no secret that I am a huge fan of Jillian Michaels workout videos. I love that they are short, effective, and can be done from the comfort of my own home, on my own schedule. Work out videos are a cost effective way to get in a great workout since you only have to buy them once, and they can be really great workouts.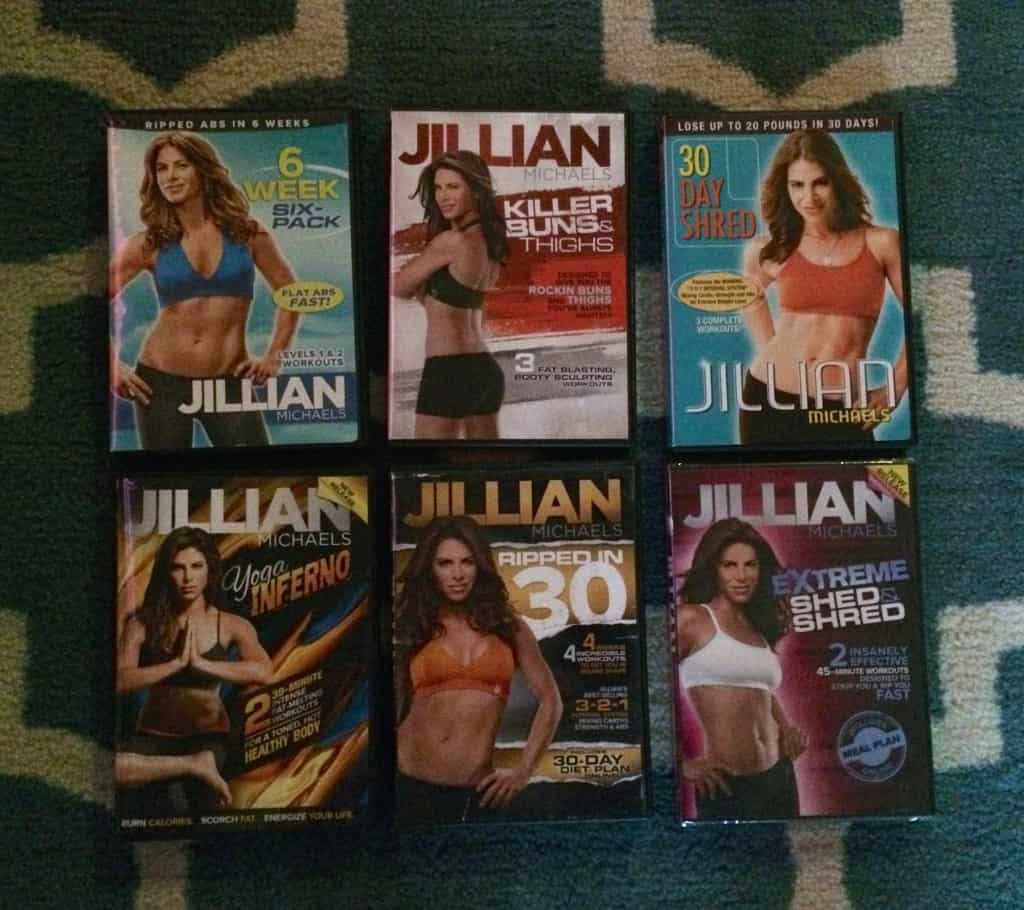 I started doing Jillian Michaels 30 Day Shred years ago. I never got past level one and never did it for more than two consecutive weeks. Once we got engaged, I started getting more serious about it and committed to three workouts a week. While there have been weeks where I don't hit that, at least 75 percent of the time I get in three or more workouts.
After doing the 30 Day Shred for about 3 months, I got bored and decided to pick up a few more videos. Ripped in 30 was an easy transition because it has the familiar 3-2-1 interval set up: 3 minutes of strength, 2 minutes of cardio, and 1 minute of abs, three times over. The moves never repeat and you get in a full body workout in less than 30 minutes.
However, I worked through this video even faster than the last and quickly felt myself plateauing. In the last six months, I have worked through a few new videos.
Yoga Meltdown – I got this video because I was looking for a good stretch. The video has two levels, and the first level has a good deal of stretching. However, level 2 is much more strength oriented and uses a pair of hand weights. Each video is about 30 minutes long and includes a warm up, 4 yoga inspired intervals (each done and then repeated), and a very good cool down.
Six Week Six Pack – This video has two thirty minute routines. There is a warm up, then a 12 minute routine that is repeated before a cool down. These videos focus on abs with standing work outs, planks, and of course variations on crunches. There are also cardio intervals mixed in – it is guaranteed to make you sore!
Killer Buns and Thighs is, as it sounds, primarily a leg workout. This video has the biggest difference in difficulty between levels, in my opinion. Level one is pretty simple, especially if you are used to Jillian's videos. However, level two is very intense and will have you begging for mercy. Don't say I didn't warn you! Each of the three videos is almost 45 minutes long.
Extreme Shed & Shred – I picked this video up a long time ago and have always been too scared to try it because its 45 minutes long, but Buns and Thighs has showed me that it's not tooooo bad. Hopefully I can start it soon!
While I did most of these videos for a month or two exclusively when they were new, I now try to not repeat a workout in any given week. For example, this week on Monday I did Ripped in 30, on Tuesday I did Yoga Meltdown, and on Wednesday I did Killer Abs.
Do you have a favorite work out video? What should I try out next?
The links in this post are affiliate links. That means, if you click through and make a purchase, we receive a small percentage of the sale. Thanks for supporting the brands that make Charleston Crafted possible!